This comprehensive guide will provide you with the 8 Best Places to Stake Cardano ADA Tokens and how to stake ADA to earn up to 6% interest in passive income.
Instead of just holding Cardano ADA tokens on a crypto exchange like Binance and FTX, or a hardware wallet like Ledger, you can stake your ADA tokens and start earning interest. 
So, let's jump into this beginner's guide to Cardano staking and let us show you how you can start earning up to 16% interest on your ADA tokens.
8 Best Places to Stake Cardano ADA Tokens in 2023 
We have put together the 8 best places to stake Cardano ADA tokens in 2023. Staking Cardano tokens is a great way to earn passive income, but ADA tokens can be very volatile, like all crypto assets. However, choosing the right platform to stake your Cardano ADA tokens is crucial since you want the best return for your investment but on a secure and easy-to-use platform. 
For each platform, we will look at how much Annual Percentage Yield (or APY) you can earn on your ADA tokens for different lockup periods. If you don't know, locking your crypto with a crypto exchange for an extended period ensures a higher rate of return. We will also discuss easy-to-use platforms for crypto newbies who want to keep things simple. 
The platforms discussed in this staking guide for Cardano ADA Tokens are:
Binance
KuCoin
Kraken
OKX
eToro
Exodus Wallet
Yoroi
Daedalus
Without further ado, let's dive into the 8 best places to stake Cardano ADA tokens in 2023.
Before you choose your method of staking ADA tokens and making any investment, please do your own research. Staking crypto does come with risk.
1. Binance
Binance is the world's largest crypto exchange, offering investors some of the lowest fees in the industry, hundreds of trading options, and decent avenues for generating passive income on your idle cryptocurrency. Created by Changpeng Zhao in China in 2017, Binance has become the top choice for retail and institutional investors. Binance.US is the U.S. version of Binance.com but offers investors fewer cryptocurrency options and features.
Binance listed Cardano for staking in February 2022, and you can start your staking on Binance Simple Earn with as low as $10 worth of ADA tokens. The APY for staking your crypto on Binance varies depending on your lock-in period and ADA product offering. 
Binance also has a real-time staking calculator where you can insert the amount of ADA tokens and your locking period, and the platform will generate your expected APY. Play around with this calculator before you invest! For all details, check Binance Earn for ADA.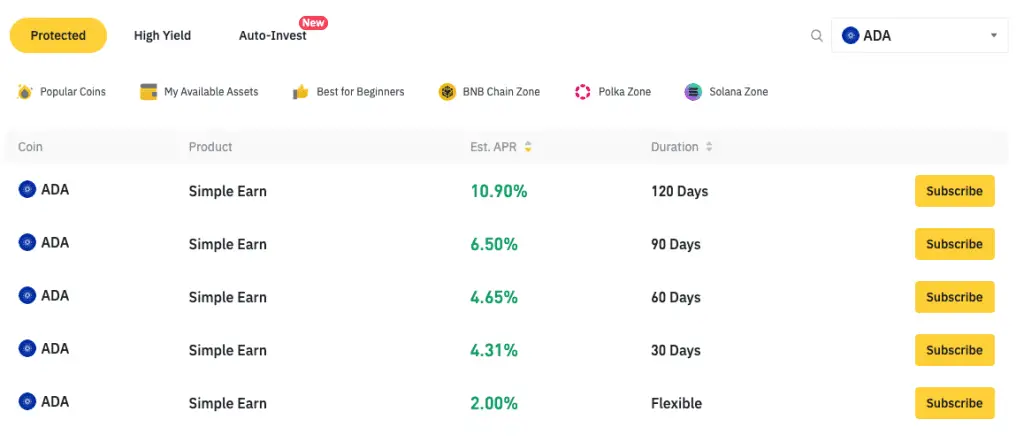 Binance Cardano ADA Staking Rates:
In September 2022, Binance US listed ADA for staking, and crypto users from the US can earn 6.1% APY on their ADA deposits. You will get paid weekly, and you can unstake your ADA funds any time you want. Also, there is no minimum limit, so you can start as low as you want. For more details, visit Binance.US Staking.
| Duration | Binance ADA Staking Rates |
| --- | --- |
| 30 Days Locked Staking | 4.31% |
| 60 Days Locked Staking | 4.65% |
| 90 Days Locked Staking | 6.50% |
| 120 Days Locked Staking | 10.90% |
| Flexible Savings | 2.00% |
Binance Best Rate for Staking Cardano ADA Tokens:
Up to 10.90% APY (for 120 days locked staking)
Binance Staking Verdict:
We do stake crypto on Binance and have never experienced any issues. If you have a Binance account and trust the platform, Binance offers a decent APY compared to other options on this list.
Binance Sign-up Bonus:
If you're new and looking for a Binance referral code, use our exclusive code GPZ64I3 to save 20% off trading fees, plus get a bonus worth up to $285. If you're from the US, you will need to use our Binance.US link and get up to a $40 sign-up bonus.

2. KuCoin
KuCoin is called the People's Exchange and is used by 1 in every 4 crypto holders. Like Binance, users must complete KYC before using most of the available features. 
One of the prime reasons for KuCoin's popularity is that they run awesome promotions for its products. And lucky for us, they are currently running a promotion for Cardano staking.
With this promotion, you can earn an 8.33% return on your Cardano tokens by locking them for one month on the exchange. These are KuCoin promotion rates, but if you are reading this article after the promotion has ended, don't worry; you will still be able to find a similar staking rate on KuCoin.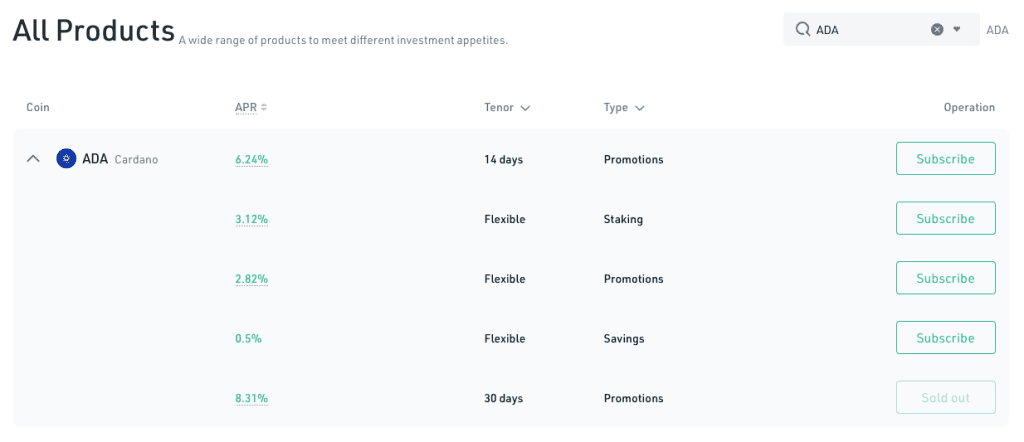 Cardano ADA Staking Rates:
| Duration | Binance ADA Staking Rates |
| --- | --- |
| 14 Days Locked Staking | 6.24% (Promo) |
| 30 Days Locked Staking | 8.31% (Promo) |
| Flexible Staking | 3.12% |
| Flexible Promotions | 2.82% |
| Flexible Savings | 0.50% |
KuCoin Best Rate for Staking Cardano ADA Tokens:
8.31% APY (for 30 days locked staking)
KuCoin Staking Verdict:
If you want to keep your ADA on a crypto exchange and don't want to lock them, KuCoin is the ideal choice as they allow you to earn a 3.13% APY on your idle ADA tokens. For flexible terms, you need to transfer your ADA from the KuCoin main account to the Pool X account, and you can earn 3.13% for just keeping your ADA on the KuCoin exchange.

3. Kraken
Kraken is a fairly intuitive U.S-based crypto exchange with excellent security and low trading fees, making it a popular choice for crypto investors. Although Kraken is a U.S.-based exchange, you may notice some restrictions depending on your location.
Currently, Kraken offers 4-6% APY on Cardano staking and rewards are paid weekly. You can move these rewards from your Staking Wallet to the Spot Wallet if you wish to use them for trading.
The best part about Kraken is that you can start earning your staking rewards as soon as you stake your crypto, which might be different for software wallets like Yoroi or Exodus, where earning starts after 20 days.
Although we are not a big fan of Kraken's user interface and experience, they make staking crypto very easy. In our opinion, Kraken is one of the safest exchanges, and we do use Kraken for staking purposes.
Kraken Cardano Staking Rate:
4-6% APY
Kraken Staking Verdict:
Kraken is ideal if you want to stake your ADA tokens for the short term. Your interest starts to accrue from day one, and there are no lock-in periods. With Kraken, you can earn 4-6% APY on your ADA tokens which is not the best return but can be considered if you live in the US.


4. OKX
In January 2022, OKEx changed its name to "OKX" to reflect its transformation from a crypto exchange to a financial services platform which included passive earning opportunities. OKX started Cardano staking services on 25th May 2021. 
Staking your Cardano tokens on OKX is simple for crypto beginners, and with only a few clicks, you can start earning passive income on your staked Cardano. 
Like Binance, there are various Cardano staking options for OKX, and rewards depend on your lock period. If you wish to lock your ADA tokens for the long term, OKX will provide the most lucrative returns.
OKX Cardano Staking Rate:
16.12% APY (for 120 days locked staking)
OKX Staking Verdict:
If you are hodling your ADA tokens for the next major bull run, staking them with OKX might be the best option. They offer a return of 16.12%, the highest for 120 days locking in the entire crypto industry for Cardano staking. 
OKX Signup Bonus:
OKX offers new users a 10K Mystery Box and a $10 Bitcoin sign-up bonus. Plus, if you use our exclusive referral code 12689950959 you will receive a 20% rebate on every trade.


5. eToro
With a simple interface and a smooth system of deposits and withdrawals, eToro is the perfect trading platform for beginners. With their copy trading feature, you can search and copy more experienced traders. So, if you know nothing of crypto and want to dip your toe in the water, you can copy professional traders on eToro.
Like crypto trading, staking your ADA tokens on eToro is easy as a click of a button. eToro will select the best staking pool on your behalf and keep a portion of your earnings for providing this service. At the end of the month, eToro sends you an email detailing how much you have earned in ADA staking rewards and how the rewards were calculated. Pretty convenient!

However, please note that management fees by eToro can rise to 25% of your total APY, which is a considerable price to pay for convenience. Moreover, your returns will start to accrue after nine days of lock-in, which is a high wait period compared to other options on this list. You can earn up to 6% APY on your ADA tokens when you stake with eToro.
eToro Cardano Staking Rate:
5-6% APY
eToro Staking Verdict:
eToro can be a good place to start, but they are not recommended if you want high returns on your ADA tokens. If you wish for an easy option, eToro can be a decent option. 


Staking Cardano with non-Custodial Crypto Wallets
The last three options on this list are non-custodial crypto wallets, which means that by staking through these wallets, you always remain in control of your cryptocurrencies. 
When staking your Cardano ADA tokens with non-custodial wallets, your ADA balance on the blockchain will be staked, not your ADA tokens, so you are free to use them inside the Cardano DeFi ecosystem or buy CNFTs and earn an additional profit!
6. Exodus Wallet
With the Exodus Wallet, you can receive a 4.09% return without locking your ADA tokens. Your returns will start generating after 20 days of the staking process, and your returns will be deposited to your wallet every five days.
With most hardware wallets, you are required to find a staking pool to stake your ADA tokens. However, with Exodus' API provider Everstake, you no longer need to go through the hassle of finding the best Cardano stake pool. Just transfer your ADA on the Exodus Wallet and click 'Earn Rewards', and Everstake will find the best staking pool for you. Simple as that!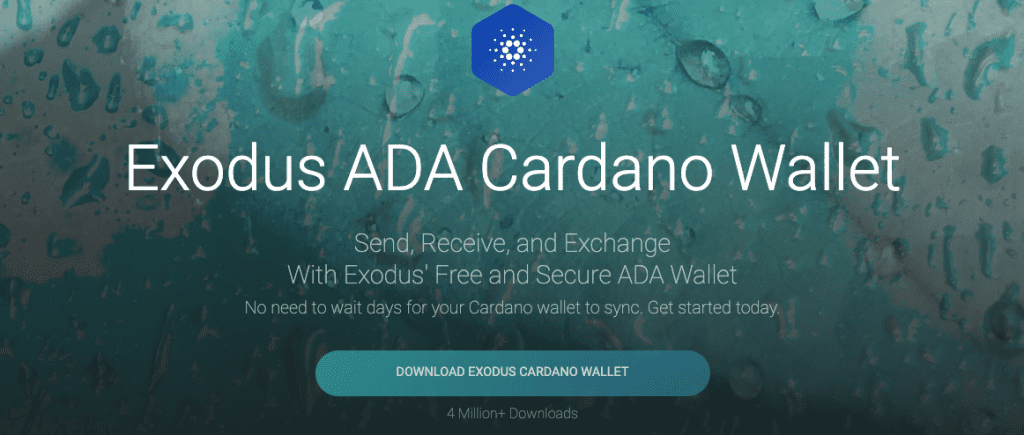 Exodus Wallet Cardano Staking Rate:
4.09% APY (Flexible)
Exodus Wallet Staking Verdict:
Exodus is a great option to earn a free 4.09% return on your ADA tokens. Moreover, with Everstake, which is the biggest decentralized staking provider in the blockchain industry, you don't even have to go through the hassle of finding a staking pool. Exodus Wallet is an excellent option to stake your ADA with a non-custodial wallet.
7. Yoroi
Yoroi Wallet is fast, easy to use and is supported by the Shelly network on Cardano. Since it is custom-built for Cardano beginners, the wallet can be downloaded as an extension on your Internet browser and can be set up with a few clicks. Unlike the Daedalus wallet, which we will discuss next, the Yoroi Wallet does not download a copy of the Cardano blockchain network, which makes it easier and lighter to use.
We love the Cardano development team because they always approach their community empathetically. For this reason, the Cardano team built Yoroi, a software wallet for Cardano beginners who want to stake their tokens without using a crypto exchange.
With the Yoroi Wallet, you can earn up to 4.5% APY by choosing a decent staking pool, and your interests will start to accrue after the approval period of 20 days. Once approved, you will be rewarded every five days.

Yoroi Wallet Cardano Staking Rate:
Max 4.5% APY (according to the Staking Pool you choose)
Yoroi Wallet Staking Verdict:
Yoroi is the best option for staking your Cardano ADA tokens with the highest return if you are a beginner and do not want to use a crypto exchange. Select the best Cardano staking pool, and you should be good to go!
8. Daedalus
The Daedalus wallet offers a 5% APY to its users without locking your tokens, which means it has the highest overall return on the market for ADA Flexible Staking. Daedalus is also considered the most secure and advanced option for staking ADA tokens.
Daedalus is a full-node blockchain wallet developed by the Cardano team for professional traders. A full-node wallet can validate transactions and blocks on the Cardano blockchain directly from your wallet. A full node wallet also denotes that a local copy of the Cardano blockchain will be downloaded and accessed on your device. Due to this reason, Daedalus takes up lots of space.

Daedalus Wallet Cardano Staking Rate:
5% APY (Flexible Staking)
Daedalus Wallet Staking Verdict:
There are better options than Daedalus for amateur traders not well-versed in the Cardano ecosystem. With an APY of 5%, Daedalus is the ideal option for anyone that wants to run their own Cardano node or staking pool. 
Best Cardano Staking Rates 2023
Want to find the best rates to stake & lend your crypto assets? Check out our DeFi rates table to find the best returns on your crypto.
What is Cardano?
How to Stake Cardano ADA Tokens
Please remember that ADA can be volatile and risky, like all crypto assets. Before investing in cryptocurrencies or crypto staking, please do your thorough research.

How to Choose a Cardano Validator?
If you are still determining which Cardano ADA staking pool to join, there are a few factors to consider. These include:
Commission Rate: This will impact your rewards, so a lower commission rate is recommended.
Uptime: It's essential to find a validator that maintains close to 100% uptime for their services.
Values: Consider validators committed to adding value to Cardano by supporting the platform app development, tooling, or educational materials.
You can find the best ADA staking pools at ADAPools or Cardano Scan.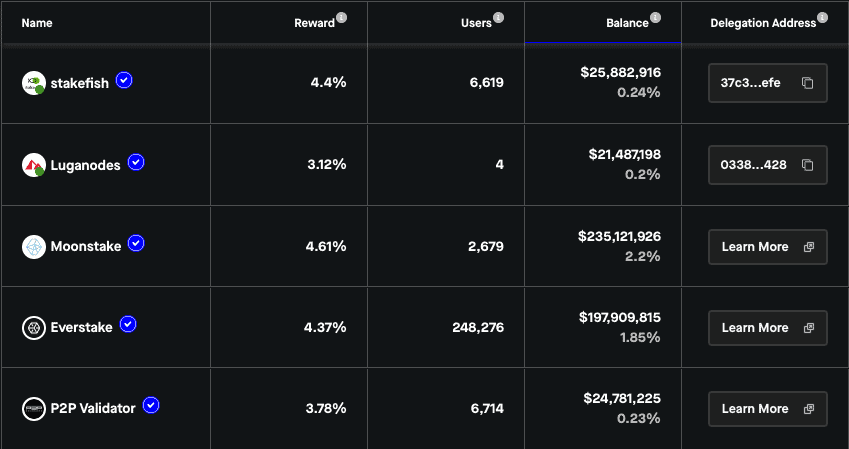 Cardano Staking FAQs
How to calculate your Cardano ADA staking rewards?
To calculate your Cardano APY staking rewards, you can use our Crypto Staking Calculator.
Related Posts