This beginner's guide explains how to buy crypto with Revolut. Plus, we will answer all your questions about using Revolut to invest in cryptocurrency.
Since its launch in 2015, Revolut has quickly become a favourite, especially for crypto investors. Allowing customers to sign-up through its app provides various attractive features, including crypto investing, free international exchanges and withdrawals.
So, let's dive into this Revolut beginner's guide and explain how to buy crypto with Revolut.
How to Buy Crypto with Revolut
If you're reading this, you've already used the Revolut app, but should you buy crypto and store it on Revolut? Unfortunately, this is a question only you can answer; we would recommend keeping your crypto assets on a hardware wallet such as a Leger Nano or Trezor. But we understand this isn't suitable for everyone, so setting this up can be complex.
In this beginner's guide, we explain how to buy crypto with the Revolut app, such as Bitcoin and Ethereum/ The step to buy and sell crypto on Revolut is pretty straightforward once you know how. We hope this guide helps you to buy your first crypto asset.
Total Time: 5 minutes
1. Go to Revolut "Crypto" Tab
Once your funds have been deposited, navigate to the "Crypto" tab at the top of the screen.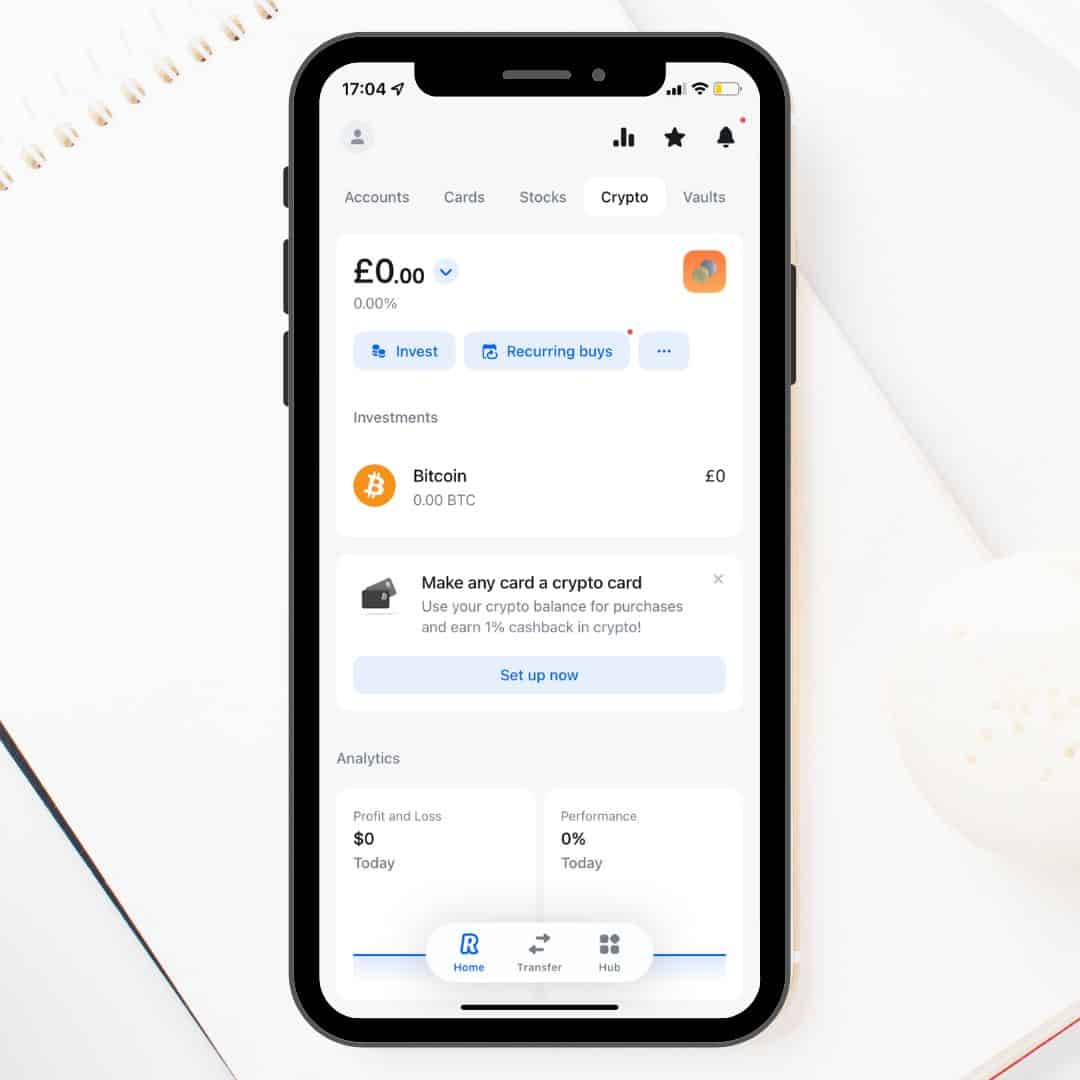 2. Select "Invest" & "BTC"
Tap on the "Invest" button. Then choose BTC from the crypto list. You will then be presented with an overview of the Bitcoin prices, news, orders, transactions, etc.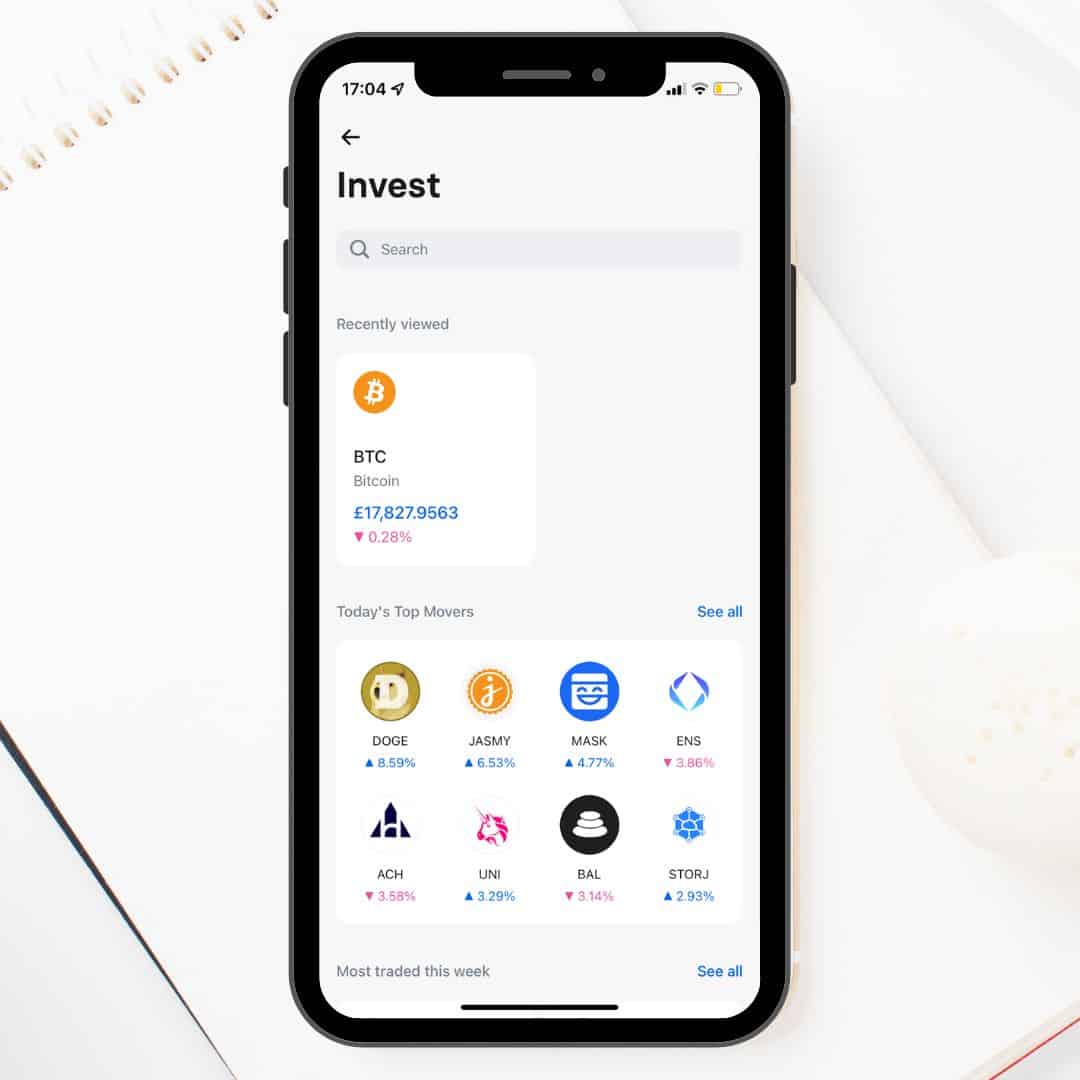 3. Go to "Buy"
Choose "Buy". Four options when buying Bitcoin through Revolut are available from the top right of the screen. These are "Market Order" or setting up a "Recurring Order", "Stop Order", or "Limit Order".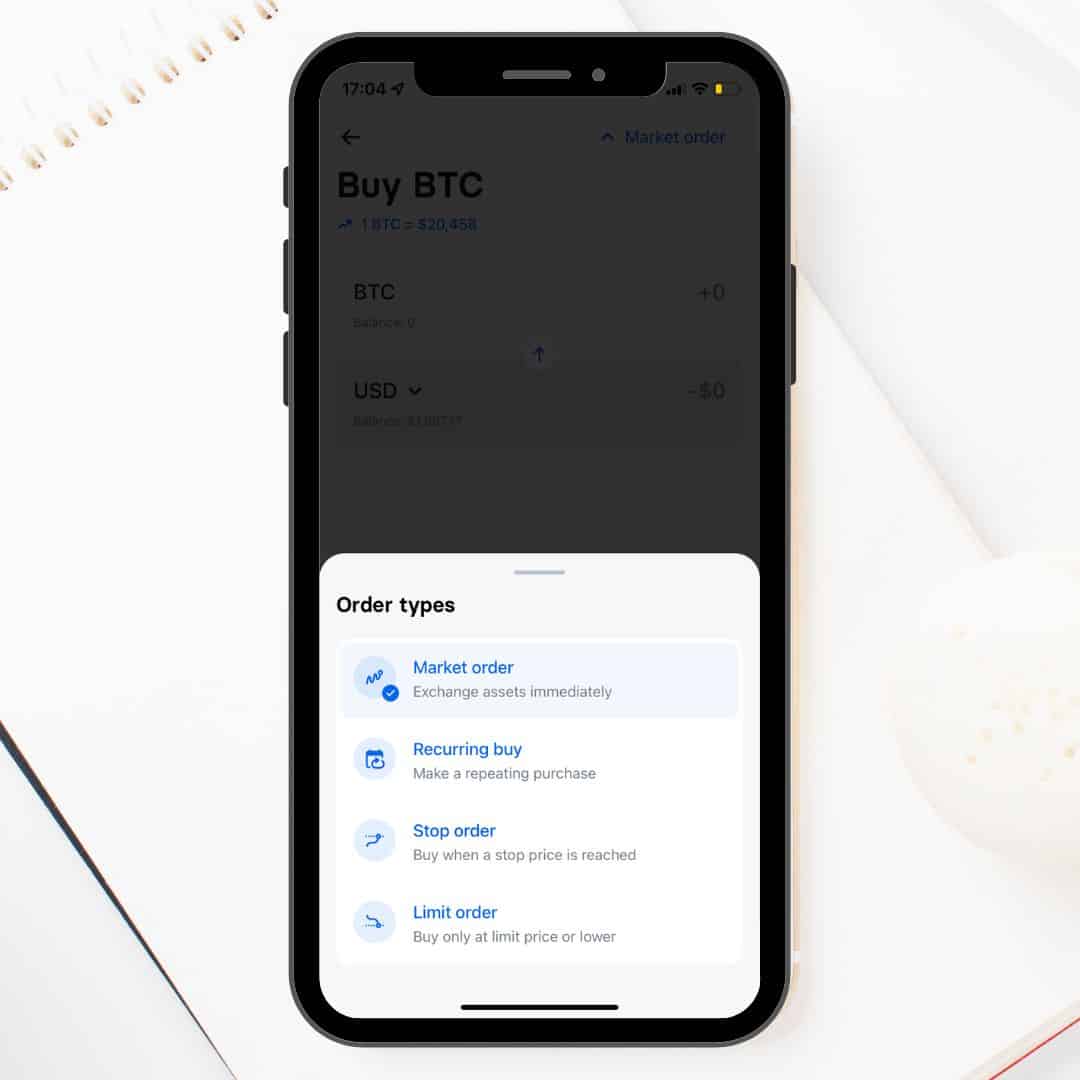 4. Enter the Amount of Crypto you want to Purchase
If you make an immediate, one-time purchase at the current market price, use a "Market Order". This will allow you to buy Bitcoin using Revolut's supported currencies.
Then enter the amount you want to spend, and Revolut will show the exchange rate and fees before you choose to "Buy".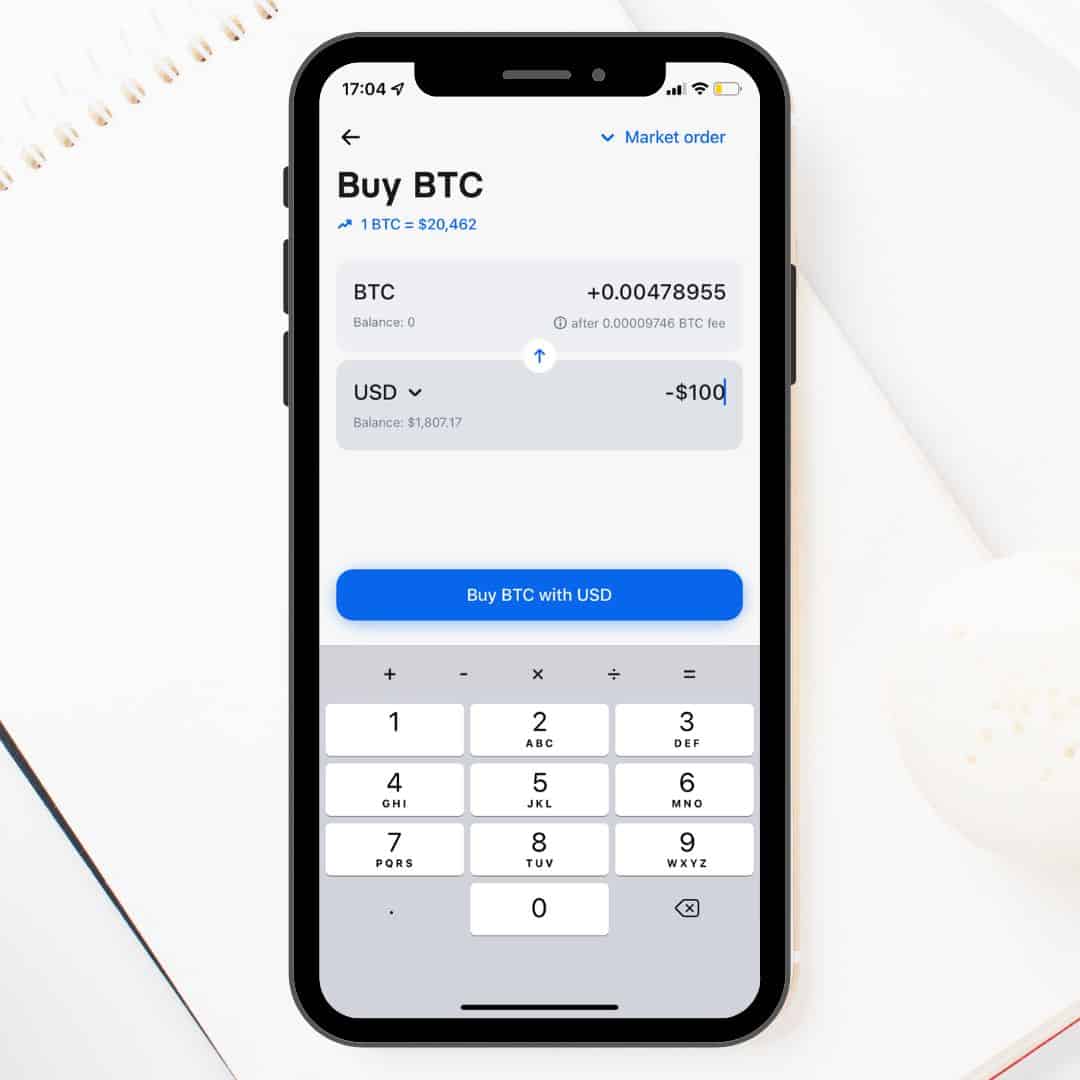 5. Confirm your Order
Check the details of your Bitcoin order and choose "Confirm Order".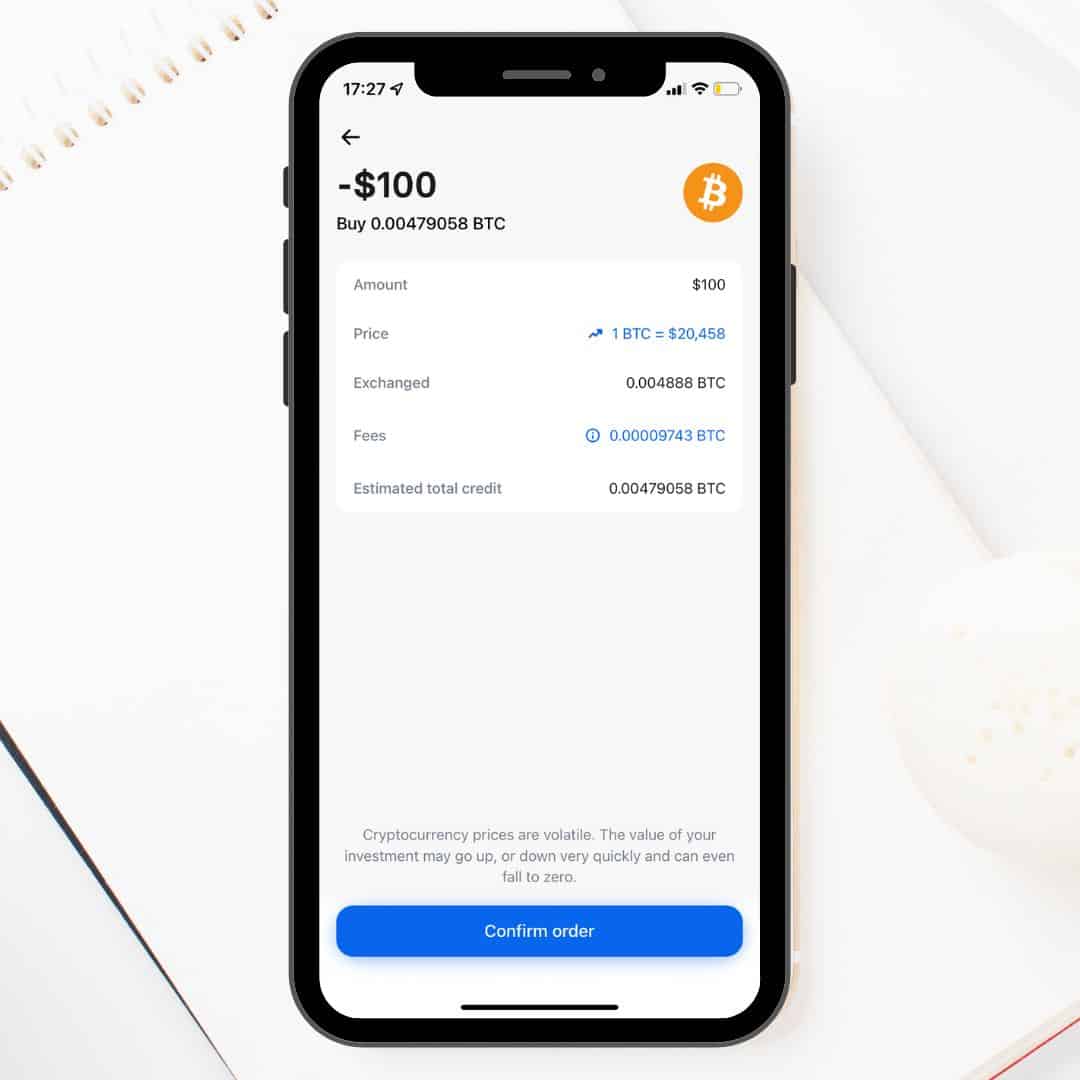 What is Revolut?
Revolut was founded in 2015 in the UK as a digital payments service. Eight years later, the company aims for you to have your whole financial life at your fingertips with its mobile app. This includes your budgets, investments, and payments hosted on one platform.
Users can open an account in minutes. With the standard (free) accounts, users get zero fees on exchanging in 30 currencies and withdraw from cash machines for free (up to £200 a month).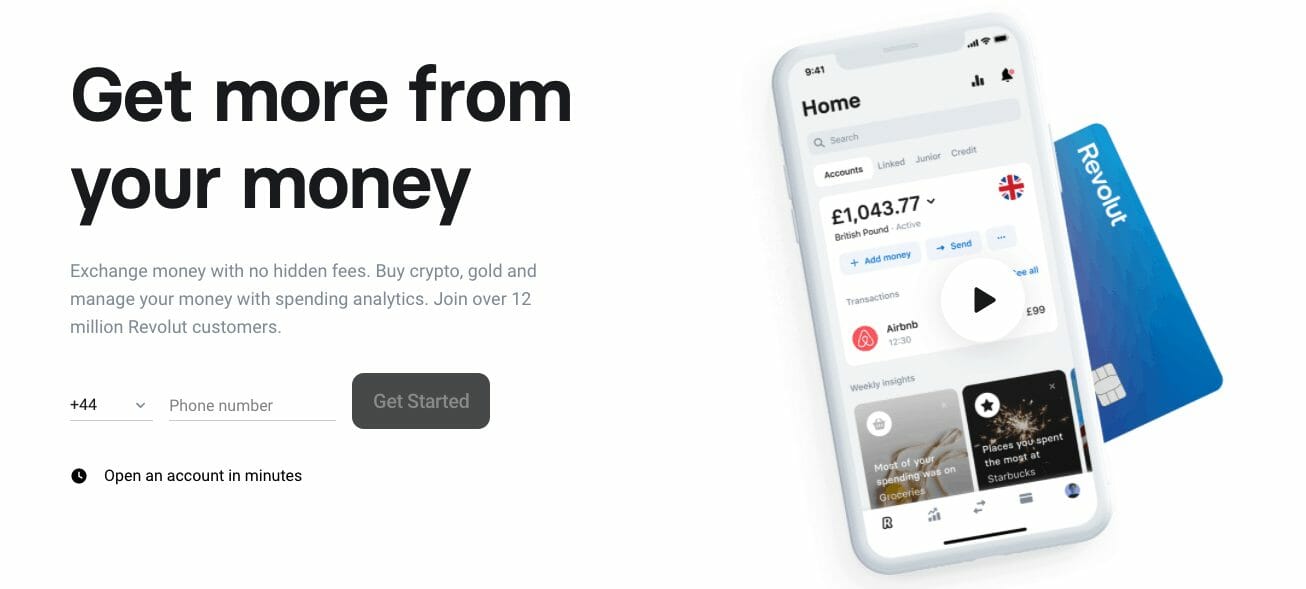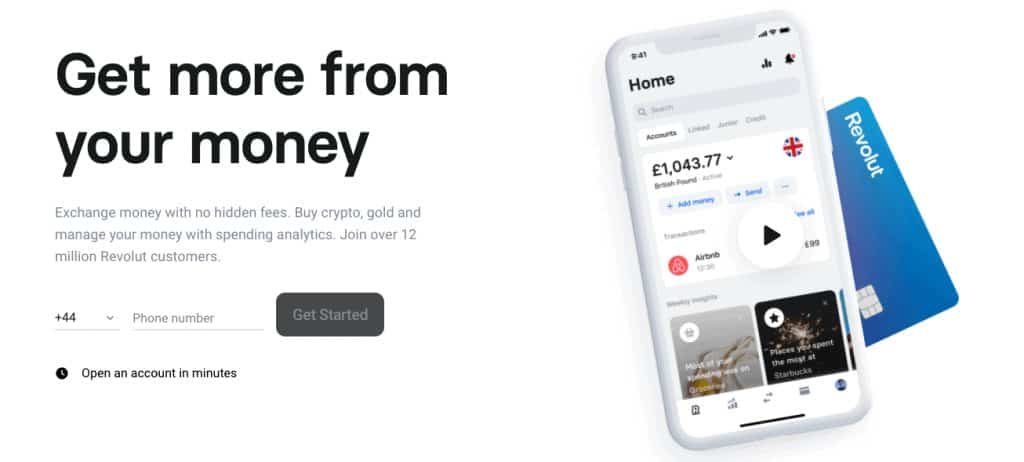 Is Revolut Crypto-Friendly?
Revolut was very early in adopting Crypto in 2017 and is one of the few crypto-friendly banks in the UK.
With Revolut, you can immediately exchange any currency (from as little as $1) for some of the most popular cryptocurrency assets such as Bitcoin, Ethereum, Bitcoin Cash, Litecoin and Ripple. However, you won't have access to your private keys, and your funds are not safeguarded by Revolut or covered by the FSCS.
Previously you could not withdraw your crypto, and you could only hold this in your wallet or send it to other Revolut account holders. However, you can now transfer your crypto externally to the safety of an external crypto hardware wallet such as a Ledger or a Trezor, where you'll have more control over your crypto.

Revolut Supported Cryptocurrencies
Revolut has around 100 cryptocurrencies available to invest with on its app 30+ currencies. These include the likes of;
Bitcoin – BTC
Ethereum – ETH
Ripple – XRP
Bitcoin Cash – BCH
Litecoin – LTC
EOS
Tezos – XTZ
Stellar – XLM
OMG Network – OMG
0X – ZRX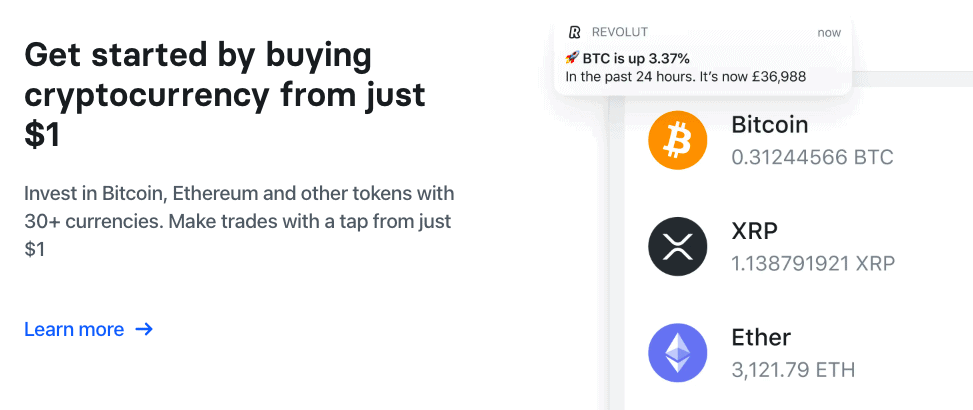 Revolut Supported Countries
Unfortunately, Revolut isn't available worldwide and is currently limited to users who are residents in the below;
Australia
Canada
European Economic Area (EEA)
Switzerland
Singapore
United Kingdom
United States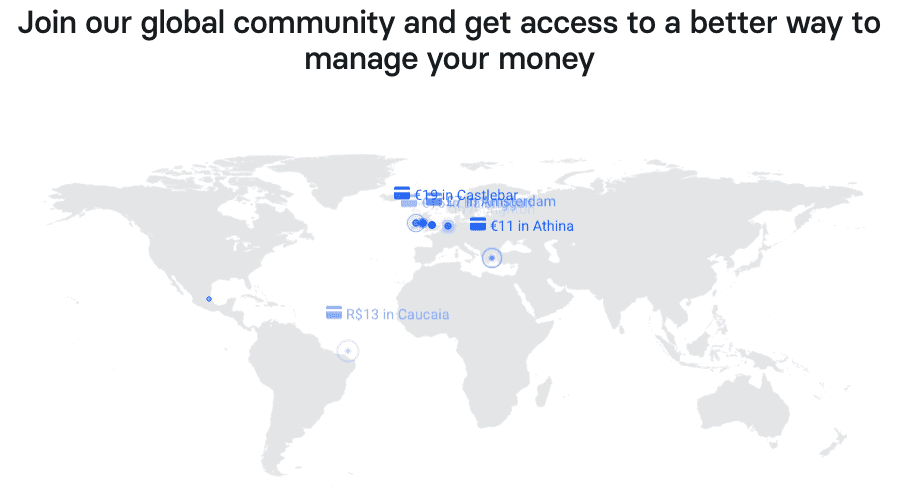 Revolut Crypto Fees
Revolut charges a fee for exchanging crypto, equivalent to £0.99 or 1.99%, whichever is higher. When exchanging, you can always check the fee prices by clicking on the 'i' button next to the fee rate.
Two options for upgrading allow free trades;
Option 1 is to upgrade to their Premium account for £6.99 monthly. This will give you a range of benefits, protections, insurance, and also eight commission-free stock trades per month.
Option 2 is to upgrade to the Metal account for £12.99 per month. This gives you all the benefits of Premium but extends and offers unlimited free stock trading.






How to Sign up for Revolut?
First, you need to sign up for a free Revolut account by downloading their app on IOS or Android app.
Once the app is downloaded, Revolut will ask you for your phone number, ID and selfie (for verification) when setting up.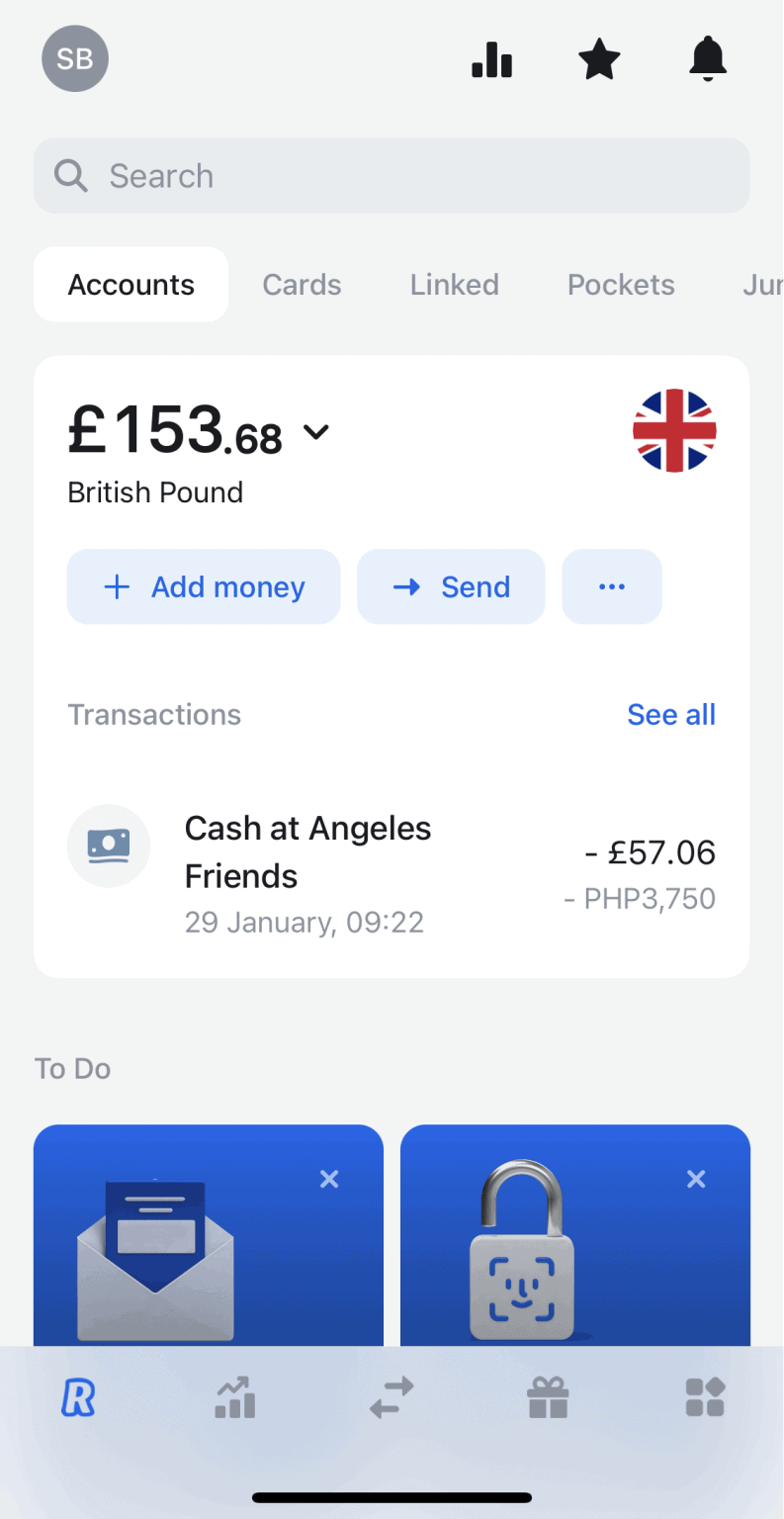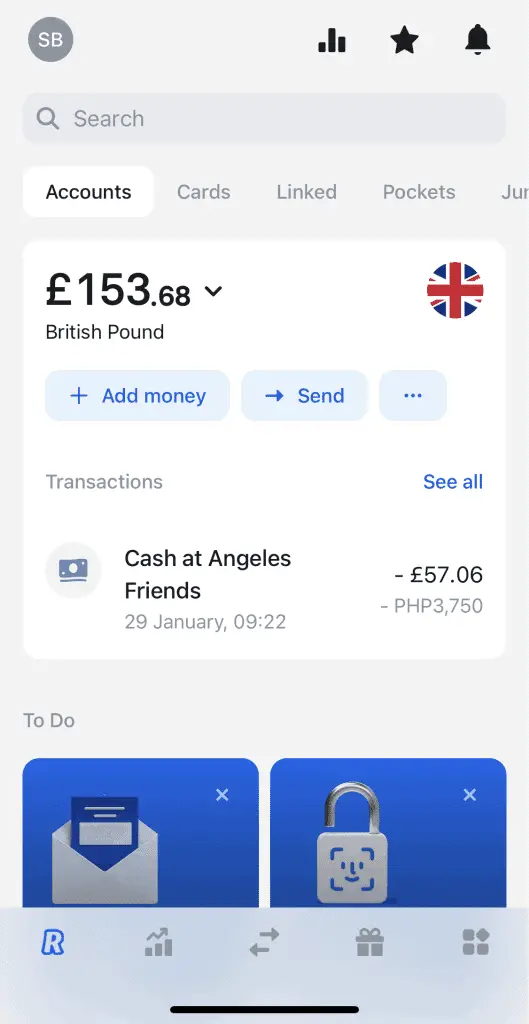 You must deposit funds using the home screen's 'Add money' button. You can deposit via bank transfer, Apple Pay, or credit or debit card or get your salary paid into the app.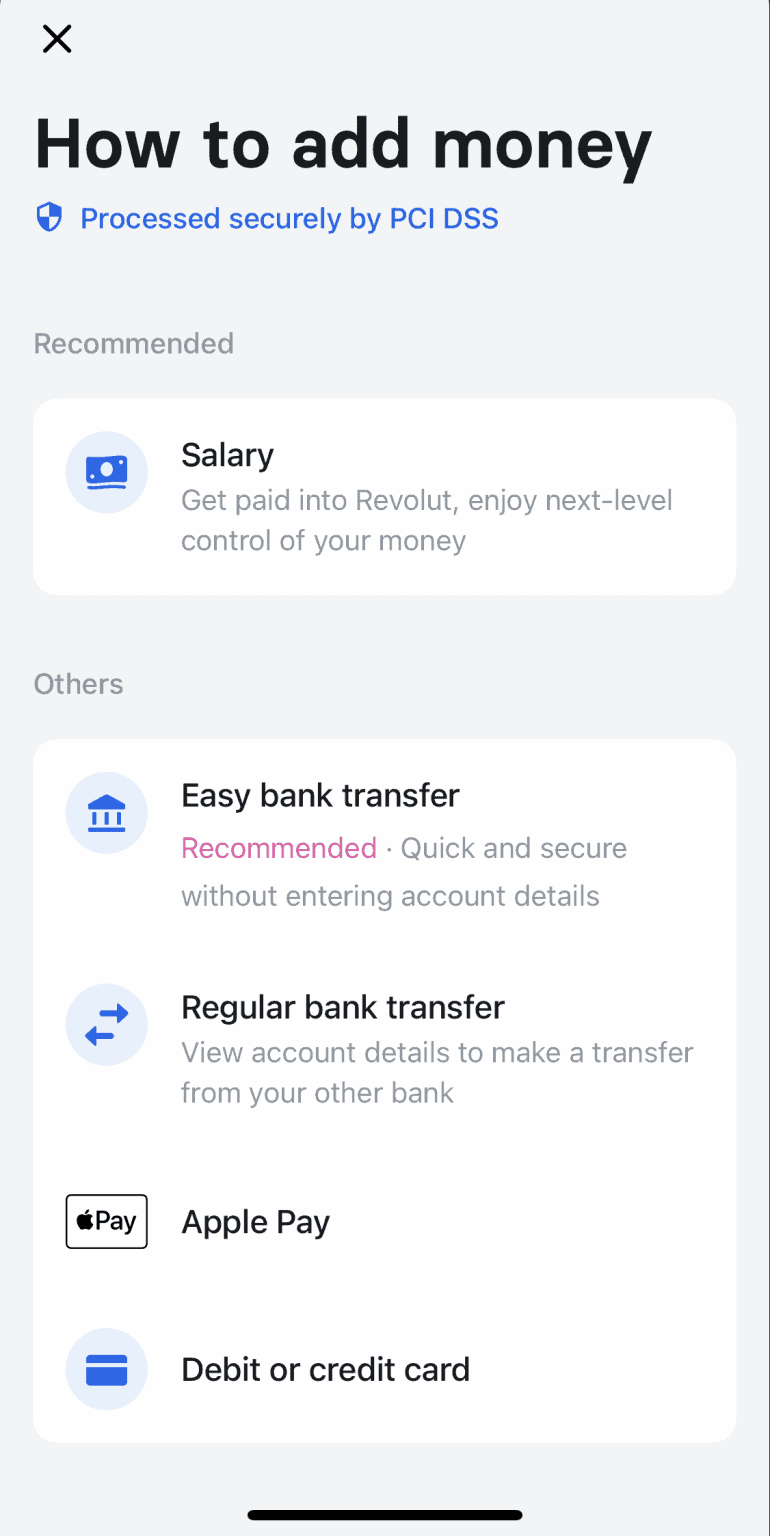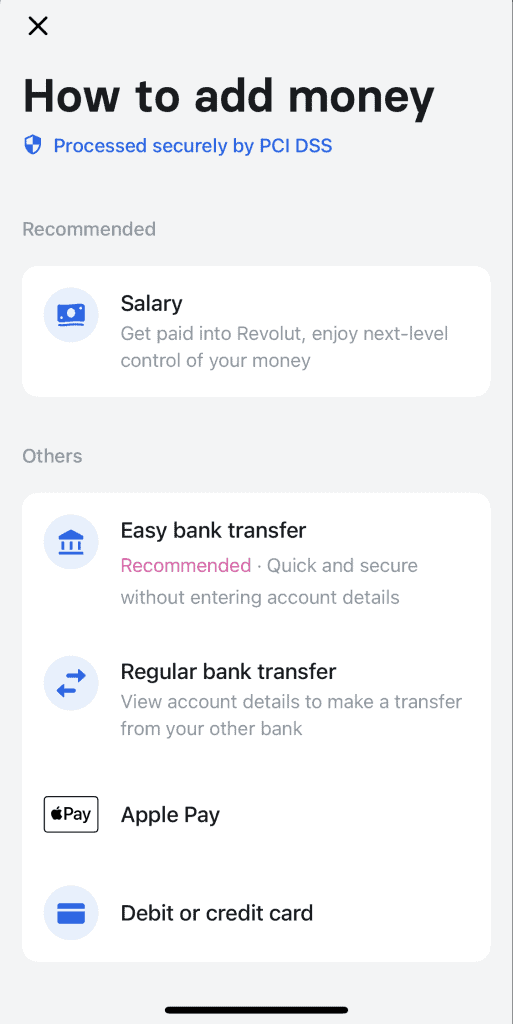 Conclusion
We love using our Revolut App; it has some great features, especially when travelling. The app is designed well, making it user-friendly and easy to use. However, I don't hold large sums of FIAT in the app long term, nor do I buy and hold crypto assets in my Revolut account.
If you're serious about investing in crypto, sign up for an exchange such as Coinbase, Gemini or Binance. If you want somewhere to store your crypto safely, I would recommend investing in a hardware wallet such as a Ledger Nano X, Nano S or Trezor Model T. There are also free wallets, such as Exodus or Argent, where you do have access to your private keys. But I understand even by mentioning "private keys," I may have lost some of you already!
Another option (if you don't want to look after or manage your private keys) is using platforms where you can earn interest, such as Nexo, where you can currently earn 6% on Bitcoin or 5.25% on Ethereum with BlockFi.
We use the Revolut app as an intermediary between my account and crypto exchanges such as Coinbase or Gemini. Some of you may know that some accounts do not allow transfers to crypto platforms; however, Revolut is a crypto-friendly app.


FAQs
Can I send Bitcoin from Revolut?
Revolut does not support the transfer of cryptocurrencies outside of the platform. This is one of the negatives when buying Bitcoin with Revolut; you don't have control. You are essentially tied into Revolut's buy and sell prices and cannot transfer to an external wallet.
Is Revolut a Bitcoin wallet?
No, Revolut is not a Bitcoin or crypto wallet. You cannot send or receive Bitcoin (or any other supported cryptocurrencies that Revolut Supports from the Revolut app). When holding your crypto, it's important to have access to your private keys. Unfortunately, Revolut does not provide this.
If you want a secure wallet to store your crypto assets, I recommend the Ledger or Trezor hardware wallets.
Related Posts