Starting out investing and knowing which platform to choose can be overwhelming, but our in-depth Plum Review is here to shed light on one of the market's standout investing applications.
In this review, you'll gain a holistic understanding of the Plum App, a trailblazing platform designed to revolutionize the way you save, invest, and manage your finances. We'll delve into its unique features, safety protocols and investment options.
Whether you're a seasoned financial enthusiast or just starting your journey, understanding what Plum brings to the table is crucial. Making informed financial decisions is pivotal, and our comprehensive analysis ensures you have all the insights you need.
So, let's dive in and discover if Plum is the financial ally you've been searching for!
Key Takeaways:
The Plum App offers a range of features and benefits to help users manage their finances effectively. With features like automatic savings, goal setting, and investment options, the app provides a comprehensive solution for financial planning.
Pros of using the Plum App include its user-friendly interface, automated savings features, and ability to connect with multiple bank accounts. It also offers personalized recommendations based on individual spending habits, making it easier for users to make informed financial decisions.
Cons of using the Plum App include potential fees for certain features and limited availability in some regions. Users should also be aware of the app's automated savings feature, as it may lead to unexpected withdrawals if not properly managed.
Beginner Friendly Investing App
Plum: Invest, Save & Manage Your Money with AI
Plum is a smart money management app for automated saving, investing, and budgeting. It helps users optimize their finances by automatically setting aside funds, offering investment opportunities, and providing tools for budgeting. With over 1 million users, Plum combines technology and finance to make money management effortless and efficient.
Pros:
Automated Savings: Plum's algorithms analyze your spending & automatically set aside money, making saving effortless.

Investment Opportunities: Offers both manual & automated investment options, allowing users to diversify their portfolio.

Smart Budgeting: Features like the Plum Card help users stick to their budget and avoid overspending.
Cons:
Not a Bank: While Plum offers financial tools, it's not a bank, which might be a concern for some looking for traditional banking services.

Risk with Investments: As with all investments, there's a risk involved, & the value can go up or down.

Fees for Advanced Features: While there's a basic free version, some advanced features come with a monthly fee.
We earn a commission if you make a purchase, at no additional cost to you.
Plum Review: How to Use the Plum App
To fully grasp the nuances of the Plum App, be sure to watch our Plum review alongside exploring our in-depth review below. This will give you a well-rounded understanding and enable you to make informed decisions regarding integrating Plum App into your financial management routine.
What is Plum?
The Plum App is a highly-rated mobile application that offers various features to enhance productivity and efficiency. With its user-friendly interface and innovative tools, Plum App has become popular among individuals and businesses. Whether you are looking to manage your finances, track expenses, or set financial goals, Plum App has something for you.
One notable feature of the Plum App is its ability to analyze spending patterns and provide personalized recommendations. By understanding your financial habits, the app can suggest ways to save money and achieve your financial goals faster. Additionally, the Plum App offers seamless integration with your bank accounts, allowing you to track your income and expenses in real time.
With its robust security measures, you can trust that your financial data will remain safe and protected. Plum App offers regular updates and improvements based on user feedback, ensuring that you have access to the latest features and improvements.
Pro Tip: Regularly review and adjust your financial goals based on changing circumstances to make the most out of the Plum App. This will ensure that you stay on track and progress towards achieving financial success.
How Does Plum Work?
Plum is a financial management app that offers a range of features and functions to help users achieve their financial goals. Plum analyzes users' spending patterns and income through its intuitive interface and advanced algorithms to provide personalized insights and recommendations.
By connecting to users' bank accounts, Plum can track transactions, categorize expenses, and set up automatic savings based on individual preferences. This smart automation enables users to effortlessly save money, invest wisely, and manage their finances effectively. With Plum, individuals can take control of their financial future and achieve greater financial well-being.
Plum Pros
Unlock the potential of the Plum App with these incredible benefits:
Simple & Intuitive Interface: Plum offers a user-friendly experience, ensuring effortless navigation and hassle-free interaction.
Automated Saving: With the Plum App, saving money becomes a breeze as it automates your savings process, taking the weight off your shoulders.
Smart Budgeting: Experience the convenience of smart budgeting through the Plum App, allowing you to track and manage your expenses easily.
Investment Opportunities: Embrace the future of finance with the Plum App's investment features, enabling you to explore promising investment options.
Savings Growth: Witness your savings grow with the Plum App's interest rates, enhancing your financial stability and future aspirations.
Personalized Savings Plans: Plum analyzes your spending habits and creates tailored savings plans, inspiring you to reach your financial goals.
Plum Cons
Plum poses a few limitations that individuals should consider before deciding to use it. Here are three key points to take into account:
Limited Compatibility: One downside of using Plum App is its limited compatibility with certain operating systems or devices. This exclusivity could restrict users who do not have access to the supported platforms.
Inadequate Customer Support: Another drawback of the Plum App is its reported customer support dissatisfaction. Some users have encountered difficulties when seeking assistance, which may lead to frustration and hinder the overall user experience.
Subscription Costs: Lastly, the Plum comes with a subscription fee. While the app offers various features and benefits, the ongoing cost may not be suitable for individuals on a tight budget or who prefer to avoid recurring payments.
It is essential to note that these drawbacks should not overshadow the app's positive aspects. However, considering these potential limitations is crucial before committing to Plum. By taking these suggestions into account, users can make an informed decision about whether or not the Plum App is the right fit for their individual requirements and preferences.
Plum Features
Plum is a financial platform designed to help users save, invest, and manage their money more efficiently. With its innovative features, Plum aims to simplify personal finance and make it more accessible to everyone. Let's delve into some of the standout features that Plum offers:
Savings Pocket
Plum Interest allows users to earn a competitive interest rate on their savings. With variable rates that are updated periodically, users can grow their money effortlessly. This feature is especially beneficial for those looking to earn a return on their idle funds without the complexities of investing.
Investment Funds
Plum provides a curated selection of investment funds, catering to various risk appetites. Whether you're a cautious investor or someone seeking higher returns, there's a fund that aligns with your goals. It's a great way for users to diversify their portfolios and potentially grow their wealth over time.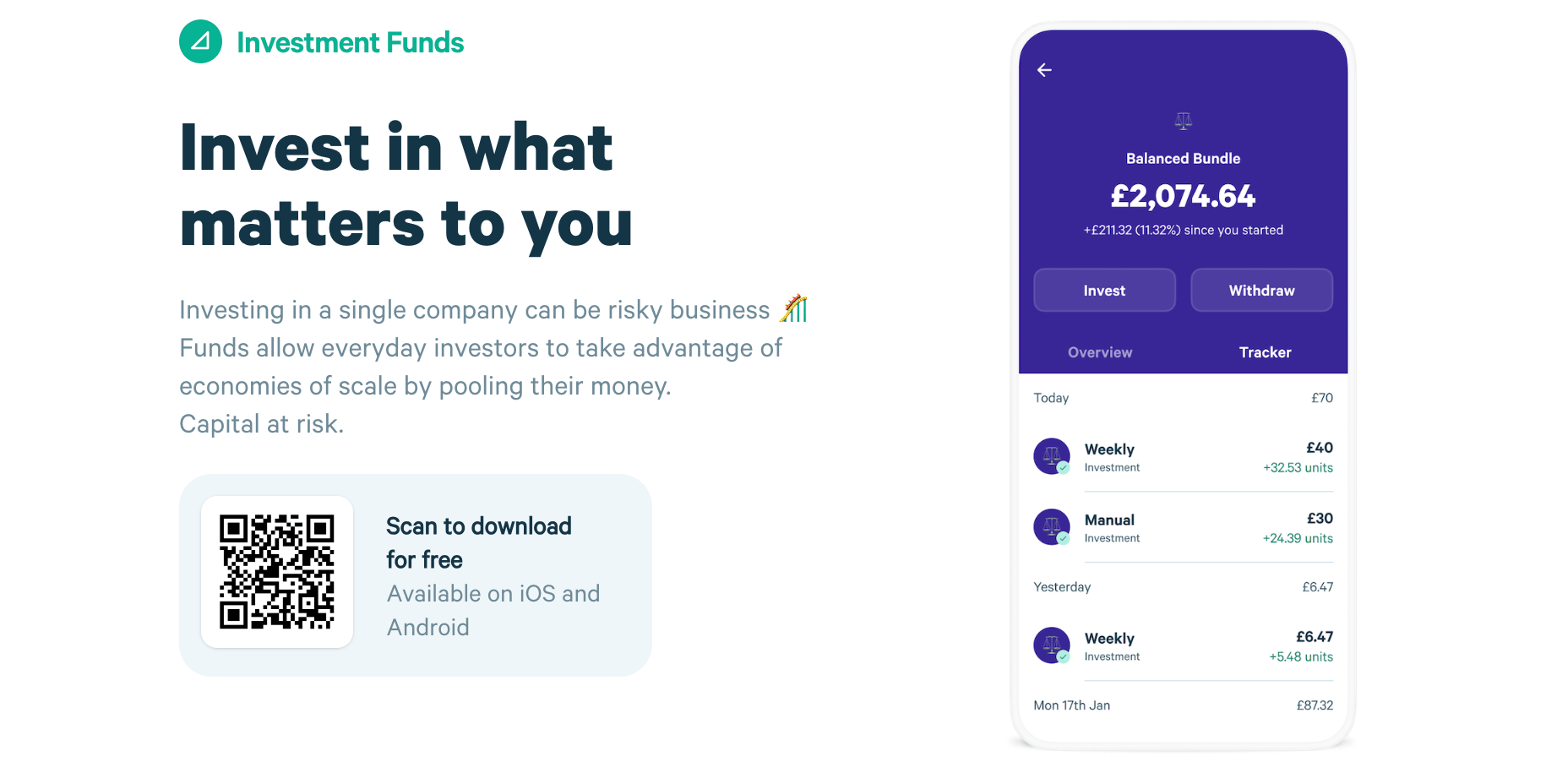 Stocks
For those interested in direct equity investments, Plum's stock investing feature is a boon. Users can pick from a wide range of stocks and build a portfolio that reflects their beliefs and investment strategy. It's an opportunity to own a piece of your favourite companies and benefit from their growth.
Pension
Planning for retirement is crucial, and Plum's pension feature makes it simpler. Users can consolidate their old pensions and manage them under one roof. With clear insights and projections, it's easier to make informed decisions about your retirement savings.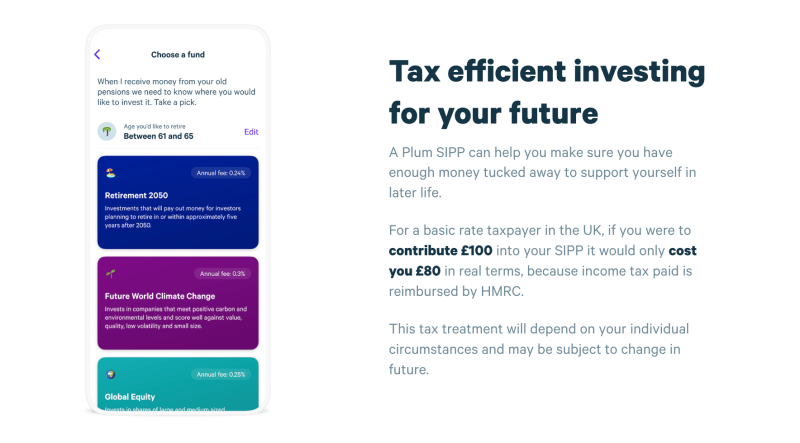 Active Budgeting
Understanding and controlling your spending is the first step towards financial wellness. Plum's active budgeting feature links all your bank accounts and credit cards, providing a comprehensive view of your finances. Users can make smarter financial choices with spending overviews, alerts, and bill comparisons.
Card
The Plum Card is more than just a spending card. It integrates seamlessly with the app, allowing users to manage their money effectively. Whether it's daily expenses or online shopping, the card offers flexibility and control. Plus, with no foreign transaction fees and compatibility with Google Wallet, it's perfect for both local and international use.
Plum's Plans & Accounts
Plum, a prominent financial management app, provides various account options designed to meet the diverse requirements of its users. Whether you are a novice or an experienced investor, Plum offers a customized plan for each individual. In order to gain a thorough understanding of each account's distinctive characteristics and advantages, let's explore the specifics of these accounts in detail.
Plum Basic (Free of Charge)
Plum's introductory account, the Basic, is designed for those new to investing or those wanting to try the app without any financial commitment. It features two primary sections: the main pocket and easy access. With this account, users can delve into savings accounts facilitated by Investec PLC and have the option of a Stocks and Shares ISA, GIA, and SIPPs. The main pocket, powered by advanced AI, examines your spending patterns and recommends periodic deposits based on your habits. However, it doesn't accrue interest, and withdrawals might take a day.
Plum Easy Access Interest Pocket This section, even at the Basic tier, offers an interest of 2.00% AER. It provides an ISA investment avenue with a selection of over 1,200 stocks. However, if you're keen on fund investing, you'd need to ascend to the Plum Pro. An added perk is its ability to suggest potential savings on household bills.
Plum Pro (Priced at £2.99/month)
A step up from the Basic, the Pro account amplifies your savings experience. It offers an increased interest of 2.30% AER and introduces users to 12 diverse investment funds. It also allows users to segregate their savings into 15 distinct pockets, making it easier to manage funds for different purposes. Additional features include a unique 52-week savings challenge, goal-oriented budgeting, and cashback offers from select retailers.
Plum Ultra (Priced at £4.99/month)
Building on the Pro's offerings, the Ultra account introduces users to the Plum debit card and provides enhanced cashback deals. Its standout feature is the 'money maximiser', which allows users to allocate their spending into weekly portions, ensuring the remaining balance earns interest.
Plum Premium (Priced at £9.99/month)
The pinnacle of Plum's offerings, the Premium account, provides users with an expansive investment landscape, boasting a choice of 3000 stocks and 21 funds. A unique tool available at this level is the 'repeat stock investments' feature, which enables users to schedule daily, weekly, or monthly contributions to their preferred stocks. While it offers a plethora of features, its value is truly realized if users are keen on exploring a broader stock spectrum.

Plum's Investment Options
Plum is not just about saving; it's also about growing your money. With these investment options, Plum ensures that users have all the tools they need to grow their wealth and achieve their financial goals. Whether you're just starting your investment journey or are a seasoned investor, Plum offers a range of options tailored to your needs.
Plum Interest
Plum offers an interest-earning feature where users can grow their savings. The platform provides competitive variable rates, ensuring users' money doesn't just sit idle but grows over time. This is especially beneficial for those who want a return on their savings without delving into the complexities of the stock market. Learn more
Investment Funds
Plum provides a curated selection of investment funds suitable for various risk profiles. Users can invest in a mix of shares from thousands of different companies and other assets like bonds. This diversification ensures that the overall portfolio remains balanced even if one investment underperforms. Explore the funds
Stocks
For those who prefer direct equity investments, Plum offers a stock investing feature. Users can trade fractional company shares, allowing them to own a piece of their favourite companies. This feature provides flexibility in setting long-term goals while being responsive to short-term market changes. Discover stock investing
Pension
Retirement planning is crucial, and Plum makes it easier with its Self Invested Personal Pension (SIPP) feature. Users can consolidate their existing pension policies and invest in diversified global funds. This feature ensures that users are well-prepared for their retirement years. Learn more about Plum's pension offerings.
Active Budgeting
Financial awareness is the first step towards effective investing. Plum's active budgeting feature provides a comprehensive view of users' finances by linking all their bank accounts and credit cards. With insights into spending patterns, users can make informed investment decisions. Dive into active budgeting.
Plum Card
The Plum Card is not just for spending; it's an integral part of the investment journey. Users can set aside more money for investments by effectively managing daily expenses. The card offers numerous features, from global acceptance to no foreign transaction fees, ensuring seamless financial management. Discover the Plum Card.
Plum App's Safety & Security
At the heart of the Plum App's operations lies an unwavering commitment to user safety and security. The platform has implemented a multi-layered approach to ensure that users can confidently manage their finances.
Here's a closer look at the rigorous measures in place:
Advanced Encryption: Plum employs cutting-edge encryption methods to shield user data, ensuring it remains inaccessible to unauthorized parties.
Rigorous Authentication: To prevent unauthorized access, the Plum App has set up stringent authentication processes that effectively verify user identities, thereby reducing the chances of fraudulent activities.
Periodic Security Reviews: By conducting regular and thorough security assessments, Plum ensures that the platform remains fortified against potential vulnerabilities, offering users an uninterrupted, secure experience.
Uncompromised Data Privacy: In line with global data privacy standards, Plum is dedicated to treating user information with the utmost respect and discretion, ensuring it's never misused.
Transactional Integrity: Every financial transaction on the Plum App is routed through trusted payment channels, ensuring that users' monetary interactions are always secure.
Continuous Surveillance: A specialized team of security professionals oversees the platform's operations 24/7, ensuring swift action against potential security threats.
While the above points offer a snapshot of Plum's security infrastructure, it's worth noting that the platform's commitment to safety is ongoing. By consistently integrating the latest in security technology and best practices, Plum ensures that users can navigate their financial journey with peace of mind.
Is Plum App Safe?
Plum prioritizes user security, employing robust measures comparable to leading banks. It utilizes 256-bit encryption, bolstered by face and fingerprint ID authentication, ensuring data protection and secure transactions. Under the vigilant supervision of the Financial Conduct Authority, Plum holds a distinguished status as a registered account service provider.
The app's collaboration with esteemed financial giants like Blackrock and Vanguard further underscores its credibility. Additionally, the 'pockets' functionality, powered by Investec, is shielded by FCSC protection. This means that in the rare event of Investec facing financial challenges, users' funds are safeguarded up to a limit of £85,000, adhering to the UK's industry benchmarks.
Pro Tip: Regularly reviewing Plum's reports and recommendations can help users identify areas for improvement and make informed financial decisions.
User Experience & Customer Feedback
Plum App's functionality and interface create a seamless user journey, contributing to positive customer interactions. Users appreciate its intuitive features, resulting in a high level of satisfaction and engagement. The app's customer feedback mechanism also allows for continuous improvement and enhanced user experiences. This fosters a dynamic environment that adapts to user needs and preferences.
Overall, the Plum App offers an exceptional user experience and valued customer feedback, making it a preferred choice for many individuals seeking financial management solutions.
Plum Alternatives
Managing your finances has become more accessible and intuitive, thanks to a plethora of financial apps. While Plum has made a significant mark in the realm of automated savings and investments, several other platforms offer unique features catering to various financial needs.
Let's delve deeper into some of the top alternatives to Plum, exploring what each brings to the table.
Moneybox
Moneybox stands out as a user-friendly platform designed to simplify the world of finance. It encourages users to save and invest by rounding up their daily purchases to the nearest pound and investing the spare change. Whether you're buying a coffee or shopping online, Moneybox ensures that every penny counts. Additionally, it offers a range of investment options, from stocks and shares ISAs to pensions, making it a versatile choice for novice and seasoned investors.
Chip
Chip takes the hassle out of saving by doing the heavy lifting for you. Using advanced algorithms, Chip studies your spending patterns and calculates an affordable amount to save every few days. The app's primary goal is to ensure users save without feeling the pinch. With features like automatic saving and goal setting, Chip makes it easier for users to achieve their financial aspirations.
Revolut
Revolut is more than just a savings app; it's a financial super-app. It offers a vast array of services, from basic account management and spending analytics to advanced features like cryptocurrency trading, stock investments, and international money transfers. With its sleek interface and real-time notifications, Revolut provides users with a comprehensive overview of their finances, ensuring they stay in control.
Starling
Starling Bank, a trailblazer in the digital banking sector, offers a seamless banking experience without the need for physical branches. Users can set up an account in minutes, get real-time notifications on their spending, and set savings goals. Starling's "Spaces" feature allows users to create separate pots for different financial goals, making budgeting and saving more organized and efficient.
Monzo
Monzo, another heavyweight in the digital banking arena, offers a vibrant card and a feature-rich app. From instant spending notifications and budgeting tools to savings pots and salary sorter features, Monzo ensures users have a holistic view of their finances. Its intuitive interface and features like bill splitting and overseas spending without fees make it a favourite among millennials and Gen Z.
Conclusion
With its wide range of features and benefits, the Plum App proves to be a valuable tool for users. The app simplifies financial management from its intuitive interface to its ability to track expenses and savings. Additionally, the app provides personalized investment recommendations and automates saving processes, making it easier for users to achieve their financial goals.
However, it is important to note that the Plum App may not be suitable for everyone, particularly those who prefer more hands-on control over their investments. Overall, the Plum App offers a convenient and efficient solution for individuals looking to improve their financial management skills and achieve their savings goals.
Don't miss out on the opportunity to take control of your finances – try the Plum App today.
FAQs
What is the Easy Access Interest Pocket in Plum?
The Easy Access Interest Pocket is a savings pot offered by Plum that allows users to earn up to 4.21% AER on their savings. It is one of the options available for automated savings within the app.
Can I start investing in stocks and funds with Plum?
Yes, Plum allows users to begin investing in up to 3000 stocks and funds from as little as £1. They collaborate with well-known investment firms like Blackrock, Legal & General, and Vanguard to provide investment options.
What is the exclusive offer mentioned in the Plum app review?
The exclusive offer mentioned in the Plum app review is a promotion that gives users a free ** in their Plum account when they open an account through Up the Gains. The offer includes £5 cashback.
Does Plum have a free version of their app?
Yes, Plum offers a free version of their app that allows users to access certain features. However, there are premium account options available with additional benefits.
Are Plum accounts safe and regulated?
Yes, Plum accounts are safe and regulated. Plum has high street banking level security measures, including 256-bit face/fingerprint ID technology. They are regulated by the Financial Conduct Authority as a registered account service provider. Additionally, the funds offered on the app are FCSC-protected.