In this BitFlyer review for 2022, I will take you through an overview of the cryptocurrency exchange Bitflyer Europe, which will include supported cryptocurrencies, deposit methods, fees, and security.
If you're looking for a platform where you can trade for the most popular cryptocurrencies with euros, Bitflyer Europe may be the exchange for you. Ideal for the smaller investor (or newbie) with deposits as little as 1 Euro. Plus buy and sell your cryptocurrencies with ease with a credit or debit, bank transfer or even via a PayPal account.
So, let's dive into this BitFlyer Review, to help you work out whether BitFlyer is the right crypto exchange for you.
BitFlyer Exchange Review: How to Use BitFlyer?
What is BitFlyer?
BitFlyer is a cryptocurrency exchange where 2 million registered customers currently buy and sell Bitcoin and other virtual currencies.  
bitFlyer was founded in 2014 by Yuzo Kano, a former derivatives and bonds trader from Goldman Sachs. They're the first cryptocurrency exchange in the world to facilitate operations in Japan, America and Europe.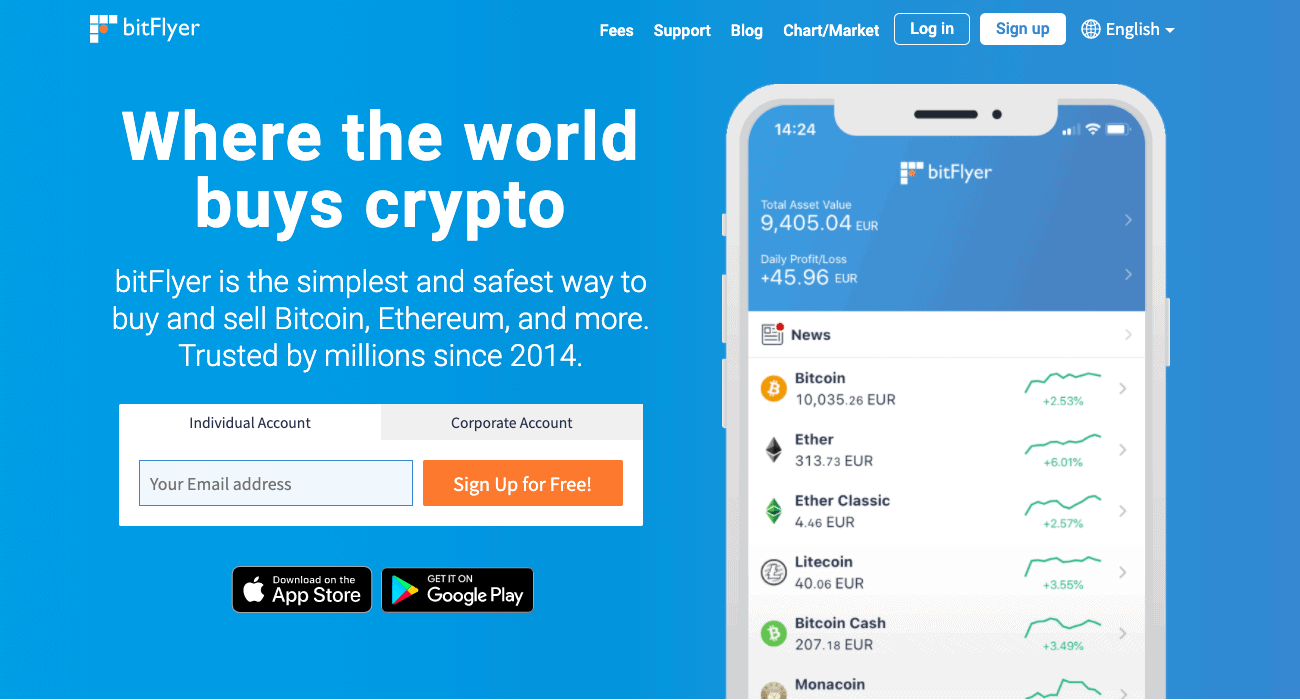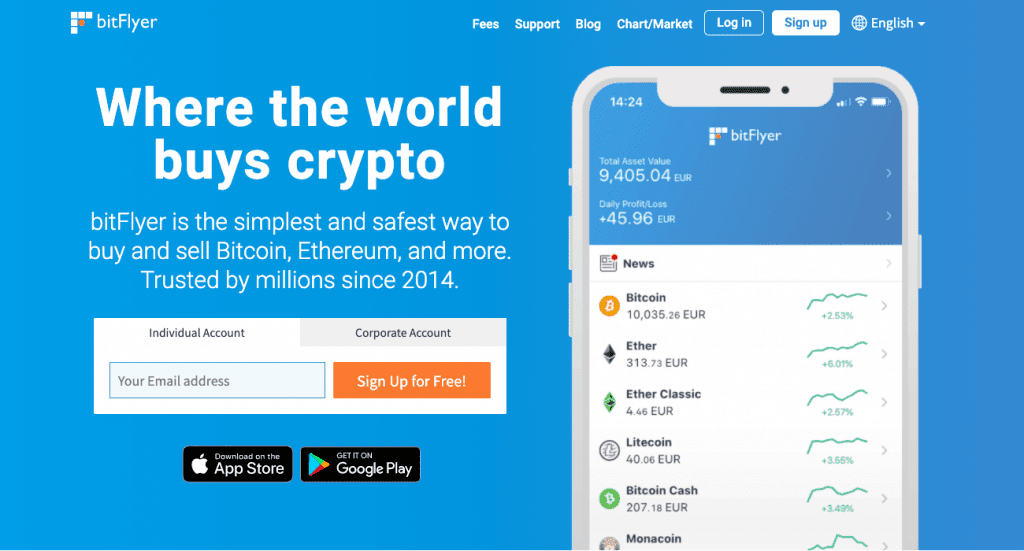 Users in Europe, can get access to one of the largest bitcoin markets in Japan, while still using a European-regulated platform.  Japan is currently home to the biggest global bitcoin market and bitFlyer currently handles over 70% of JPY trading. 
Today, we'll be covering bitFlyer Europe S.A.  Which launched in 2018 and is a subsidiary of bitFlyer, Inc. their European office is located in Luxembourg they operate an exchange platform for European traders to buy and sell virtual currencies
How to Buy with BitFlyer?
With BitFlyer, there are 3 different way to buy Bitcoin, or other cryptocurrencies such as Ethereum and Litecoin.
First you have Instant Buy, allowing you buy the likes of Bitcoin instantly with a credit card.
There's also a Buy/Sell option where you can buy or sell with a bank, crypto or PayPal deposit.
Then there's Lightening, for a pro trading option giving the user more varied order types.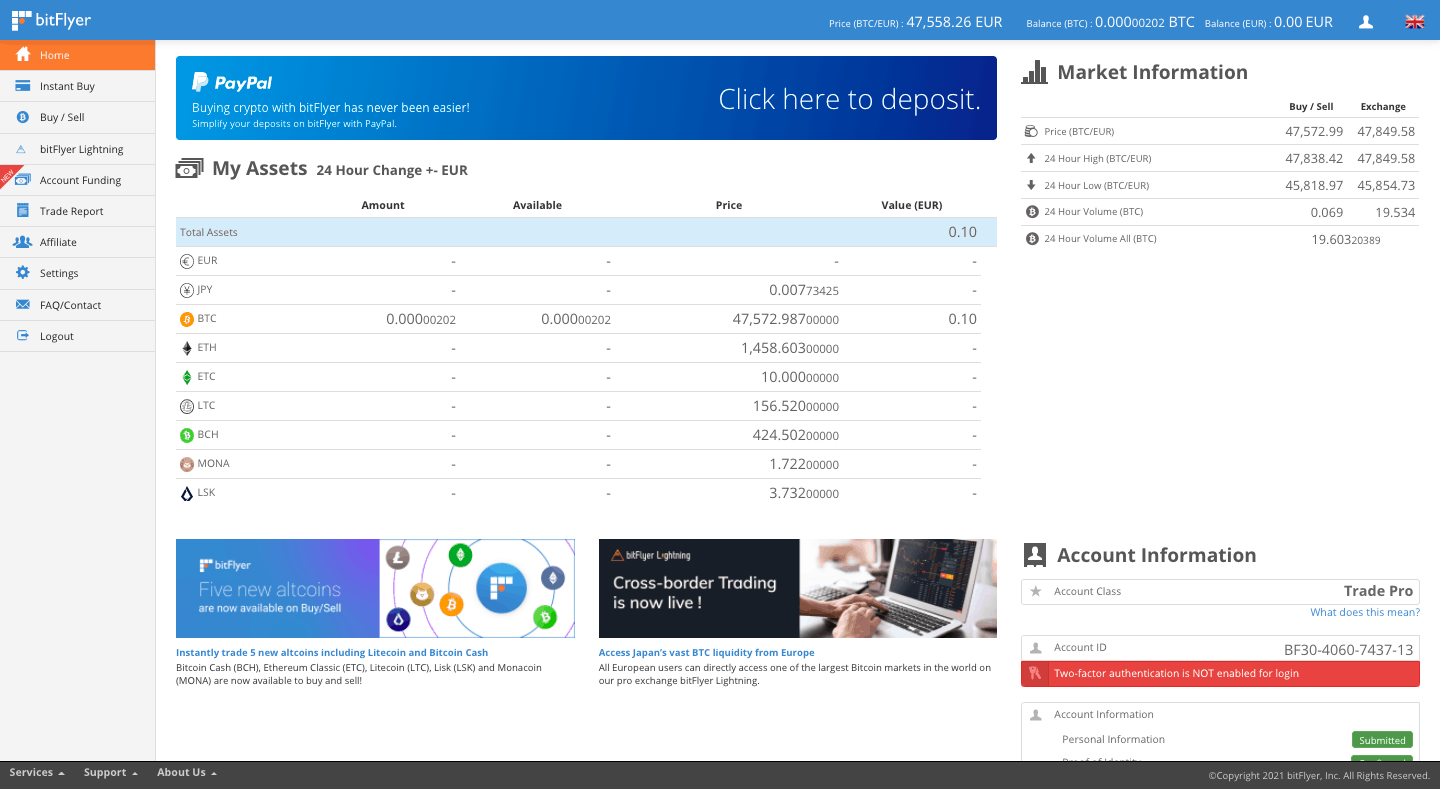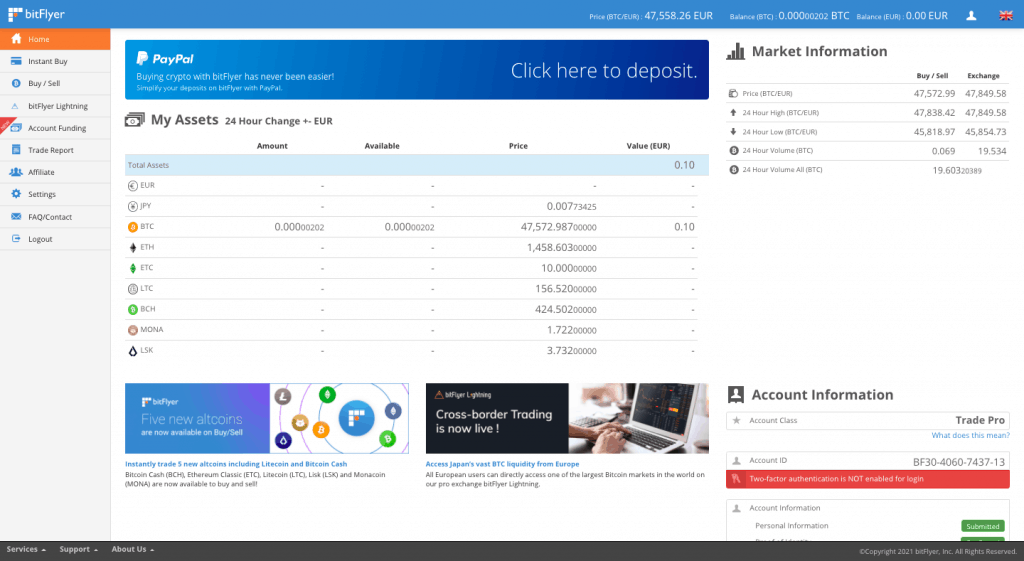 Deposit Methods
With BitFlyer you can deposit FIAT such as Euros via bank transfer. Alternatively, you can easily deposit using a PayPal account. However, in order to use PayPal, you will need to upgrade your account to "Trade Pro".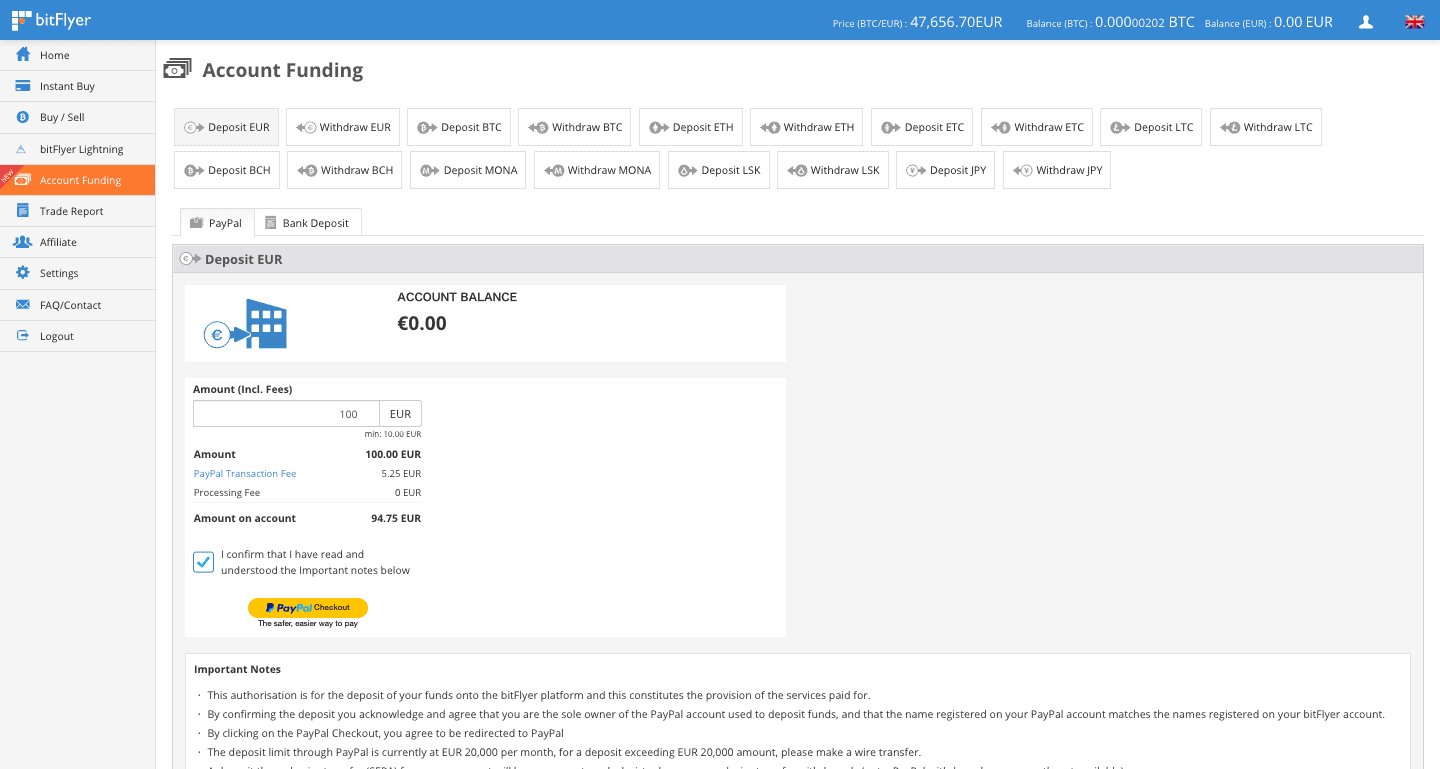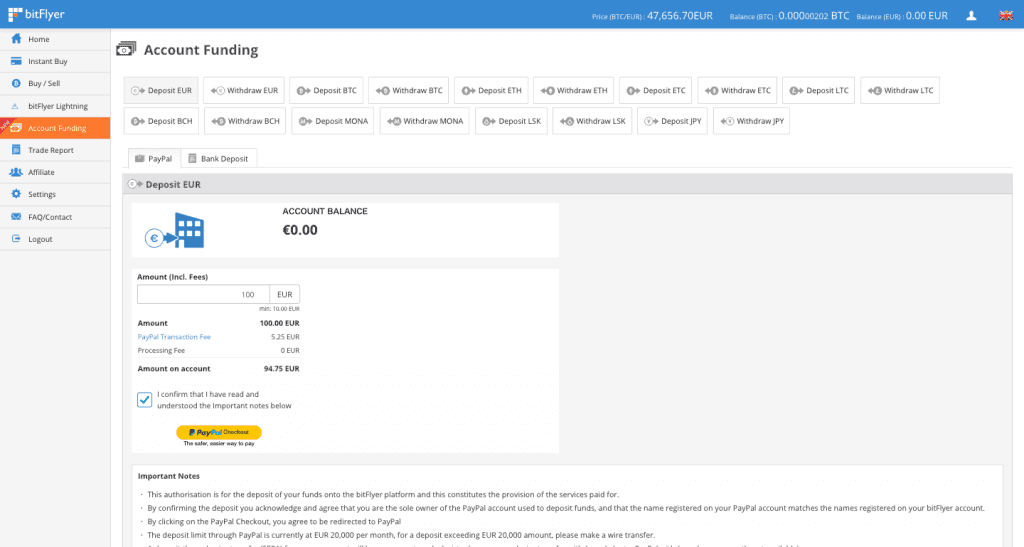 If you want to deposit cryptocurrencies you can send tokens such as BTC, Litecoin, Ethereum to the exchange for trading.
Please be aware, that if you are depositing using PayPal or cryptocurrency you will need to link a bank account to withdraw later. PayPal withdrawals are not supported and cryptocurrency can only be withdrawn when a linked account has been added.
Supported Cryptocurrencies
BitFlyer Europe supports some of the most popular cryptocurrencies, such as the likes of Bitcoin (BTC), Ethereum (ETH), Ethereum Classic (ETC), Litcoin (LTC), Bitcoin Cash (BCH), MonaCoin(MONA) and Lisk (LSK).
If you're looking for more extensive trading pairs, it might be worth checking out crypto to crypto exchanges such as Binance.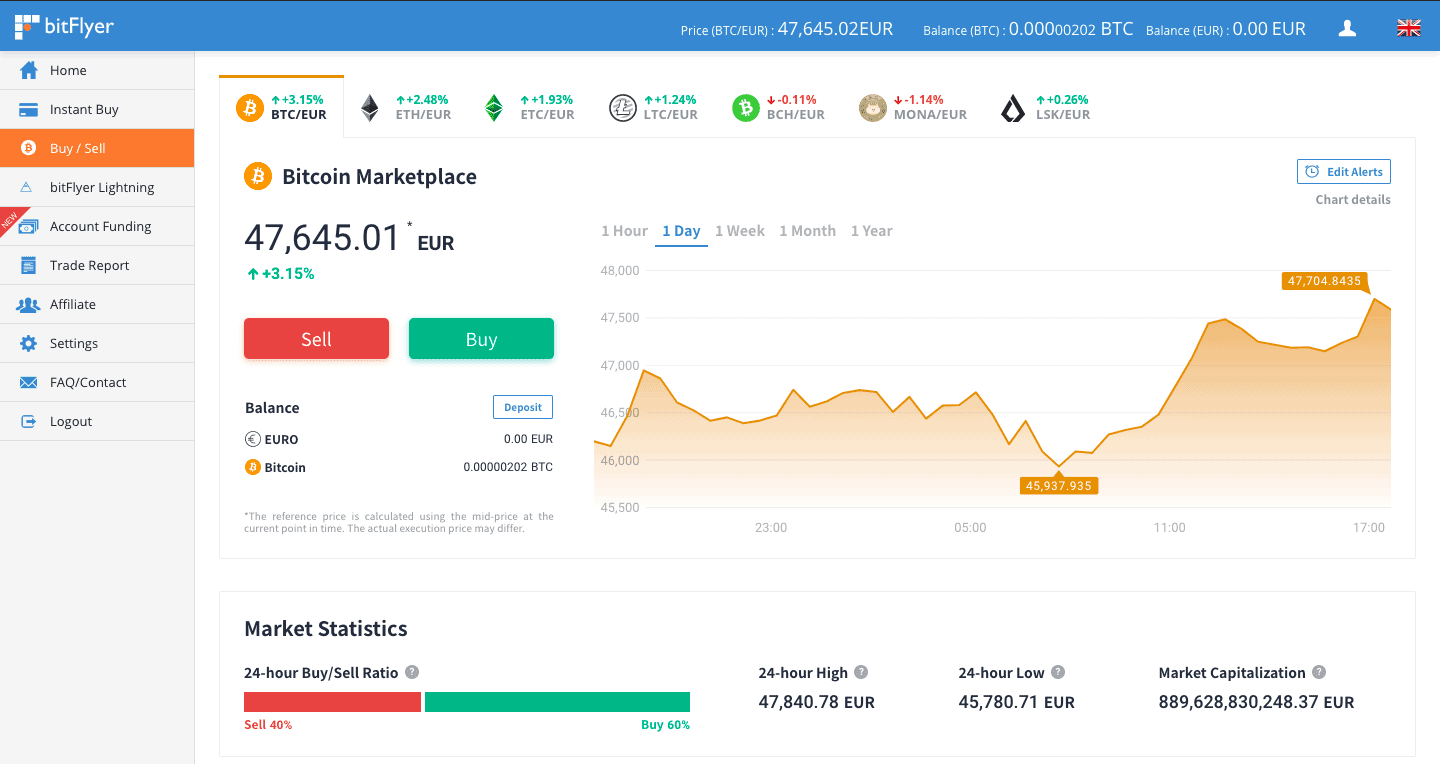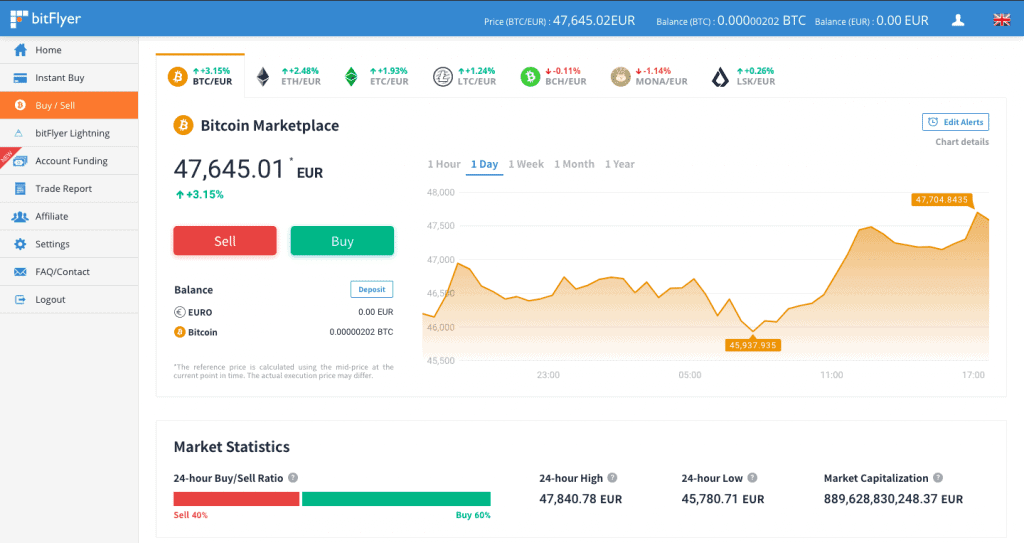 Fees
There are varied deposit fees that you will pay with Bitflyer Europe which will depend on your method of transfer. For example, if you deposit via SEPA, this is free of charge. However, for PayPal deposits, you will pay 4.9% plus a 35 cent cost per transaction.
Buy/Sell orders on BitFlyer Europe do not incur any additional fees and with the price already including this as part of the spread.
With Instant buys there are fees of 1.95% and 25 cents, per transaction. You'll also find that the price is inflated from the current market price.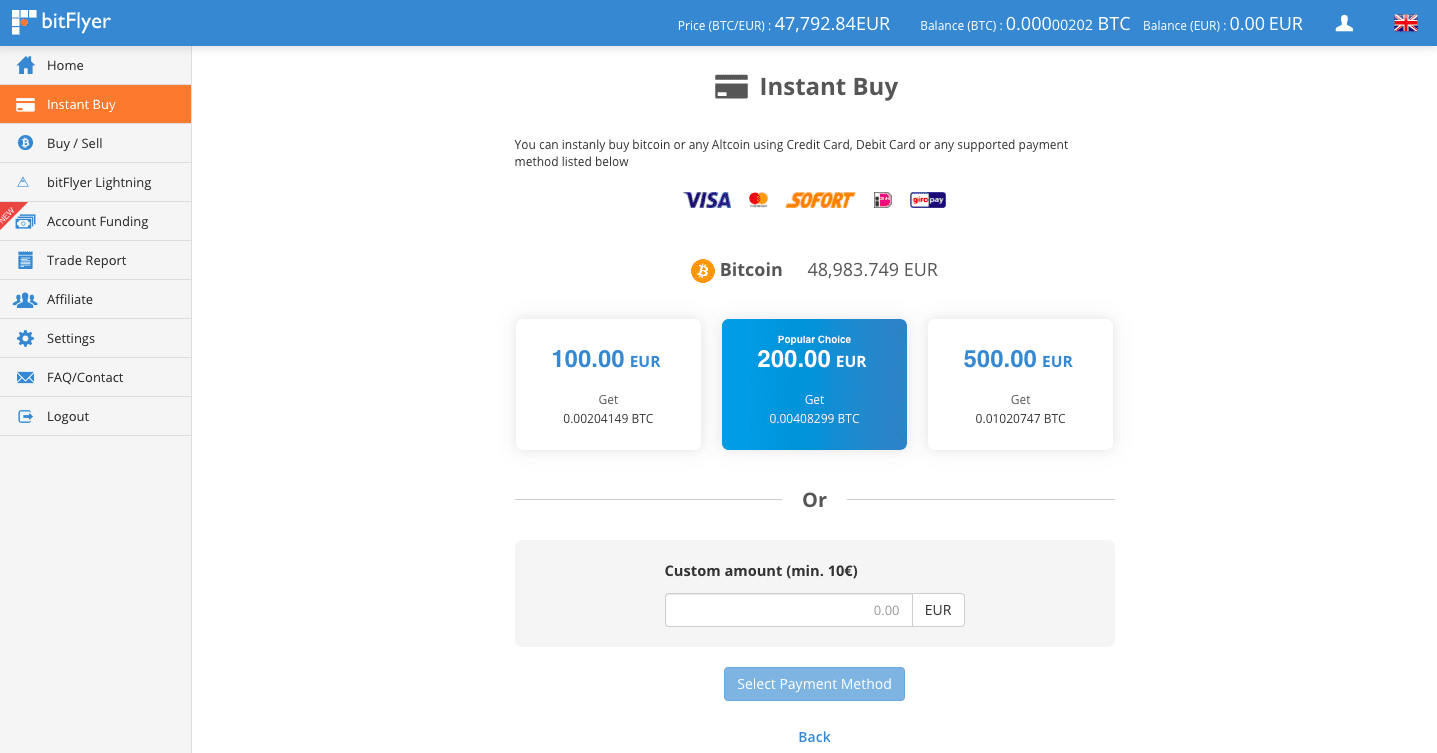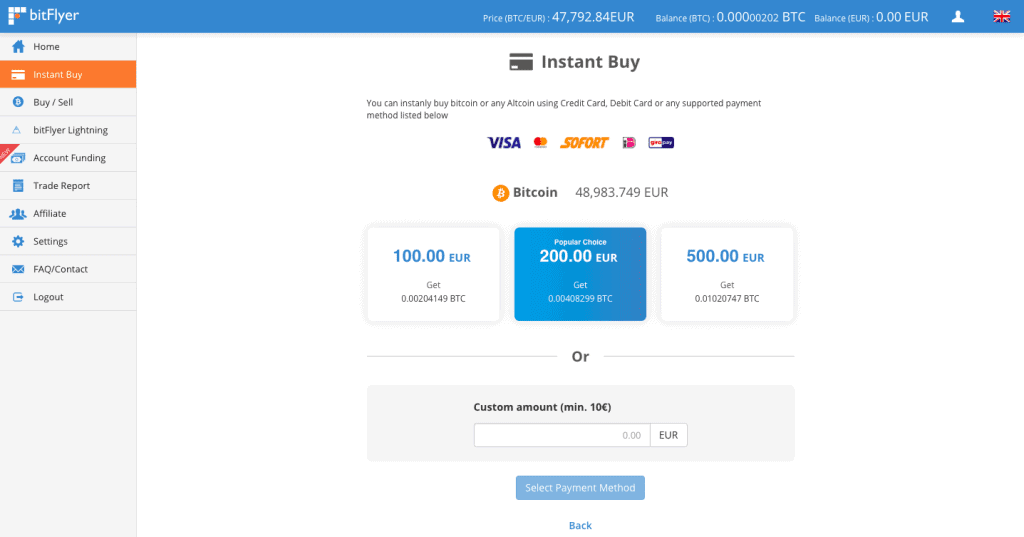 BitFlyer Lightening has fees at lower rates of 0.2% to 0.10% depending on trading volume within a 30 day period.
In terms of withdrawals, bitFlyer EU charges 0.0004 BTC as a flat basic withdrawal fee for BTC withdrawal. SEPA withdrawals will be charged at 30 cents for amounts under €250,000 and €10 for above €250,000.
You can find a full list of trading fees, click here.
What is BitFlyer Lightning?
BitFlyer Lightning is the more advanced trading platform by BitFlyer Europe. Similar to the likes of Coinbase Pro, with BitFlyer, you'll find cheaper fees, more advanced order types charts and graphs. With the ability to create a limit, stop limit and stop orders, you can define orders at your own price and wait for the market to reach this.
There are 2 trading pairs to choose from which are Bitcoin/Euros and Bitcoin/Japanese Yen.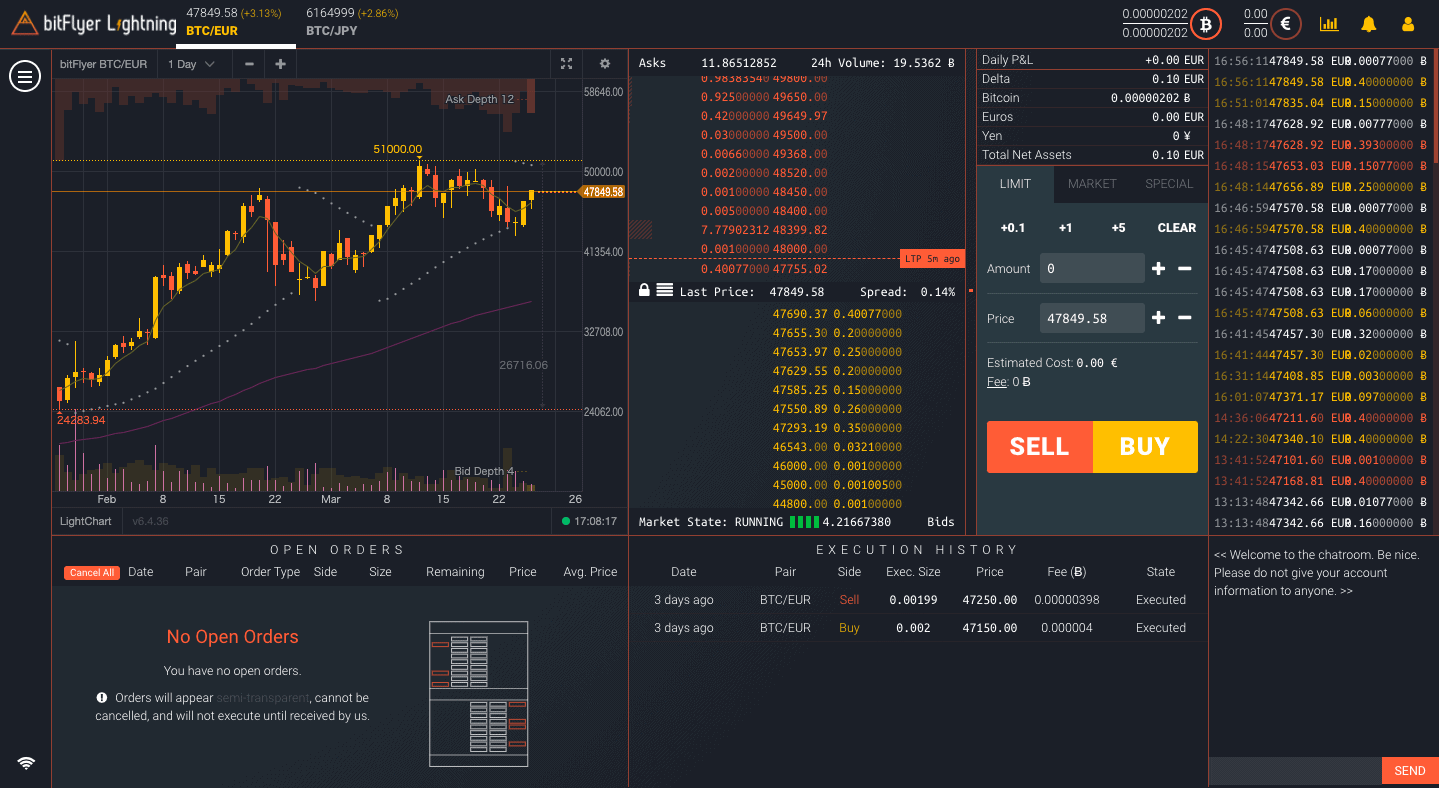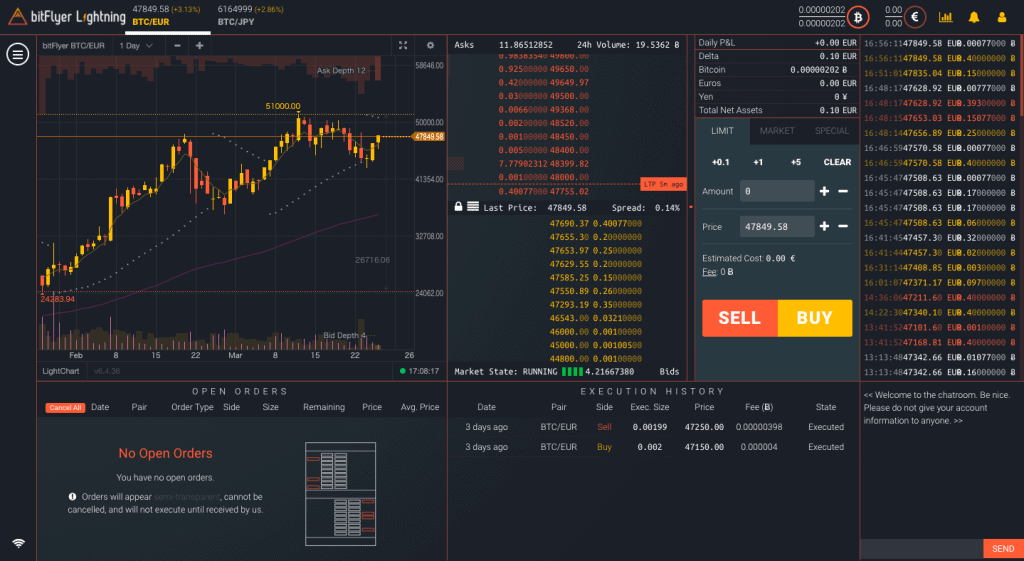 Is BitFlyer Exchange Safe?
Bitflyer is the first cryptocurrency exchange with licenses to operate across Europe, the US and Japan combined. It is also a financial institution licensed by the Luxembourg Ministry of Finance.
For customers funds protection, 80% or more of bitFlyer owned bitcoins are stored in a cold wallet, isolated from the network. The cold wallet is protected by several physical locks as well as a robust 24-hour surveillance system.
Bitflyer encourages 2 factor authentication during login, for registering addresses and for euro withdrawals. Plus an account lock when an incorrect password has been entered too many times.

BitFlyer Support
If you have an issue with the BitFlyer Europe exchange you can search the FAQ section of their site. Alternatively, you can submit an enquiry by completing an email contact form.
Related Posts