In this article, we will review PancakeSwap in detail and provide insights into its features, use cases, and future prospects.
PancakeSwap has emerged as one of the leading decentralized exchanges (DEXs) since its launch in September 2020. Built on the Binance Smart Chain (BSC), PancakeSwap has quickly gained popularity among the DeFi community due to its user-friendly interface, low transaction fees, and attractive rewards.
So, let's jump into this PancakeSwap review to help you work out if PancakeSwap is the right crypto platform for you.
PancakeSwap Review
PancakeSwap Pros & Cons
What is PancakeSwap?
PancakeSwap is a decentralized exchange (DEX) that allows users to trade cryptocurrencies and tokens without needing a centralized intermediary. Unlike other DEXs that are built on Ethereum, PancakeSwap is built on the Binance Smart Chain. This feature allows users to easily swap BEP-20 standard tokens.
One of the benefits of using PancakeSwap is that users can trade without the need for registration or any complicated processes.
PancakeSwap operates using an automated market maker (AMM) model. This means that users trade against a liquidity pool, which is filled with users' funds. As users deposit their funds into the pool, they receive liquidity provider (LP) tokens in return.
In addition to trading, users can also earn CAKE tokens through yield farming or win them in the Lottery. These tokens can then be staked in Syrup Pools to earn even more tokens. PancakeSwap has also introduced Initial Farm Offerings, a new token launch model. The platform also offers NFTs and other features that users can trust.
PancakeSwap V3
PancakeSwap is currently on version 3, which was released in April 2023. As reported in the PancakeSwap press release, the updated platform includes a series of improvements, including more competitive trading fees and better liquidity provisioning.
One of the most noteworthy components of the PancakeSwap V3 launch is the coinciding rewards campaign. This is where PancakeSwap will provide users with an airdrop of its native CAKE token to encourage participation and spark activity on the upgraded exchange. Additionally, as a means of commemorating the release, PancakeSwap has offered its users up to $135,000 in cash rewards and exclusive NFTs, given to those who connect their wallets and trade on the platform.
The release of PancakeSwap V3 aims to inject even more activity and liquidity into the Binance Smart Chain, thereby consolidating PancakeSwap's position as the leading decentralized exchange on the network.
How Does PancakeSwap Work?
PancakeSwap uses an automated market maker (AMM) model to facilitate trades. This means that instead of relying on order books like traditional exchanges, PancakeSwap uses liquidity pools to determine the price of assets.
Liquidity providers (LPs) can deposit two tokens into a pool, which are then used to create a market for those tokens. When users want to trade one token for another, they swap it with the liquidity pool and receive the other token in exchange. The price of the tokens is determined by the ratio of the tokens in the pool.
PancakeSwap also offers a feature called Syrup Pools, that allows users to stake their PancakeSwap LP tokens in exchange for rewards. These rewards can be paid out in CAKE, or other tokens that are added to the Syrup Pool.
PancakeSwap Features
One of the reasons why PancakeSwap is so popular among its users, it's the number of features it has to offer. Unlikely other similar platforms, they make their features beginner friendly. Below, we have provided a list of PancakeSwap's most popular features.
Trading
One of the most significant features of PancakeSwap is its Trading feature, which is done through an automated market maker (AMM). Users can swap one cryptocurrency for another without needing an order book or a centralized intermediary.
Unlike centralized exchanges, pre-set orders on PancakeSwap do not require matching with another order. Instead, the swap is deployed on the liquidity pool once the pre-set price target is reached.
Syrup Pools (Staking)
PancakeSwap Syrup Pools allows users to stake their CAKE tokens and earn rewards. The CAKE Syrup Pool, provides two staking options: flexible and locked staking.
Flexible staking allows users to earn rewards at a lower annual percentage yield (APY) compared to locked staking. Where if you choose locked staking, it offers a higher APY but requires users to lock their tokens for a set duration of time.
By staking tokens in Syrup Pools, users contribute to the liquidity of the PancakeSwap platform, which allows for more efficient trading and helps reduce slippage. Additionally, stakers receive a portion of the transaction fees generated on the platform, which adds to the rewards they earn through staking.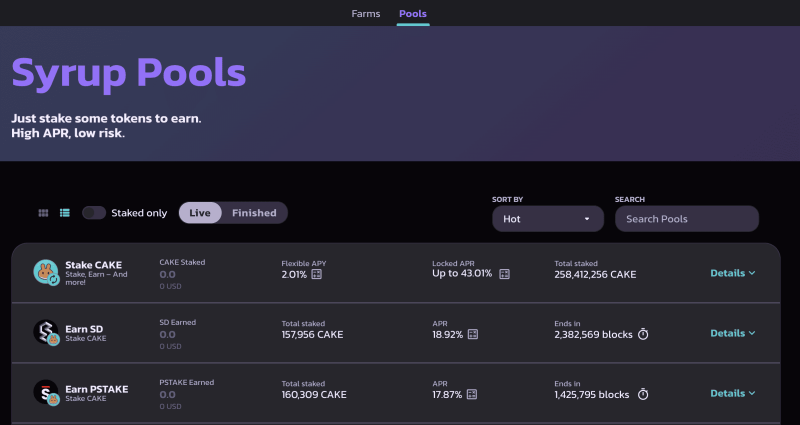 Yield Farming
PancakeSwap Yield Farming is a process that allows cryptocurrency investors to earn passive income by providing liquidity to the platform's liquidity pools. Yield farming involves locking up cryptocurrency assets into pools, which then generate revenue through trading fees.
To participate in PancakeSwap Yield Farming, users will have to stake LP tokens. These LP tokens are obtained by depositing liquidity into PancakeSwap liquidity pools. Yield boosters can also be activated, which increases the yield earned by investors.
Lottery
The PancakeSwap Lottery is where users can purchase lottery tickets using CAKE tokens. Each ticket is $5 in CAKE per ticket, and the lottery winner receives a large prize in CAKE tokens. Making it an attractive option for users looking to win big.
The PancakeSwap lottery tickets each have a unique six-digit combination and games typically span between 12-36 hours. To emerge victorious, users must hold tickets that match the winning combination from left to right.
The game also offers bulk discounts for multiple purchases, and users have purchase as many tickets as they desire.
NFT Marketplace
PancakeSwap NFT Marketplace is where you can buy and sell non-fungible tokens, also know as NFTs. The PancakeSwap NFT marketplace operates on the Binance Smart Chain, which is faster and cheaper than its competitors.
When you buy or sell NFTs on PancakeSwap the transactions are settled in WBNB, which is a wrapped version of BNB used on BSC. Additionally, the NFT Profile System on PancakeSwap allows users to create personalized profiles where they can share their achievements with friends and join teams.
PancakeSwap (CAKE) Token
The CAKE token is the native token of PancakeSwap and is used as a utility token within the PancakeSwap ecosystem. CAKE is a deflationary token that is designed to provide liquidity to the PancakeSwap platform, and its holders benefit from transaction fees and rewards from liquidity pools
PancakeSwap Supported Wallets
To start using PancakeSwap, you'll need to use a supported wallet that can connect to the Ethereum, Binance Smart Chain or Aptos Networks. The wallets PancakeSwap currently supports are;
TokenPocket
WalletConnect
Ledger
Coinbase Wallet
Coin98
MathWallet
Brave Wallet
Opera Wallet
SafePal
Blocto
Supported Cryptocurrencies
PancakeSwap can be used to trade BEP20 tokens. BEP20 is essentially a token standard that is on the Binance Smart Chain. Similar to the likes of ERC20 tokens that are used on the Ethereum blockchain.
PancakeSwap Fees
PancakeSwap's fees are low compared to centralized exchanges like Coinbase. Since PancakeSwap v3, trading fees are on a tiered basis. These range from 0.01%, 0.05%, 0.25%, and 1%, compared to V2's 0.25%.
The fee tiers are based on asset types and trading frequency, impermanent loss levels and volatility. With the lowest fees being found for stable pairs, where the prices are expected to match, the impermanent loss is low, and traders and LPs typically agree on the lowest fee tiers.
The highest fee tier is for the least frequently traded assets or that have a high impermanent loss.
As there are no order books, there are no deposit or withdrawal fees. However, you will need to pay a small transaction fees to interact with the Binance Smart Chain. Additionally, PancakeSwap doesn't charge any fees for withdrawals, unlike most decentralized exchanges.
Is PancakeSwap Safe?
PancakeSwap is generally considered a safe and secure platform and has undergone a thorough audit by cybersecurity firm CertiK. However, depositing funds into any smart contract is not completely risk-free, as there can be bugs even when a platform has been audited.
In fact, an exploit was found in the SYRUP smart contract, which forced PancakeSwap to put an end to their SYRUP pools.
One factor you need to consider when using PancakeSwap and adding liquidity, is impermanent loss.
Impermanent loss occurs when someone provides liquidity to a liquidity pool and the value of their deposited assets changes compared to the time they deposited them. This is because the balance of the pair needs to be equivalent, which means one asset will go up or down in quantity to create value parity.
As a result, the value of the asset may be reduced compared to holding it outside the pool. However, this loss can be mitigated by the returns on the investment. For example, if someone experiences a 10% impermanent loss but earns a 20% APR on their investment, they may still make a profit.
PancakeSwap Hack
The PancakeSwap platform experienced an exploit caused by a flaw in the interaction between the MasterChef and SyrupBar contracts. The exploit allowed bad actors to repeatedly mint more SYRUP tokens using their CAKE tokens, resulting in a greater number of SYRUP tokens in circulation than allowed. The issue was quickly identified and addressed by the PancakeSwap team.
PancakeSwap Support
Unfortunately, PancakeSwap does not offer customer support. However, PancakeSwap does provide a troubleshooting page that provides solutions to commonly asked question.
Another option is to interact with the large PancakeSwap community through the offical Telegram and Discord groups. However, be cautious when interacting in these communities as there will be plenty of scammers looking to take advance of you.
You can always keep up to date with the latest news and updates via the PancakeSwap Twitter page.
Conclusion
Overall, PancakeSwap has quickly become one of the most popular and innovative decentralized exchanges in the crypto world. Its low fees, extensive features, and unique rewards mechanisms have helped to attract a large and dedicated user base.
If you're interested in getting involved with PancakeSwap, we highly recommend doing your own research and familiarizing yourself with the platform's features and risks. With that said, we believe that PancakeSwap is a promising project that has the potential to continue growing and expanding in the coming years.
FAQs
Are PancakeSwap fees high?
Compare to other decentralized exchanges (DEXs), PancakeSwap fees are relatively low. The platform operates on the Binance Smart Chain network, which again has low transaction fees compared to other popular blockchain making it a more affordable options.
Is PancakeSwap better than Uniswap?
Altough both platforms are decentralized exchanges, they operate on different blockchains. PancakeSwap is a better option for those who have BEP-20 tokens and want to transact on the Binance Smart Chain, while Uniswap is more suitable for users who prefer to use the Ethereum. However, PancakeSwap does offers a wider range of products compared to Uniswap.
Ultimately, the choice between PancakeSwap and Uniswap depends on individual preferences and needs.
What is the difference between Binance and PancakeSwap?
Binance and PancakeSwap are both cryptocurrency exchanges, but there are some notable differences between them. Firstly, Binance is a centralized exchange, while PancakeSwap is a decentralized exchange (DEX) built on the Binance Smart Chain (BSC).
Is PancakeSwap owned by Binance?
Do you need BNB to buy on PancakeSwap?
If you want to interact with the Binance Smart Chain (BSC) on PancakeSwap you will need to have BNB in your wallet to pay for gas fees. However, you can still use PancakeSwap on other networks such as Ethereum and Aptos without BNB tokens.
Related Post