In this Opera Crypto Browser review for 2023, we take a dive deep into the popular web 3.0 browser with an integrated non-custodial crypto wallet for desktop and mobile. We analyze the variety of features the browser has to offer, plus their security, support, pros and cons.
The Crypto Browser project uses Opera's robust browsing technology and includes Web3-focused features. Users can browse the web and access DApps and metaverse platforms by partnering with key ecosystems and blockchains.
So, let's dive into this Opera Crypto Browser Review to help you work out whether Opera Crypto Browser is the right browser for you.
Opera Crypto Browser Review
Pros & Cons
Who Is Opera?
Opera, which has headquarters in Norway, was founded in 1995 and boasts over 25 years of experience in creating browsers. They currently have over 350 million users and are growing rapidly around the world.
With Opera, users can access the internet in a private, safe, and efficient way. With innovative features that expand your capabilities on desktop and mobile devices.
What is the Opera Crypto Browser?
Opera's new crypto browser is currently in beta and is made for Web 3. Usually, crypto wallets are browser extensions bolted onto Web2 browsers which can be insecure for users. 
However, with Opera's combined Crypto Wallet and Web3 Browser, your journey through Web3 is safer and more user-friendly than ever. Their Web3 crypto browser is available for windows, mac and android, with an ios version coming soon. 
The desktop Crypto Browser comes with additional built-in features, including the free no-log VPN, a secure clipboard to safely copy and paste information, and quick access to Telegram, Discord, Twitter and other messengers from the sidebar.
You'll get access to opera's built-in Crypto Wallet, which supports Ethereum, ERC-20 and ERC-721 tokens, and allows you to send crypto and NFTs directly to others. Plus, you can also add your Metamask, Coinbase or Binance wallet to the new crypto browser.
There's seamless integration between their Browser and some of the top dApps, DeFi tools and GameFi games.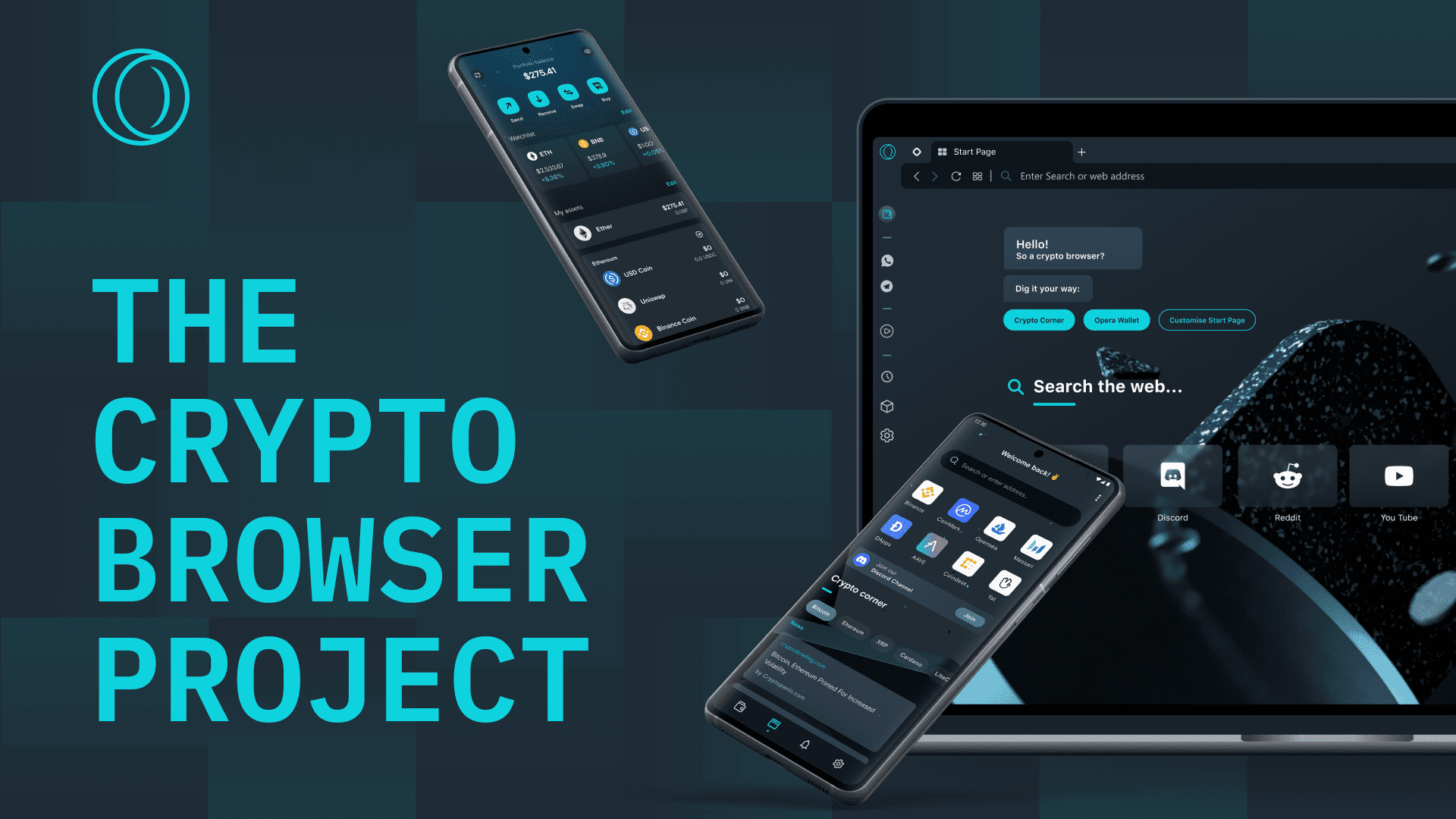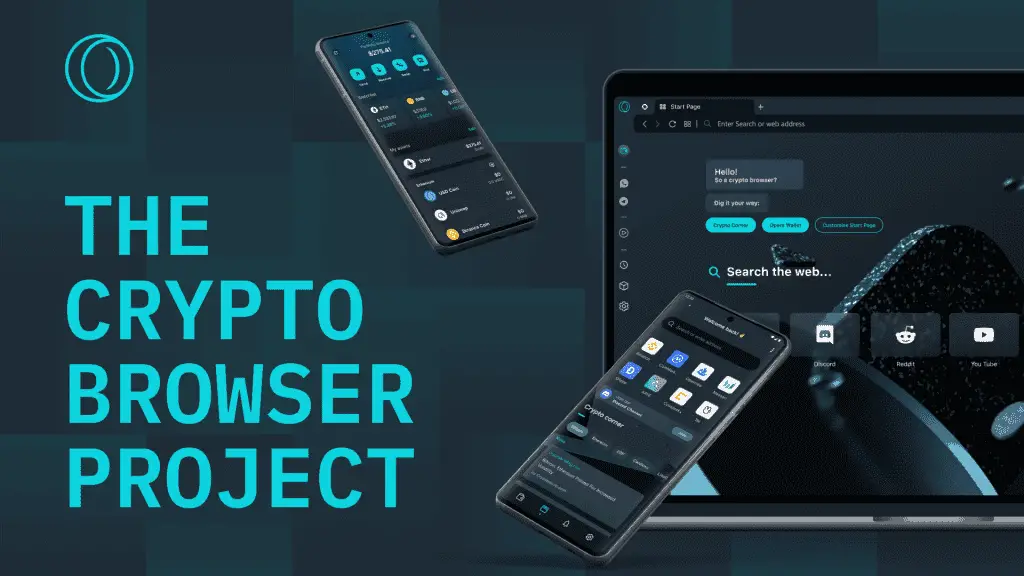 Opera Crypto Browser Features
The Opera crypto browser has a whole host of built-in privacy and security features. Including ways to access Web3 Decentralized apps (DApps), a native non-custodial crypto wallet, and powerful Opera browser features.
Inbuilt Crypto Wallet
With the inbuilt crypto wallet, users can use the multi-blockchain wallet without having to install any additional extensions. The Opera crypto wallet is a non-custodial wallet, meaning that you're in control of your crypto with access to your private keys.
The wallet currently supports the Ethereum and Polygon networks, so you can send, receive, buy and swap Ethereum-based ERC20 and ERC721 (non-fungible tokens) as well as MATIC tokens. Opera plans to add more digital assets with its inclusive multi-chain strategy.
Plus, you can also add your Metamask, Coinbase or Binance wallet to the browser.
Crypto Corner
As part of the crypto browser project, Opera have included a crypto corner. The Crypto Corner is Opera's one-stop shop for all things crypto.
You can monitor crypto prices, check out the current Ethereum gas fees, and keep up with the latest blockchain news, educational content and videos. Plus, there's access to crypto communities and further crypto news with more functionality being added.  
In the Crypto Corner, you check out any upcoming airdrops or take a look at the industry events calendar. Then there are some NFT (Non-Fungible Token) galleries that you can browse through.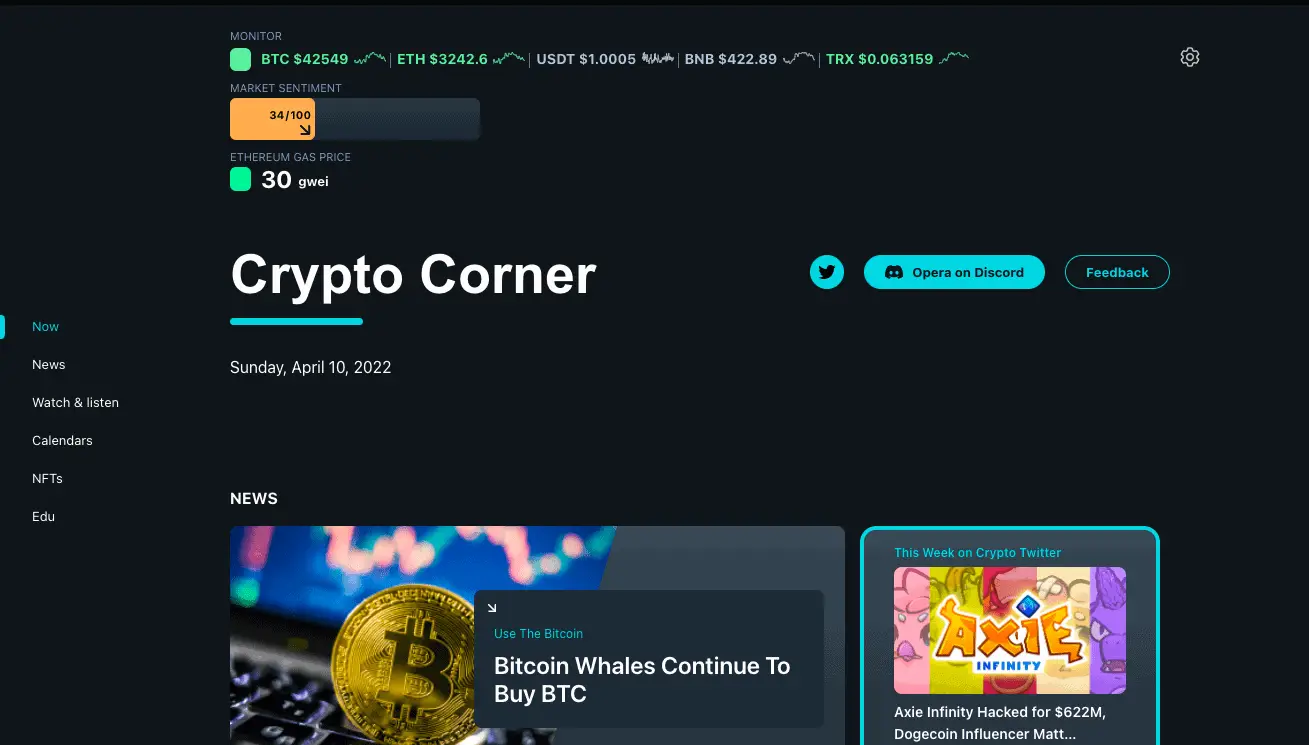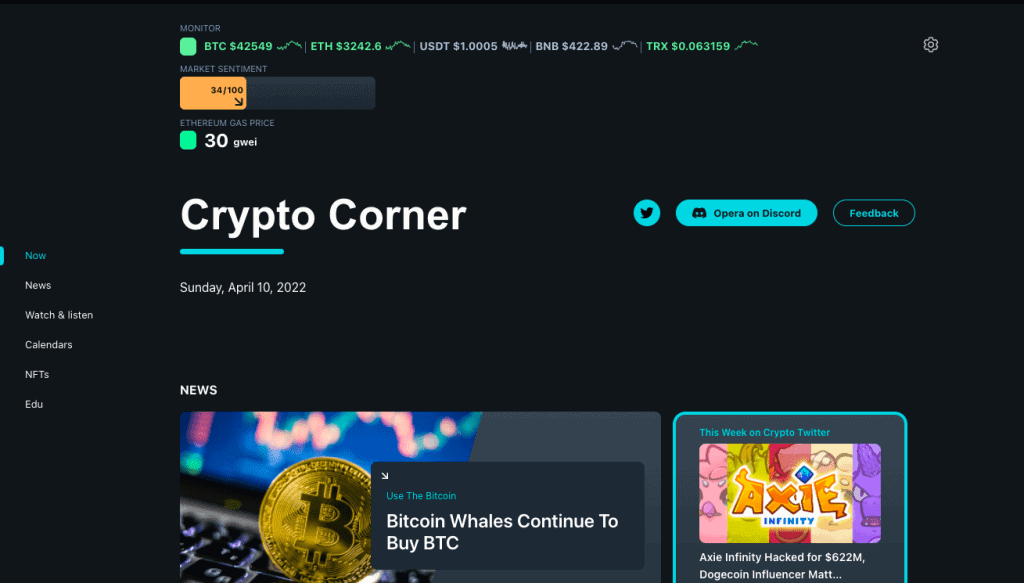 Free VPN
With Opera Crypto Browser, you'll get a free VPN with an unlimited amount of data you can transfer.
Help to protect sensitive data by turning on your VPN to disguise your location and IP address. Plus, you can also set your desired location between Europe, Asia, etc.
Ad Blockers
The Crypto Browser's inbuilt Ad Blocker and Tracker Blocker help to make your online experience more secure and safer. Stop annoying ads from displaying on the pages you want to concentrate on with their ad blockers. Plus, by using this feature, it should load up your pages up to 90% faster.
With their tracker blockers, you can also stop websites from following you across the web and helps to protect your personal data or other sensitive data.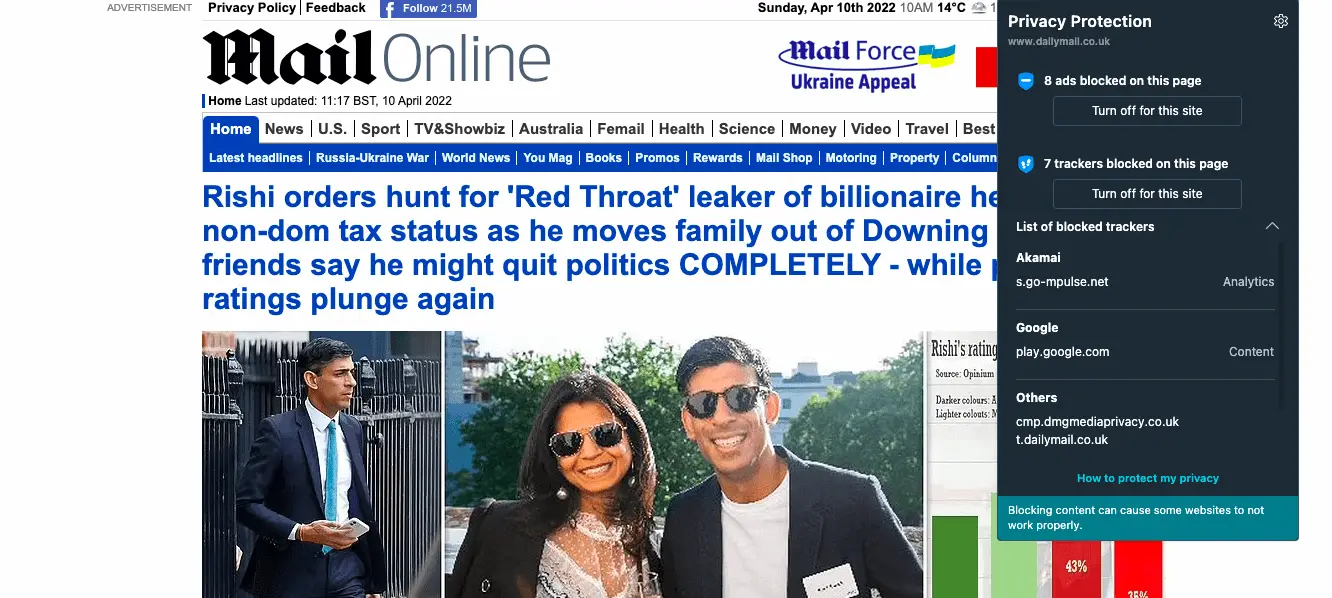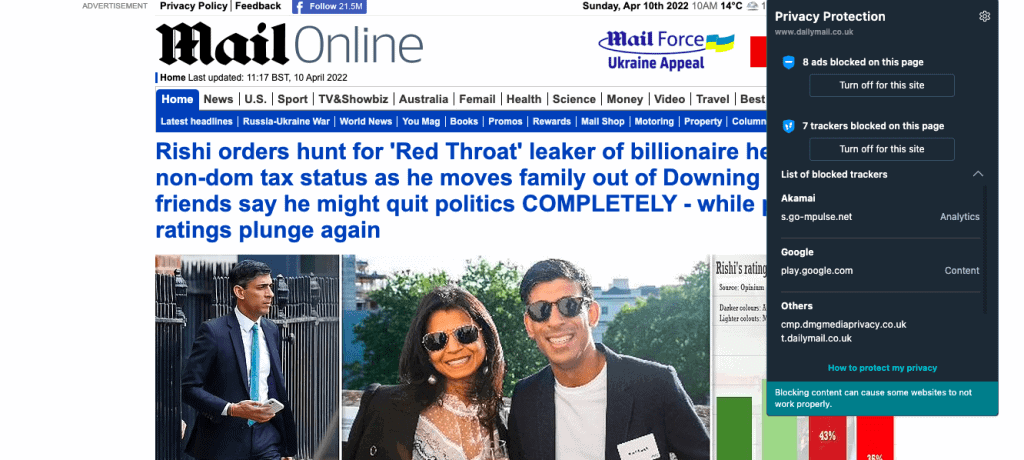 Opera Browser-Supported Cryptocurrencies
The integrated Opera Crypto Wallet is multi-chain and supports Ethereum-based ERC20 and ERC721 tokens and Polygon MATIC tokens. Plus, the crypto browser project has plans to include further blockchains in the future.
Simply head across to your network settings to switch between the different blockchains.
Support
Opera's Crypto Browser is currently only in the Beta version. Therefore, Opera welcomes users to report any bugs they may find while using their browsers.
Opera's help section of its browser gives its users access to a comprehensive FAQ, tutorials, forums and blogs.
Related Posts