In this BakerySwap review, we'll take a look at how to stake and provide liquidity to earn BAKE token rewards. Plus how you can save on transaction fees when exchanging tokens
Decentralized Finance or DeFi continues to explode in popularity in 2021, causing Ethereum GAS fees to increase to an all-time high. This has allowed competitors like BakerySwap and PancakeSwap to take full advantage. Offering similar products to UniSwap and SushiSwap, but with faster transactions and lower fees. This can all be done as BakerySwap.org is built on the Binance Smart Chain (BSC) and not Ethereum.
BakerySwap Review: Trade, Stake & Yield Farm
What is BakerySwap?
Similar to the likes of PancakeSwap, BakerySwap is a decentralized exchange (DEX) that is based on the Binance Smart Chain. If you're familiar with the likes of UniSwap or Sushiswap you'll have no problem understanding BakerySwap.
The main difference is that you'll be connecting to the Binance Smart Chain, as opposed to the Ethereum Network. You'll also be trading BEP20 tokens as opposed to Etheruem or ERC20 tokens. At the time of writing this BakerySwap review, the Ethereum network is very congested and gas fees are very high.
Many users are trying to find ways to reduce their fees when interacting with DApps or Defi. One way to reduce fees is by using applications that work on the Binance Smart Chain, where the fees are currently far lower, plus in my experience, it's faster. 
BakerySwap uses an (AMM) automated market maker model. Meaning there are no order books, instead, they use liquidity pools. But BakerySwap isn't just an exchange. You can also earn by becoming a liquidity provider and adding your tokens to the liquidity pools, you can farm your LP tokens and stake your bake to earn rewards, get involved in ETH 2.0 staking and start collecting NFTs.
BakerySwap (BAKE) Token
The BakerySwap token (BAKE) is a BEP-20 token that was launched on Binance Smart Chain in October 2020. The BAKE tokens are available for trading in Bakeryswap, Binance, HotBit and BSCswap.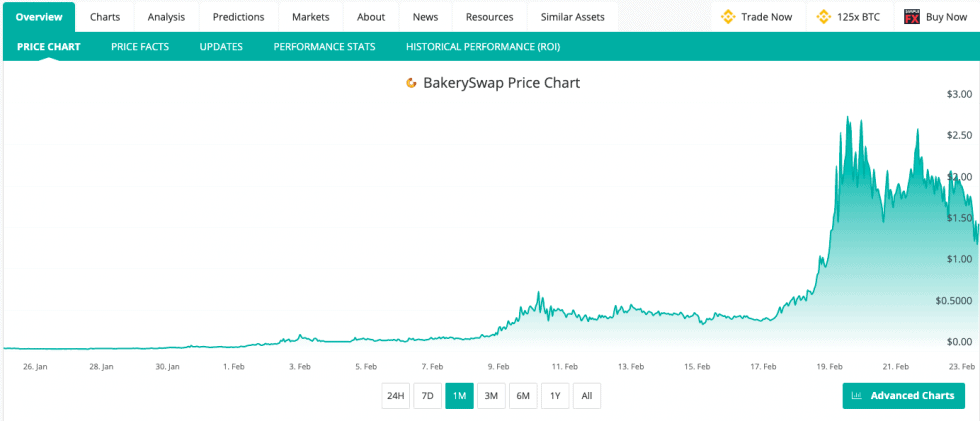 BakerySwap Supported Wallets
To start using BaskerySwap you'll first need a supported wallet that is connected to the Binance Smart Chain. These currently include MetaMask and WalletConnect.
If you select Metamask, you'll need to manually connect your wallet to the Binance Smart Chain.
How to Connect Metamask to the Binance Smart Chain
Unfortunately, MetaMask does not automatically come with the Binance Smart Chain already configured. Therefore, to use the Metamask wallet with the Binance Smart Chain, you'll need to manually add the Smart Chain Mainnet. For further details, check out my blog post.
Supported Cryptocurrencies
With BakerySwap you can trade BEP20 tokens, a token standard that is on the Binance Smart Chain. Similar to the likes of ERC20 tokens that are used on the Ethereum blockchain.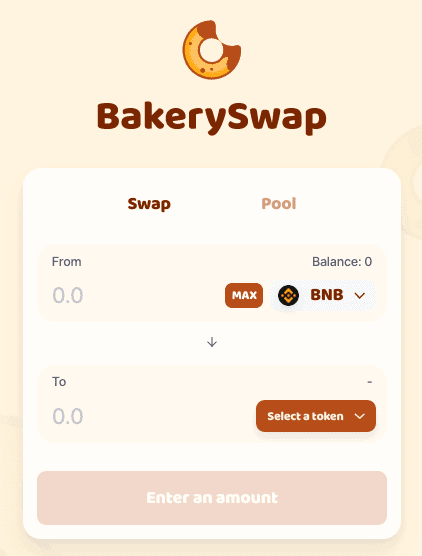 BakerySwap Fees
With BakerySwap, the trading fees are 0.3%.  Because there are no order books there are no deposit or withdrawal fees required. However, you will need to pay transaction fees (in BNB) for interacting with the Binance Smart Chain.
Mind you, these fees are minimal, especially compared to the likes of the gas fees on the Ethereum network.
BakerySwap Staking
With BakerySwap you can stake your tokens to earn rewards. This can be done in a few different ways.
Firstly, you can deposit your Liquidity Provider or LP tokens and lock them up in a process that will reward you in BAKE. These tokens can be unstaked at any time with zero holding time.
Secondly, you can earn more rewards by staking your BAKE in further liquidity pools. There are several tokens you can earn by staking BAKE which include WEAPON, BRY and SHIELD.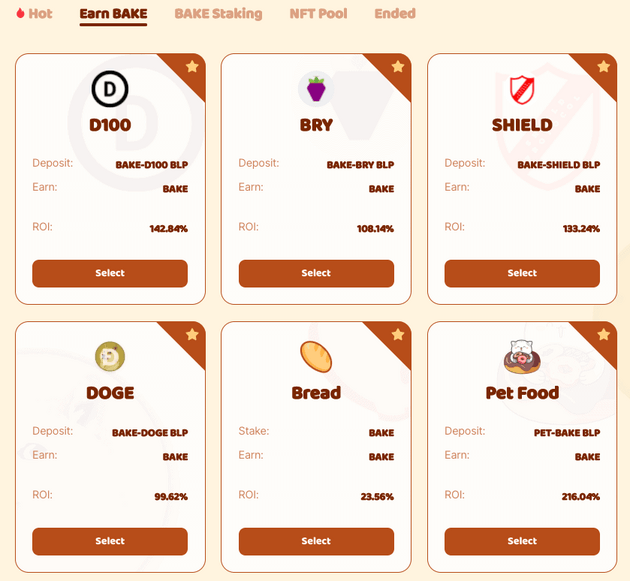 ETH 2.0 Staking with BakerySwap
If you're interested in participating in ETH 2.0 but find that request of 32 ETH is too high or that the staking period is too long.  Binance staking provides users with a 1 click staking service and 100% on-chain staking income that is distributed to users.
BETH is an ETH2.0 staking token issued by Binance on BSC and Ethereum. So that users can stake their ETH in a 1:1 ratio to get BETH. They were also the first platform to support BETH liquidity farming.
BakerySwap NFTs
BakerySwap has an NFT Supermarket built into the platform. This is where you can get your hands on non-fungible tokens and filter by artists, pets and weapons. 
Plus they also have Gamification, which allows BAKE holders to bake a meal of their choice. These meals are called "Combo Meals." Unlike most NFTs, Combo Meals aren't collectables, it can also be used to farm BAKE coins. This is because every meal carries a staking power, allowing it to earn more BAKE when staked.
The meal can be traded, or its ingredients can also be decomposed back to BAKE. In this way, you will get 90% of the BAKE used to prepare the meal. 
This feature was recently paused in order to maintain uniqueness and scarcity. However, users were unwilling to sell them. Therefore the bakery has now re-opened NFT combos again for a limited time (until March 12th 2021) to increase the ROI of these combos.
Is BakerySwap Safe?
At the time of this writing, there have not been any reported issues with BakerySwap. A CertiK audit has been conducted of the BakerySwap smart contract. However, always tread with caution when using DeFi and never put in more than you can afford to lose.


BakerySwap Support
If you have a support query, you can contact BakerySwap via their social media channels, such as Telegram or Twitter. Plus there's a contact us link which will allow you to copy their email address; contact@bakeryswap.org