In this Elrond Network review, I take you through the highly scalable, fast, and secure blockchain, supported by their own Elrond eGold (EGLD) token.
Firstly, I'll provide an overview of the Elrond Network, then explain how to safely buy Elrond EGLD tokens and store them in their own Elrond Web Wallet, Maiar wallet, or Ledger device. Plus, I'll also explain how to stake Elrond EGLD tokens to earn +20% rewards.
So, let's dive into this Elrond Review, to help you work out whether Elrond is the right cryptocurrency for you.
Elrond Review: How to Buy, Store & Stake EGLD Tokens?
What is Elrond?
The Elrond Network is a public blockchain with smart contract support. Their goal is to create a decentralized network that can provide the same (or in fact a better) performance when compared with centralized networks. Whilst also providing users with greater privacy.
In 2018, the Elrond team, comprised of experienced entrepreneurs, engineers, and researchers, created a technical paper. This paper was around a scalable blockchain using complete sharding for state, network, and transactions. Whilst employing an efficient and secure proof of stake consensus mechanism. Since then, Elrond now has investors, including some big names such as Binance Labs and Woodstock Capital, and was also backed by the Binance Launchpad.
The Elrond blockchain is ideal for decentralized finance (DeFi) developers to use their apps, as well as other kinds of decentralized apps (Dapps). Another key feature of the Elrond network is its lightning-speed transaction performance. They state that they can give anyone, anywhere, easy access to the digital economy by bringing a 1000x improvement in blockchain speed, scale, cost, and user experience.
What is Elrond (EGLD) Token?
Elrond uses the Elrond eGold (EGLD) token throughout the network. It is used by developers to pay for using the network, and validators take the fee for their services. It is also used for governance, staking and smart contracts.
Before the main net launched in July 2020, Elrond previously used the ERD token. However, the launch brought the Elrond eGold (EGLD) token at which point Elrond allowed users to swap 1,000 ERD for 1 EGLD.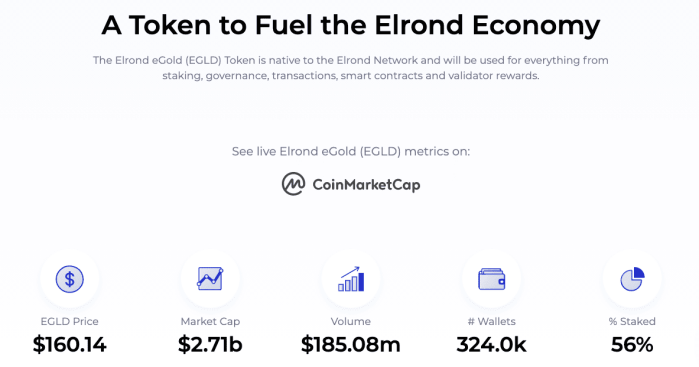 How to Buy Elrond (EGLD)?
Elrond (EGLD) can be purchased on popular cryptocurrency exchanges such as the likes of Binance, Crypto.com and eToroX, where you can trade with a variety of tokens, including; BTC, BNB, BUSD, CRO, IDR, USD, and USDT.
Plus, you can also buy Elrond via card or banks transfer through their website using their third-party providers. However, this will not be the cheapest way to purchase your Elrond as the fees start at 4% for card payments.
How to Store Elrond eGLD?
If you're holding the Elrond eGold (eGLD) token you'll need to find a wallet that supports it. It's not recommended that you keep your crypto on an exchange that is a far more likely target for hackers. Also, you won't have control over your crypto unless you have access to your private keys.
Below are a few different wallets where you can store your EGLD tokens;
Elrond Web Wallet
This is the official wallet of the Elrond blockchain community. The Elrond Web Wallet is a crypto wallet where you can securely send, receive and store your Elrond Gold tokens while interacting with Elrond Dapps.
With the Elrond wallet, you also stake and claim your rewards. Plus, you can directly Buy eGold from your wallet, using your credit card via the MoonPay fiat gateway.
To create an Elrond web wallet, users must generate a secure password and keep the passphrases and private keys protected for future use. Users can then access the wallet with the Keystore file, which is provided on the creation or via a Ledger.
Ledger Nano X & Nano S
Elrond now integrates with the popular hardware wallet Ledger Nano X and Nano S. To hold your Elrond eGold tokens safely within your device, you simply need to install the Elrond eGold app via Ledger Live.
Your Ledger device can also be connected to the official Elrond wallet. This is so that you can send/receive tokens and earn rewards by staking. Plus, you can check your transaction history and fund balance in the Ledger wallet. 
Maiar Wallet
Maiar is powered by the Elrond blockchain and is a decentralized alternative to mobile payments apps. It is a digital wallet and global payments app that allows users to exchange and securely store money on their mobile phone.
The Maiar wallet is completely decentralized and non-custodial. They don't have access to your funds and you own the private key giving you full control over your assets. Plus the wallet can be created in seconds there's no username, password, or recovery phrase to backup. You just simply use your phone number.
At the time of writing this Elrond Review, Maiar supports Elrond Gold (eGLD), Elrond (ERD ERC20 and ERD BEP2), Binance (BNB) and Ethereum (ETH) with plans to add more over time, including the likes of BTC.
With Maiar, you can send, spend and stake your Elrond Gold tokens using Maiar.
Click here to download the Maiar Wallet and receive $10 free on your first purchase of 200 USD of eGold
How to Stake Elrond EGLD?
Elrond eGold (EGLD) holders are incentivised to support the Elrond network. They do this by staking and locking their EGLD into a smart contract whilst earning rewards by delegating a minimum of 10eGold or running a validator node plus a 2,500 eGold stake.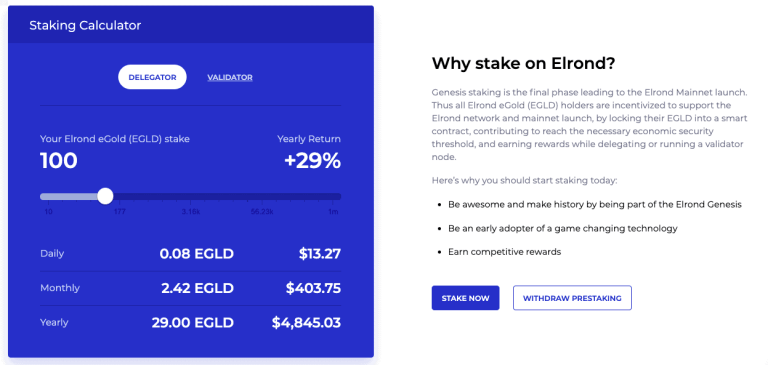 Validator rewards are distributed automatically. Whereas the delegator rewards are claimable once per day, with no time limits. You can use their calculator to calculate your yearly return as a percentage. As well as giving you the daily, weekly and monthly breakdown based on the number of tokens you stake.
 You can withdraw your staked EGLD at any time. However, there is a 10-day un-bonding (holding) period that will apply.
What is the Minimum eGold Stake?
For delegators that are staking their Elrond eGold tokens, there is a minimum of 10 eGold (EGLD), with no maximum.
What is the Elrond Waiting List?
The Elrond Network is currently in bootstrapping mode, and staking options are gradually enabled. When writing this Elrond review, your tokens initially go into an incentivised queue called the "Waiting List", where you can get up to 20% APR.
This will reserve your spot and start your reward tracker. Once a previous delegator signals their intent to un-delegate, the funds you've registered in the queue will replace those of the user that wants to un-delegate.
You can find out more about the Elrond staking phases here.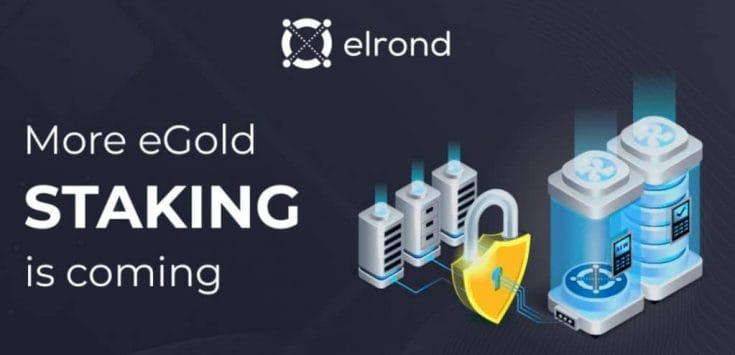 Related Posts