Have issues connecting the Ledger hardware wallet to MetaMask and getting an Internal JSON-RPC Error? This guide will explain how to fix and resolve the "Internal JSON-RPC Error", so you can connect and start using your Ledger wallet with MetaMask again.
Since the Google Chrome update (Chrome 91), third-party wallets such as MetaMask have experienced U2F transport issues. This issue also affects other Chromium browsers, such as the Brave browser. 
I personally use Brave Browser and tried everything I could think of to resolve this issue. The only way I could fix this error was by downloading the Chrome browser and using the new Ledger Live Bridge.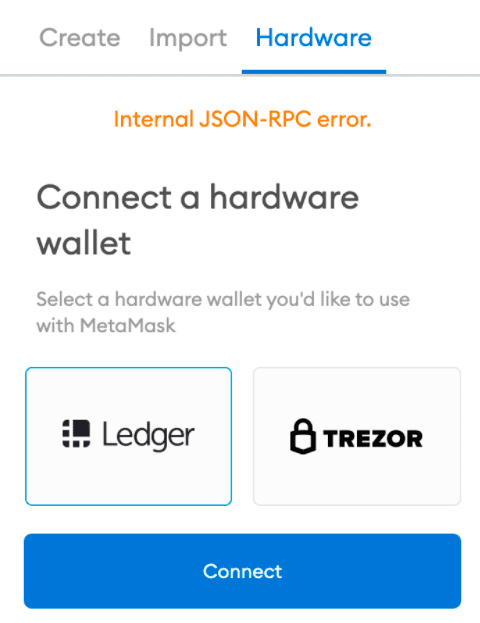 Update Ledger Firmware & Apps
Before doing anything, I would recommend making sure your Ledger Nano X or Nano S hardware wallet, Ledger Live and apps are all up to date and running the latest version. Once updated, I would then recommend clearing your cookies and restarting your laptop or desktop.
In the Ethereum app settings of your Ledger, make sure "Contract data is allowed". This setting can change during an update.
It's also important when updating your Ledger wallet to ensure you have your wallet's recovery phase, also known as your mnemonic seed.

How to FixInternal JSON-RPC Error
As I mentioned, the only way I was able to resolve theInternal JSON-RPC error was to download Chrome Browser and MetaMask. Once MetaMask is installed and set up, you will need to enable Ledger Live support by going to Settings > Advanced > Use Ledger Live.
The new Ledger Live bridge is available only on Chrome and allows you to connect and use your Ledger device easily.
Click the circle profile icon in the top right
Click Settings > Advanced > Use Ledger Live
Toggle to On, which will enable the Ledger Live bridge
Go back to your MetaMask wallet & click the circle profile icon again
Select Connect Hardware Wallet
Select Ledger & then click Connect
A new window will appear to select Open Ledger Live
Open Device Bridge window will appear on Ledger Live. Click Open
Once you have completed the above steps, you should have successfully activated the bridge between Ledger Live and MetaMask.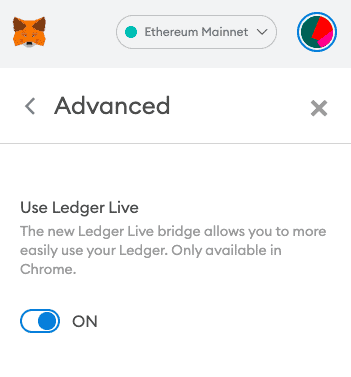 How to Setup & Use MetaMask Wallet
If you're new to MetaMask and not sure how to set up and use the crypto browser extension. We have created an in-depth MetaMask review & tutorial to get you started.
Related Posts