In this Ledger Nano S Plus review, we take a look at the Ledger Nano S Plus hardware wallet and how it compares to its competitors on the market. 
Ledger wallets are great solutions for those who want more control of their cryptocurrency assets. Rather than storing them online, you can store your crypto offline (and away from any potential harm), in a secure encrypted hardware wallet, such as a Ledger Nano S Plus. 
So, let's dive into this Ledger Nano S Plus Review to help you work out whether the Nano S Plus is the right wallet for you.
Ledger Nano S Plus Review 
Ledger Nano S Plus Pros & Cons 
Who is Ledger? 
Ledger SAS is the crypto security and encryption-based Paris-based company behind the Ledger range of hardware wallets. They were founded in 2014 and now have a team of over 300 based all over the world, with offices in Paris, Vierzon, New York, Zurich and Singapore.
Ledger has developed a unique, secure, proprietary operating system known as BOLOS, integral to the hardware wallets. Also, within every hardware wallet is a secure chip, another unique development by Ledger. 
Ledger is also known for their Hardware Security Module (HSM), which is integral to keeping a number of large companies' crypto assets and projects secure. 
Ledger has now sold over 4 million hardware wallets, with customers in 200 countries and 100 resellers stocking Ledger devices.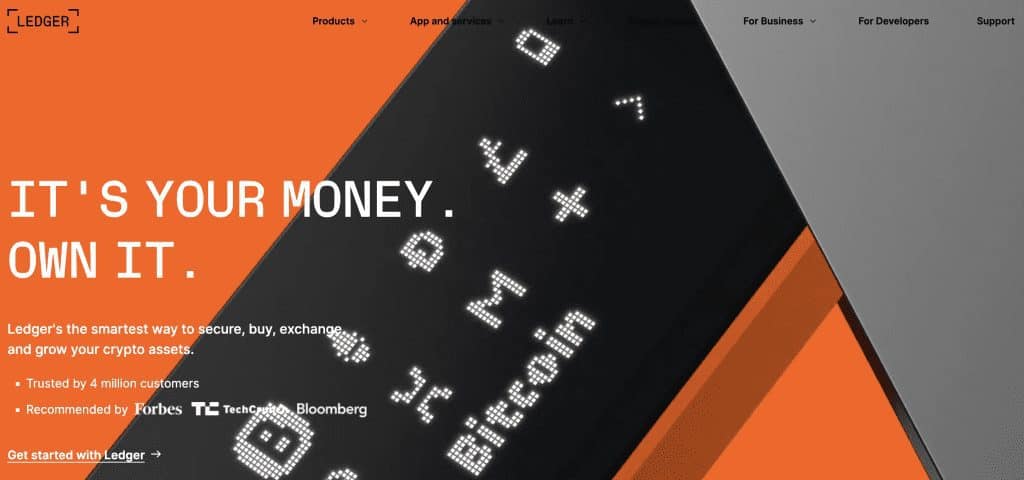 What is a Hardware Wallet? 
A hardware wallet's main function is to keep your secure key safe. With a hardware wallet, you are storing your secure private key offline, away from potential cybercriminals, in a wallet, such as the Ledger Nano S Plus. 
An important factor with a hardware wallet is keeping the secure key safe. Think of this as something that is comparable to your bank account logins. If someone got hold of these details, they could access your account. A secure key is the same. 
With your private key stored offline, you simply access the crypto you own online, which is kept safe on the blockchain. This is known as "cold storage", and is deemed as the most secure way to prevent cyber theft.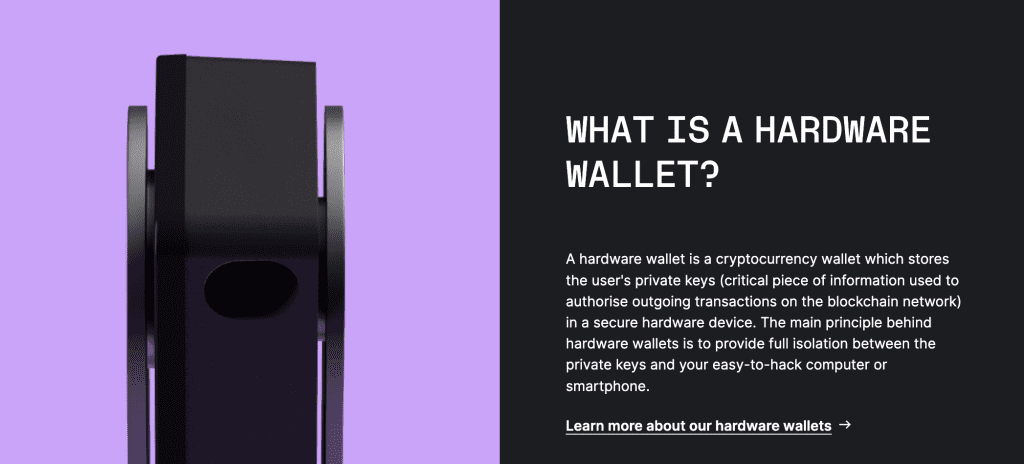 What is the Ledger Nano S Plus? 
The Ledger Nano S Plus is the new and improved version of the Ledger Nano S, which was released in 2016. The wallet sits between the Ledger Nano S and the Ledger Nano X devices.
It's improved, with a larger screen than the Ledger S, plus it also has upgraded its storage capacity from 16.2GB up to 1.5MB.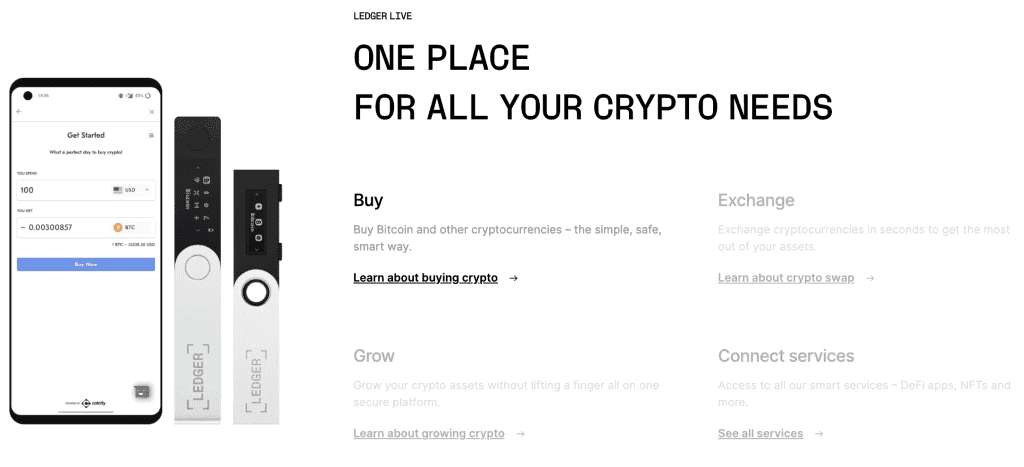 Ledger Nano S Plus: Specifications  
Supports up to 100 apps
128×64 px screen
USB-C Connector
Certified secure chip (CC EAL5+)
Supports NFTs
Developer-friendly
Ledger Nano S Plus: What's in the Box?
The Ledger Nano S Plus hardware wallet includes;
Ledger Nano S Plus Hardware Wallet
1 USB-C to USB-A Cable
Get Started Card
x3 Recovery sheets
Keyring & Chain
Ledger Nano S Plus Supported Cryptos 
The Ledger Nano S Plus supports over 5,500 cryptocurrencies, tokens, and stablecoins. These include popular cryptocurrencies, including Bitcoin, Ethereum, DogeCoin, Litecoin, Ripple and Stellar. 
With more memory, you can now have up to 100 apps installed simultaneously with the Ledger Nano S Plus. Not only that, you can also manage your NFTs using the Ledger Nano S Plus too. 
You can find a full list of Ledger-supported cryptocurrencies here.
What is Ledger Live?
Ledger Live is an app, an easy-to-use gateway for managing your Ledger hardware device. Allowing Ledger hardware device owners to perform functions such as buying, swapping, and exchanging their crypto.
It's free to download and use and supports any of the Ledger family of products, including the Ledger Nano S Plus, Nano S or Nano X.

Ledger Live App for Nano S Plus
You can download the Ledger Live App for the Nano S Plus on a laptop or mobile (Android or Apple), and use it to connect to the Nano S Plus. 
Use Ledger Live to buy crypto such as Bitcoin and Ethereum via their partner Coinify. Plus, send and receive crypto on the go and swap, stake, and lend your assets.
Unfortunately, the Nano S Plus doesn't have Bluetooth and isn't compatible (except in consultation mode) with Apple iOS devices, such as iPhones and iPads.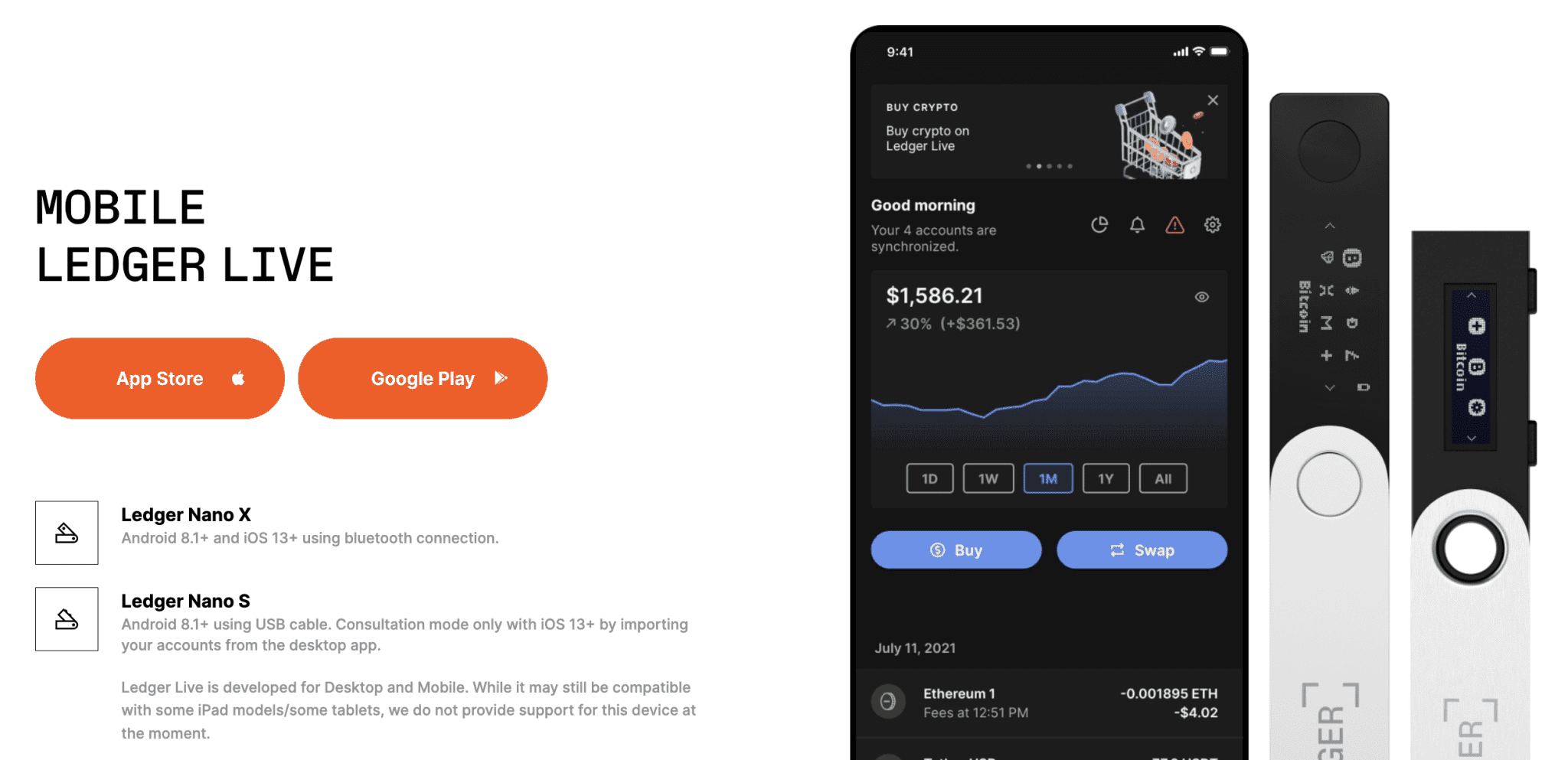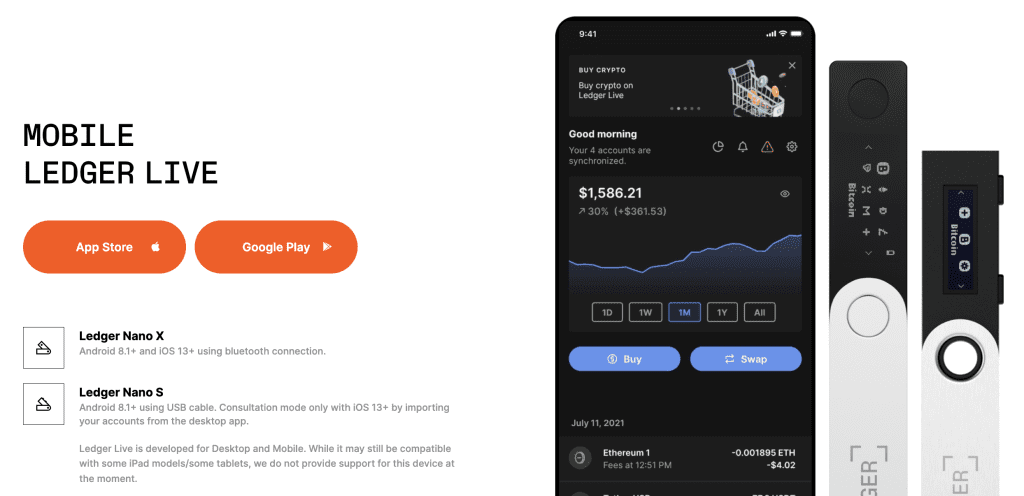 How Much Does Ledger Nano S Plus Cost? 
The Ledger Nano S Plus is currently priced at $79.00. Ledger also has a couple of other hardware wallets available, such as the Ledger Nano X at $149.00 ($70.00 more expensive) and the new Ledger Stax for $279.00 ($200.00 more expensive).
You can also save money by purchasing bundles, which you can use as additional or backup devices.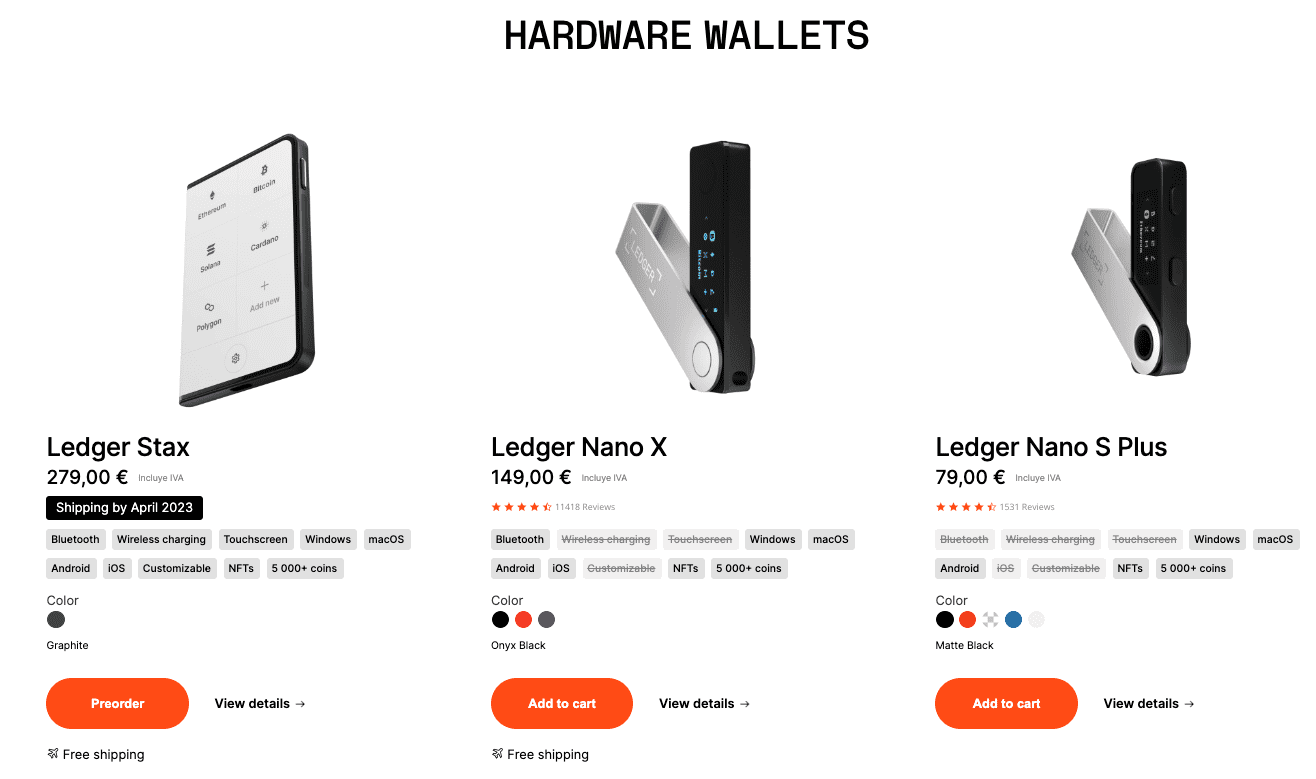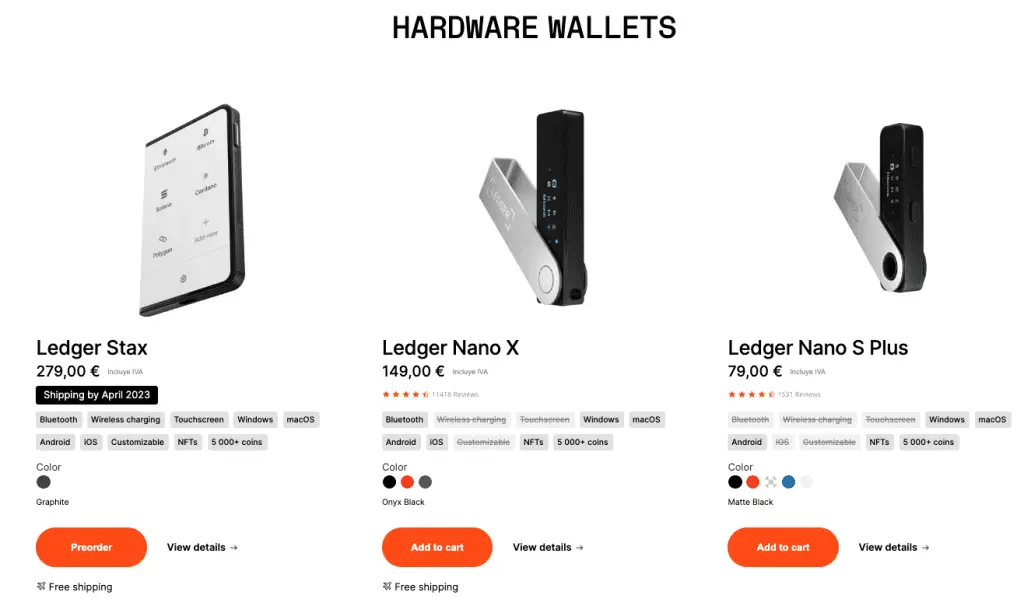 Ledger Nano S Plus Discount Code 
If you want to buy a Ledger Nano S Plus or any other Ledger product, they occasionally run promotions where you can pick up some great deals. Check out our deals and promotions page for the latest offers.
How does Ledger Nano S Plus Compare
Let's now compare the Ledger Nano S to other hardware wallets and see which wallet is the best for you.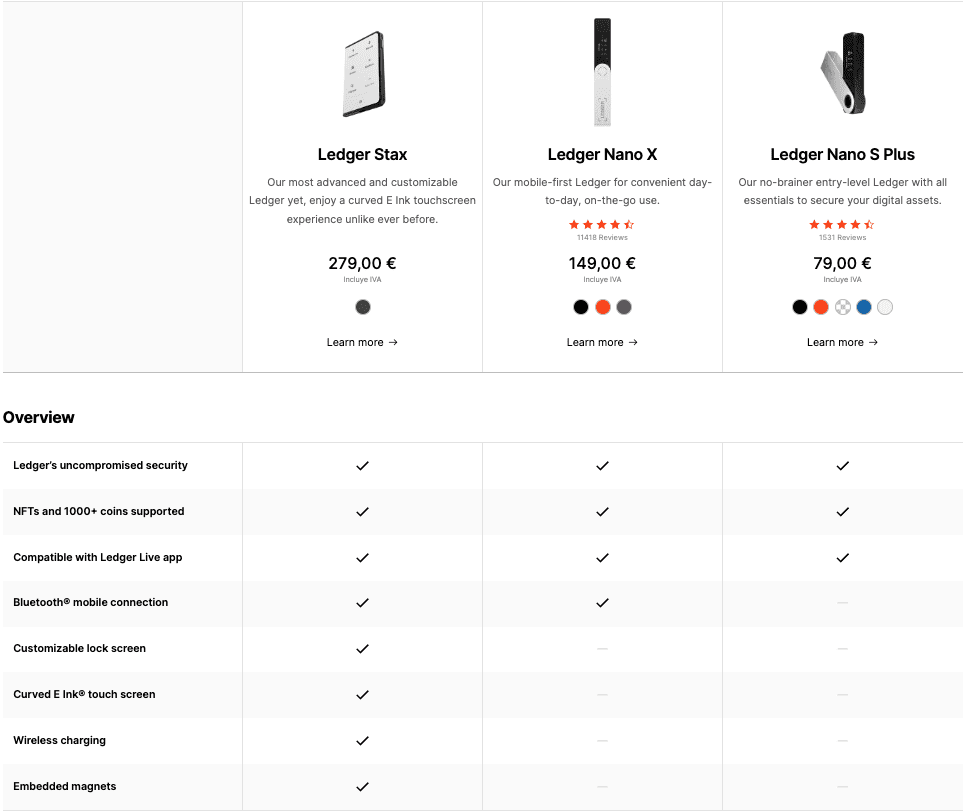 Ledger Nano S Plus vs Ledger Nano S
The Ledger Nano Plus is the upgraded version of the Ledger Nano S. It boasts more memory, allowing users to store up to 100 apps, as opposed to the Ledger Nano S' limited 3 apps. There's also a larger screen and the ability to store and manage NFTs.
The Nano S Plus is just £14.50 more expensive than the Ledger Nano S, making it still affordable for newbies getting into the space.
Ledger Nano S Plus vs Ledger Nano X
The Ledger Nano X is an upgrade to the Ledger Nano S Plus. It's easier to use and has more storage. The Ledger Nano X also comes with Bluetooth. Both devices support the same number of cryptocurrencies, making them comparable in that area. 
When it comes to cost, the Nano X is more expensive. The Nano X costs £136, compared to £69 for the Ledger Nano S Plus.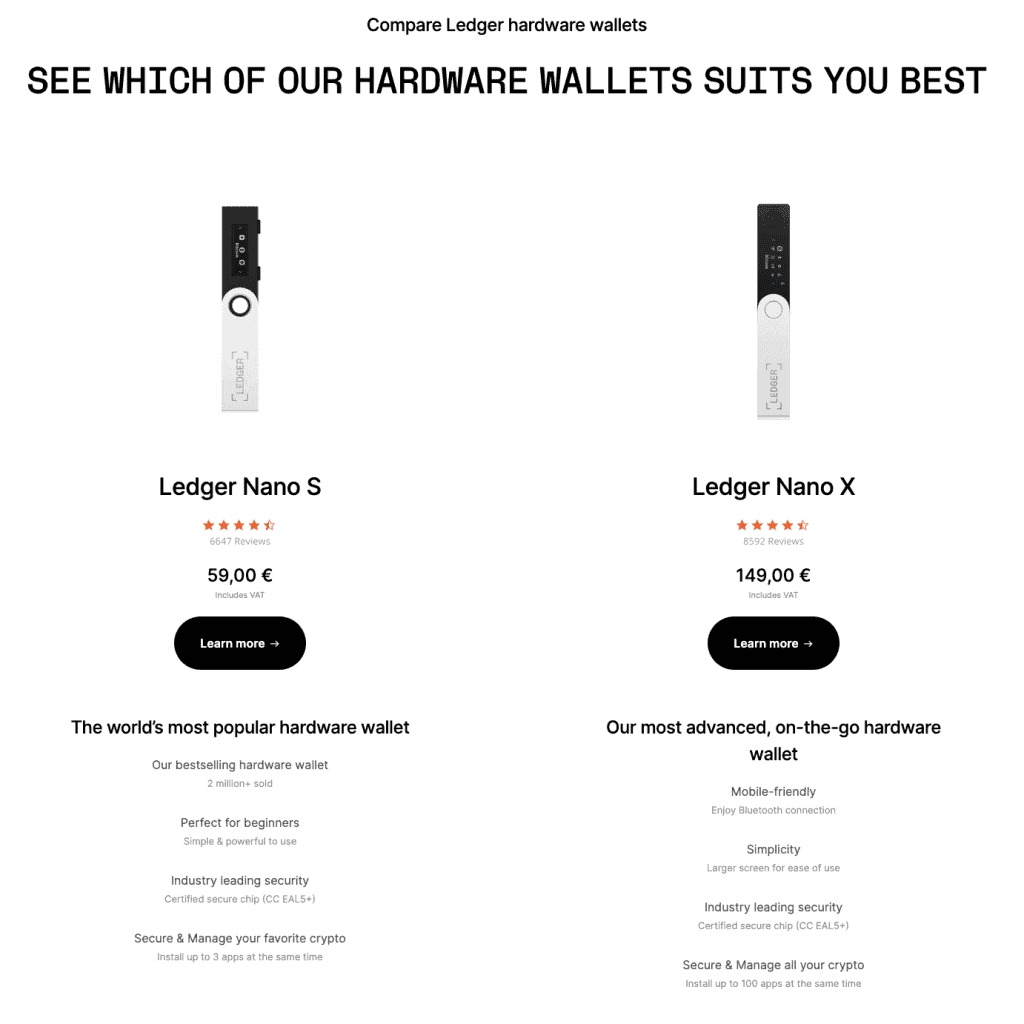 Ledger Nano S vs Trezor Hardware Wallets 
Ledger and Trezor are 2 of the largest players in the crypto hardware wallet market. 
Trezor has 2 devices, their entry-level Trezor One and the premium version Trezor Model T.
Comparable to the Ledger Nano S, or S Plus, the Trezor Model One also connects using a USB and supports over 1,000 cryptocurrencies and tokens. This is also at a similar price point of around £58.00.
The Trezor Model T is more comparable to the Ledger Nano X and currently costs around £213.
| | | |
| --- | --- | --- |
| | | |
| | | |
| | | |
| | | |
| | | |
Another hardware wallet worth considering is the BitBox02; you can check out a full BitBox02 review on our website.
Ledger Support 
If you need some assistance, Ledger offers support via Live Chat, social media channels, a Help Center, FAQs, and a Contact Us option. 
The responses you'll receive will depend on your contact method and on network conditions at the time. Therefore, Ledger doesn't mention how quickly they answer questions, but you should expect a response within 24 hours or one working day.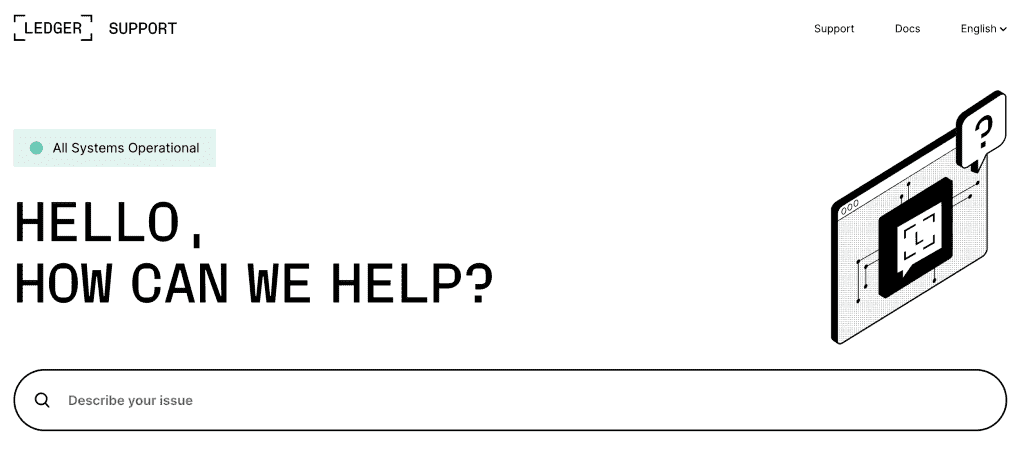 Ledger Security 
Across the crypto sector, Ledger is well-known and trusted for its security systems and encryption. Hardware wallets are just one factor or example of the security-focused products that they sell.
Ledger uses a secure chip within the hardware wallets: "a tamper-resistant platform capable of securely hosting applications and data in accordance with the rules and security requirements set by pre-authorized applications and people." Alongside this, Ledger has created "a distinctive operating system called BOLOS, which we integrate [into the] secure chip for the Ledger wallet line." 
Are Ledger hardware wallets safe? 
Yes, Ledger is a market leader in crypto cyber security, and they put great efforts into ensuring their wallets are secure. Ledger uses a secure chip and proprietary operating system.
Ledger Hack
Despite Ledger is one of the best for security in the crypto sector, it suffered a cyber-security breach in July 2020. However, their wallets were unaffected. 272,000 customers were affected, with 1 million email addresses, postal addresses, names, and other details leaked online. 
Ledger customers have been warned that they might be contacted by someone "pretending to be from Ledger Support and asking for your 24-word recovery phrase. They state that you should never share your 24-word recovery phrase, even with Ledger Support. Ledger Support will never ask you for your 24-word recovery phrase."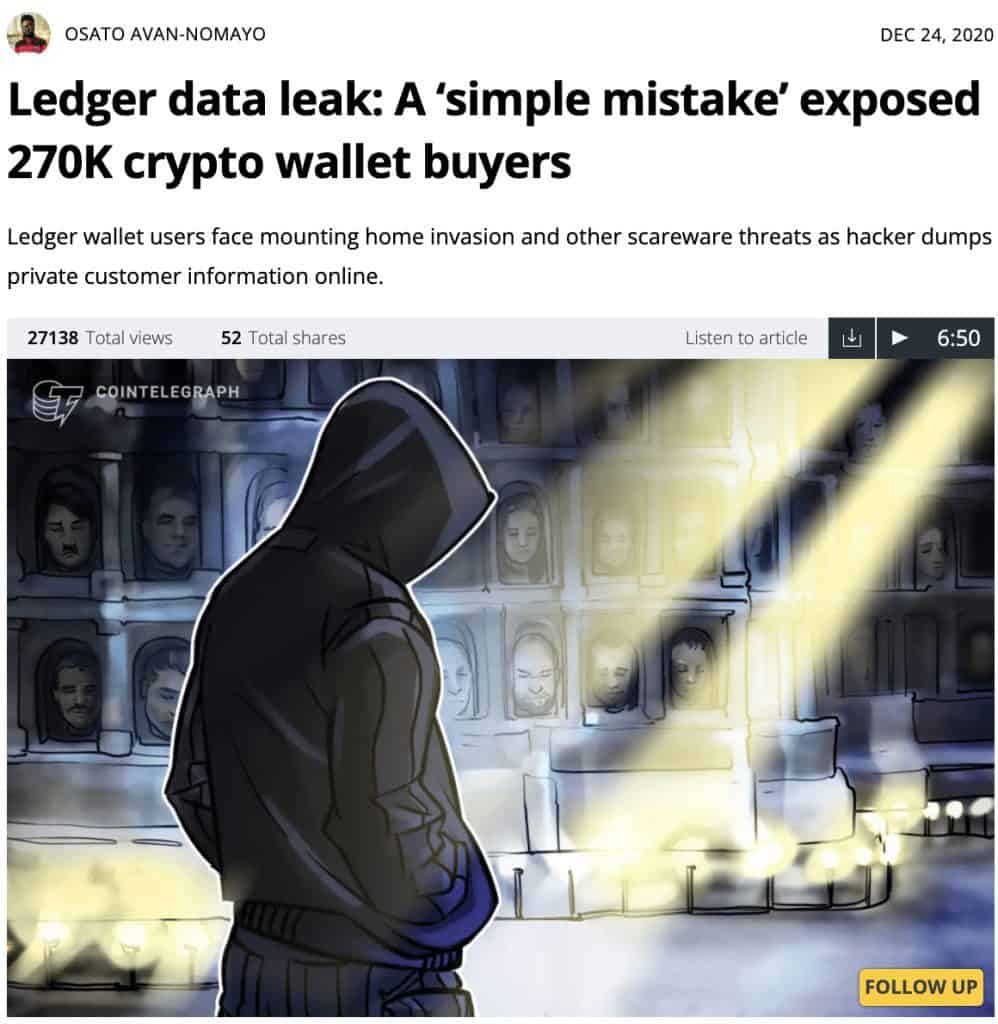 Receiving Phishing emailing from fake Ledger accounts? Learn How to Protect Yourself from Ledger Phishing Scams?
Verdict: Should you Buy the Ledger Nano S Plus? 
Ledger devices are a great way to secure your crypto. If you want security and peace of mind, then whether you get a Nano S, S Plus or an X, they are a great investment. Although the Nano X has more features, the level of security and encryption is the same, so for a cheaper option, the Ledger Nano S Plus is worth getting. 
We hope you found this Ledger Nano S Plus review useful; if you have any questions, please let us know in the comments below.
Related Posts
Here are some of our articles you may also find helpful;