In December 2022, Ledger released their brand new crypto hardware wallet, the Ledger Stax. Every Bit Helps was fortunate enough to attend the event and see the new Ledger Stax up close, in person.
Ledger, with its range of crypto hardware wallets, is a great solution for those wanting more control of their crypto assets. Instead of storing them in an online wallet, you can store crypto offline in a secure encrypted hardware wallet, such as a Ledger Nano or Stax. 
So, let's dive into this Ledger Stax Review to help you work out whether the Ledger Stax is the right hardware wallet for you.
Ledger Stax Review 2023
Who are Ledger? 
First and foremost, Ledger SAS, a Paris-based company behind the Ledger range of hardware wallets, is a crypto security and encryption company. Founded in 2014, Ledger now has a team of 300 around the world, with offices in Paris, Vierzon, New York, Zurich and Singapore.
Ledger developed a unique, secure, proprietary operating system known as BOLOS, integral to the hardware wallets. Alongside this, within every hardware wallet is a secure chip, another unique development by Ledger.
Alongside the consumer products, Ledger is also known for a Hardware Security Module (HSM) that's integral to keeping numerous large companies' crypto assets and projects secure.
Since launching, over 3 million hardware wallets have been sold, they have customers in 200 countries, and 100 resellers stock Ledger devices.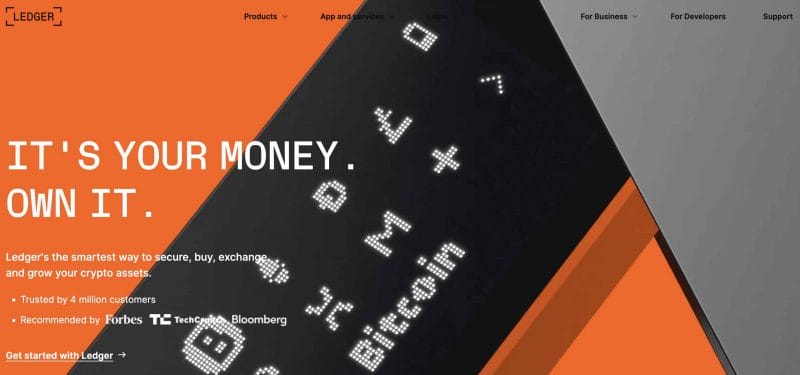 What is the future of Ledger?
The new Ledger Stax design is said to feel similar to a credit card, and when we attended the Ledger Op3n event, they mentioned that they are keen to branch out and create a wallet that has all forms of payment in one place in the future. So your credit cards, coupons, student discounts, and crypto are all on one device. We feel the ledger Stax is the first step toward this. Ledger is thinking long-term!
What is a Hardware Wallet? 
A hardware wallet's main function is to keep your secure key safe. With a hardware wallet, you are storing your secure private key offline, away from potential cybercriminals, in a wallet such as the Ledger Stax. 
An important factor with a hardware wallet is keeping the secure key safe. Think of this as something comparable to your bank account logins. If someone got hold of these details, they could access your account. A secure key is the same. 
With your private key stored offline, you access the crypto you own online, which is kept safe on the blockchain. This is known as "cold storage" and is deemed the most secure way to prevent cyber theft. 
What is the Ledger Stax?
The Ledger Stax is a new hardware wallet that supports the storage of cryptocurrencies like Bitcoin and Ethereum. It is a small, thin device that can be carried around with you and can be used to store your crypto assets and access them whenever you want.
What makes the Ledger Stax unique is its security features and its ability to protect your cryptocurrencies against unauthorized access. It also has an offline mode to store your crypto on the Ledger Stax without connecting to the internet.
Why the bigger screen?
The bigger Ledger Stax screen makes it easier for users to read transactions and actually understand what they are doing with complete safety. Crucial time is saved every time a user enters their pin code by directly tapping on the screen or reviewing a transaction. You can connect to Ledger Live via your phone with Bluetooth, which means you can transfer crypto on the go and don't have to be by your laptop.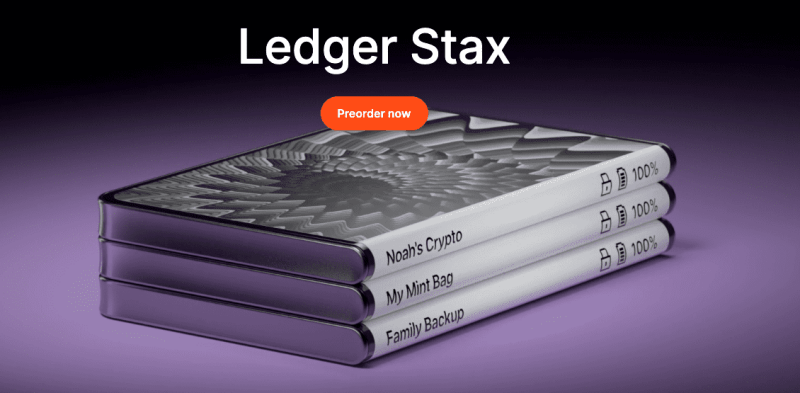 Ledger Stax: Specifications  
Bluetooth 5.2® to connect to a smartphone.
USB-C
A black and white E Ink® curved touch screen.
Qi Wireless Charging
NFTs
Customizable
5000+ Coins Supported
Secure Element Chip
Ledger Stax: What's in the Box?
The Ledger Stax hardware wallet includes;
Ledger Stax Hardware Wallet
USB-C to USB-C Cable
1 Recovery Sheet
A Ledger Stax Guide
Ledger Stax Supported Cryptos 
One of the most important questions regarding buying a hardware wallet is: Does this support the cryptocurrencies and tokens I will buy, sell, exchange, and stake? 
The Ledger Stax supports over 5,000 cryptocurrencies, tokens, and stablecoins. These include popular cryptocurrencies, including Bitcoin, Ethereum, DogeCoin, Litecoin, Ripple and Stellar. 
Plus, manage your Ethereum and Polygon NFTs using the Ledger Stax supported on the Ledger Live app. 
You can find a full list of Ledger-supported cryptocurrencies here.
How Much Does Ledger Stax Cost? 
The Ledger Stax is currently priced at $279.00. This is around $130.00 more expensive than the Ledger Nano X and $200.00 more expensive than the Ledger Nano S Plus.
Ledger Stax Discount Code 
If you want to buy a Ledger Stax or any other Ledger product, they occasionally run promotions where you can pick up some great deals. Check out our deals and promotions page for the latest offers.

What is Ledger Live?
If you are wondering how to buy, swap, and exchange crypto using a Ledger Nano S Plus? Never fear; Ledger has a solution known as Ledger Live. 
Ledger Live is an app, an easy-to-use gateway for managing your Ledger hardware device. It's free to download and use, and whether you've got a Ledger Nano S, Nano S Plus or a Nano X, it supports them all. 
Ledger Extension
The Ledger Extension is a browser extension designed specifically for Ledger hardware wallets, allowing users to connect to NFT marketplaces and Web3 apps directly from their browsers. Initially launched for Safari, the extension will soon be available on other browsers as well. Currently, only the Ledger Nano X is compatible with the Ledger Extension, thanks to its Bluetooth feature. However, compatibility with Ledger Stax and Ledger Nano S Plus will be introduced in the future, enabling users to connect their devices using a cable.
How does Ledger Stax Compare?
Let's now compare the Ledger Stax to other hardware wallets and see which wallet is the best for you.
Given the range of crypto hardware wallets on the market, it's important to understand how the Ledger Stax compares against the Ledger Nano X and Nano S Plus. Plus how it compares to its competitors, the Trezor Model T and BitBox02.
| | | |
| --- | --- | --- |
| | | |
| | | |
| | | |
| | | |
| | | |
Ledger Nano X vs Ledger Stax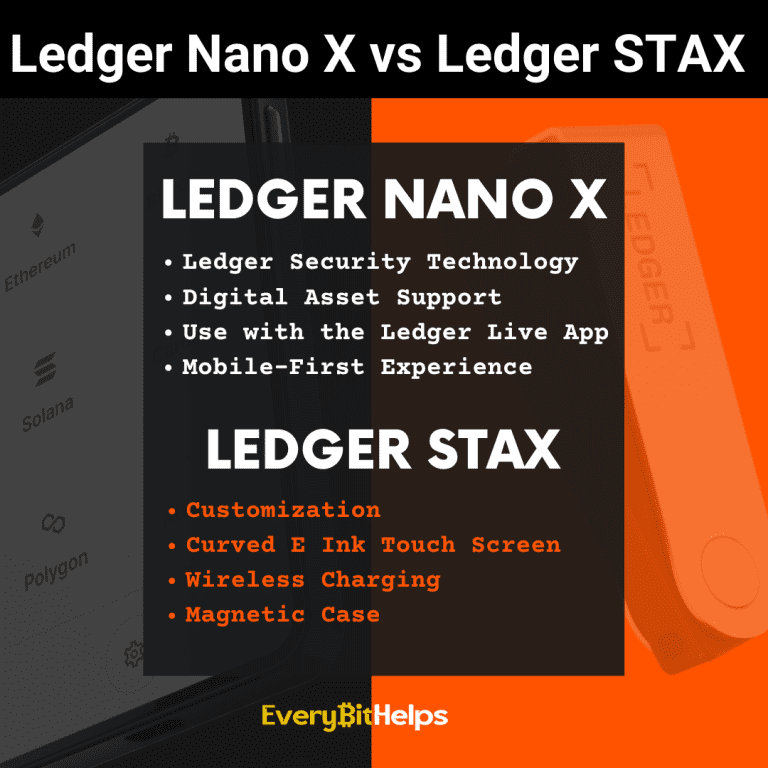 Ledger S Plus vs Ledger Stax vs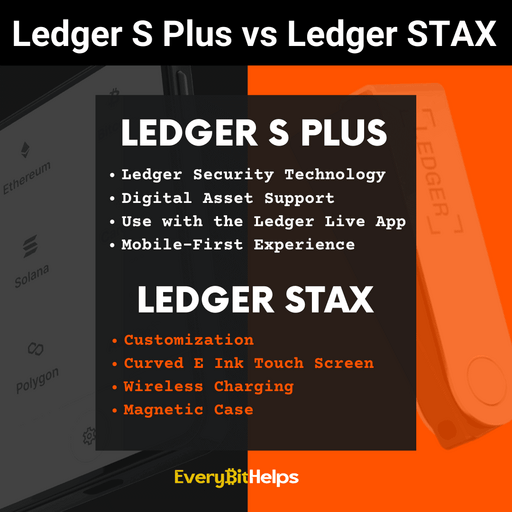 Trezor vs Ledger Stax
Ledger Security
Ledger is trusted across the crypto sector for its security systems and encryption. Hardware wallets are simply one example of the security-focused products they sell.
Ledger uses a secure chip within the hardware wallets: "a tamper-resistant platform capable of securely hosting applications and data in accordance with the rules and security requirements set by pre-authorized applications and people." Alongside this, Ledger has created "a distinctive operating system called BOLOS, which we integrate [into the] secure chip for the Ledger wallet line."
Ledger 2020 Hack
The only downside, despite Ledger being one of the best in the security in the crypto sector, is they suffered a cyber-security breach in July 2020. Fortunately, their wallets weren't affected. A total of 272,000 customers were affected, with 1 million email addresses, postal addresses, names, and other details leaked online.
Ledger now warns customers that they might be contacted by someone "pretending to be from Ledger Support and asking for your 24-word recovery phrase. Never share your 24-word recovery phrase, even with Ledger Support. Ledger Support will never ask you for your 24-word recovery phrase."
Verdict: Should you buy the Ledger Stax? 
Ledger devices are definitely worth buying if you're serious about crypto investing. If you want extra security and peace of mind, then whether you get a Nano S Plus, Nano X or the Stax, either hardware wallet is a sound long-term investment.
We hope you found our Ledger Stax review useful; if you already have your own Ledger, let us know what you think in the comments below. If you want to purchase a Ledger Wallet, make sure you purchase one from the official Ledger store.
Is the Ledger Stax Worth Buying?
This device is perfect for you if you need to complete transactions on the go with precision. So, for people who trade and want to remain secure, this could be a good option. But if you are holding onto your crypto assets, then a Ledger S Plus will do the trick and arguably could be considered the most secure as it does not have the Bluetooth feature.
FAQs
Are Ledger hardware wallets safe? 
Yes, Ledger is a market leader in crypto cyber security, putting great effort into ensuring their wallets are secure. Ledger uses a secure chip and proprietary operating system.
When will the Ledger Stax be available?
The new Ledger Stax is estimated to be shipped in April 2023. However, to receive the new Ledger hardware wallet in April 2023, you must pre-order your Ledger Stax via the Ledger.com website.
Related Posts