In this BitBox02 review, we take a look at the BitBox hardware wallet and how it compares to its competitors on the market. 
For those seeking to secure their crypto offline in a secure hardware wallet, wallets such as Trezor and Ledger are two of the most popular. However, a highly regarded alternative worth considering is the BitBox02 from Shift Crypto. The latest hardware device is packed with advanced security features and compatibility enhancements.
So let's jump into this BitBox review to help you work out whether BitBox02 is the right hardware wallet for you.
BitBox02 Review
BitBox02 – Pros and Cons
Let's find out the key Bitbox02 pros and cons potential buyers should be aware of. Overall, we're impressed with the security measures on display, especially the dual-chip design, which combines the best open and closed-source security firmware. A strong choice of supported coins, alongside compatibility with Ethereum-hosted apps like MyEtherWallet and Rabby, are also advantages.
On the flip side, we're a bit let down by the lack of iOS compatibility, alongside the absence of Bluetooth connectivity and a flimsy design that isn't totally reassuring.
Who is Shift Crypto?
Shift Crypto is the company behind the BitBox02 hardware wallet. Based in Switzerland, with all the connotations of expert craftsmanship that may entail, the company were founded in 2015. Led by Co-founder & CEO Douglas Bakkum, the team include highly skilled security professionals with first-hand experience in crypto firmware.
With glowing reviews across social media, the company are great at helping users get the most out of its products. Indeed, Shift Crypto staff have been known to work particularly closely with users to identify and rectify any potential concerns raised.
Alongside its BitBox models, the company also produce Steelwallet – an 'apocalypse-proof Bitcoin backup' and a native app that allows users to manage their device. Its products are available worldwide, with a complete list of available outlets included here.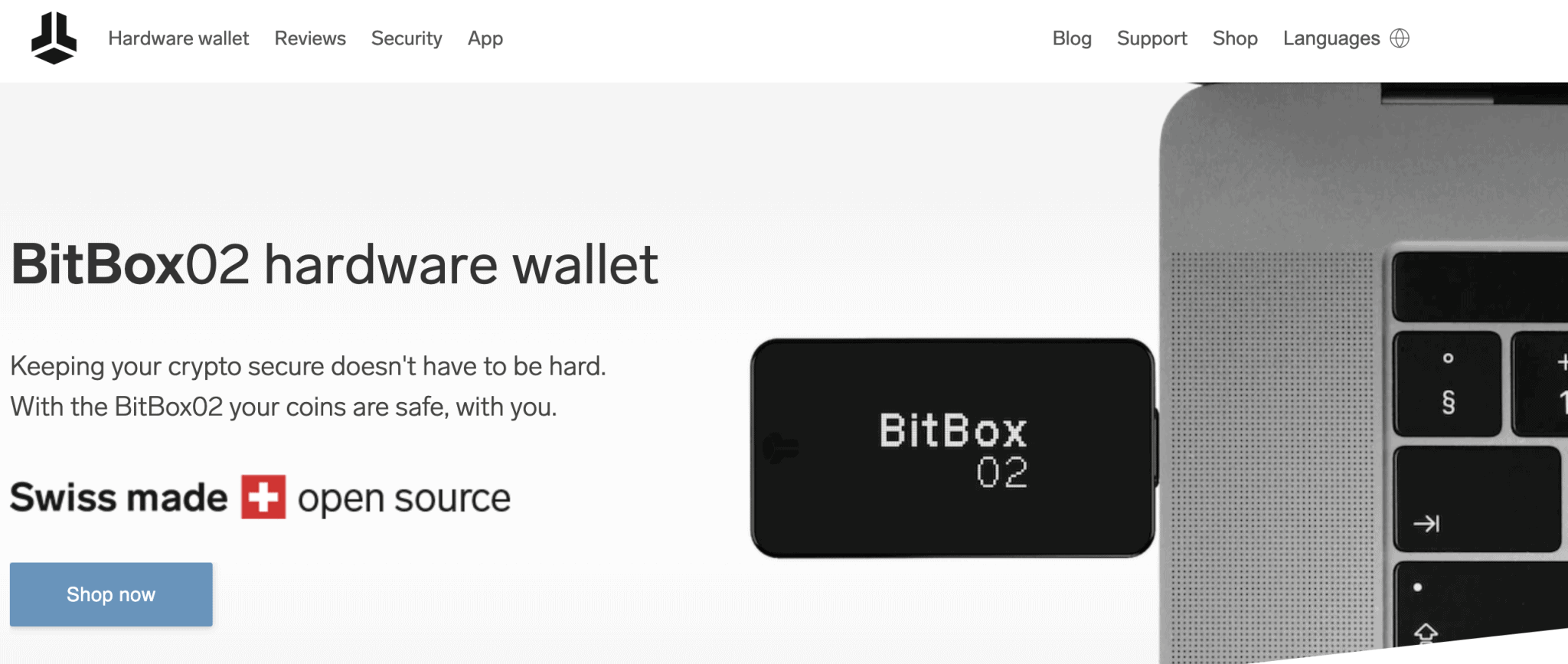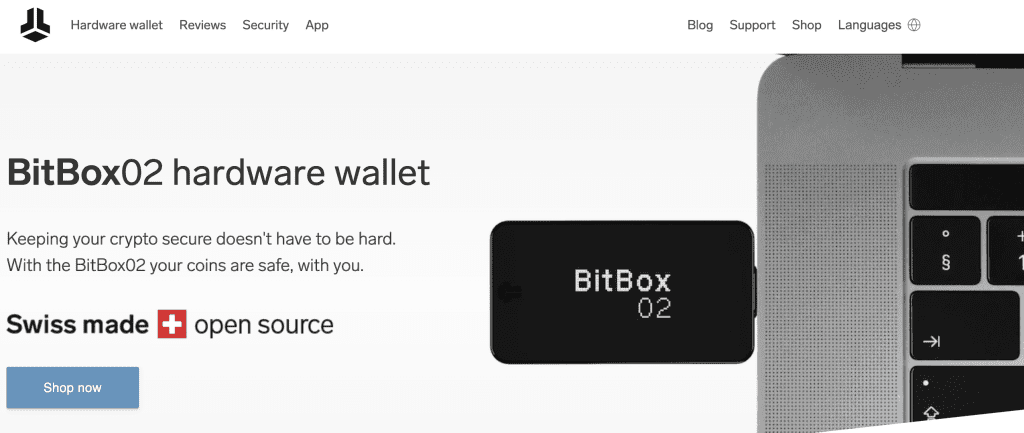 BitBox02 – What's in the box?
Every BitBox02 order comes with plenty of additional bonuses, allowing users to make the most of their product journey.
In addition to the hardware wallet itself, you'll find the following accessories:
8GB microSD card, useful for making backups.
USB-C to A adapter, enabling greater accessibility for alternative devices
USB-C extension cable, in case your devices don't quite reach.
Also included; free BitBox stickers, string attachments, and a helpful "Getting started" manual.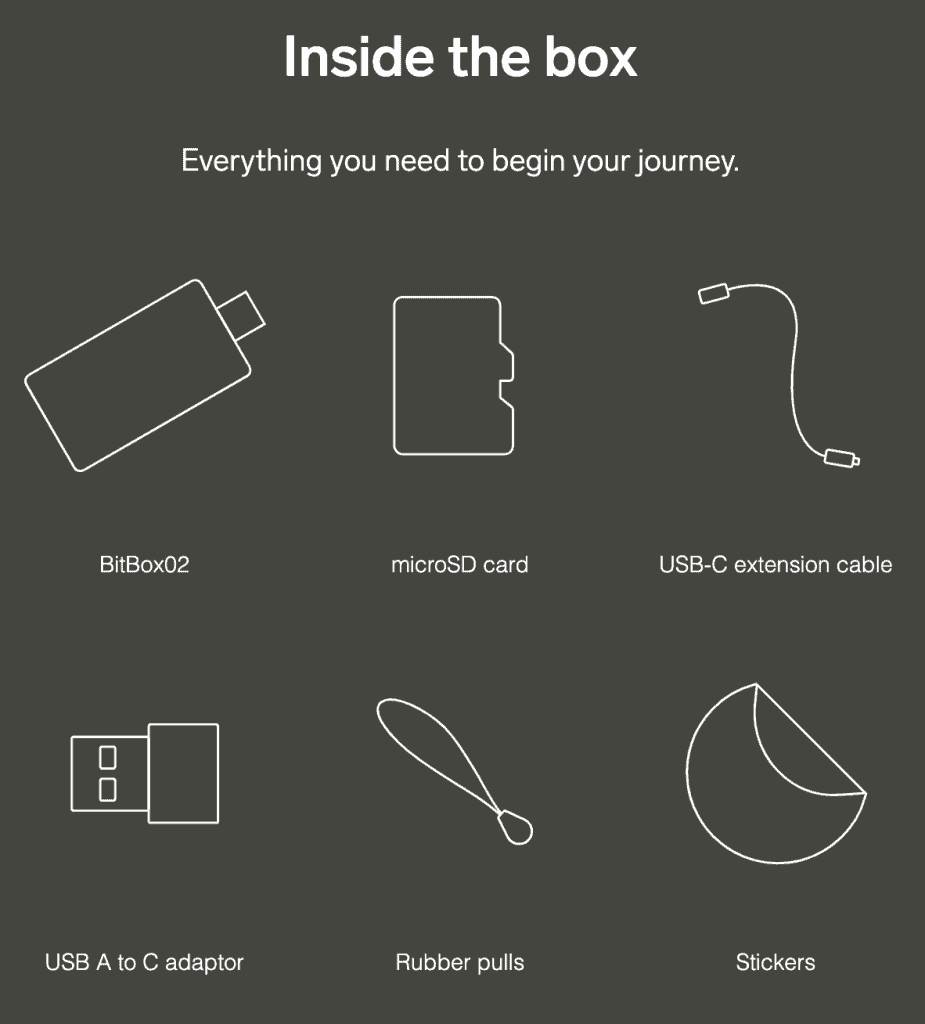 BitBox02 Specifications
Connectivity: USB-C
Compatibility: Windows 7 and later, macOS 10.13 and later, Linux, Android
Input: Capacitive touch sensors
Microcontroller: ATSAMD51J20A; 120 Mhz 32-bit Cortex-M4F; True random number generator
Secure chip: ATECC608B; True random number generator (NIST SP 800-90A/B/C)
Display: 128 x 64 px white OLED
Material: Polycarbonate
Size: 54.5 x 25.4 x 9.6 mm including USB-C plug
Weight: Device 12g; with packaging and accessories 160g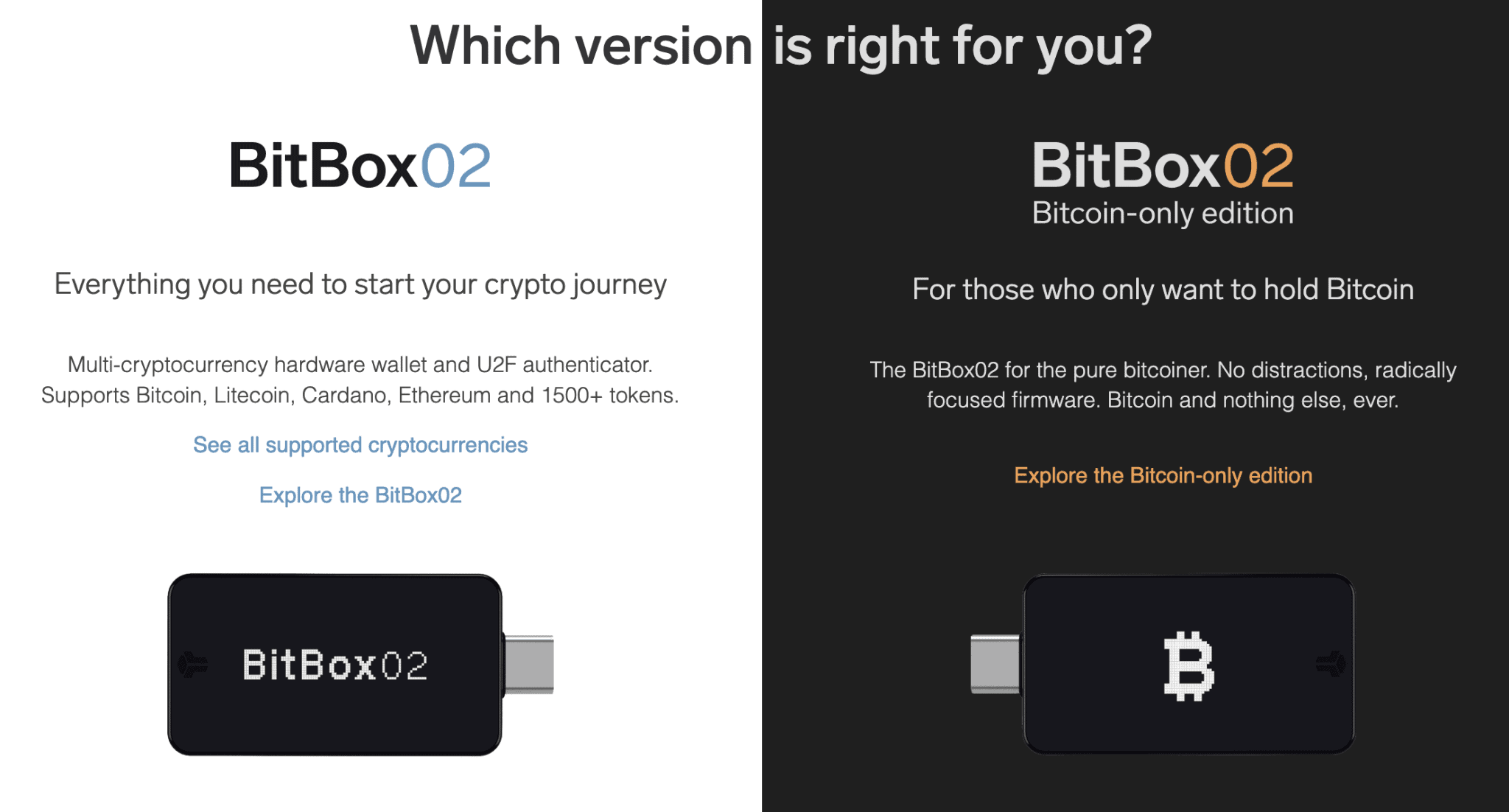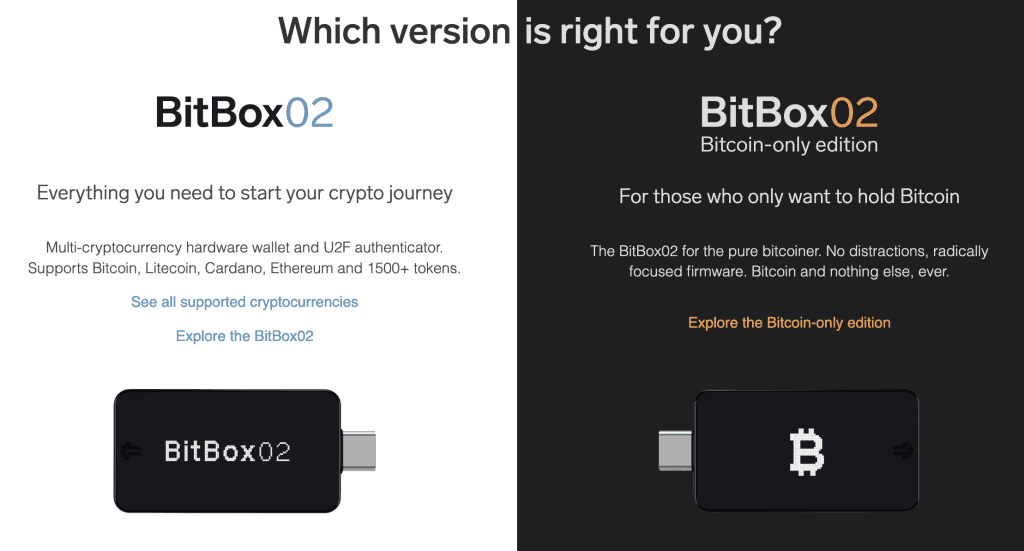 How does BitBox02 work?
Simplicity is the name of the game for crypto hardware wallets. The good news is that BitBox02 is satisfyingly easy to get to grips with, involving just a few steps before your crypto is safely backed up.
Before plugging in your crypto wallet, it helps to install the Bitbox app on your computer or Android device. This will make it easier to adjust your hardware settings and make customisations where required.
The next step is to fit the device into your computer or smartphone, which can be achieved using a USB-C input (available on most modern devices). After this, you'll be asked to confirm a pairing code. This stage of the process encrypts communication between BitBox02 and the app to improve your privacy.
You'll then be asked if you want to create a new wallet or restore an existing one. If you're starting afresh, you'll need to give your wallet a descriptive name, which will also be the name of the backup. Click "Continue" in the BitBoxApp and confirm the wallet name on your BitBox02 by tapping the checkmark.
After this, you'll need to create a password which you'll need to enter each time you wish to access your BitBox device. Once this is logged, you'll be prompted to create a backup using a MicroSD device. While not a necessary procedure, it's best to complete this stage in case you lose or damage your BitBox and need to recover your account.
Your BitBox will now be ready to use.
BitBox02 Alternatives
Having delved into the seamless functionality of the BitBox 02 device, it's time to put it to the test in our comparison table. Compared to other providers on the market, Bitbox02 offers decent value for money, alongside broadly positive reviews on the consumer rating site Trustpilot.
It supports a greater variety of assets than its primary competitors, despite Ledger and Trezor becoming something of household name in the crypto wallet industry.
| Wallet | Cost | Suporrted Cryptos | Trustpilot Rating |
| --- | --- | --- | --- |
| BitBox02 | £109.99 | 1500 Cryptos | 4.8/5 |
| Ledger Nano X | £136.00 | Over 1100 Cryptos | 3.7/5 |
| Trezor Model T | £209.87 | Over 1200 Cryptos | 3.3/5 |
| SafePal S1 | £40.00 | 33 Blockchains & 30,000+ Tokens | 2.3/5 |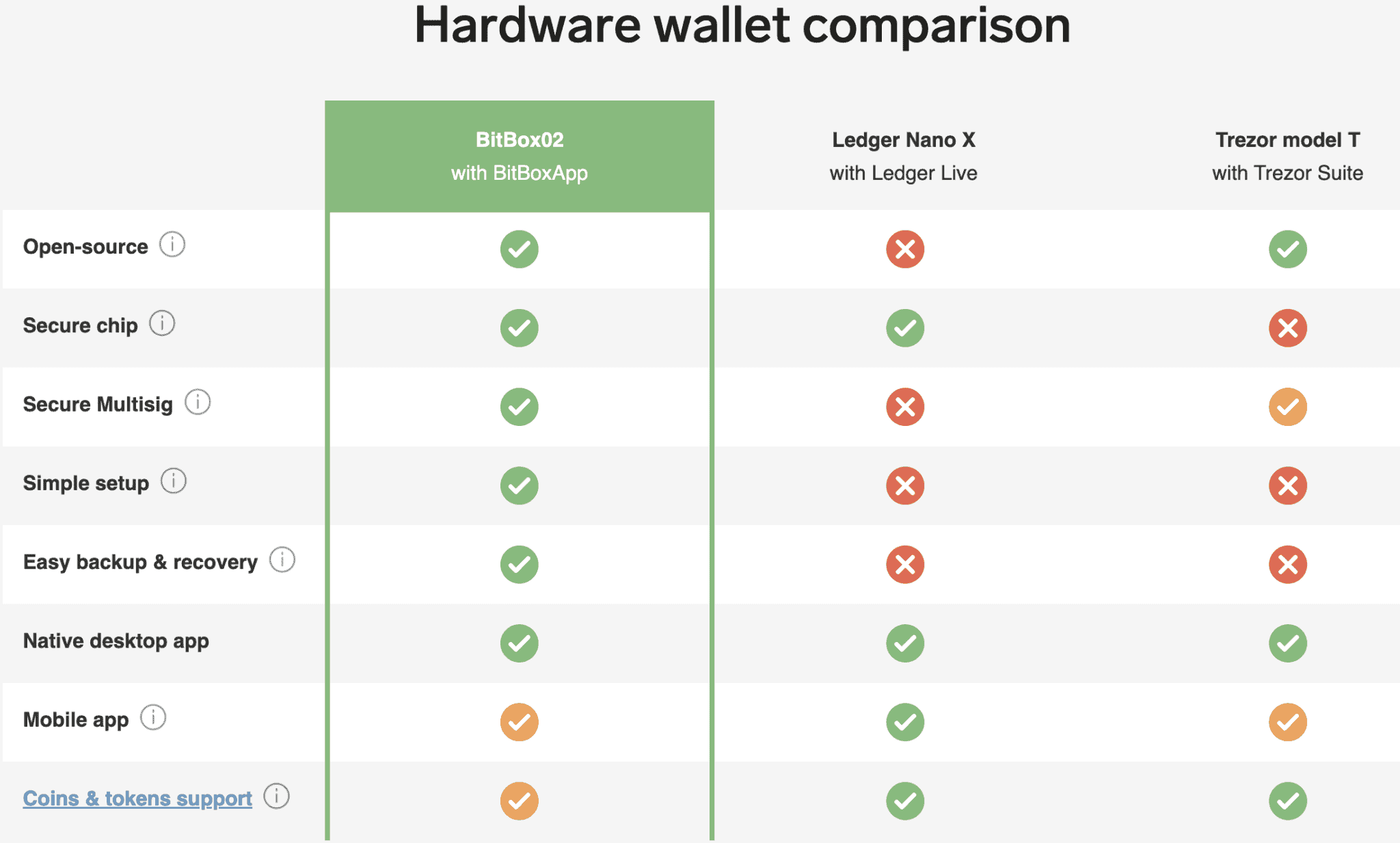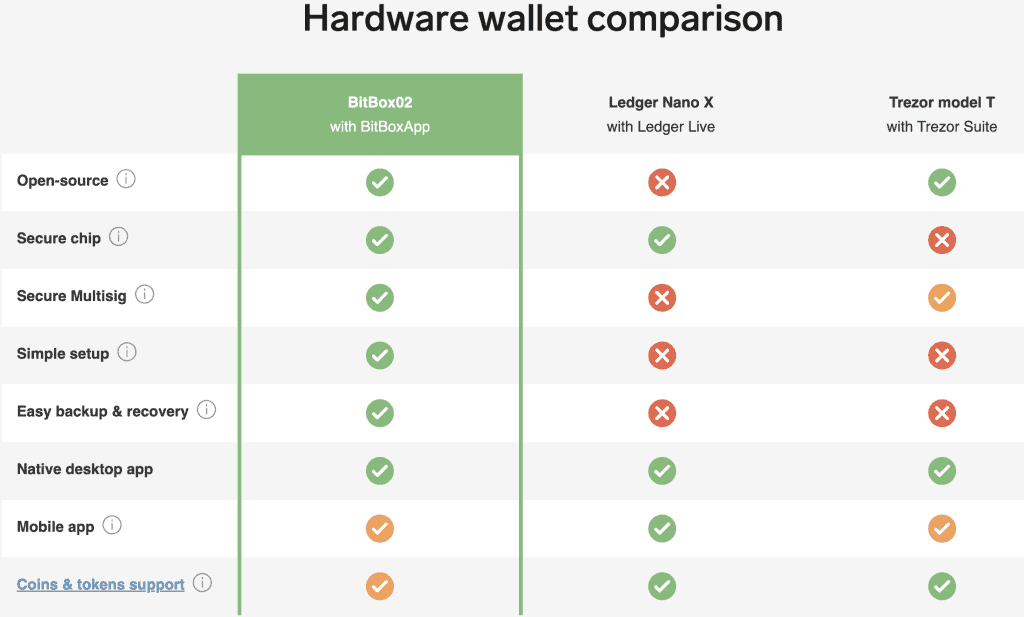 Verdict: Should you Buy a BitBox02 Wallet
The beauty of BitBox02 is its simplicity. Users can get their crypto stored and safeguarded using advanced security protocols in just a few steps. We're impressed by the ease of use, as well as the advanced security features packed into such a lightweight device.
Competitively priced against some of its primary competitors in the space, consumers can expect good value for money when purchasing one of these devices. While Apple users might feel neglected by a lack of iOS compatibility, those looking for a low-cost, simplified solution to storing crypto should consider BitBox02 a strong contender.
We hope you found our BitBox02 review useful; if you already have your own BitBox, let us know what you think in the comments below. If you want to purchase a BitBox Wallet, make sure you purchase one from the official store.
BitBox FAQs
Who Manufacturers BitBox02 Wallets?
BitBox02 Wallets are developed and manufactured by Shift Crypto AG, based in Zurich, Switzerland.
Where Can I Buy BitBox02 Wallets?
You can purchase a BitBox02 device through the company's website or via several regional online retailers.
What Cryptos does BitBox02 Wallet Support?
The BitBox02 wallet supports Bitcoin, Litecoin, Ethereum and ERC-20 tokens. Alternatively, the Bitcoin edition supports Bitcoin exclusively.
What Happens if I Lose my BitBox02 wallet?
If you lose your BitBox02 device, you can quickly recover your accounts using a new hardware wallet. You'll need the recovery key you wrote down when you set up your original BitBox device.
Related Post