In this beginner's guide, we'll demystify the process of how to find your Ledger wallet address, ensuring you're all set to send and receive cryptocurrencies like Bitcoin and Ethereum.
Whether you're a seasoned crypto enthusiast or a complete beginner, this comprehensive Ledger tutorial is designed to help you navigate your crypto hardware wallets with ease. So, buckle up and join us as we explore the ins and outs of locating and generating your Ledger wallet address in a secure and user-friendly manner.
How to Generate & Find A Ledger Wallet Address

How to Find Your Crypto Wallet Address on Ledger
Finding your Ledger crypto wallet address is pretty simple when you know how. But if you're just starting out in crypto or using a Ledger, these tasks can be confusing. So, we have put together this beginner's guide to help you find your Ledger wallet address.
To find your crypto wallet address and interact with your Ledger, you'll need to use Ledger Live. The first guide will show you how to find your wallet address with Ledger Live on your desktop.
Step 1: Open Ledger Live & Navigate to "Accounts"
From the Ledger Live dashboard from your desktop, choose the "Accounts" tab on the left-hand side of your screen.
Step 2: Choose Your Account to be Credited
From the list of accounts, choose the account you would like to be credited. If you prefer, or do not already have an account. Choose "Add Account" in the top right and follow the prompts.
Step 3: Choose "Receive" & "Continue"
From the next screen, you'll see quick action buttons. Choose the "Receive" button. 
A pop-up window will appear. With your account automatically selected, choose "Continue" from the first prompt.
Step 4: Connect your Ledger & Open App
You'll then be prompted to connect and unlock your Ledger device. Then open the app for the account you've selected on your device.
Step 5: Copy & Verify the address
You'll then see your address shown in the centre of the screen, which you can copy. Or you can click on the "Show QR code" hyperlink, which will show the QR code to scan.
You'll also need to verify that the shared address exactly matches the one that displays on your device by checking and then approving it on your Ledger hardware wallet. 
Step 6: Congratulations!
And that's it! You've successfully located your Ledger hardware wallet address. You can now share this address with others to receive payments or use it to interact with various blockchain services.
How to Find Your Crypto Wallet Address Ledger Live Mobile
To find your crypto wallet address using Ledger Live mobile app, you'll need to ensure you have your hardware wallet powered, on, unlocked, and nearby with Bluetooth enabled.
Step 1: Open the Ledger Live App & Choose the Crypto Asset
From the Ledger Live mobile app, ensure you are on the "Wallet" tab from the bottom of your screen. Then choose the crypto asset from the list for the address you want to find.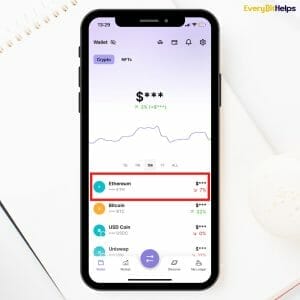 Step 2: Choose "Recieve"
Select the next screen and choose "Recieve" from the list of quick action buttons.
Step 3: Select the Account to be Credited
From the list of accounts, select an account to be credited. If you do not already have an account, you can "Add New" from the previous screen.
Step 3: Verify the Address
You'll then be presented with a pop-up message recommending that you verify your ledger to ensure it's not compromised.
Verify your address by selecting your paired Ledger device and opening the app on your device.
Then verify the address shown on the screen is the same as on your device by approving it on your Ledger Hardware wallet.
Step 4: Copy or Scan the Address
Once the address is verified, you can copy or scan your crypto address to share with others.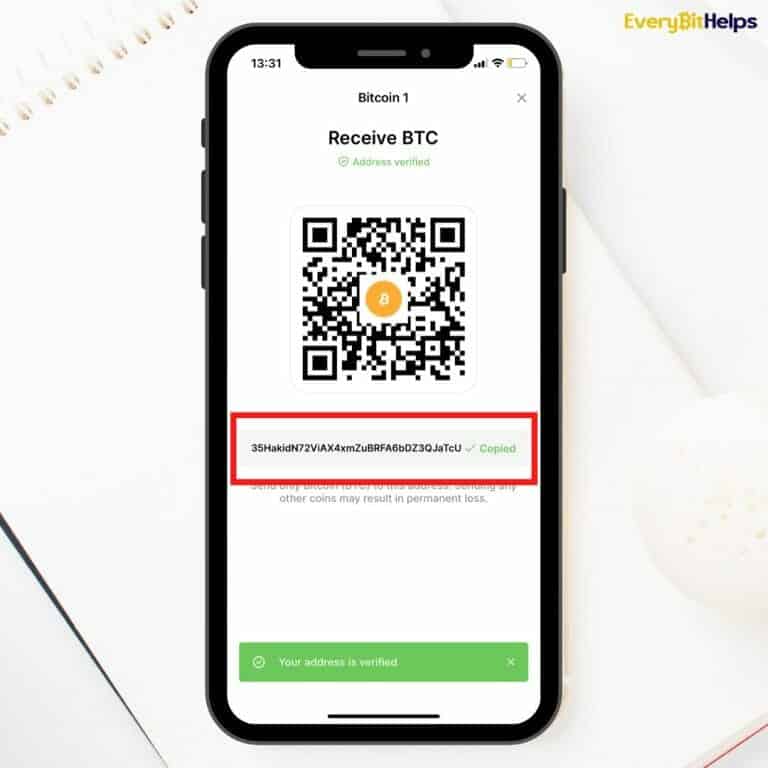 How to Generate a New Crypto Account on Ledger
If you don't already have a crypto account set up or you want to create a new one, follow our guide below;
Open Ledger Live
Navigate to the cryptocurrency you'd like to create an account for.
Underneath the quick action buttons, choose "Add New."
Pair your app with your Ledger
From the list of accounts, choose "Continue."
The new account will then display within your list
How to Find a Ledger Wallet Address
Finding your Ledger wallet address is essential for sending and receiving cryptocurrencies. Ledger Live simplifies this process by providing an easy-to-navigate interface to locate your wallet address. The application allows you to access your wallet address for various cryptocurrencies, such as Bitcoin and Ethereum, with just a few clicks.
Verifying Your Wallet Address
Verifying your wallet address on your Ledger hardware wallet is a crucial security measure to ensure that you send and receive cryptocurrencies to the correct address. By confirming the address displayed on your Ledger device matches the address shown in Ledger Live or any other wallet application you are using, you can protect yourself from potential errors or malicious attacks.
Cryptocurrency transactions are irreversible, which means that if you send funds to an incorrect address, there is no way to retrieve them. Verifying your wallet address on your Ledger hardware wallet helps you avoid such mistakes and ensures that your funds are transferred to the intended destination.
Additionally, verifying your wallet address on the device guards against potential malware or phishing attacks targeting your computer or mobile device. Attackers may attempt to manipulate the address displayed on your device screen, redirecting your funds to their wallets. By cross-checking the address on your hardware wallet, you can ensure that the address has not been tampered with, thus maintaining the security of your transactions.
What is Ledger Live?
Ledger Live is a user-friendly application developed by Ledger to seamlessly manage your Ledger hardware wallet and the cryptocurrencies it secures. The app is available for both desktop and mobile devices, providing you with a comprehensive solution to manage, buy, sell, exchange, and stake your crypto assets.
Ledger Live works in tandem with your Ledger hardware wallet, which securely stores your private keys. When using the app, any action you take, such as sending or receiving cryptocurrencies, requires confirmation on your hardware wallet, ensuring an additional layer of security.
What can you do with Ledger Live?
Track your crypto portfolio.
Build your crypto knowledge.
Buy 50+ cryptocurrencies with Ledger Live.
Swap 100+ Cryptocurrencies
Earn rewards and grow your digital assets
Manage 500+ coins and tokens
Oversee your NFT collection
Access DeFi Dapps
What is a Cryptocurrency Address?
A cryptocurrency address is a unique identifier used for sending or receiving cryptocurrencies on a blockchain network. Crypto addresses use the public key cryptographic method, which includes a private-public key pair. They serve a similar purpose to an email address when sending fiat currency or a receiver's phone number when using mobile money payment options. However, unlike email addresses or phone numbers, crypto addresses are temporary and can typically only be used once.
A cryptocurrency address consists of a unique set of 26 to 36 alphanumeric characters that serve as a virtual location where cryptocurrency can be sent, either as the source or the destination of cryptocurrency payments.
Why Does My Bitcoin Address Change?
The purpose of generating a new address for each transaction is to enhance your privacy and security.
When multiple transactions are made using a single Bitcoin address, it becomes easier for someone to track your transactions and potentially link them to your identity. By using a new address for each transaction, you make it more difficult for others to associate your transactions with one another, improving your privacy.
Although your Bitcoin wallet address changes on Ledger, all previously generated addresses remain valid, and you can still receive funds at those addresses. The Ledger device manages all your addresses, so your funds will be consolidated in your wallet, regardless of which address they were sent to.
Does My Ethereum Address Change with Ledger?
Unlike Bitcoin wallet addresses, your Ethereum wallet address does not change with your Ledger hardware wallet. Ethereum uses a different address scheme compared to Bitcoin, and it does not implement the Hierarchical Deterministic (HD) wallet technology that generates new addresses for each transaction.
With Ethereum, you'll have a single, static wallet address associated with your Ledger device for sending and receiving Ether (ETH) and ERC-20 tokens. This address remains constant and can be reused for multiple transactions. While this may not provide the same level of privacy as the address-changing feature in Bitcoin wallets, it is still considered secure. It is the standard method of handling Ethereum addresses.
FAQs
Is the Ledger wallet address always the same?
The Ledger wallet address for Bitcoin and Bitcoin-based crypto assets changes every time you receive a transaction, which helps maintain better privacy. However, for other crypto assets like Ethereum, XRP, Stellar, etc., the address remains the same. The reason for generating new addresses for each transaction in Bitcoin is to enhance privacy and prevent third parties from viewing your previous transactions using a blockchain explorer.
Nonetheless, it's important to note that you can still use an "old" address, as they remain valid under your seed phrase and are valid forever.