In this 2023 LastPass review, we'll explore the popular password manager LastPass and how it can securely store and manage your online passwords, so you don't have to.
Struggling to remember all your passwords? You're not alone. As we move further into the digital age, the need for complex and unique passwords for each account grows. But there's a solution, a password manager like LastPass. LastPass can take the stress out of password management by securely storing and auto-filling your passwords.
So let's jump into this LastPass review to determine if LastPass is the right password manager for you.
LastPass Review
What Is LastPass?
LastPass is a robust password manager that securely stores your passwords and personal information in a digital vault. This vault is accessible across multiple devices, meaning you only need to remember one master password to access all your other passwords.
Launched in 2008 and currently owned by LogMeIn, LastPass has made a name for itself in the realm of digital security. It's not just a simple password keeper; it's a comprehensive security tool that offers a variety of features designed to enhance your online safety.
One of the standout features of LastPass is its ability to auto-fill your passwords when you visit websites or apps. This feature saves you time and eliminates the hassle of remembering complex passwords. It also includes a password generator that can create strong, unique passwords for your accounts, further bolstering your online security.
Beyond passwords, LastPass can store secure notes, payment card information, and other sensitive details. It also supports multi-factor authentication, adding an extra layer of security to your accounts. Plus, it offers a feature for securely sharing passwords and notes with others.


What is a Password Manager?
A password manager is a software application designed to provide a secure and convenient way to store and manage passwords and other sensitive information. It acts as a digital vault, storing login credentials for various websites and applications and other personal data like credit card information and secure notes.
One of the main benefits of a password manager is that it allows you to use complex and unique passwords for each account without needing to remember them all. Instead, you only need to remember one master password to access your password manager. Using a password manager can enhance your online security and make managing your digital life more convenient.


Why Use A Password Manager?
Opting for a password manager like LastPass can greatly enhance your digital experience. It simplifies the process of creating, storing, and managing passwords, saving you valuable time and freeing you from the burden of memorizing complex passwords.
One of the key advantages of a password manager is the heightened level of security it provides. It automatically crafts strong, unique passwords, significantly lowering the risk of password theft. This feature is particularly useful when a password needs to be replaced or has reached its expiration, as the password manager can swiftly create a new one.
In addition, a password manager bolsters your online security management. Gathering all your passwords into a single secure hub offers a comprehensive view of your security settings. This centralized method of password management allows you to maintain a firm grip on your digital footprint, ensuring your online activities remain both secure and private.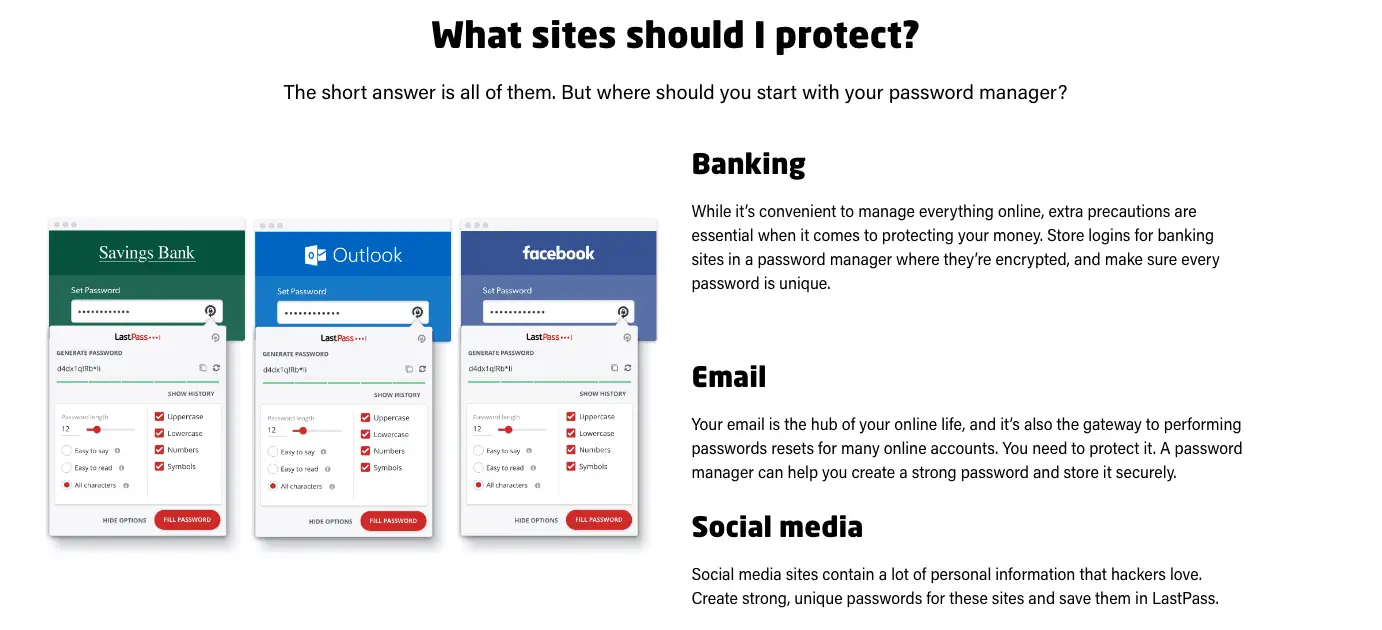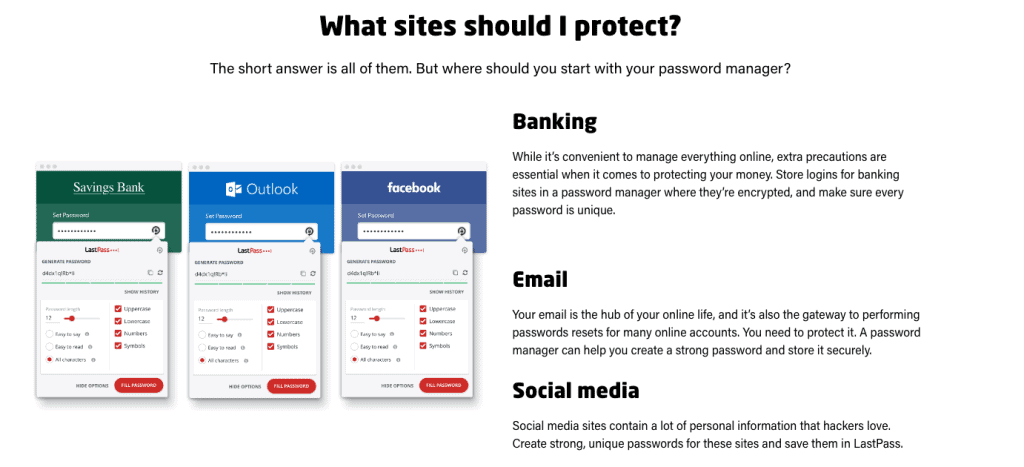 How Much Does LastPass Cost?
LastPass offers a range of plans to suit different user needs, from individuals to families. Each plan has its own set of features tailored to provide a secure and convenient password management experience.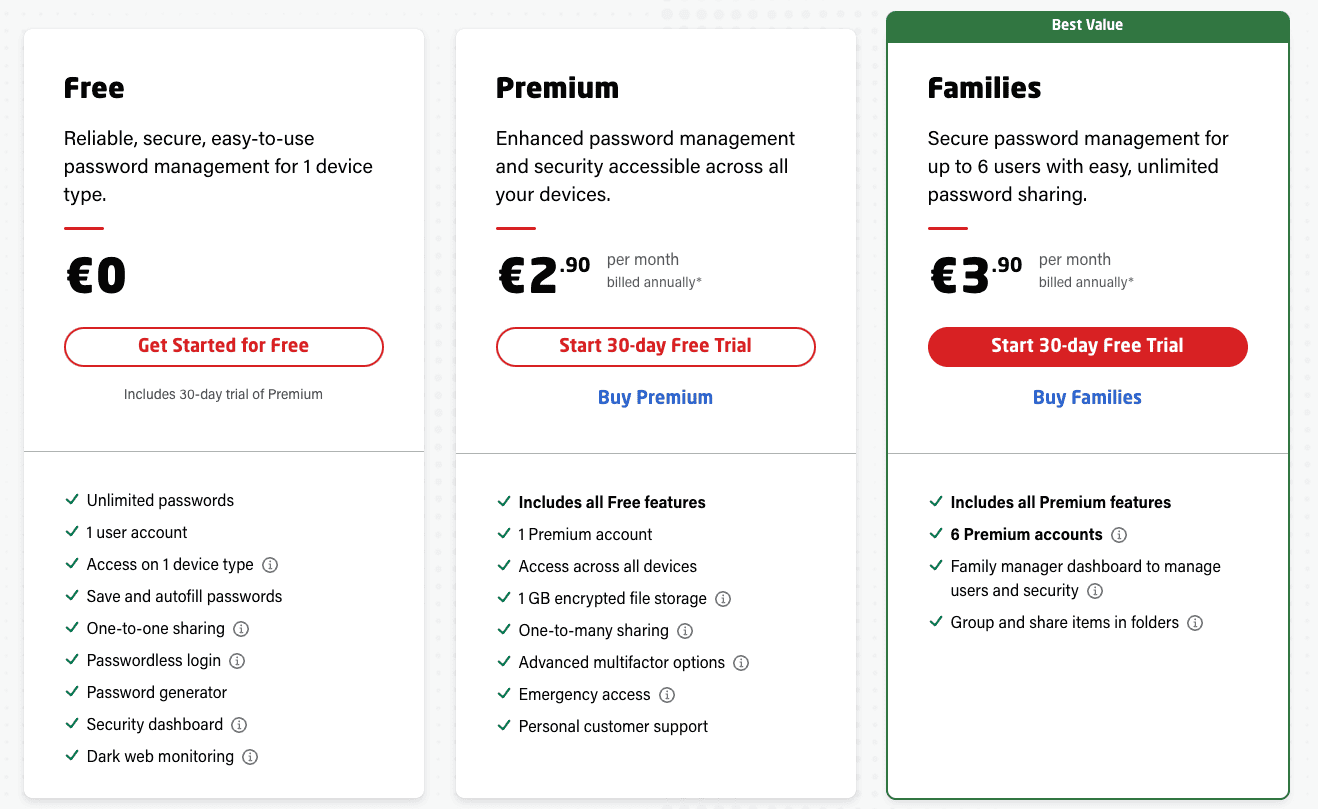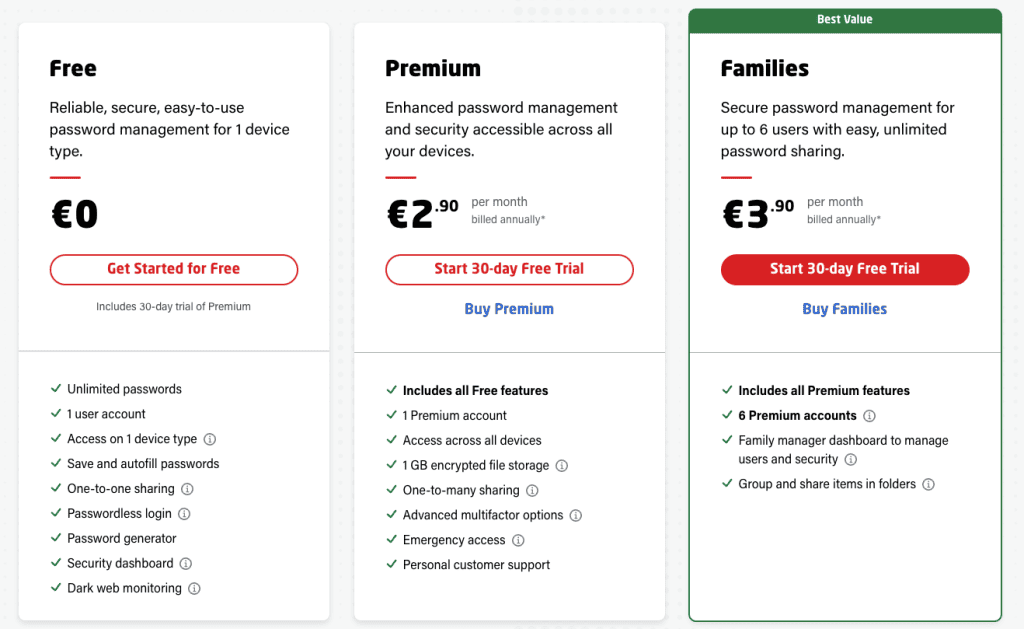 LastPass Free Plan
The LastPass Free plan offers reliable, secure, and easy-to-use password management for one device type. It includes features like unlimited passwords, one user account, access on one device type, save and autofill passwords, one-to-one sharing, passwordless login, password generator, security dashboard, and dark web monitoring.
This plan is ideal for individuals who want to manage their passwords on either all their computers or all their mobile devices.
LastPass Premium Plan
The LastPass Premium plan, priced at $3.00 per month billed annually, provides enhanced password management and security accessible across all your devices. In addition to all the features offered in the Free plan, the Premium includes access across all devices, 1 GB encrypted file storage, one-to-many sharing, advanced multifactor options, emergency access, and personal customer support.
This plan suits individuals who want to manage their passwords across multiple device types and require additional features for enhanced security and convenience.
LastPass Family Price
The LastPass Families plan, priced at $4.00 per month billed annually, offers secure password management for up to 6 users with easy, unlimited password sharing. It includes all the features of the Premium plan, plus it allows up to 6 Premium accounts, a family manager dashboard to manage users and security, and the ability to group and share items in folders.
This plan is perfect for families who need to manage and share passwords securely among multiple family members.
LastPass Business Plan
The LastPass Business plan is a comprehensive solution designed for businesses seeking robust password management and advanced security controls. It offers an integrated password management system with a secure password generator and sharing feature. The plan also includes a powerful admin dashboard for oversight and employs LastPass's zero-knowledge security model to ensure the safety of sensitive data. Additionally, LastPass Business provides proactive security measures such as customizable security policies, dark web monitoring, and advanced reporting.
This plan is ideal for businesses aiming to enhance their password hygiene and overall cybersecurity posture.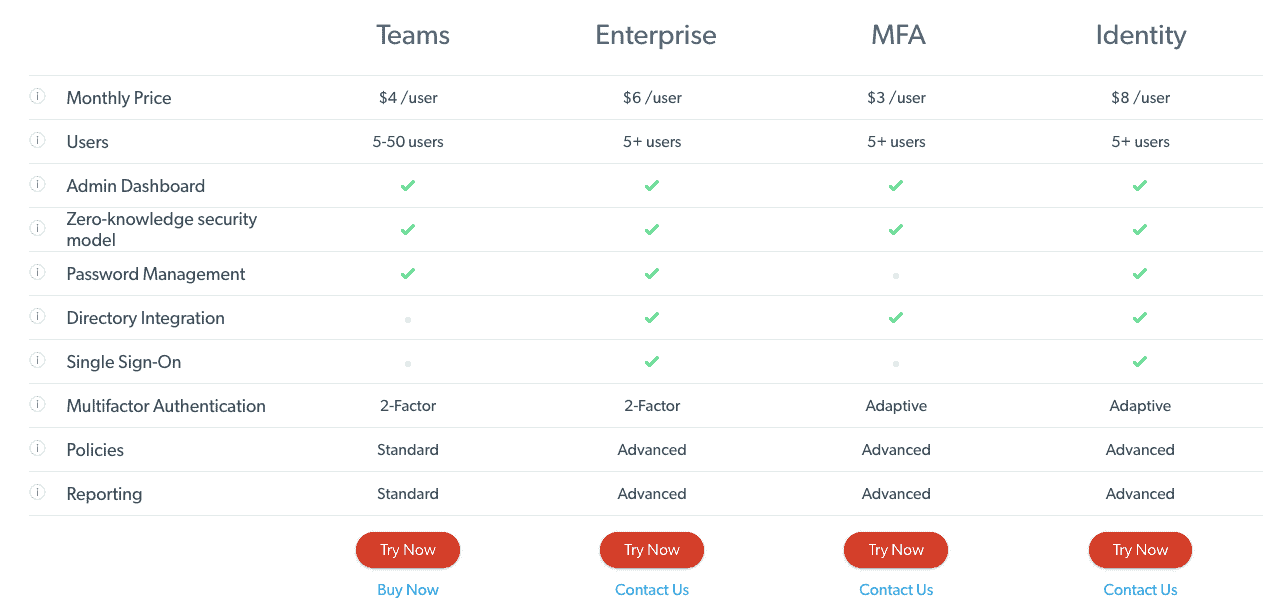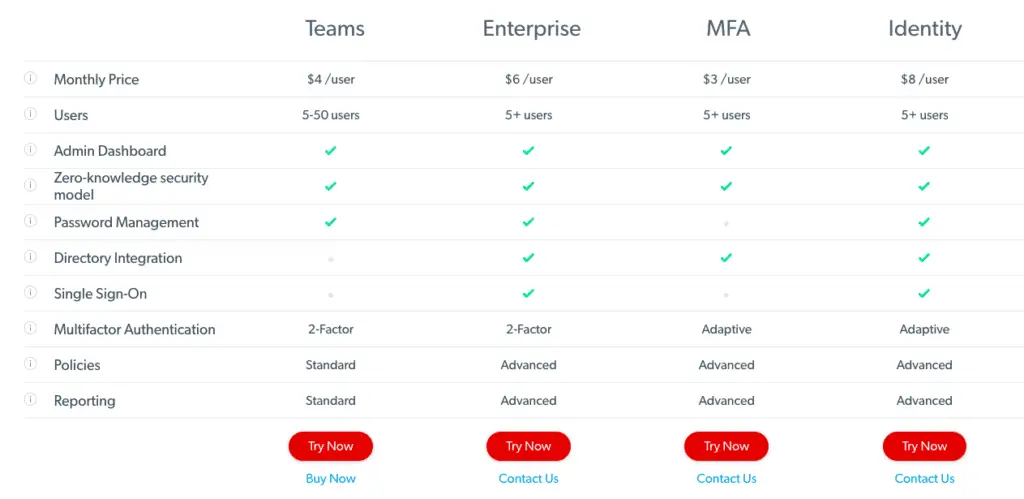 Features
LastPass offers a comprehensive suite of features designed to enhance your online security while simplifying your digital life. These features go beyond mere password management, offering a holistic approach to secure data storage, access, and sharing. Here's a closer look at some of these key features: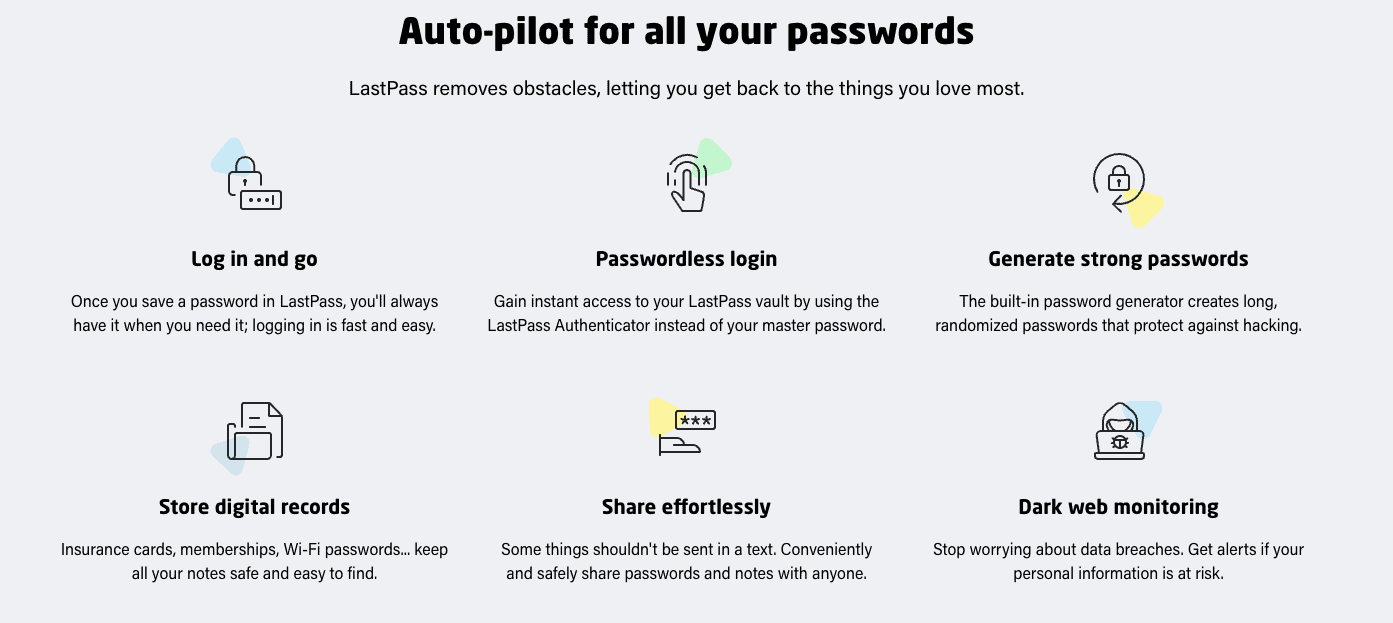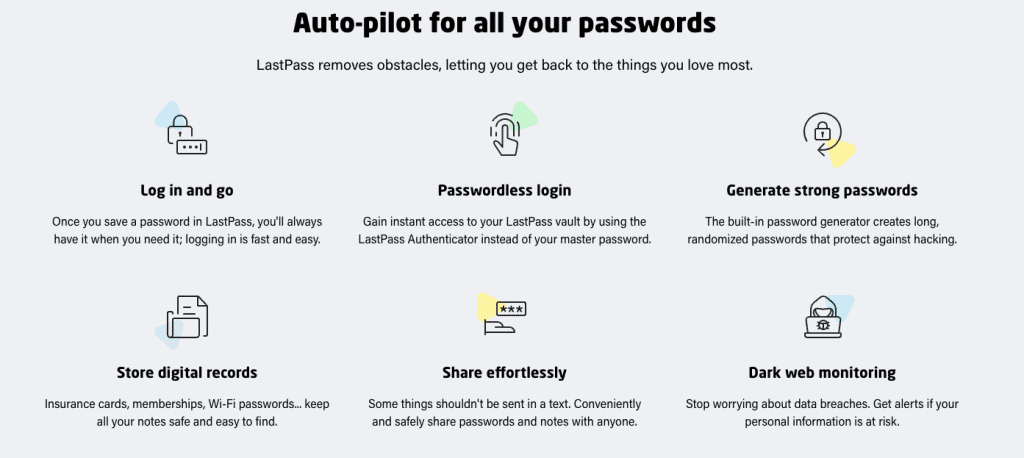 Effortless Password Storage & Autofill
LastPass provides a secure vault for your passwords and automatically populates them when you access websites or applications. This feature optimises your time and eradicates the need to recall intricate passwords, making your online navigation smoother and more efficient.
Robust Password Generator
LastPass has a powerful password generator that creates strong, unique passwords for your accounts. This indispensable feature bolsters your online security by discouraging the use of weak or duplicate passwords, thereby reducing your vulnerability to cyber threats.
Versatile Secure Notes
LastPass extends its functionality beyond password management by offering secure notes. This feature allows you to safely store a wide range of information, from credit card details to personal notes, providing a secure and organized repository for your sensitive data.
Advanced Multi-Factor Authentication
LastPass fortifies your accounts with multi-factor authentication, providing an additional layer of security. It supports various MFA options, including Google Authenticator, YubiKey, and more, allowing you to choose the one that best suits your needs.
Secure Sharing Center
LastPass facilitates the secure sharing of passwords and notes with others. This feature is particularly beneficial for families or teams that require shared access to accounts, ensuring that sensitive information can be exchanged securely and conveniently.
In essence, LastPass provides a robust and versatile platform for managing your online security, offering a range of features that cater to diverse needs and use cases.
Security
LastPass employs various security measures to ensure the safety and privacy of your data. While LastPass is designed to be as secure as possible, it's important to remember that no system can be 100% secure. Users should also follow best practices for account security, such as using a strong, unique master password and enabling multi-factor authentication.
Here are some key aspects of LastPass's security:
Local-Only Encryption: Your data is encrypted and decrypted at the device level. Data stored in your vault is kept secret, even from LastPass. Your master password and the keys used to encrypt and decrypt data are never sent to LastPass' servers and are never accessible by LastPass.
AES-256 Bit Encryption: LastPass uses strong encryption algorithms, specifically AES-256 bit encryption with PBKDF2 SHA-256 and salted hashes, to secure your data.
Two-Factor Authentication: LastPass supports two-factor authentication, adding an extra layer of security to your accounts. It's compatible with various MFA options, including Google Authenticator, Microsoft Authenticator, Duo, and more.
Zero-Knowledge Security Model: LastPass follows a zero-knowledge security model, meaning that all sensitive data is encrypted locally on your device with a key unknown to LastPass. This means that even LastPass cannot access your data.
Regular Audits: LastPass undergoes regular third-party audits and has a bug bounty program, which means security researchers are incentivized to find and report any potential issues.
Is LastPass Password Manager Safe?
While no digital platform can guarantee absolute security, LastPass Password Manager employs robust measures to ensure the safety of your data. However, it's important to note that LastPass has experienced security incidents in the past.
In response to these incidents, LastPass has enhanced its security measures. Users are encouraged to set up two-factor authentication, which provides an additional layer of security. This feature requires users to provide a second form of identification, such as a fingerprint or facial recognition, particularly on mobile devices, before accessing their accounts.

What if LastPass Gets Hacked?
In the unlikely event that LastPass gets hacked, your data remains secure due to the 'Zero-Knowledge' security model that LastPass employs. This model ensures that LastPass doesn't store your master password and cannot access the data within your vault. As a result, even if LastPass's systems were compromised, the hackers would not be able to decrypt your data.
This is because your data is encrypted and decrypted at the device level, not on LastPass's servers. The encryption key, which is created from your master password, never leaves your device. Therefore, even if hackers could access LastPass's servers, they would only find heavily encrypted data, which would be useless without the decryption key.
LastPass's security measures have been market-tested and trusted by over 43,000 companies, including Fortune 500 corporations and leading tech enterprises. This widespread adoption and trust further attest to the robustness of LastPass's security measures.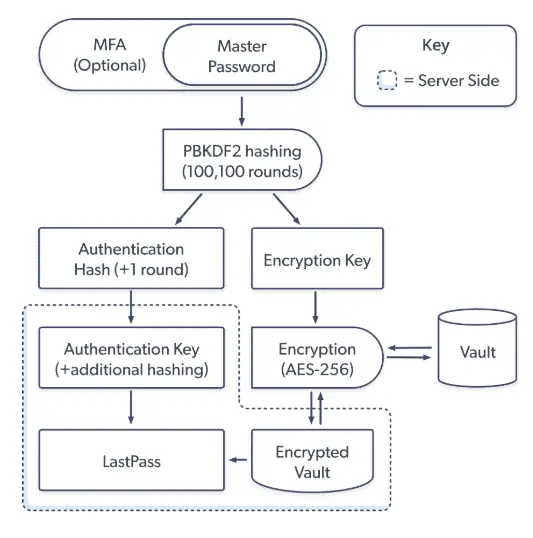 LastPass Hack
In August 2022, an unauthorized party accessed portions of the LastPass development environment. The attackers were able to steal parts of the LastPass source code and some proprietary technical information. However, at that point, the company confirmed that the master passwords of users had not been compromised.
In a separate attack in November 2022, the same hackers were able to access certain elements of customer information. The attack was made by hacking an employee's personal computer and installing a keylogger. This method allowed the attackers to access the company's cloud storage. The employee whose computer was compromised was one of only four LastPass employees with access to the corporate vault, which contained access to a shared cloud-storage environment and the encryption keys for customer vault backups stored in Amazon S3 buckets.
As a result, the attackers were able to copy a backup of partially encrypted customer vault data containing website URLs, usernames, and passwords. Despite LastPass's insistence that the account's master password still secured the passwords, they advised users to change all stored passwords as an extra safety measure.
Conclusion
LastPass stands out as a comprehensive and user-friendly password manager that caters to a wide range of needs. Whether you're an individual struggling to remember all your passwords, a family needing to share access to accounts, or a business seeking to enhance its cybersecurity posture, LastPass offers a solution tailored to you.
From its robust password storage and autofill capabilities to its secure note storage and advanced multi-factor authentication options, LastPass provides a suite of features designed to enhance your online security while simplifying your digital life. Its ability to generate strong, unique passwords helps maintain good security practices and protect against cyber threats.
While no system is impervious to potential security breaches, LastPass has demonstrated a commitment to addressing these issues and enhancing its security measures. Its zero-knowledge security model ensures that only you have access to your data, even in the unlikely event of a breach.
Overall, if you're looking for a reliable, secure, and feature-rich password manager, LastPass is a strong contender to consider in 2023.
FAQs
Does LastPass have a mobile app?
The LastPass mobile app is available for both Android and iOS devices, brings the convenience and security of LastPass to your smartphone or tablet. With the mobile app, you can access your passwords and other stored data wherever you are, right from your device.
The LastPass mobile app offers the same core features as the desktop version. It securely stores your passwords and automatically fills them in when you visit websites or use apps, saving you time and eliminating the need to remember complex passwords. It also includes a password generator that can create strong, unique passwords for your accounts.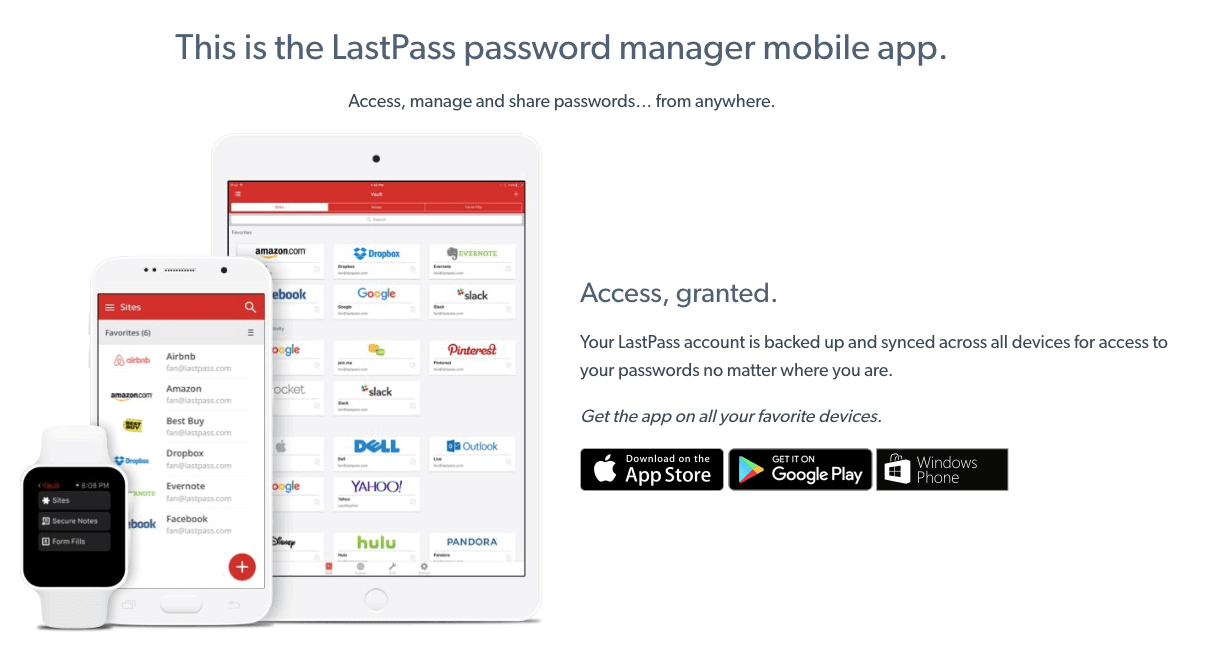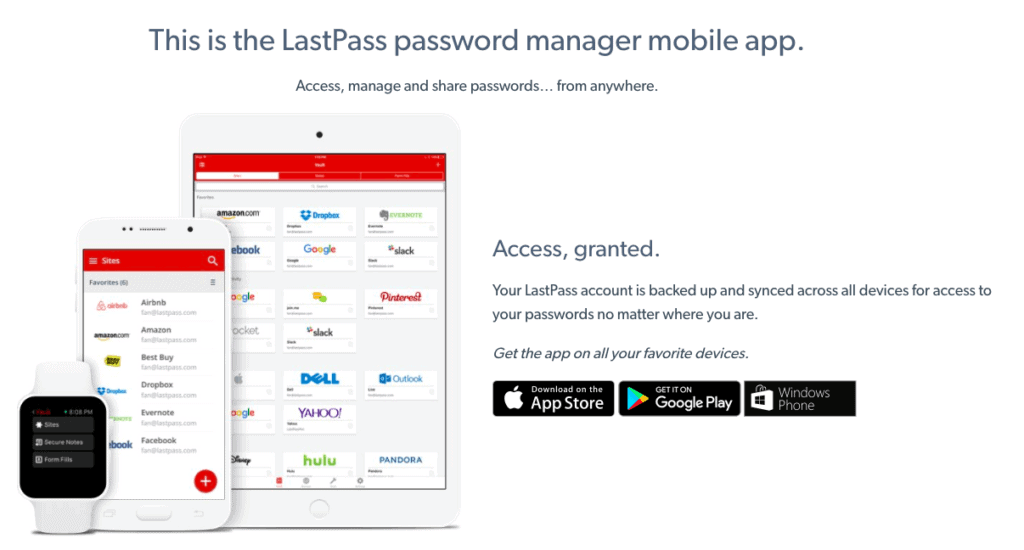 How to Use LastPass Password Manager 2023
If you don't have a LastPass account, you can a create one by visiting www.lastpass.com and click on "Get Free Account".
You'll be asked to provide your email and create a Master Password. This Master Password is the only one you'll need to remember, and it's not stored by LastPass, so make sure it's something you can remember. You can also add a hint to help you remember it.
Once your account is set up, you can start adding your passwords to LastPass and create more secure ones for any accounts that currently have weak passwords.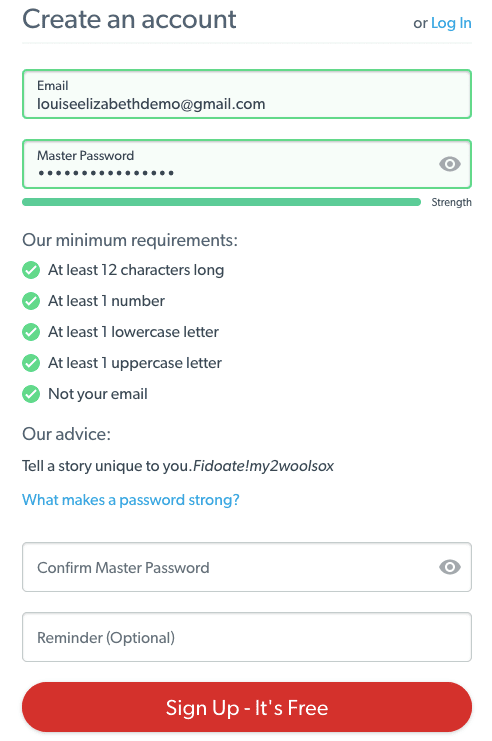 LastPass Extensions
LastPass extensions are available for various browsers including Google Chrome, Firefox, Safari, Opera, Internet Explorer, and Brave. Once you've installed LastPass, you'll see the LastPass button on your browser's toolbar. This is where you can log into LastPass. If you use multiple browsers, remember to install the extension on each one to sync your data across all of them.
How to Login into LastPass
After creating your account, you'll need to log into LastPass to access all its features. To do this, click on the LastPass extension in your browser or open the app. You'll be asked to enter your email and Master Password. For convenience, you can set LastPass to remember your email or password, but avoid doing this if you're using a shared computer or device.
How to Save Your Passwords to LastPass
After setting up your account, you can start adding your passwords to LastPass. You can do this manually for each site or import them in bulk if you're switching from another password manager.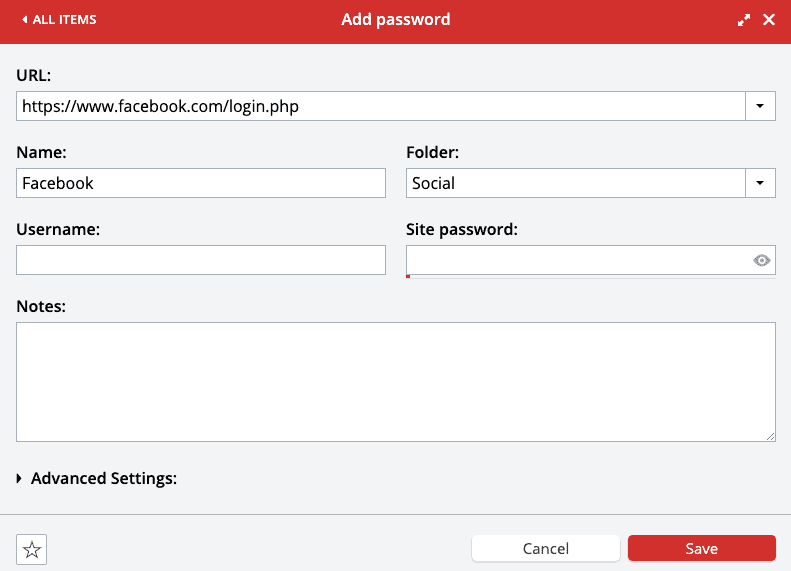 How to Import Your Passwords Into LastPass
If you're migrating from another password manager, you can import your passwords from several supported sources.
To do this, go to your LastPass Vault, select "More Options" at the bottom left, then "Advanced", and finally "Import".
You'll see a list of supported sources in the dropdown menu. If your current password manager isn't listed, you'll need to add your passwords manually.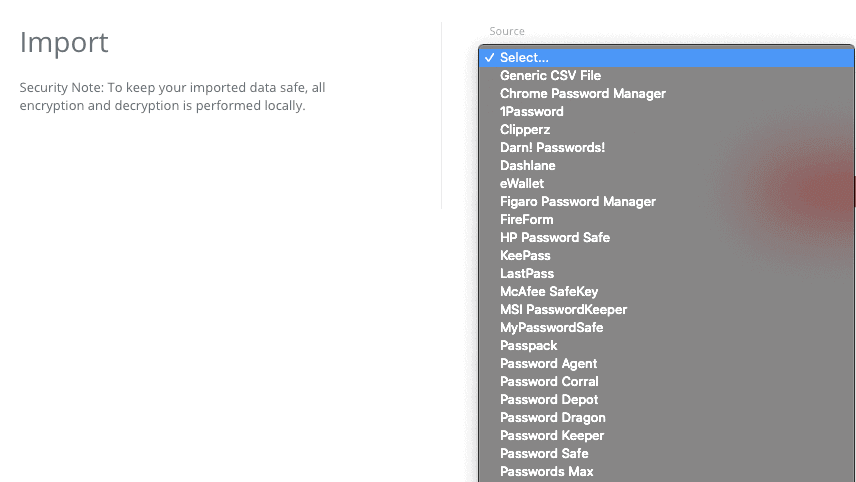 How to Enter Your Passwords into LastPass
The easiest way to add passwords to LastPass is by logging into the website you want to add. After entering your username and password, LastPass will prompt you to save the login details to its vault. The next time you visit the site, LastPass will automatically fill in your credentials for you.
You can also add passwords directly to your LastPass vault by clicking on the + icon under passwords in your dashboard.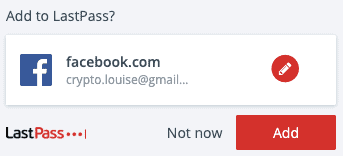 How to Generate Passwords with LastPass
Within LastPass, you can generate more secure and complex passwords that may be deemed weak for manually created. There are a few ways to perform this task.
Within the vault, click on the site and then click the spanner (edit) icon. You then have the option to auto-change your password.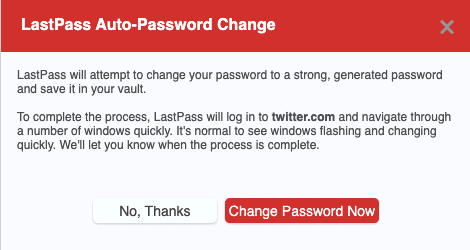 Please be aware that this has not been successful for me on every website, and you may have to use another method.
The other method starts with logging into the site where you want to change your password.
At the current password, right-click on the field, click LastPass and select "Fill".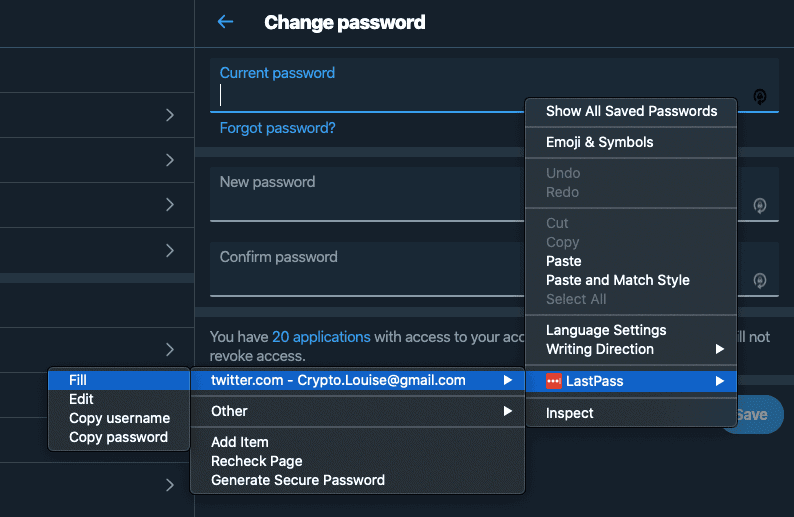 The password stored within LastPass will then populate the field. To generate a new secure password, click on the icon in the far corner of the "New Password" field.
Then click on "Show Options", and you can change the complexity of your password.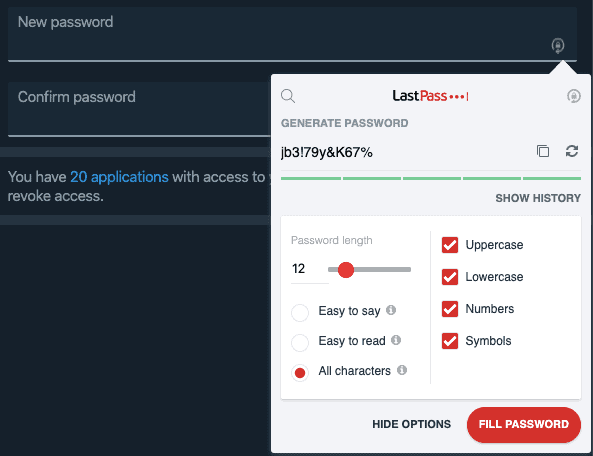 Tip: If this is a password that you will always automatically fill in from LastPass, you can go as complex as you wish. However, if this is a password you will manually enter in the future, you may want something simpler.
Click Fill Password once your password has been created, and it should automatically populate your New Password and Confirm Password fields.
LastPass will then prompt you to ask if you want to Update the Password. Click Update.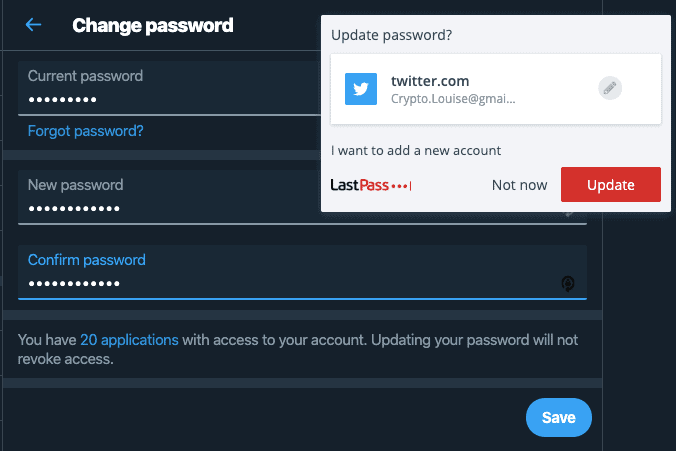 How to Add Payment Cards to Auto-Fill on Shopping Sites
If you'd like to add credit cards so that they auto-fill when paying for things online, like shopping sites. You can add your payment card details to LastPass.
Select "Payment Cards" from the left-hand side of the screen and then click on the + icon in the bottom right of the screen.
You can then start to enter your card details and add any associated notes into the Notes field. In this example, I have added the contact number for Lost & Stolen cards.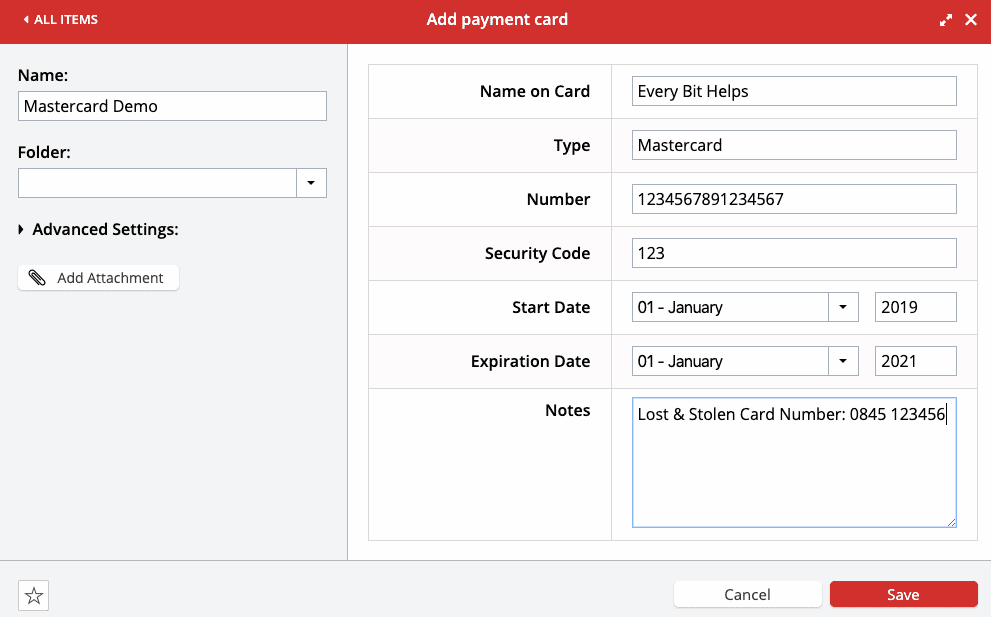 You will see the LastPass symbol when you go onto a website and are prompted to enter your card details. Click "FILL" from this screen to automatically fill in all the details from the payment card you entered.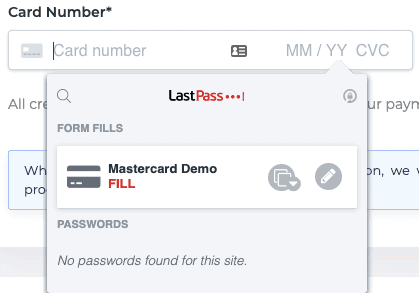 What is LastPass Emergency Access
With Emergency Access, you can give someone you trust (like friends & family) access to your LastPass vault. This feature of the premium plan is free for you to try as part of the 30-day premium trial.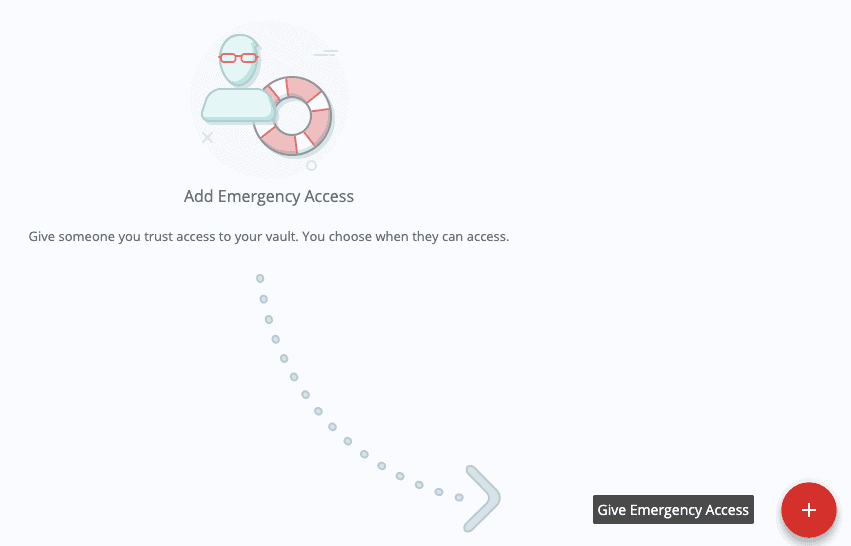 To provide contact with access to your LastPass account, click on the + icon in the bottom right-hand corner of the screen.
Then enter their email address in the setup screen.
You then have a wait time that you can select from the dropdown list.
If your emergency contact requests access to your account, an email will be sent, and a timer will start. In the below example, you have 48hrs to respond. If you don't respond within this timeframe, the contact will have access to your account.
When you have adjusted the Wait Time, you can "Send Invite".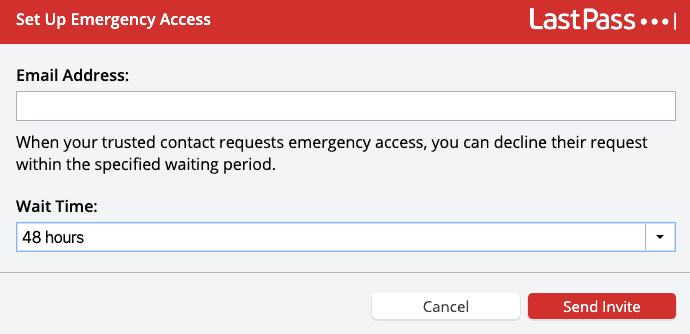 Related Posts