Remembering passwords can be a nightmare. As the need for more complex and varied passwords increases, they are harder to recall. However, within this LastPass review, you'll see by using the password manager, LastPass, this pain can be eliminated by it remembering and securing your passwords so you don't have to. 
So let's jump into this LastPass review to determine if LastPass is the right password manager for you.
LastPass Review
Check out my LastPass video tutorial, where I walk you through the beginning: creating an account, adding passwords to your password manager, and generating secure passwords. I then show you how to store online shopping profiles with payment cards and the emergency access feature!
What Is LastPass?
LastPass solves a lot of issues that users currently have with creating passwords. Security practices state that you shouldn't reuse the same passwords or have any too simple or personal, so how do you remember them all? Well, LastPass is a password manager that makes it easier to manage all your online accounts in one place.
You can generate new, secure passwords to replace any that are currently insecure and auto-fill these securely when you log in.
And in this LastPass Review, you'll see it's not just limited to storing and auto-filling passwords; you can also add secure notes, payment cards, addresses, bank accounts, and so much more.


What is a Password Manager?
A password manager is a software application that helps users create and store passwords for various websites and applications. Its purpose is to make it easier for users to remember and keep track of their passwords while preventing them from having to remember hundreds or even thousands of individual passwords.


Why Use A Password Manager?
Password managers can save users time and hassle by making it easy to create and store passwords for various sites and applications. Additionally, a password manager can help protect users from password theft, as it automatically generates new passwords for users whenever their current password expires. Additionally, a password manager can also help users keep track of their online security settings by storing passwords in one place.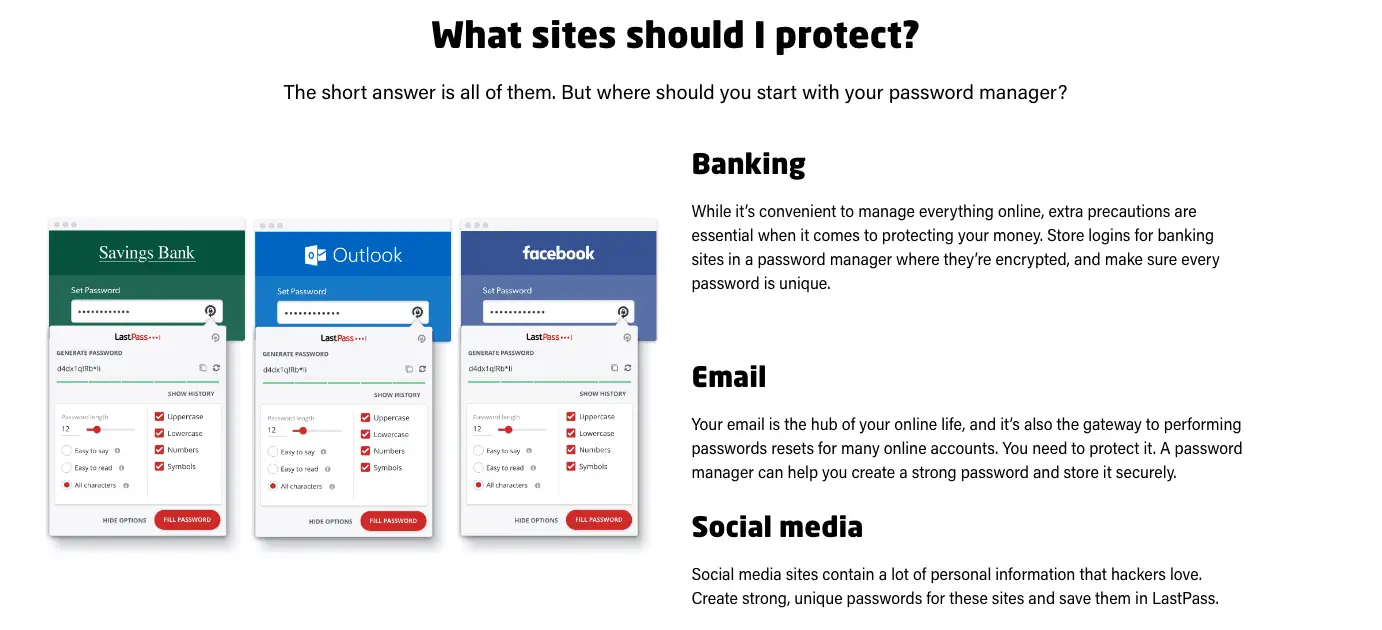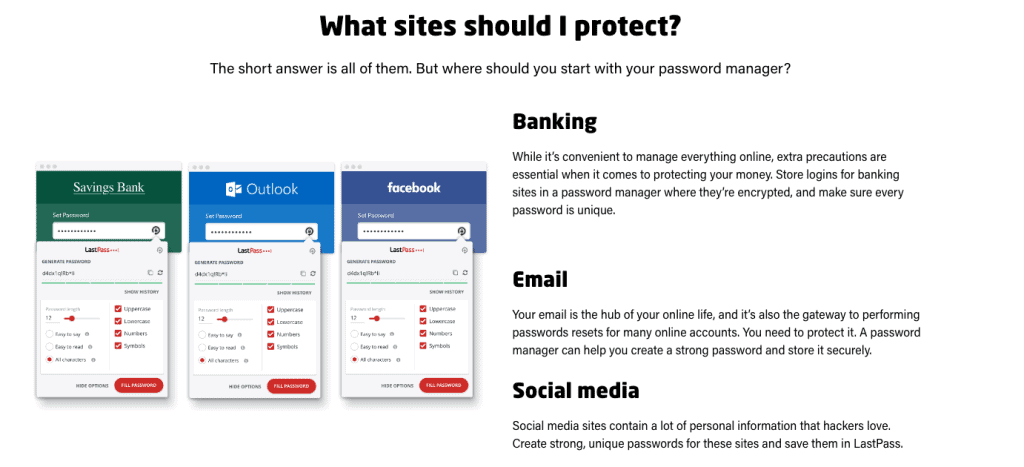 How Much Does LastPass Cost?
LastPass is free on desktops, laptops, Android, or iPhones. Plus, you can sync your passwords across these devices. There are also paid subscriptions such as Premium or Family with advanced functionality such as Emergency Access or the ability to add more users. Any new users will receive a free trial of the premium subscription for 30 days to try out. There are also 4 business paid subscriptions available.
LastPass Family Price
LastPass Family offers everything Premium offers, but for an extra $1, you will get 6 Premium licenses with unlimited shared folders. I personally chose the 'Families' plan over the 'Premium'. My partner and I run a couple of businesses together, and with the help of LastPass Family, we can easily manage our online passwords. We'd got into a really bad habit of reusing passwords across multiple sites, mostly because there are so many, and they were simple to remember. However, our accounts should now be more secure by generating secure and complex passwords.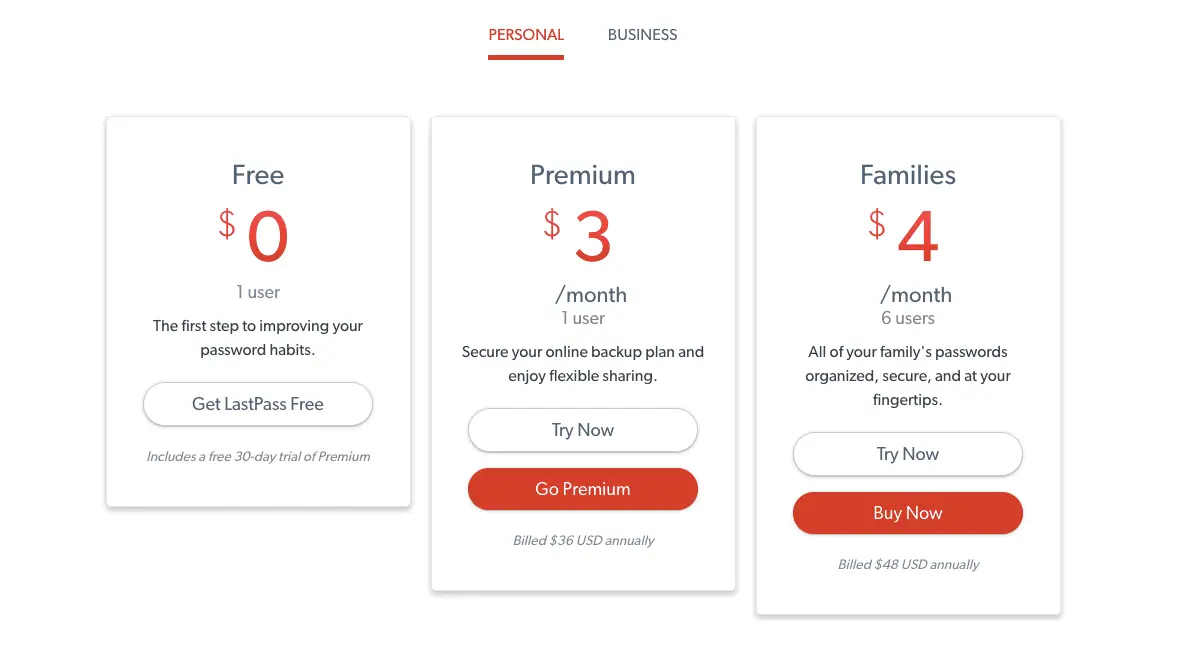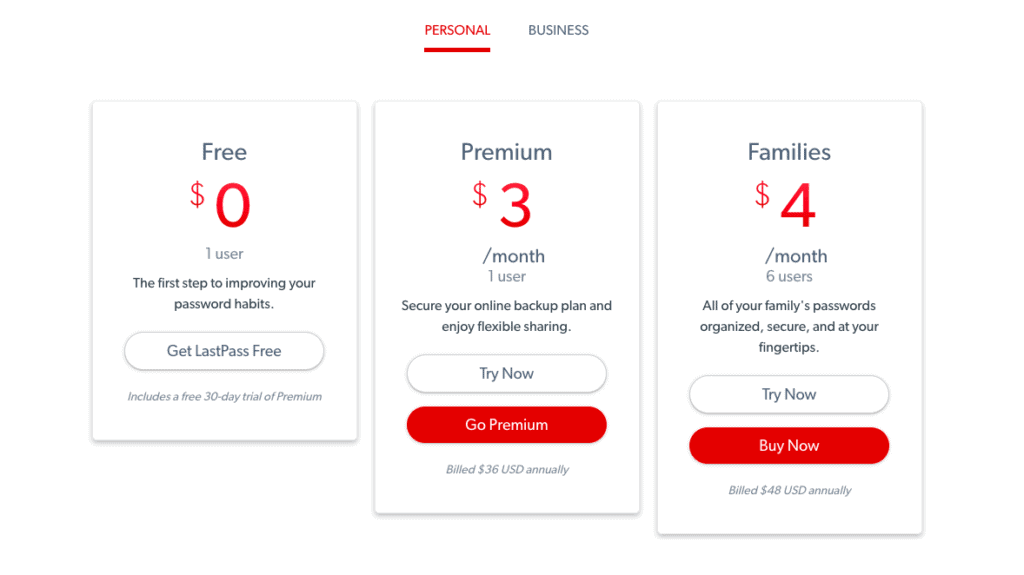 LastPass Business Price
LastPass for Business covers various features, from authentication to access to passwords. Their business subscriptions manage every entry point to your business so you can mitigate risk while improving employee productivity.
There are 4 different plans, starting from $3 per month per user. These are plans for Teams, Enterprise, MFA and Identity. The plans vary in size and features depending on a business' requirements.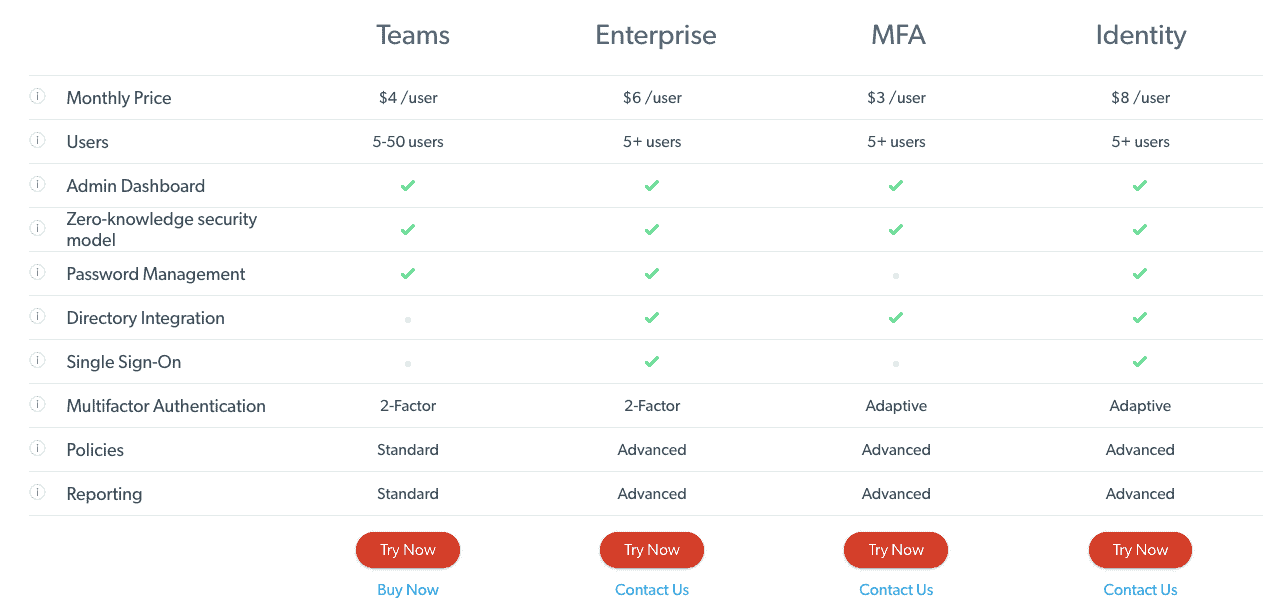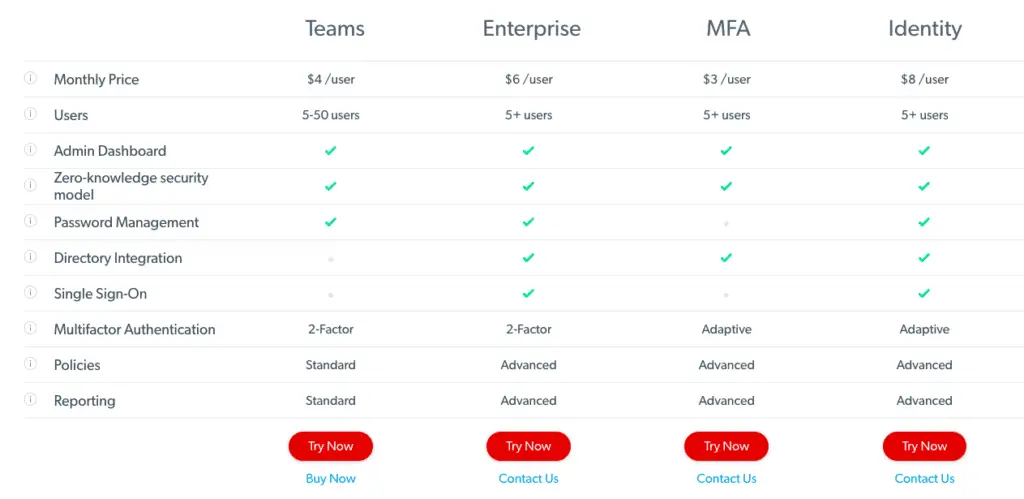 Is LastPass Password Manager Safe?
Nothing is ever 100% safe, and LastPass was hacked back in 2015 and quite publicly had a bug that could potentially expose passwords. However, during both security breaches, there is no record of exploited bugs or passwords being accessed. Users can set up two-factor authentication as an extra level of security and authenticate with fingerprint/facial recognition technology on mobile devices.

What if LastPass Gets Hacked?
LastPass doesn't store your master password, nor do they access data inside your fault. So they use what is called a 'Zero-Knowledge" security model. So, LastPass can't decrypt your data. Therefore, if LastPass were to get hacked, you'd still be safe as the hackers. They also state that they utilise industry best practices to protect their infrastructure. They are also market-tested by 43,000 companies, including Fortune 500 and leading tech enterprises.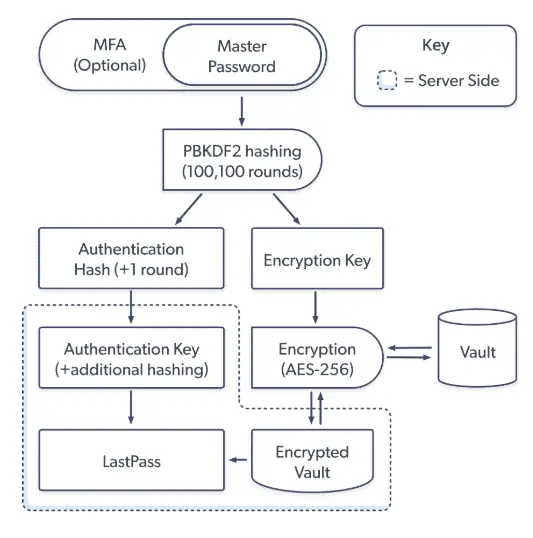 LastPass Mobile App for Android & iOS
Your LastPass password manager credentials can be used across all your devices, allowing you to add and pre-fill your passwords from anywhere. LastPass is available on GooglePlay, the AppStore or Windows Phone.
You'll need to go to Settings on your phone if you're installing LastPass onto an iPhone or Android.
Select Passwords & Accounts and choose AutoFill Passwords
From here, you will need to ensure that AutoFill Passwords are switched to "On", and LastPass is selected with a tick.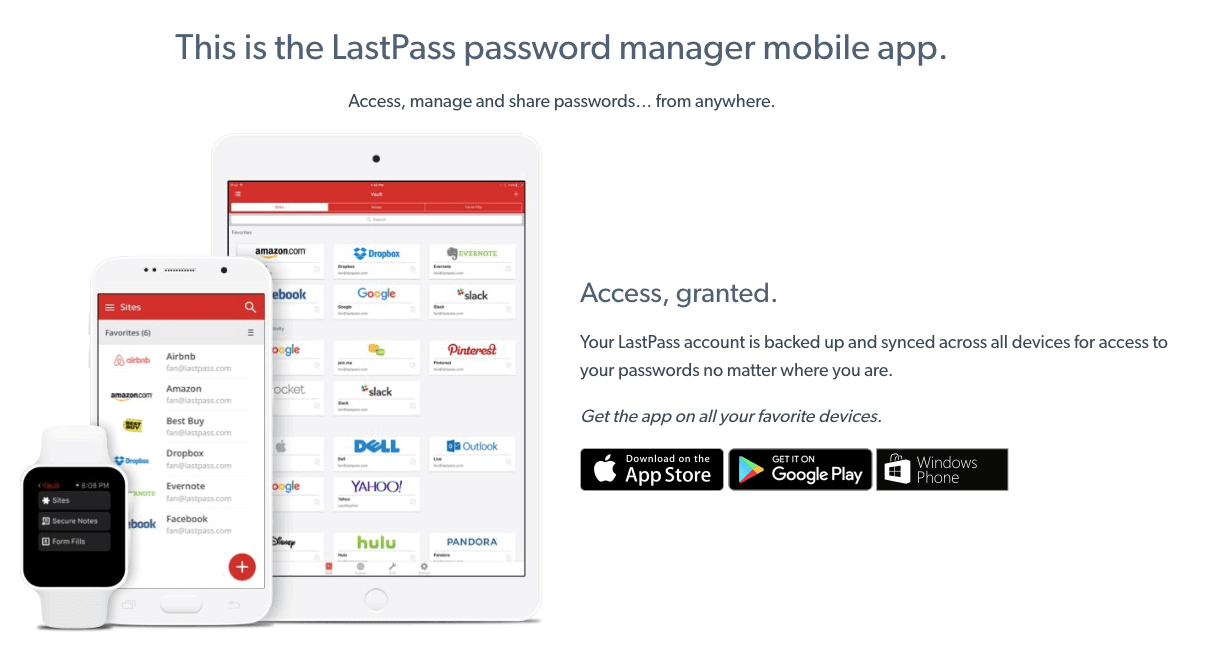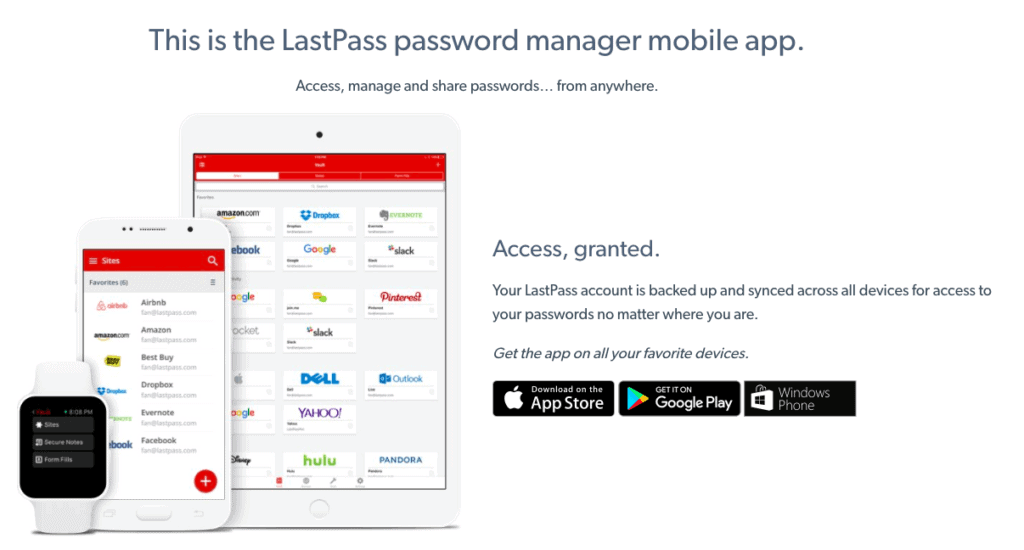 How to Use LastPass
If you haven't already got yourself an account, you'll need to register/create one first. So head over to www.lastpass.com and click "Get Free Account".
You'll be prompted to enter your email and Master Password. You're Master Password is the only password you'll need and is not stored by LastPass, so ensure you make it memorable and possibly enter something into the optional reminder.
Once created, you can start saving your passwords to LastPass and create more secure passwords for any currently deemed weak.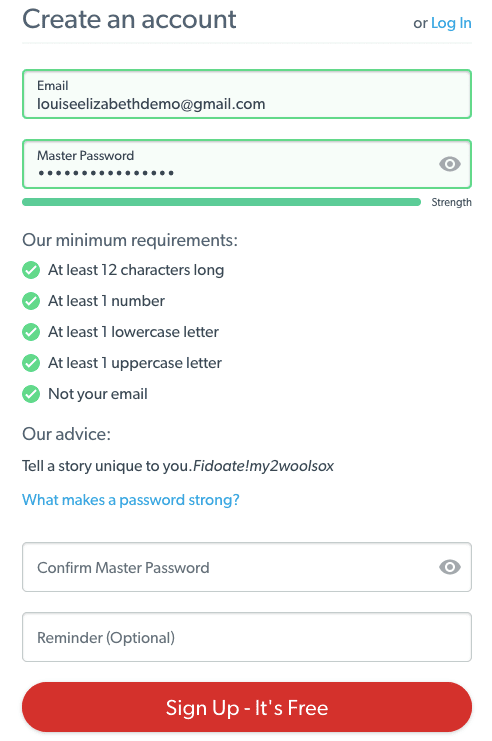 LastPass Extensions
The LastPass extension is available for Google, Firefox, Safari, Opera, Internet Explorer, and Brave. After downloading LastPass, you'll find the LastPass button on your toolbar.
This is where you can log in to LastPass.
Tip: If you have multiple browsers, you will need to install the extension on each of those browsers so that it syncs across all your browsers.
How to Login into LastPass
Once your account has been created, you will want to log in to LastPass to access all the features. To log in to LastPass, click on your chrome extension or app. You will then be prompted to enter your email and master password.
To save you time, you can ask LastPass to remember your email address or password for your account. But please don't consider this if you are using a shared computer or device.
How to Save your Passwords to LastPass?
Once you have created your login, you can go ahead and start adding your passwords to LastPass. These passwords can be done manually or in bulk.
How to Import Your Passwords Into LastPass?
If you already have a password manager, you can import your passwords from a host of available sources, which should save you from manually importing these all individually.
Within your LastPass Vault, Select "More Options" from the bottom left of your screen.
Select "Advanced" and then "Import."
In the Source dropdown are all the available types you can import.
If the option isn't on the list, you may need to add your passwords manually.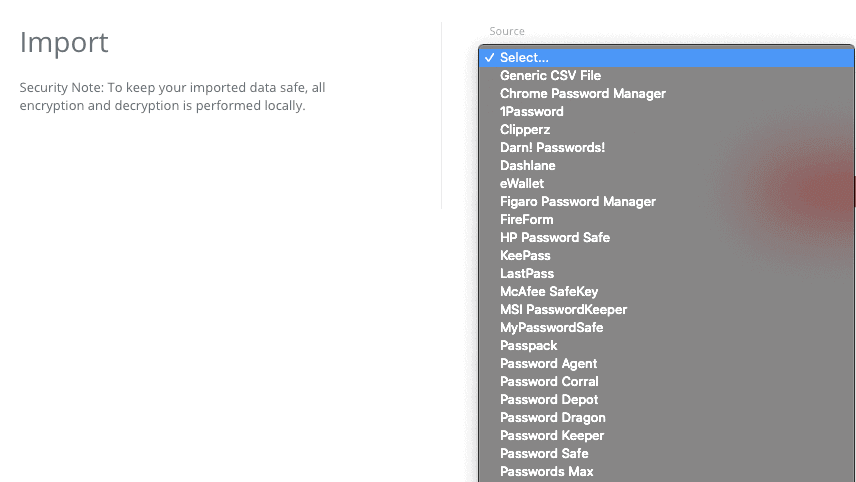 How to Enter Your Passwords into LastPass?
The easiest way to manually add your passwords is by logging into the website that you'd like to add. When you have added your username and password, LastPass will prompt you to save the password to its vault after successfully logging in.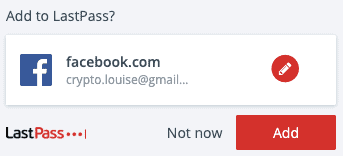 Click Add, and the password, username and website will be added to the LastPass vault.
When you log into the site again, LastPass will automatically enter your credentials, so you don't need to remember them again!
You can also add passwords directly into your LastPass vault. To enter these, log in to your LastPass account via the website and from your dashboard, click on the + icon under passwords.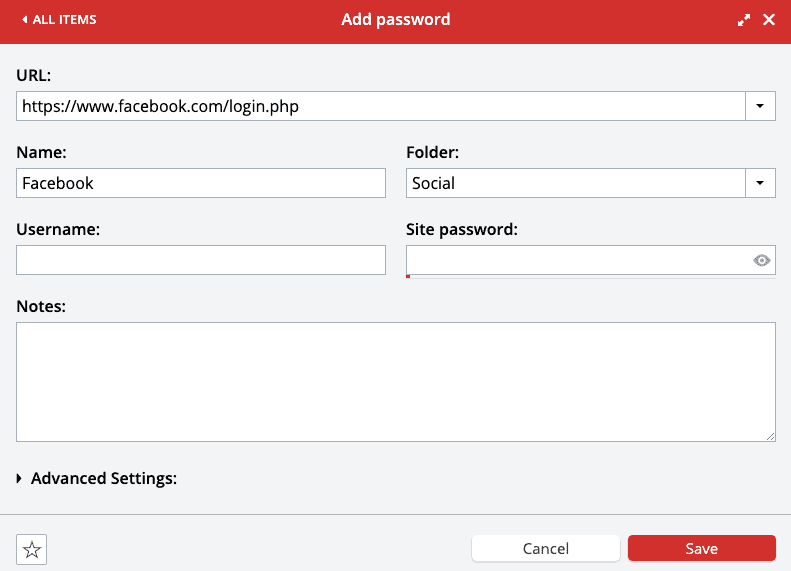 How to Generate Passwords with LastPass?
Within LastPass, you can generate more secure and complex passwords for manually created that may be deemed weak. There are a few ways to perform this task.
Within the vault, click on the site and then click the spanner (edit) icon. You then have the option to auto-change your password.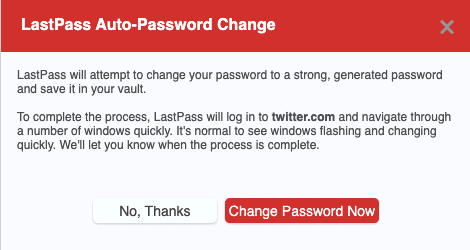 Please be aware that this has not been successful for me on every website, and you may have to use another method.
The other method starts with logging into the site where you want to change your password.
At the current password, right-click on the field, click LastPass and select "Fill".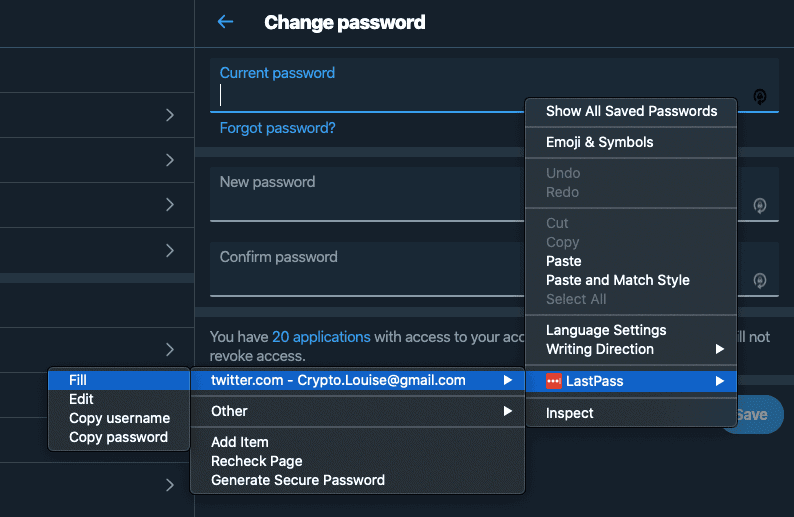 The password stored within LastPass will then populate the field. To generate a new secure password, click on the icon in the far corner of the "New Password" field.
Then click on "Show Options", and you can change the complexity of your password.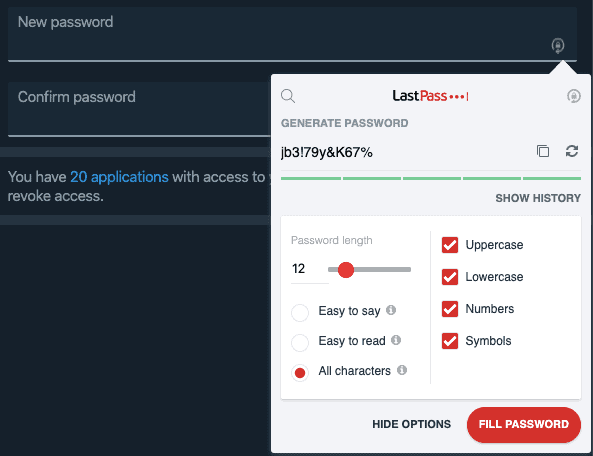 Tip: If this is a password that you will always automatically fill in from LastPass, you can go as complex as you wish. However, if this is a password you will manually enter in the future, you may want something simpler.
Click Fill Password once your password has been created, and it should automatically populate your New Password and Confirm Password fields.
LastPass will then prompt you to ask if you want to Update the Password. Click Update.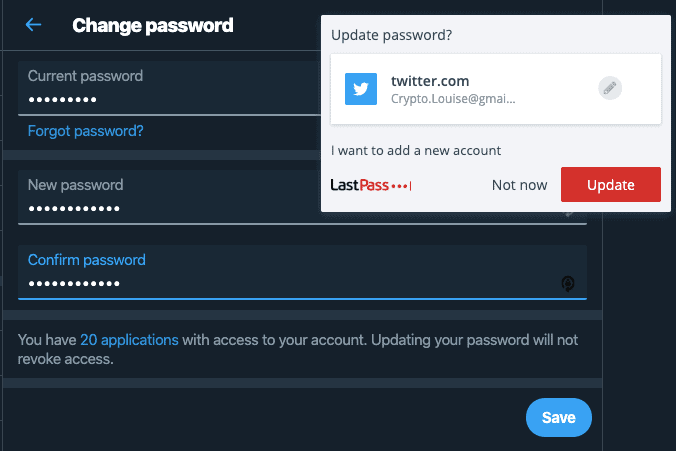 How to Add Payment Cards to Auto-Fill on Shopping Sites
If you'd like to add credit cards so that they auto-fill when paying for things online, like shopping sites. You can add your payment card details to LastPass.
Select "Payment Cards" from the left-hand side of the screen and then click on the + icon in the bottom right of the screen.
You can then start to enter your card details and add any associated notes into the Notes field. In this example, I have added the contact number for Lost & Stolen cards.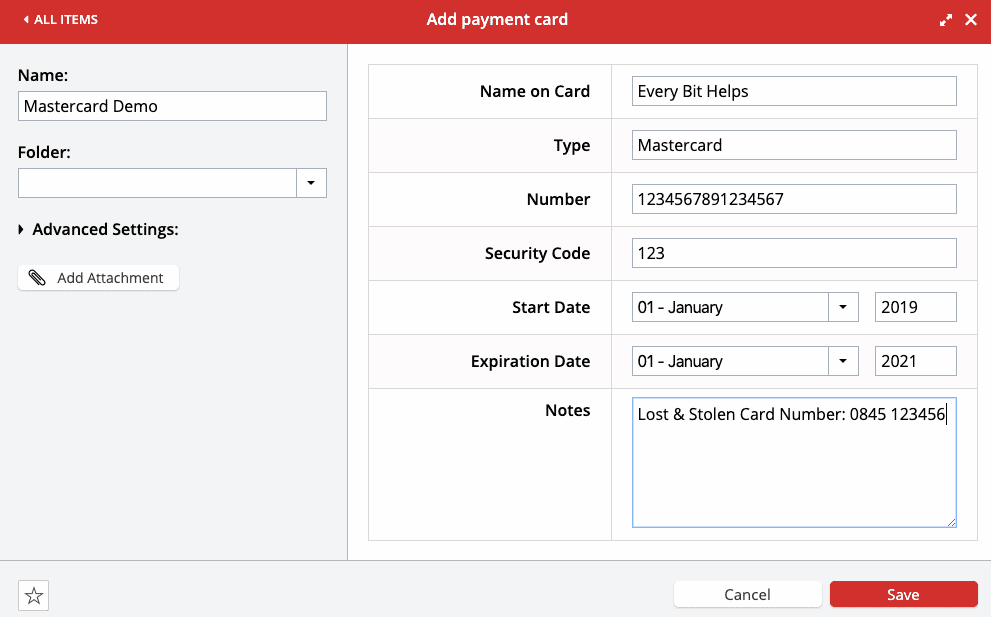 You will see the LastPass symbol when you go onto a website and are prompted to enter your card details.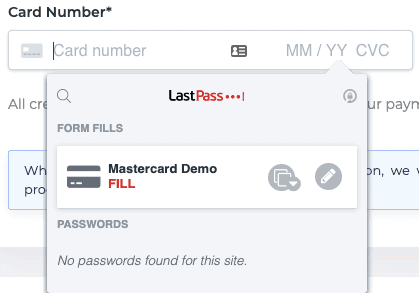 You can click on "FILL" from this screen to automatically fill in all the details from the payment card you have entered.
What is LastPass Emergency Access?
With Emergency Access, you can give someone you trust (like friends & family) access to your LastPass vault. This feature of the premium plan is free for you to try as part of the 30-day premium trial.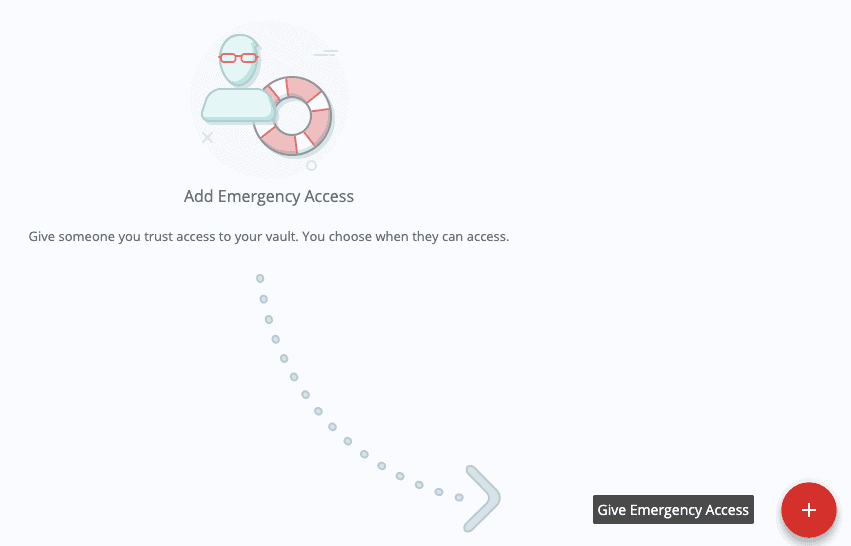 To provide contact with access to your LastPass account, click on the + icon in the bottom right-hand corner of the screen.
Then enter their email address in the setup screen.
You then have a wait time that you can select from the dropdown list.
If your emergency contact requests access to your account, it will send you an email, and a timer will start. In the below example, you have 48hrs to respond. If you don't respond within this timeframe, the contact will have access to your account.
When you have adjusted the Wait Time, you can "Send Invite".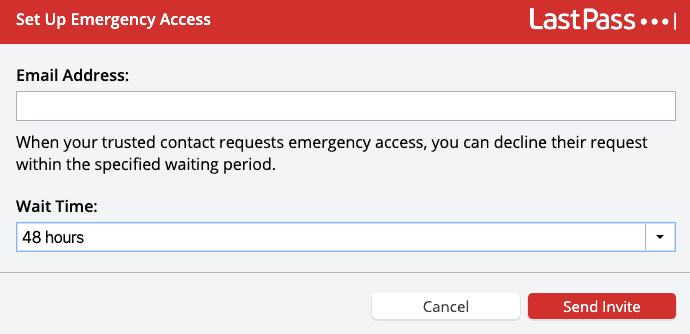 Related Posts