In this guide, we have created a list of the 10 best NFT Rarity tools in 2023. We've done all the research to make it easier for you to choose the right platform for all your NFT needs.
NFTs have increased in popularity since 2020, and knowing which NFT is the right one to pick from a collection can be difficult. Not all rarity platforms are the same, and there are many things to consider when choosing an NFT rarity platform, such as accuracy, project credibility and safety, to name a few. It can all be quite confusing and daunting if you're new to the NFT space.
So, let's dive into our guide on the best NFT rarity tools for 2023 and try to help you determine the right platform for you.
10 Best NFT Rarity Tools for 2023
The NFT market continues to thrive and evolve, with an ever-growing demand for unique and rare digital assets. To help you navigate this exciting landscape and make informed decisions, we have curated a list of the 10 Best NFT Rarity Tools for 2023.
These cutting-edge tools will empower you to analyze, evaluate, and compare the rarity of various non-fungible tokens, ensuring you're able to discover hidden gems and optimize your digital art investments.
Let's explore the top NFT rarity tools that will elevate your game in the world of digital collectables.
In this video, we break down the best NFT tools and rarity tools that will help you navigate the Non-Fungible Token (NFT) marketplace effectively in 2023. We've curated these tools with extensive research and thorough analysis to ensure you get the most out of your NFT experience. 🌐💡 🚀
Whether you're a seasoned NFT collector or just stepping into the fascinating world of digital art and crypto collectibles, this video will be a game-changer. We cover tools ranging from marketplace explorers, rarity analyzers, to portfolio trackers, ensuring you're equipped with the necessary knowledge and strategies to optimize your NFT journey in 2023.


1. Rarity.tools 
One of the most popular tools to determine the rarity of an NFT is the Rarity.tools. With this particular rarity tool, NFTs are ranked by the rarity of their characteristics. It does this by filtering the average price, total sales volume, owner count, and what are the top collections. Through this, you can find NFTs that meet the standard you are looking for. The website has a simple and easy-to-use interface which makes finding trait rarities easy.
Another feature worth mentioning on Rarity.tools is that you can search via collections, average price, and even ETH volume. On the NFT collection page, you can find the overall trait rarities of that particular collection. In this section, you will see a card for each NFT that details all its attributes and its Rarity Score. You can also check the Rarity Score of an individual NFT by entering its ID. By clicking "Lookup", you will see the NFT Rarity Score.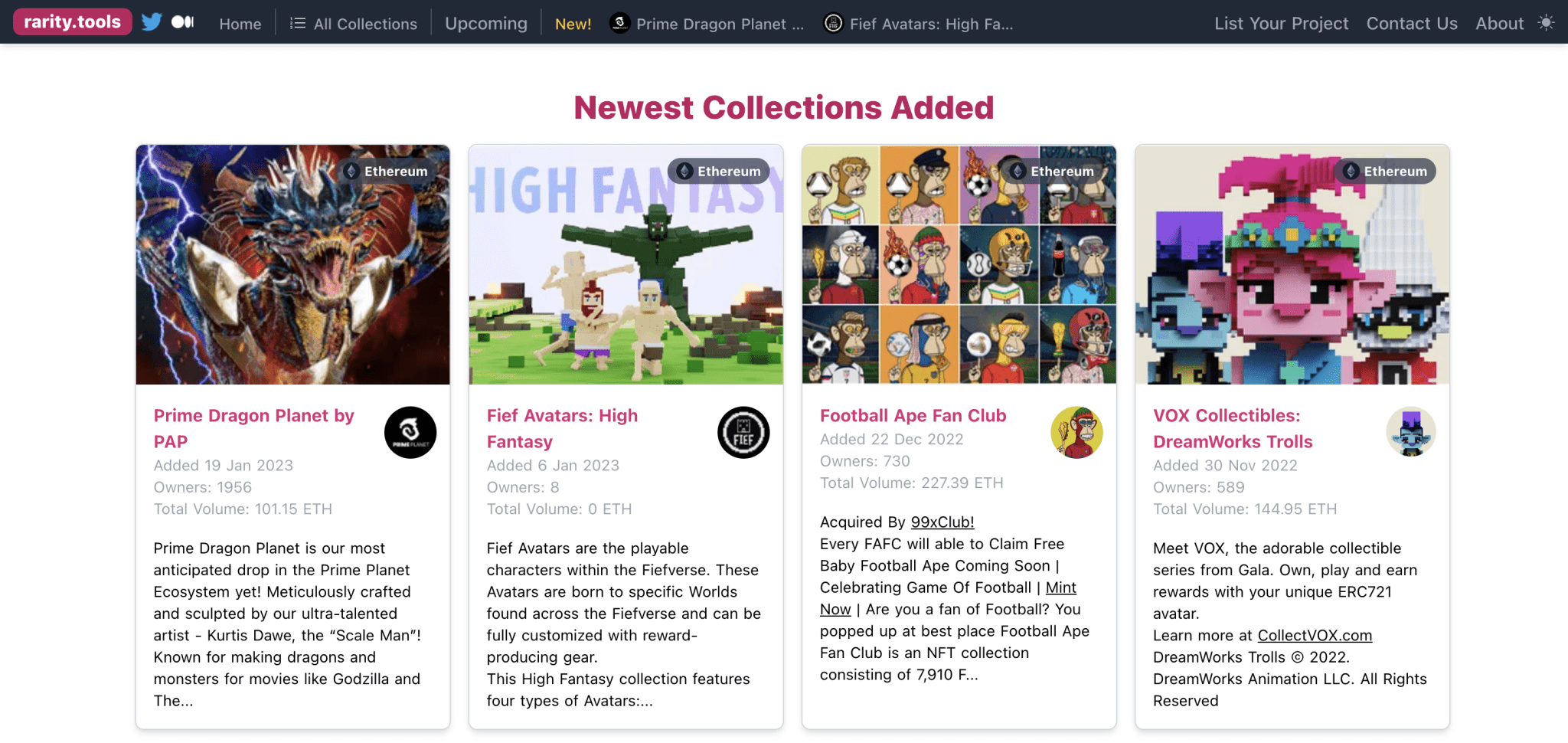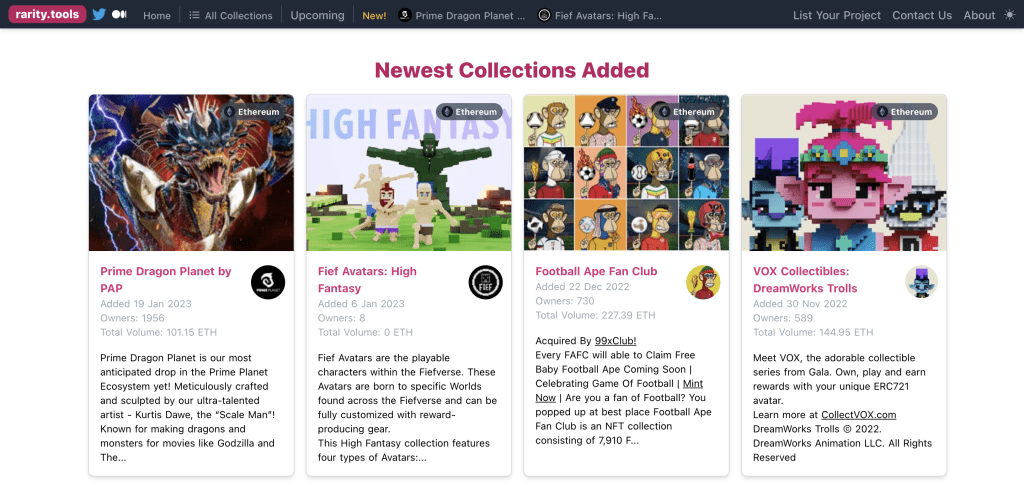 2. Rarity Sniper
RaritySniper.com is a popular NFT rarity tool accessible for beginners and can be used in more professional cases, such as for developers, content creators, and NFT traders. With Rarity Sniper, you can easily find the rarity of NFTs and their individual attributes with a click of a few buttons.
Rarity Sniper tools feature over 774 collections across a huge range of blockchains, including Ethereum and Solana, to name a few. When you first visit the site, you will be met with a friendly and simple interface with NFT rarity rank, score, and all the traits.
This is more accustomed to professionals due to the vast amount of NFT projects it covers and the popular Discord channel it has to allow other collectors interested in NFTs to discuss and give alpha on various up-and-coming projects. 


3. OpenSea
OpenSea.io is the world's largest and most popular NFT marketplace. Not only can you discover an NFT's rarity, but you can also buy, sell and list NFTs on the Ethereum and Polygon blockchains. NFT rarity rankings are based on volume, floor prices, and other factors. You can use this to determine trending collections and make an informed decision.
NFTs can also be viewed by traits and their rarity. However, their overall rarity rank or rarity score isn't available. However, having an NFT marketplace and real-time ranking facilitates and makes the decision-making process more refined and thorough.


4. Moby.gg
While Moby.gg is not the most well-known platform, it is an excellent NFT tracking tool. You can get real-time NFT stats and feeds with this platform. Moby can be a useful platform for NFT investors by aiding them with asset monitoring. By limiting the time window to 10 minutes, 60 minutes, 24 hours, and others, investors can start acting on their investments faster, similar to trading crypto.
Moby's Pro version gives you access to all the data charts and popular NFT analysis tools. More useful data is available to subscribers, including historical collection data, real-time feeds, NFT signals, etc.


5. Traitsnipe
TraitSniper.com lets you find out the rarity of NFTs and gives you details about the projects themselves. This platform offers thorough information on current and upcoming NFT projects/ NFT drops and mints. However, opting for the paid edition includes real-time notifications on new reveals and their scores.
Trait Sniper is not as easy to use as some of the more well-known rarity platforms, and beginners may have trouble navigating the site. But once you become accustomed to it more easily.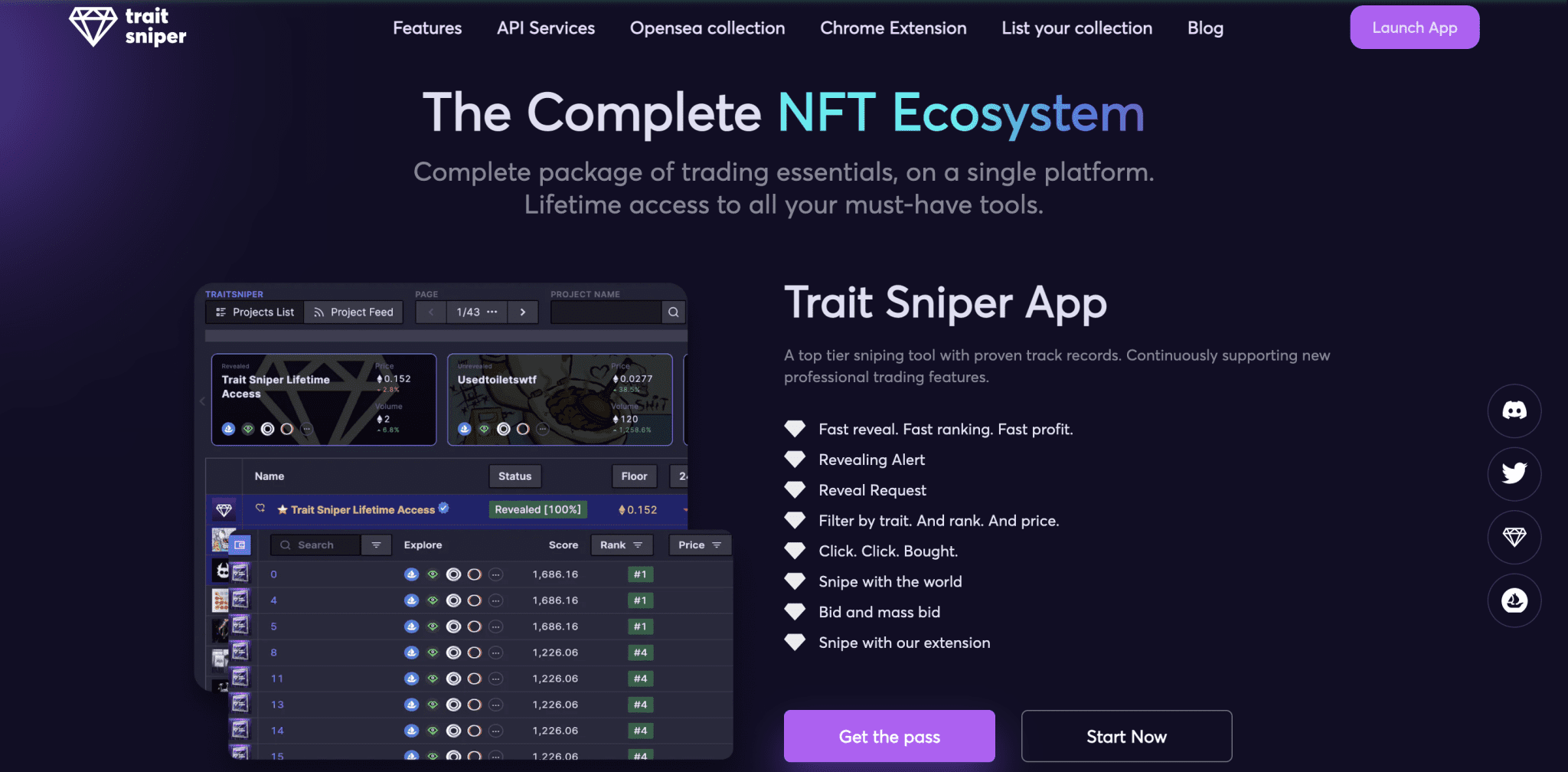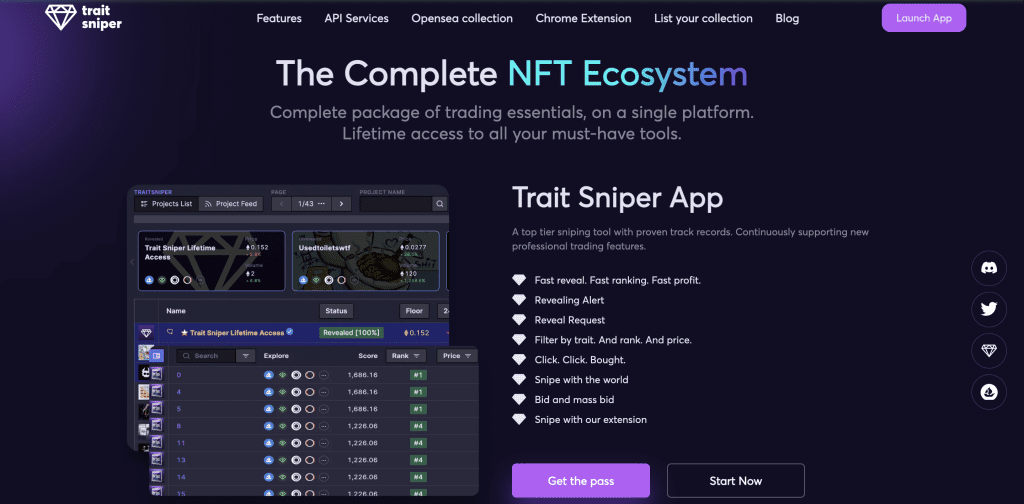 6. Rarity Sniffer 
RaritySniffer.com provides the most up-to-date NFT rankings of new NFT projects based on how rare they are. Only the most recent collections are available in their free version, along with NFT drops and upcoming NFT projects.
A Discord channel also provides additional analysis of potentially rare NFTs. This platform is best for discovering new NFT projects and their rarities as it gives operators access to the NFT rare status of new assets that have been found before being made public. 


7. HowRare.is
HowRare.is is the most suitable NFT rarity for NFTs on the Solana blockchain. HowRare.is features over 1335 Solana NFT collections based on the floor price, holders, sales status, and the number of items in a collection. 
It is similar to Rarity Tools in that you can find NFTs based on their individual rarity in different collections. When you click on an NFT, you can find the NFT's rarity score, rarity rank, and attribute details. This platform is great for beginners as it has a super easy-to-use interface and structure.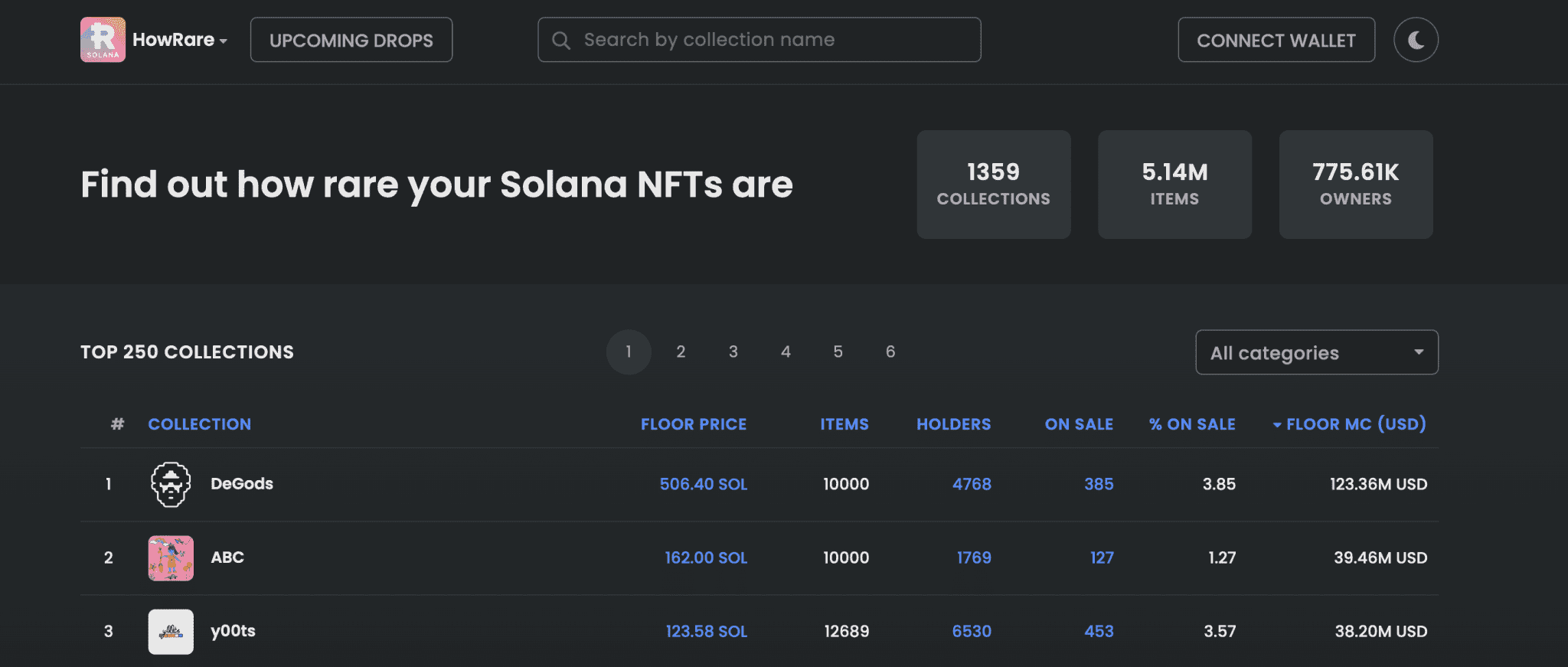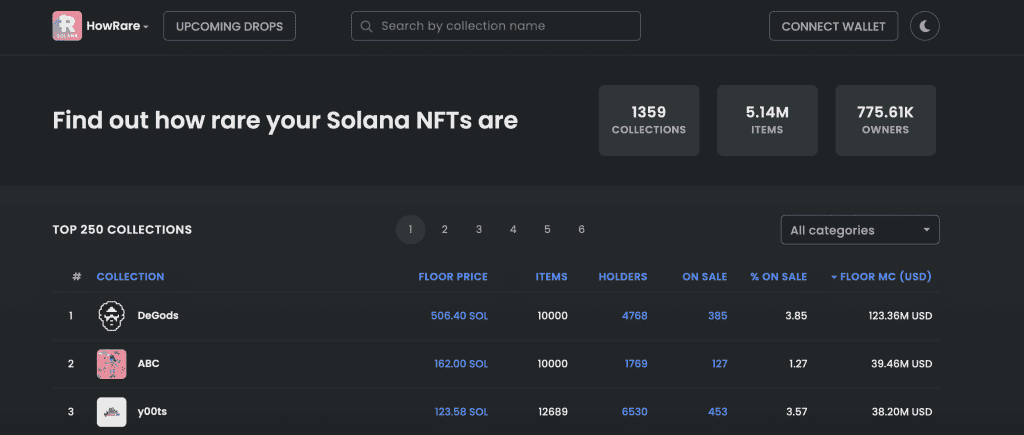 8. NFTinit
NFTinit.com is a user-friendly platform for analysing and discovering various NFT collections on the market. Once you click on any of the available NFT collections, their individual data will give you a better overview of the NFT. From there, you can see a rarity rank and rarity score. You can also apply different metrics to analyse any NFT of your choice.  
NFTinit lets you create and build a portfolio to track the progress and performance of your preferred NFTs easily. The site also provides users with a list of the top-ranking NFT collections. This means just by scrolling through the landing page, you will know what NFTs are booming on the market. 
It also has a pricing calculator feature. You can input your buy and NFTs sell price, gas fees, and other information and see exactly how much profit you earn or lose in a trade.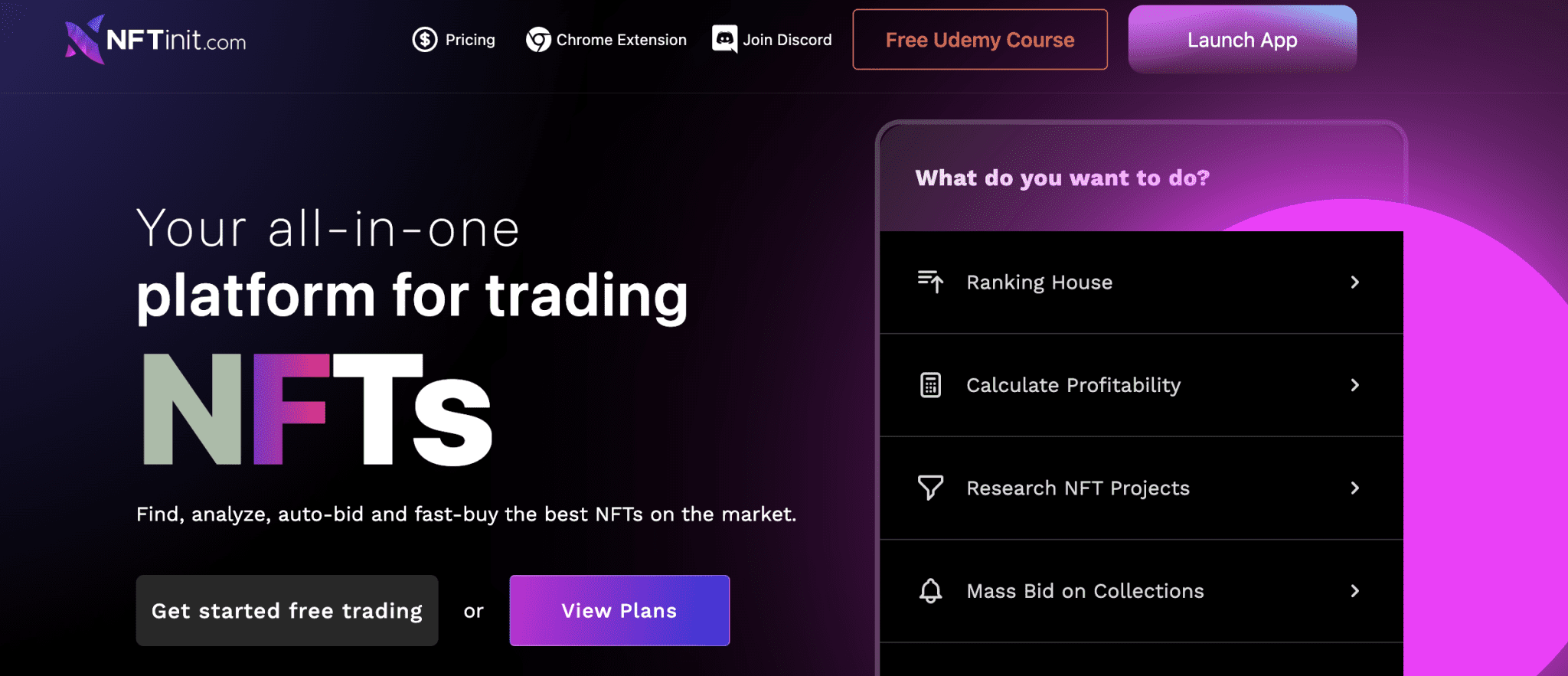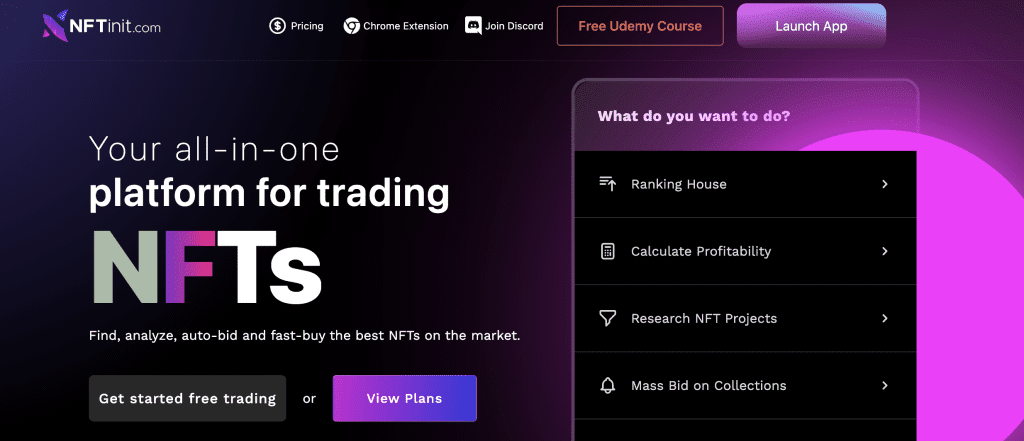 9. Etherscan Token Tracker
Etherscan.io is not only a block browser but is also a token tracker. This platform applies to all Ethereum-based coins and provides an entry point for ERC-721 token contracts. On Ethereum, NFTs are created using the ERC-721 (a type of code) standard. 
For those who aren't developers, the platform includes information about NFT minting, distribution, transfers, and prices. The platform uses Etherscan APIs to analyse the data further to deliver more valuable insights to the user.


10. Cryptoslam
CryptoSlam is a great up-and-coming NFT tool for market research and analysis of NFTs. Each NFT series has a dedicated page outlining the latest sale and minting activity.
The NFT tool has all the parameters one would want in an NFT tool, such as NFT sales, floor price, transaction volume, number of owners, and more. The platform also features a dedicated section for NFT Rarity purposes and its specific trait, giving users a complete overview of each NFT.

What is an NFT? 
An NFT, or Non-Fungible Token, is a digital asset that represents real-world objects such as art, music, in-game items, and videos. NFTs have gained significant attention recently and have become a mainstream phenomenon in the world of cryptocurrencies. These tokens are unique and cannot be replaced with something else, which is where the term "non-fungible" comes from. They derive their uniqueness and value from the built-in scarcity and the demand for the objects they represent.
To understand NFTs, it's important to know about the technology that underlies them: the blockchain. Blockchains are computer protocols designed to allow many computers to agree on a shared, decentralized digital ledger. When you purchase an NFT, you typically gain some basic usage rights, such as posting the image online or using it as your profile picture. Owning an NFT also provides bragging rights that you possess the digital asset.
What is NFT Rarity?
NFT rarity measures the scarcity of an NFT on the market. It can be used to ascertain what assets are in high demand and how much an individual must pay to acquire them. This information can help you make informed investment decisions and assess your chances of profiting from market trends.
Below are some factors to take into consideration;
Limited Supply: When something is in limited supply, it will be more sought after and, therefore, more valuable. To create a rare NFT, rarity tools are used to track the number created and ensure only a limited supply is listed on NFT marketplaces.

Attributes: Each NFT will have its own collection of properties which make up its digital DNA. When NFT's attributes are rare, they are deemed more valuable.

Special Uses/Benefits: Some NFTs will have special uses, and only a limited number of NFT holders will be able to receive these benefits. This can make an NFFT more valuable than another.

Inherent Demand: There will be NFTs that are just more popular and in more demand than other NFTs. This may include gaming NFTs, those built on more popular digital assets such as Bitcoin or Ethereum, or those being posted on social media.

Celebrity NFTs: NFTs that are associated with a celebrity can be more valuable based on their following.

History: An NFT can be more valuable due to its historical context. This may occur when an NFT has only been used once in a game, on social media, or based on original artwork.
How to Calculate NFT Rarity?
To calculate an NFT's rarity, there are several formulas that you can use. Below we have listed some of these formulas worth considering.
Trait Rarity Ranking: This compares the NFT's rarest traits, and the NFT with the lowest number will most likely be the rarest and most expensive to purchase.

Average Trait Rarity: This calculates the average of an NFT's rare traits. Therefore if an NFT has one trait with 30 rarities and another at 30%, the average would be 25% (20+30)/2.

Statistical Rarity: This multiplies an NFT's trait rarities, which calculates the overall rarity. For example, it would be 6% (20% * 30%) when using the above.

NFT Rarity Score: An NFT Rarity score is the most popular rarity ranking, providing a detailed and balanced ranking. Unlike trait rarity, which only looks at the rarest trait. Or statistical rarity and average rarity, which don't consider an NFTs single rare trait.

To calculate the rarity of an NFT, the formula is; Rarity Score of a Trait Value = 1 / ([No. of Items With That Trait Value] / [Total No. of Items in Collection]). 
What is an NFT Rarity Tool? 
In an NFT collection, each NFT is assigned a different rarity, similar to collectable cards. Within the NFTs code, a rarity is assigned, and typically the more rare the NFT, the higher the price. But how do you determine an NFT's rarity?
An NFT comprises various traits, and if the NFT has a rare trait, then this boosts its rarity score overall. However, the designers and project managers of the NFT projects first determine which traits will be rare and which ones won't, so when the NFTs come to being randomly generated in a collection, some will have rare traits than others.
How Do NFT Rarity Platforms Work?
NFT Rarity platforms work because the software within the platform will scan the data within an NFT and calculate its rarity score. This will save you the hassle of researching too much into an NFT project and scrolling through the collection to determine which ones are rare.
Conclusion
Choosing the right rarity platform can play a huge role in the success of your NFT journey. It is important to consider the platform and whether it caters to your needs when looking for rarities, such as the blockchain, the project, the amount you want to invest, special features and more. With the right platform to suit your needs, users can easily navigate an NFT project's rare assets with ease.
FAQ 
Is a high rarity score good for NFT?
Yes. The higher the score, the more valuable an NFT is. You can check this score out on the various NFT rarity platforms we have listed above.
How do I get a rare NFT? 
You can either buy one on the second-hand market or mint it into an NFT collection early and hope that you are issued with a rare NFT. Both come with cost and risk but can also issue high rewards.
How do you know a good NFT project?
A good way to see if an NFT is worth the investment is the community and the founders. To find out if the project has a big following, you can find this via Discord and  Twitter. If there are lots of members and these members are active in the chat, then this could be a sign of high demand for the project.
Doing research into the founders is also key. Are they doxed? Have they done other successful projects before? And are they active on socials?
Are NFT rarity tools reliable?
Rarity Tools are a well-known and popular way to rank NFTs. These platforms use a unique yet simplified method of ranking individual NFTs. Thus making it easy to determine how rare an NFT is.
If you are concerned, make sure to compare the platform's results with your own research into the project you are interested in.
What is a good NFT rarity score?
A rarity score is a numerical representation of how rare an NFT project is. The higher the score, the more unique and sought-after the project is. Rarity scores are calculated using a variety of factors, including the total supply of an NFT, the number of holders, and the age of the project.
Related Posts