This FTX App review explains how you can buy and sell cryptocurrencies, stocks, and NFTs. Plus, manage and track your portfolio and earn up to 8% on all crypto and fiat deposits.
The FTX App, formally Blockfolio, is one of the investors' most popular crypto applications. Originally the app was a simple way for investors to track and manage their crypto portfolio in one place. However, since the acquisition from FTX in 2020, they have expanded their range of features.
So, let's jump into this FTX App review to help you work out if FTX App is the right application to manage your crypto portfolio.
FTX App Review: How to Use FTX App?
What is the FTX App?
Blockfolio was launched in 2014 and is a popular cryptocurrency portfolio tracking app that is available from the App Store or Google Play. Using the app, its original intent was for users to be able to track the price of various cryptos and the performance of their holdings whilst getting the latest news and team updates.
Following the acquisition by FTX Exchange in 2020, Blockfolio was rebranded to FTX in 2021. Since the acquisition, they have added an array of new features to the app. Users can now trade crypto, tokenized stocks, NFTs and FIAT currencies and earn up to 8% on any type of crypto or FIAT deposits. Not only that, but you can also earn free crypto for every trade over $10.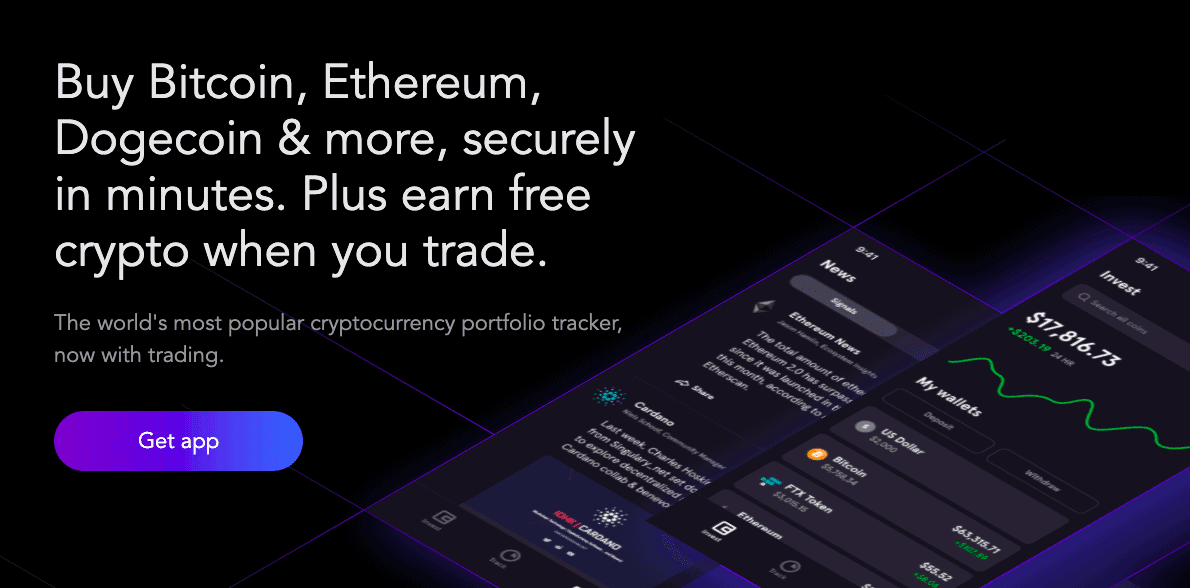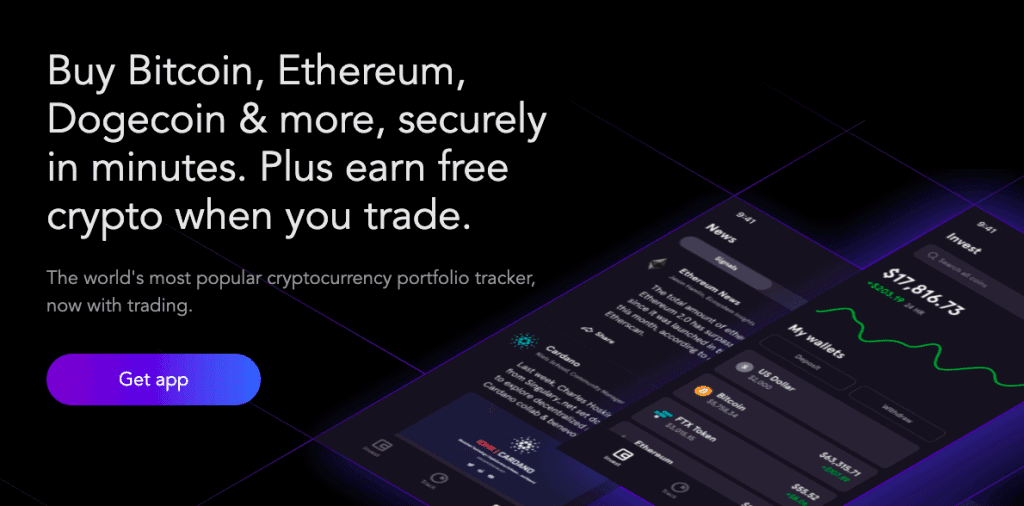 FTX Acquires Blockfolio
In August 2020, Blockfolio announced that they were joining forces with FTX as part of a $150 million deal. At the time, they also hinted at launching a retail trading experience powered by FTX. True to their word, in January 2021, Blockfolio released an update to include 'Trading', allowing users to trade crypto and stocks at zero fees.
FTX Supported Assets
FTX App currently supports over 10,000 cryptocurrencies and blockchain assets and connects with over 500 different exchanges. Meaning that you'll always be getting the latest prices and market data.
You can also buy cryptocurrencies, such as Bitcoin, Ethereum, or Dogecoin, with the FIAT currencies or trade for these using cryptocurrency. Plus, you can also trade for tokenized stocks like Airbnb, Coinbase, and Tesla. Or, if NFTs are of interest, you can also buy (or bid) for these non-fungible tokens with dollars or stablecoins.


FTX Track & Manage your Portfolio
The "Track" tab allows users to organise their holdings and create watch lists across an unlimited number of portfolios. Plus, you can stay up to date with exchange and global average pricing with support for over 10,000 coins.
With FTX App, you can add your holdings manually, creating buy, sell and transfer transactions. Or add Exchange connections, where you can automatically sync your balances and transactions.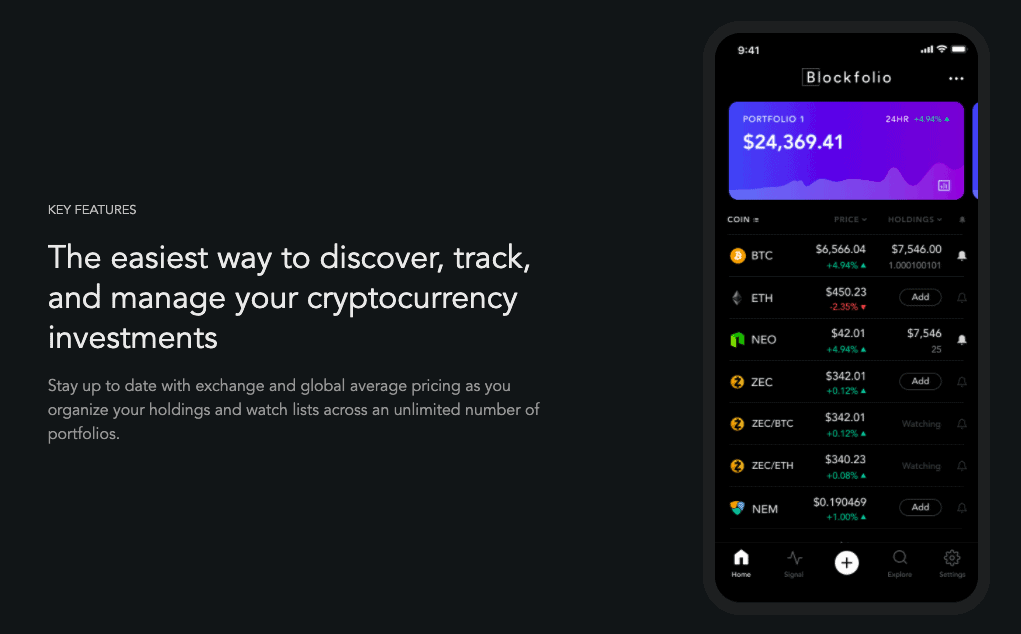 Buy Crypto, Stocks & NFTs
Within the "Invest" tab, users can trade the likes of cryptocurrencies and tokenised stocks at zero fees. You'll earn free crypto for every trade over $10 when you use our FTX Referral Code: 9202836 at sign-up.
The Trade functionality allows both US and international users to trade on the app. Simply deposit your funds with FIAT currencies via Bank Transfer or via Credit Card. Or deposit crypto via a QR code or address to get started.
Then you can then trade between cryptocurrencies, including Bitcoin, Ethereum and XRP or tokenised stocks like Airbnb, Apple and Tesla. FTX also has NFTs available as tradeable assets on its mobile app. You can browse and interact with the NFTs listed on different marketplaces that can then be bought (or bid for) using a card, wire transfer or USDC.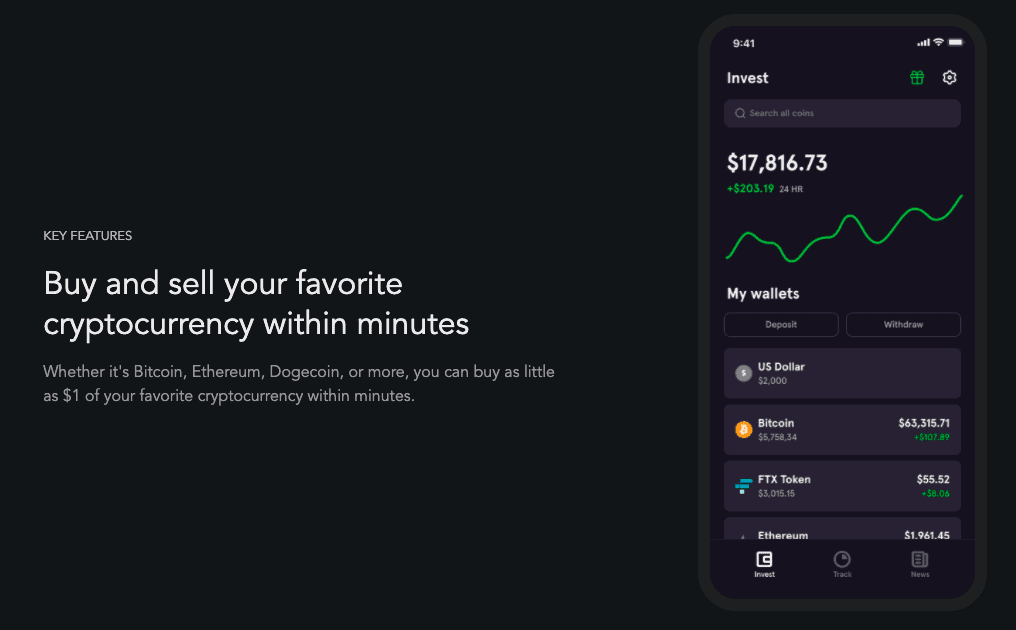 FTX Earn: Earn 8% APY on your Crypto & FIAT
The FTX App is looking to take on the likes of Binance or Huobi Earn with their attractive interest-earning feature. With FTX Earn, you can receive 8% APY on any type of crypto or FIAT deposit. These assets aren't locked in and can be withdrawn at any time.
Simply deposit your assets (or cash) into the FTX App and you'll immediately start earning 8% APY on the first $10,000 in your wallet. If you deposit more than $10,000, any further deposits will earn 5% APY.
| Deposit Amount (USD) | APY Rate |
| --- | --- |
| $10,000 | 8% APY |
| $10,000+ | 5% APY |
FTX App Signals & News
The "News" tab brings you the latest news from a variety of publishers, which you can pick and choose from. You'll also automatically receive the latest real-time Signal updates. FTX Signal is a unique communications platform built just for token teams to connect and engage with their communities.
Over 500 team leaders actively broadcast on Signal. Including leaders from DASH, Ethereum Classic, Kyber Network, NEO, NEM, Maker, 0x, ZCash, and many more.


How to Sign-Up for FTX App
The FTX mobile app is available from the likes of GooglePlay for Android or the Appstore for iPhone users.
Download the app from Google Play or Appstore
Press on "Get Started" and "Register"
Create your username and provide an email address for verification.
To enable deposits and withdrawals within the app, users will need to register and complete an element of KYC. This includes entering their personal details such as email and physical address and uploading a photo ID.
How to Sync Exchanges with FTX App
Your tokens can be manually entered into the FTX App to be added to your portfolio for tracking. However, you can also set this to sync automatically with an exchange such as Binance, and Kraken.
To connect, you'll need the API keys from the exchange that you want to connect to. With each exchange, the process will be slightly different, and there will be different options you'll need to select to ensure your synchronisation is successful. So, it's worth checking out their "How-to-guides" for each exchange.
How to Sync Binance Exchange to FTX App
Within Binance, under your "Profile", choose "API Management".
From here, you can "Create New Key", where you'll be provided with API Key, Secret Phrase and associated QR code.
You'll need to make sure that the options at the bottom of the screen are ONLY set to read-only permission. If you select anything other than this, the synchronisation will fail.
Copy and Paste the API Keys (or QR code) from Binance into FTX App.
Allow for 10+ minutes for the connection to establish.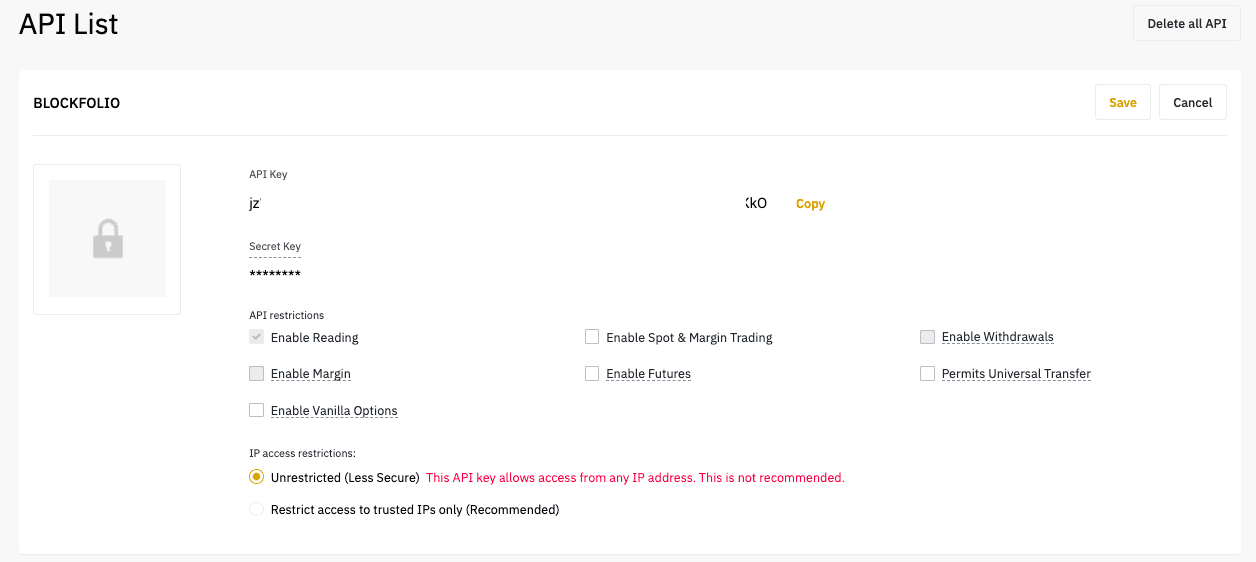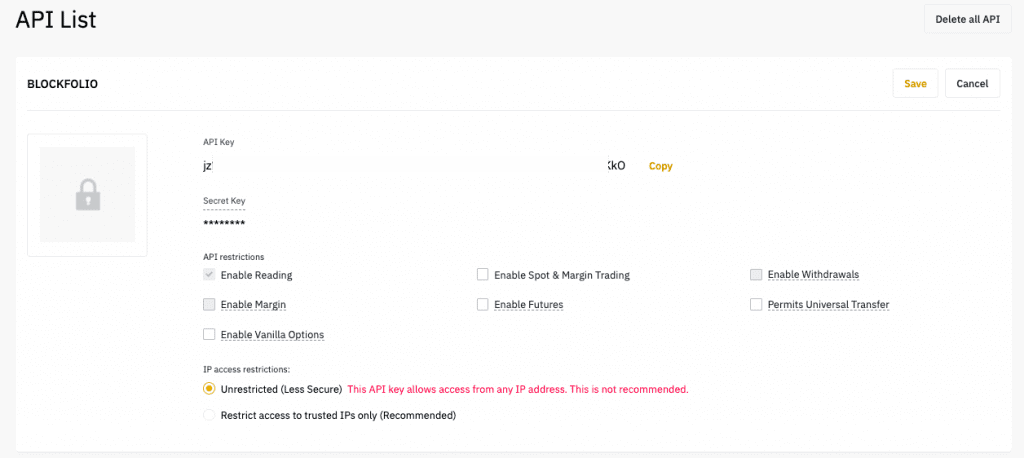 Related Posts