In this Bybit Review for 2023, we take a deep dive into one of the most popular cryptocurrency platforms in the industry.
We assess whether Bybit continues to offer best-in-class services for crypto traders. With an extensive suite of crypto products, the company provides clients with one of the most complete packages in the crypto trading space. But does Bybit.com represent good value, or are better alternatives?
So, let's dive into this Bybit Review to help you determine whether Bybit is the right crypto trading platform for you.
Bybit Review: How to Use ByBit?
What is Bybit?
Bybit, a prominent cryptocurrency exchange founded in 2018 by Ben Zhou, has swiftly grown and boasts over 10 million users globally. It offers a plethora of trading opportunities, specializing in crypto derivatives that allow leveraged trades on various pairs such as BTC/USD and ETH/USD.
The platform is renowned for its diverse offerings, including the recent additions of NFT trading and a 'copy trading' feature, expanding its suite of services to cater to the evolving needs of the crypto community. Bybit's rapid expansion and diverse product offerings underscore its commitment to providing innovative and varied trading opportunities in the cryptocurrency domain.


Who is Bybit Meant for?
Bybit is a derivatives exchange, which means it is for highly experienced traders who can trade with leverage. However, the availability of other features, such as buying crypto directly from the site, demo and copy trading, makes them also suitable for absolute beginners as they can earn and learn trading in the process. It is, therefore, safe to say that Bybit is ideal for any trader, the beginner, the seasoned and everything in between.
Pros & Cons
As a provider built to service experienced traders, beginners might feel a little bit neglected when faced with the scale and complexity of Bybit's offering. But there's much to love for those who know their way around a trading platform. Its low trading fees and fully featured account experience are huge positives. On the flip side, Bybit isn't currently available for U.S. clients, representing a glaring market gap.
Bybit Features
Aside from the nuts and bolts of its offering, there's an impressive collection of Bybit features built to optimise its clients' overall experience. This list is one of the most comprehensive in the crypto trading industry, which is why our Bybit review will explain these additions at length.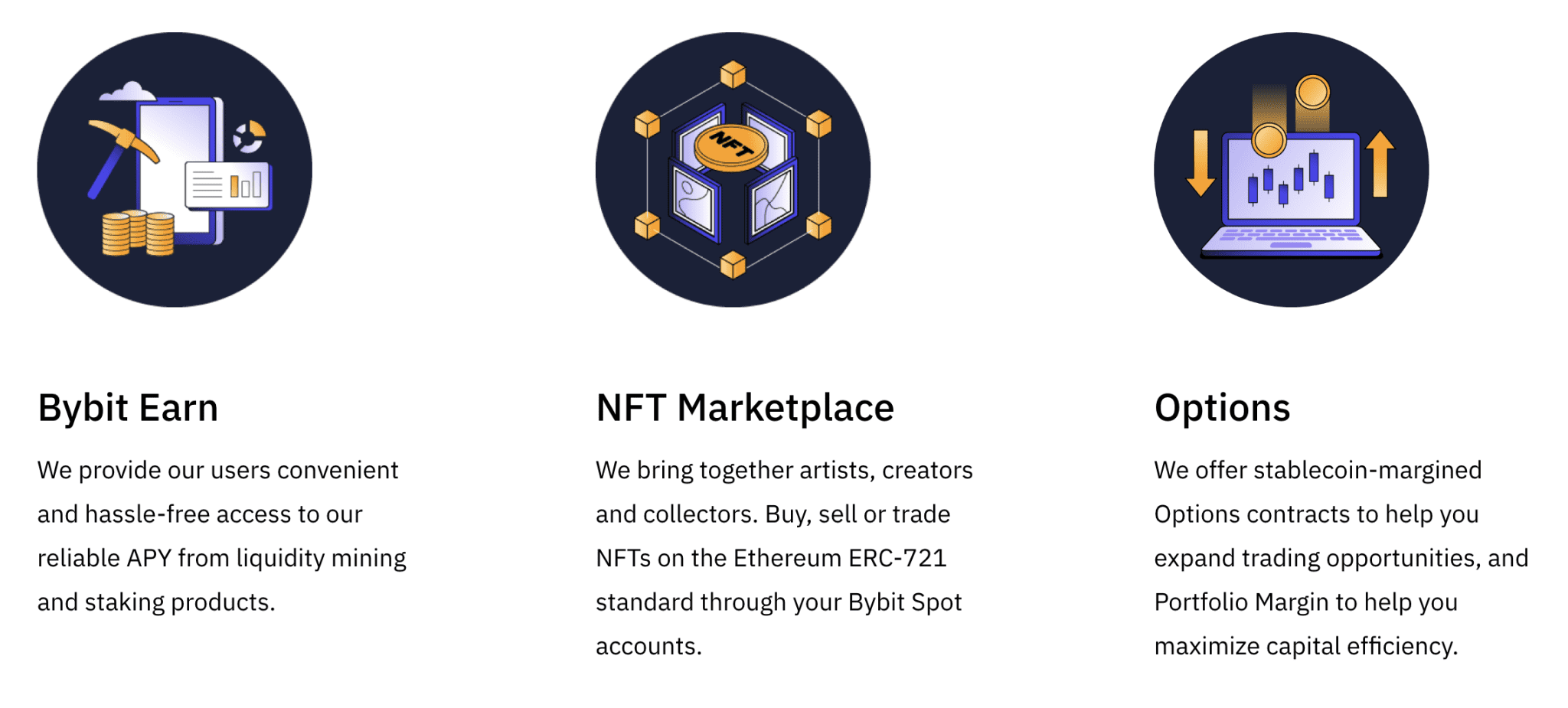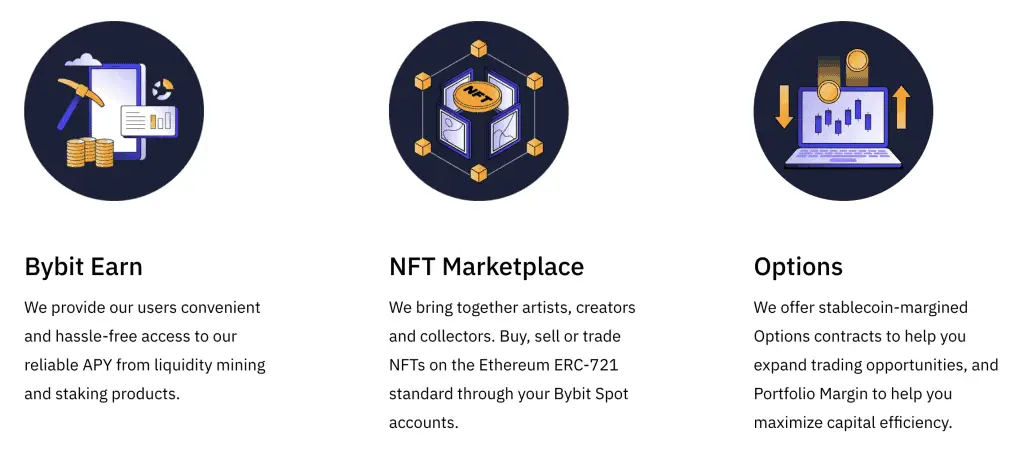 Insurance Fund
Given the high amounts of leverage offered by Bybit, margin traders will experience greater risk in adverse market conditions. This is particularly true for those trading smaller amounts. To help protect its client base from the threat of liquidated positions, Bybit has an insurance fund to manage and absorb the excess loss.
Bybit Mobile App for iOS & Android
Bybit's mobile app is available for iOS and Android. It allows users to take advantage of all the company's key products and services. With its sleek interface, fast performance, and glowing user reviews, the app is one of the best currently on the market. From complex trading charts to advanced technical indicators, there is little this app can't do. For those who like to trade on the move, the Bybit mobile app is a must-have!
Take Profit / Stop Loss Orders Supported
Bybit provides a good range of risk-management tools for traders looking to protect their balance. Take-profit and stop-loss orders allow traders to establish the exit strategy for their trades, so they won't need to continually monitor each open position in case of severe price swings. With Bybit exchange, these are easy to set and relatively easy for traders looking for rapid market entry.
Copy Trading
Some trading strategies are too good not to share. With Bybit's copy trading feature, inexperienced traders can share in the profits of their peers by replicating every trade they make. For strategy providers, you can earn extra commission from your winning trades. The benefits work both ways.
NFT Trading
Buy NFTs from the hottest digital artists online, with a vast marketplace available through Bybit's platform. Users can browse a categorised list of NFTs, access advanced statistics, and increase their collection through a simplified transaction process.
DeFi 
Bybit's Defi offering is a decentralised peer-to-peer network where no one controls the network, and transactions are made between Bybit clients. The process is surprisingly simple, involving the creation of an advert, which – much like any online marketplace – advertises what you're selling and how much you want for it.
Bybit's P2P exchange is very user-friendly, well-signposted, and with an array of data points available, representing a safe way to secure DeFi crypto. Bybit explains that with Bybit P2P, you can "complete transactions at lightning speed in a safe and secure trading environment, and at optimal prices agreed upon by you and the merchant."
Bybit Savings
One of the most exciting recent additions to the Bybiy platform is its Savings feature. Just like any other savings account, users receive a fixed or flexible interest rate for their deposits. Unlike a traditional savings account, though, it involves crypto investments. One of the highest fixed-rate yields offered is 4.25%, which is much higher than what you'd find at your local bank.
Buy Crypto with a Card
If you're brand new to crypto and don't already have any crypto to deposit, dont worry, as Bybit have ways to buy crypto directly on their site with a credit or debit card. You can buy the likes of USDT, BTC, ETH and USDC.
Just note, though, that this won't be the cheapest way to buy your crypto as, firstly, the rates are dictated to you by their 3rd party providers and usually (although there is currently a promotion at 0%) credit card fees are generally relatively high, and this is mainly down to the convenience of buying in this way. Plus, it's ideal for those who don't already have any crypto to deposit.
Bybit Trading Options
An impressive variety of Bybit trading options helps users increase their crypto market exposure. These vary by market risk and the amount of leverage available to traders. With new additions being made regularly, look out for further inclusions soon!

Spot Trading
Bybit's spot trading service allows traders to own the underlying assets. This contrasts with other trading styles which deal with contracts. With no fixed expiry dates, positions can be held permanently, allowing a more traditional feel to crypto trading. Available instruments include BTC, ETH, and XRP, with a seamless online platform built for spot market transactions. 
Derivatives Trading
Bybit is one of the leading global crypto derivatives providers, a reputation it earns by giving traders the ultimate tools to trade such assets. Derivatives refer to instruments that derive their value from the performance of an underlying entity rather than including outright ownership over it.
In the case of futures trading contracts, these frequently include expiry dates. However, Bybit's offering includes USDT Perpetual, a contract that doesn't expire. Due to the increased complexity of such instruments, Bybit includes a good range of educational material to help explain the intricacies of this trading style. Additionally, it provides a smart and powerful trading platform to allow traders to gain that competitive advantage.
Demo Account
One of the best ways to learn how to trade is in a risk-free environment. With Bybit's Testnet platform, traders can hone their craft in a practice scenario. Bybit's demo account is a replica of a real-life trading terminal. Allowing traders to practice trading with virtual funds and test their strategies before using their actual money or cryptocurrencies. This cuts losses significantly. 
Bybit Fees
Bybit imposes various fees on its users, primarily categorized into trading fees and deposit/withdrawal fees. Understanding these fees is crucial for traders and investors to optimize their cost structure while interacting with the platform.
Bybit Trading Fees
Trading fees on Bybit are inevitable expenses incurred while purchasing or selling cryptocurrencies. These fees are bifurcated into maker and taker orders, each having its own implications and cost structures. The distinction between spot and derivatives trading also plays a pivotal role in determining the applicable fees.
Maker and Taker Orders:
Market Makers: Those who provide liquidity to the market by placing orders that are not immediately filled receive a rebate, essentially earning a reward for their contribution to market liquidity.
Market Takers: Those who match existing orders, removing liquidity from the order book, are subjected to higher fees due to their instantaneous trade execution.
VIP Levels:
The VIP level of a user significantly influences the trading fees, with higher levels potentially offering more favorable fee structures.
| Trading Type | Market Makers Fee | Market Takers Fee |
| --- | --- | --- |
| Spot Trading | 0.1% | 0.1% |
| Derivatives Trading | 0.01% | 0.06% |
The Bybit derivative trading fees can be found below.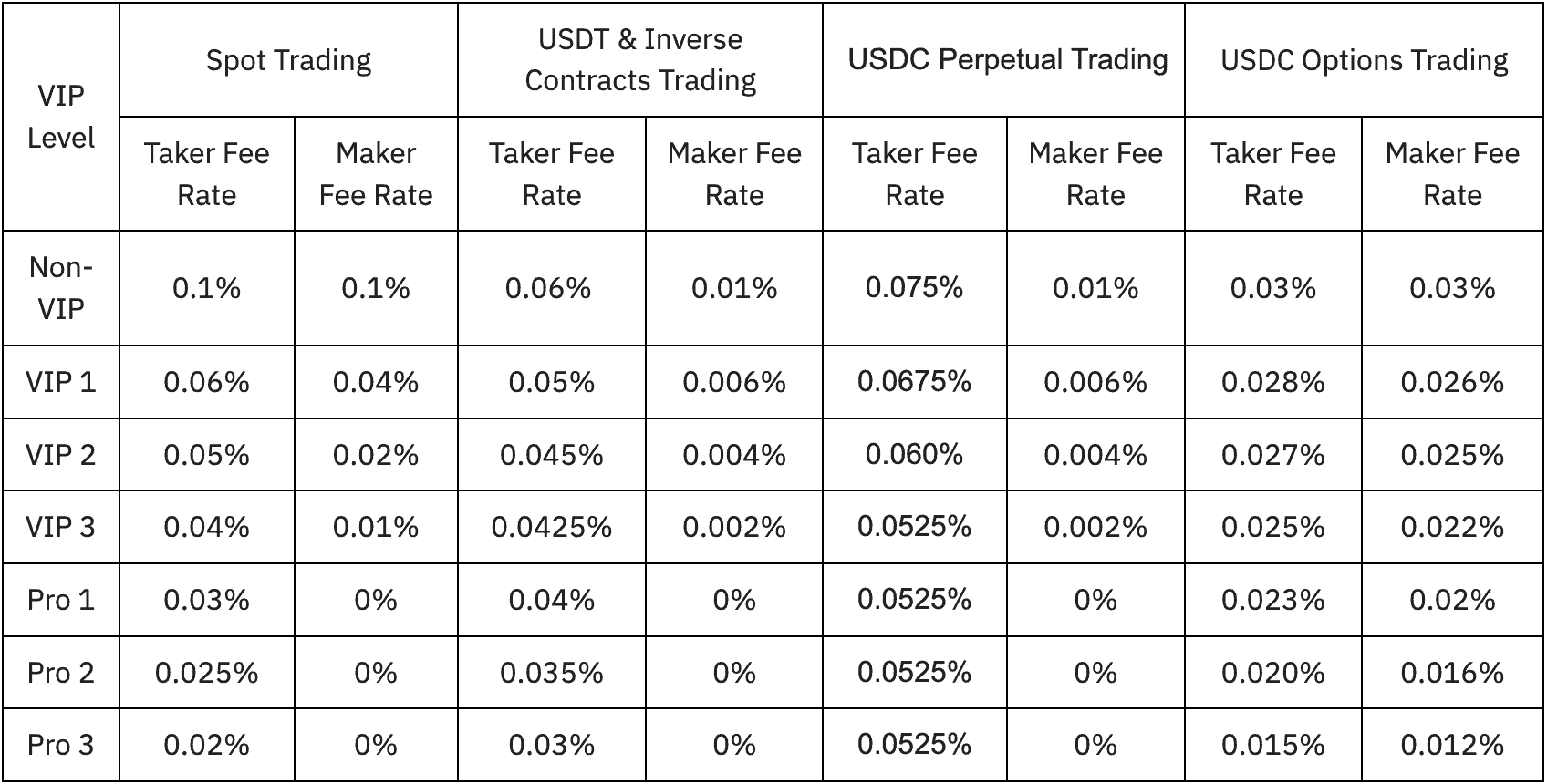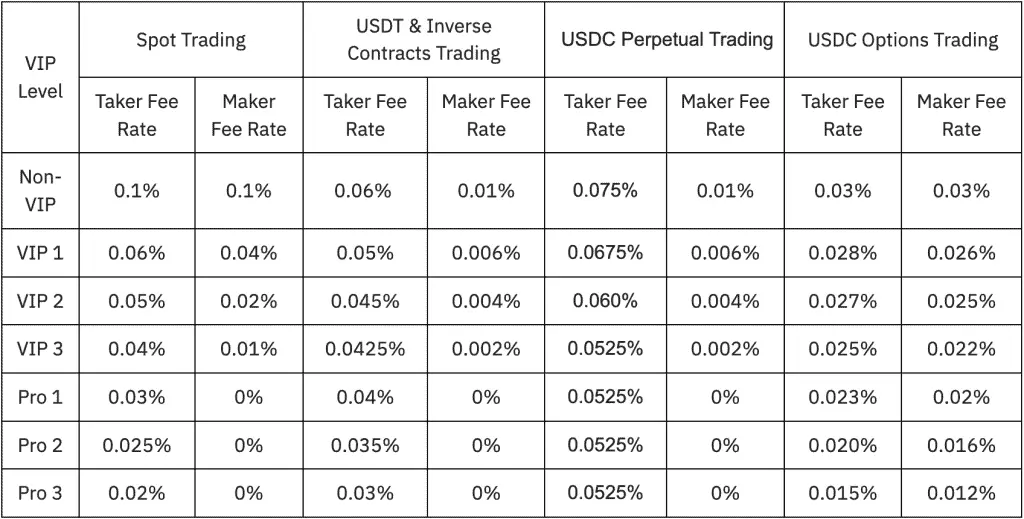 Bybit Deposit & Withdrawal Fees
Crypto Deposits:
Bybit does not charge any fees for depositing cryptocurrencies. However, withdrawing assets incurs fees, determined by the network used, the amount, and the asset type. The congestion in the blockchain network can also impact the withdrawal fees, with busier networks generally resulting in higher fees.
Fiat Deposits:
Depositing fiat currencies like GBP or EUR is also free of charge on Bybit, but the fiat gateway service provider may impose their own fees. It is advisable to consult the service provider's fee structure beforehand to avoid any unexpected charges.
Deposit Methods & Currencies
Bybit accommodates both fiat and crypto deposits. For fiat, it currently supports only the Brazilian Real (BRL) and Argentinian Peso (ARS), and the deposits are facilitated exclusively through bank transfers. Crypto deposits are more versatile, allowing users to transfer any supported cryptocurrency to the platform without restrictions.
Bybit Support
Navigating through Bybit might seem intricate, especially for newcomers. However, the platform ensures that users have access to proficient assistance and guidance via its diverse support channels. Bybit is equipped with multiple avenues of communication, including email, a messaging interface, and a specialized chatroom, catering to the varied preferences of users seeking resolutions or information.
How to Contact Bybit
If you are encountering difficulties with your account or require clarification on any aspect of the platform, Bybit's customer support team is readily available to assist you. Here's how you can connect with them:
Bybit's support team is accessible through a variety of communication methods, ensuring that users can select the one that is most convenient for them. Whether it's a technical glitch, account-related inquiry, or a simple query, the customer service representatives are committed to providing timely and effective solutions to all concerns raised by users.


Is Bybit Safe?
When contemplating trading on Bybit, a paramount concern is undoubtedly its safety. It is reassuring to note that Bybit is highly proactive in implementing robust security measures to protect its user community and their assets.
The platform incorporates several advanced security features, including: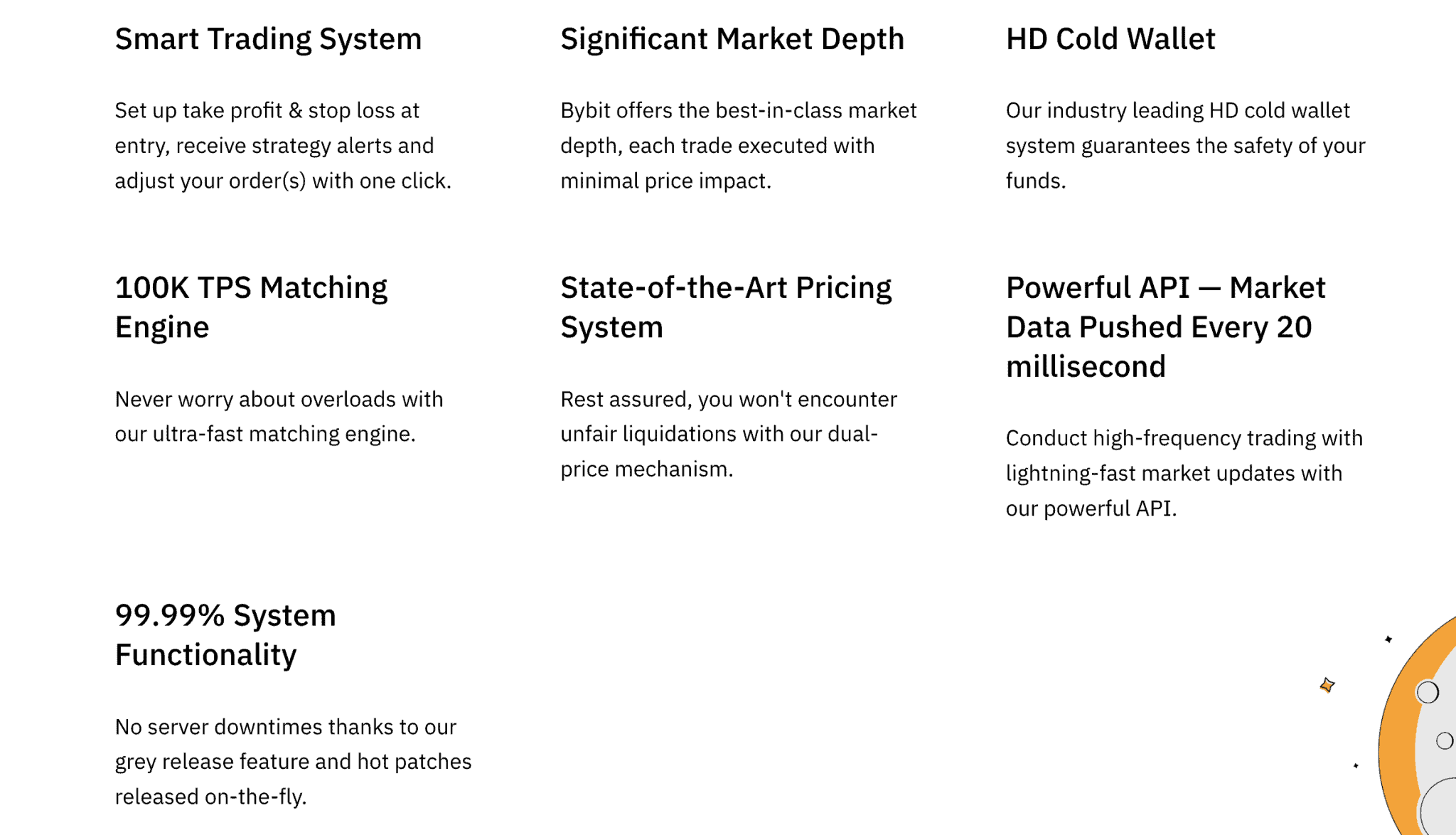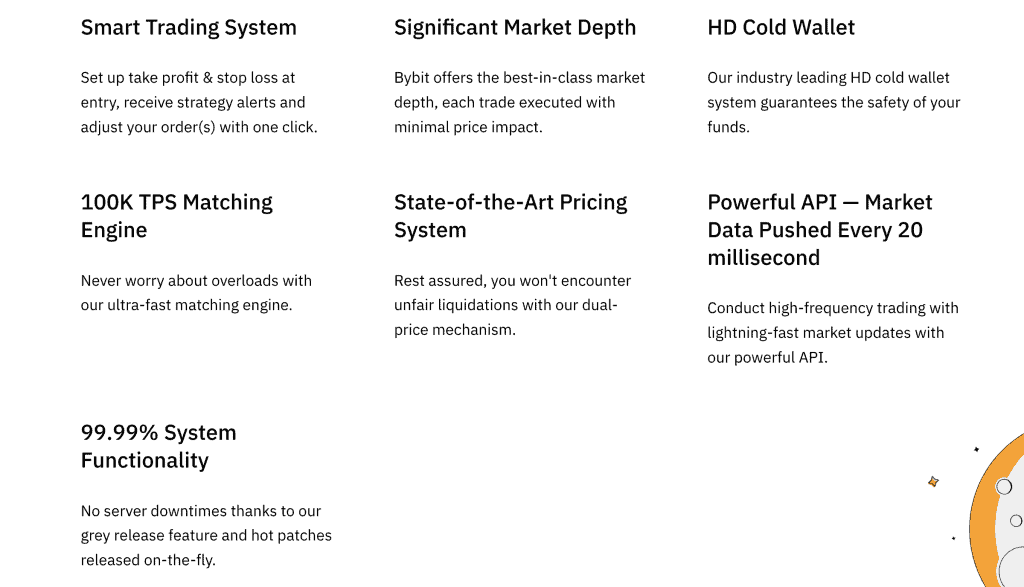 Multi-Signature Cold Wallet Storage

Bybit prioritizes the security of user funds by employing a multi-signature cold wallet storage system, which is considered one of the safest methods to store cryptocurrencies. This offline storage system shields assets from online threats and malicious activities. Unlike platforms using hot wallets, Bybit assigns cold deposit addresses to users and conducts asset consolidation and withdrawals with offline signatures, adding an extra layer of security.
Zero-Trust Architecture

Bybit maintains stringent security protocols around the clock to fortify its technological architecture against potential breaches. This includes undergoing regular penetration testing and collaborating with reputable third-party security auditors to ensure the resilience of the platform against cyber threats.
Mandatory Bitcoin Address Whitelisting 

Bybit enforces address whitelisting, allowing users to withdraw cryptocurrencies only to pre-verified addresses. This feature, coupled with two-factor authentication, enhances the security of withdrawals by ensuring that funds can only be sent to trusted and authorized addresses.
Collaboration with White Hat Hackers

Bybit proactively engages with ethical hackers to uncover and address potential vulnerabilities before they can be exploited by malicious actors. The platform operates bounty programs to reward individuals who help in identifying security risks, fostering a collaborative approach to maintaining platform integrity.
Two-Factor Authentication (2FA)

Users on Bybit have the option to enable two-factor authentication, providing an additional layer of security during login. This feature can be customized based on user preferences, allowing them to decide the level of security they deem necessary.
Bybit Supported Countries
Bybit is a global trading platform, which means it supports users from many countries, regions and continents as long as their local regulations permit using such platforms. Notably, Bybit is not currently supported in the U.S.
Countries where Bybit is not operational include The United States, Quebec (Canada), Singapore, Cuba, Crimea, Sevastopol, Iran, Syria, North Korea, Sudan, and Mainland China.
If you are not in any of these countries or regions, you can use the Bybit exchange to buy, sell or trade cryptocurrencies where you are.
Bybit Alternatives
If you live in a place where Bybit is not accessible, do not fret. There are other cryptocurrency exchanges you can use for your buying and trading. You can use the following exchanges that provide similar services to the Bybit trading platform.
| Platform | Bybit | Binance | Zoomex |
| --- | --- | --- | --- |
| Trading Fees | 0.05% | 0.1% | 0.02% |
| Leverage | 100x | 125x | 100x |
| Supported Cryptos | 400+ | 500+ | 50+ |
| Review | Review | Review | Review |
Bybit Signing up
As previously mentioned, the lack of KYC requirements means Bybit's sign-up process is relatively simple. Users can register using either their email address or phone number. Once you've clicked the registration button at the top of the screen, you will be asked to fill out a few details and some verification checks before your new account is ready and waiting.
Deposits are similarly intuitive, allowing users to fund their accounts using various payment options.


Bybit Referral Code
| | |
| --- | --- |
| Bybit Referral Code | Sign-up to Bybit or use Referral Code QZ6LZ3 |
| Bybit Sign-up Bonus | $20 Bonus Plus a Reward Card Worth up to $1,000 |
| Referral Terms | Check Out Bybit T&Cs here |
| Bonus Last Validated | September 2023 |
Zoomex vs Bybit
In comparing Bybit vs. Zoomex, one of the most significant differences between the pair relates to the extent of its products and services. Given the recent entry of Zoomex into the crypto trading space, users have only a limited amount of trading options available. Bybit, on the other hand, provides a huge list of products and features, all at a comparatively low cost.
While newcomers might find Bybit a little too complex at first glance, the company genuinely deserve their reputation as an industry leader.
Bybit vs Binance
Binance is the largest crypto exchange by trading volume. It is also a leading derivatives exchange that provides Bybit's kind of services at very affordable rates. Binance charges some of the lowest fees in the space but can be complex to use.
Our Verdict: Should You Use Bybit?
The Bybit platform is a hugely impressive cryptocurrency exchange in all areas we've delved into in this Bybit review. Packed with features and innovations, the company is a one-stop shop for all your crypto dealing needs. Combining endless trading styles, including futures trading and margin trading, with user-friendly platforms, users will enjoy an intuitive experience when using Bybit. While novice traders might lament a steeper-than-average learning curve, those who can get to grips with its services will find plenty of money-making opportunities.
Bybit FAQs
Is Bybit Legal in the US?
The Bybit crypto exchange is currently unavailable to citizens of the U.S.
Where is Bybit Located?
Bybit headquarters are located in Dubai, United Emirates, after their move in 2022 from Singapore.
What Deposit Options Does Bybit Accept?
Users can fund their accounts using an array of deposit options, including crypto transfer and fiat currencies. No charge is levied on any deposits, although some fiat gateway providers will charge a fee.
Does Bybit have a Minimum Investment?
There is no minimum investment for crypto dealing. 
What Countries Does Bybit Support?
Bybit is a global crypto company with translation support for English, Simplified and Traditional Chinese, Korean, and Japanese. For regulatory reasons, there are several restricted countries where clients can't access Bybit.
These include;
Québec (Canada)
Cuba
Crimea
Sevastopol
Iran
Syria
North Korea
Sudan
Singapore
United States
Does Bybit have a Mobile App?
Bybit has a mobile trading app available for Android and iOS devices. This allows users to make trades and monitor their positions on the move.
Related Posts