In this Zoomex Review for 2023, we take a deep dive into one of the fastest-growing crypto platforms in the industry.
With ambitious plans to become a global leader in the crypto space, we assess Zoomex.com's strengths and weaknesses, and analyze the variety of features, while providing an unbiased verdict based on its overall customer value.
So, let's dive into this Zoomex Review, to help you work out whether Zoomex is the right crypto trading platform for you.
Zoomex Review: How to Use Zoomex?
What is Zoomex?
Let's start by answering the all-important question – what is Zoomex? Founded as recently as 2021, Zoomex is a cryptocurrency trading platform headquartered in Singapore. Its cutting-edge platform offers low-cost access to a range of crypto futures, including USDT and BTC trading pairs. Promising a client-centric trading experience, it aspires to provide optimal trading conditions and to deliver (in its own words) the 'lowest trading fee[s] in the industry'.
To back up these bold claims, the company boast a depth of industry talent, including ex-Binance and Bybit executives. Providing a gamified approach to crypto dealing, the company periodically host a series of competitions known as The World Series of Trading (WSOT). Enabling collaborative trading across the globe, it's a fun and innovative approach to making crypto trading more interactive and accessible.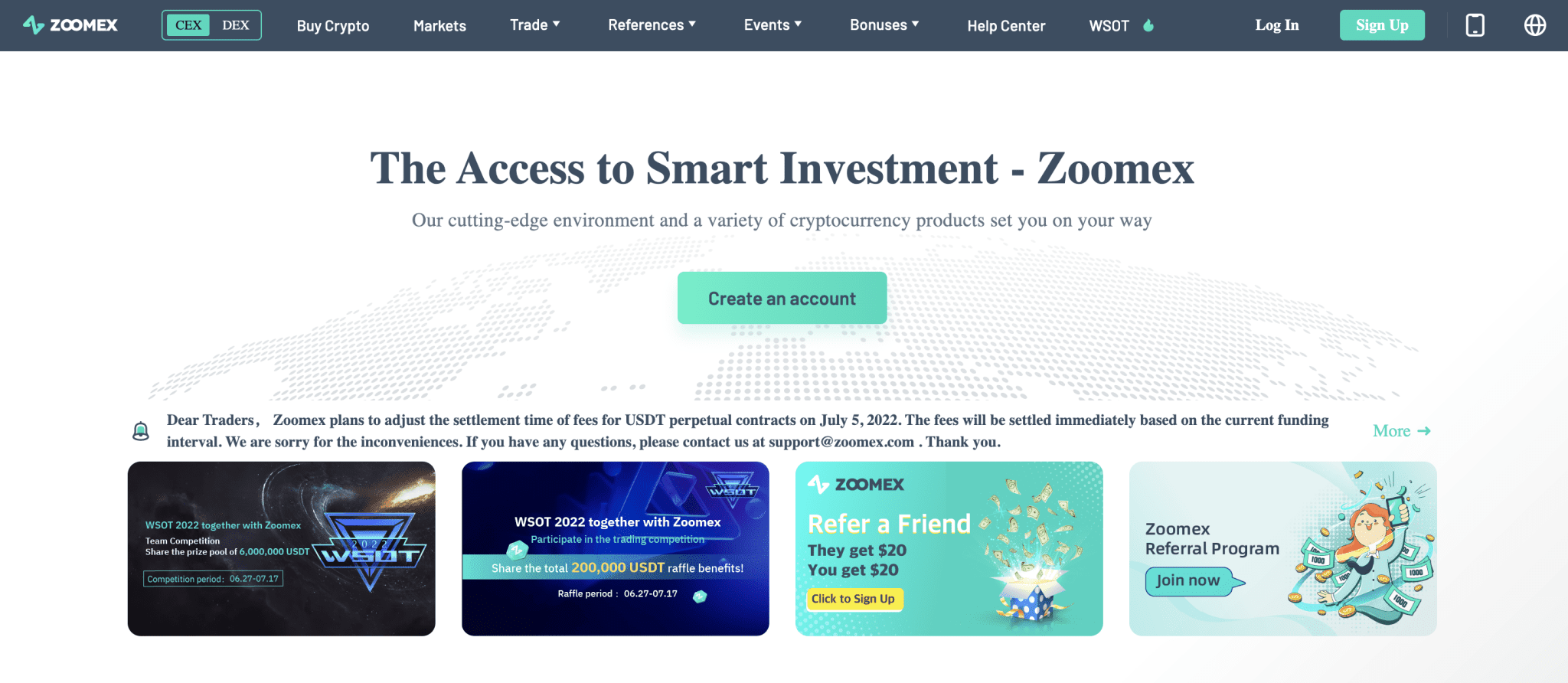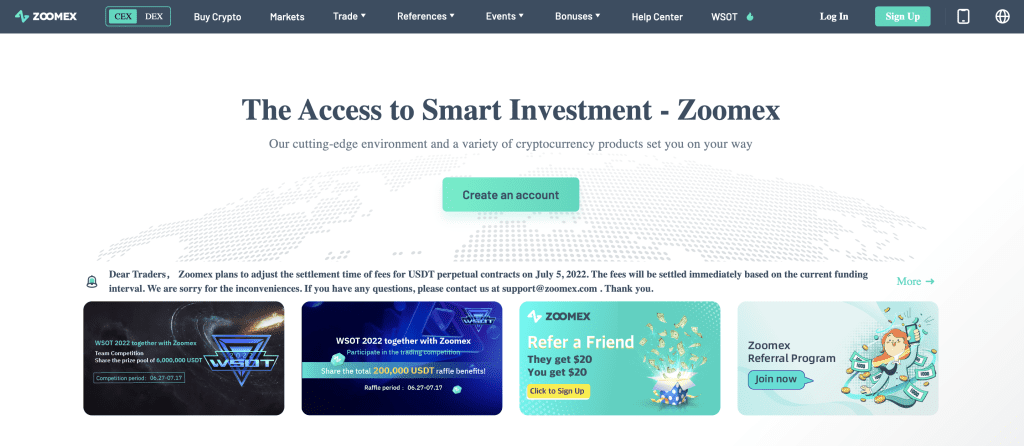 Pros & Cons
After getting to grips with the company's products and services, we've identified some of the main Zoomex pros & cons. While users will no doubt be attracted by its low fees and fantastic leverage options, there are a few useability issues which detract from the overall user experience. For traders who don't rely on such details, however, this shouldn't be a problem.
Zoomex Features
Zoomex features an array of benefits which distinguish it from other crypto dealing platforms. As such a new business, we can expect to see many new updates released in the following months and years, so we expect this list to grow. 

100x Leverage
By focusing on crypto futures, Zoomex offers incredible leverage options, with users able to take advantage of 100x leverage. This amount can be adjusted easily while trading and is a great way to maximise returns. However, as with all margin trading, it's important to remain aware of the extra risks involved.
We would recommend beginners avoid trading with leverage, as trading with leverage can be very risky.
Asset Protection
Zoomex utilises a multi-signature security system to protect your data and your funds. Additionally, extra protection is delivered by offering both cold and hot wallet options, depending on your security preferences. 
The World Series of Trading 
Win from a total prize pool of $6,500,000 with the World Series of Trading, hosted by Zoomex along with partners including Coinreaders and Bybit. Participants can team up to win huge cash prizes, with winners decided based on profit/loss percentage, so everyone competes on a level playing field. 
Multilingual Support
Zoomex provides multilingual support to help improve the experience of its international customer base. Users can communicate directly with Zoomex via email and contact form. Supported languages include Korean, Japanese, Mandarin, and German.
Buy Crypto with FIAT
With Zoomex, you buy crypto directly from the platform using a third party called Paxful. Providing users (who may not already have any crypto to deposit) with options to buy USDT or Bitcoin with traditional currencies such as Euros or USD.
Zoomex Mobile Trading App
The Zoomex mobile app offers all the features of the company's web platform and is available on iOS and Android devices. Make trades, manage your money, and seek customer support, all from one powerful app. This app is free to download, and provides an all-in-one trading experience, to help users trade crypto anywhere, at any time.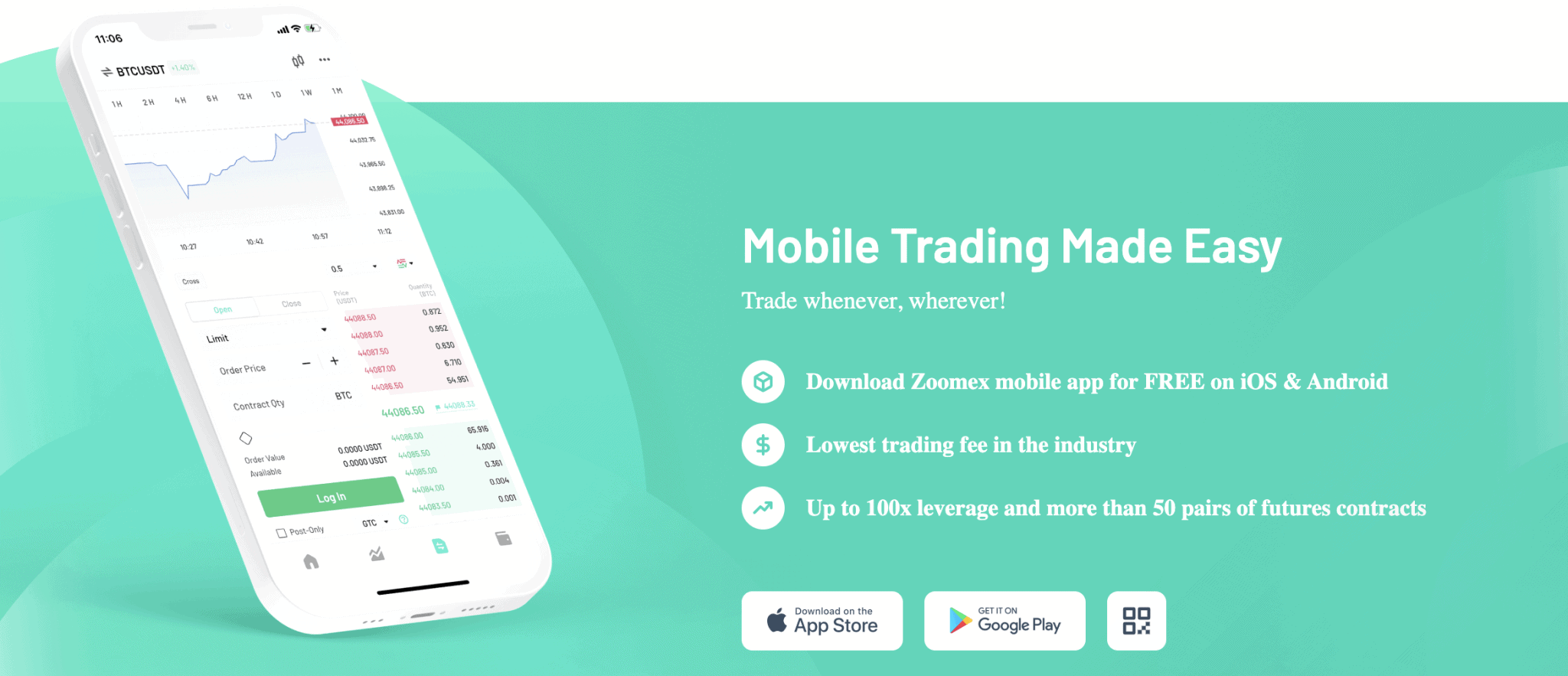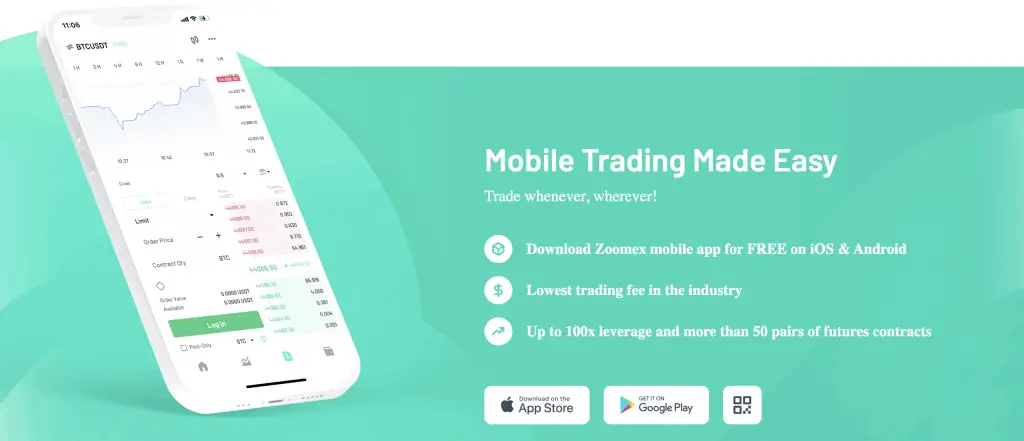 Zoomex Trading Options
There are a good variety of Zoomex trading options to help users discover a suitable form of market exposure. They currently support over 50 types of altcoins trading pairs, including USDT and BTC trading pairs.
These are in turn broken up into two primary categories: Inverse Perpetual and USDT Perpetual. We'll describe these in more detail below.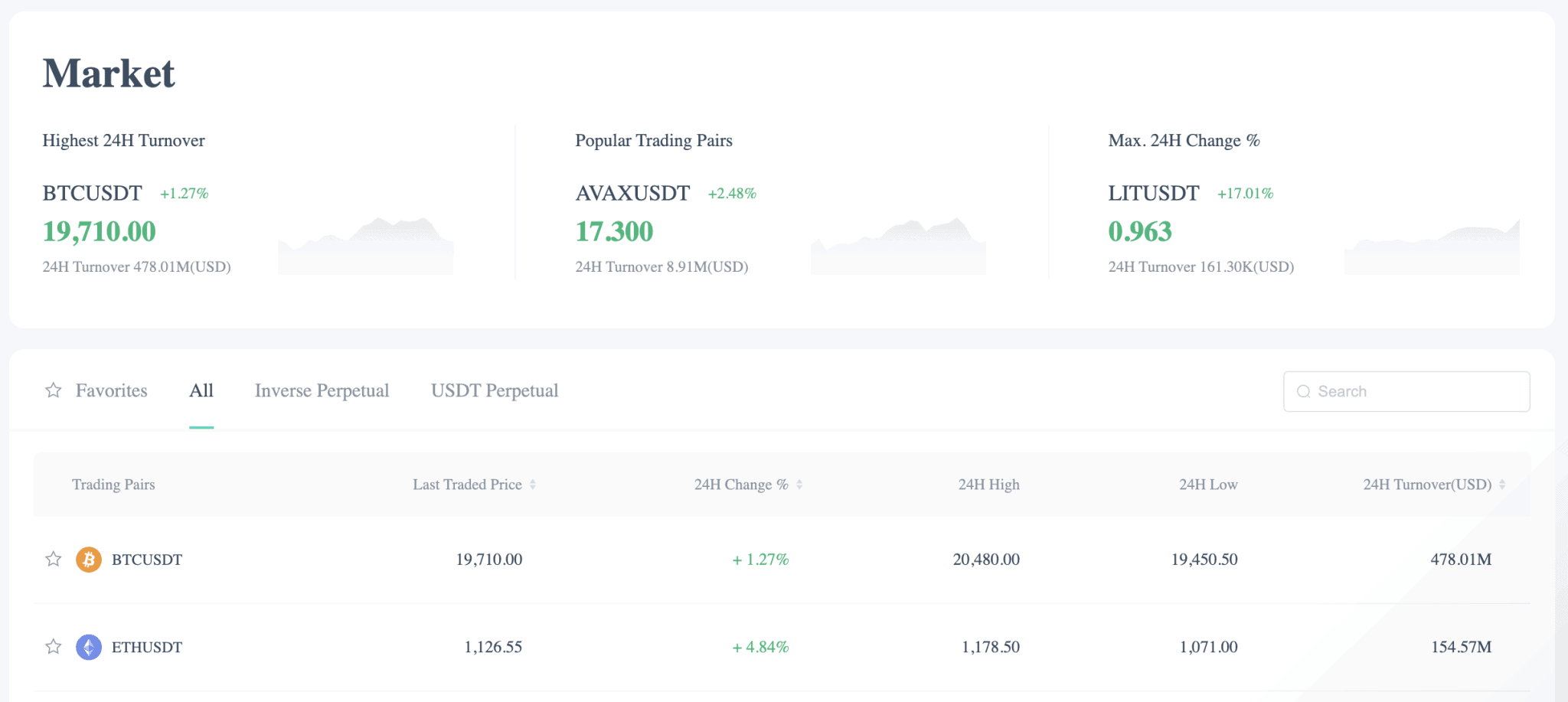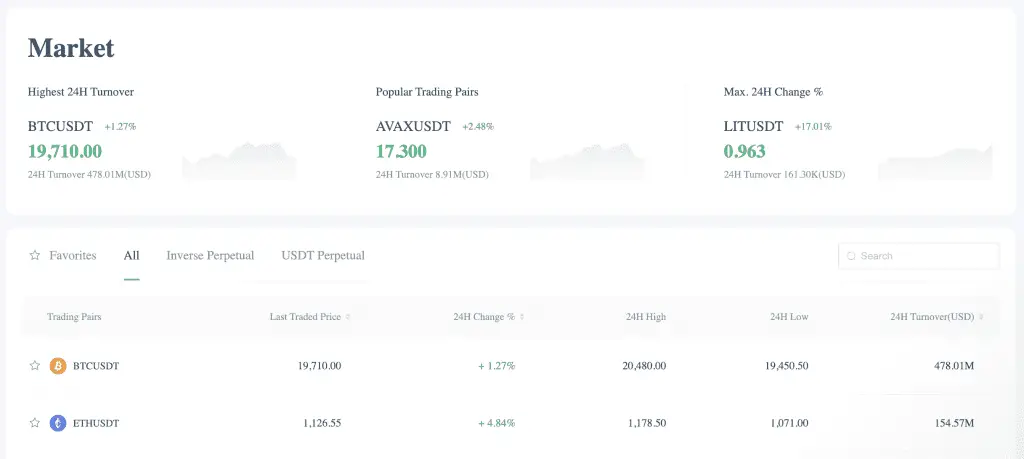 Inverse Perpetual
Currency pairs contained within the inverse perpetual category have one defining characteristic: the underlying cryptocurrency will be used as the margin to trade with, with the coin itself used as collateral. Some of the most popular pairs on this list include BTCUSD, ETHUSD, and EOSUSD.
The perpetual nature of these assets means that your future contract has no expiry date, and can be held indefinitely without the need to roll over contracts as they approach expiration.
USDT Perpetual
This category includes currency pairs where the margin that's used is USDT (Tether). These pairs are all linked to this stablecoin, with currency pairs including BTCUSDT, ETHUSDT, and MANAUSDT.
As with the Inverse Perpetual options, these are perpetual contracts with no expiry date. USDT Perpetual pairs form the vast majority of instruments tradeable through Zoomex.
Zoomex Fees
Zoomex fees are low. In fact, the company prides itself on providing the lowest trading costs on the market. Not only do they charge zero transaction fees, but their trading fees are also some of the lowest in the industry, beginning at 0.02% for maker orders and 0.06% for taker orders.
Withdrawal fees and limits are on a crypto by crypto basis and will also depend on which network you are withdrawing on.
The full breakdown of trading fees for their flagship standard account can be viewed in the table below. 
| Account Type | Transaction Fees | Trading Fees |
| --- | --- | --- |
| Standard | 0 | min. 0.02% |
Zoomex Minimum Investment
There is no minimum investment required by Zoomex, although users will be well advised to take advantage of the many incentives offered to those trading and depositing higher amounts.
For example, Zoomex often releases exclusive rewards for its users via its reward hub. With offers such as receiving $200 for a first-time min. deposit of $10,000 (or currency equivalent).
Or when you sign up using the Every Bit Helps referral code: ZX37420 and deposit a total of 200 USD or any equivalent asset and obtain a trading volume of ≥ 1,000 USD you´ll get 10USDT and get up to 1000 USDT Trading Reward.
Zoomex Support
If you need some support or have a query or issue, Zoomex offers support via several mediums. On their site, they provide comprehensive guides and FAQs. If you can't find the answer that you're looking for, you can submit a request for help. Additionally, Zoomex offers a detailed FAQ section that covers information such as general account settings and how to place an order.
Zoomex also offers multilingual support options for traders seeking help. With supported languages including Korean, Japanese, Mandarin, and German, traders have a good range of choices available, if they need account assistance or just general guidance.  


How to Contact Zoomex
If you're struggling with something, here's how to contact Zoomex: currently, the Zoomex customer support team can be reached via email and contact form. If you want to send an email, there are a few options, depending on which department you want to reach. These are listed below.
Is Zoomex Safe?
Before you part with your hard-earned money, you're probably wanting to know – is Zoomex safe? 
Throughout its website, the company are at pains to reassure prospective clients about the safety of its products and services. Despite being new on the scene, Zoomex has adopted some advanced security protocols, including advanced asset protection via cold and hot wallet options. Additionally, customers can benefit from two-factor authentication, which can be toggled on/off depending on your preferences. Our video tutorial shows you how to do this.
Regulations & Licenses
So what licenses do Zoomex currently hold? While cryptocurrencies are not yet formally regulated, Zoomex nevertheless owns the following licenses, which allow them to act as a financial dealer:
US MSB License – Regulatory Authority: The Financial Crimes Enforcement Network (FinCEN), U.S. Department of the Treasury
Canada MSB License – Regulatory Authority: Financial Transactions and Reports Analysis Centre of Canada
Zoomex Signing up
How easy is the Zoomex sign-up process? Compared to many other providers on the market, it's pretty straightforward to create your first Zoomex account. Firstly, you'll need to head to the company's website at Zoomex.com, then sign up or create an account. At this point, you'll be prompted to create an account using either a mobile number or an email address. You'll then need to create a strong, secure password, which you'll use to access your account. 
Once your account is created, you'll be able to access most of the features and capabilities of the Zoomex platform. But if you want full access, you'll need to submit some further KYC details, including name, nationality, ID number, and face verification. 
Zoomex Referral Code
When signing up for Zoomex as a new user, you can get a 10 USDT sign-up bonus by using the Every Bit Helps referral code ZX37420 or link.
Zoomex Alternatives
While the cryptocurrency industry is pretty vast, there are many ways customers can gain access to crypto markets. The Zoomex alternatives we've listed below target crypto futures as an investment opportunity. We'll therefore be shining our spotlight on some of the best futures trading platforms currently available.
| Platform | Zoomex | Bybit | Binance |
| --- | --- | --- | --- |
| Trading Fees | 0.02% | 0.05% | 0.1% |
| Leverage | 100x | 100x | 125x |
| Available Cryptos | 50+ | 400+ | 500+ |
| Review | Review | Review | Review |
Our Verdict: Should You Use Zoomex?
Zoomex has accomplished a lot in such a short space of time that it would be unwise to discount its offering. While the quality of its website and trading platforms leave a lot to be desired on the UX front, such details shouldn't matter to traders looking to gain that competitive edge.
Low trading fees and features such as 100x leverage mean that Zoomex already offers fantastic customer value to those looking to gain crypto market exposure. With an experienced team behind them, we expect to see big things from the company in the years ahead.
We hope you found this Zoomex review useful; if you have any questions, let us know in the comments.
Zoomex FAQs
What Deposit Options does Zoomex Accept?
Users can buy or sell crypto via card payment or through a crypto deposit. Supported coins include BTC, ETH, EOS, and more.
Where is Zoomex Located?
Zoomex is located in Singapore. 
Zoomex Minimum Investment?
There is no minimum investment for crypto dealing. However, special incentives exist for traders who deposit larger amounts, including a $200 bonus for first-time deposits of + $10,000 (or currency equivalent)
Related Posts