In this DeFi Saver review, we'll take a look at the all-in-one, management app for decentralized finance. We explain what DeFi Saver is, its features and fees. Plus how to manage leverage, convert positions, and earn all within the app.
DeFi Saver Review
What is DeFi Saver?
Defi Saver is an all in one, management app for decentralized finance. Supporting popular Ethereum based dApps including the likes of Maker, Compound, Aave and Reflexer.
Launched in 2019, the protocol was originally named CDP saver and has since expanded its services to other protocols, and added additional tools and solutions. DeFi Saver allows users to easily manage their DeFi portfolio with advanced features that are made simple.
One of their best-known features is their leverage management tools. Allowing users to manage leverage positions which you can increase or pay back debt within 1 transaction. However, you can also loan shift and use refinancing tools to move your position to a different protocol or change your collateral or debt asset. Plus, earn interest with the Smart Savings dashboard, allowing users to move funds between different available protocols.
However, Automation is DeFi Saver's flagship product, essentially providing automatic leveraging and liquidation protection depending on the market movements.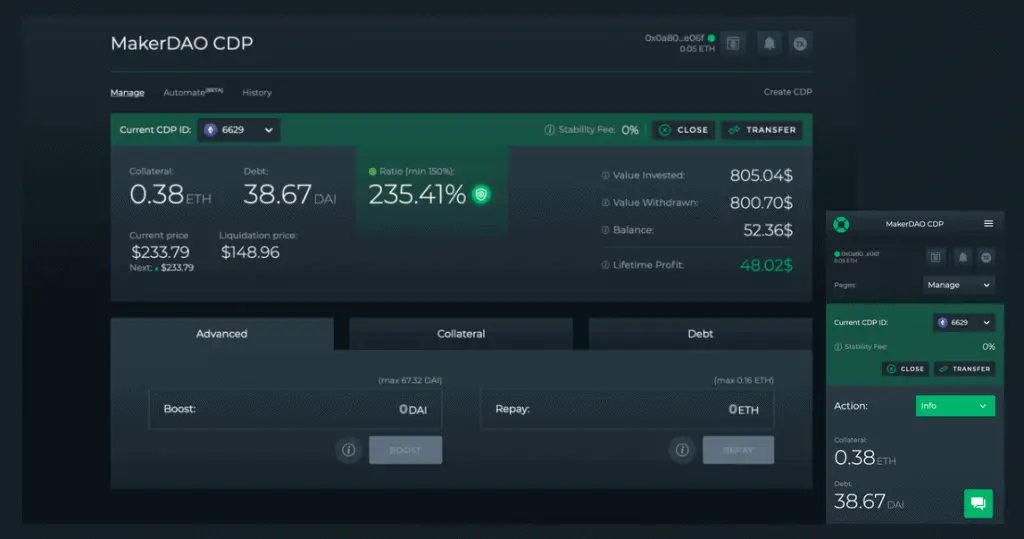 DeFi Saver Fees
Generally, DeFi Saver is free to use, however, they do include some fees for their more advanced features these include;
MakerDAO, Compound and Aave Dashboards;
0.25% service fee for Boost, Repay, Creating and Closing Leveraged Positions
0.3% service fee, for Automation Adjustments
There are no services fees for the likes of adding or withdrawing collateral or borrowing or paying back debt.
With Loan Shifter, this includes;
0.09% fee for Aave Flash Loans
0.25% fee for Collateral and Debt Shifts
With the Exchange, all tokens swaps have a 0.125% fee.
Smart Savings are free of charge.
Supported Wallets
With DeFi Saver you can connect up a whole host of Web3 wallets including the likes of MetaMask, Ledger, Trezor, Argent, and Trust Wallet.
Users can also connect to any wallet app that supports WalletConnect.
DeFi Saver Exchange
There is an exchange feature built into DeFi Saver that can be used for trading Ethereum based tokens. DeFi Saver will find the best prices sourced from 0x, Uniswap and Oasis.
The token swap price shown will include a 0.125% service fee.
DeFi Saver Smart Savings
Smart Savings is a DAI lending dashboard that supports several protocols allowing users to quickly move their funds between protocols in a single click.
At the time of this DeFi Saver review, Smart Savings integrates with Compound, dYdX, Fulcrum and MakerDAO). This is all managed from a single dashboard. Enabling users to track their rates across these applications and move them, for more favourable rates with 1 transaction.
DeFi Saver Smart Wallet
For funds to be moved between these protocols, each Smart Savings account has a smart contract wallet that is in control of your funds while you're supplying them within Smart Savings. Then once you have supplied your funds to the protocol, if the interest rates change and you want to change protocols you can quickly move your funds across.
DeFi Saver Recipe Creator
Recipe Creator is a newer feature of the protocol. Allowing users to create complex transactions which include multiple actions. With the idea to make flash loans and DeFi Legos available to all, even those with less technical backgrounds.
For those less technical, Recipe Creator can be used by users to tell the interface what they want and let the app prepare their recipe for them with the use of natural language processing. For example, a user could state that they want to "borrow 100 Dai from Aave v2, sell DAI for UNI" and the app will create it for you.
Currently, Recipe Creator supports Aave, Compound and Maker actions, plus Aave and dYdX flash loans and basic functions including the creation of buy and sell orders via 0x exchange. However, this will be expanded to include liquidity pool actions with Reflexer and Uniswap (v2).
DeFi Saver Simulation Mode
DeFi Saver has a "Simulation Mode" also built into their platform. Allowing users a way to test out DeFi protocols without having to set up an account or spend anything in transactions costs. With Simulation Mode, you'll be provided with an account holding 100 ETH and appearing like it's running on the Ethereum Network.
When Simulation starts, DeFi Saver takes a copy of the Ethereum network and all your transactions go onto that copy. The only tasks that you are unable to perform will be the likes of Automation for any positions that you've created and you won't be able to view your Maker CDP history or Profit.
There are no fees to pay for the simulation mode, plus it has no expiry. Just be aware though that the prices and stats will be outdated as these are frozen at the start of the simulation.
DeFi Saver Automation
DeFi Saver Automation is an automated management system for collateralized debt positions (CDPs). Based on the settings that a user configures, it increases or decreases leverage as the price of an underlying collateral asset changes. This is a great feature to have onboard as it essentially provides automatic leveraging and liquidation protection.
DeFi Saver Gas Prices Extension
At the time of this DeFi Saver review, gas fees are at an all-time high. However, you can track and get notified when fees are low using the DeFi Saver Gas Extension. Available as a browser extension for both Chrome and Firefox, users can set alerts adding an option of selecting cheap, standard or fast gas for tracking.
Related Posts