In this Krystal review, we take a look at the all-in-one DeFi platform, where users can manage their crypto assets, swap, and earn interest, all at the best available rates. We explain what is Krystal, supported tokens and blockchains, fees, and how to use Krystal to earn the best rates.
Krystal Review: Manage, Swap & Earn
What is Krystal?
Krystal, launched by KyberSwap in 2021, is the all-in-one app helping users to consolidate the best DeFi services. Available on Android, iOS, and via their website, users can save money, time, and effort by storing their digital assets, exchanging their tokens at the best rates, and saving, lending, or supplying tokens to earn interest.


Krystal has some big backers, with investors such as Crypto.com, #Hashed, and Signum Captial.
With Krystal, there are four main features;
Swap
Earn
Manage your portfolio
Get rewards
The platform is multi-chain and supports not only Ethereum but also Binance Smart Chain and, most recently, Polygon (formerly Matic), with Solana coming soon. Krystal integrates popular DeFi platforms like UniSwap, Sushiswap, PancakeSwap, Aave, and Compound.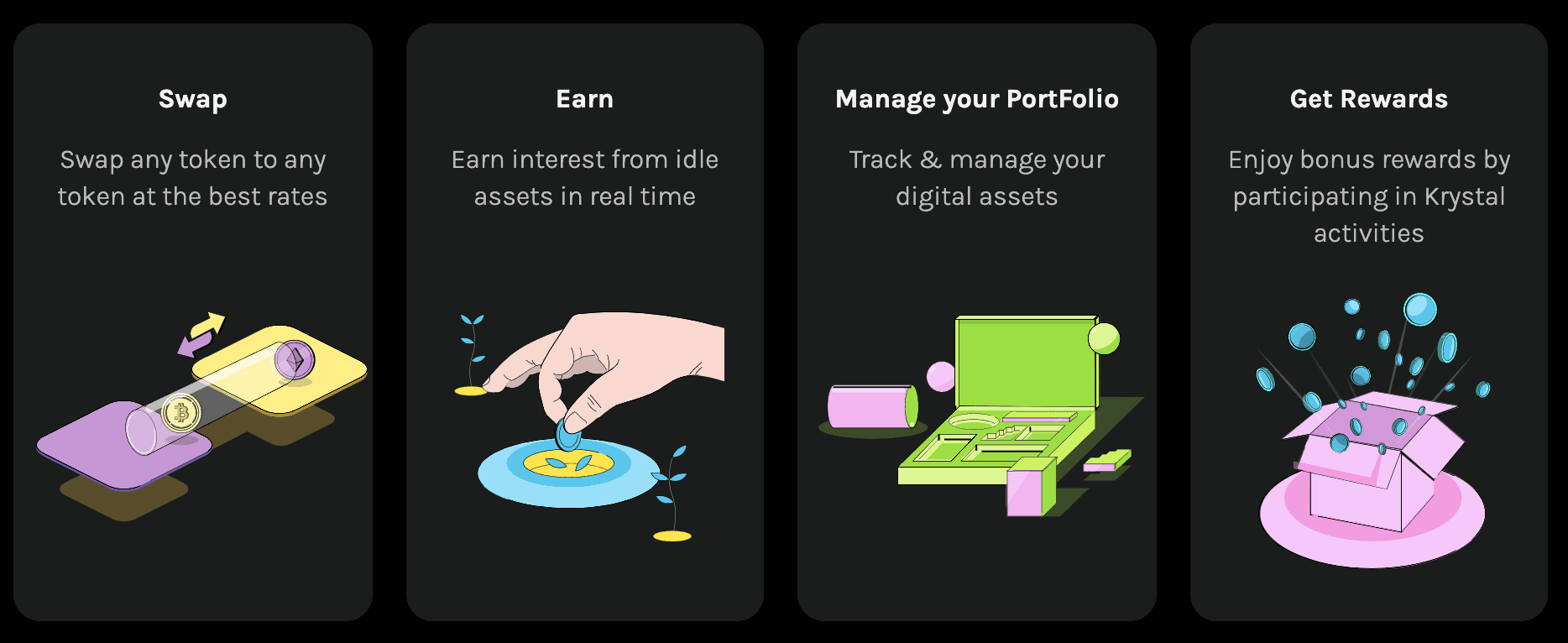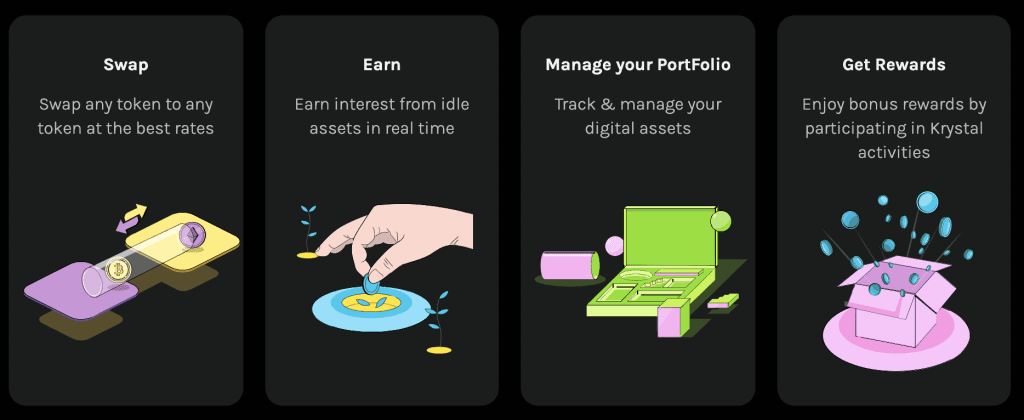 Krystal Supported Wallets
Krystal supports a range of wallets, depending on the network that you select. However, you will need to ensure that your wallet supports your selected blockchain.
For example, if you select Ethereum or Polygon (formerly Matic), you can connect using wallets such as MetaMask, Ledger, Coinbase, Wallet Connect, or Trezor.
With the Binance Smart Chain, you can choose from MetaMask or Wallet Connect (for using the likes of the Trust Wallet).
You can check out our guides if you need help connecting the likes of Metamask to the Binance Smart Chain or Polygon networks.


Supported Cryptocurrencies
Krystal runs across multiple blockchains and therefore supports a host of tokens, including Ethereum ERC20 tokens, Binance Smart Chain BEP20, and Polygon MATIC tokens. With future plans to also add Solana.
Krystal Swap
With Krystal's Swap function, users can swap from one cryptocurrency to another at the best rates using multiple decentralized exchanges such as UniSwap V3, PancakeSwap, SushiSwap, and Kyber Network.
Simply select the network you'd like to swap on, then choose the tokens that you'd like to swap from and to. Krystal will then find the best rates and gas fees available for your selected swap and give you all the available options for you to select from.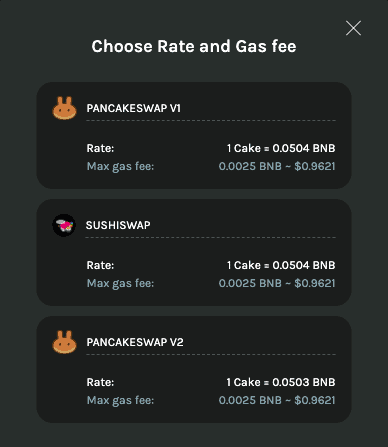 Krystal Fees
As Krystal is a decentralized application (DApp), you will need to pay gas fees for transactions on the network. These will need to be paid in ETH for Ethereum, BNB for Binance Smart Chain, or MATIC for the Polygon Network.
This fee that you will pay will depend on the traffic on the network that you are connected to. For example, when writing this Krystal review, gas fees on Ethereum are quite high, especially when the network is very busy or congested. However, you will currently find cheaper fees with blockchains such as Binance Smart Chain, Polygon, or Solana.
Krystal Earn
Earn is a way to find the best DeFi interest rates for your crypto. Simply select the network and the type of crypto you'd like to supply, and Krystal will find you the best rates from Aave, Compound, and Venus.
Tokens supplied to these platforms can be withdrawn at any time; however, just be aware that you will need to pay a transaction/gas fee at this time.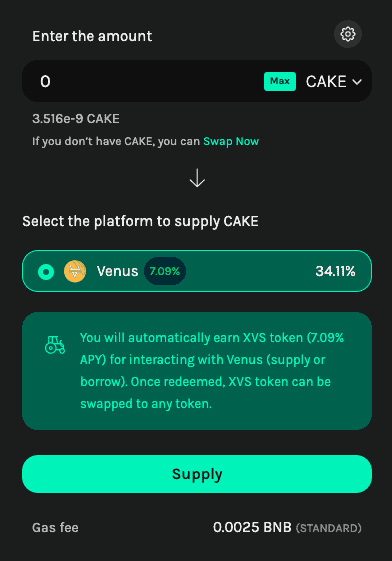 Managing your Crypto Portfolio
Once you have connected to your supported wallet, the summary screen will allow you to manage your portfolio. Similar to using the likes of MetaMask wallet, you can view your overall balance and your individual token balances and send, receive and add custom tokens. However, with Krystal, the screens are a lot more intuitive. You can also check your portfolio performance, track token prices, and view any tokens on which you're currently earning interest.
Krystal Points
Users can earn something called Krystal Points when trading on Krystal on any of the supported chains. These tokens will then be converted to the native currencies that you used, and it will be transferred into your wallet.
Plus, you can earn additional points via their referral program, staking, and specific events such as their campaigns.
Krystal Mobile App
Krystal is available via the web and mobile so that you can manage your portfolio and trade on the go. With the Krystal Mobile app, all of the desktop functions are available on your mobile.
The app is downloadable from the App Store for iOS devices and Google Play for Android devices. Plus, users can also down Testflight and the APK for Android.
Conclusion
Krystal is still in beta, but they have created a neat and simple-to-use platform. If you´re a crypto newbie or an OG, you should find Krystal helpful in managing your crypto assets and/or interacting with DeFi applications. I haven't tested their mobile applications, but I would definitely recommend checking out Krystal on the desktop and seeing for yourself.
Related Posts