In this review and tutorial, I take you through the Kyber Network, and the decentralized exchange KyberSwap. Kyber is an on-chain liquidity protocol that aggregates liquidity from a wide range of reserves, powering instant and secure token exchange in any decentralized application. Also connect your wallet directly to Kyber to instantly swap Ethereum and ERC20 tokens quickly and easily.
Kyber Swap
KyberSwap is a decentralised way to exchange Ethereum and different ERC20 tokens directly from your wallet instantly with no waiting, deposits or KYC required. Users can connect up their Ethereum wallet to connect which include the likes of Metamask, Ledger, Trezor and Torus. Then create simple trades for more than 70 tokens including the likes of DAI, USDC, USDT, digital gold DGX, as well as MKR, LINK, KNC, and WBTC (Wrapped Bitcoin).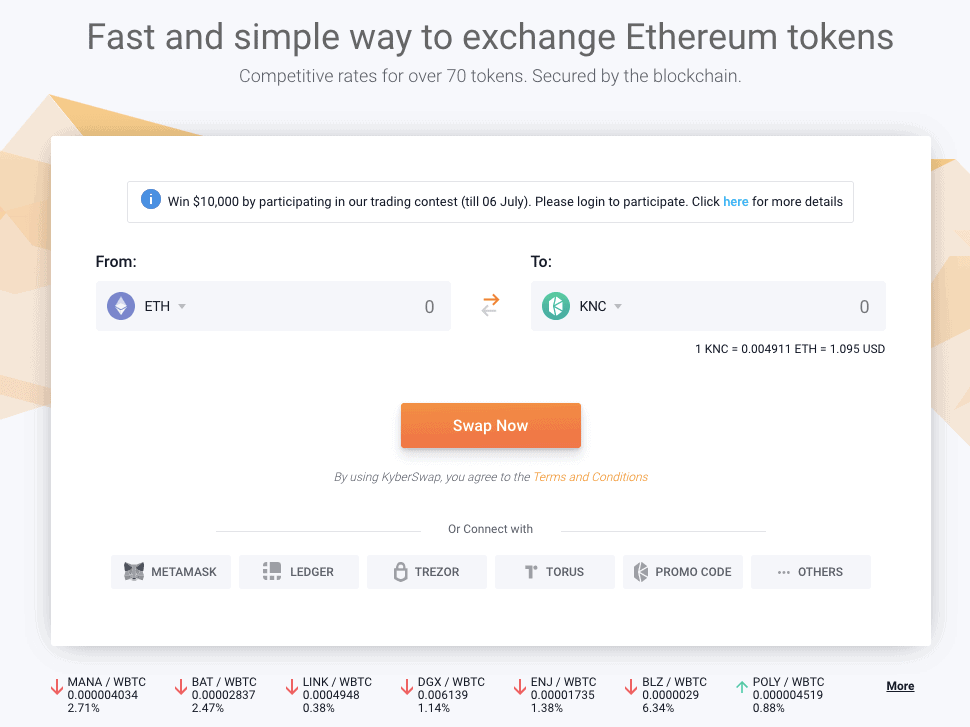 For users that don't already have an Ethereum or an Ethereum wallet, you can purchase some on their site. To provide the "purchase ETH with fiat" option, KyberSwap has integrated with Torus (a 3rd party service provider) that in turn offers various purchase ETH options which are done via the likes of Moonpay and Wyre.
How Does Kyber Swap Work?
Kyber uses a diverse set of liquidity pools, or pools of different crypto assets called "reserves" that any project can tap into or integrate with.
So instead of using order books to match buyers and sellers to return the best price, the Kyber protocol looks at all the reserves and returns the best price among the different reserves.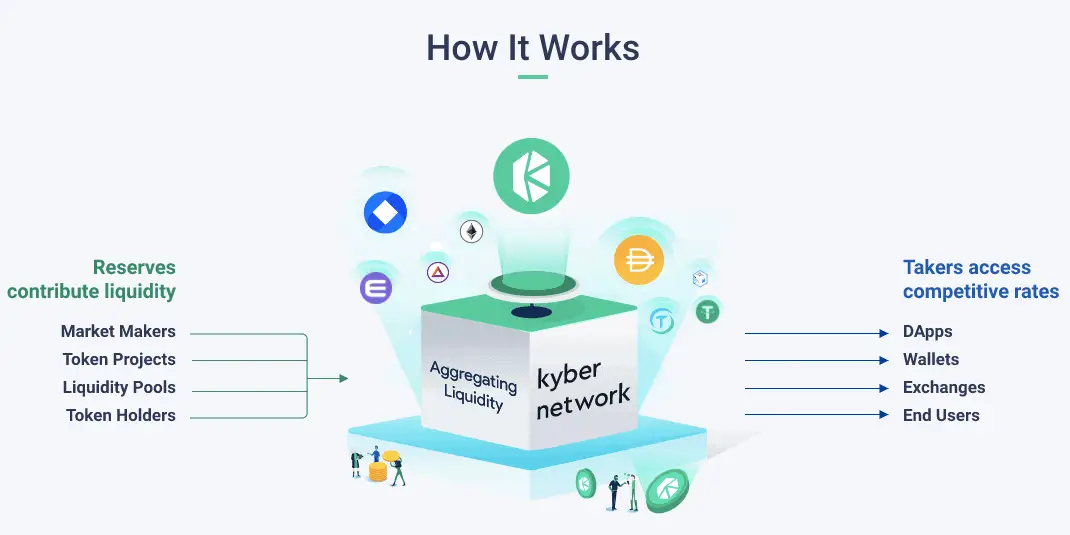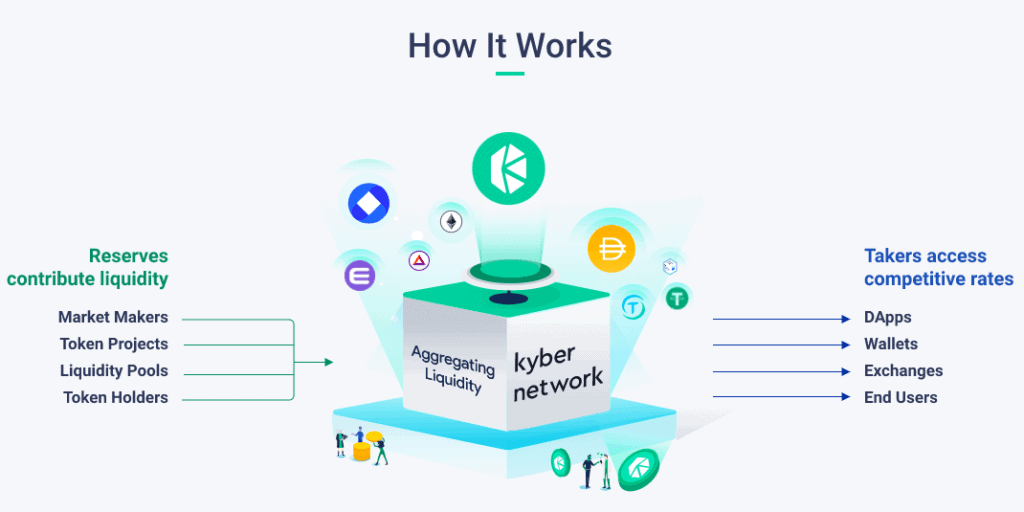 Kyber Swap Limit Orders
KyberSwap allows you to set non-custodial limit orders too, so that you don't have to monitor volatile crypto markets 24×7 and you can place orders to buy (or sell) at the rate that you define. 
What's interesting about creating a limit order in a decentralised exchange, is that you don't have to deposit any funds. Normally with a centralised exchange you have to deposit and withdraw, costing you in fees. However KyberSwap have eliminated this, so that you can create a limit order just by connecting your wallet. You'll be paying fees as little as 0.1% for successful limit orders. You'll also find that KNC holders will get reduced trading fees.
It sounds a bit strange that you're not depositing funds, but a user signs the transaction, allowing the KyberSwap smart contract to swap the token on users' behalf, at the rate and quantity set. With the signed data, once limit order conditions are met, KyberSwap will broadcast the transaction to the Ethereum network.
One thing to note is when creating limit orders, you will need to register for an account, and this involves providing an email address or linking the likes. of Gmail, Twitter or Telegram.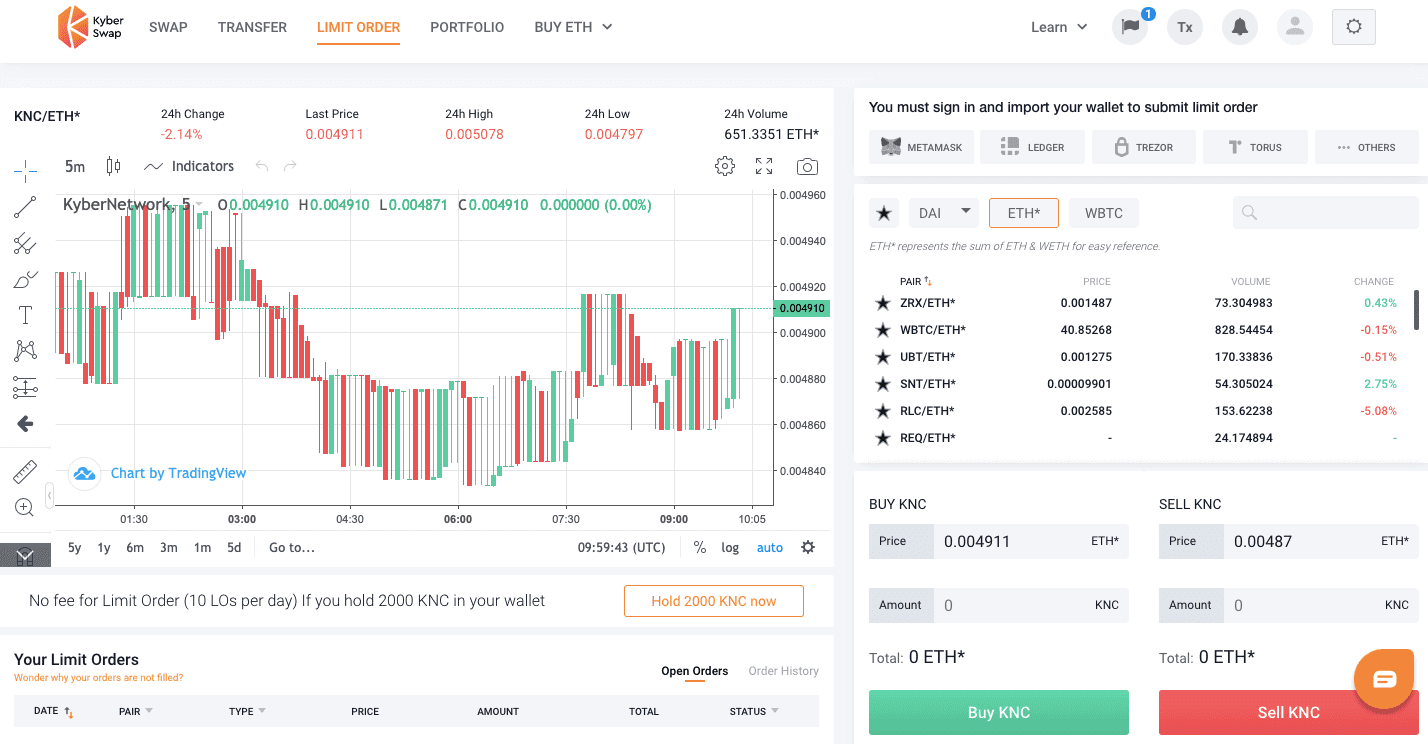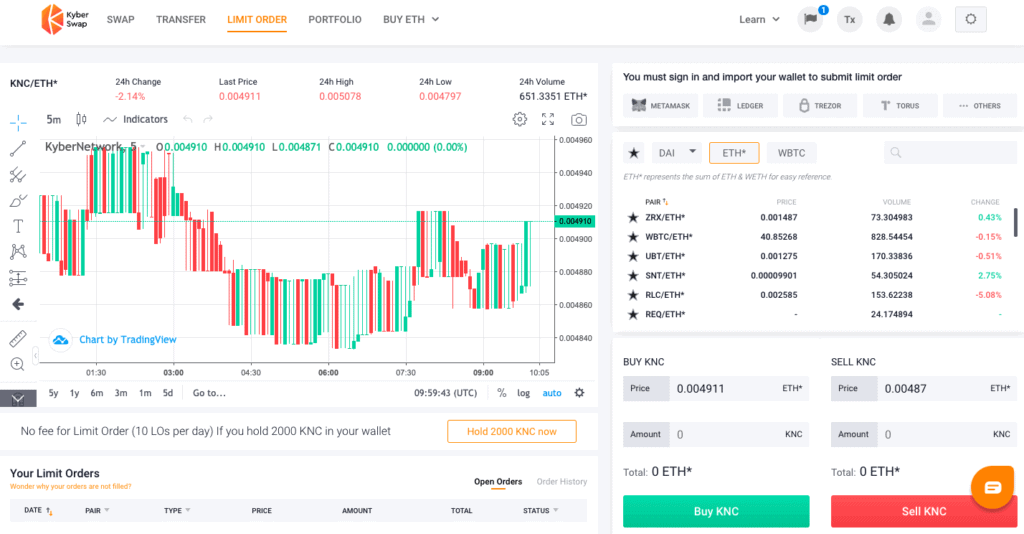 Kyber Reserve
Users can also create their own reserves and contribute funds to a reserve, however that process is still fairly technical one–something Kyber is working on making easier for users in the future.
Reserves represent decentralised liquidity powered by the community. It's built up of dedicated liquidity providers that are connected to diverse stakeholders in the ecosystem. Entities such as large token holders, fund managers and token teams can easily become reserves, they can rebalance their portfolio plus they can provide liquidity and value for the ecosystem.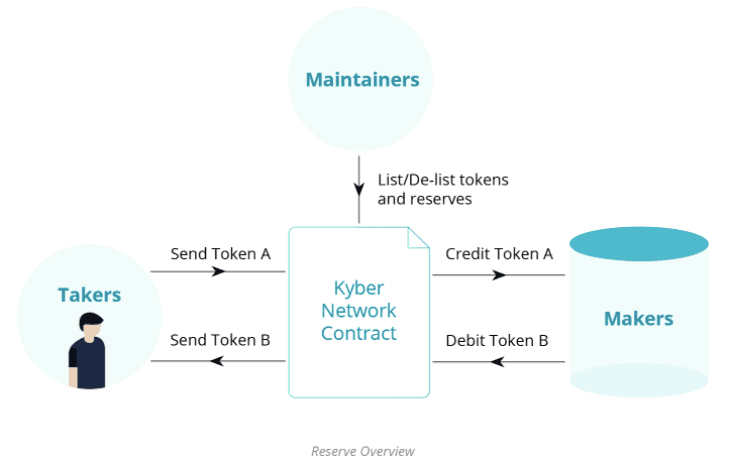 KyberDeveloper
Kyber's aim is to integrate with other protocols so they're developer-friendly. Providing architecture and technology to let anyone incorporate the technology onto any smart-contract powered blockchain. 
As a result, a variety of different dapps, vendors, and wallets use Kyber's infrastructure including Digifox, InstaDApp, and the Coinbase wallet. 
Plus they also integrate with other exchanges such as Uniswap, sharing liquidity pools between the two protocols.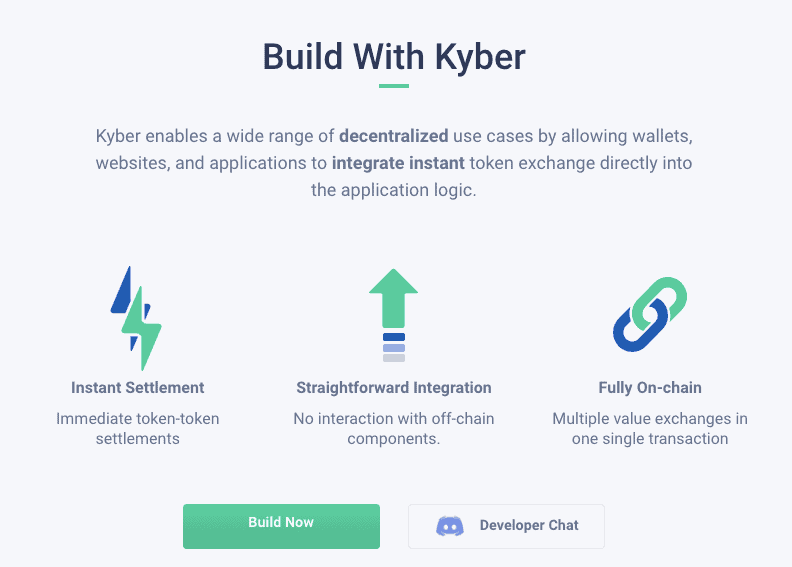 What is KNC Token?
Kyber Network have their own token Kyber Network Crystals (KNC), named after the crystals in Star Wars used to power light sabers.
The Ethereum based ERC20 token is now available on centralised exchanges such as Coinbase Pro and Binance and can be used to help reduce fees on the Kyber Network.
Kyber also plans on a major protocol upgrade called Katalyst, which will create new incentives and growth opportunities for all stakeholders in their ecosystem, especially KNC holders.  The upgrade will mean more use cases for KNC, including to use KNC to vote on governance decisions through a decentralized organization (DAO) called the KyberDAO.  

Staking KNC Tokens
Kyber Network has now added a new staking option for token holders. Meaning that holders of Kyber Network Crystal (KNC), can stake KNC to vote on important proposals. In return, they receive rewards in Ethereum from network fees collected from trading activities in Kyber Network.