In this FTX Exchange review, we'll explore why you should consider using one of the fast-growing and innovative crypto exchanges. We look at their wide range of trading options, features, and fees, plus the pros and cons.
FTX is a cryptocurrency exchange backed by the quantitative crypto trading firm and liquidity provider Alameda Research. FTX Exchange is built by traders for traders, offering a wide range of trading options and products. The popularity and rapid growth of FTX are quickly making them one of the biggest exchanges and will soon challenge the likes of Binance Exchange.
Let's jump into this FTX Exchange review to help you work out if FTX is the right crypto platform for you.
FTX Exchange Review
What is FTX Exchange?
FTX Exchange is an exchange built by traders for traders. The exchange was founded in May 2019 by its CEO Sam Bankman-Fried and backed by Alameda Research. FTX is owned by FTX trading limited, a company incorporated in Antigua and Barbuda
They focus on providing services for traders rather than investors. Using a single wallet, the FTX exchange offers various products for trading. There are three types of futures contracts, spot trading, you can also trade stocks, leveraged tokens, volatility, predictions, and trade FIAT markets.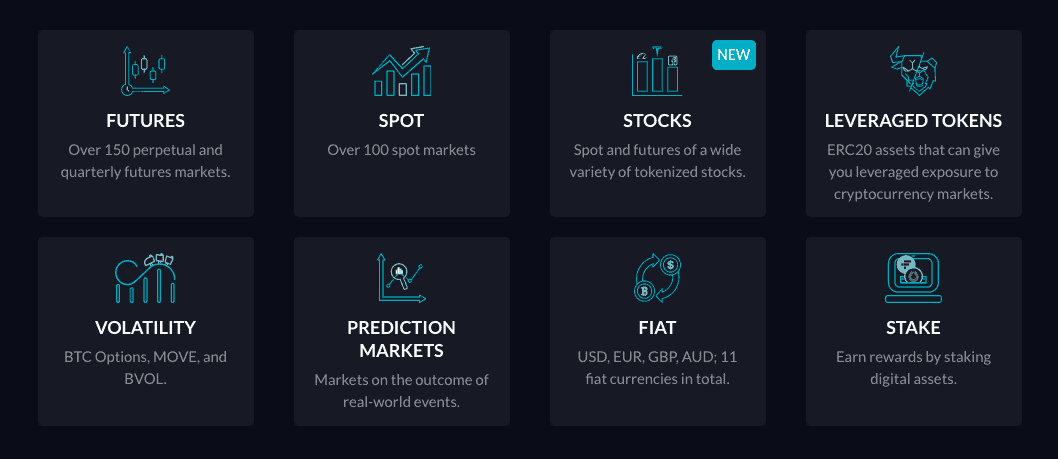 FTX.US
Since the FTX Exchanges launch, US citizens have been unable to use the platform due to strict regulations. Other countries where you cannot use the exchange include parts of Canada, Cuba, Crimea, Sevastopol, Iran, Syria, North Korea, Sudan, and Singapore.
However, as of mid-2020, the company launched its partner site, only for users in the US, the FTX US Exchange.
Since its launch, FTX has been busy! In mid-2020, the company launched its partner site, the FTX US exchange. They bought the popular crypto portfolio tracking app Blockfolio as part of a 150 million dollar deal.  They also have an alternative exchange for the Defi space (Serum), built on top of the Solana chain.
Plus, most recently, they won the naming rights to the home of the Miami Heat, which is approved by the Miami-Dade Board of county commissioners for 135 million dollars over 19 years.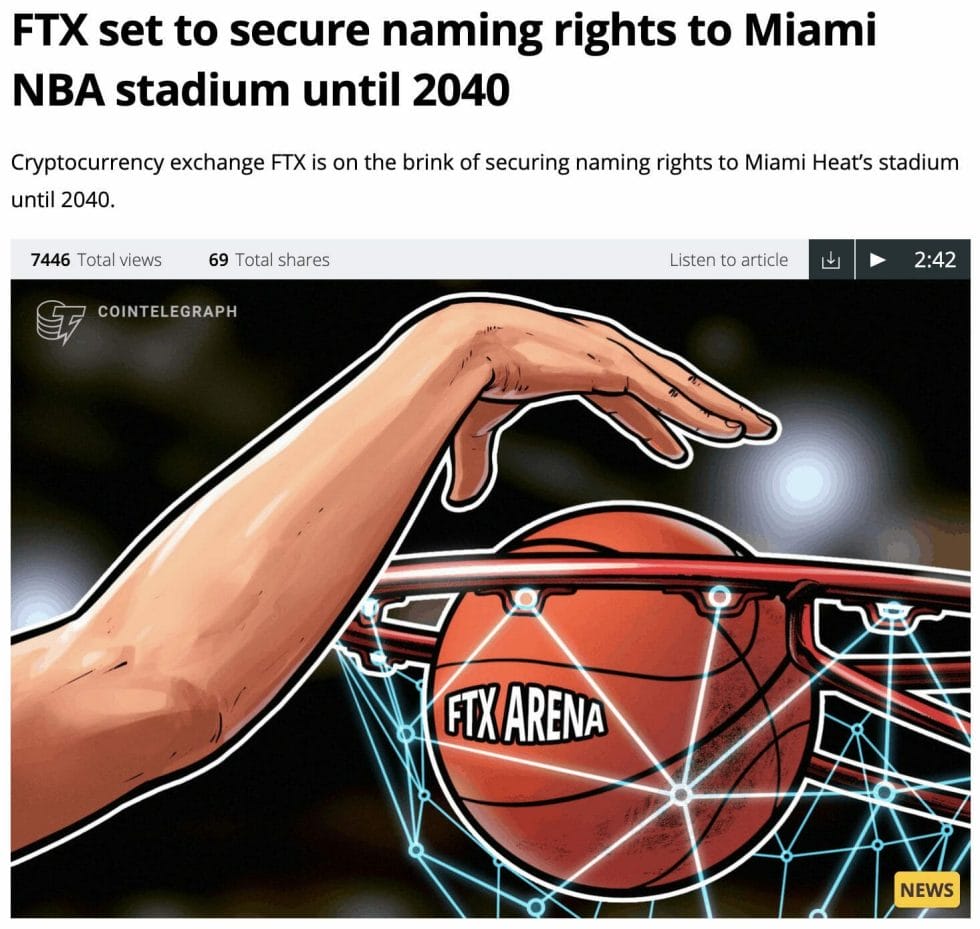 Features
FTX Exchange Mobile Apps
The FTX exchange is also available as a downloadable app for Android, Google, and Apple IOS devices.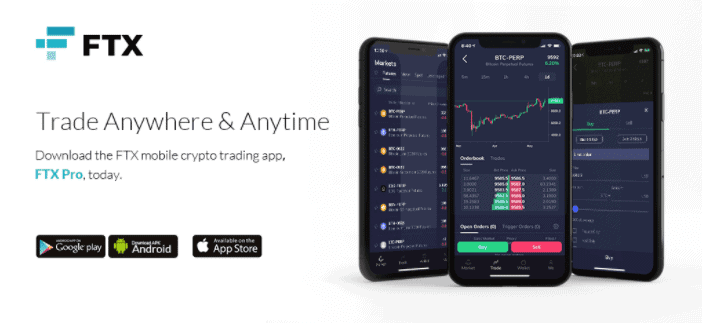 FTX App
FTX App was and was initially launched as Blockfolio in 2014 as a place where people could track their cryptocurrency portfolios. However, after catching the attention of FTX (who later acquired Blockfolio in mid-2020), the app now has trading inbuilt where users can trade crypto, tokenised stocks, NFTs and FIAT currencies. Over 6 million people are now using the mobile app, which is available from the App Store or Google Play.
With FTX Blockfolio, users can track the price of various cryptos and the performance of their holdings whilst getting the latest news and team updates.
FTT Token
FTT is the native token of the FTX exchange and can be used on the exchange to help to reduce trading fees. One of the major benefits of holding the FTT token is the ability to withdraw Ethereum and ERC20 tokens for free.
Staking FTT Token
The FTT token can also be staked on FTX Exchange; by staking the FTT token, you will receive the following benefits;
Increased Referral Rates: Referrers that stake FTT will be paid a higher fraction of their referees' fees
Maker Fee Rebates: Stakers get maker fee rebates (in addition to the standard FTT fee discounts)
Bonus Votes: Stakers get bonus votes in FTX polls
Airdrop Rewards: Stakers will receive increased SRM airdrops 

Staking
The FTX exchange allows the staking of its native tokens for benefits. The FTX native token is FTT which gives you the following benefits.
Increased referral rates: referrers that stake FTT are paid a higher fraction of their referees' fees
Maker fee rebates: stakers get maker fee rebates (in addition to the standard FTT fee discounts)
Bonus votes: stakers get bonus votes in our polls (in addition to the standard number of votes, based on FTT held and trading volume)
Increased airdrop rewards: stakers get increased SRM airdrops (and potentially later other airdrops and yield)
On their website, you can also stake UBXT, SRM, FIDA, SOL, and RAY for different rewards.
Trading Derivatives
Using a single margin wallet, the FTX exchange offers five types of cryptocurrency derivatives products that can be used when trading. These are listed below.
Futures Trading: There are three types of futures contracts that you can use on the platform. A contract that expires this quarter, one that expires next quarter or a perpetual futures contract. Several popular coins can be used for this, including BTC, ETH and USDT.
Leveraged Tokens: You can buy and sell these tokens with up to 3X leverage and no margin requirements.
Spot Trading: Trading following the underlying price of the asset.
Move: Contracts that represent the absolute value of the amount of the price of a coin move over a certain time period.
Options: Advanced traders can use these contracts to give holders the right to buy or sell futures stake prices, but not the obligation.
Tokenised Stocks
The FTX exchange offers the opportunity to trade on tokenized stocks. With digital assets like Tesla, Apple, Amazon, Facebook, Netflix, Google, Spy, Bilibili, Alibaba, Beyond Meat, Pfizer, and BioNTech.
The exchange has a large range of trading pairs with these stocks, where you can trade in the same way you would with other spot markets. You will also need to be at least KYC 2 on the exchange to use this service.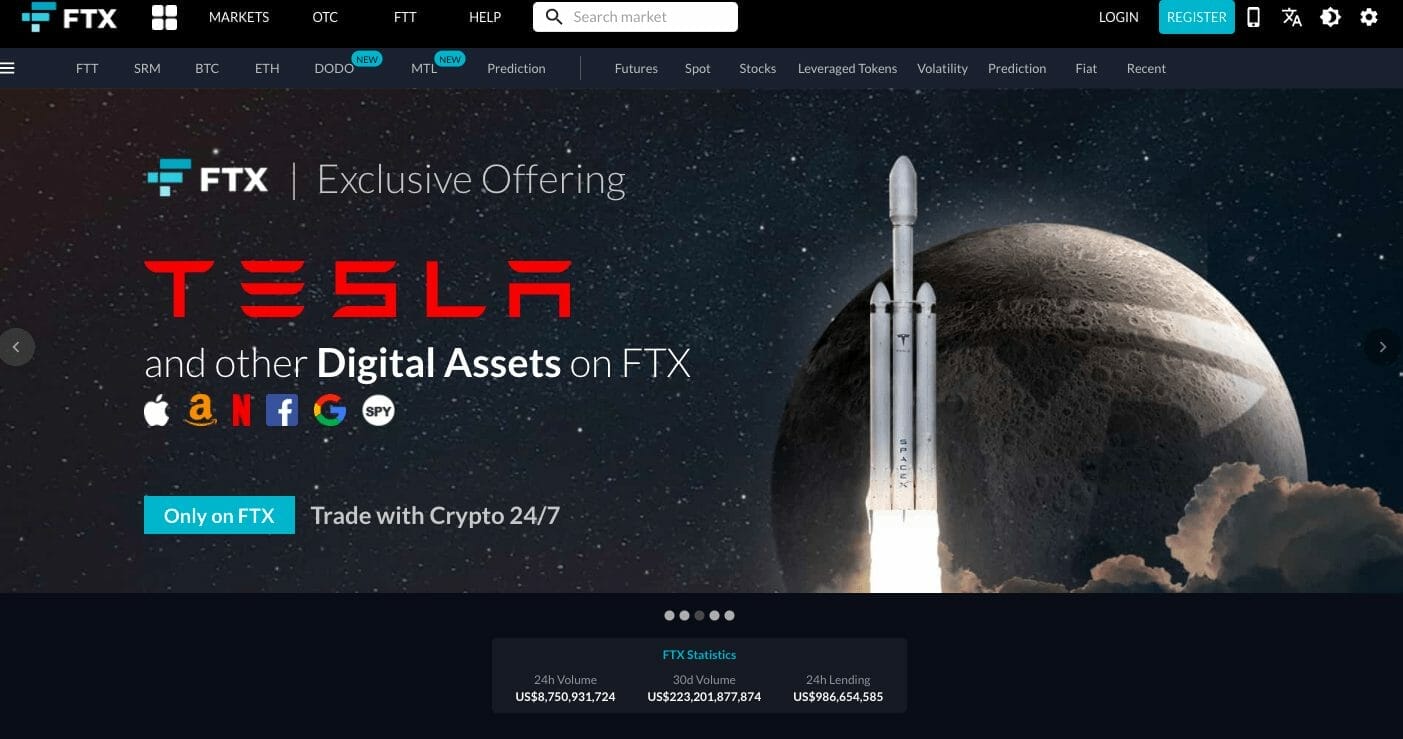 FTX Deposit Methods
With the FTX exchange, there is a wide range of deposit methods. Regarding FIAT, FTX currently supports ten currencies for withdrawals and deposits; USD, EUR, GBP, AUD, HKD, SGD, ZAR, CAD, CHF, and BRL.
All FIAT supported on the exchange can be deposited by wire transfer and credit card, although wire transfers can only be completed on a weekday or in the evening UTC. Paypal was also supported as a deposit method; however, this has been temporarily paused at the time of writing.
You can also deposit using cryptocurrencies such as BTC, ETH, BCH, BNB, LTC, FTT, USDT, etc. When depositing cryptocurrencies, generally, these are free of charge. However, if you are withdrawing ETH/ERC20 or Omni, you must pay the blockchain fees unless you have 150 FTT staked.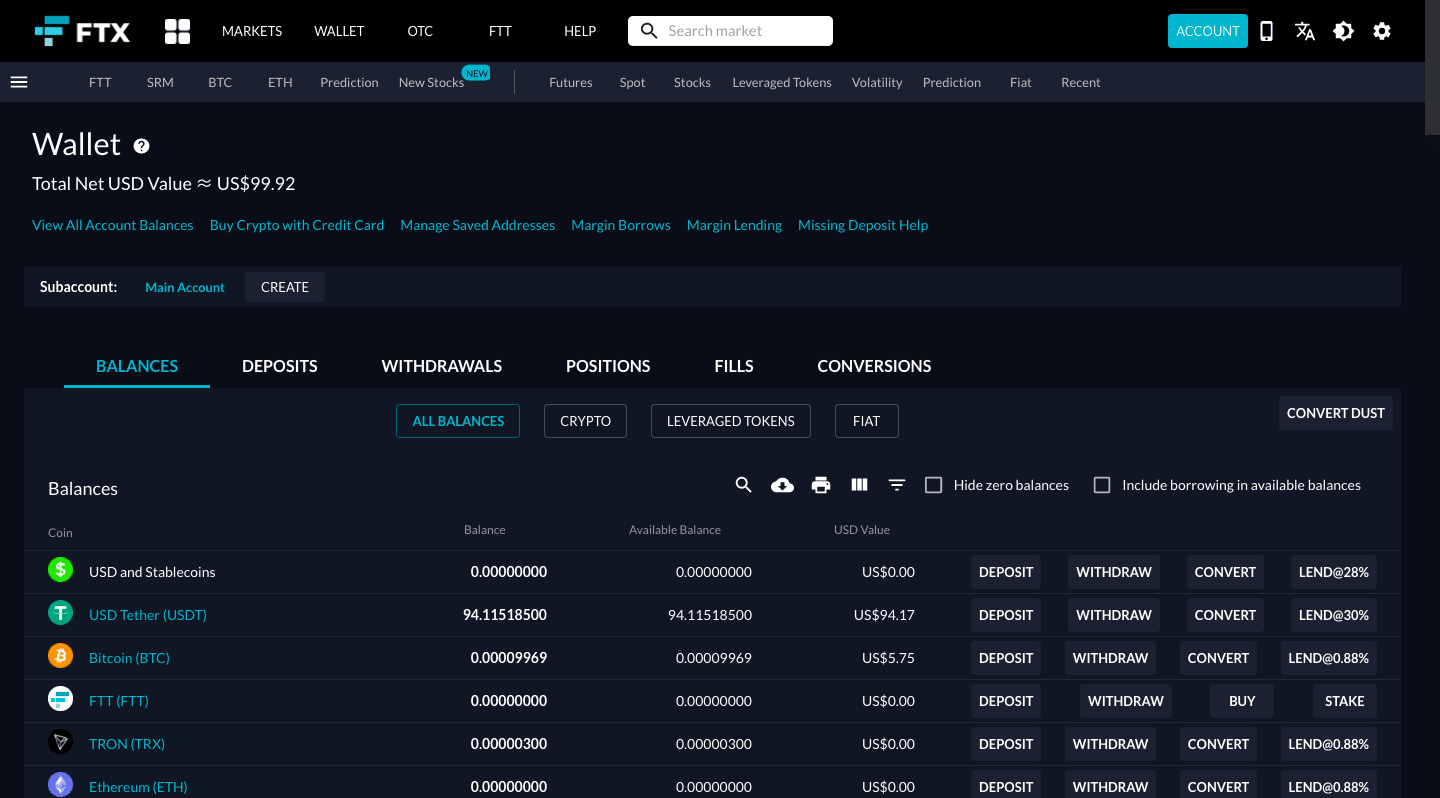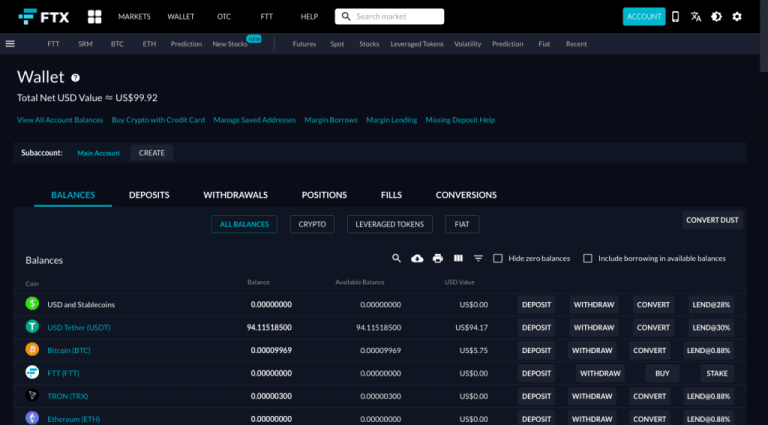 FTX Supported Cryptocurrencies
You can trade with various cryptocurrencies and FIAT assets with FTX. These include the likes of Bitcoin, ETH, USDT, FTT, SOL, and BNB.
FTX Exchange Fees
Trading fees on the FTX exchange are incredibly cheap, even for those who are smaller investors and not trading in larger volumes. They work on a maker-taker model for futures and spot markets with fees from 0.04% to 0.07%.
You can see from the table below that they also work in a tiered system in which high-volume traders have lower trading fees. There are also fees associated depending on the leverage used, up to 0.03%.
With regards to Leveraged tokens, these have creation and redemption fees of 0.10% and management fees of 0.03% daily.
The exchange also discounts fees dependent on purchases of their native token- FTT. You can see in the table below these discounts are dependent on how much FTT you hold.
Verdict: Should you use FTX Exchange?
Moving away and trying something new is very difficult when you get used to a Crypto exchange. But with FTX offering low trading fees and free withdrawals for holding and staking their FTT token, I finally gave in. I still use Binance, as the number of supported cryptos is unmatched, but it's always worth having a second option and backup exchange.
It´s good and healthy for crypto to see another platform challenging Binance dominants. Hopefully, the innovation and growth from Sam and the team will continue, and it will also be nice to see the FTT tokens grow in our portfolio.