In this Dharma wallet review, we take a deep dive into the beginner-friendly, Ethereum-based mobile smart wallet. We take a look at the history of Dharma Labs, features, fees, support and the wallet's pros/cons.
If you're new to Dharma they offer an impressive $100 ETH sign-up bonus. Use referral code NZPRJC at sign-up or download Dharma wallet here.
Dharma Wallet Review
What is Dharma?
Dharma is anon-custodial smart contract wallet, which integrates DeFi DApps all within the mobile app. They aim to be the gateway to Decentralised Finance also known as DeFi. Making it easy to invest in crypto-assets, using lending pools, providing liquidity on DEXs and staking your assets to earn interest.
Who are Dharma Labs?
Dharma Labs was founded in San Francisco in 2017 by Brendan Forster and Nadav Hollander. Since its initial launch, the application has undergone significant upgrades and attracted funding from venture capital firms in Silicon Valley such as Y-Combinator, Polychain and Coinbase Ventures.
Since 2017, Dharma Labs has raised $7.1m in funding over 4 rounds from 13 investors.
Dharma Labs is a protocol for generic tokenized debt agreements. Dharma enables open, permissionless innovation in the lending industry, enabling aspiring entrepreneurs to build lending companies that take advantage of blockchain technology. Whether it's a consumer lending platform, a margin lending network, or a platform for crowdfunding municipal bonds, you can quickly and securely build your lending company on Dharma.
OpenSea Acquisition
In January 2022, NFT marketplace OpenSea acquired Dharma Labs, just weeks after receiving a $13.3 billion valuation in its latest funding round.
As per the announcement by OpenSea, they stated that; "Our teams share a vision that NFTs will be the cultural focal point of crypto's adoption for years to come — and that vision can only be realized if using NFTs becomes easy and delightful for the average person," OpenSea CEO Devin Finzer said in the post. "Ultimately, we believe this union will be a force multiplier for NFTs and Web3 adoption, and help us dramatically improve the experience of buying, minting and selling NFTs on OpenSea — whether you're a beginner or a pro."
As part of this announcement, Dharma Labs CEO and Co-Founder Nadav Hollander will now become OpenSea's new chief technology officer.
Dharma Features
Dharma currently supports a number of DeFi applications including some of the most popular DEXs and platforms for earning interest.
With the Dharma Wallet, you also get access to the Uniswap Decentralized Exchange on your mobile phone, where you can engage in spot trading with access to more than 2000 tokens. You can also view price charts and get price alerts for the crypto exchange from inside your Dharma wallet. 
WalletConnect
WalletConnect gives users the ability to establish a remote connection between supported Ethereum base wallets and DApps (Web3 Apps). Using WalletConnect with your Dharma smart wallet you can connect to DEXs, NFT marketplaces, DeFi dashboards and lending protocols on both desktop and mobile.
Simply open your Dharma app and click on the 'Scan' button. Use the QR scanner with the supported WalletConnect QR code and you will be connected within a few seconds.
DeFi Apps on Dharma Wallet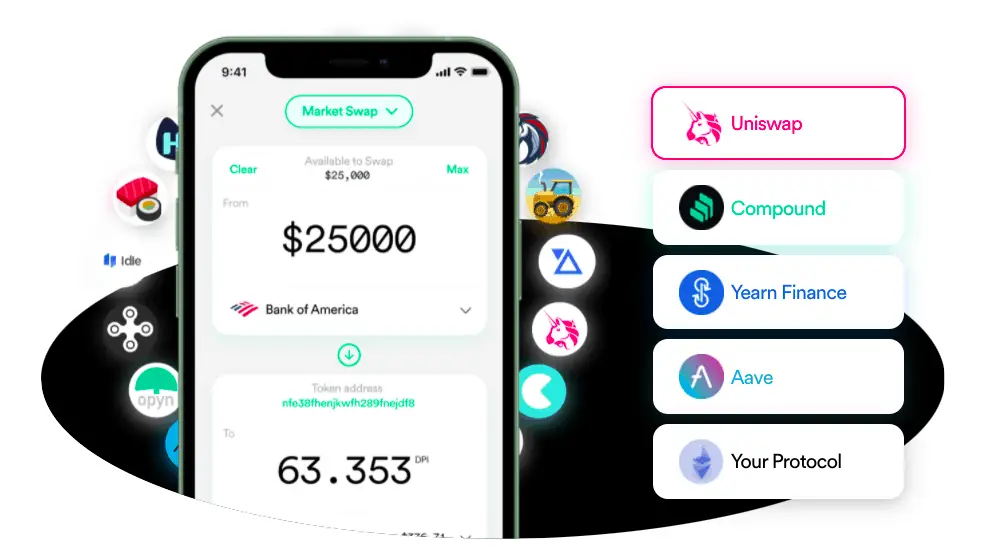 Polygon on Dharma
Ethereum Network fees were becoming a major issue when interacting with the Ethereum Mainnet. In September 2021, Dharma announced they would be integrating with Polygon and stated that ¨now users around the world can experience the magic of DeFi, through a beautiful and intuitive user experience, with zero network fees.¨
Now, users can buy any token on the top 30 decentralized exchanges with Polygon, using the 1inch DEX aggregator to find the best prices.
Polygon, Dharma users can;
Buy thousands of tokens, directly from a US-bank account
Sell tokens for dollars in your bank account without leaving Polygon
Swap thousands of tokens with near-instant confirmation
Transfer tokens to other Polygon users around the globe
Dharma Fees on Polygon
Dharma will cover network fees within their smart wallet up to $0.50, and anything above $0.50 will be paid for by the user. When buying, selling or swapping crypto on Polygon, Dharma will charge a fee of $1.99 or 0.5% (whichever is larger) of the trade size.
How to Buy Tokens on Dharma with Polygon
Go to the 'Ethereum' network tab in the top left
Switch from 'Ethereum Wallet' to 'Polygon wallet'
Tap 'Buy Crypto' at the bottom of the App
Select a source 'Add Bank Account' (US Customers Only) or 'Deposit Crypto'
Once a deposit has been made, you can buy your tokens on Polygon with zero fees
How to Sell Tokens on Dharma with Polygon
Select your token on your Polygon wallet
Tap 'Sell'
Select your bank account as the destination
Confirm your sale (with zero network fees) and the dollars will be en route to your bank account.
Unfortunately, we are unable to confirm this process as we are outside of the US.
What Tokens Do Dharma Support?
Dharma Supports more than 76,000+ ERC20 tokens on the Ethereum network. However, Dharma isn´t a cross-chain wallet so you want to be able to hold the likes of Bitcoin BTC, Cardano ADA or Polkadot DOT unless they are wrapped on the Ethereum network.
When you deposit FIAT into Dharma it will be converted into USDC, which can then be swapped for Ethereum or another ERC20 token using the 1inch DEX.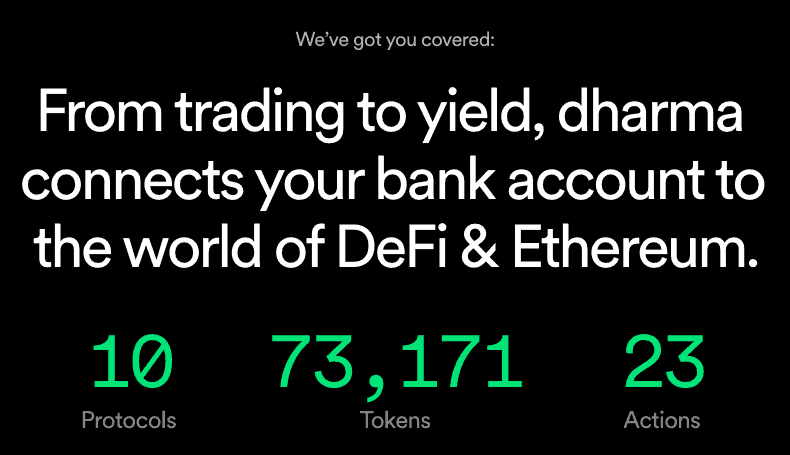 Dharma Fees
When interacting with Dharma Wallet, users will pay two types of fees, Network and Dharma fees. Network fees arenot charged by Dharma and are set by the network miners and validators. These fees will also depend on whether you're using Ethereum Mainnet or the Polygon network. If you´re using the Ethereum Mainnet the fees are likely to be substantial compared to Polygon.
Now, with the introduction of the Polygon Network, Dharma users have a second option and the Network fees are mostly absorbed by Dharma. Dharma will pay for the Polygon Network fees up to $0.50 (which should cover the vast majority of transactions). Anything above $0.50 will be paid by the user.
How Dharma Makes Money?
Obviously, Dharma needs to make money to be able to continue to innovate and fund their day to day operations. Some of the transactions on Dharma don't incur a fee, such as; buying & selling tokens from/to your bank account, swapping tokens and investing in yield protocols
The fees Dharma charge will depend on your location and if you're in the US this will come down to the individual state;
Dharma users in US states (AZ, CA, GA, IL, MD, MA, MI, MT, NH, PA, TX, UT, VA, WA, WI, WY) will incur the below fees;

Every transaction that has a Dharma fee will be charged a min fee of $1.99
Fees start at 1% of the transaction value & decrease with the size of the transaction

Dharma users outside of the states mentioned above will incur the below fees;

Every transaction that has a Dharma fee will be charged a min fee of $2.49
Fees start at 1.2% of the transaction value & decrease with the size of the transaction
Dharma Gas Lite
Dharma Wallet's Gas Lite feature allows users to save up to 50-80% on GAS fees when trading on the Ethereum network. So, how is this possible? When depositing to protocols like Aave, Compound or Yearn, Dharma batches these transactions, and then divides the GAS fees paid among the users. This way users' GAS fees are reduced by up to 80%.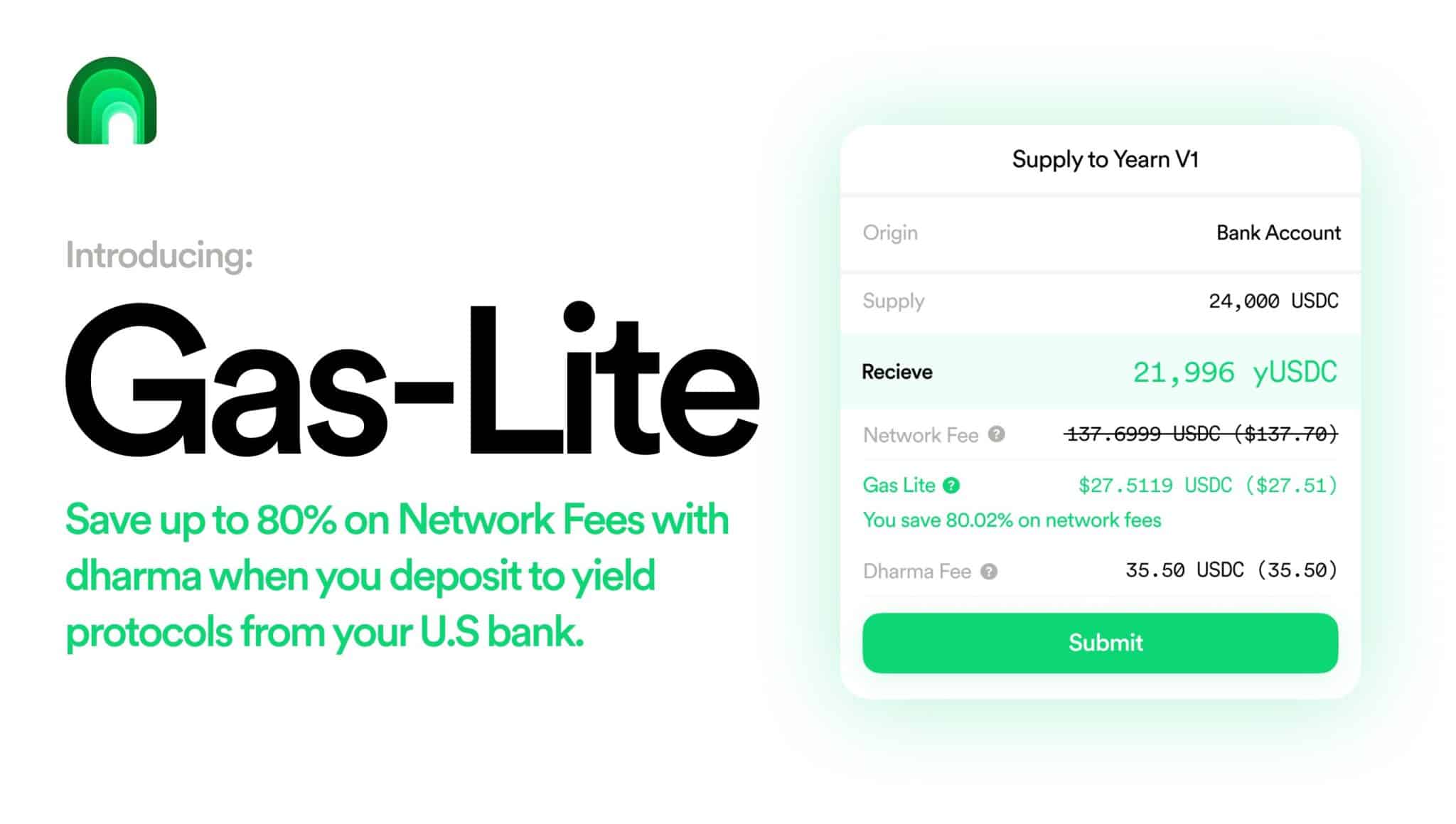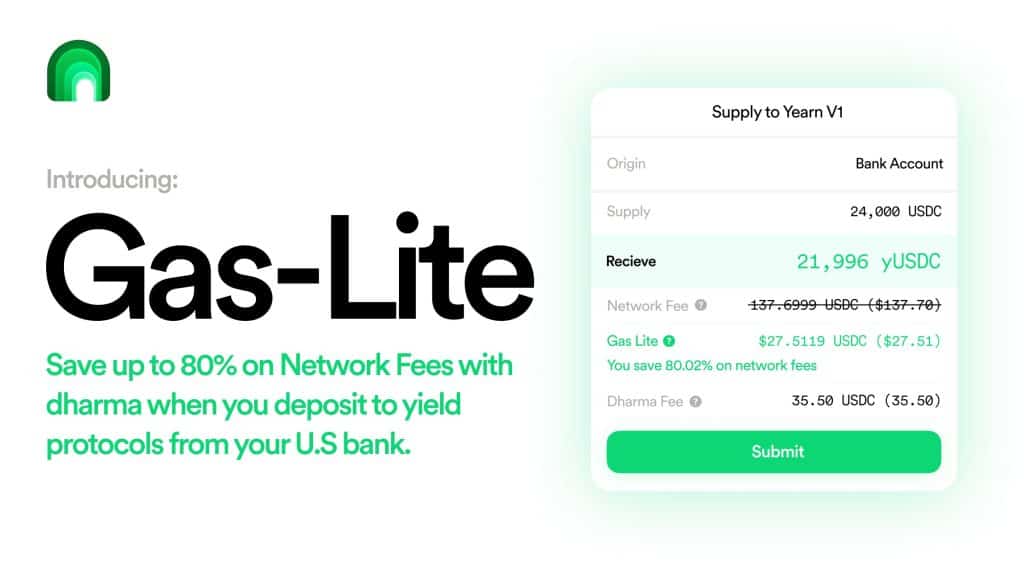 Is Dharma Wallet Safe
Dharma uses Plaid and Stripe to verify your account, which is extremely trustworthy and used by renowned financial services such as Cash App and Venmo. Hence, it is safe to say that Dharma is a highly secure wallet and has been designed to protect the user.
It's important to enable all of the security features offered by Dharma.
Use a Secure Password (password managers like LastPass can store & generate randomly secure passwords for you)
Enable Two-Factor Authentication (2FA) 
Enable Biometric Authentication (eg. FaceID or TouchID on iOS, fingerprint or facial recognition on Android)
Non-Custodial
Dharma is a non-custodial wallet, meaning you are your own custodian. You will often hear in crypto, 'Not Your Keys, Not Your Crypto'. Essentially, when you are your own custodian, your crypto assets are your own and no one else has access without your consent. Not even Dharma or governments could access your account without your permission.
It's important to keep your account secured, and not share your password or account details. If someone was able to access your account they would have full possession and there's would be no way to retrieve your crypto.
Normally non-custodial wallets such as MetaMask or Ledger hardware wallet, you would need to backup your private keys and keep your 12 or 24-word seed phrase secure and protected. However, Dharma takes the burden of storing your seed phase and archives the same level of security by using smart contracts similar to Argent.
Account Recovery
Your keys are stored securely on your device, ensuring that no one can interact with your crypto without your permission. In case you lose access to your account, there is an account recovery feature where you can request a new private key for your Wallet.
If your device is lost, stolen, or broken, or if you want to move your account to a new device, you can perform an Account Recovery to regain access to your funds on a new device. The process is fully automated and takes 72 hours to complete.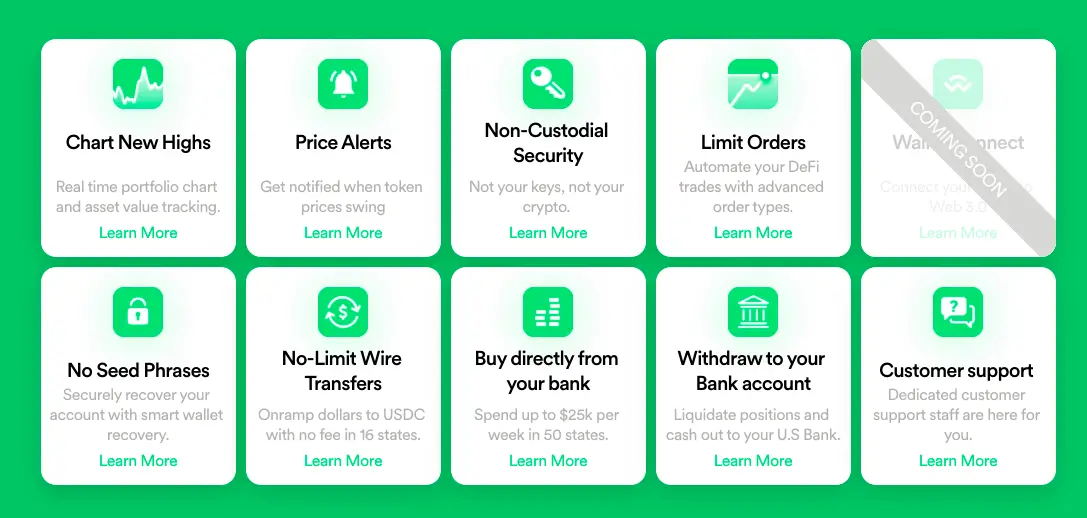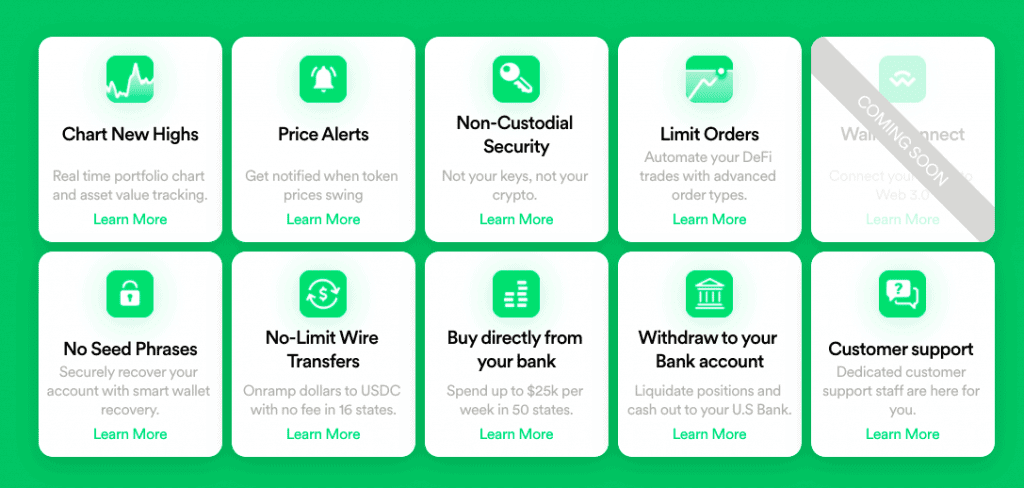 Where is Dharma Available?
Dharma is available in most countries, however, they are currently US-focused and available in all 50 states.
Dharma Support
Unfortunately, Dharma doesn't have support inbuilt into their smart wallet. However, they do have live chat support available on their website through Dharma Zendesk. They also offer a detailed FAQ section to find commonly asked questions from inside their app.
During my research, I found out that they had a poor rating of 1.9 on Trustpilot with 21 reviews. However, I would always take reviews on the likes of Trustpilot with a pinch of salt, as the majority of users will leave a negative review (rather than a positive review).
You can also interact with Dharma's community over on their Discord channel or Twitter
Conclusion
Dharma is a slick, user-friendly Ethereum-based mobile wallet and a great option if you would like to participate in the DeFi (decentralized finance) ecosystem. However, this may put off beginners who want to buy Bitcoin BTC or the latest moon coin on the Binance Smart Chain.
Their FIAT to crypto onramp feature is fantastic if you're based in the US. However, being US-focused does alienate a large audience. Hopefully, this will be something they will address sooner rather than later, but crypto is fast-moving and users are quick to move on.
Personally, for me, it would be nice if they had a desktop version. Although the user experience on the app is great, I feel mobile applications do have some limited functionality.
Related Posts