In this guide, we have compiled a list of the top 10 cryptocurrency exchanges for US investors in 2023. We've done the research to make it easier for you to select the best exchange to meet your trading needs. We evaluate each exchange and compare their offerings, costs, and supported cryptocurrencies.
Cryptocurrency is becoming increasingly popular in the US, and American investors have numerous options available to them in 2023. However, there are several factors to consider when selecting a platform, such as liquidity, trading volume, fees, and security. This can be especially overwhelming for those new to the space.
So, let's delve into our guide on the best cryptocurrency exchanges for US investors in 2023 and assist you in finding the right exchange for you.
Best Cryptocurrency Exchanges for US Investors
As the demand for digital assets increases, American investors are searching for reliable methods to buy and sell crypto. Selecting a trustworthy trading platform is crucial for finding the best cryptocurrency exchange. However, it can be difficult for newcomers to choose which platform to use.
Fortunately, there are numerous high-quality cryptocurrency exchanges accessible to American investors. This guide will present some of the best crypto exchanges that we have personally utilized. It will also identify the reasons why we chose them as our top picks and outline the advantages and disadvantages of each platform. This will help you decide which is the best cryptocurrency exchange for you.
So without further ado, let's get started! Here is our list of the best crypto exchanges US investors should consider for 2023;


1. Binance US
Binance US is a digital asset exchange that provides access to the most popular cryptocurrencies offering some of the lowest fees in the industry. It was launched in September 2019, with headquartered in Florida, established to serve U.S. consumers and adhere to U.S. regulations. Binance US supports over 5,660 trading pairs, 46 states, and over 150 popular cryptocurrencies, making it one of the largest U.S. crypto platforms.
The platform is affiliated with Binance, a global digital asset exchange founded by Changpeng Zhao in 2017, which has rapidly become one of the most well-known cryptocurrency exchanges worldwide. While Binance was the victim of a large-scale hack in May 2019, in which over $40 million worth of bitcoins were stolen, Binance US was established later that year to specifically cater to U.S. customers and comply with U.S. regulations, providing a separate and secure platform for its users.
Binance Features:
Binance offers many features to its users, making it one of the most popular crypto exchanges in the world. One of the most impressive features of Binance is its advanced trading platform. It offers users a variety of tools, charts, and order types to take advantage of. Binance also has a wide range of altcoins to trade, with many new coins being added monthly. 
Binance also offers users the ability to margin trade and use leverage. This means that users can trade on borrowed funds and potentially increase their profits.
However, Binance is not limited to trading. It offers various financial services for your crypto assets, including staking, liquidity pools and swaps, derivatives, education, and its self-custody crypto wallet Trust Wallet.
Binance also provides users with plenty of security features, including two-factor authentication, cold storage of funds, and 24/7 customer support.
Is Binance US FDIC Insured?
Binance.US provides FDIC insurance for its U.S. dollar deposits and not crypto assets. USD deposits are held in pooled custodial accounts at different banks, and they are insured up to $250,000 for bank failure by the Federal Deposit Insurance Corporation (FDIC).
2. Uphold
Uphold is a multi-currency investment provider founded by serial entrepreneur Halsey Minor in 2013. The company is headquartered in the US and is one of the best American crypto exchanges. It operates in six countries: the US, Spain, Ireland, Switzerland, Australia, and New Zealand.
Uphold's US subsidiary, "Uphold US Inc." has received regulatory approval as a Registered Crypto Asset service provider. This means that they are in compliance with the US Anti-Money Laundering and Counter-Terrorist Financing regulations.
With Uphold, businesses and individuals can invest and exchange various assets, including cryptocurrencies, national currencies, precious metals, and US equities.
Uphold offers commission-free trading on a range of products, with crypto trading pairs available via its app and web platforms. Additionally, account holders can benefit from digital wallets, in which currencies can be easily stored and exchanged. Uphold is a popular choice for those looking to trade online with confidence and security as a well-regulated and robustly safeguarded investment provider.
Uphold Features:
One of the primary USPs of Uphold is their 'anything to anything' asset conversion offering. Depending on your location, you can trade assets directly with a bank account, cryptocurrency network, precious metals, US equities or debit/credit card.
Uphold also have a debit card, enabling smooth transactions using a range of cryptos, metals, and currencies. Plus, you can earn 1% back in USD for every USD-sourced transaction and 2% back in the cryptocurrency used for every crypto purchase.
Uphold also offers a mobile app for on-the-go trading.
Is Uphold FDIC Insured?
Uphold crypto assets are not covered by the Federal Deposit Insurance Corporation (FDIC), SIPC insurance, or any other type of insurance. However, deposits of U.S. dollars held on the platform in U.S. dollars may be eligible for pass-through FDIC insurance if the associated bank fails, with coverage up to $250,000 per depositor.
3. Kraken
Kraken Exchange is one of the oldest crypto exchanges, having operated since 2013. The platform is another great option for new American traders, with a simple and basic interface to get started with, whilst also being a good option for more advanced traders. It offers American users more than 150 different cryptocurrencies to trade, buy, and sell.
With Kraken, American users can trade with six fiat currencies: USD, Japanese Yen, American dollars, Euros, and Australian dollars. Kraken trading fees range from 0% up to 0.26%, which is pretty low for a crypto exchange. It's also considered a very secure space to trade digital currencies, with most of its cryptocurrency stored offline.
Kraken Features:
With Kraken Exchange, there are many trading features including; spot markets, futures trading with up to 50x leverage and margin trading to open larger positions. Plus, they offer various order types like limit, market, stop, trailing stop, and fill or kill.
Regarding staking options, users can stake Polkadot, Cosmos and Tezos with Kraken. Plus, in some countries, you can even stake FIAT currencies such as Euros and US dollars too.
Is Kraken FDIC Insured?
Kraken is not FDIC insured. Cryptocurrency exchanges, including Kraken, do not qualify for deposit insurance programs because they are not savings institutions. Deposits at Kraken Bank, when operational, will not be insured by the Federal Deposit Insurance Corporation (FDIC).
4. Coinbase
Next is Coinbase, which in contrast to Binance, can be expensive in terms of fees. However, Coinbase is very user-friendly, and most people getting into crypto tend to start here, especially with sign-up offers such as their £5 free Bitcoin. The interface is easy to use and ideal for newbies with their simple buying process.
However, these newbies will soon be aware that Coinbase has some of the highest trading fees among all the crypto exchanges, ranging from 1.49 to 3.99% for trading digital assets on Coinbase and from 0.5% with Advanced Trade, which has a wider range of tokens and is more aimed at experienced traders.
Coinbase supports customers in over 30 countries, including the United States, most of Europe, Singapore, Canada, and Australia, with some very high volume and liquidity. 
Coinbase Features:
Coinbase offers a wide range of features for users. It offers a simple and user-friendly interface for various trading pairs between different cryptocurrencies and supports FIAT to crypto pairs. They also offer advanced order types and charting with Advanced Trade for more advanced traders.
The cryptocurrency exchange platform is not limited to trading. Coinbase Earn offers ways to put your crypto to work and earn rewards, or you can take quizzes and earn free crypto. Plus, there's the Coinbase self-custody crypto wallet, the Coinbase Card, ways to borrow, create and collect NFTs and a subscription-based service.
Another thing that makes Coinbase one of the top crypto exchanges is its security. While multiple attempts have breached the exchange's security, Coinbase has yet to suffer a huge hack, and they store 97% of bitcoins offline.
Is Coinbase FDIC Insured?
Coinbase is not an FDIC-insured bank, and cryptocurrencies held on the platform are not insured or guaranteed by the Federal Deposit Insurance Corporation (FDIC) or Securities Investor Protection Corporation (SIPC). However, the fiat value of your Coinbase wallet is insured up to $250,000; this is due to a large portion of Coinbase's customer deposits being held by custodial banks that are insured by the FDIC.
It is important to note that cryptocurrency itself is not legal tender, not backed by the government, and not insured by the FDIC or SIPC.
5. Crypto.com
Crypto.com was founded in 2016 and has its headquarters situated in Singapore. They were previously known as Monaco before being rebranded to Crypto.com in July 2018, paying between $5 million to $10 million for the domain.
Since its launch in 2016, they have become one of the fastest-growing companies in the crypto space, with over 10 million users worldwide. They continue to innovate and add more features to their platforms, such as their popular Visa debit card and, more recently, NFTs. Making it a one-stop shop for crypto enthusiasts.
Crypto.com Features:
Crypto.com offers users an array of features and products, including the Crypto.com App, where users can buy crypto, including Bitcoin and 100+ cryptocurrencies, with a credit/debit card or via bank transfers.
One of the most popular features is their Crypto.com Visa Debit Card, where users can receive cashback on purchases between 1% and 8%, plus free Spotify, Prime and Netflix subscriptions.
The Crypto.com exchange is their platform for users to trade crypto to crypto with more advanced order types, low fees and deep liquidity. They also have an additional range of products within the exchange, including The Syndicate, Supercharger and Lending.
There are also ways for users to stake and earn from their crypto, DeFi services and an NFT marketplace.
Is Crypto.com FDIC Insured?
Crypto.com is not FDIC insured for crypto asset investments. FDIC insurance only applies to USD balances held at insured depository institutions, covering up to $250,000 if the respective FDIC member fails. It does not protect your funds in the event of Crypto.com's failure or from the risk of theft or fraud.
However, Crypto.com has secured a $100 million direct insurance policy led by Arch Underwriting at Lloyd's Syndicate 2012 to cover its cold storage assets on custodial partner Ledger Vault, providing some security protection for its users.
6. Gemini
Gemini Exchange is a good option for users looking to buy crypto or sell it with fiat money, with bank deposits and withdrawals.
It is a regulated cryptocurrency exchange, wallet, and custodian that makes buying Bitcoin, Ethereum, and various other digital assets simple and secure. The cryptocurrency exchange was launched in 2015 in the US by the Winklevoss twins Cameron & Tyler, who rose to fame in 2004 after they sued Mark Zuckerberg over Facebook. The company has now expanded its operations to Europe and Asia.
Gemini Features
Gemini exchange offers an array of features for their users with a streamlined trading view and simple ways to trade assets, manage your holdings and set recurring buys.
For the more advanced trader, Gemini has ActiveTrader, their inbuilt advanced trading platform with more advanced order types, charts and lower trading fees.
Plus, they have their own Gemini wallet, a secure way to store your crypto assets.
Is Gemini FDIC Insured?
Gemini is not FDIC-insured for cryptocurrencies. However, U.S. dollars held in your Gemini account may be eligible for FDIC "pass-through" insurance, subject to applicable limitations. According to the Gemini User Agreement, U.S. dollars held within your Gemini account are eligible for FDIC insurance, but digital assets or cryptocurrencies held within your account are not FDIC insured.
7. eToro
eToro is a popular platform for investors to trade stocks, ETFs, cryptocurrencies, and CFDs. Founded in 2007 by three entrepreneurs, the platform is now trusted by millions of customers worldwide. The aim of eToro was to make trading accessible to anyone, anywhere, and reduce dependency on traditional financial institutions. eToro is regulated by the UK's Financial Conduct Authority (FCA). 
There are hundreds of different financial assets to trade on eToro, which can be traded using various investment strategies. Sometimes you will own the underlying assets, such as long (BUY), non-leveraged positions on stocks and cryptos. They also employ CFDs, enabling various options, such as short (SELL) positions, leveraged trades, fractional ownership, etc.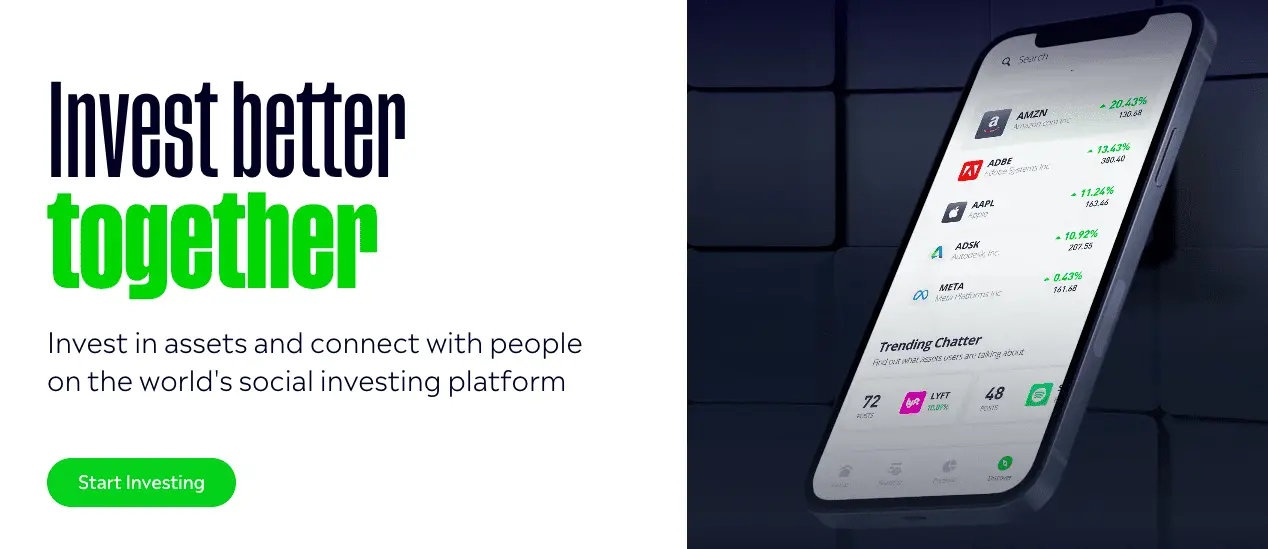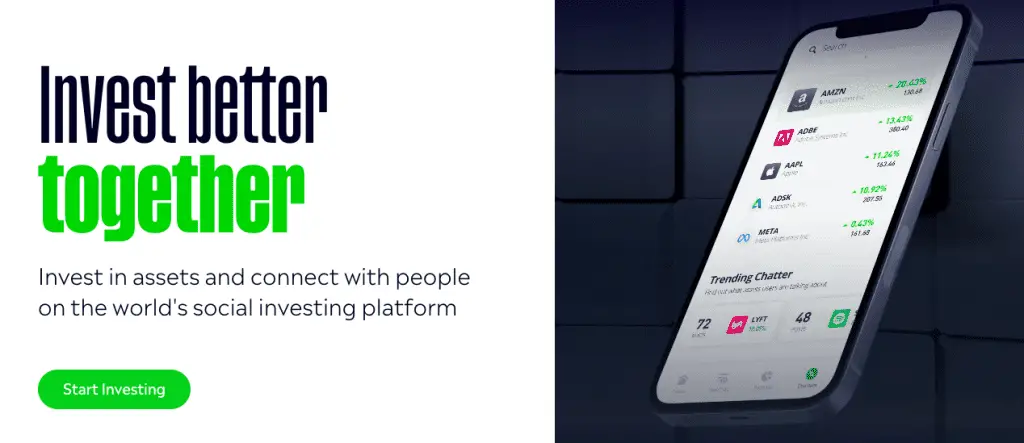 eToro Features:
If you're an experienced investor or a complete beginner, eToro will have you covered. Beginners can start investing in stocks with fractional shares, allowing users to own just a fraction of a single stock.
For those interested in crypto trading, clients can trade Bitcoin, Ethereum, Litecoin, and other popular cryptocurrencies. There are hassle-free deposits and withdrawals, and you can track real market data and follow each coin's trends. They also have a staking service available for crypto HODLers, allowing users to use their crypto and earn passive income.
CopyTrader was brought to the platform in 2010 and is great for those getting started investing or who don't have the time to watch the markets constantly. CopyTrader lets you view what real traders do in real-time and copy their trades automatically.
Is eToro FDIC Insured?
eToro is not FDIC insured for its general services. However, cash held in eToro Options accounts is deposited with Apex Clearing Corporation, their clearing firm, which sweeps available cash into FDIC-insured deposit accounts at FDIC-insured banks. These funds are insured for up to $250,000.
New cash deposited with eToro USA after April 4, 2023, will be temporarily held in bank accounts set up by their Payment Service Providers: PayPal, Checkout.com, and PayWithMyBank, with accounts currently at Wells Fargo and Cross River Bank. It is important to note that FDIC insurance does not protect against the failure of eToro itself.
8. Gate.io
Gate.io is a well-known crypto exchange platform that facilitates trading various blockchain assets, including BTC, LTC, Ethereum, and Qtum. This platform has gained global recognition within a short period and is now accessible in almost all countries worldwide. Notably, the exchange is unavailable in China and has relocated its registered office to Virginia, USA.
Gate.io supports over 1400 leading cryptocurrencies, with over 1,000 trading cryptocurrency pairs. The platform also offers spot trade and margin trade services, as well as ETF, Options, futures, and derivatives trading, catering to the needs of professional traders. However, even beginners with minimal experience can benefit from using this platform. If you want to learn more about Gate.io, read this comprehensive Gate.io review for more information.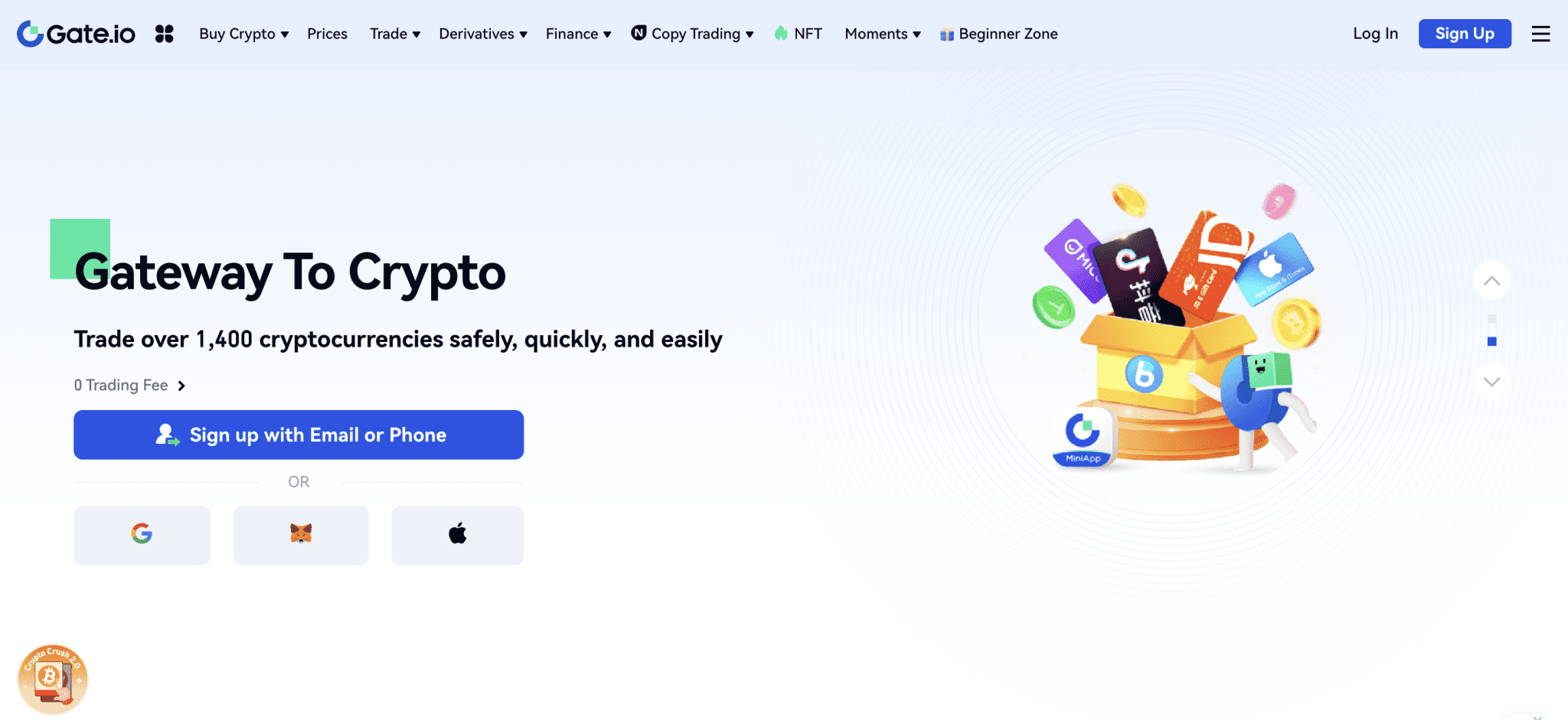 Gate.io Features:
At Gate.io, you can engage in margin trading, allowing you to borrow from other users to potentially amplify your profits and losses. Additionally, you can enjoy leveraged trading of up to 5X with the platform's Leveraged ETF Tokens. If you need to swap one currency for another, you can do so easily with just one click. Finally, the platform offers plenty of strategy trading bots that are user-friendly and straightforward to use.
9. KuCoin
KuCoin is a cryptocurrency exchange platform that was launched in September 2017. Since its launch, it has quickly become one of the most popular exchanges in the world, with a reputation for being reliable, secure, and easy to use.
The platform allows users to buy, sell, and trade many cryptocurrencies, including Bitcoin, Ethereum, Litecoin, and many others. Users can also trade in various trading pairs, including fiat-to-crypto, crypto-to-crypto, and stablecoin-to-crypto pairs.
KuCoin Features:
One of the unique features of KuCoin is its support for margin trading, which allows users to borrow funds to increase their trading power. This means that traders can increase their potential profits, but also exposes them to greater risks.
In addition to margin trading, KuCoin also offers futures trading, which allows users to bet on the future price of a cryptocurrency. This type of trading is popular with more experienced traders who are comfortable taking on higher levels of risk.
KuCoin also offers a peer-to-peer (P2P) trading option, which allows users to buy and sell cryptocurrencies directly with each other without the need for an intermediary. This can be a great option for users who prefer more privacy and control over their transactions.
Another way that users can earn rewards on KuCoin is through staking and lending. Staking involves holding a certain amount of a cryptocurrency for a set period of time in exchange for rewards, while lending involves loaning out your cryptocurrency to other users in exchange for interest.
What Should You Look for from a Crypto Exchange?
It is crucial to take into account the following factors when selecting a cryptocurrency exchange:
Platform Security: Opt for a cryptocurrency exchange that employs strong security measures such as two-factor authentication and cold storage for user funds.
Fees: For long-term trades, exchanges with lower fees are more suitable.
Currency Support: Ensure that the exchange offers a diverse selection of currencies for trading.
Trading Features: Evaluate the trading features provided, including margin trading, futures, and over-the-counter (OTC) trading.
Can you Leave Cryptocurrency on an Exchange?
You should not keep cryptocurrency on a crypto exchange long-term. No matter which crypto exchange you use or how safe it's reported, you should never keep large amounts of crypto on an exchange.
It is always much safer to withdraw your coins back to a secure wallet, such as a Trezor One or a Ledger Nano S or Nano X, where you have control over your private keys and, therefore, your digital currencies.
How Does FDIC Insurance Work for Crypto Exchange?
FDIC insurance for crypto exchanges works by providing protection for cash held in custodial accounts at FDIC-insured banks. In order for a crypto exchange to be insured by the FDIC, it must first be a member of the FDIC. Once a crypto exchange is a member of the FDIC, it can apply for FDIC insurance. It is important to note that FDIC insurance only covers cash deposits held in accounts and does not apply to financial products such as stocks, bonds, money market mutual funds, other types of securities, commodities, or crypto assets. Additionally, FDIC insurance does not protect against losses due to theft or fraud.
Are all Crypto Exchanges FDIC-Insured?
Not all crypto exchanges are FDIC-insured. By federal law, the FDIC only insures deposits held in insured banks and savings associations and does not insure assets issued by non-bank entities, such as crypto companies.
Conclusion: What is the Best Crypto Exchange for US Investors?
The ever-evolving world of cryptocurrency has become more accessible for US investors. By carefully examining the user experience, security, fees, available cryptos, and customer support, we've provided you with a comprehensive guide to help you make an informed decision.
Whether you're a seasoned crypto trader or a newcomer to cryptocurrency, one of these US crypto exchanges will suit your needs. Don't forget to conduct your own research and keep up-to-date with the latest news.
If we have missed one of your favourite crypto exchanges available to US investors, let us know in the comments below.
FAQs
Related Posts