This guide has compiled a list of the top 9 Best Crypto Exchanges in Canada for 2023. We've researched to make it easier for you to select the best exchange to meet your trading needs. We evaluate each exchange and compare their offerings, costs, and supported cryptocurrencies.
Cryptocurrency is becoming increasingly popular in Canada, and Canadian investors will have numerous options in 2023 when it comes to choosing a cryptocurrency exchange. However, there are several factors to consider when selecting a platform, such as liquidity, trading volume, fees, and security. This can be especially overwhelming for those new to the space.
So, let's delve into our guide on the best cryptocurrency exchanges for Canadian investors in 2023 and assist you in finding the right exchange.
9 Best Crypto Exchanges in Canada
The demand for cryptocurrencies is rising, and Canadian investors are seeking ways to purchase and sell crypto. To find the best cryptocurrency exchange, looking for a trustworthy trading platform is important. However, for those new to the space, it can be challenging to determine which platform to use.
There are several top-notch cryptocurrency exchanges available for Canadian investors. This guide will introduce you to some of the best crypto exchanges we have personally used. We will also highlight the factors that make them part of our top picks and outline the pros and cons of each platform to help you decide on the best cryptocurrency exchange for you.
So, without further ado, let's get started! Here is our list of the best crypto exchanges Canadian investors should consider for 2023;


1. Bitbuy – Lowest Trading Fees


Bitbuy is a trusted Canadian cryptocurrency exchange that offers a straightforward and secure platform for the trading of digital assets. Aiming to make cryptocurrency trading accessible for everyone, Bitbuy is characterized by its user-friendly interface, suitable for both new and experienced traders. It further supports its users with a wealth of educational resources, including tutorials and informative articles, enabling a better understanding of cryptocurrencies and effective trading on the platform.
Since its inception in 2016, Bitbuy has grown significantly, serving over 400,000 Canadians and handling more than $5 billion in cryptocurrency transactions. Furthermore, it made headlines in 2023 when it was acquired by WonderFi Technologies Inc., a company supported by prominent investor Kevin O'Leary, for $206 million.
Thanks to its affordable and transparent fee structure, this platform appeals to those conducting large transactions or trading high volumes. Bitbuy's distinct 'Express Trade' feature enables one-click buy/sell orders, simplifying the trading process, particularly for newcomers.
Bitbuy employs cutting-edge security measures, including encryption and multi-factor authentication, to safeguard user assets and personal information. Utilizing cold storage and a proactive risk management system helps identify and ward off fraudulent activities.
Bitbuy Features:
Bitbuy provides a wide array of features to facilitate secure and convenient cryptocurrency trading for its users.
Trading Platforms: Bitbuy offers two different trading interfaces. The 'Express Trade' is designed for beginners, offering a simple interface for quick and easy trading. On the other hand, the 'Pro Trade' is targeted towards experienced traders and offers more in-depth tools and functionalities.
Supported Cryptocurrencies: Bitbuy currently supports trading in seven cryptocurrencies, which include Bitcoin, Bitcoin Cash, Ethereum, and Ripple.
Staking: One of the newer features introduced by Bitbuy is staking, which allows users to earn rewards on their cryptocurrency holdings.
Security Measures: Bitbuy implements several security measures, including two-factor authentication, and encourages users to create secure passwords. To increase security, most user funds are kept in cold storage, i.e., offline.
Transparent Fee Structure: Bitbuy's fee structure is transparent and easy to understand. Account creation and deposits are free. The platform accepts transactions through Interac e-transfer, wire transfers, and crypto wallet payments.
Business Services: Bitbuy offers dedicated services for businesses interested in integrating cryptocurrencies into their operations. More than 1,500 businesses have trusted Bitbuy for their crypto dealings. Bitbuy assigns a dedicated account manager to assist with the process.
Educational Resources: Bitbuy provides resources to help users understand the cryptocurrency market and how to trade effectively.
Customer Support: Bitbuy offers email support for inquiries and troubleshooting.
Overall, Bitbuy is recognized for its easy, near-instant trading capabilities, secure and transparent operations, and commitment to customer service.
2. Coinberry – Largest Canadian Audience
Coinberry is a digital asset trading platform based in Toronto, Canada. It was founded in 2017 to provide Canadians with an easy and secure way to purchase popular cryptocurrencies like Bitcoin, Ethereum, and Litecoin.
The platform advertises 0% deposit fees, 0% withdrawal fees, and a 0.5% trading fee, promoting transparency in its cost structure. Coinberry fully complies with Anti-Money-Laundering and Know-Your-Customer requirements set by the Financial Transactions and Reports Analysis Centre of Canada (FINTRAC), which implies mandatory account verification for users before they can start depositing funds.
While primarily catering to investors and beginner traders, Coinberry's user interface is simple and intuitive, with no margin trading or the ability to view trading charts. For added convenience, they also offer a mobile application for both Android and iOS, featuring an attractive, easy-to-use interface and real-time chart displays for Bitcoin, Ethereum, and Litecoin prices.
Coinberry offers robust customer support, including a hotline phone number available from Monday to Friday. However, it's important to note that assets held by Coinberry are not eligible for Canadian Investor Protection Fund coverage.
Coinbury Features:
Coinberry is a cryptocurrency exchange designed with features catering to new and seasoned cryptocurrency investors. Here are some of the key features of Coinberry:
Wide range of Cryptocurrencies: Coinberry supports trading in various cryptocurrencies, including Bitcoin, Ethereum, and Litecoin, among others.
Security: Coinberry employs military-grade encryption to protect user data, utilizes cold storage for assets, and mandates two-factor authentication to enhance account security.
User-Friendly Interface: Coinberry offers a simple and intuitive platform geared towards investors and beginning traders, making it easy for anyone to start trading.
Mobile App: Coinberry has a mobile app available for Android and iOS users, providing convenience and flexibility for users to trade on the go.
Transparent Fee Structure: Coinberry is known for its transparency when it comes to trading fees. It offers 0% deposit fees, 0% withdrawal fees and 0.5% trading fees.
Customer Support: Coinberry provides robust customer support, including a hotline phone number for urgent queries.
FINTRAC-Registered: Coinberry is a registered platform with the Financial Transactions and Reports Analysis Centre of Canada (FINTRAC), ensuring a safe and regulated trading environment.
Compliance Measures: Coinberry fully complies with Anti-Money-Laundering (AML) and Know-Your-Customer (KYC) requirements set by FINTRAC, providing an extra layer of protection for users.
3. Binance – Most Popular Platform For Trading Crypto
Binance holds a significant position in the international cryptocurrency exchange landscape, accounting for a substantial portion of the global daily trading volume. We regard Binance as one of the prime choices for Canadian crypto investors, particularly due to its expansive altcoin trading portfolio.
Binance provides an extensive range of trading pairs between various digital currencies. While it facilitates FIAT to crypto pairs, most of its offerings are crypto-to-crypto pairs. For beginners or those preferring to use traditional currency, the platform enables purchasing crypto with FIAT using third-party services, bank transfers, or credit/debit cards.
They also stand out for their exceptionally low trading fees. Beginning at a mere 0.1%, these fees can diminish based on trading volumes and ongoing promotions. Additionally, utilizing Binance's proprietary BNB coin can lead to even more substantial reductions. Thus, Binance offers a broad spectrum of trading possibilities and a cost-effective trading environment, making it an ideal choice for Canadian crypto investors.
Binance Features:
Binance offers many features to its users, making it one of the most popular crypto exchanges in Canada and worldwide.
Fiat Deposits: Binance supports deposits in multiple fiat currencies, allowing Canadian users to deposit CAD directly into their accounts.
Identity Verification: To increase withdrawal limits and unlock additional features, such as fiat deposits with CAD, Binance requires users to complete identity verification.
Cryptocurrency Purchases with Credit/Debit Card: Binance allows users to buy crypto directly using a credit or debit card.
Cryptocurrency Trading: Binance offers a spot market for crypto trading, providing users with a wide range of trading pairs.
Binance P2P Network: Binance offers a peer-to-peer (P2P) network where Canadians can buy and sell cryptocurrencies.
Binance Pay: This feature allows users to send and spend crypto without paying fees. Users can shop at businesses that support Binance Pay without incurring fees.
4. Kraken – Most Trusted Crypto Exchange
Kraken Exchange is one of the oldest crypto exchanges, having operated since 2013. The platform is another great option for new Canadian traders, with a simple and basic interface to get started with, whilst also a good option for more advanced traders. It offers Canadian users more than 150 different cryptocurrencies to trade, buy, and sell.
With Kraken, Canadian users can trade with six fiat currencies: USD, Japanese Yen, Canadian dollars, Euros, and Australian dollars. Kraken trading fees range from 0% to 0.26%, which is pretty low for a crypto exchange. It's also considered a very secure space to trade digital currencies, with most of its cryptocurrency stored offline.
Kraken Features:
With Kraken Exchange, there are many trading features, including spot markets, futures trading with up to 50x leverage and margin trading to open larger positions. Plus, they offer various order types like limit, market, stop, trailing stop, and fill or kill.
Users can stake Polkadot, Cosmos and Tezos on Kraken; in some regions, investors can even stake FIAT currencies such as Euros and US dollars.
5. Coinbase – Easiest Crypto Exchange Platform
Next is Coinbase, which, in contrast to Binance, can be expensive in terms of fees. However, Coinbase is very user-friendly, and most people getting into crypto tend to start here, especially with sign-up offers such as their £5 free Bitcoin. The interface is easy to use and ideal for newbies with their simple buying process.
However, these newbies will soon be aware that Coinbase has some of the highest trading fees among all the crypto exchanges, ranging from 1.49 to 3.99% for trading digital assets on Coinbase and from 0.5% with Advanced Trade, which has a wider range of tokens and is more aimed at experienced traders.
Coinbase supports customers in over 30 countries, including the United States, most of Europe, Singapore, Canada, and Australia, with some very high volume and liquidity. 
Coinbase Features:
Coinbase offers a wide range of features for users. It offers a simple and user-friendly interface for various trading pairs between cryptocurrencies and supports FIAT to crypto pairs. They also offer advanced order types and charting with Advanced Trade for more advanced traders.
The cryptocurrency exchange platform is not limited to trading. Coinbase Earn offers ways to put your crypto to work and earn rewards, or you can take quizzes and earn free crypto. Plus, there's the Coinbase self-custody crypto wallet, the Coinbase Card, ways to borrow, create and collect NFTs and a subscription-based service.
Another thing that makes Coinbase one of the top crypto exchanges is that it's very secure. While multiple attempts have breached the exchange's security, Coinbase has yet to suffer a huge hack, and they store 97% of bitcoins offline.
6. Crypto.com
Crypto.com was founded in 2016 and has its headquarters situated in Singapore. They were previously known as Monaco before being rebranded to Crypto.com in July 2018, paying between $5 million to $10 million for the domain.
Since its launch in 2016, they have become one of the fastest-growing companies in the crypto space, with over 10 million users worldwide. They continue to innovate and add more features to their platforms, such as their popular Visa debit card and, more recently, NFTs. Making it a one-stop shop for crypto enthusiasts.
Crypto.com Features:
Crypto.com offers users an array of features and products, including the Crypto.com App, where users can buy crypto, including Bitcoin and 100+ cryptocurrencies, with a credit/debit card or via bank transfers.
One of the most popular features is their Crypto.com Visa Debit Card, where users can receive cashback on purchases between 1% and 8%, plus free Spotify, Prime and Netflix subscriptions.
The Crypto.com exchange is their platform for users to trade crypto to crypto with more advanced order types, low fees and deep liquidity. They also have an additional range of products within the exchange, including The Syndicate, Supercharger and Lending.
There are also ways for users to stake and earn from their crypto, DeFi services and an NFT marketplace.
7. Gemini – Most Secure Crypto Exchange
Gemini Exchange is a good option for users looking to buy crypto or sell it with fiat money, bank deposits and withdrawals.
It is a regulated cryptocurrency exchange, wallet, and custodian that makes buying Bitcoin, Ethereum, and various other digital assets simple and secure. The cryptocurrency exchange was launched in 2015 in the US by the Winklevoss twins Cameron & Tyler, who rose to fame in 2004 after they sued Mark Zuckerberg over Facebook. The company has now expanded its operations to Europe and Asia.
Gemini Features
Gemini exchange offers an array of features for their users with a streamlined trading view and simple ways to trade assets, manage your holdings and set recurring buys.
For the more advanced trader, Gemini has ActiveTrader, their inbuilt advanced trading platform with more advanced order types, charts and lower trading fees.
Plus, they have their own Gemini wallet, a secure way to store your crypto assets.
8. Wealthsimple – Best for mobile
Wealthsimple is a Canadian online investment management service founded in September 2014 by Michael Katchen, Brett Huneycutt, and Rudy Adler. The company is based in Toronto, and as of November 2021, it held over C$15 billion in assets under management.
Wealthsimple provides a variety of financial products and services, including cryptocurrency. However, Its core offering is a robo-advisor service that creates diversified portfolios of low-cost index funds for its users, offering a hands-off solution for investors.
The Wealthsimple Crypto feature allows Canadians to trade over 50+ different cryptocurrencies, including Bitcoin and Ethereum. It aims to offer a user-friendly experience, particularly for casual traders, with an easy-to-navigate mobile app that simplifies the digital asset buying and selling process.
Compared to other crypto platforms we have covered, Wealthsimple crypto fees are high and range between 1.5% and 2%. However, they make buying crypto very simple with its integration with Wealthsimple Trade, a mobile stock trading app. Users can conveniently manage their investments in the stock market and cryptocurrencies within the same environment.
The platform's safety measures involve using Gemini Custody, a regulated crypto custodian for all crypto assets with Wealthsimple. They also encrypt all financial data and utilize 2FA protection for user accounts. All user data is stored securely, positioning Wealthsimple as one of Canada's most secure investing platforms.
It's also important to note that Wealthsimple Crypto currently only handles Canadian dollars and doesn't allow transferring crypto assets into or out of the platform.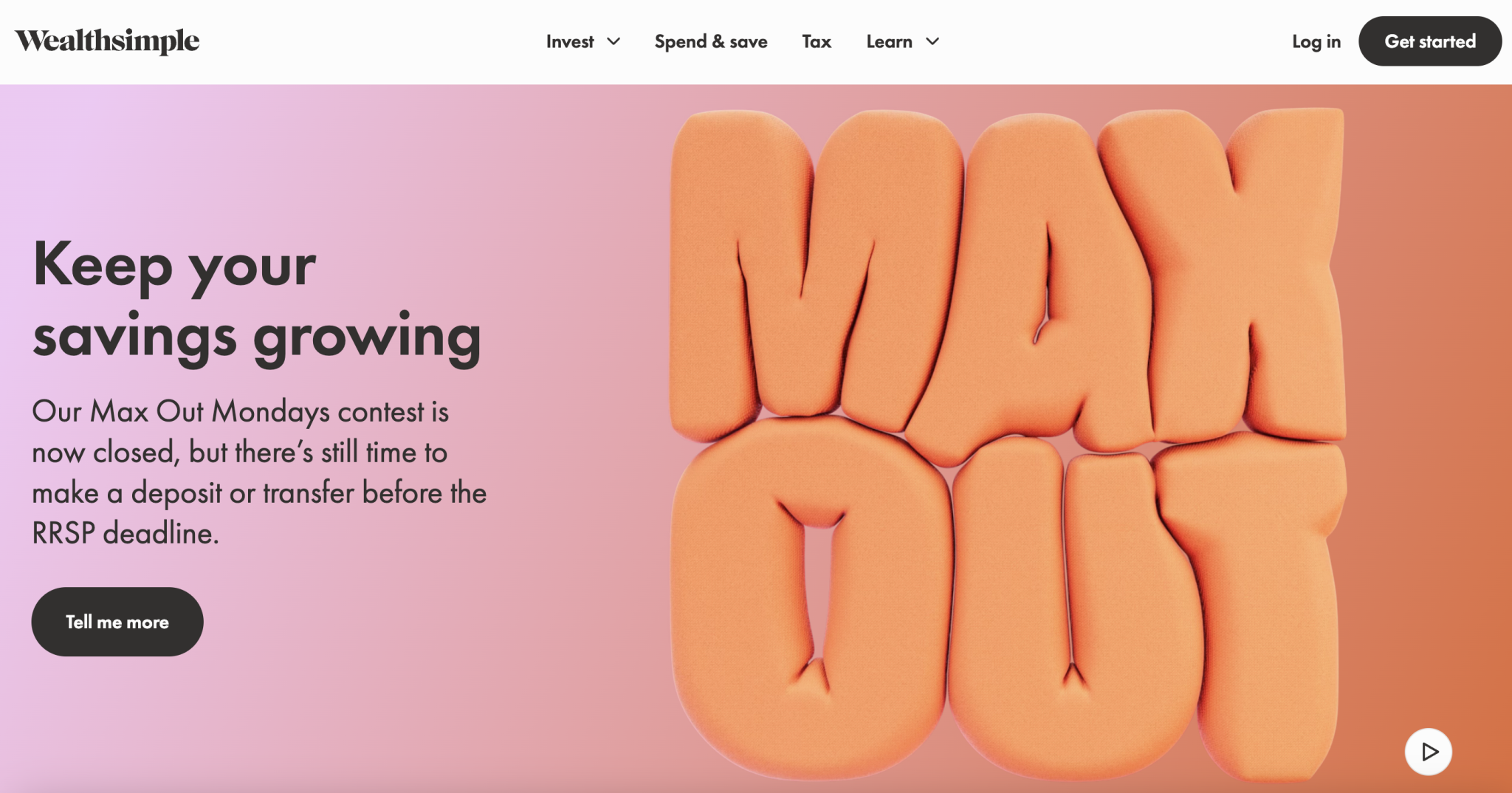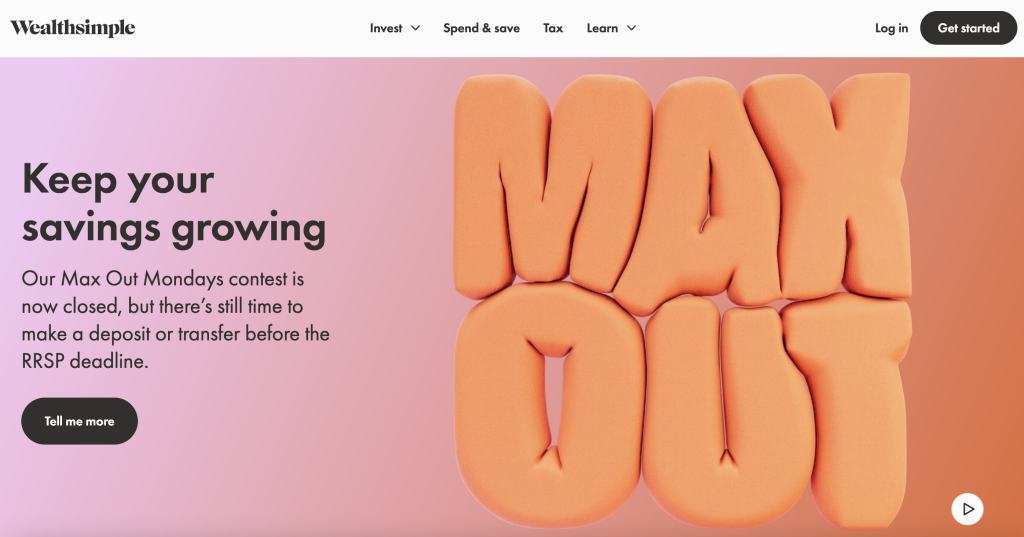 Wealthsimple Features:
Wealthsimple is a versatile financial platform offering its users a range of features.
Wealthsimple Cash: This mobile app feature enables users to send, request, and receive money instantaneously from their friends and family. This feature is protected by the Canadian Deposit Insurance Corporation (CDIC), offering additional security to users' funds.
Diverse Investment Plans: Wealthsimple offers different plans tailored to individual investors' financial goals and needs. These plans include Core, Premium, and Generation. Each plan comes with its unique set of features and benefits.
High-Interest Savings: Wealthsimple encourages users to invest and save across their accounts. Upon reaching $100,000 in your Wealthsimple accounts, users unlock a high everyday interest rate on their cash. This feature makes it easier for users to grow their savings.
Free Portfolio Review: Wealthsimple offers a free portfolio review to its users. The review is not limited to Wealthsimple investments; they will review any other investments you may have. This service can particularly benefit individuals looking to optimize their investment strategy.
Direct Deposit Feature: When the direct deposit feature is utilized, Wealthsimple's cash account has the potential to outperform others with higher interest rates.
Crypto Trading: Wealthsimple also offers its users the ability to buy, sell, and stake cryptocurrencies, providing a foray into the digital asset market.
9. Coinsmart – Best for Beginners
Coinsmart is a leading Canadian crypto exchange that prioritizes accessibility, community, accountability, and honesty. It is publicly traded, registered with the OSC and FINTRAC, insured by BitGo, and protected by Fireblocks. With over 180,000 users trading 16 popular cryptocurrencies, Coinsmart has established a strong reputation as a reliable and secure platform for Canadian crypto investors.
Is Coinsmart a safe place to invest in cryptocurrencies?
Yes. Coinsmart utilizes cold storage and follows industry-standard security practices to protect user assets. Account security is enhanced with the requirement of 2FA through the Google Authenticator app. Coinsmart has not been hacked, but users are advised to be cautious of phishing emails. If a hack occurs due to a security fault on the platform, it is likely that Coinsmart, insured by BitGo, will refund users. On Coinsmart, users do not hold their own keys as it is a centralized exchange. Accounts may be frozen if they are found to be involved in illicit activities that violate AML compliance standards.
The exchange offers 16 cryptocurrencies and has a flat trading fee structure of 0.20% for single trades and 0.30% for double trades. Coinsmart's minimum deposit is $100, with a maximum withdrawal limit between $5,000 and $10,000. The platform requires comprehensive identity verification for all users in accordance with its FINTRAC registration. The Coinsmart app is available for free on Android and iOS devices.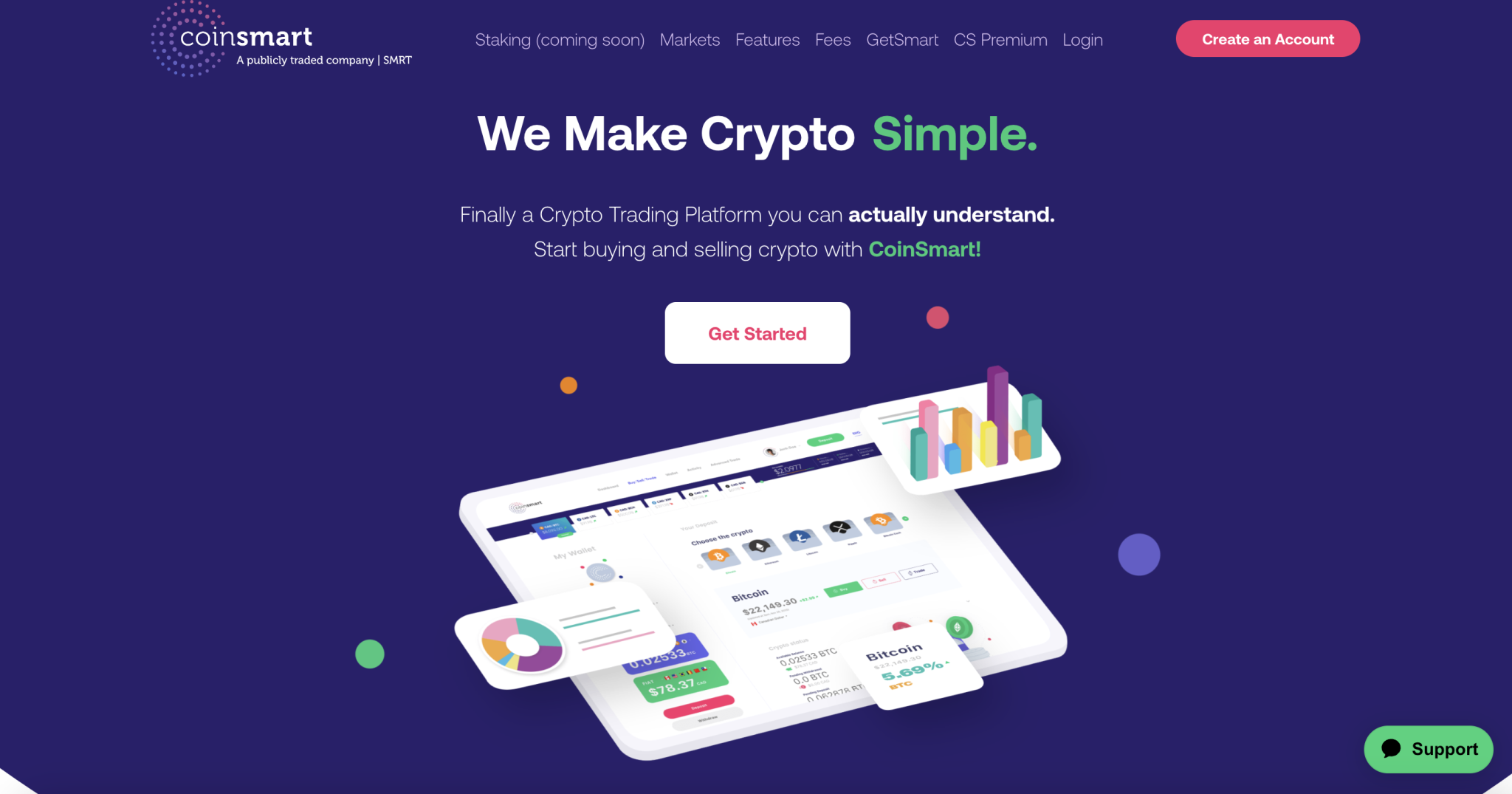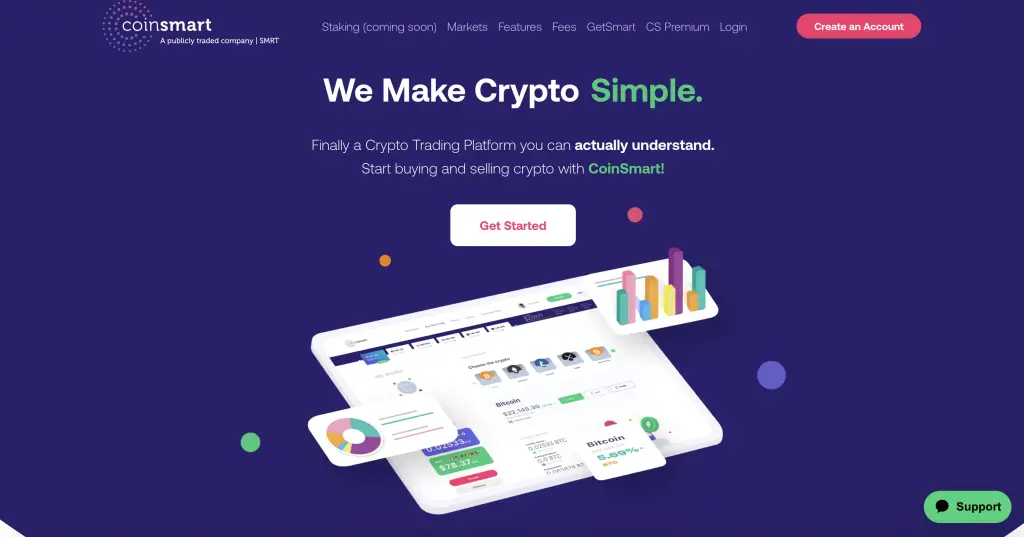 Coinsmart Features
Quick Access to Funds with Coinsmart's Same Day Deposits. Investing in the market has never been easier with Coinsmart's same-day deposit policy. Access your funds as soon as we receive them, allowing you to take advantage of market opportunities without waiting.
Multiple Convenient Funding Options are available. Coinsmart offers a range of funding options to make investing simple and accessible. From Interac and SEPA to wire transfers, e-transfers, and all major cryptocurrencies, there's a funding method that suits your needs.
Easily Track Your Trading Activity. This is done through the Coinsmarts trading activity tracker, which makes deposits and withdrawals easy. Their platform makes it simple to monitor your investment portfolio.
All deposits are credited to your account on the same day they're received. Cash withdrawals are processed within five business days, and account verifications are completed the same day.
Conclusion: What is the Best Crypto Exchange for Canadian Investors?
Canadian investors should consider platform security, transaction fees, currency support, and trading features when selecting a cryptocurrency exchange. Using the proper crypto exchange, Canadian users can easily and confidently buy, sell, and trade their preferred digital assets.
If we have missed one of your favourite crypto exchanges available to Canadian investors, let us know in the comments below.
FAQs
Related Posts