In this guide, we have compiled a list of the top 10 Best Cryptocurrency Exchanges in Canada for 2023. We've done the research to make it easier for you to select the best exchange to meet your trading needs. We evaluate each exchange and compare their offerings, costs, and supported cryptocurrencies.
Cryptocurrency is becoming increasingly popular in Canada, and Canadian investors will have numerous options in 2023 when it comes to choosing a cryptocurrency exchange. However, there are several factors to consider when selecting a platform, such as liquidity, trading volume, fees, and security. This can be especially overwhelming for those new to the space.
So, let's delve into our guide on the best cryptocurrency exchanges for Canadian investors in 2023 and assist you in finding the right exchange for you.
10 Best Crypto Exchanges in Canada 2023
The demand for cryptocurrencies is rising, and Canadian investors are seeking ways to purchase and sell crypto. To find the best cryptocurrency exchange, looking for a trustworthy trading platform is important. However, for those new to the space, it can be challenging to determine which platform to use.
There are several top-notch cryptocurrency exchanges available for Canadian investors. In this guide, we will introduce you to some of the best crypto exchanges that we have personally used. We will also highlight the factors that make them part of our top picks and outline the pros and cons of each platform to help you decide on the best cryptocurrency exchange for you.
So without further ado, let's get started! Here is our list of the best crypto exchanges Canadian investors should consider for 2023;
BitBuy – Lowest Trading Fees
Coinberry – Largest Canadian Audience
Binance – Most Popular Crypto Exchange
Kraken – Most Trusted Crypto Exchange
Coinbase – Best for Beginners
Crypto.com – Best for Features
Gemini – Most Secure Crypto Exchange
Localcoin – Alternative way to buy crypto
Wealthsimple – Best for Mobile
Coinsmart – Best for Beginners


1. Bitbuy – Lowest Trading Fees


Bitbuy is a Canadian cryptocurrency exchange based in Toronto that offers a cost-effective, secure, and user-friendly platform for buying, selling, and exchanging digital assets. The platform provides a range of cryptocurrencies, including popular ones like Bitcoin, Ethereum, and Litecoin, as well as newer ones like Bitcoin Cash and Ripple. Bitbuy is attractive to large transactions and high volumes due to its low trading fees, offering a flat fee structure for ease of use.
Bitbuy employs state-of-the-art security measures, such as encryption and multi-factor authentication, to protect user funds and personal information. It also uses cold storage and has a risk management system in place to detect and prevent fraud. The platform features a simple and intuitive interface, making it easy for new and experienced users to trade. Bitbuy also offers educational resources, including tutorials and articles, to help users learn about cryptocurrencies and how to trade on the platform.
Bitbuy Features:
With Bitbuy's advanced trading interface, you can enjoy a seamless and professional trading experience. The platform offers several key features to help you manage your trades effectively. Firstly, you can choose between limit and market orders and either set your prices for buying and selling or take advantage of the best available prices. The real-time order book allows you to monitor live bids and asks as they occur. This is further complemented by the market depth chart, which provides a glimpse into the potential size of your order at a specific price.
Additionally, the platform makes it easy to keep track of your orders with its order status and history feature. You can see your open, filled, and cancelled orders all in one place. The trading view charts are designed to help you visualize pricing information in the most effective way. Moreover, you can stay updated with the latest trading and market statistics, including real-time information on the last price, 24-hour volume, and percentage change.
To further enhance your trading experience, Bitbuy also offers "breakout screens" that allow you to pop out any of your preferred screens for quick access. With these features, you'll have everything you need to make informed trading decisions.
2. Coinberry – Largest Canadian Audience
Coinberry is a leading cryptocurrency exchange based in Toronto, Canada. With over 220,000 Canadian users and 38 different cryptocurrencies to trade, Coinberry has established itself as one of the top exchanges in the country. The platform was launched in 2017 as a FINTRAC-registered entity and has since seen $1 billion in trading volume and become part of WonderFi, a fintech company striving to revolutionize the financial system.
One of the key factors that makes Coinberry a top choice among Canadian crypto investors is its strong focus on security. The platform implements industry-standard practices such as cold storage for assets and military-grade encryption for customer data. Regular penetration testing is carried out, and Coinberry takes a proactive approach to digital security through dark web scanning and account takeover prevention. All accounts must have two-factor authentication through Microsoft or Google Authenticator to further enhance security.
Coinberry has not suffered from any security breaches, making it one of the safest exchanges in Canada. Additionally, as a FINTRAC-registered service, Coinberry is insured by CDIC for segregated banking and may be required to cover customer losses in the event of a security breach.
Coinbury Features:
Coinberry is a comprehensive cryptocurrency exchange that offers a range of features to meet the needs of both new and experienced traders. Users can access a wide range of cryptocurrencies and invest in their preferred digital assets. The platform offers immediate account confirmation, making it easy for users to get started with trading.
Coinberry also offers a convenient automatic purchasing feature known as dollar-cost averaging, which enables users to invest in their chosen coins on a regular basis. Additionally, the platform's mobile application has received a 4.5-star rating from the App Store, reflecting its user-friendly interface and functionality. 24/7 customer support is available to help users with any questions or issues that may arise. Finally, to ensure the security of its users' assets, Coinberry utilizes Gemini-provided cold storage. This gives users peace of mind knowing their investments are kept secure.
3. Binance – Most Popular Platform For Trading Cryptocurrencies
Binance currently dominates the global cryptocurrency exchange space, making up a significant portion of the daily crypto trading volume. In our opinion, Binance is one of the best crypto exchanges for Canadian crypto investors, with a strong focus on altcoin trading. As a regular leader of Spot Cryptocurrency Exchanges in terms of traffic, liquidity, and trading volumes on the likes of CoinMarketCap, it shows that people trust the platform and that competitive prices will be available.
The crypto exchange offers hundreds of trading pairs between different digital currencies. Although Binance offers some FIAT to crypto pairs, most of its pairs are between crypto-assets. You can also start by buying crypto with FIAT from the site using 3rd parties, bank transfers or a credit or debit card. Plus, they have some of the lowest trading fees of any cryptocurrency exchange. Starting at 0.1%, these can reduce further depending on trading volumes and promotions, or you can get these even lower by using their own BNB coin.
Binance Features:
Binance offers many features to its users, making it one of the most popular crypto exchanges in Canada and worldwide. One of the most impressive features of Binance is its advanced trading platform. It offers Canadian users a variety of tools, charts, and order types to take advantage of. Binance also has a wide range of altcoins to trade, with many new coins being added monthly.
Binance also offers Canadian users the ability to margin trade and use leverage. This means that they can trade on borrowed funds and potentially increase their profits.
However, Binance is not limited to trading. It offers various financial services for Canadian users' crypto assets, including staking, liquidity pools and swaps, derivatives, education, and its self-custody crypto wallet Trust Wallet.
Binance also provides Canadian users with plenty of security features, including two-factor authentication, cold storage of funds, and 24/7 customer support.
4. Kraken – Most Trusted Crypto Exchange
Kraken Exchange is one of the oldest crypto exchanges, having operated since 2013. The platform is another great option for new Canadian traders, with a simple and basic interface to get started with, whilst also being a good option for more advanced traders. It offers Canadian users more than 150 different cryptocurrencies to trade, buy, and sell.
With Kraken, Canadian users can trade with 6 fiat currencies, including USD, Japanese Yen, Canadian dollars, Euros, and Australian dollars. Kraken trading fees range from 0% up to 0.26%, which is pretty low for a crypto exchange. Plus, it's also considered a very secure space to trade digital currencies, with most of its cryptocurrency stored offline.
Kraken Features:
With Kraken Exchange, there are many trading features including; spot markets, futures trading with up to 50x leverage and margin trading to open larger positions. Plus, they offer various order types like limit, market, stop, trailing stop, and fill or kill.
Regarding staking options, with Kraken, users can stake Polkadot, Cosmos and Tezos. Plus, in some countries, you can even stake FIAT currencies such as Euros and US dollars too.
5. Coinbase – Easiest Crypto Exchange Platform
Next is Coinbase, which in contrast to Binance, can be expensive in terms of fees. However, Coinbase is very user-friendly, and most people getting into crypto tend to start here, especially with sign-up offers such as their £5 free Bitcoin. The interface is easy to use and ideal for newbies with their simple buying process.
However, these newbies will soon be aware that Coinbase has some of the highest trading fees among all the crypto exchanges, ranging from 1.49 to 3.99% for trading digital assets on Coinbase and from 0.5% with Advanced Trade, which has a wider range of tokens and is more aimed at experienced traders.
Coinbase supports customers in over 30 countries, including the United States, most of Europe, Singapore, Canada, and Australia, with some very high volume and liquidity. 
Coinbase Features:
Coinbase offers a wide range of features for users. It offers a simple and user-friendly interface for various trading pairs between different cryptocurrencies and supports FIAT to crypto pairs. For more advanced traders, they also offer advanced order types and charting with Advanced Trade.
The cryptocurrency exchange platform is not limited to trading. Coinbase Earn offers ways to put your crypto to work and earn rewards, or you can take quizzes and earn free crypto. Plus, there's the Coinbase self-custody crypto wallet, the Coinbase Card, ways to borrow, create and collect NFTs and a subscription-based service.
Another thing that makes Coinbase one of the top crypto exchanges is that it's very secure. While multiple attempts have breached the exchange's security, Coinbase has yet to suffer a huge hack, and they store 97% of bitcoins offline.
6. Crypto.com
Crypto.com was founded in 2016 and has its headquarters situated in Singapore. They were previously known as Monaco before being rebranded to Crypto.com in July 2018, paying between $5 million to $10 million for the domain.
Since it launched in 2016, they have become one of the fastest-growing companies in the crypto space and have over 10 million users worldwide. They continue to innovate and add more features to their platforms, such as their popular Visa debit card and, more recently, NFTs. Making it a one-stop shop for crypto enthusiasts.
Crypto.com Features:
Crypto.com offers users an array of features and products, including the Crypto.com App, where users can buy crypto, including Bitcoin and 100+ cryptocurrencies, with a credit/debit card or via bank transfers.
One of the most popular features is their Crypto.com Visa Debit Card, where users can receive cashback on purchases between 1% and 8%, plus free Spotify, Prime and Netflix subscriptions.
The Crypto.com exchange is their platform for users to trade crypto to crypto with more advanced order types, low fees and deep liquidity. Plus, they also have an additional range of products within the exchange, including The Syndicate, Supercharger and Lending.
There are also ways for users to stake and earn from their crypto, DeFi services and an NFT marketplace.
7. Gemini – Most Secure Crypto Exchange
Gemini Exchange is a good option for users looking to buy crypto or sell it with fiat money, with bank deposits and withdrawals.
It is a regulated cryptocurrency exchange, wallet, and custodian that makes buying Bitcoin, Ethereum, and various other digital assets simple and secure. The cryptocurrency exchange was launched in 2015 in the US by the Winklevoss twins Cameron & Tyler, who rose to fame in 2004 after they sued Mark Zuckerberg over Facebook. The company has now expanded its operations to Europe and Asia.
Gemini Features
Gemini exchange offers an array of features for their users with a streamlined trading view and simple ways to trade assets, manage your holdings and set recurring buys.
For the more advanced trader, Gemini has ActiveTrader, their inbuilt advanced trading platform with more advanced order types, charts and lower trading fees.
Plus, they have their own Gemini wallet, a secure way to store your crypto assets.
8. Localcoin – Alternative way to buy crypto
Localcoin, based in Toronto, is a Canadian platform that offers a convenient way for users to buy and sell cryptocurrencies through their extensive network of ATMs. Unlike a traditional crypto exchange, Localcoin provides users with access to their desired digital assets through a simple and user-friendly ATM system.
Localcoin initially started as a platform to buy only Bitcoin but has since expanded to offer 6 different tokens, including Ethereum, Litecoin, Dogecoin, Cardano, and USDC. The coins are offered at market rate with an added exchange fee, making it easy for users to invest in their preferred digital assets. Before making a purchase, users will need to have their own crypto wallet, which can be a mobile, web, or hardware wallet. To get started, simply scan the wallet QR code, select the amount you want to buy, and insert CAD bills. The coins will then be transferred to the provided wallet address.
Localcoin has a transaction limit of $995 per purchase and a daily limit of $4,975 without any KYC requirements. SMS verification is the only requirement for users to make transactions. Whether you're a beginner or an experienced trader, Localcoin provides a simple and secure way to buy and sell cryptocurrencies.
Localcoin Features
Localcoin is a leading cryptocurrency platform in Canada, offering support for Bitcoin and five other popular cryptocurrencies. With over 800 ATMs located across all Canadian provinces, users can easily purchase and sell their digital assets with ease. The platform also supports mobile, web, and hardware crypto wallets, making it accessible to all types of traders.
Whether you are a new trader just getting started or an experienced cryptocurrency expert, Localcoin makes it easy to buy and sell crypto with fiat currency (CAD bills). The platform's user-friendly interface makes it simple for everyone to navigate, and their 24/7 support team is always available via email or live chat to answer any questions or concerns. With Localcoin, you can be confident in your investment and feel secure in your trades.
9. Wealthsimple – Best for mobile
Wealthsimple is a top crypto exchange in Canada known for its user-friendly platform and accessibility to investors of any experience level. With the ability to start trading crypto from just $1 and the assurance that your investments are safer due to regulation and protection by the Canada Deposit Insurance Corporation (CDIC), it's no surprise that Wealthsimple has attracted over 2 million users trading 57 cryptocurrencies.
Security is a major factor for any crypto exchange, and Wealthsimple takes this seriously. All coins on the platform are held by Gemini Trust Company LLC, one of the largest regulated crypto custodians with $200 million in assets insured for theft. The platform also encrypts all financial information, uses 2FA protection for accounts, and offers a bug bounty to resolve security flaws. Wealthsimple also follows best practices by storing all data securely, making it one of the safest Canadian crypto exchanges available.
Wealthsimple is a custodial wallet, meaning the platform holds the private keys for all users. This eliminates the need for users to have to worry about safeguarding their private keys, and the assets are protected by multiple insurance policies with Gemini Trust and Coincover. The platform does not charge commission fees or deposit and withdrawal fees, instead opting for a simple 1.5% to 2% operations fee per transaction to cover third-party custodian expenses for Gemini. There are no minimum deposit requirements, but cryptocurrency accounts do have a $25,000 daily withdrawal limit. Wealthsimple also has KYC for individual investors and KYB for business clients, ensuring that all accounts are verified for added security.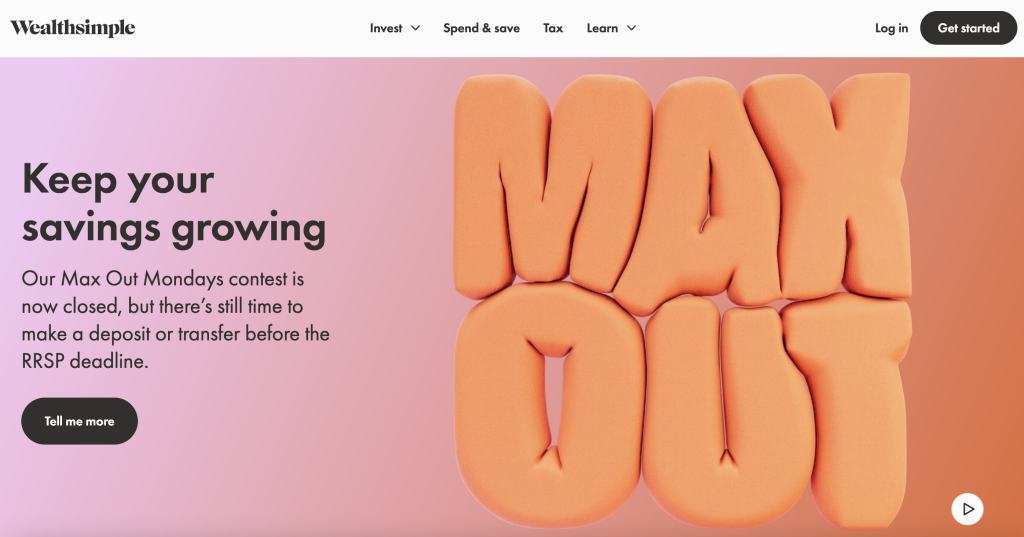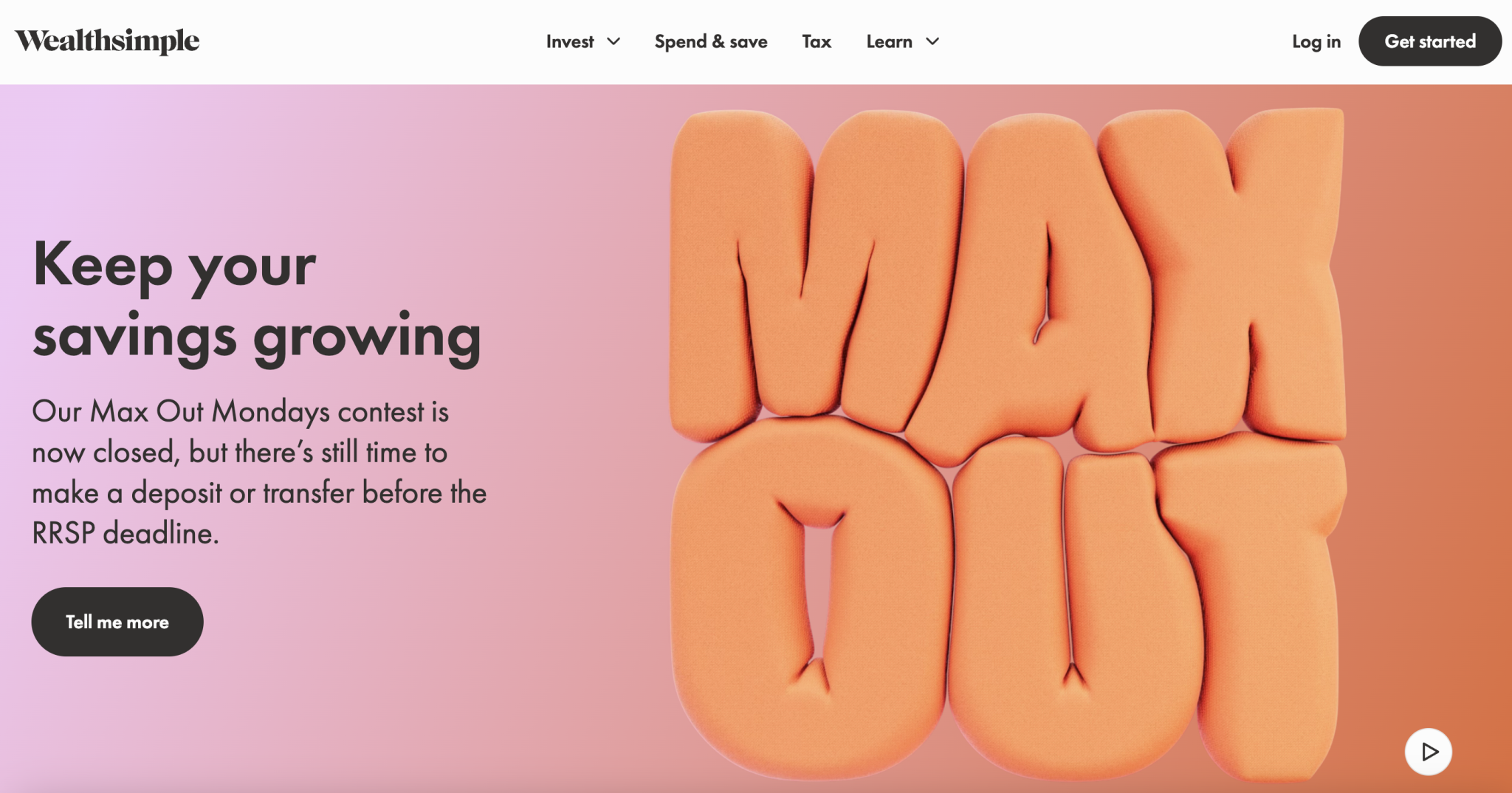 Wealthsimple Features:
Wealthsimple is a cost-effective investment platform that offers a personalized experience to its users with a low management fee of 0.5%. With a team of experts, Wealthsimple provides personalized portfolios tailored to the user's risk tolerance, financial goals, and investment timeline. The platform offers a wide range of investment options, including stocks, ETFs, and cryptocurrencies, making it accessible and user-friendly for both seasoned investors and those just starting.
In addition to personalized portfolios, Wealthsimple provides tools to help manage investments with ease. The platform automatically rebalances portfolios and offers auto-deposits for those saving for the future. It also offers dividend reinvesting to help grow wealth. Overall, Wealthsimple is a comprehensive investment platform that offers personalized portfolios, expert financial advice, and convenient features to reach financial goals.
10. Coinsmart – Best for Beginners
Coinsmart is a leading Canadian crypto exchange that prioritizes accessibility, community, accountability, and honesty. It is publicly traded, registered with the OSC and FINTRAC, insured by BitGo, and protected by Fireblocks. With over 180,000 users trading 16 popular cryptocurrencies, Coinsmart has established a strong reputation as a reliable and secure platform for Canadian crypto investors.
Is Coinsmart a safe place to invest in cryptocurrencies? Yes. Coinsmart utilizes cold storage and follows industry-standard security practices to protect user assets. Account security is enhanced with the requirement of 2FA through the Google Authenticator app. Coinsmart has not been hacked to date but users are advised to be cautious of phishing emails. If a hack occurs due to a security fault on the platform, it is likely that Coinsmart, insured by BitGo, will refund users. On Coinsmart, users do not hold their own keys as it is a centralized exchange. Accounts may be frozen if they are found to be involved in illicit activities that violate AML compliance standards. The exchange offers 16 cryptocurrencies and has a flat trading fee structure of 0.20% for single trades and 0.30% for double trades. Coinsmart's minimum deposit is $100 and has a maximum withdrawal limit between $5,000 to $10,000. The platform requires comprehensive identity verification for all users in accordance with its FINTRAC registration. The Coinsmart app is available for free on Android and iOS devices.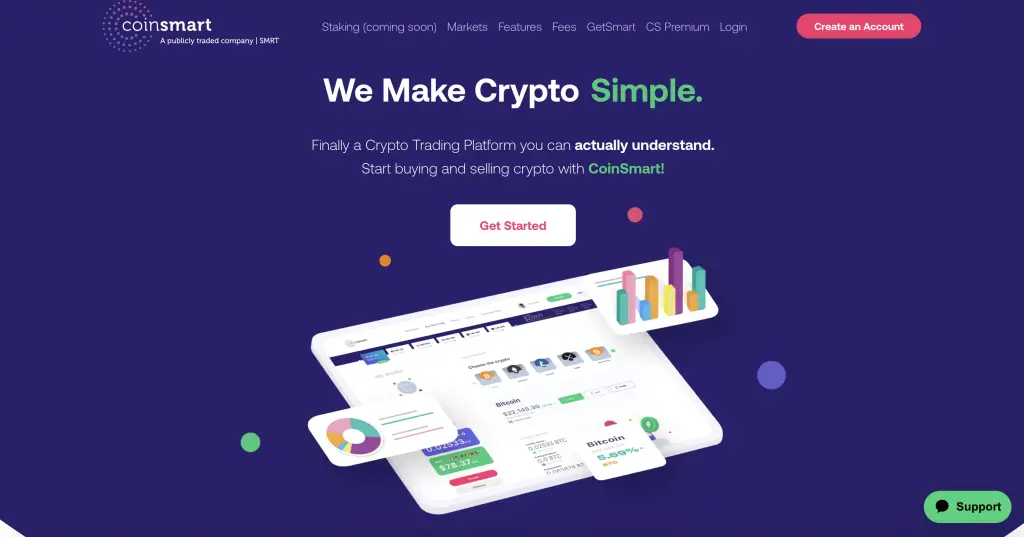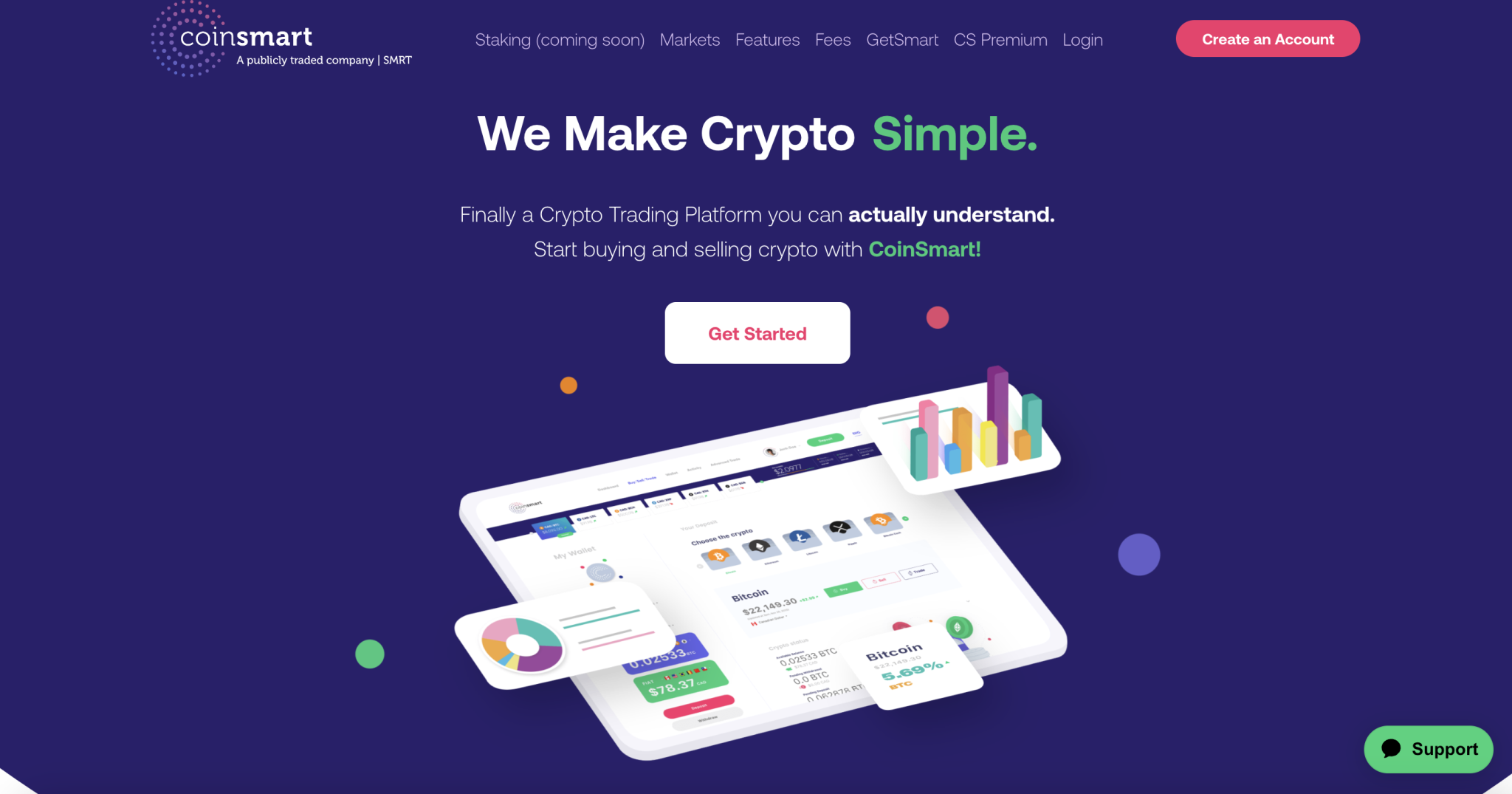 Coinsmart Features
Quick Access to Funds with Coinsmart's Same Day Deposits. Investing in the market has never been easier with Coinsmart's same-day deposit policy. Access your funds as soon as we receive them, allowing you to take advantage of market opportunities without waiting.
Multiple Convenient Funding Options are available. Coinsmart offers a range of funding options to make investing simple and accessible. From Interac and SEPA to wire transfers, e-transfers, and all major cryptocurrencies, there's a funding method that suits your needs.
Easily Track Your Trading Activity. This is done through Coinsmarts trading activity tracker makes deposits and withdrawals easy. Their platform makes it simple to monitor your investment portfolio.
All deposits are credited to your account on the same day they're received. Cash withdrawals are processed within 5 business days, and account verifications are completed the same day.
Conclusion: What is the Best Crypto Exchange for Canadian Investors?
Canadian investors should consider aspects such as platform security, transaction fees, currency support, and trading features when selecting the ideal cryptocurrency exchange. By utilizing the proper crypto exchange, Canadian users can easily and confidently buy, sell, and trade their preferred digital assets.
If we have missed one of your favourite crypto exchanges available to Canadian investors, let us know in the comments below.
FAQs
Related Posts