In this comprehensive guide, we'll explore the 10 best Australian crypto exchanges for 2023. We've done all the research to make choosing the best Australian crypto exchange for your trading requirements easier. We analyse each crypto exchange and compare their features, fees, and supported cryptocurrencys.
The world of cryptocurrency has grown exponentially in recent years, and Australia is no exception. With more and more Aussies venturing into digital assets, finding the best crypto exchange has become essential for secuiring your assets and maximizing returns.
So, let's dive into our guide on the best cryptocurrency exchanges, Australian investors should consider in 2023 and try to help you determine which is the right crypto platform for you.
10 Best Cryptocurrency Exchanges in Australia
Cryptocurrencies are becoming more popular, so more Australian investors are looking for ways to buy and sell crypto. When finding the best crypto exchange, Australian investors are advised to find a reputable trading platform, but if you're new, it can be difficult to choose between them.
However, there are several great crypto exchanges available to Australian investors. We'll introduce you to some of the best crypto exchanges we have personally used. Plus, run you through some factors that make them part of our top picks. We'll also discuss the pros and cons of each one so that you can decide which one is the best crypto exchange for you.
So without further ado, let's get started! Here is our list of the best crypto exchanges Australian investors should consider for 2023;
You can also check out our crypto exchange comparison table to compare exchanges and find one that fits your requirements.
1. Swyftx
Swyftx Features:
Swyftx also offers a demo mode that can be accessed with the click of a button, providing access to $10,000 of virtual funds to experiment with various strategies without any financial risk. The demo mode reflects real-time crypto prices, allowing traders to gain practical experience and learn valuable lessons.
In the event of any issues arising, Swyftx offers 24/7 Live Chat support, where users can receive quick and helpful assistance from the knowledgeable and responsive support team. The prompt response times are especially useful for beginners who require guidance. Whenever we tested the Live Chat functionality, we were greeted by a support staff member within a couple of minutes.
2. Coinspot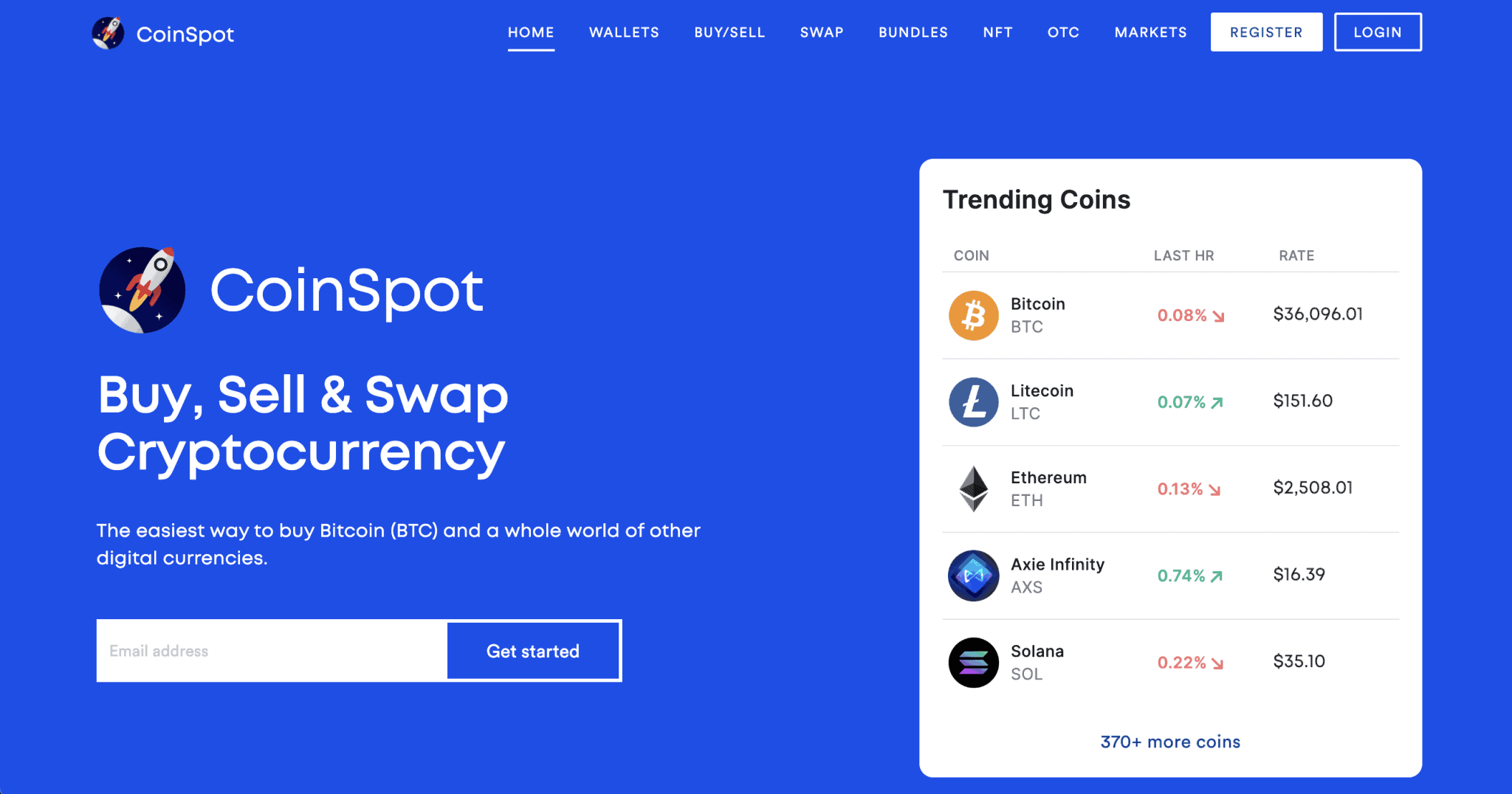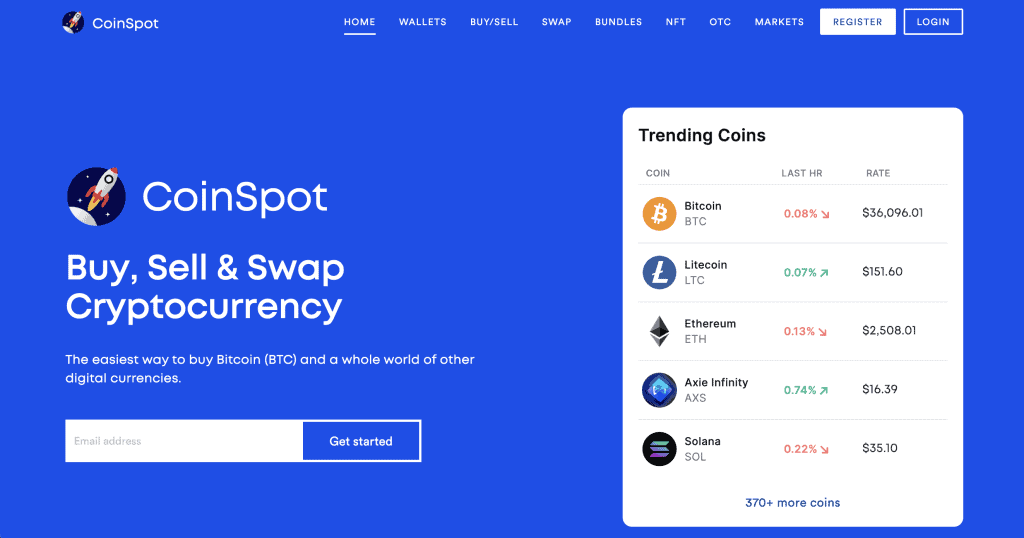 Coinspot Features
CoinSpot offers round-the-clock live chat support, ensuring users receive prompt assistance with any challenges they face, which is particularly beneficial for those new to the cryptocurrency realm.
Recently, CoinSpot introduced an NFT marketplace, allowing users to buy and sell NFTs using their preferred cryptocurrency. This eliminates the need to depend on external platforms like OpenSea or connect an additional wallet for purchasing digital art. On CoinSpot's user-friendly platform, users can effortlessly discover and acquire NFTs without incurring unnecessary time delays and fees for currency conversions.
3. CoinJar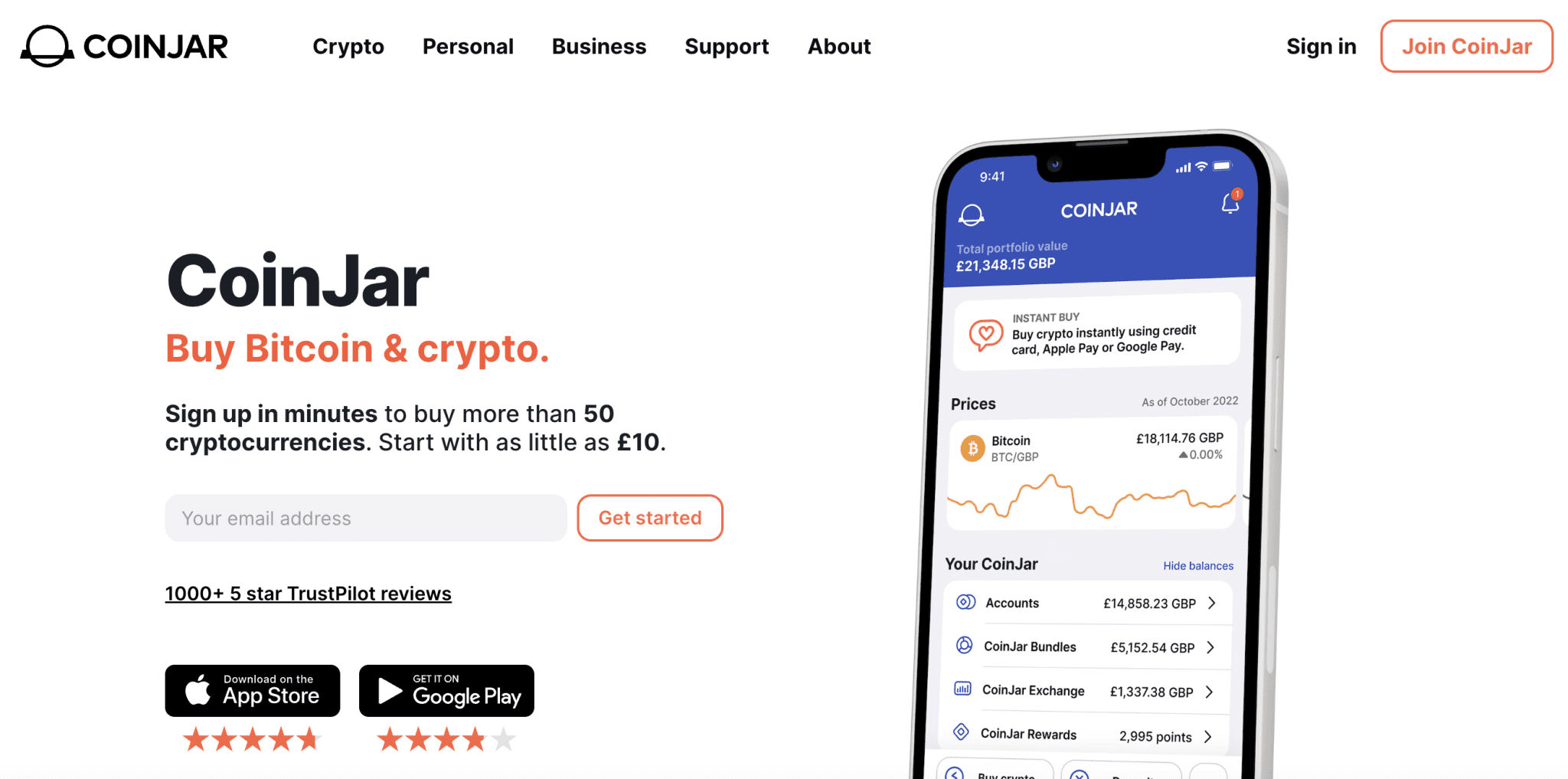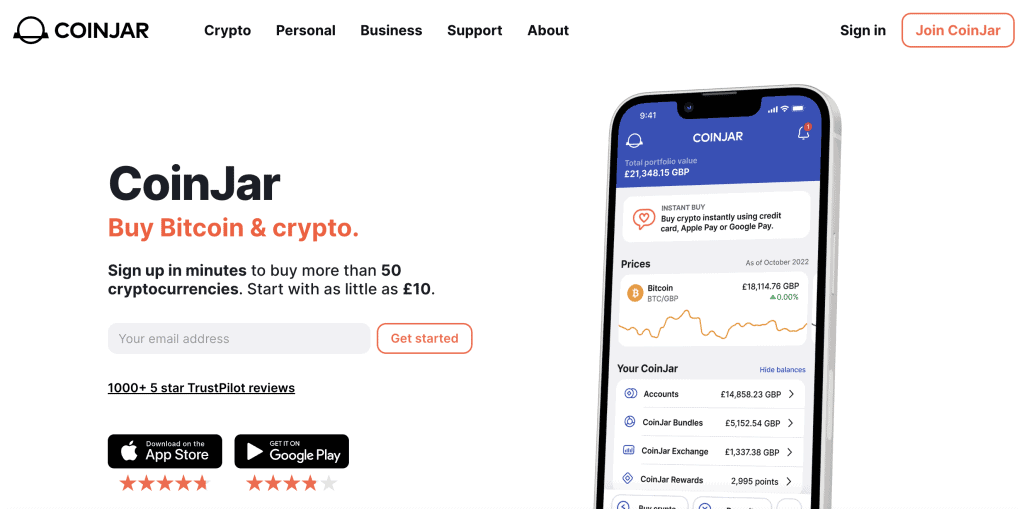 CoinJar Features
For Australian cryptocurrency investors, CoinJar presents itself as an exceptional platform. One notable advantage of CoinJar is its ability to eliminate currency exchange fees usually incurred when converting AUD to another currency, saving you money and streamlining the process.
CoinJar makes it simple to integrate crypto into your daily life. The CoinJar Swipe debit card allows you to complete transactions at any merchant accepting EFTPOS payments. This means you can use your cryptocurrency for everyday purchases, such as groceries, fuel, or even your morning coffee, just as you would with a standard debit card.
CoinJar also supports a wide array of deposit payment options, including cash payments, providing the flexibility to fund your account using your preferred method. By offering these features, CoinJar delivers a user-friendly and accessible platform for Australians keen on utilizing and spending cryptocurrency.
4. Coinbase
5. Binance Australia
Binance Features:
Binance Australia offers over 350 different cryptocurrencies for trading, as well as futures trading, for users to speculate on the future price movements of cryptocurrencies. Investors can stake their cryptocurrencies to earn rewards and support the blockchain networks. Binance Australia has an NFT marketplace for buying, selling, and trading non-fungible tokens and a mobile app for iOS and Android devices that enables users to access their accounts and trade on the go. Furthermore, Binance Australia offers deep liquidity due to being the largest crypto exchange in the world based on trading volume. For retail users, the exchange simplifies options trading, enabling users to maximize profits while minimizing downside risk. Overall, Binance Australia provides a comprehensive range of features and services for Australian cryptocurrency investors.
6. eToro
eToro is a popular platform for investors to trade stocks, ETFs, cryptocurrencies, and CFDs. Founded in 2007 by three entrepreneurs, the platform is now trusted by millions of customers worldwide. The aim of eToro was to make trading accessible to anyone, anywhere, and reduce dependency on traditional financial institutions. eToro is regulated by the UK's Financial Conduct Authority (FCA). 
There are hundreds of different financial assets to trade on eToro, which can be traded using various investment strategies. Sometimes you will own the underlying assets, such as long (BUY), non-leveraged positions on stocks and cryptos. They will also employ CFDs, enabling various options, such as short (SELL) positions, leveraged trades, fractional ownership and more.
eToro Features:
If you're an experienced investor or a complete beginner, eToro will have you covered. Beginners can start investing in stocks with fractional shares, allowing users to own just a fraction of a single stock.
For those interested in crypto trading, clients can trade Bitcoin, Ethereum, Litecoin, and other popular cryptocurrencies. There are hassle-free deposits and withdrawals, and you can track real market data and follow each coin's trends. Plus, they also have a staking service available for crypto HODLers, allowing users to use their crypto and earn passive income.
CopyTrader was brought to the platform in 2010 and is great for those getting started investing or who don't have the time to watch the markets constantly. CopyTrader lets you view what real traders do in real-time and copy their trades automatically.
7. OKX
8. Crypto.com
Crypto.com was founded in 2016 and has its headquarters situated in Singapore. They were previously known as Monaco before being rebranded to Crypto.com in July 2018, paying between $5 million to $10 million for the domain.
Since it launched in 2016, they have become one of the fastest-growing companies in the crypto space and have over 10 million users worldwide. They continue to innovate and add more features to their platforms, such as their popular Visa debit card and, more recently, NFTs. Making it a one-stop shop for crypto enthusiasts.
Crypto.com Features:
Crypto.com offers users various features and products, including the Crypto.com App, where users can buy crypto, including Bitcoin and 100+ cryptocurrencies, with a credit/debit card or via bank transfers.
One of the most popular features is their Crypto.com Visa Debit Card, where users can receive cashback on purchases between 1% and 8%, plus free Spotify, Prime and Netflix subscriptions.
The Crypto.com exchange is their platform for users to trade crypto to crypto with more advanced order types, low fees and deep liquidity. Plus, they also have an additional range of products within the exchange, including The Syndicate, Supercharger and Lending.
There are also ways for users to stake and earn from their crypto, DeFi services and an NFT marketplace.
9. KuCoin
KuCoin Exchange is one of the newer crypto trading platforms on my list and was created in 2017; where you buy and sell cryptocurrencies in over 200 countries. They have high liquidity and a wide selection of supported digital currencies and services.
Much like Binance, this crypto exchange is another excellent option for low trading fees and is based on a user's trading volume and their holdings of the platform's native token, KCS.
KuCoin boasts one of the world's most sophisticated security technology and maintenance teams and is constantly upgrading its security systems to ensure the safety of user assets and accounts. However, KuCoin was hacked in September 2020, with hackers obtaining the private keys to the exchange's hot wallets.
Kucoin Features:
KuCoin has many features that cater to the newbie just getting into the crypto market or the seasoned trader. New users can buy crypto directly from their site with FIAT currency via Visa, MasterCard, FIAT balances, peer-to-peer or using 3rd party providers.
Experienced traders can trade with margin, trading bots and derivatives with leverage. They also feature ways users can earn stable profits on their assets, borrow, buy, sell and swap NFTs, and they even have their own self-custody crypto wallet.
10. Kraken
Kraken Exchange is one of the oldest crypto exchanges, having operated since 2013. The platform is another great option for newbies, with a simple and basic interface to get started with, whilst also a good option for more advanced traders. It offers users more than 150 cryptocurrencies to trade, buy, and sell.
With Kraken, users can trade with 6 fiat currencies, including USD, Japanese Yen, Canadian, British, Euros, and Australian dollars. Kraken trading fees range from 0% to 0.26%, which is pretty low for a crypto exchange. Plus, it's also considered a very secure space to trade digital currencies, with most of its cryptocurrency stored offline.
Kraken Features:
With Kraken Exchange, there are many trading features including; spot markets, futures trading with up to 50x leverage and margin trading to open larger positions. Plus, they offer various order types like limit, market, stop, trailing stop, and fill or kill.
Regarding staking options, with Kraken, users can stake Polkadot, Cosmos and Tezos. Plus, in some countries, you can even stake FIAT currencies such as Euros and US dollars.
How do I Choose a Crypto Exchange in Australia?
When choosing a crypto exchange, it's important to take time to research and compare different exchanges, read user reviews, and choose a platform that best aligns with your trading goals and preferences. To choose a crypto exchange in Australia, consider the following factors:
Fees: Compare trading, deposit, and withdrawal fees across different platforms.
Security: Ensure the exchange follows best practices for safeguarding user assets and personal information.
Supported Cryptocurrencies: Verify the exchange supports the digital assets you're interested in trading.
User Interface & Experience: Assess the ease of use and overall trading experience on the platform.
Customer Support: Research the quality and availability of customer service. Check the Trustpilot rating and read the reviews.
Additional Features: Look for unique features that cater to your needs, such as margin trading, staking, or NFT support.
Conclusion: Best Crypto Exchange for Australian Investors
The Australian cryptocurrency exchange landscape is rich and diverse, offering a wide range of platforms to cater to various investor needs and preferences. From beginner-friendly exchanges like CoinSpot and Coinbase to advanced trading platforms like Binance and Bybit, there's something for everyone.
As you explore the world of crypto investing in 2023, remember that the best exchange for you depends on your individual goals, expertise, and requirements. By choosing the platform that aligns with your needs, you'll be well-equipped to make the most of the exciting opportunities that the world of cryptocurrency has to offer.
If we have missed one of your favourite crypto exchanges available to Australian investors, let us know in the comments below.
FAQs
Related Posts