Are you a UK crypto investor having issues with Binance UK Withdrawals and unsure what to do? Look no further! In this beginner's guide, we'll explain step-by-step how to convert your digital crypto assets into British Pounds and then how to withdraw GBP back into your bank account.
Binance is set to discontinue GBP withdrawals and deposits as its local banking partner Paysafe terminates their relationship. While new users have already lost access to these services, existing users will face the complete discontinuation of sterling transactions unless an alternative provider is found.
So, let's get started and dive into our guide on how to withdraw GBP from Binance for UK cryptocurrency investors.
How to Withdraw GBP from Binance to a Bank Account
The process of withdrawing GBP from Binance to a bank account is pretty simple, which we will outline in our step-by-step guide below. You can also check out our video tutorial on Binance Withdrawals for UK investors.
However, not for the first time; Binance UK users will experience issues withdrawing GBP from Binance to their bank account. This is due to the termination of the relationship with local banking partner Paysafe.
This service is already no longer available to new users, and existing users will face following suit from the 22nd of May 2023 unless an alternative provider is found.
<br>The process of withdrawing from your Binance account can be complicated initially, but once you have done it once, you shouldn't have any issues.<br>
Total Time: 10 minutes
Log into Binance
– To withdraw GBP from Binance, start by going to your Binance.com account.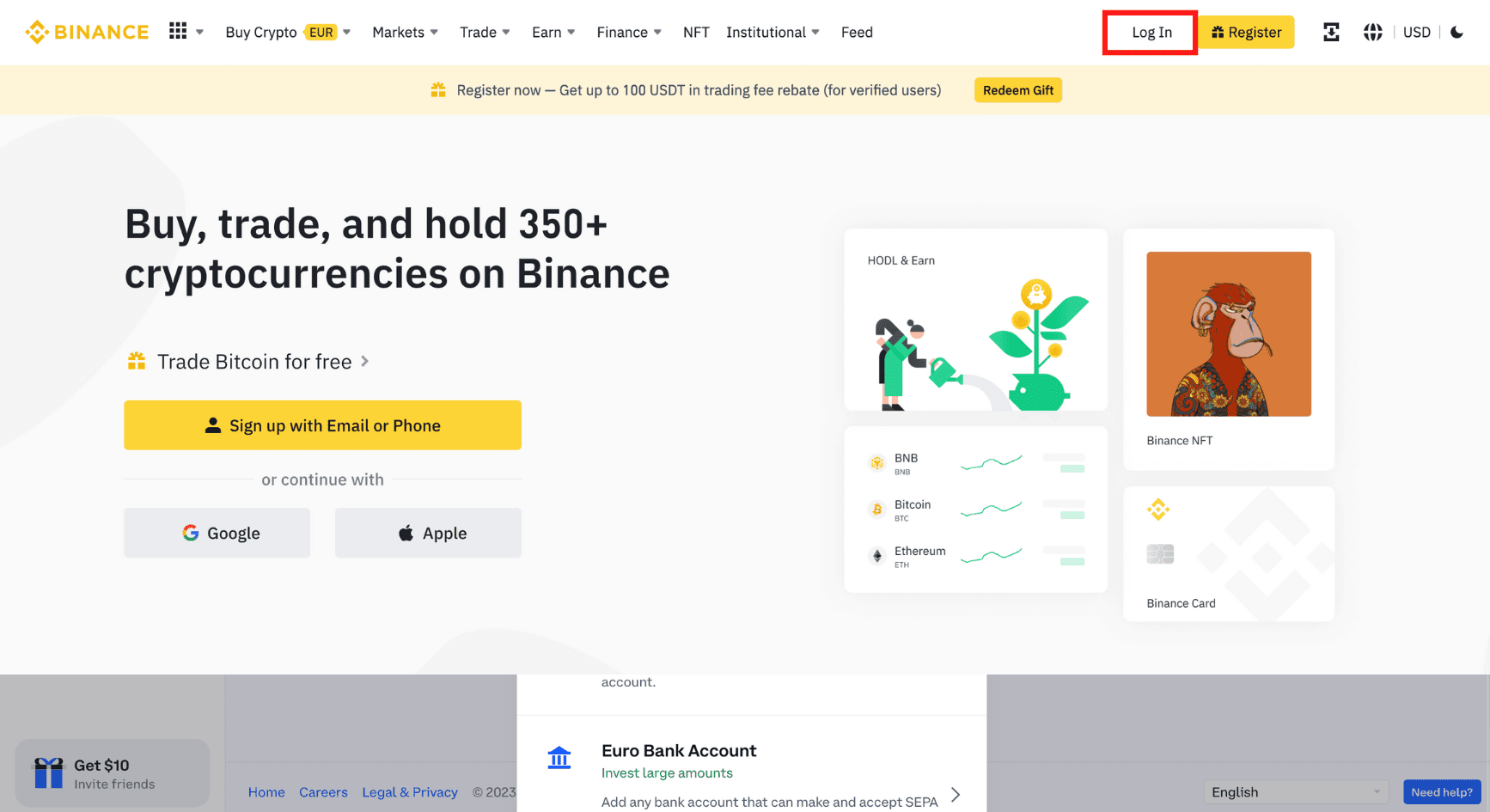 Navigate to the "Wallet" Tab & "Fiat and Spot"
– From the top of the Binance Home page, go to the Wallet tab and then select "Fiat and Spot" from the dropdown menu.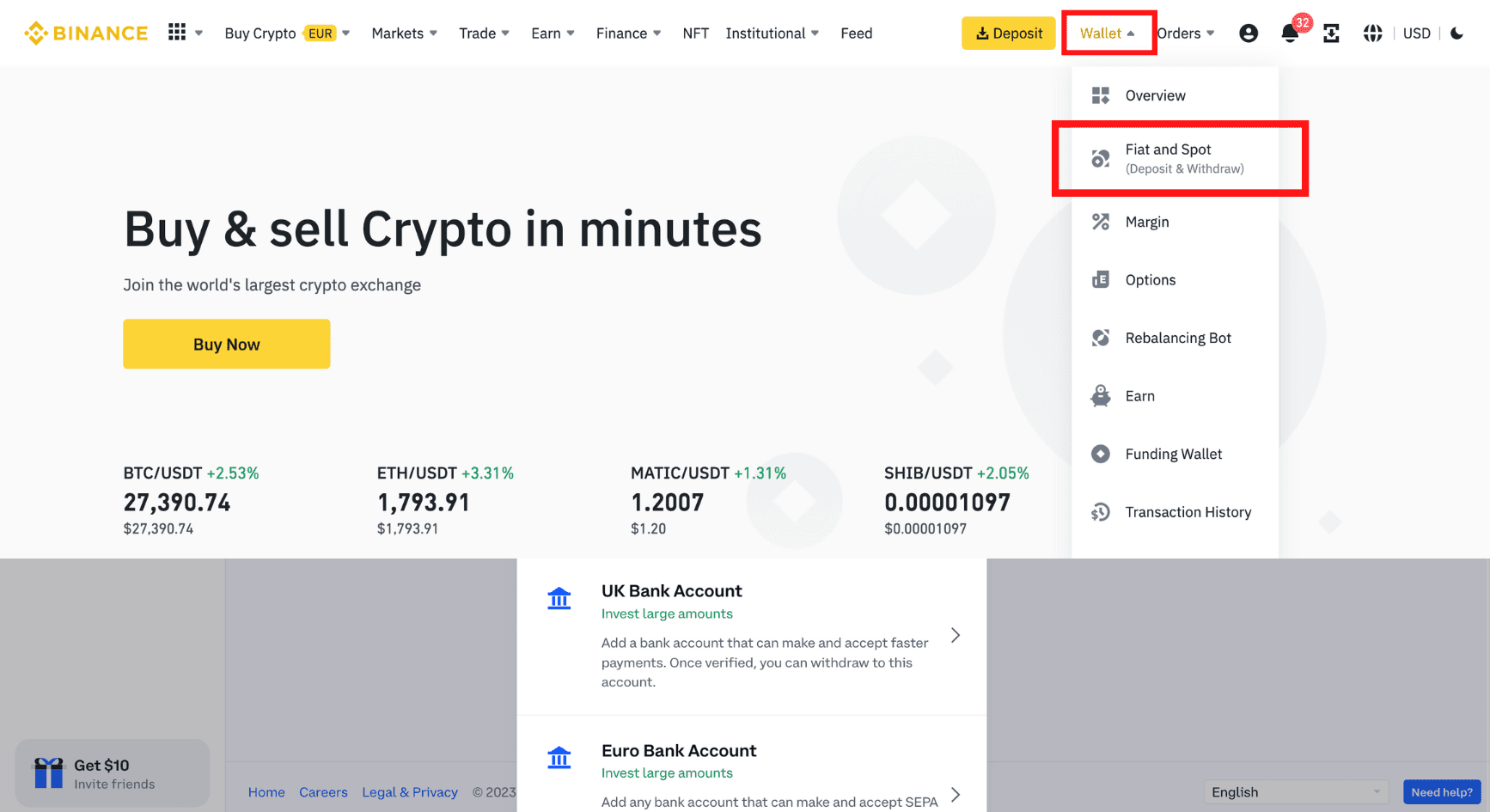 Go to GBP to & Select "Withdraw"
– From the Fiat and Crypto Balance, navigate to "GBP Pound Sterling" and choose "Withdraw".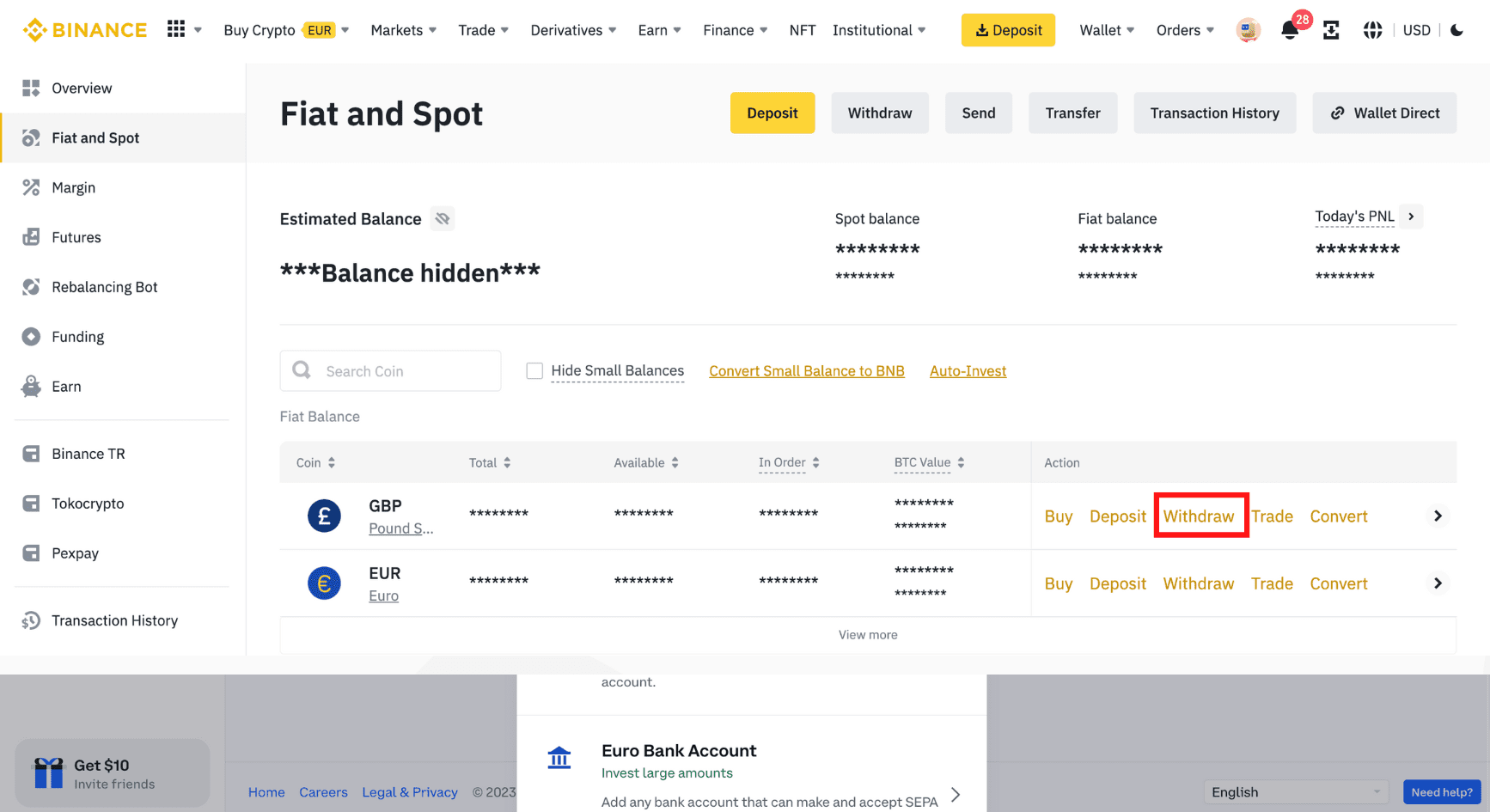 Choose a Withdrawal Method to Withdraw GBP
– From the Binance withdrawal page, choose your withdrawal payment method.
In this example, we're withdrawing to a Bank Card (Visa) with a transaction fee of 1.8%. However, the payment methods and fees may vary depending on the options available to you.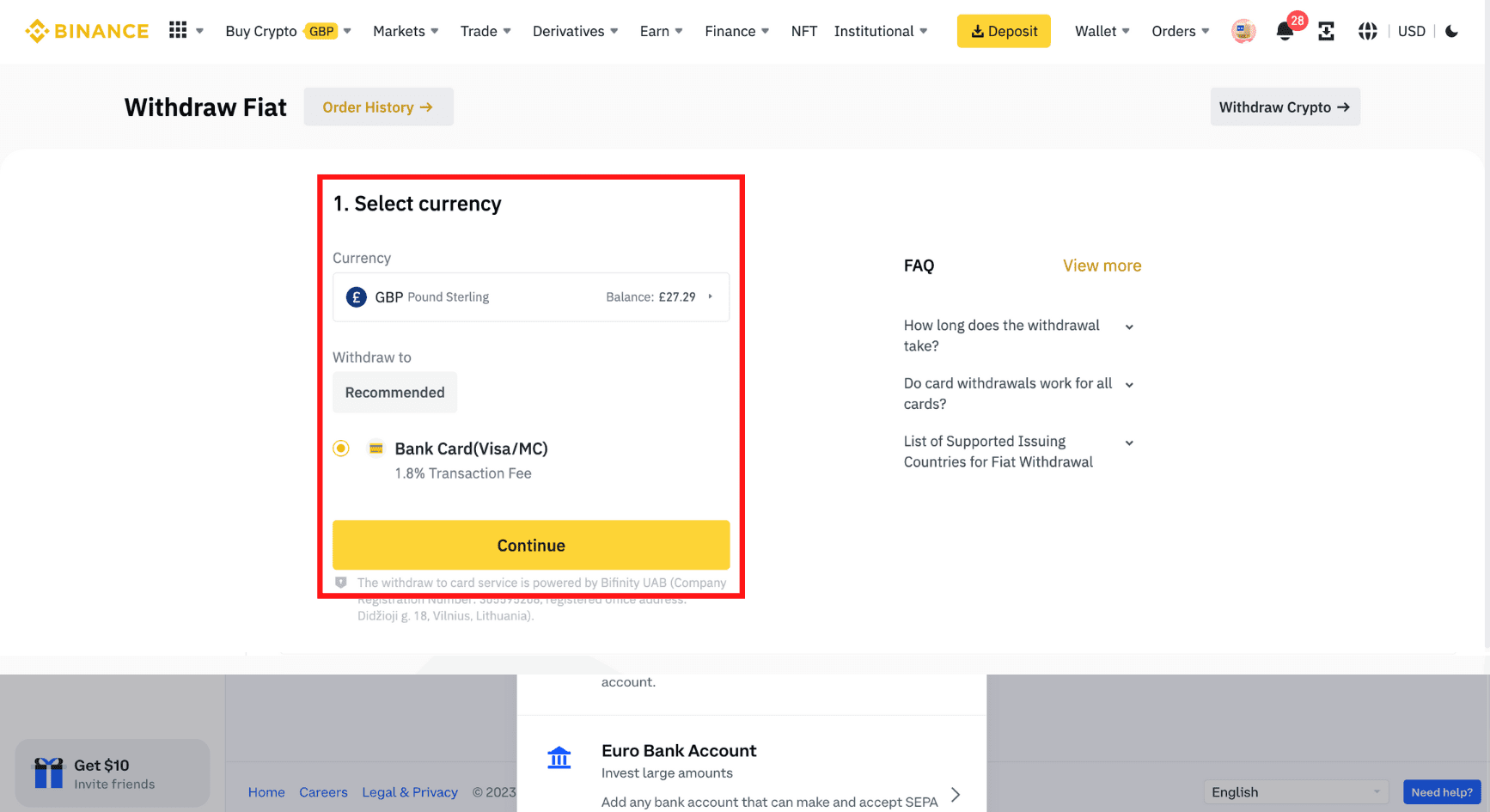 Enter the Withdrawal Amount in GBP
– Enter the amount of GBP you want to withdraw, or choose 'Max' to withdraw all your fiat balance.
Add Beneficiary's Information
– Add your bank card by choosing Add New Card and Continue, followed by your billing details. This step will vary depending on your payment method, as you might need to enter your account details for bank transfers.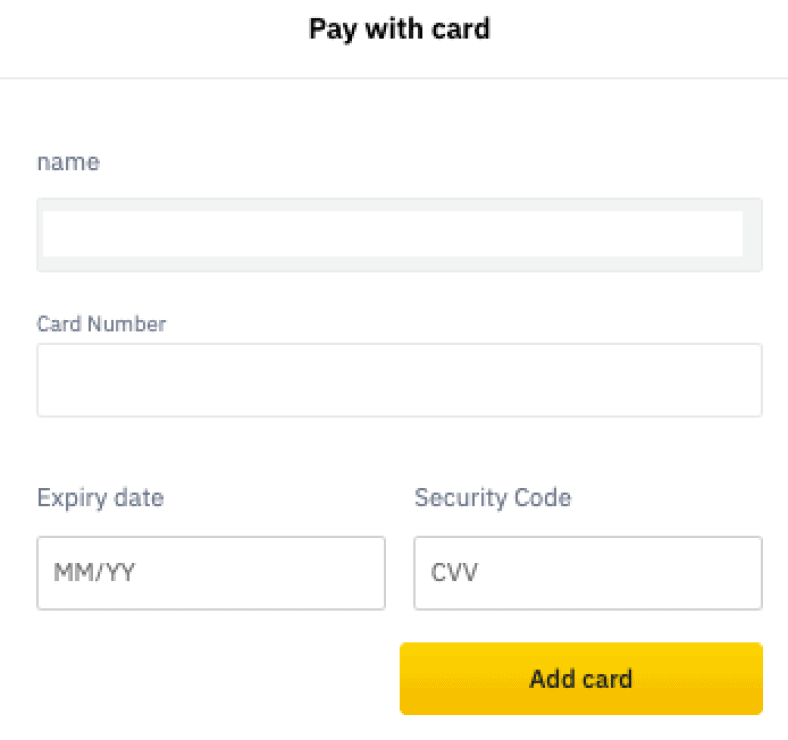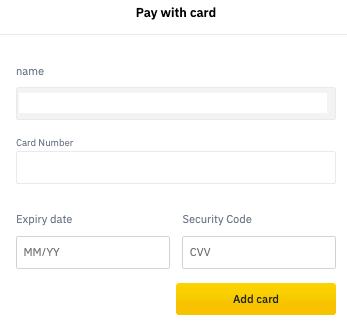 Confirm Withdrawal from Binance
– When you are ready, select 'Continue'. You may then be prompted to enter your 2-factor authentication method.
After the withdrawal confirmation, your Great British Pounds will reach your bank account, credit or debit card. Any withdrawals will be displayed under your Recent Withdrawal History.

What is Binance?
Binance is a leading global cryptocurrency exchange platform that offers a secure and user-friendly environment for buying, selling, and trading a wide variety of cryptocurrencies. Originally founded in China in 2017, Binance has since established a strong presence in the UK market, catering to the growing demand for digital asset services among UK investors.
The platform enables users to access popular cryptocurrencies such as Bitcoin, Ethereum, and many others while providing competitive trading fees and advanced trading features. By focusing on compliance with local regulations, Binance aims to offer UK investors a safe and reliable platform for their cryptocurrency needs.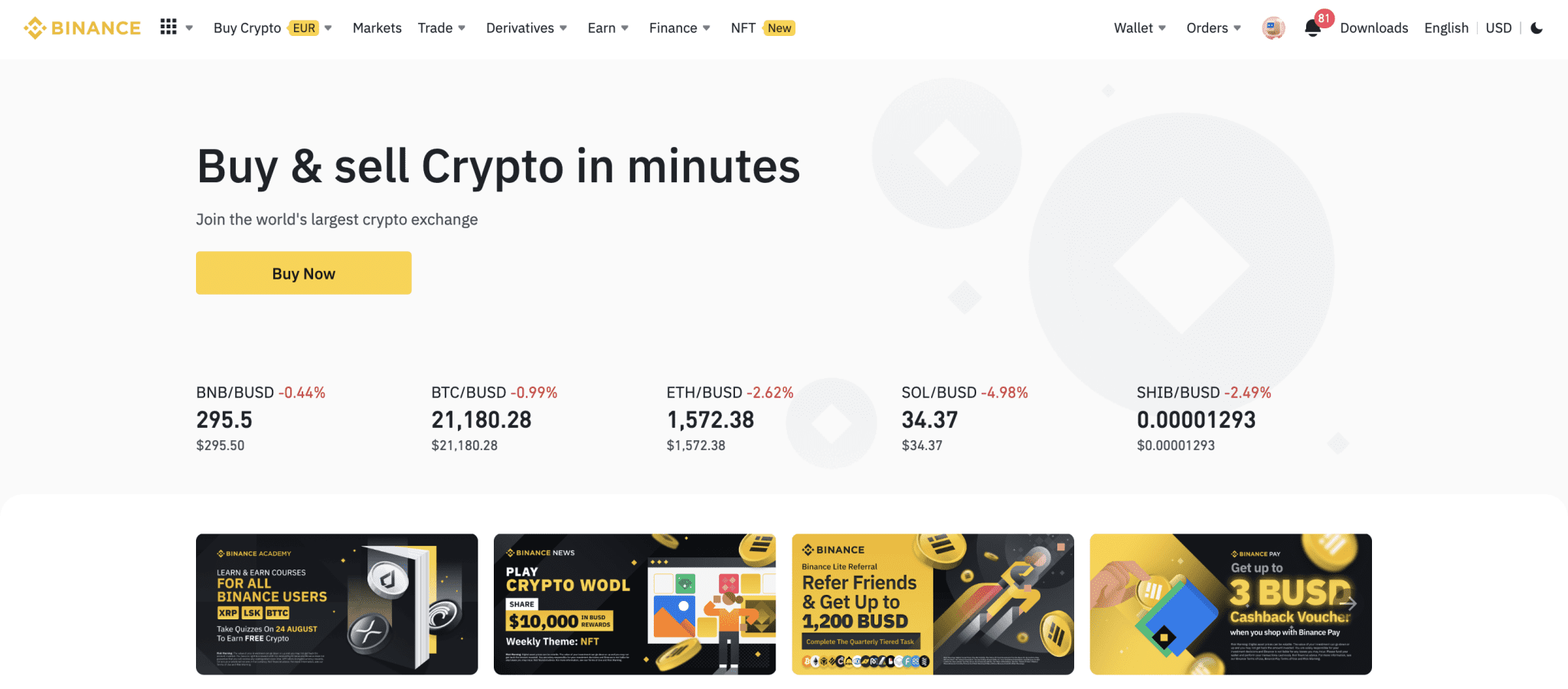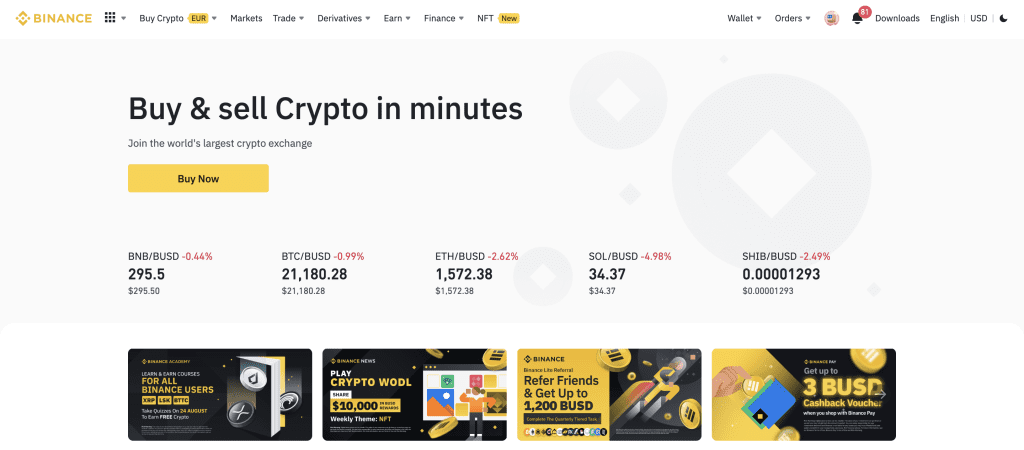 Binance to Stop UK Withdrawals & Deposits
Binance announced via email on March 13th 2023 that it will cease processing GBP withdrawals and deposits for UK investors. Fortunately, for UK Binance customers, deposits and withdrawals will continue functioning normally until May 22nd 2023.
A spokesperson reassured Binance customers and explained that all other methods for depositing and withdrawing fiat currencies, as well as buying and selling crypto on Binance.com, will continue as usual. This includes bank transfers using supported fiat currencies and transactions via credit or debit cards.

Binance UK Regulations
Since launching its crypto exchange, Binance has faced ongoing challenges with UK regulators.
In 2020, Binance expanded its presence in the UK by acquiring a local company. This acquisition allowed Binance to establish a UK subsidiary called Binance Markets Ltd. This move was aimed at strengthening Binance's foothold in the region and catering to the growing demand for cryptocurrency services among UK investors. By operating as Binance Markets Ltd., the company intended to comply with local regulations and offer a secure platform for UK users to trade various cryptocurrencies.
However, in June 2021, the UK's Financial Conduct Authority (FCA) issued a warning about Binance's operations, stating that the platform was not "permitted to undertake any regulated activity."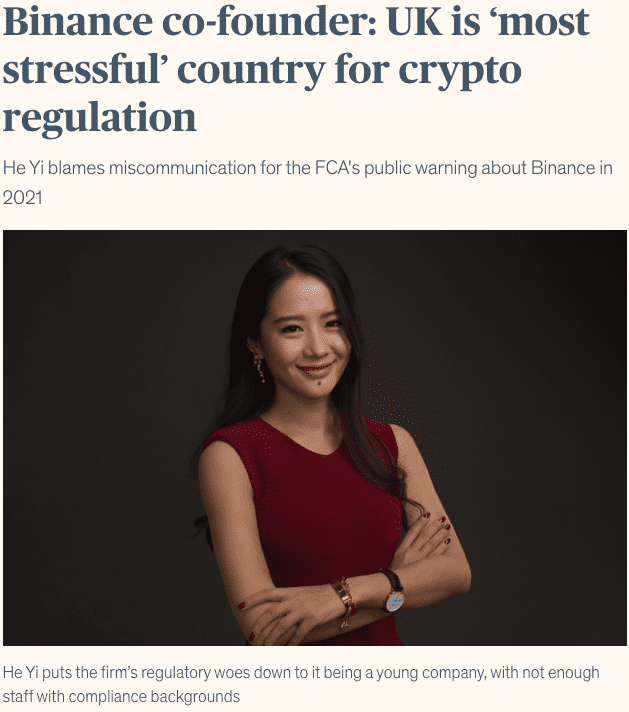 After partnering with Paysafe, a UK-regulated company, in January 2022. Binance could again resume offering Sterling deposits to its UK customers and reopened Single Euro Payments Area transfers. This development again raised concerns for the financial watchdog, who considered the exchange a "significant risk."
As a result, Binance partnered with Paysafe, a UK-regulated company, to enable deposits and withdrawals through the SEPA payment network and Faster Payment Services (FPS). However, it remains uncertain whether the exchange can find another partner to help restore its services in the UK.
Paysafe announced on March 14th 2023, that it would discontinue offering one of its products to Binance's UK customers, referring to local regulators' stance on crypto-assets. The company did not specify whether it would cease support for other crypto firms as well.
We have concluded that the UK regulatory environment in relation to crypto is too challenging to offer this service at this time, and so this is a prudent decision on our part taken in an abundance of caution

Paysafe Spoksman
Is it Safe to Keep Crypto on Binance Exchange?
While Binance is a reputable and secure exchange, it is generally not recommended to store your crypto or fiat currencies on any centralized exchange for extended periods, including OKX or Kraken. The safest approach after completing your trades is to transfer your crypto assets to a secure wallet or withdraw fiat funds back to your UK bank account.
For maximum security, consider using a hardware wallet like Ledger Nano or Trezor, which keeps your cryptocurrencies offline and protected from potential threats. If you prefer a free option, Exodus and Trust Wallet. are reliable choices.
For UK-based investors seeking a crypto-friendly bank, refer to our guide on the best crypto-friendly banks in the UK to find the most suitable option for your needs.
Binance UK Deposit & Withdrawal Fees
Binance is renowned for its competitively low fees, which often stand out in comparison to other exchanges that can charge up to 4% or more. As a beginner in the world of crypto, it's crucial to consider withdrawal and network fees, as high costs can quickly eat into your profits.
The fee you'll pay when withdrawing crypto from Binance depends on the specific cryptocurrency you're withdrawing rather than the amount of crypto involved in the transaction. It's important to be aware that withdrawal fees may fluctuate based on factors like network congestion.
To stay up-to-date with the latest Binance withdrawal fees, be sure to check their website regularly or visit this link.
| Method | GBP Deposit Fee | GBP Withdrawl Fee |
| --- | --- | --- |
| Instant Bank Payment | 0.5 GBP | 0.5 GBP |
| Bank Transfer (Faster Payments) | N/A | 1GBP |
| Bank Card(Visa/MC) | 1.80% | N/A |
| Bank Card (Visa) | N/A | 1.80% |
| Etana Account Balance | 0 | 0 |
| Bank Transfer (Faster Payments) | 1 GBP | N/A |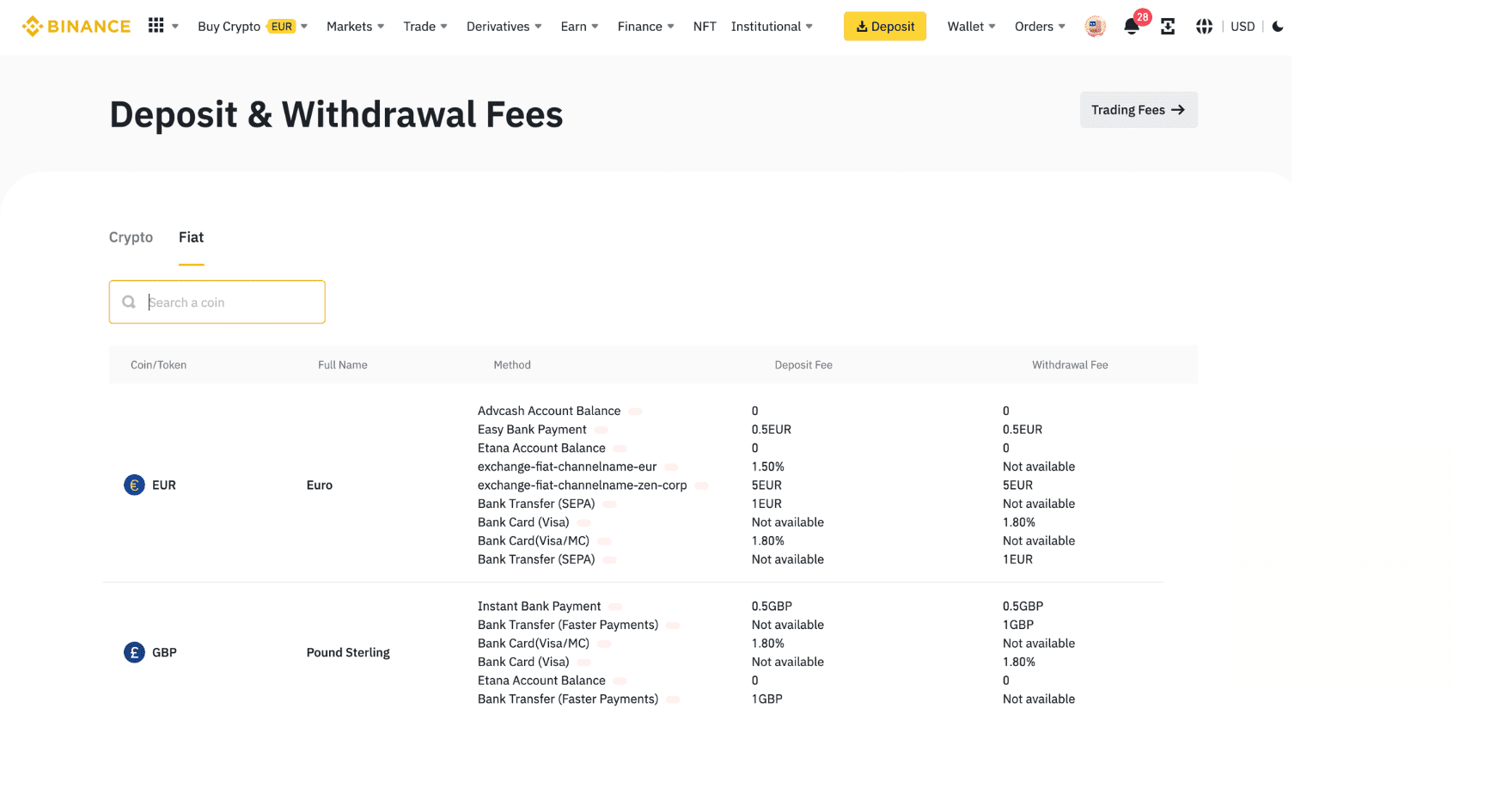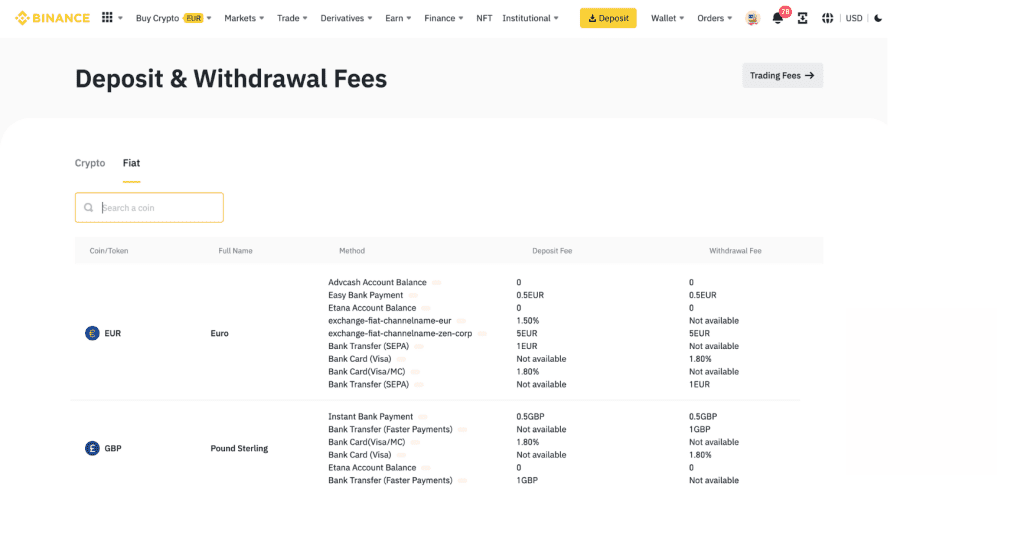 How Long do Binance Withdrawals Take?
The duration of Binance withdrawals is influenced by a variety of factors, such as the cryptocurrency being withdrawn, the withdrawal amount, and the level of network congestion. In order to reduce Binance withdrawal processing times, it's important to examine the network status of the cryptocurrency you intend to withdraw. During busy periods, particularly when the network is congested, it's best to avoid withdrawing from Binance.
Here are some reasons why Binance withdrawals may take longer than expected:
Withdrawal Limits: Binance may place daily or weekly withdrawal limits on specific cryptocurrencies or account levels. Withdrawals that exceed these restrictions may necessitate manual processing, resulting in longer processing times.
Network Congestion: Large transaction volumes or congestion on the network can cause withdrawal processing delays.
Technical Difficulties: Similar to any other online platform, Binance may encounter technical issues or downtime, impacting withdrawal processing times.
Security Checks: Binance may conduct additional security checks, such as manual reviews or user identity verification, particularly for large withdrawals or high-risk transactions. These procedures may lengthen processing times.
How to Withdraw Crypto from Binance
Withdrawing crypto from Binance is a straightforward process, allowing you to transfer your assets to your desired wallet quickly. However, it is important to make sure you choose the correct network and ensure the accuracy of the wallet address, as crypto transactions are non-retractable.
Follow these steps to withdraw your crypto from Binance:
Log in to your Binance account.
Navigate to "Wallet" and then select "Fiat and Spot."
Choose the cryptocurrency you want to withdraw.
Under the "Action" tab, click on "Withdraw."
In the "Address" field, enter the recipient's wallet address.
Choose the appropriate blockchain "Network" for the transaction.
Input the amount of crypto you want to withdraw.
Carefully copy and paste the wallet address to avoid errors.
Click "Send Code" to receive a confirmation code via email or SMS.
Enter the Binance 2FA (Two-Factor Authentication) code to complete the withdrawal process.
Log in to Binance
– To get started, log into Binance.com, go to "Wallet" at the top of the screen, and select "Fiat and Spot".



Choose the Cryptocurrency to Withdraw
– This will then display a list of all your Fiat currencies and Crypto balances. You can select the crypto assets you want to withdraw by clicking "Withdraw".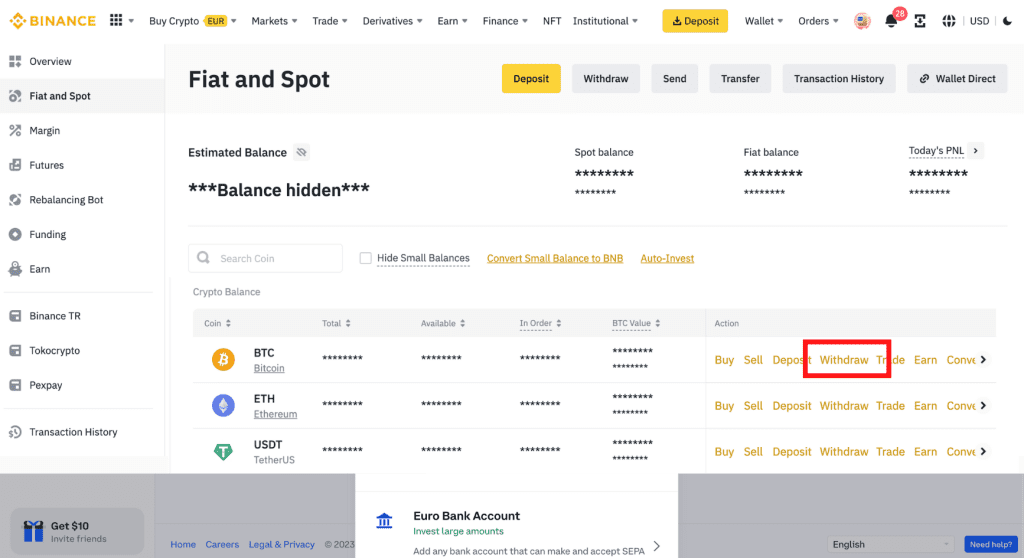 Enter the Recipient's Address, Network & Amount
– The crypto withdrawal page will then display, where you'll be prompted to enter the recipient/withdrawal "Address" to withdraw to. Copy your 'Receive' address from your chosen external platform (or scan the QR code) and paste it into this field.
– You will also need to select the network you want to use for the withdrawal. Please make sure the recipient address supports the network you choose.
– Enter the amount you want to withdraw, or click 'Max' to withdraw all your available balance. Any minimum withdrawal amounts will be pre-populated in the 'Amount' field. The fees for withdrawing your crypto will be shown on the screen as the total amount you will receive.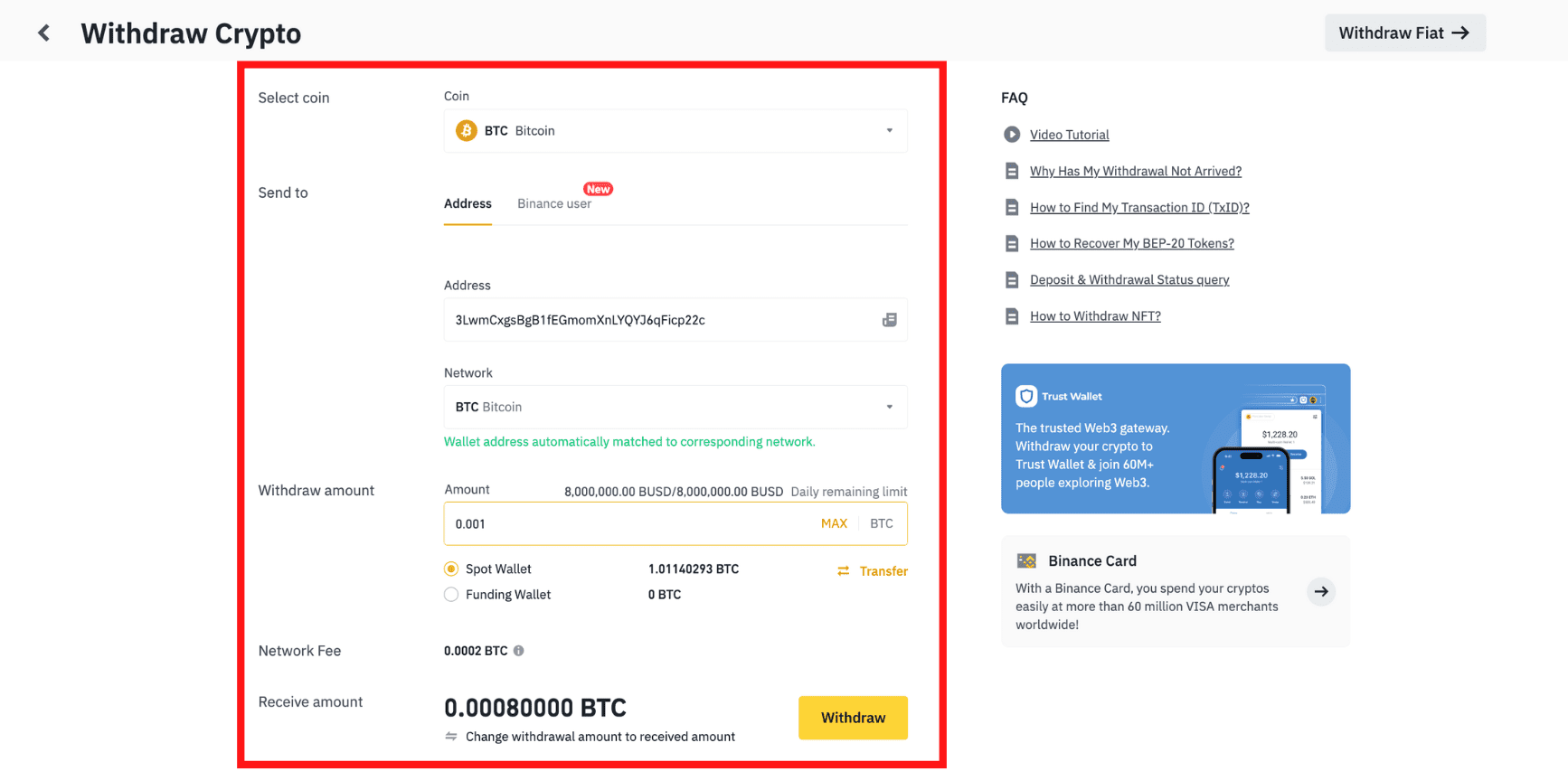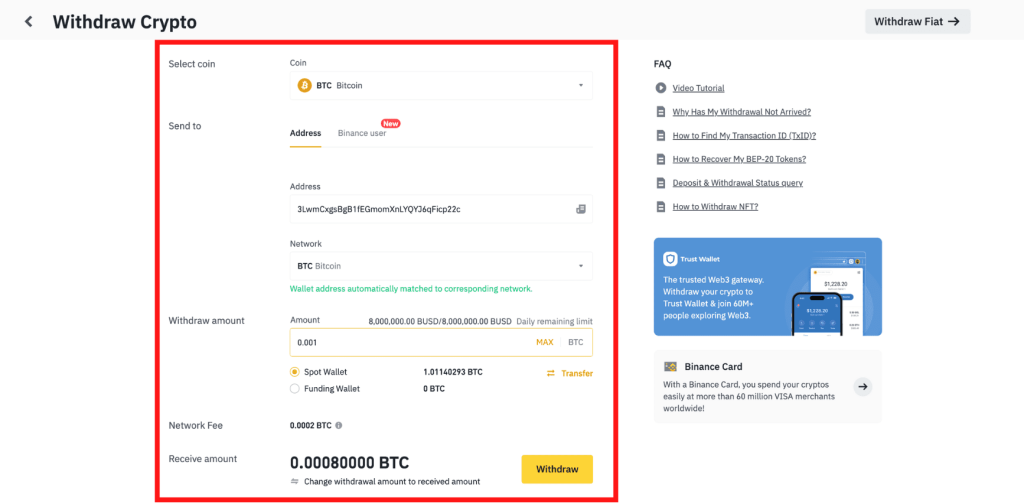 Review & Confirm the Transaction
– Select "Submit" to submit your withdrawal request when you are ready. Depending on your 2-factor authentication method, you may be requested to complete security verification before the withdrawal is complete.

Check Transaction History
– After completing your Binance withdrawal, you can check the withdrawal status displayed under your "Recent Withdrawal History".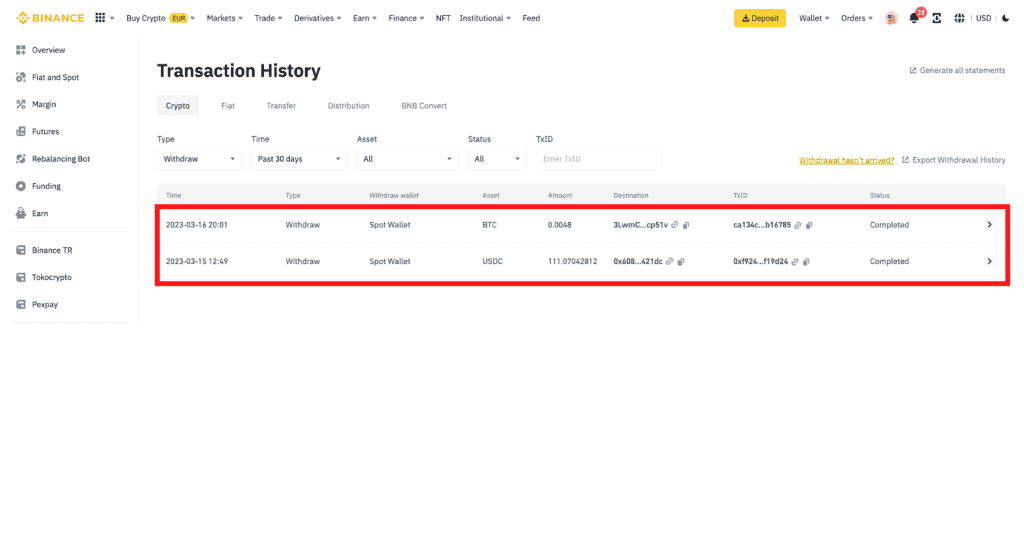 Binance Withdrawal Alternatives
If you're looking for alternative ways to withdraw GBP from Binance and back to your UK bank account, there are a few different options available.
1. Binance P2P
With Binance P2P (Peer to Peer), users can buy or sell crypto directly with each other on the Binance exchange. It offers more than 150 payment options, one of which being GBP bank cards and transfers, and what's more, there are no trading fees.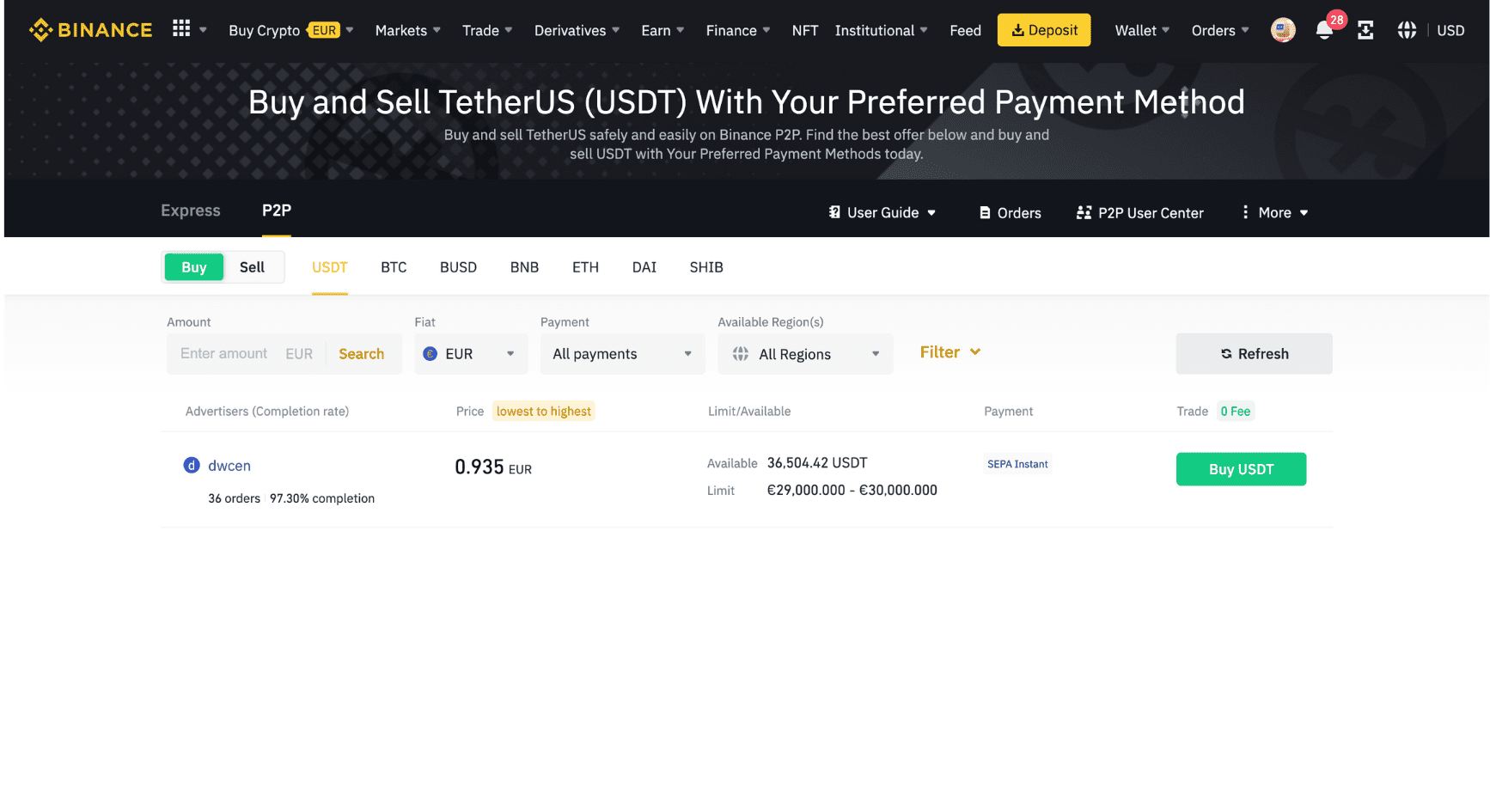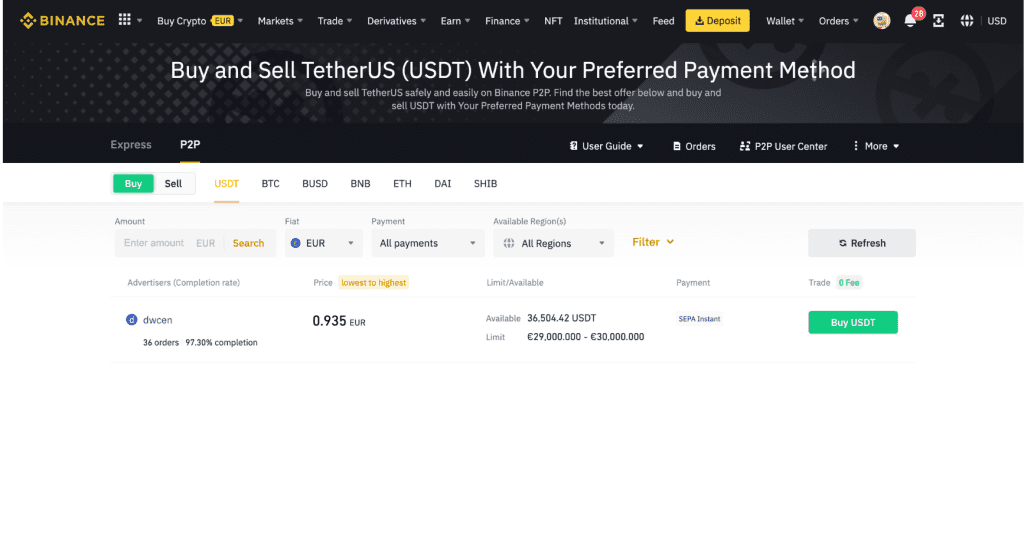 2. Alternative Exchanges
The second option is to use an alternative cryptocurrency exchange such as Coinbase. With Coinbase, you can still sell your crypto and withdraw GBP back to a UK bank account. Therefore you can withdraw crypto from Binance and sell and withdraw GBP from Coinbase.
In this way, you can still take advantage of Binance's low fees when trading but use Coinbase as a bridge to sell and withdraw GBP back to your bank account.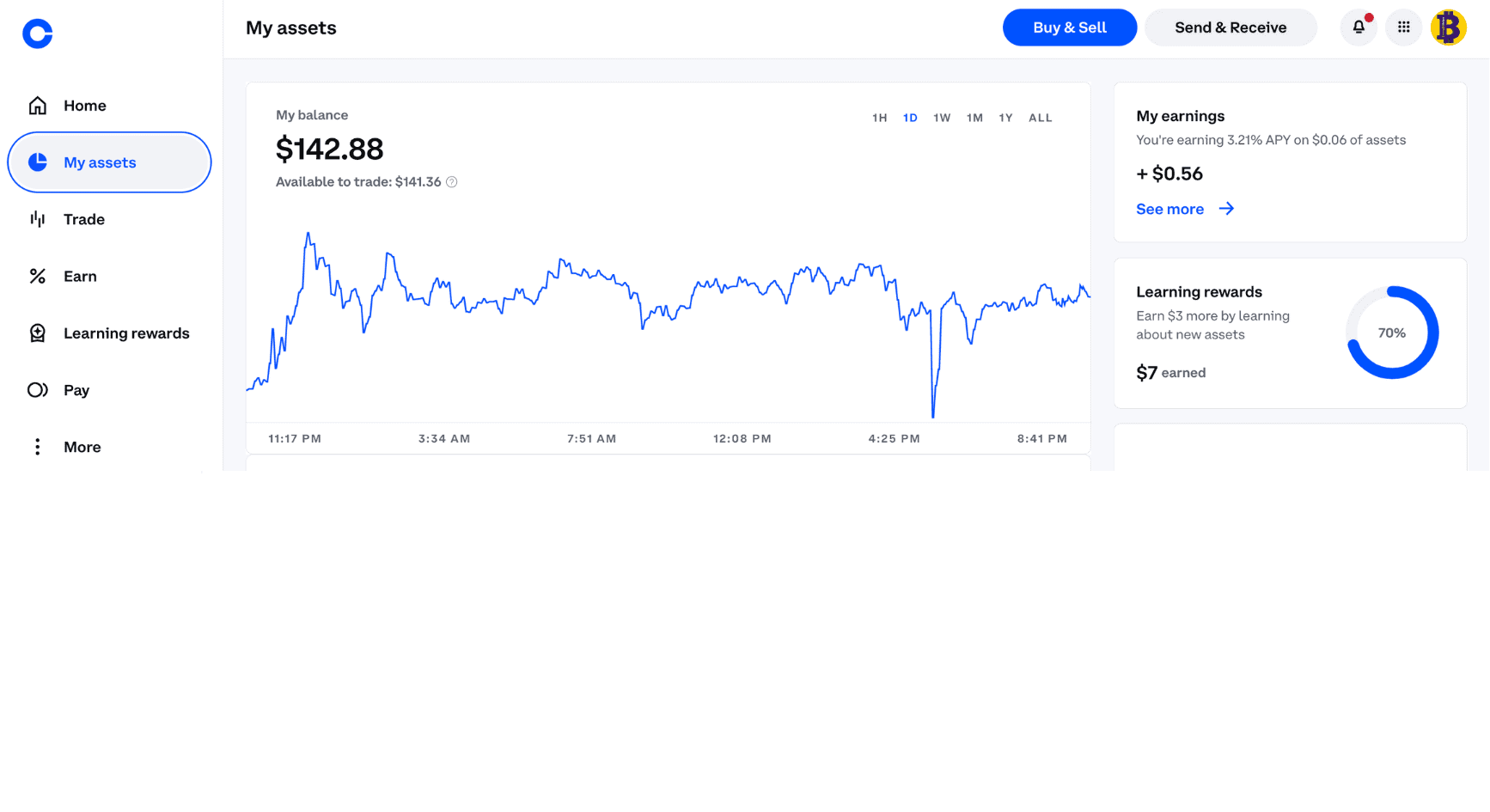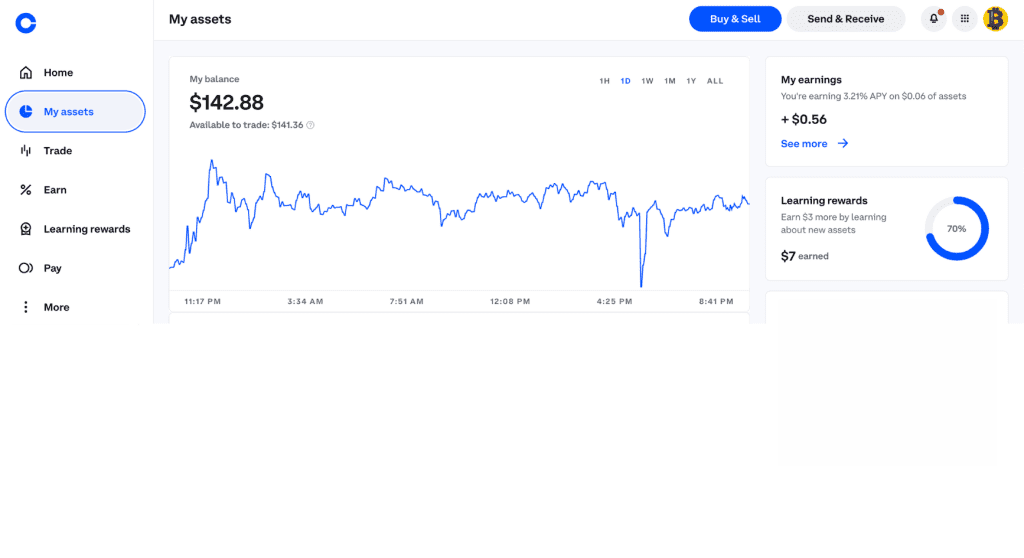 3. Use a MultiCurrency Account
Another option is that you could potentially use a multicurrency bank account. In this case, you may be able to convert your GBP to the likes of Euros and then fund your Binance account with Euros instead.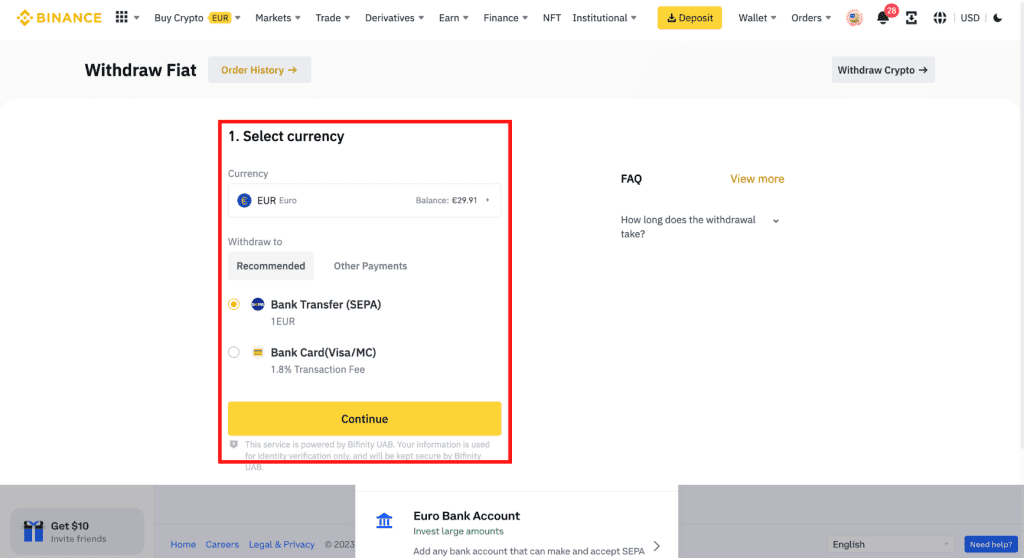 Conclusion
Binance for UK investors has been a challenging journey. With constant regulatory changes and evolving partnerships, UK crypto enthusiasts have had to adapt to a fluctuating landscape. It is important for crypto investors to stay informed, as regulations can change quickly.
To mitigate risks, it is advisable not to rely solely on one crypto exchange. Additionally, it's essential to remember that storing your digital assets on any exchange for long periods is not recommended. Instead, consider using secure wallets for the long-term storage of your cryptocurrencies.
We hope you found our guide on withdrawing GBP from Binance UK useful. If we have missed any updates or if anything is incorrect, please let us know.
FAQs
Do UK banks allow Binance?
It has become difficult to deposit or withdraw to Binance using UK banks due to the FCA. The FCA advised UK banks to block payments to and from crypto exchanges deemed high-risk. As a result, most UK banking providers have ceased transactions with Binance.
Can I still withdraw GBP from Binance UK?
Yes, Binance UK customers can still withdraw from the exchange. However, from May 22nd, there will be a restriction on withdrawing GBP from Binance. Binance crypto withdrawals won't be effective.
Related Posts