In this Binance Lite vs Binance Pro review, we'll take a deep dive into the beginner-friendly simplified version of the Binance App. cryptocurrency exchange mobile App from Binance. We take a look at Binance Lite's features and how it compares to the more advanced Binance Pro versions and discover which is the best mode for you.
So let's jump into this Binance Lite Review to help you work out whether Binance Lite or Binance Pro is the right version for you.
Binance Lite vs Binance Pro Review

What is Binance Lite?
Binance Exchange introduced its Binance Lite version in February 2021. Making it the easier for crypto novices to buy and sell crypto. Binance Lite users can check prices, buy, sell and exchange crypto without having to access more complex order books or charts. Plus, users can also take advantage of Binance´s Earn feature from within the simplified wallet.
Binance Lite is already integrated into the Binance App, which is available to download from Google Play and the Appstore. The default mode for the Binance App will be Binance Lite. However, Binance Pro can easily be switched back at any time when users want to use more advanced functionality.
Before you get started, you'll need to have a Binance account. Using the web platform is one of the easiest ways to sign up and go through all your verification. If you're new to Binance, you can save up to 45% off your trading fees with our exclusive link.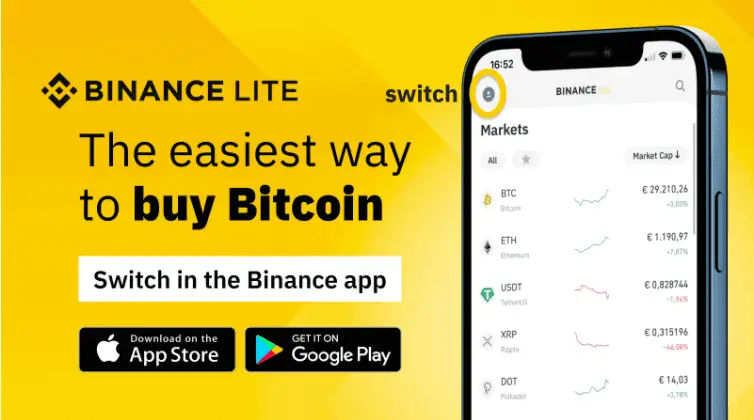 Binance Lite vs Binance Pro
Binance Lite is said to be better for those new to crypto and looking for an easy way to buy and sell.
However, Binance Pro offers all of the above features but with more advanced options such as Futures, Options Trading, and Margin Trading. The Binance Pro app also offers a wider range of tokens and features, which is ideal for more experienced users.
What is Binance Lite better for?
First-time Crypto Novices
Investors looking for an easy way to buy & sell crypto
Simple Intuitive Interface
Basic Features
What is Binance Pro better for?
Advanced Traders
Experienced Crypto Investors
Advanced Trading Features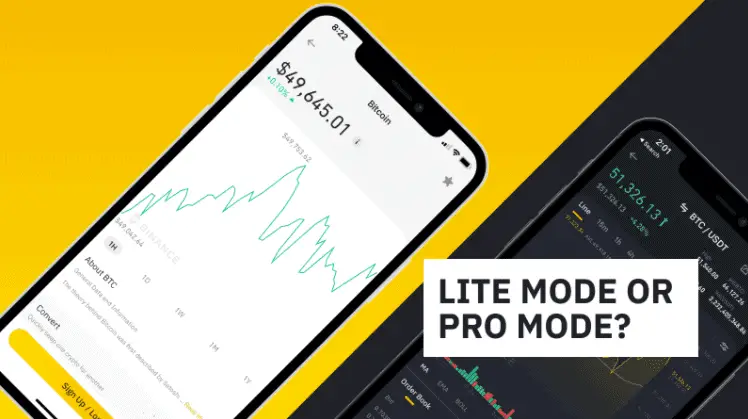 Binance Lite Supported Cryptocurrencies
Binance Lite does support popular cryptocurrencies such as Bitcoin, Ethereum, and ERC20 tokens, plus their own Binance (BEP2) and Binance Smart Chain (BEP20) tokens.
When trading or "converting" your crypto on Binance Lite, you'll find that the list of tokens is not as diverse compared to Binance Professional.
Binance Lite Fees
Binance Lite does not charge any fees for depositing cryptocurrencies into the app. However, for each withdrawal, a flat fee is paid by users to cover the transaction costs. This is fee is dependent on the blockchain and is on a crypto-by-crypto basis. You can find a full list of Binance withdrawal fees here.
Binance does not charge any fees for its "convert" feature. However, there will be a "spread", meaning the buy price will be above the current market rate, and the selling price will be slightly below.
If you are trading on Binance Pro, trading with the market, limit or stop-limit orders will incur a 0.1% fee, which (at the time of this Binance Lite review) is one of the cheapest of any cryptocurrency exchange. These fees can also be reduced for new users.
How to Access Binance Lite?
Binance Lite is already inbuilt into the Binance App. If you're not too sure if you're already using Binance Lite as opposed to Pro mode, simply press on the market tab within the app, and it'll display the word "lite" at the top of the screen.
With Binance Pro, you can perform the same functions; however, there are more advanced order types and trading types, such as Binance Futures and Binance Margin trading, and they offer a more diverse range of tokens for trading.
How to Switch Between Binance Lite & Binance Pro
The Binance App allows users to toggle between Binance Lite and Binance Pro mode by pressing the Profile icon on the top left-hand side of the app and by selecting the toggle button.
How to Switch to Binance Lite
Log in to your Binance Account & tap on the profile icon
Toggle to "Binance Lite"
Congratulation! You have switched to Binance Lite.
How to Switch to Binance Pro
Log in to your Binance Account & tap on the profile icon
Toggle to "Binance Pro"
Congratulation! You have switched to Binance Pro.

Binance Lite Withdrawals
As you may already be aware, some FIAT currency withdrawals have been suspended on Binance due to regulations. However, this may have changed depending on the time that you are reading this Binance Lite Review. However, crypto and stablecoins withdrawals are not an issue.
For those of you who have been with Binance for a while, you'll know that they used to be just a crypto-to-crypto exchange. If you need a FIAT-to-Crypto exchange, there are obviously others you can use, such as Coinbase or Gemini. However, these do come with higher trading fees.
Our Verdict: Should you use Binance Lite or Binance Pro?
The Binance Lite app is a great option for the newbie crypto investor. The app is beginner-friendly with an easy-to-use interface. Giving you everything you need to get started.
Unfortunately, when buying or swapping your tokens (with Lite mode), you won't necessarily be getting the best price. This is due to the spreads when converting or the fees when buying. To get the best rates or to define the price you'd like, you will need to trade with Binance Pro. Where you will also find a more diverse range of tokens to trade with.
I would just highlight that Binance Lite is an exchange, not a wallet, to store your crypto assets long-term. Check out our Trust wallet review and tutorial, which is the official wallet from Binance,
FAQs
Is Binance Lite Safe?
Binance is considered a safe cryptocurrency exchange and includes a number of security controls. Including cold storage, mandatory implemented 2-factor authentication for withdrawals, and email/text confirmations.
Related Posts