In this Axie Infinity guide, I explain how to stake Axie Infinity AXS tokens with the Ronin wallet and Binance. Plus where you can buy AXS tokens, how to transfer them to the Ronin wallet via Binance to bridging reduce fees.
If you currently hold Axie Infinity AXS tokens in a wallet or an exchange, you can now stake these to earn interest of up to 124%, when you introduce compounding the rate can dramatically increase.
What are Axie Infinity AXS Tokens?
Axie Infinity Shards (AXS) are ERC-20 governance tokens that were introduced in November 2020 for the Axie Universe, the largest play to earn crypto game that allows players to collect, breed, raise, battle, and trade creatures known as "Axies".
The tokens can be earned by gameplay and by adding value to the network. Plus the AXS tokens can be used as currency within the Axie NFT marketplace, they can simply be held, or they can be staked to earn more AXIE.
Where to Buy Axie Infinity AXS Tokens?
AXS tokens can be traded for on popular centralised exchanges such as the likes of Binance, FTX or Crypto.com. Plus you can also use decentralised exchanges such as UniSwap.
However, you'll find that there are some advantages to using the Binance exchange, which I'll explain later in this review.
Ronin Wallet
When staking with Axie Infinity, you will need to connect to the Ronin Wallet. The Ronin Wallet is used for the Ronin Network and was built by the Sky Mavis team, the creators of Axie Infinity. The wallet allows you to store, send and receive RON, RRC20 & RRC721 standard tokens as well as interact with applications on the Ronin platform.
The wallet is available as a web extension and is available for both Chrome and Firefox. Similar to the Metamask wallet, you can connect up Trezor hardware, meaning that your tokens never leave the safety of your hardware wallet.
To make transactions using the Ronin wallet you'll need to create an Axie Infinity marketplace account for your wallet as currently, you will get 100 free Ronin transactions a day. However eventually, the Ronin network will transition to using RON tokens for the fees.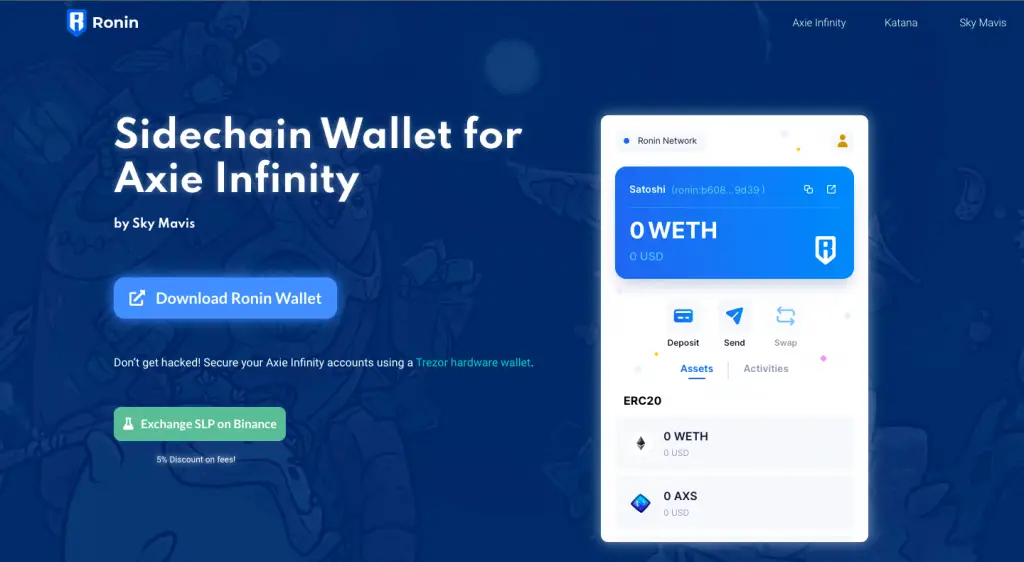 How to Transfer AXIE Infinitiy AXS Tokens from Ethereum to Ronin Network
If you've purchased your AXS tokens on exchanges such as Crypto.com or FTX, you may find that your tokens are currently on the Ethereum Network. However, to stake them, and store them in the Ronin Wallet, you'll need these on the Ronin Network instead. There are 2 ways to transfer your tokens from the Ethereum Network to the Ronin Network.
Ronin Bridge
Axie Infinity's Ronin Bridge is a platform that allows you to transfer your ERC20 tokens from the Etheruem network to the Ronin network.
Simply follow the below instructions to bridge your tokens.
Head across to https://bridge.roninchain.com/
Choose to "Deposit"
Copy your Ronin Wallet Address from within your Ronin Wallet
Paste the Address into the Ronin Address Field.
Select the Asset from the list
Enter the amount you'd like to bridge.
Choose Next
Confirm the deposit
Just be aware that you will need to pay ETH for the transaction fees for this to bridge across. At the time of writing this review, the ETH fees are high.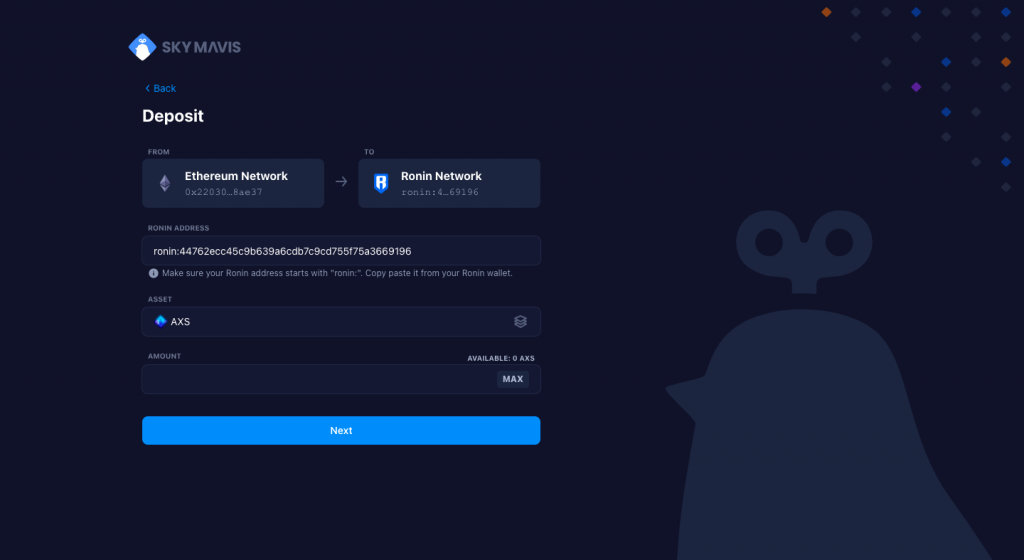 Withdraw on Binance Using Ronin Network
If you've bought you're Axie Infinity Tokens on the Binance exchange, there is a big advantage. That is being able to withdraw these on the Ronin Network, without the need to bridge.
Simply follow the below instructions to withdraw;
Head across to binance and choose to withdraw AXS.
Copy your Ronin Wallet Address from within your Ronin Wallet
Paste the Address into the Address Field.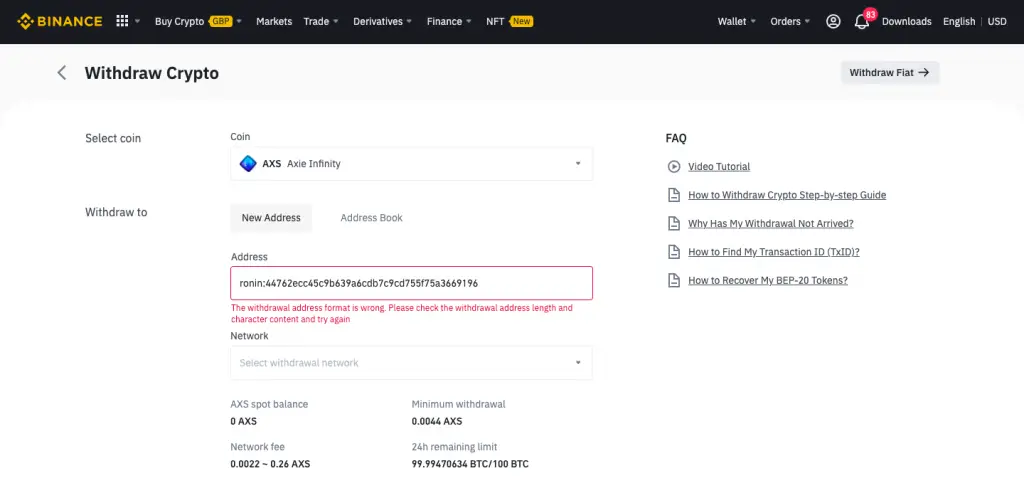 At this point, you will receive an error stating that the withdrawal address format is wrong. This is because if you are transferring your assets to your Ronin wallet you need to replace the prefix from "ronin:" to "0x".

Select the Ronin Network
Enter the amount of tokens you would like to withdraw.
If this is the first time you're sending a transaction to any new address we'd recommend sending across a test amount first, just to make sure you didn't make a mistake. Especially where you need to edit an address like this. The transaction cost is minimal too so it won't cost you much to do that.
How to Stake AXS Token to Earn +100%?
When staking your AXS tokens with Axie Infinity you can currently earn up to 124% APY, however, this rate does fluctuate. The benefit of staking with Axie Infinity is that your tokens aren't locked and can be redeemed at any time. Also, any rewards you receive can be claimed and restaked to compound.
To stake your AXS tokens, simply follow the below instructions;
If you do not have any free transactions available within your Ronin Wallet, you will need to create an Axie Infinity Marketplace account for your wallet. You will then have 100 free Ronin transactions a day.
Enter the amount of tokens you would like to stake or choose "Max".
Choose Stake
Confirm the transaction with your Ronin Wallet, and use up some more free transaction fees.
How to Claim & Compound
Immediately after you stake your AXS tokens with Axie Infinity, you'll then start to earn. These rewards can then be claimed or restaked to compound. By claiming, the total rewards will go to your wallet. These are available immediately for breeding or exchanging.
If you choose to Restake, this will claim your rewards and stake them. Just be aware though that every time you claim rewards (Claim or Restaking), you'll need to wait 24 hours before you can do another claim or restake.
Staking AXI with Binance Earn
If you've already bought your Axie Infinity AXS tokens on the Binance exchange you can stake these on Binance Earn to earn up to 131.25%.
With Binance Earn, you can currently lock your AXS tokens into a fixed 30-day term and earn 115.25% APY. Binance did have rates up to 131.25% for 90 days however these subscriptions do run out.
This is really easy to stake your tokens, as you simply enter the amount of AXS and then choose to stake.
However, the drawback of staking with the likes of Binance Earn is that these are limited. Plus you'll only get these rates for the period you've deposited your tokens for and they are locked for a fixed period. In contrast to Axie Infinity, where you can withdraw these at any time. Plus you can't compound your interest with Binance. But it's another option for those that want a simpler option for staking.