This beginner's guide to Ronin Wallet explains how to download and set up a Ronin wallet. Plus, how to connect to a Trezor Hardware wallet, buy AXS tokens, and withdraw them to the Binance exchange.
The growth of Vietnamese-based Axie Infinity has had astonishing growth, with over 2 million users logging into the platform and earning thousands of dollars monthly. So, if you´re interested in playing Axie Infinity or just looking to stake AXS tokens, you will find everything you need in this beginner's guide to Ronin wallet.
Beginners Guide to Ronin Wallet

What is the Ronin Wallet?
The Ronin wallet is a non-custodial wallet that was developed for Axie Infinity. The blockchain game was developed by Sky Mavis and allows players to collect, breed, and trade NFT characters known as Axies.
The Ronin wallet, which is available as a mobile app or browser extension, runs on the Ronin blockchain. Ronin network was created by Sky Mavis developers to help make it cheaper to trade and breed Axies, compared to running on the Ethereum network.
The Ronin wallet allows users to interact with Axie Infinity and other DApps running on the Ronin blockchain. You can also use the Ronin Wallet to send and receive cryptocurrencies and NFTs.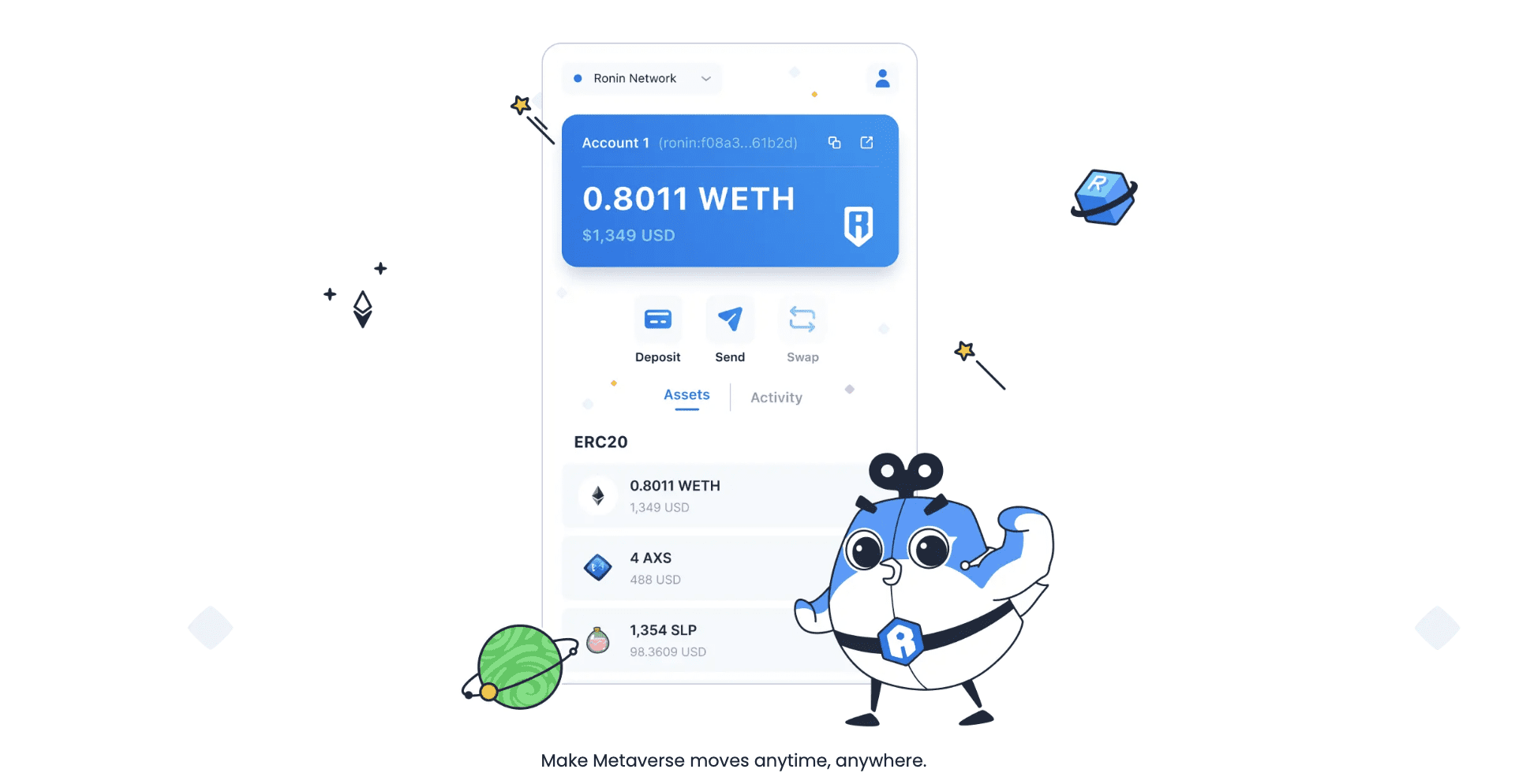 What are Ronin Wallet Fees?
You'll need Ronin RON tokens to pay the transaction fees to use the Ronin wallet. At the time of writing this Ronin Wallet guide, you can get these tokens for free when creating an Axie Infinity marketplace account. However, this may transition to paid RON tokens in the future.
Ronin Wallet Supported Cryptocurrencies
The Ronin Wallet supports cryptocurrencies on the Ronin network. At the time of this recording, these include WETH, USDC, AXS, and SLP tokens that players can earn on Axie Infinity.
Ronin Wallet Private Keys
Ronin wallet is a non-custodial wallet, which means you're in complete control of your crypto, and no one else has access, not even Sky Mavis. Therefore, if you lose or forget your password, there's no reset button to fall back on. 
It also means that you own what is called your private keys or your recovery phrase. This can be used if you need to restore your wallet due to loss, theft or if your laptop breaks.
You'll be prompted to write down your recovery phrase during the installation. You'll need to keep it somewhere safe, as anyone with access will have complete control over your crypto.
How to Connect Ronin Wallet to Trezor?
With the Ronin wallet, you can connect your wallet to a Trezor hardware wallet, such as the Trezor One or the Trezor Model T. Meaning that your tokens never leave the safety of your hardware wallet. 
To connect to a Trezor;
Connect your Trezor to your computer using the USB cable
Choose to "Allow"
Enter your passphrase
Select an Account to Import from the list

Swapping with Ronin Wallet
A swap function within the Ronin wallet will redirect you to Katana (the decentralised exchange for Ronin). From here, you can swap from any Ronin network-supported token to another.
To use the exchange, you'll need to use Ronin tokens for your transaction fees to swap and approve.
How to Transfer AXS Tokens from Ethereum to Ronin Network?
If you've purchased your AXS tokens on exchanges such as Crypto.com or FTX, you may find that your tokens are currently on the Ethereum Network. However, to store them in the Ronin Wallet, you'll need these on the Ronin Network instead.
There are two ways to get your tokens from the Ethereum Network to the Ronin Network:
Using the Ronin Bridge
Withdrawing from Binance on the Ronin Network
Alternatively, you can purchase your tokens directly within the Ronin wallet, which will automatically be on the Ronin Network. This can be found under the "Deposit" button, or check out our tutorial above.
For more instructions on bridging or withdrawing with Binance, check out our Axie Infinity Staking article.
How to Get Free Transaction Fees on the Ronin Network?
If you want to interact with the Ronin Network and use the Ronin Network, you'll need RON tokens to pay for the transaction fees. Similar to how you need ETH to pay for transactions on the Ethereum network.
At the time of writing this Ronin Wallet review, you can get 100 free daily transactions by creating an Axie Infinity Marketplace account.
Simply head to Axie Infinity Marketplace and connect up your wallet. If this is the first time, you'll need to create a name and set up an email and password. Once verified, you'll receive 100 free daily transactions to send, swap, approve or stake.