In this Talisman Wallet Review, we will analyse one of the best software wallets for the Polkadot and Ethereum ecosystems.
We will discuss the best features of Talisman Wallet, its onboarding and user experiences, top-notch security, and one-click DOT Staking. Plus, why Talisman Wallet is an alternative to the uber-popular Metamask wallet.
So, let's jump into this Talisman review to help you decide if the Talisman wallet is the right multi-chain web3 crypto wallet for you.
Talisman Wallet Review

What is Talisman Wallet?
Talisman Wallet is a self-custodial crypto wallet founded in 2021 and is backed by some of the best teams in the Polkadot ecosystem, including the founders of Moonbeam, Acala and RMRK. Allowing users to create, own and manage their accounts and safely store, send and receive their crypto assets.
The Talisman wallet is available as a browser extension. Users can get set up in seconds and import any existing Ethereum, or Polkadot wallet, or connect to their Ledger hardware wallet. For those who don't already have a wallet or any crypto, there's a FIAT onramp, meaning you can buy assets with a credit card, Apple or Google Play.
With Talisman you can also access the Talisman Portal to view your NFTs in detail, participate in 1-click DOT staking, explore their app directory, contribute to crowd loans and view your multi-chain transaction history.
Talisman is one of the best multi-chain web3 wallets to use inside the Polkadot and Kusama ecosystem and offers full support for Ethereum.
Talisman Features
The Talisman Wallet has an array of features built into its Wallet and Portal, which we will go into further detail below.
Multi-Chain Management Portfolio
Talisman offers users a Multi-Chain Portfolio Management feature, where you can view all your accounts and assets in one place. Unlike most Polkadot and Ethereum wallets that organize accounts by the network, Talisman organizes accounts by assets.
For example, if you have 500 $DOT on 5 different Polkadot Parachains in your wallet, you will need to switch between different networks to view the amount of DOT you are holding on each chain. With Talisman, you can see an aggregated amount of $DOT you are holding on all 5 Parachains at the top of your screen and a breakdown of how many $DOT you hold on each Parachain.
So instead of categorizing assets by the network, the wallet categorizes them by assets. Also, you don't need to explore all the Parachains if you are looking for a particular asset.
Buy Crypto
Talisman has a partnership with leading on-ramp service Banxa; which allows non-crypto users to directly buy cryptocurrencies such as DOT, KSM, MOVR and ETH with fiat currency using Apple Pay, Google Pay or a credit card.
Talisman Portal
The Talisman Portal provides further features to extend the tools of the Talisman wallet. Allowing users to view and interact with all their assets issued across various Parachains.
With their 'All Accounts View', you can view the total valuation of all crypto assets held on your account, which tells you how much money you hold in various accounts.
You can also stake your DOT in a single click, have a gallery view to track all your NFTs across all chains, view your crowd loans and see your complete multi-chain transactions history in one place. Think of it as one Portal for all your DeFi needs!
NFT
With Talisman, you can view all your Kusama, Moonbeam, Astar and Statemine NFTs in one place which is available from the Talisman Portal.
With your NFTs loaded to the Talisman Portal, you can view the image, collection name and NFT identifier. Plus you can click on the NFT for a detailed view, where you'll see additional information such as the current floor price, edition id, and the network it is on, combined with a link to a marketplace suited for the exact NFT.
Explore
Explore provides users with a large collection of dApps and projects available within the Polkadot and Kusama ecosystem. Allowing users to browse and search through a gallery of categories including DeFi, Gaming and NFTs.
Each dApp comes with a short description and image. You will be redirected to the dApp and prompted to connect your wallet by clicking on an entry in the gallery.
If you find a dApp or a project that is not yet listed, you can also request it to be added. Search for the "Missing Project" entry, and fill out the form to request the app to be added.
Explore can be accessed via the Talisman Portal or directly using this link: https://app.talisman.xyz/explore
Crowdloans
If you're interested in supporting or contributing to Polkadot or Kusama projects, you can do so via Crowdloans. Crowdloans are from within the Talisman Portal. You can view detailed information on each project, view the amount already raised and choose to invest in your favourite projects.
Staking Polkadot DOT
While staking on other blockchains is a piece of cake, Polkadot staking is hard and user-unfriendly! It is reported that more than 18,000 Polkadot addresses are missing out on staking rewards because they are staking less than the minimum required.
Staking on centralized exchanges like Binance is simple, but there is a risk of losing your money. Staking from your Ledger or software wallet requires you need to create your own node or join a staking pool, which is quite a hassle.
With Talisman's Smart Staking feature, you can stake as low as 1 DOT with just one click from your dashboard. When you choose to stake your DOT with Talisman, their custom-built validator selection tool goes out and finds the best staking pool for your Polkadot. All you need is a click to confirm the proposed APR and staking pool, and Talisman will stake your DOT for you.
If you choose to stake your DOT with Talisman, you can earn up to 15.47% APR, which is quite close to the industry standard, according to the Polkadot website.
For more information on staking with Talisman, read their blog!
Supported Crypto & Blockchains
Talisman supports 110 asset types on 150+ networks in the Ethereum and Polkadot ecosystems. These networks include all Polkadot Parachains, for example, Acala, Astar and Parallel Finance, and all layer 2 chains on Ethereum.
Talisman Wallet Supported Browsers
Talisman wallet is available for Google Chrome, Brave Browser, Firefox, and other popular browsers where you can have a full-screen view of Talisman. You can also enable wallet notifications on Google Chrome and Brave Browser, which saves you the hassle of checking blockchain explorers for confirming transactions.
Security & Privacy
To make it easier for its users, Talisman gives a simplified brief of the transaction you are signing, which mitigates the risk of draining your wallet. The software also has a phishing protection feature, which will detect known malicious applications before you connect to them.
When you use Talisman, they will store your password in the extension's memory. This is done so that you don't have to re-enter the password each time you want to sign a transaction or when you create a new account.
You might be thinking: Doesn't storing my password on the Talisman extension's memory leave me vulnerable to attacks from hackers? That is true.
To protect your password from exposure to malicious actors, Talisman has introduced an auto-lock feature for storing your password. When you enable the Auto-Lock feature in your wallet settings, Talisman will unlock your password from its extension memory for a short-specified time and then lock it again. This makes it extremely difficult for hackers to hack into your browser's memory and retrieve any private information. Yes, it is possible, but extremely unlikely!
Non-Custodial Wallet
Talisman is non-custodial, meaning you always retain control of your blockchain assets, even when you stake them. It is also entirely private and secure, meaning the wallet does not store your transaction history or balance.
Fully Audited
To ensure Talisman provide the best security to its users, they conduct regular independent audits with renowned security firms. You can check out the last Talisman audit conducted on October 21st, 2022, by Chain Troopers!
Ledger Support
With the Talisman wallet, you can connect your Ledger hardware wallet, allowing you to import your Ledger accounts keep track of your assets and sign transactions. Talisman only broadcasts the transactions to your Ledger device. Therefore, your assets are kept safe because your private keys never leave your Ledger.
You'll need to ensure you are running the latest Ledger apps and firmware to import your Ledger accounts.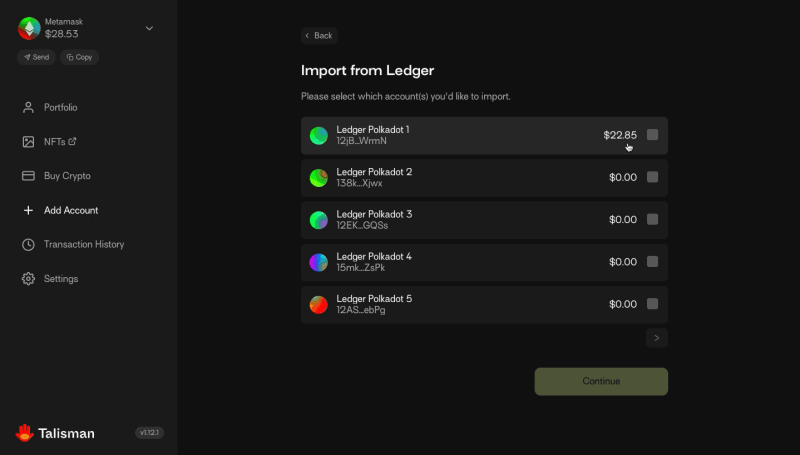 Private by Design
Talisman has a strong stance on privacy, stating that they never record sensitive or identifying information, your addresses or asset balances.
However, they do collect personal information directly from you as well as automatically through your use of their services including when you contact their support, sign up for updates, join their social media channels, or provide information in user research, surveys and/or promotions.
Any information you provide to them is secure as they've put in place suitable procedures to safeguard and secure information and protect it from misuse, interference, loss and unauthorised access, modification and disclosure.
You can view their privacy policy in-depth here.
Talisman Wallet vs Metamask
Talisman Wallet is not limited to a Polkadot-only wallet, as it can also rival the more popular Ethereum wallets, such as Metamask.
In fact, if you already have a Metamask wallet or a hardware wallet like Ledger, you can easily import your wallet to Talisman by using your private key, seed phrase or JSON file.
So how does Talisman compare to Metamask?
Firstly, Talisman is simpler when it comes to switching networks. When tracking and viewing your assets you'll find them all in one place, without the need to manually change networks within the wallet. Moreover, you can add custom ERC-20 tokens and other EVM networks to the wallet.
With the Talisman gas optimization feature, you will pay the cheapest gas fees for your Ethereum transactions.
Unlike Metamask, Talisman mainly uses Onfinality and Ankr as RPCs for Ethereum's main net, cycling between both when one becomes unavailable. Both providers value user privacy and do not collect any personally identifiable information.
Plus you can connect to any dApp that supports Metamask.
For a full list of Metamask alternatives check out our post of the Best Metamask Alternatives for 2023!
Talisman Social Channels
Verdict: Should you use Talisman Wallet?
Self-custody can be difficult and may feel overwhelming when moving assets to and from a wallet. For this reason, Talisman's goal is to make the onboarding experience as smooth as possible for crypto and non-crypto users.
While a typical Polkadot wallet requires 4-8 steps and anywhere between 7-100 clicks, your Talisman Wallet will be set up in 3 simple steps and 4 clicks. Unlike other crypto wallets, you don't need to name your account, add networks manually or even get quizzed about your seed phrase before you can use the wallet.
With one-click DOT staking, phishing protection, an NFT gallery and an aggregated Portal, Talisman is a perfect option for Ethereum and Polkadot DeFi users. If you are looking to switch from Metamask due to privacy concerns, Talisman is worth considering!
We hope you enjoyed our Talisman Wallet review; if you have already tried Talisman, let us know what you think in the comments below. If not, set up your Talisman wallet today!
Related Posts