You may already be aware of the long-running crypto exchange, Huobi Global. But you might not be aware of their Huobi Earn feature. Where Huobi users can simply stake crypto and start earning passive income. In this Huobi Earn Review, we'll take a look at how to use the Huobi Earn to start earning up to 50% APY.
If you're new to Huobi Exchange and want to buy crypto or start staking your crypto assets, you can receive 20% cashback from every trade when using our exclusive Huobi referral link.

Huobi Earn Review: How to Use Huobi Earn?
Who are Huobi Global?
Huobi Global are a cryptocurrency exchange, and also one of the leading global virtual assets financial services. They entered the blockchain industry in 2013 to make the financial sector more efficient and wealth more accessible to everyone.
Huobi has a whole host of trading options with spot and margin trading, derivates, and futures. They also have loan options and other ways to earn with your cryptocurrencies. Plus they also have their own Huobi wallet available for managing your crypto assets.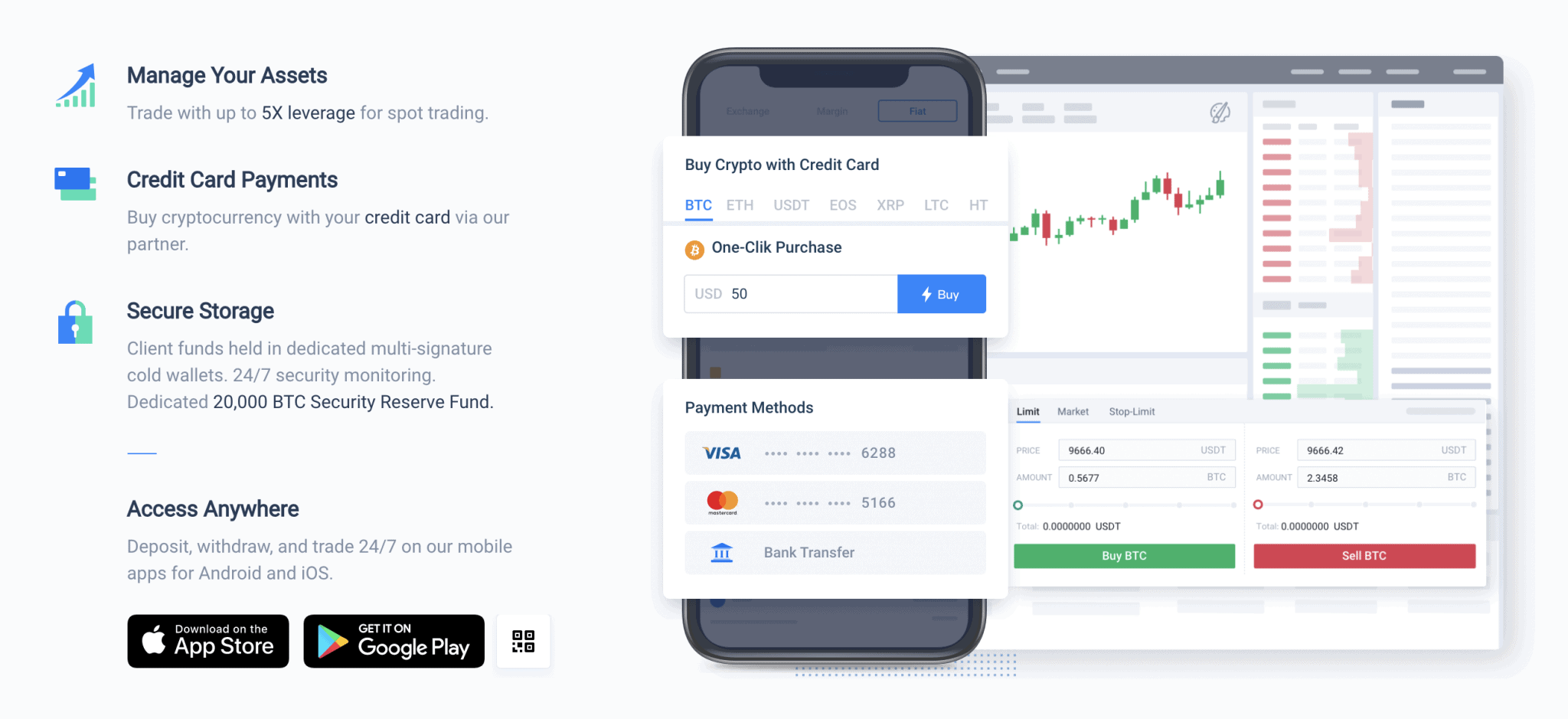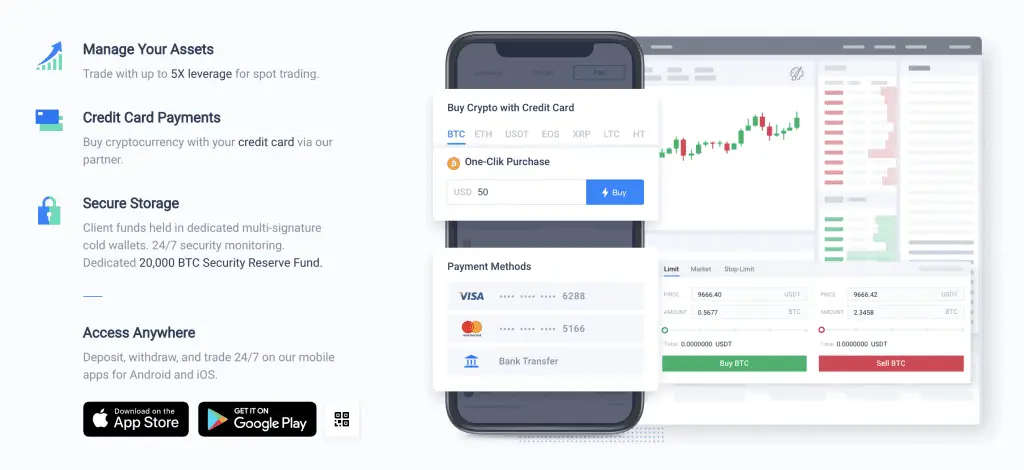 What is Huobi Earn?
Huobi Earn is very similar to Binance Earn, where users can stake and earn a high yield on their crypto. Instead of just holding your assets on a Ledger Nano or the Trust wallet. Your crypto assets can be deposited into flexible or fixed terms products that will generate interest.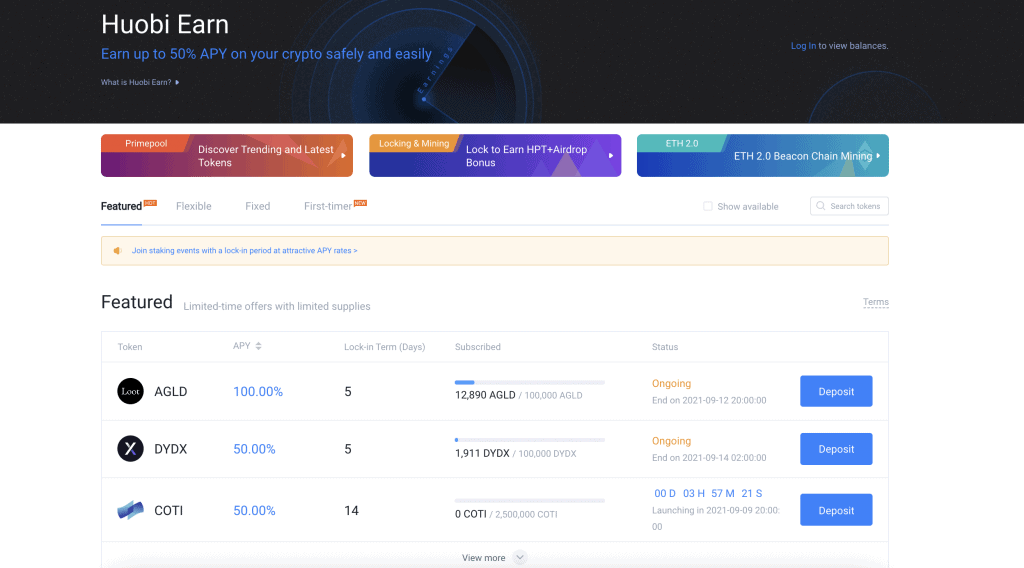 How to Get Started with Huobi Earn?
To get started you'll need to have an Huobi account. If you don't already have an account, use this link to get 20% off your trading fees. Plus they also have a 170 USDT welcome bonus available. 
Plus to use their Earn feature you'll need to have completed registration and ID verification.
From the main Huobi site, you'll head across to login. Under the Finance tab at the top of the screen, choose Huobi Earn. Alternatively, this is also available from your Huobi mobile app too. Where you'll simply tap Huobi Earn from the middle section of the app.

What Cryptocurrencies Can I Deposit?
With Huobi Earn you can deposit the likes of; RAD, PUSH, RLY, SUSHI, IOTA, BTC, USDT, ETH, THETA, NEO, ETC, VET, LINK, DOT, SHIB, DOGE, MATIC and many more.
They also offer featured and first-timer products for special or limited supplies where you could earn up to 100% APY.
Huobi Flexible Terms
Flexible Earnings allows you to earn daily-APY without having any lock-up periods, which gives users more flexibility with your crypto. With Flexible terms, the risk is lower because obviously, you can withdraw your tokens at any time.
Because of this, you won't find the APYs as high as the likes of fixed earnings. Which essentially means locking up your crypto for a fixed period of time. There's also an option to "auto-transfer". This is where any amounts that are held in your exchange account can be automatically transferred into the earnings account every day at 6 pm.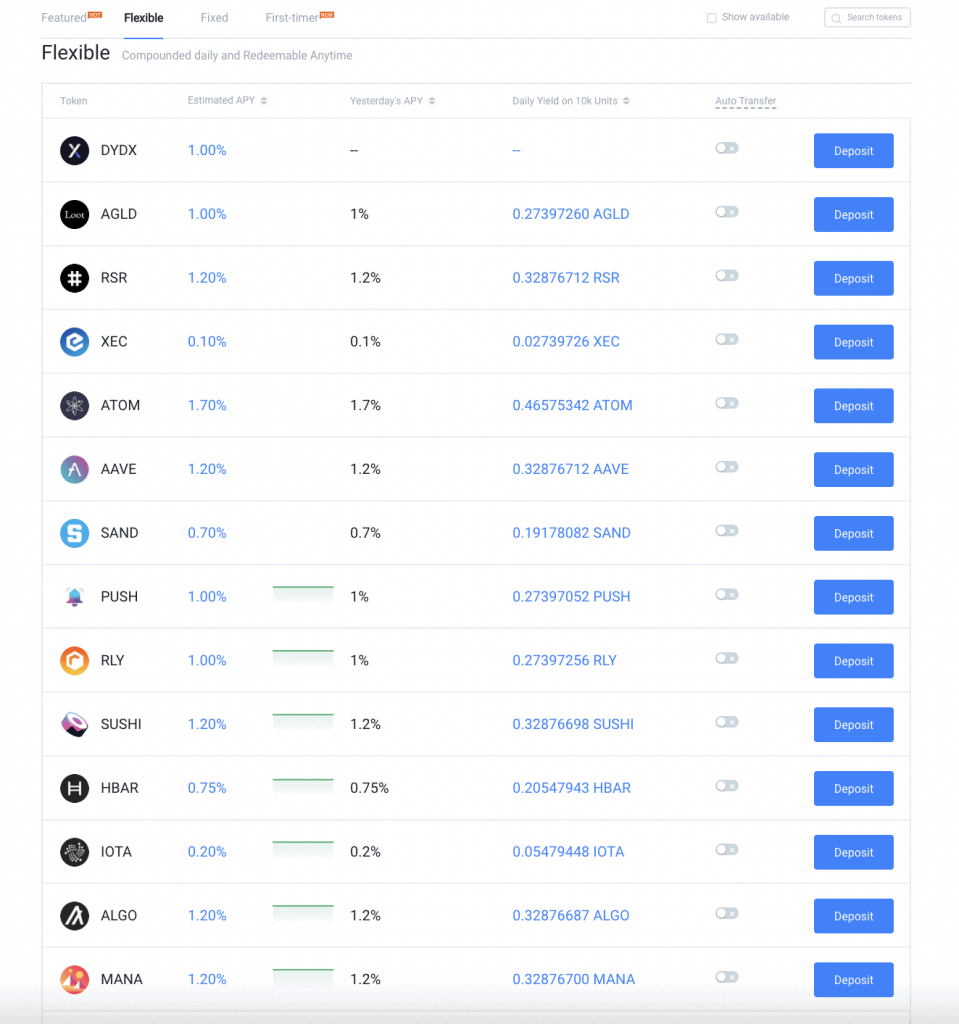 Huobi Fixed Term
Fixed Term offers allow you to lock up your tokens for specific periods of time. With the fixed term, the risk is higher because you are unable to withdraw your tokens until the period has ended and therefore the rewards or APYs are higher.
At the end of the period, your deposited amount and the interest you've earned will be automatically redeemed and transferred to your Exchange account.
Huobi First Timer Offers
There are feature and first-timer offers too which are limited supplied therefore you can see how subscribed each offer is, plus you'll see when each event starts and ends.
If you see a really good offer and you don't already have the tokens, you can jump in quickly by trading for these using the Huobi exchange.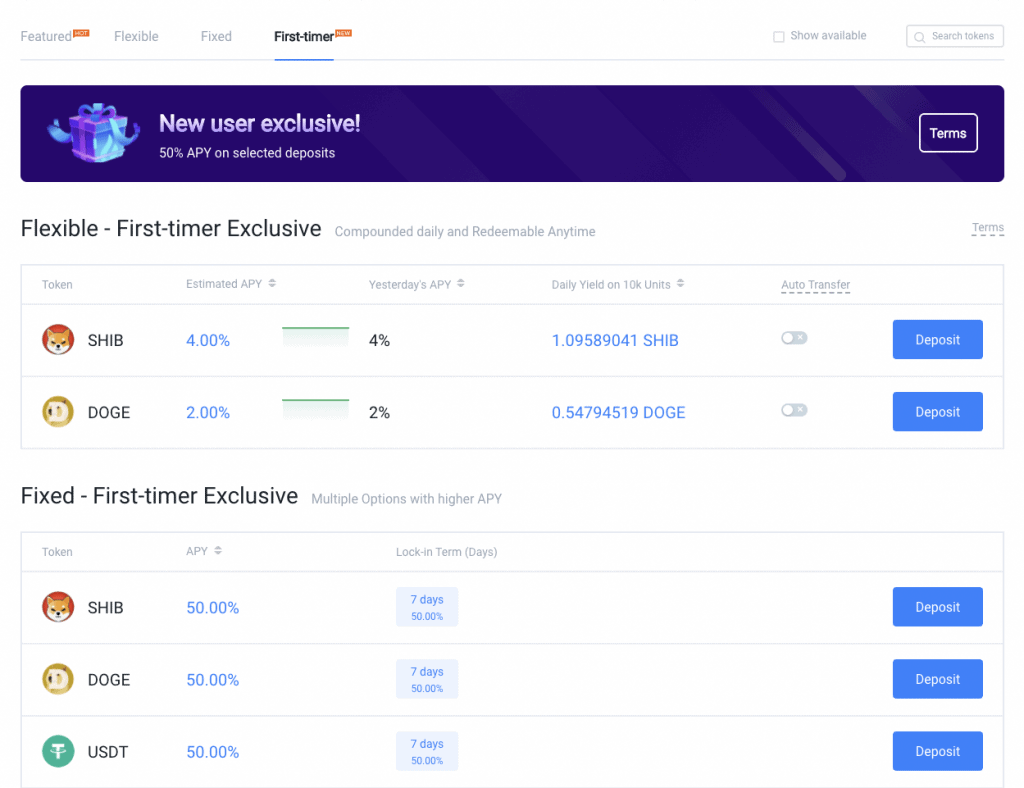 How to Redeem Your Profits?
To redeem and take profit, go to "Balances". Choose the asset you would like to redeem and then just enter the amount you'd like to redeem. 
You'll then need to accept that you have read and agreed to the Huobi Earn Policy to complete the redemption. Just be aware that between 4 pm and 5 pm UTC every day, you will not be able to redeem due to maintenance. 
Huobi Support
Cryptocurrency exchanges are renowned for being bad at support. However, with Huobi you can also contact their Twitter and Telegram accounts, where you can get professional support in the community. Just make sure that you are always talking to trusted sources.