Want to buy altcoins like Ethereum or Binance BNB, but not sure where to start? In this guide, we will explain how to buy crypto with a credit card on Binance Exchange. Plus we'll also take a look at the fees associated with buying crypto with a credit card and the benefits. 
Interested in buying stablecoins with a credit card? Check out on beginner's guide on how to buy stablecoins with a credit card on Binance.
How to Buy Crypto with a Credit Card on Binance
Buying cryptocurrency using a credit card on leading crypto exchanges such as Binance, is one of the fastest and most convenient ways to get your hands on some crypto. The quicker your funds are deposited, the better your chances of executing a trade and maximizing profits. 
However, buying crypto with a credit card generally comes with a catch, which is their notoriously high fees. So you will have to weigh up the pro and cons of when to use this method to buy your crypto assets
In this step-by-step how-to guide we will explain the process of how you can buy Altcoins with a credit card on the Binance platform: 
Total Time: 10 minutes
Choose a Credit or Debit Card
Log in to your Binance account, and choose "Buy Crypto" from the top menu bar. Then click on the "Credit/Debit Card" option.
If you don't already have a Binance Account, check out our guide to saving up to 45% on your Binance trading fees.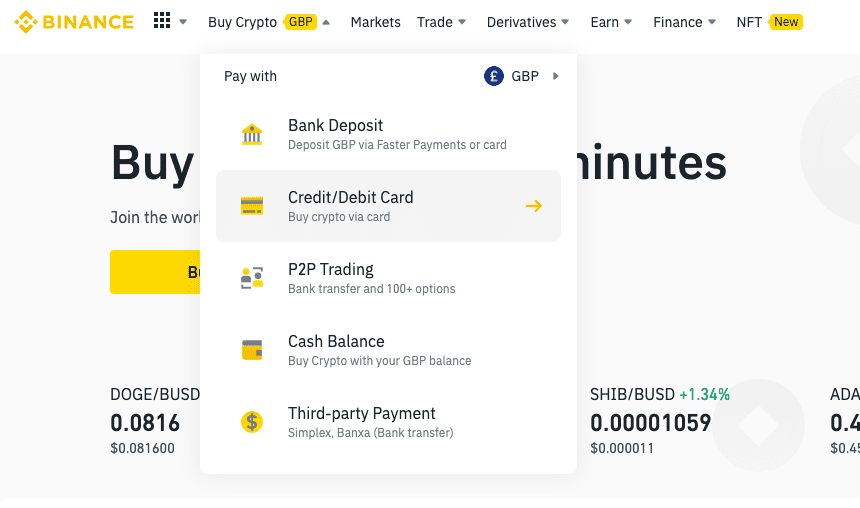 Choose Your Currency, Amount & Crypto
From the "Buy Crypto with Debit/Credit Card" screen. Select the fiat/traditional currency that you would like to pay with and then enter the amount you would like to spend.
Then select the altcoin that you would like to receive in exchange for your fiat currency.
Choose "Continue"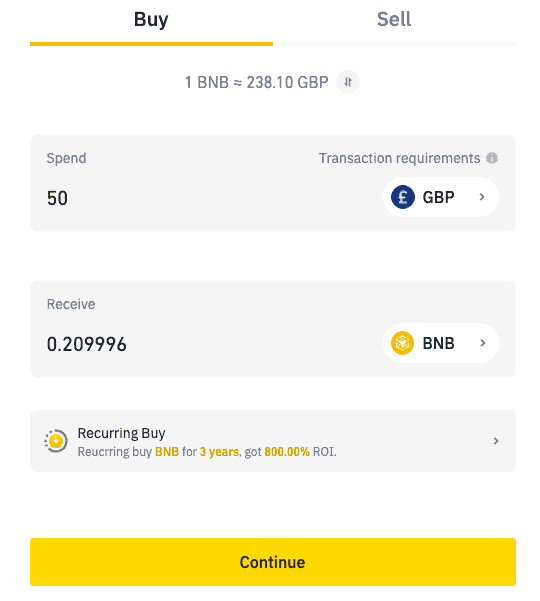 Choose Payment Method
In the next step, you can select a card if you have already entered one. Or choose "Add new card" if this is your first time.
You'll then be prompted to enter your credit card details and billing address. Once done, click on the "Add Card" option again.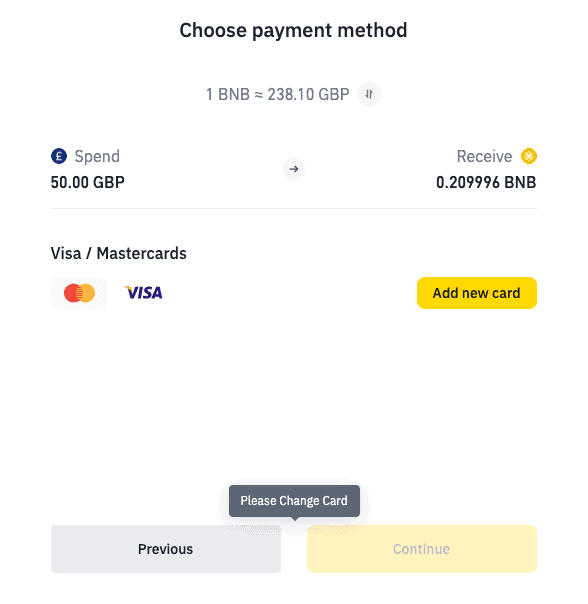 Confirm Your Details
Choose "Continue" where you'll then be prompted to check your transaction details this step is crucial as you'd want to double-check all your payment details such as:
– Card number
– Billing address
– CVV
Once complete, you can confirm your order.
Please Note: After 1 minute, Binance will re-calculate the price of your receivable crypto amount. Therefore, before proceeding, please ensure that you update the market price by clicking on the "Refresh" button.
Verify The Payment
In the final part, you need to verify your payment on the OTP Transaction Page of your bank. Once this is complete, your cryptocurrency will instantly appear and be available from your Spot Wallet.
Binance Credit Card Fees
Depending on the platform and your credit card company, the fees applicable to credit card transactions differ from one exchange to another. Here's a detailed view of the regularly applicable fees on Binance: 
1. Transaction Fees
Crypto exchanges charge a higher nominal cost for debit or credit card transactions than other payment methods (e.g., bank transfers). However, when trading on the Binance app, users need to pay a nominal fee of up to 2% (depending on the transaction), while the service provider and bank can incur extra fees.
2. Cash Advance Fees
A cash advance is when a credit card company loans money to the borrower (you) in exchange for a charge of 3% – 5%. Cash advances are often applied to credit card-based cryptocurrency purchases. Interestingly, users signing up for the Binance platform are only entitled to pay a cash advance charge since the platform only accepts VISA and Mastercard. 
3. Foreign Transaction Fees
Foreign transaction fees are generally incurred upon users located outside the US. Therefore, if you want to fund your account with USD, using a credit card on a website that isn't based in the states, you might be charged up to a 3% fee for the transaction amount. Alternatively, you'll be charged a foreign transaction fee while funding crypto wallets using other fiat currencies with a credit card issued in your home country.
However, it's not all 'charges' when funding your crypto wallets using credit cards. We've discussed some of the perks attached to buying altcoins using credit cards in the following section.

Benefits of Buying Crypto with a Credit Card 


1. Fast and Instant
One of the best perks of initiating altcoin transactions is the real-time funds you get into your account. Credit cards' quick transaction initiation makes altcoin purchases effortless for first-time investors and buyers. 
While there are different options, let's not forget that wire and bank transactions often take anywhere between four to eight days to highlight funds into your account. So if you're an investor looking to buy the dip, a credit card-based bitcoin transaction is necessary.
2. Credit Cards Enable You to Invest Without Cash
What if we told you that you could buy cryptos without cash in hand? As intriguing as it may sound, it's possible!
This is where the credit card comes as an excellent tool for experienced investors and traders who have faith in their calls and need to make real-time decisions at the peak and bottom. Not to forget, this is also a viable option for the 9 to 5 masses who are primarily involved in their jobs and generally are short of funds during different phases. 
3. Beginner-Friendly
For any new investor or trader who has just ventured into the crypto industry, undergoing several funding processes can be daunting and confusing. This is where credit cards step in as a two to three-step method for funding their accounts. 
Given the ease of transactions, they can fund their accounts with steps as simple as putting in their credit card information and accessing the funds.
Now that you're accustomed to the different perks and charges associated with buying altcoins using a credit card on Binance let's check out the steps involved in the process.  
Related Posts
Here are some of our articles you may also find helpful;