OKX, one of the leading cryptocurrency exchanges in the world, has announced that FLR, the native token of the Flare Network, is now live on its trading platform. 
This latest development means that OKX traders can now trade FLR against a few other tokens, including USDC and USDT. 
Flare is a layer 1 EVM blockchain that has 2 core protocols, the State Connector and Flare Time Series Oracle (FTSO). These protocols allow developers to create an ecosystem of robust and decentralized interoperability applications.
The Flare Network was widely anticipated in the cryptocurrency ecosystem due to its properties. The difficulties of obtaining consensus in a standard decentralized system make the Flare Network a unique DeFi protocol. 
The Flare Network is a Federated Byzantine Agreement protocol with its own system of trusted nodes enabling true decentralization. Furthermore, the Federated Byzantine Agreement is a consensus mechanism that networks like Stellar and XRP use.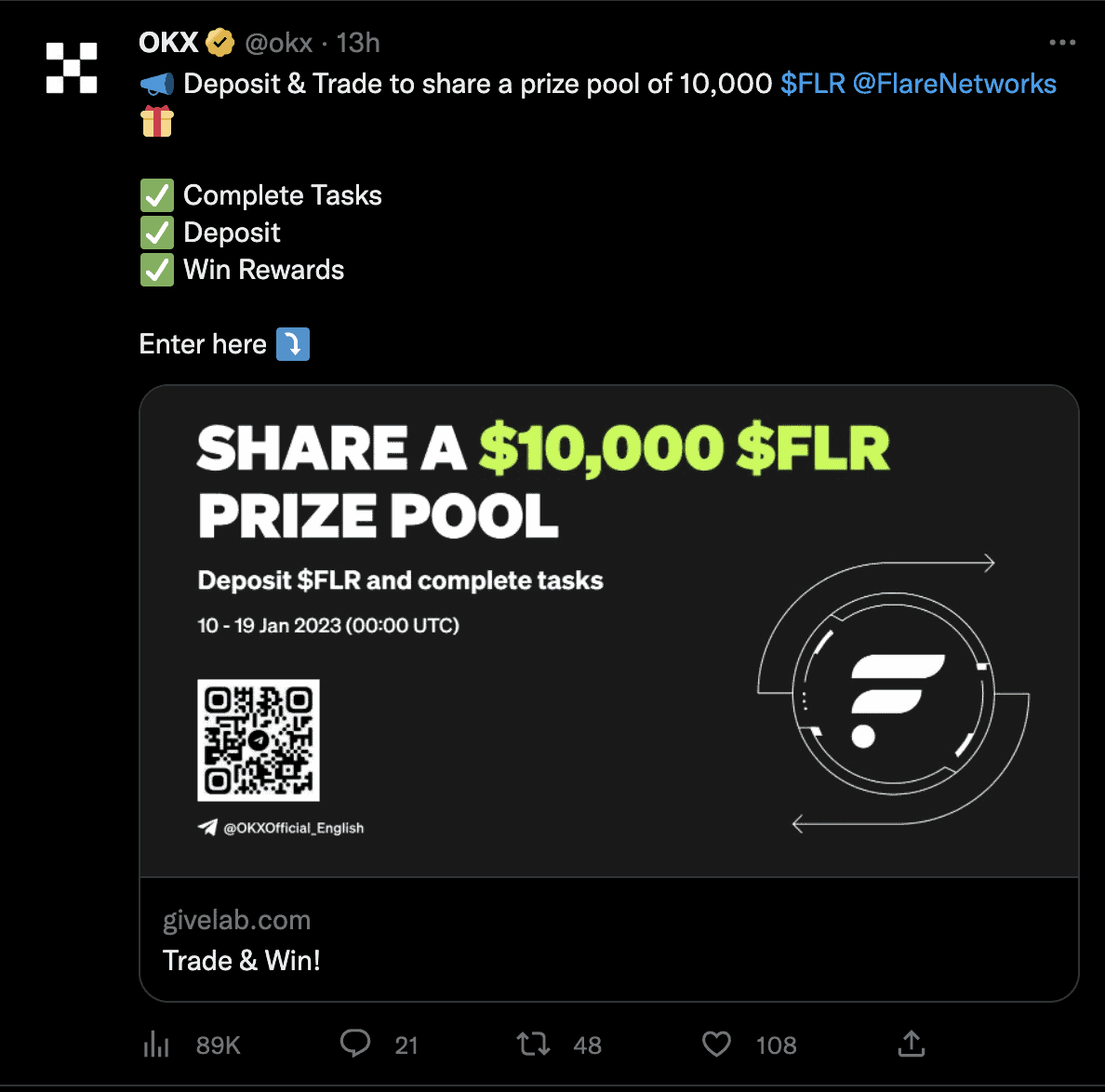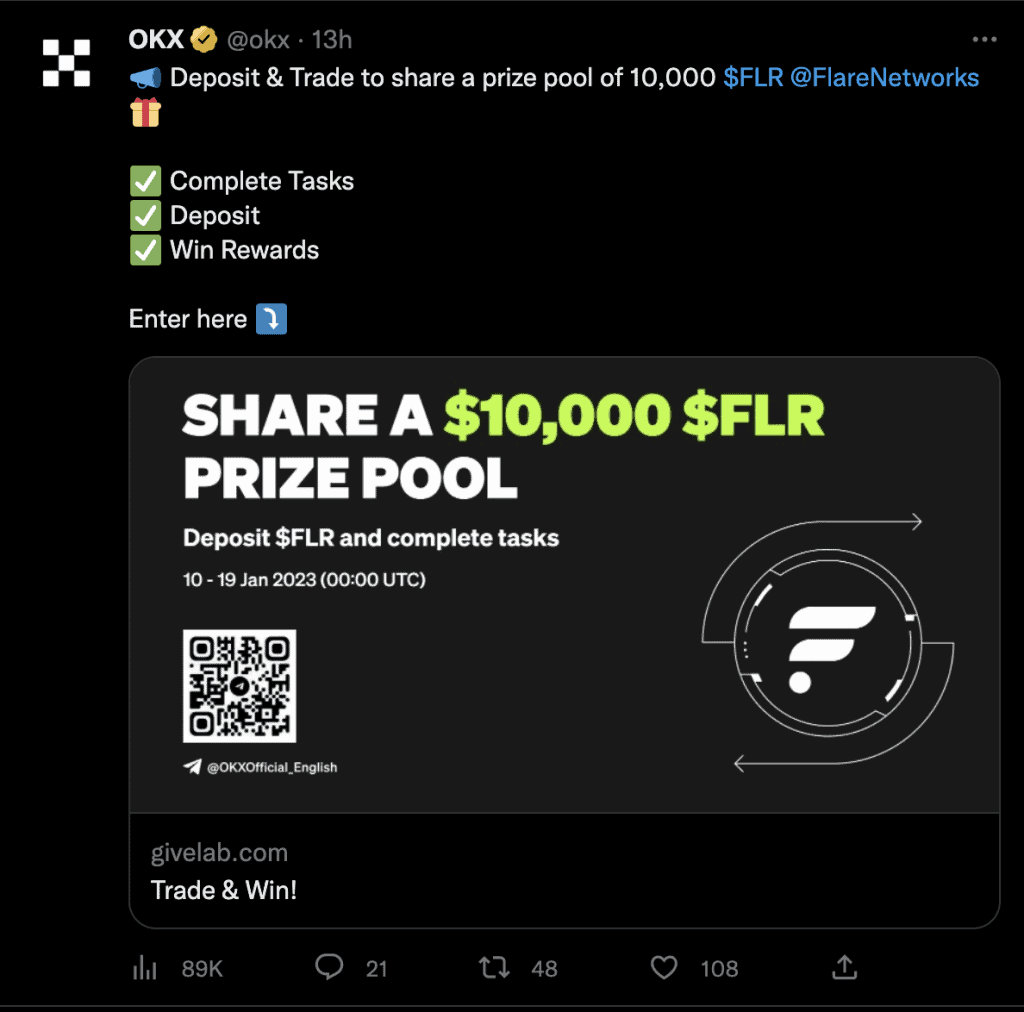 The FLARE Network trading pairs FLR/USDT and FLR/USDC are now live for trading on the OKX crypto exchange. The FLR deposits on OKX began on January 6, 10:00 AM UTC. The FLR/USDT, FLR/USDC spot trading opens today, January 10, 04:00 AM UTC. Finally, users can begin withdrawing their FLR tokens from OKX starting tomorrow, January 11, at 04:00 AM UTC.
In addition to the launch of the FLR trading pairs, OKX has also announced its FLARE Network promotion, where users can win a $10,000 prize pool.

How to Win OKX $FLR $10,000 Prize Pool
Deposit $FLR to OKX & complete the below tasks to win a $10,000 Prize Pool, this promotion is running from the 10th to the 19th of January 2023.
1. Join OKX communities to share $3000
Join all OKX channels to share a $3000 prize pool and 300 lucky winners will receive $10 in FLR each.
2. Deposit to Share $5000
✅ OKX users who net deposit every $50 worth of $FLR will receive $10 in $FLR
(Maximum to receive $20 FLR rewards for total net deposit*)
✅ New OKX users who PASS KYC2+ after joining OKX via this LINK during the campaign period and Net deposit the first $20 worth of $FLR will receive an EXTRA $10 in $FLR.
*Net Deposit = Deposit – Withdrawal
3. The Top 30 $FLR Depositors to share $2000
The top 10 $FLR *net depositors to OKX will receive extra prizes:
🥇 Top 1: $500 in FLR
🥈 Top 2: $350 in FLR
🥉 Top 3: $300 in FLR
🎖 Top 4-10: $50 in FLR
Top 11 – 30: $25 in FLR
Net Deposit = Deposit – Withdrawal Top $FLR
(Depositor winners must net deposit over $200 worth of $FLR during the campaign period)
Register HERE if you do not have an OKX account 
Related Posts