Flare Networks, a utility fork of XRP, will be dropping over 45 billion Spark tokens based on a snapshot taken on 12th December 2020. Meaning that those owning Ripple (XRP) tokens and holding them in a supported exchange or wallet will be able to exchange XRP with Spark on a 1:1 ratio. So, how can you claim your free airdrop Flare SPARK tokens?
What are SPARK Tokens & the Flare Network?
The Spark token is a native token of the Flare Network and was created by a utility fork of XRP. Flare Network enables its customers to run smart contract services on XRP and they do this by using a virtual machine powered by Ethereum. The network is scalable and does not base its safety on a native token. Meaning that there is no risk of safety degradation from competing uses of its token. Applications can scale transactions without users incurring costs, meaning lower transaction costs.
The SPARK token will have several purposes which include;
Collateral for the trustless issuance of assets from non-Turing complete chains.
Contributes to the Flare time series oracle & network governance.

Spark ownership secures, improves and guides the network.

Created by a utility fork of XRP.

Directly increasing the utility of XRP and XRPL. No ICO. No competing interests.
For an in-depth overview of the SPARK Token, you can take a look at their White paper.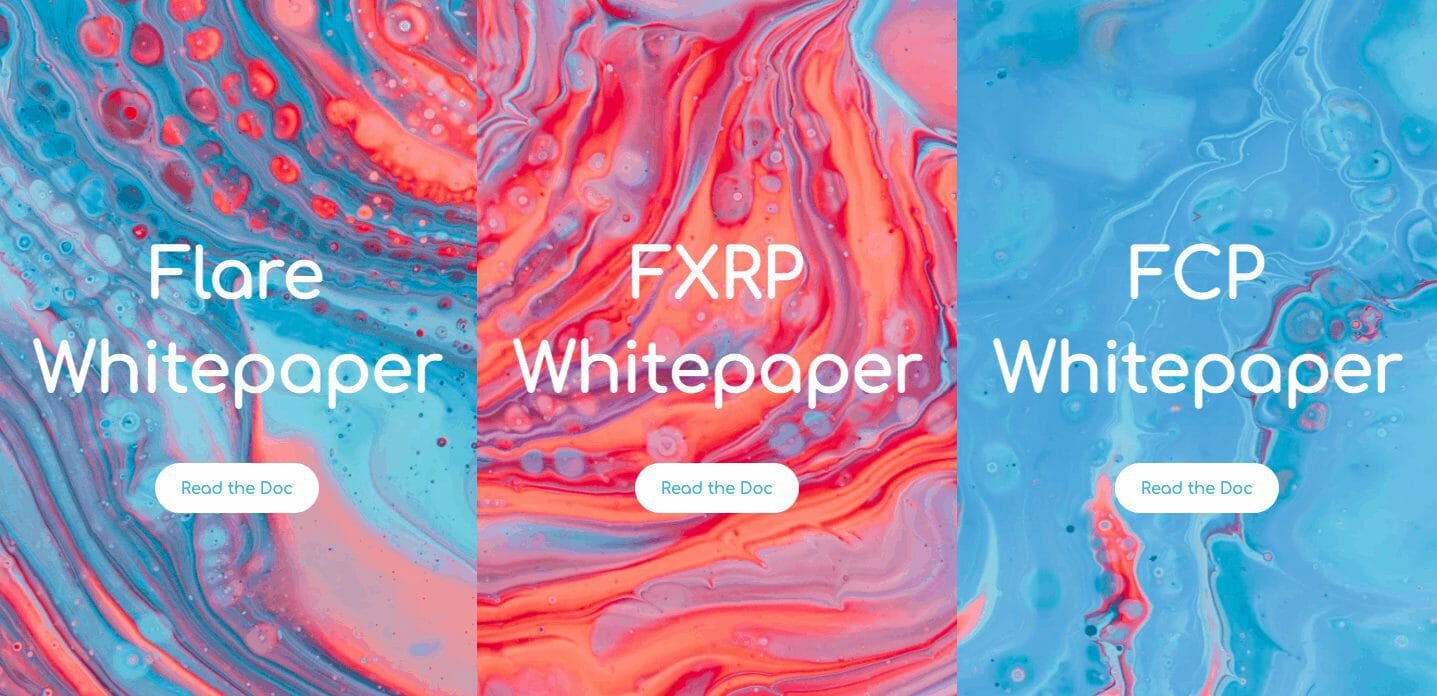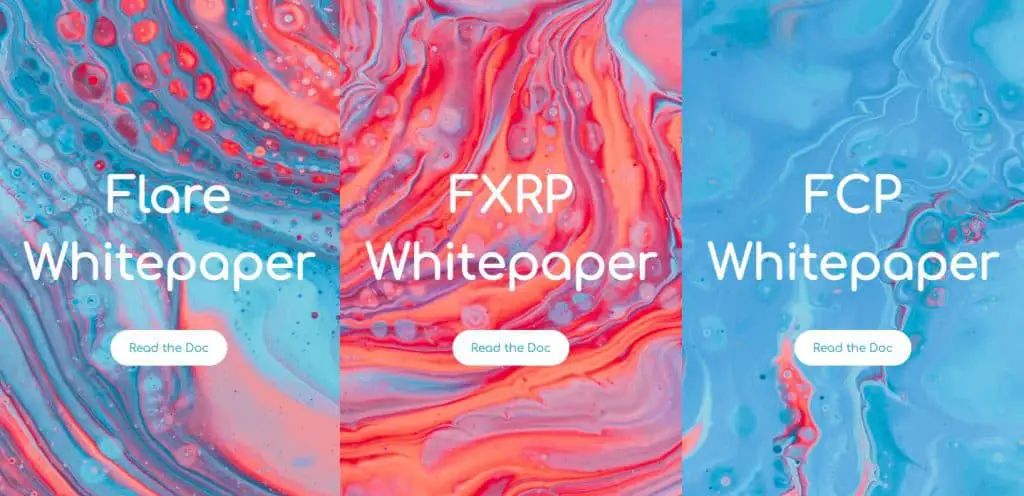 How to Claim XRP SPARK Airdrop?
There are essentially 2 ways that you can claim your XRP SPARK tokens, this is either holding your XRP on an exchange or in a wallet. The most straightforward approach is to hold or move your XRP onto a supported exchange before the wallet balance snapshot is taken, on 12th December 2020. In fact, I would recommend moving this across a few days prior when the network is not so busy and to allow a bit of extra time.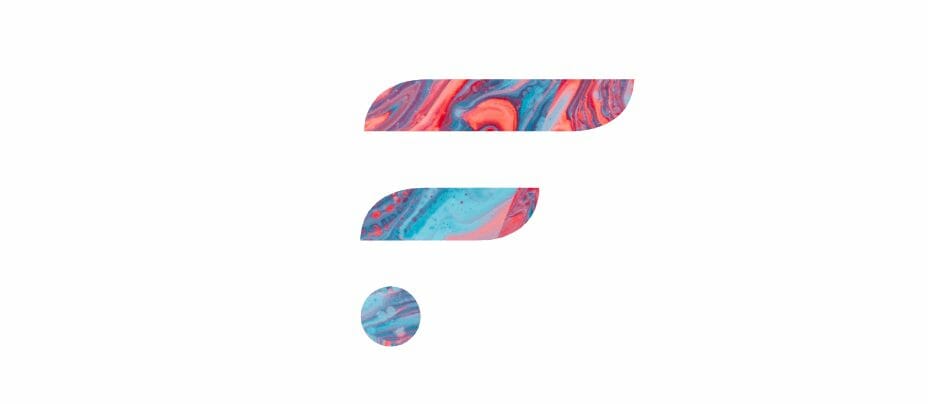 On 12th December 2020, the XRP balance snapshot will be taken, to check how many XRP a wallet owns, and based on that the SPARK tokens will be distributed to XRP holders in Q1, 2021. To claim Spark you must do this by 6 months of the snapshot date.
As I mentioned, it is possible to hold your XRP in a wallet, however, this way is more technical as essentially you'll need to prove your ownership of an ETH address to get the Spark tokens airdropped to you based on your XRP balance on the XRP Ledger.
For those of you who are Atomic or specifically Exodus wallet users, there is good news though as they really simplify this process for you. So it's worth checking these desktop wallets out. But if your XRP is held on a supported exchange they will handle the claim process and distribution for you.
Exchanges Supporting XRP Fork 2020
If you're keeping your Ripple XRP on an exchange, your SPARK tokens will be airdropped into your wallet in Q1 of 2020. At present some of the most popular exchanges have announced their support of the XRP airdrop which include;

Binance US
In support of Binance.US XRP holders, Binance.US will provide XRP balance snapshots for their users. Allowing token holders to then opt-in to the Flare Network distribution of SPARK in 2021. For more information on the XRP fork click here.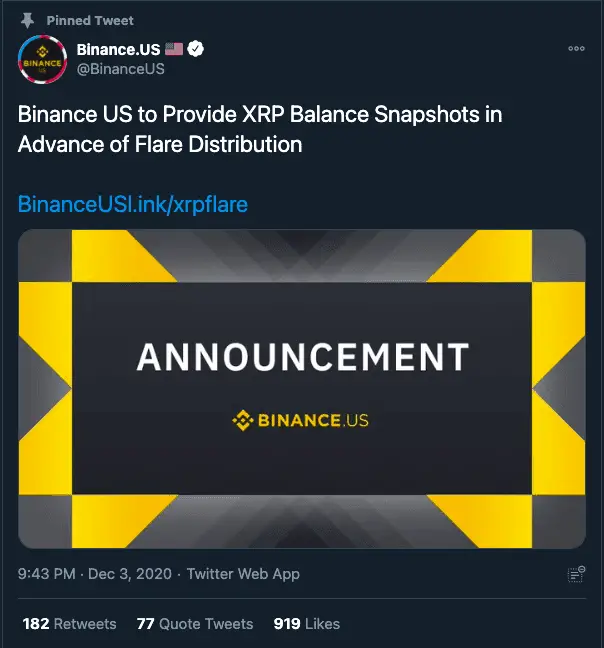 Exchanges Not Currently Supporting XRP Fork
Since creating this article the big holders of XRP, Coinbase, Huobi, and Binance.US have all come out to state that they are now supporting the XRP airdrop.
For the latest list of available exchanges please check here.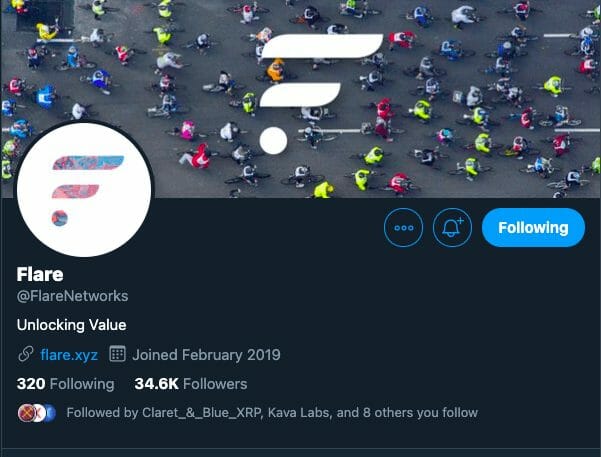 How Many Spark Tokens Will I Get?
The number of Sparks tokens you get will depend on the amount of XRP in your wallet on the date of the snapshot on 12th December 2020. This is because the Spark tokens will be distributed at the rate of 1 token for every 1 XRP in your wallet.
How to Claim SPARK Tokens from your Wallet
If you're wanting to claim from a wallet this is slightly more complicated but the desktop wallets such as the likes of Atomic Wallet and especially the Exodus wallet have tried to simplify this process for you.
Atomic Wallet has provided step-by-step instructions. Whereas Exodus has gone one step further and automated this for you so that users holding more than 20 XRP simply need to register their address in the wallet and are then eligible.
If you choose to claim from SPARK from another wallet, below are the steps to follow;
Take your Ethereum-compatible address on the form;

0x415f8315c9948Ad91e2Cce5b8583A36dA431fb610x415f8315c9948Ad91e2Cce5b8583A36dA431fb61

Remove 0x0x from the front and upper-case the remaining characters to produce a character set of the form;

415F8315C9948AD91E2CCE5B8583A36DA431FB61415F8315C9948AD91E2CCE5B8583A36DA431FB61

Note: the upper-casing and lower-casing in the original address does not matter.
Append 0202 + 24 zeros to the uppercased character set to produce;
02000000000000000000000000415F8315C9948AD91E2CCE5B8583A36DA431FB6102000000000000000000000000415F8315C9948AD91E2CCE5B8583A36DA431FB61

Set this value as the message key on your XRPL account AND that's it! Then your XRPL account will be prepared to receive Spark tokens on the Flare Network at your address; 0x415f8315c9948Ad91e2Cce5b8583A36dA431fb610x415f8315c9948Ad91e2Cce5b8583A36dA431fb61.
For XUMM wallet holders and Ledger Nano holders of XRP, you can prepare your account seamlessly today using a tool developed by Wietse Wind, founder of XRPL Labs, at https://flare.wietse.com.
Related Posts