In a significant move that's sending ripples across the cryptocurrency community, Coinbase Canada has decided to suspend trading for not just Tether (USDT) but also for DAI and RAI later this month. The announcement, as reported by CoinDesk, comes as part of the wider regulatory push to ensure clarity and transparency in the world of stablecoins.
According to the reference from CoinDesk, Coinbase Canada did not provide explicit reasons for suspending these three stablecoins. However, insiders within the cryptocurrency landscape hint that the decision might be influenced by increasing regulatory pressures, especially concerning the reserves and stability mechanisms of these tokens.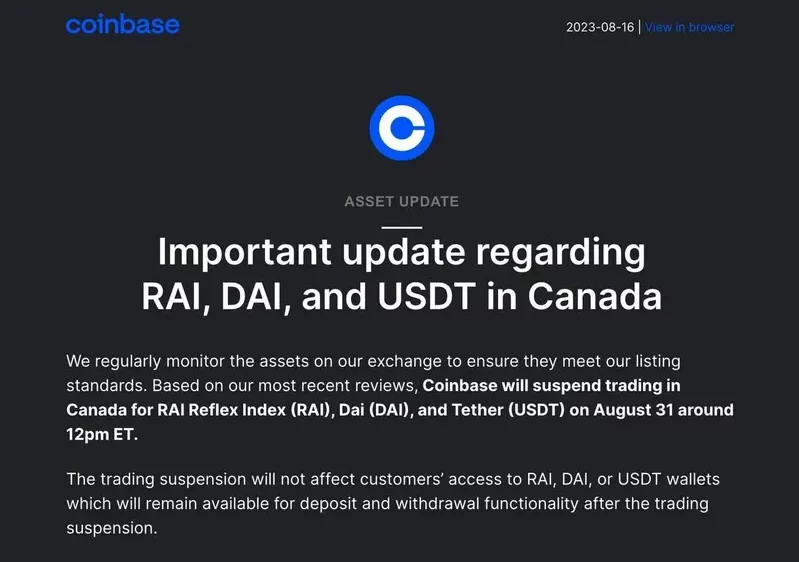 All three stablecoins, USDT, DAI, and RAI, are known for their unique value propositions. Tether, pegged 1:1 with the US dollar, has been the subject of numerous debates over its reserve backing. DAI and RAI, on the other hand, come with distinct decentralized and algorithmic mechanisms to maintain their pegs, respectively.
Coinbase Canada's user base is advised to take appropriate action before this impending suspension. Those holding any of these stablecoins on the platform are recommended to convert them into other cryptocurrencies or transfer them to external wallets or other exchanges that continue to support trading for these tokens.
Given Coinbase Canada's stature in the North American crypto market, this decision is expected to hold significant sway. Market analysts are now waiting to observe if other major exchanges will adopt a similar stance in light of these regulatory challenges.
It is crucial to note that while these stablecoins have been instrumental in bridging traditional finance with the decentralized world of cryptocurrencies, their rapid growth has also attracted the watchful eyes of regulators worldwide.