In this YouHodler Review for 2023, we will take a closer look at YouHodler, how it stacks up, fees, security, features, pros and cons. 
YouHodler is a crypto exchange and lending platform where you can borrow against crypto holdings. If you want to earn interest on your crypto assets, YouHodler pays up to 12%+ APR, plus compounding interest. 
Let's dive into this YouHodler Review to help you work out whether YouHodler is the right platform for your saving, borrowing, and crypto exchange needs.
YouHodler Review: How to Use YouHodler?

YouHodler Pros & Cons
What is YouHodler?
YouHodler is a crypto exchange that provides lending and savings services for customers. Ilya Volkov, a former communications director and board member for financial service firms, including Forex Club Group Companies, founded YouHodler in 2018. Making it a relative newcomer in the savings and crypto lending space. 
YouHodler is based in Cyprus and Switzerland and is an active Blockchain Association member within the Financial Commission, an independent financial regulatory body. The Founder & CEO, Ilya Volkov, is a Crypto Valley Association (CVA) Board Member and Western Switzerland Chapter Chair.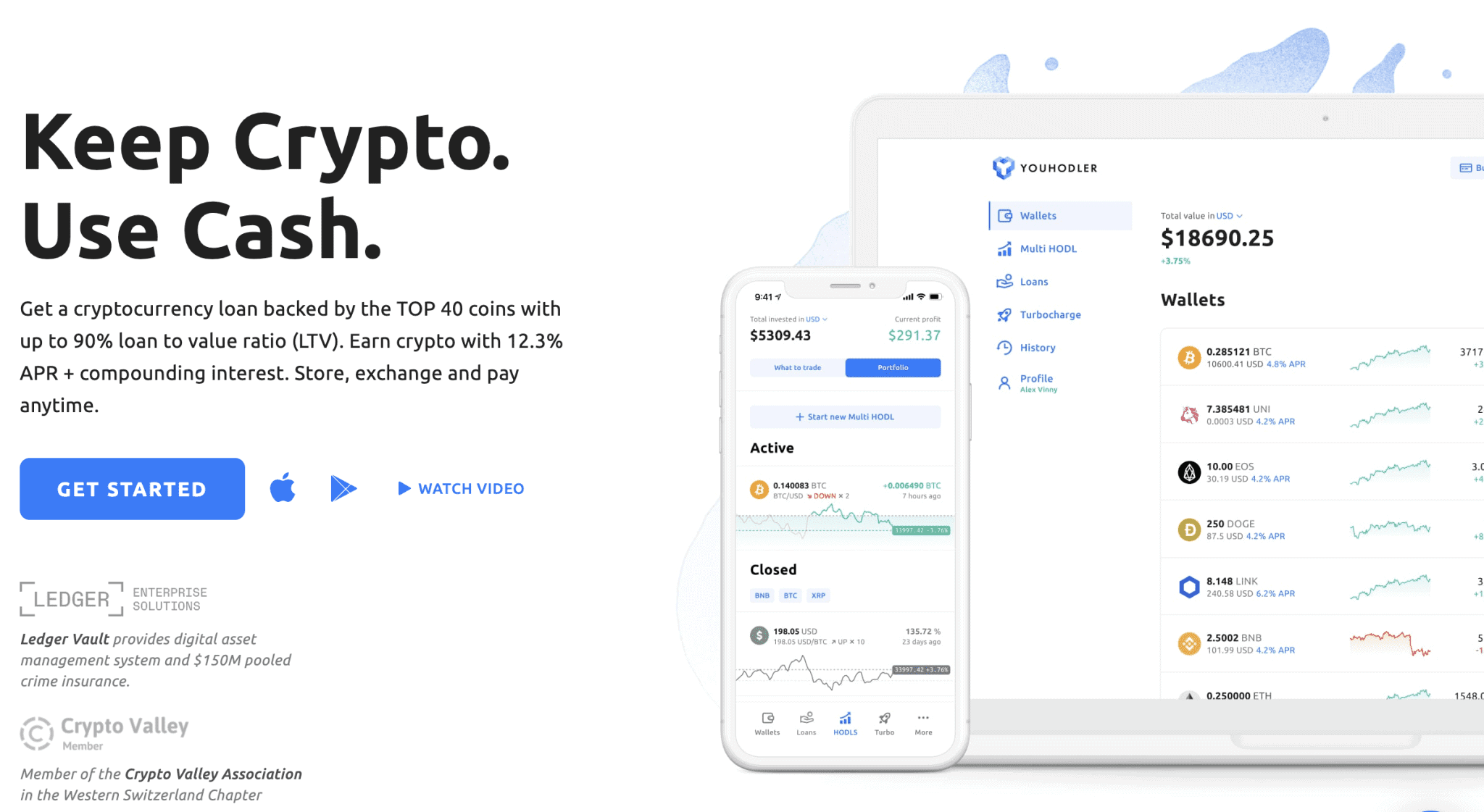 Despite being relatively new to the lending and savings segment of the crypto sector, YouHodler seems to take security, insurance, and operations seriously. We will cover that in more detail later. 
The only downside is (at the time of writing this YouHolder review), YouHodler isn't available in the U.S. Customers in Europe and worldwide can use it, but not American crypto holders. 
Now, let's take a closer look at some of the features of YouHodler, fees, security, and everything else you need to know. 
YouHodler Features
YouHodler is a platform for exchanging, borrowing, saving, and trading. Its five main features are its savings account, where you can earn up to 12%+ APR, loans with a 90% LTV rate, an exchange, Plus two more advanced features we will cover in more detail: Multi HODL and Turbocharge; ways to either boost savings and how much you can earn from trading.
Savings 
Crypto savings products are becoming increasingly popular. It's a great way to earn interest and make more from crypto funds accumulated in wallets. Customers can deposit crypto assets in a YouHodler Savings Account, with interest payments deposited weekly. The rate someone can earn will depend on the crypto they want to be paid.
There's no minimum or maximum term or loan duration. Youhodler account holders can deposit and earn interest on their digital assets for as long as possible, with $100 as the minimum amount a user can put in.
Earnings are paid out in a wide range of cryptocurrencies and stablecoins (up to 12%+ APR, plus compound) with the option to deposit funds in the following cryptocurrencies: BTC, PAXG, USDC, TUSD, USDT, HUSD, PAX, BNB, HT, XRP, XLM, and ETH.

Interest Rates 
Interest rates you can earn vary, depending on the crypto you want funds paying out from a YouHodler Savings Account. These rates are as low as 2.5% (COMP), going up to 12.3% in USDT. The complete list of crypto interest rates can be found on YouHodler. Savings interest rates on stablecoins are naturally higher than other cryptocurrencies. 
On Every Bit Helps, we compare YouHodler alongside dozens of others on our Staking & Lending Rates page. Well worth taking a look if you want a complete, real-time, and accurate comparison of what you can earn like a pro-Crypto HODLer.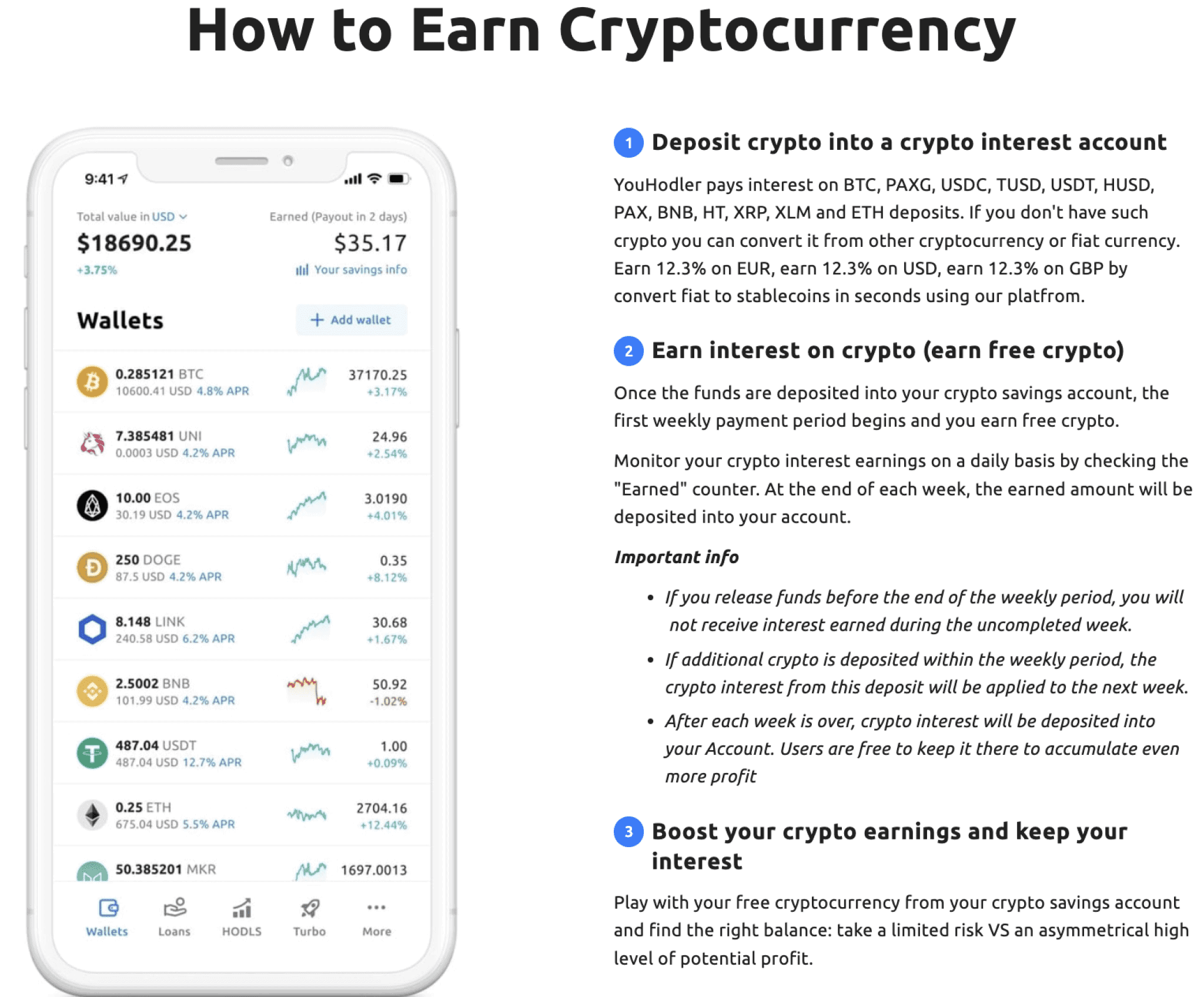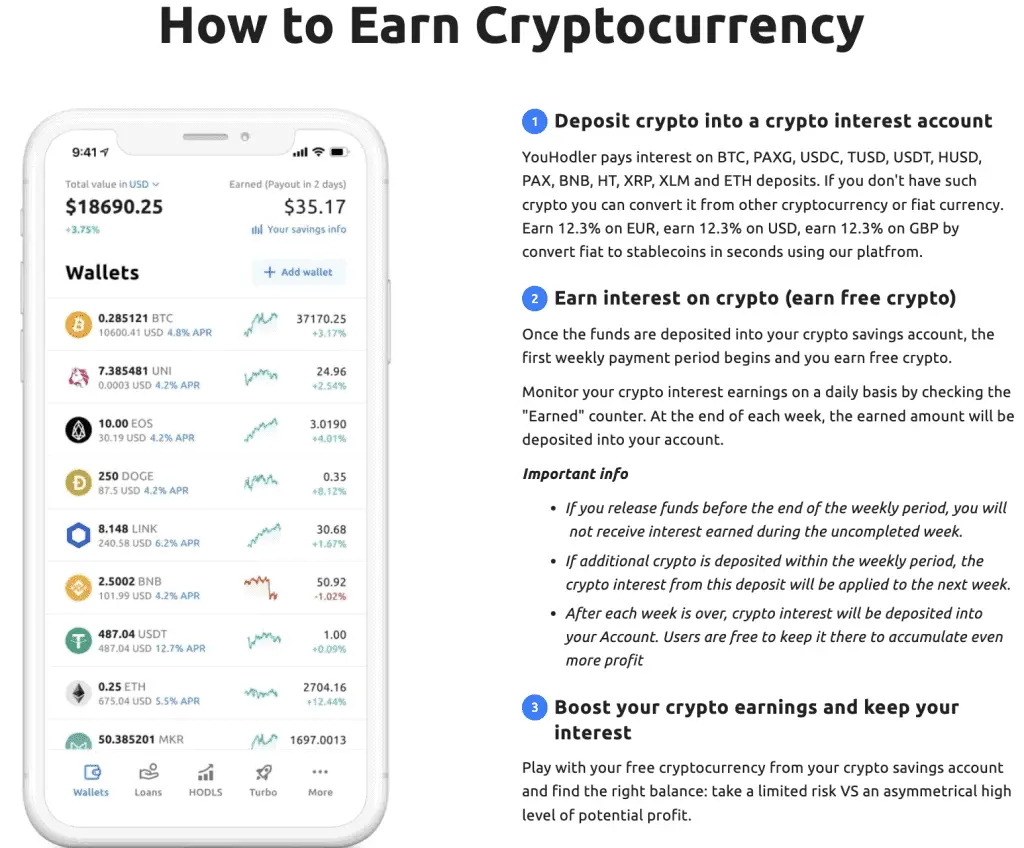 Multi HODL 
Multi-HODL is a way of combining a crypto savings account and crypto-backed loans to boost the potential of your investment portfolio. The savings and collateral for the loan are your funds, secured in a YouHodler crypto wallet. The instant crypto loans element of the strategy is then leveraged to increase profits. 
On the website, YouHodler recommends a "barbell strategy": 80% in savings earning up to 12%, with zero risk. With the other 20% leveraged to increase profits, as much as 300%, with a 50% risk factor (e.g. you could lose 50% of the amount leveraged).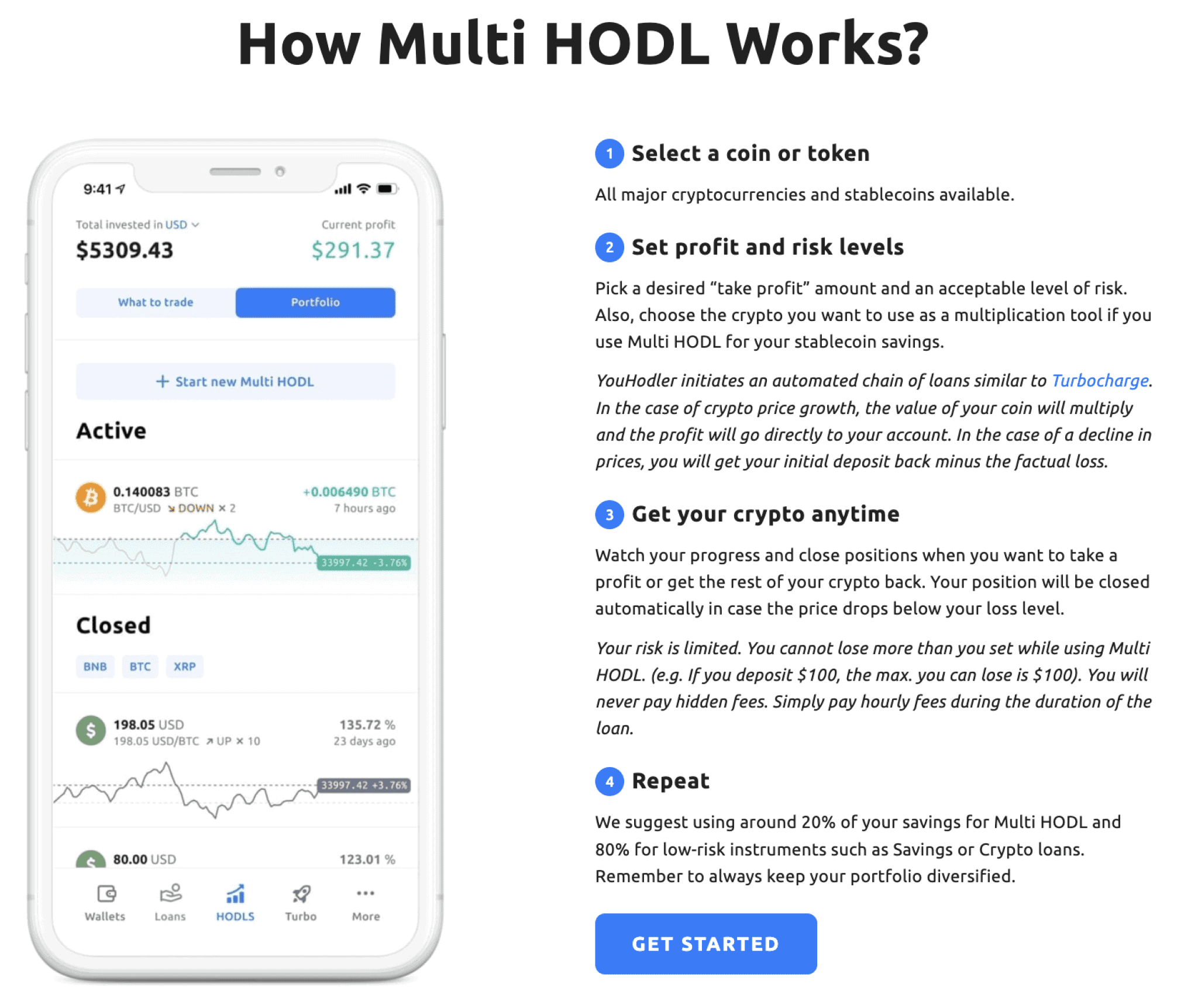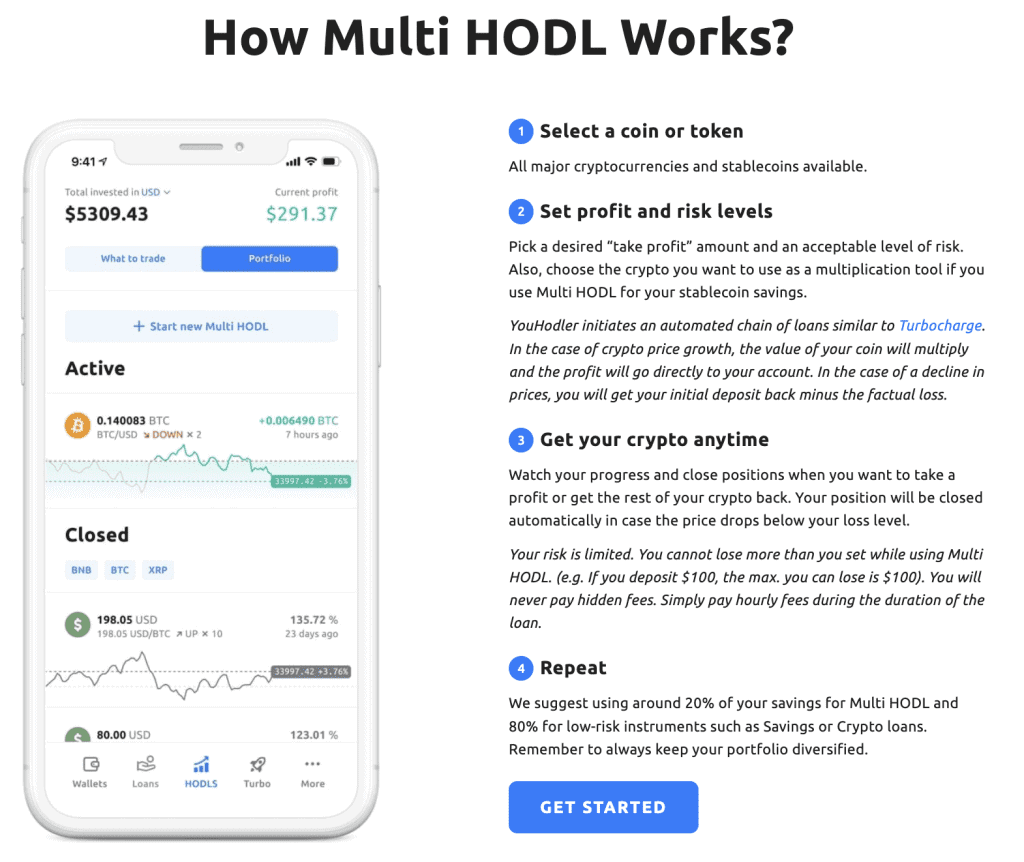 Crypto Loans
For those wanting to turn crypto into fiat currency, YouHodler offers loans with a 90% Loan to Value ratio (LTV) and the minimum loan amount starting at $100. Crypto loans can be paid out in EUR, USD, GBP, CHF, Tether (USDT), or Bitcoin (BTC).
It advertises that the top 40 coins can be deposited as collateral, with withdrawal options into other cryptocurrencies, bank accounts, debit or credit cards.
Longer loan terms have a lower LTV ratio and interest rate fees (APRs), but you pay more overall in rates and fees than shorter loan terms with a higher LTV and APR. YouHodler isn't that transparent when it comes to fees on loans, which is likely a result of the fees and rates changing depending on the lending pools available.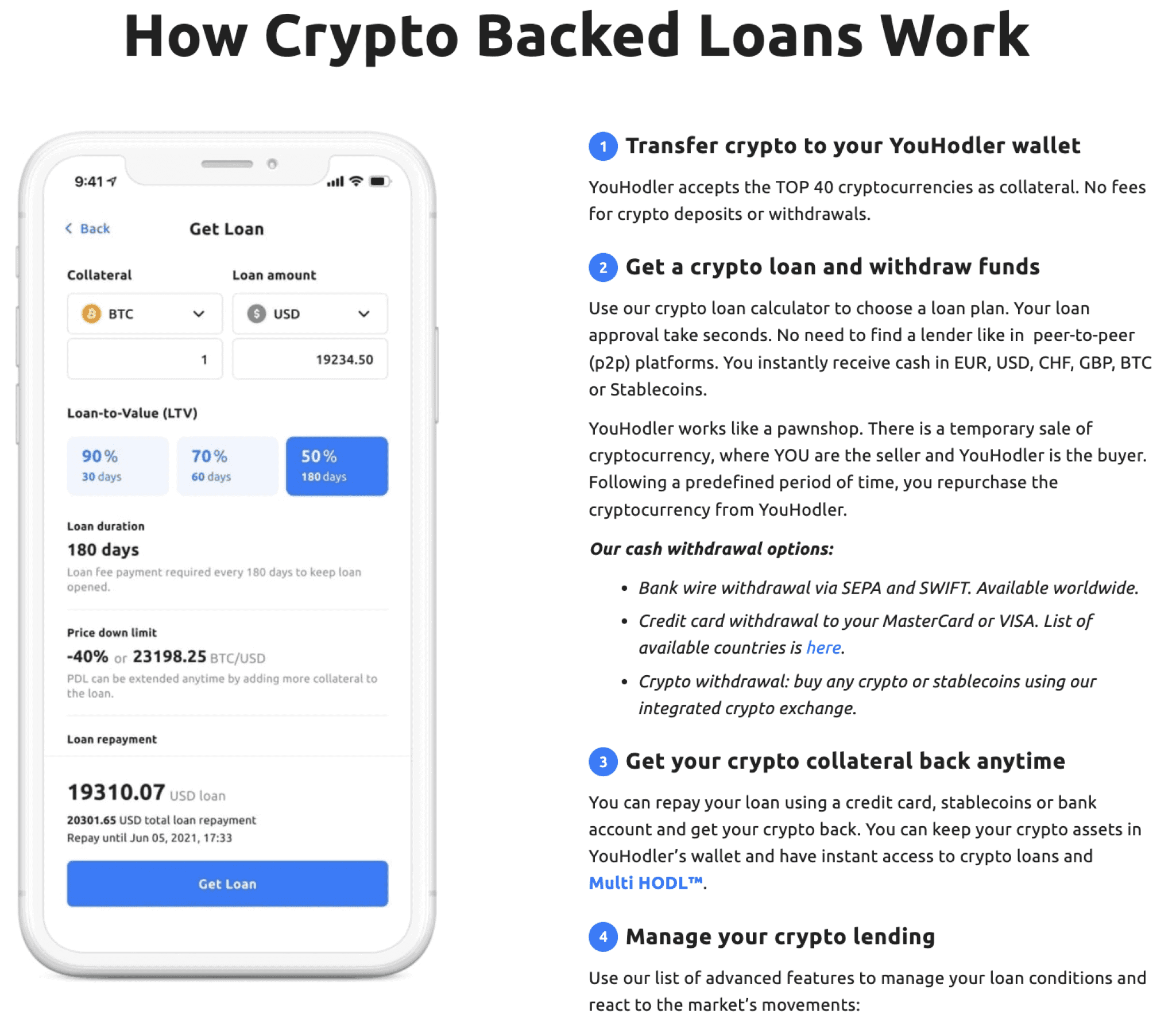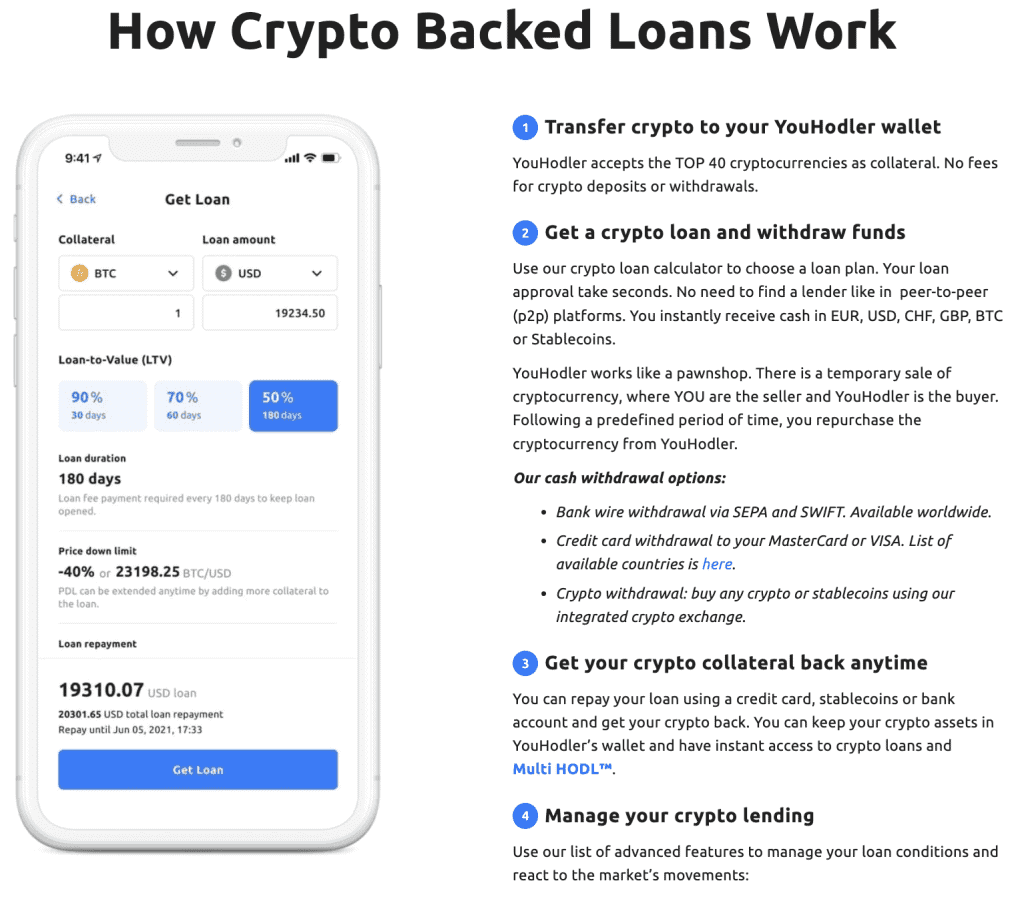 Exchange 
YouHodler promotes itself as "A Bitcoin exchange you can trust." Customers can convert any crypto assets, fiat currencies, or stablecoins using the YouHodler exchange. YouHodler puts the emphasis on it being user-friendly for those new to crypto exchanges, with a walkthrough so that customers can "exchange funds quickly and easily."
Naturally, there are exchange fees for every transaction and exchange, which we cover in more detail further down this review.
Turbocharge 
Turbocharge is a somewhat more risky version of the Multi HODL feature. With this, you are creating a "cascade of crypto loans". You start with depositing your crypto as collateral, with the ability to clone your crypto assets up to 8x with a 90% 7-day LTV (Loan to Value Ratio) tariff.
There are numerous ways to manage your crypto loan, with a Take Profit price designed so that once that is reached, YouHodler automatically uses the collateral to repay the fees.
With this, the aim is to earn more than the collateral deposited. However, as with any crypto-based investment strategy, there is volatility and risk, and you should never bet more than you can afford to lose.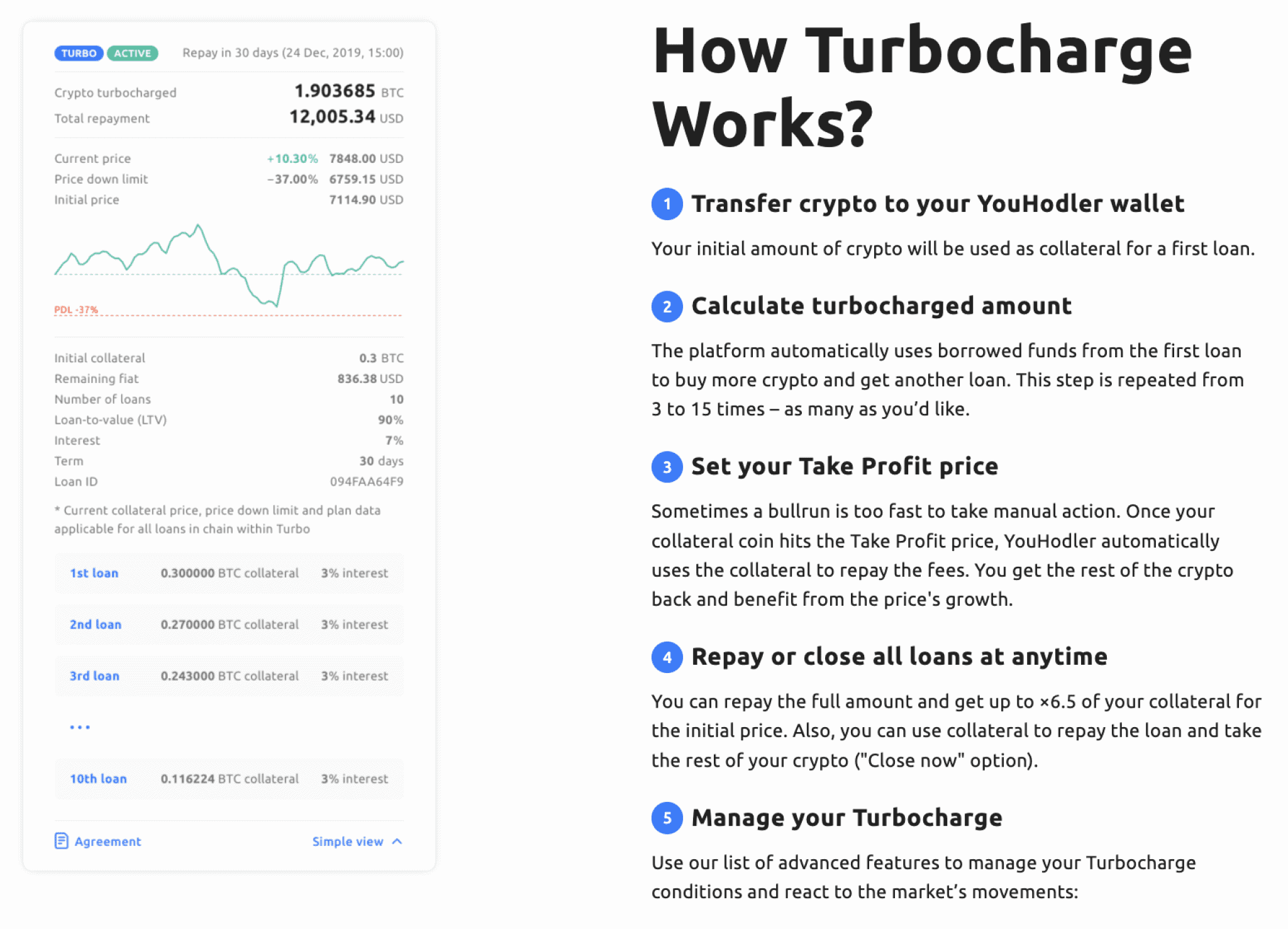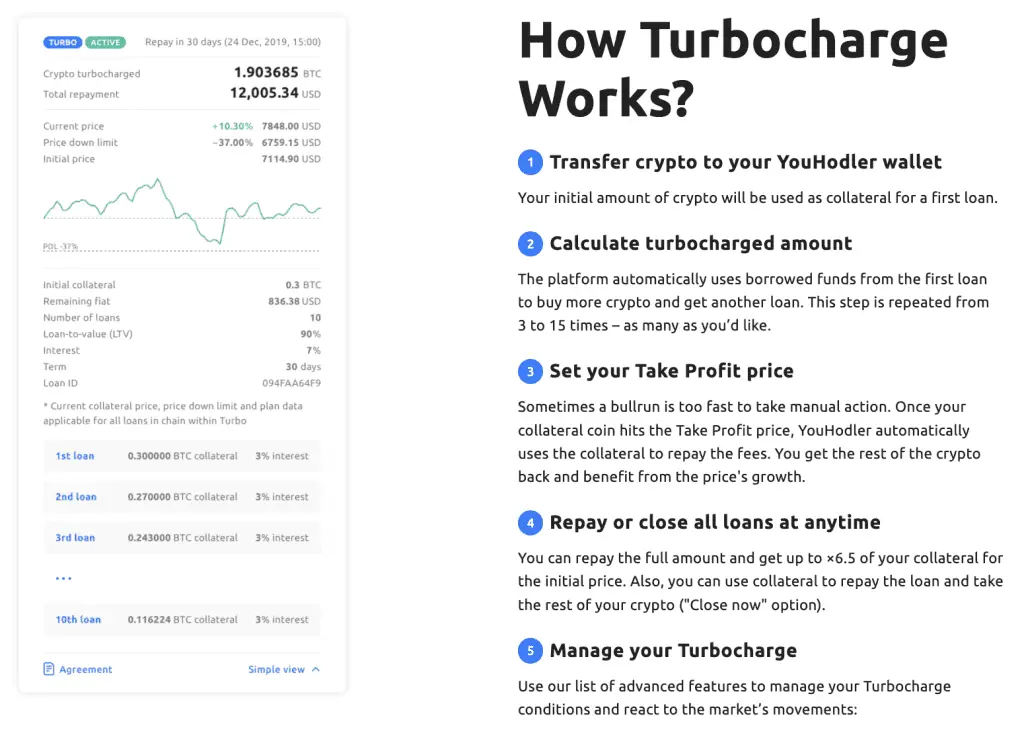 YouHodler Supported Cryptos
At the time of writing this YouHodler review, YouHodler supports over 90 crypto assets and stablecoins in their savings accounts. For a complete list, you can check out their savings page. You can also exchange and invest hundreds of others.
YouHodler Fees
Every exchange and platform charges fees. YouHodler is comparable to what you'd expect with other exchanges or crypto lending platforms. Here's a quick overview:
Fees information is taken from the YouHodler.com wallet. Certain fees may change according to the country, any policy updates by YouHodler, and the variable price of crypto transactions and GAS fees.
| Transaction Type | Deposit Fees | Transaction Type | Fee | Min | Exchange Fees |
| --- | --- | --- | --- | --- | --- |
| Bank transfer (SWIFT) | €25.00 | Bank transfer (SWIFT): US$ | 1.5% or $70.00 (whichever is greater) | $70.00 | 1% fee to convert, plus gas fees |
| Credit/Debit Card | 4.5% | Bank transfer (SWIFT): EU€ | €55.00 | €500.00 | |
| AdvCash Account | 1% | SEPA (EU€) | €5.00 | €50.00 | |
| Crypto & Stablecoins | Free | GBP Bank Transfer (£) | £55.00 | £500.00 | |
| | | Credit / Debit Card | 3.5% (when available) | $5.00 or €5.00 Once Available | |
| | | Crypto & stablecoins | Varies | Varies | |
| | | | | | |
YouHodler Support
When it comes to support, it's safe to say that YouHodler is aiming to position itself as a serious and trusted player in the DeFi space. It takes customer service and supports seriously, committed to 24/7 responsiveness.
You can reach customer support through several channels. Including a Help Portal, with the Service Level Agreement confirming the average response time is 1 – 2 minutes during EU office hours (9 am – 6 pm CET/CEST time zone). 
Some requests may take longer, especially if customer support is busy, out of hours, or has a more complicated question. However, they are making every effort to provide the best support possible. 
Is YouHolder Safe?
Given the efforts, YouHodler has made in platform security, insurance, and membership to financial regulatory bodies that come with strict KYC (Know Your Customer) and Anti-Money Laundering (AML) policies. Making it a centralized exchange and not somewhere you can expect to remain anonymous.
However, the good news is this shows the emphasis YouHodler puts on safety and security, making it a legitimate platform.
YouHodler is a member of Ledger Vault, an enterprise-level digital asset management security provider with $150 million in pooled crime insurance. YouHodler is also registered and insured through the Ledger and Arch UK Lloyds of London syndicate as a further insurance backstop in the event of financial crime on the platform.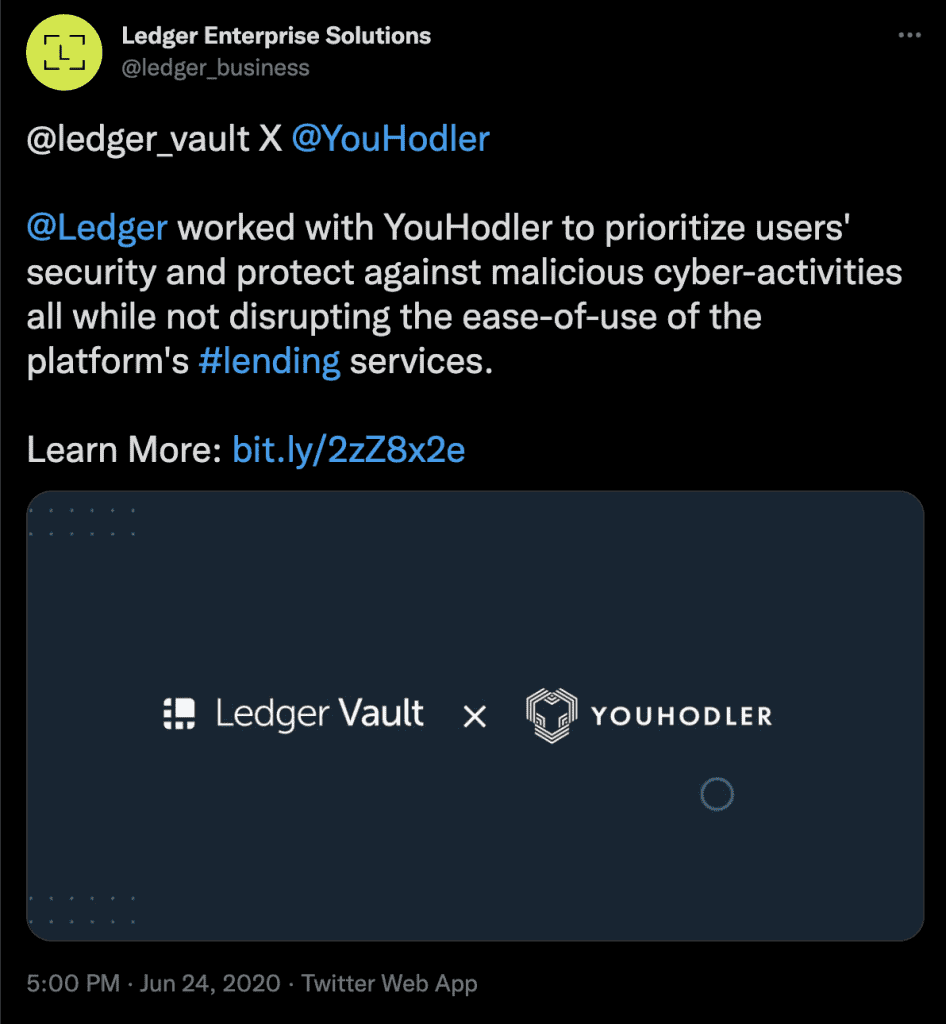 Security
Alongside KYC and AML requirements and Ledger Vault insurance, YouHodler security includes two-factor authentication (TFA). For customers with over $10,000 secured in YouHodler crypto wallets, users can disable withdrawals in the event of a suspected cyber breach. 
Funds locked in hot and cold crypto wallets are secured in several ways, including two and three-factor (2fa, 3fa) and biometric authentication. It doesn't say what percentage of crypto funds are secured offline. However, the service Ledger Vault provides means that private keys are encrypted and not managed by any of the YouHodler team. 
In September 2021, it was announced that YouHodler became a member of Fireblocks, a fraud-free financial system for blockchain-based assets, currently safeguarding $700 billion in crypto transfers. 
Alongside membership in the Blockchain Association of the Financial Commission, YouHodler adheres to EU and Swiss financial regulatory bodies registered in Cyprus and Switzerland. They need to maintain the same levels of security, KYC, and AML requirements as money transfer and Forex trading services. 
Financial Commission membership means that if customers have a serious issue with YouHodler, there are dispute resolution solutions they can rely on. 
Centralized exchanges are always attractive targets for cybercriminals, but YouHodler hasn't suffered any cyberattacks so far. YouHodler lists every effort they make to keep customers' funds secure here. 
Conclusion
Besides the fact that YouHodler isn't open to U.S. citizens, the YouHodler platform has much to recommend. A commitment to security, customer focus, and user experience. Making it one of the safer crypto lending platforms that you can use to exchange, save, and borrow against your crypto holdings. 
We hope you found everything you needed from this YouHodler review. If you have any questions or if we have missed something, please let us know in the comments below.
Related Posts