In this Yield App review for 2023, we take a deep dive into the Yield App lending platform. We analyze the variety of features the platform has to offer. Plus, we take a look at their security, interest rates, fees, support, pros and cons.
Yield App allows users to access the best investment opportunities and invest with as little as $100 without having any financial or technical knowledge. Making the world of DeFi accessible to anyone. Yield aggregates user funds and invests these across a diverse portfolio of DeFi pools. 
Let's dive into this Yield App Review to help you work out whether Yield App is the right lending platform for you.
Yield App Review: How to Earn up to 12% PA?
Yield App Pros & Cons
What is Yield App?
Yield App was launched in February 2021 and built by a team from diverse backgrounds. Their CEO and founder is Tim Frost, who has been a key figure with many successful fintech and blockchain companies, including Wirex.
Since its launch, Yield App has gained more than 90 thousand users and has a team of advisors and partners: BitGo, TrustSwap, Yeoman's Capital, Pal Capital, and BlockPass.
Simply deposit your cryptocurrency assets such as Bitcoin, Ethereum, Avalanche, Binance Coin, USDT or a range of other stablecoins. Next, select the amount you want to invest, and start earning daily rewards. You can redeem and withdraw your funds at any time. Plus, earn a minimum of 2% APY all the way up to 11% by staking or locking up YLD tokens.
Yield App Features
The platform offers a range of features to ensure its customers have everything they need without having to leave the platform. They include ways to swap their crypto, buy and invest with fiat currencies and their own YLD token, which can be used to unlock rewards and boost returns.
Earn Interest
Yield App allows users to earn up to 11% APR on their cryptocurrencies. Users deposit supported digital assets and accrue daily interest. The platform's returns are derived from a mix of market-neutral strategies, DeFi opportunities, and crypto arbitrage trading. They offer both a 365-day lock-in option and a flexible duration for earning. Additionally, by staking their native token, YLD, users can access higher rates and additional perks through a tiered loyalty system.
Earn+ 365: This product promises the most attractive returns, with rates reaching up to 7% for Bitcoin, 11% for Stablecoins, and an impressive 12% for those who commit their YLD tokens for a full year. However, this high yield comes with a commitment, as assets in this category are locked for 365 days.
Earn+: A slightly more flexible option, Earn+ requires a 30-day lock-in period. In return, investors can expect up to 5% on Bitcoin, 5.5% on Ethereum, and as much as 9% on Stablecoins.
Flexible: True to its name, the Flexible product offers the utmost liquidity. Investors can withdraw their assets anytime without any lock-in period. The rates for this product can reach 3.5% for Ethereum and 7% for Stablecoins.
Swap Assets
Within Yield App, you can swap from any supported asset to another. This handy feature was initially designed just to support the YLD loyalty and rewards program. However, since the launch of Yield App V2, you can now swap between platform assets with a generous daily limit of $100,000 value.
This feature is only available for those users who have completed KYC level 2 and where funds are available in their wallet and not invested.
Yield App Pro
Yield Pro by Yield App offers sophisticated crypto-structured products tailored for diverse client needs. These products allow users to enhance their yields based on different market conditions and risk profiles. For instance, they have strategies that capitalize on currency price movements, whether within a specified range or based on bullish views. While these products can offer higher returns, Yield Pro emphasizes the importance of understanding the associated risks and encourages users to seek expert advice before investing.
Yield App Labs
Yield App Labs is an initiative by Yield App that focuses on research and development within the Web3 ecosystem. Their mission is to transform and enhance this landscape by collaborating with individuals and projects that align with their vision of a decentralized future. They delve into various areas of the decentralized world, including DeFi, blockchain innovation, NFTs, the Metaverse, GameFi, and base layer infrastructure.
By leveraging their proprietary data systems, they provide real-time market analytics and insights. Their team, with its vast experience in DeFi and a strong network of market participants, navigates the Web3 space to identify and collaborate with cutting-edge projects. This approach positions Yield App Labs at the forefront of blockchain technology, enabling permissionless innovation that challenges traditional models
Instant Fiat Deposits
Yield App's "Instant fiat deposits" allow users to securely and swiftly deposit fiat currencies and convert them into cryptocurrencies. This feature ensures that users' balances are credited instantly, and they can enjoy unlimited free deposits.
The platform supports various fiat transfer methods, including SEPA, Faster Payments, and SWIFT, ensuring a direct connection to major banks for a seamless transfer experience. Users can deposit EUR and GBP directly from their bank accounts without any deposit fees.
Once the fiat is deposited, users can easily swap it into crypto and start earning interest right away. Additionally, the platform provides a simple solution for swapping between fiat and crypto with zero fees and a daily limit of $100,000. The entire process, from depositing fiat to earning on crypto, is designed to be quick, efficient, and user-friendly.
Yield App Mobile
The Yield Mobile App was released in June 2022 and is available to download from Google Play (for Android) or the AppStore (for iOS), making earning and managing your digital wealth simpler than ever.  
With the Yield Mobile app, you can still use all the same features as the web platform. Plus, you can integrate your phone's security features, such as fingerprint or Face ID technology. There are also increased security features added, such as limiting the number of daily withdrawals and an automatic log-out function.
Yield App Token (YLD)
YLD is a utility token that enables users to unlock daily rewards and boost their annual returns (or APY). There are a few different ways that you can get hold of YLD tokens;
By investing and earning YLD rewards in your wallet.
Using Yield App's own "Convert" feature that allows users to swap their stablecoin assets for YLD tokens.
Buying with a card using the "Convert Fiat Currencies" option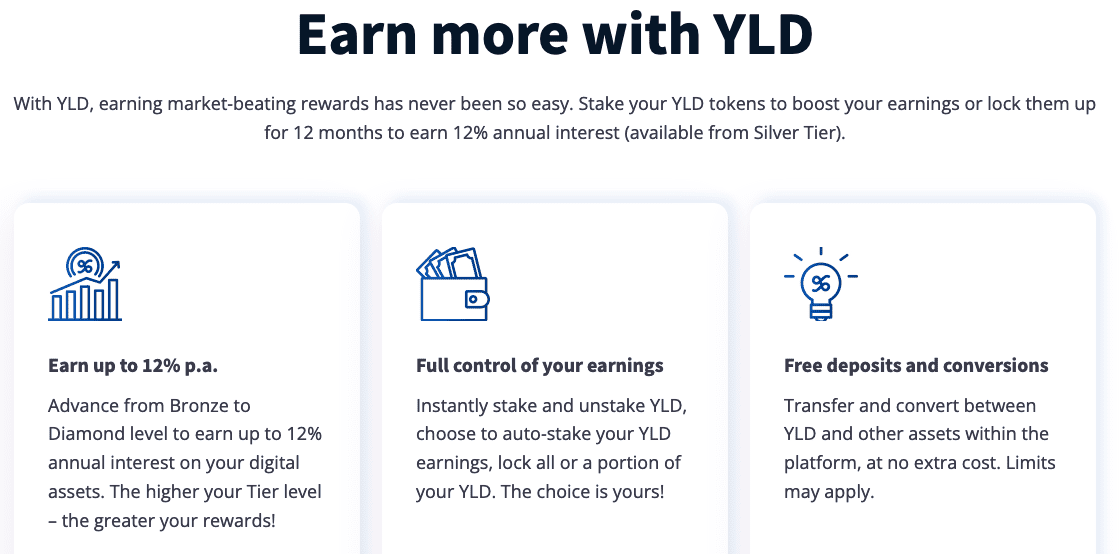 Yield App Membership Tiers
With Yield App, the amount you'll earn on your crypto deposits will depend on the number of YLD tokens held in your wallet.
Yield introduced tier bonuses so investors can boost their rewards when staking or locking YLD tokens.
Bronze Members: Users with 0-999 YLD don't get a tier bonus, but they can earn up to 5% APY when paid out in YLD tokens.
Silver Members: Users with 1000 to 9,999 can earn an additional 1% (if they stake YLD) and can earn up to or 6% APY when paid out in YLD tokens.
Gold Members: Users with 10,000 and 19,999 can earn an additional 1% (if they stake YLD) and can earn up to 7% APY when paid out in YLD tokens.
Diamond Members: Users with 20,000 YLD or morecan earn an additional 4% (if they stake YLD) and will earn the highest available rates at 11% APY on their deposits.
Yield Supported Cryptocurrencies
At the time of writing this Yield App review, users can deposit stablecoins such as USDC, USDT or DAI, Ethereum (ETH), Avalanche (AVAX), Binance Coin (BNB) and YLD tokens to start earning interest.
Yield App is currently expanding its list of blockchains and expects to add several new tokens in the near future.
Users that are KYC level 2 approved can purchase crypto directly from the platform with fiat currencies or use their "Convert" feature so that they can swap from any supported asset to another.
Yield App Fees
Yield App only charges fees when you withdraw from your account to an external wallet. Here is a table detailing these withdrawal fees:
| Cryptocurrency/Fiat | Withdrawal Fee |
| --- | --- |
| Bitcoin (BTC) | 0.0007 BTC |
| Ethereum (ETH) | 0.01 ETH |
| USDT, USDC, DAI, TUSD | $10 |
| GBP or EUR | $10 |
| AVAX | 0.05 AVAX |
| BNB (BEP-20) | 0.005 BNB |
| YLD (Yield Token) | 20 YLD |
Yield App Support
If you need some help or have an issue, Yield App has an extensive FAQ in their help centre where you can search or browse their list of categories.
If you can't find the answer there, you can also "submit a request" via their site. Their social links can be found at the top of their homepage.
Is Yield App Safe?
Yield App employs a range of security measures to safeguard your funds, including 2FA (Two-Factor Authentication), an activity log, session monitoring, alert notifications via email, and address whitelisting.
Utilizing robust 256-bit encryption, rigorous internal risk management protocols, and thorough due diligence, Yield App maintained a proactive stance, successfully steering clear of the crypto turmoil of 2022 and ensuring the safety of customer assets.
Is Yield App Regulated?
Yield App is registered in the European Union as a virtual asset service provider (VASP) with Italy's Organismo Agenti e Mediatori (OAM). Yield App says they are working on a licensing roadmap with several regional regulators, which indicates more protection on the horizon.
Yield App Sign-up
To sign up for a Yield App account, you'll first need to provide your email address (and verify it) and create a strong, secure password.
To be able to unlock actions such as deposits and withdrawals, you will need to verify your identity by going through KYC Level 1. This includes providing your personal details and photographic ID. The process should only take a few minutes to complete.
There is then an extra level of KYC (Level 2) that you will need to complete for actions such as converting your crypto or crypto purchases. This process includes providing proof of residence, such as a recent utility bill or bank statement.
Haven1 Blockchain
Haven1 is an advanced blockchain platform designed to revolutionize on-chain finance. It emphasizes security, offering a safe environment for crypto transactions while minimizing risks like hacks. With its transparent operations, Haven1 ensures compliance with evolving regulations, providing users with confidence in its legitimacy.
The platform's user-centric design, backed by the Proof of Authority consensus mechanism, promises a seamless experience, rivalling the best in the industry. For developers, its compatibility with the Ethereum Virtual Machine (EVM) ensures easy integration with familiar tools. Notably, rather than competing with Ethereum, Haven1 positions itself as a complementary solution, enhancing the Ethereum ecosystem.
Given Yield App's focus on high-yield crypto investment opportunities, integrating or collaborating with a platform like Haven1 could further bolster its offerings, ensuring users benefit from both the high returns of Yield App and the advanced features and security of Haven1.
Find out more about Haven1:
Conclusion
Yield App presents a user-friendly and straightforward method for individuals to maximize the potential of their cryptocurrency holdings. Given the high degree of user accessibility, even those who are relatively new to the crypto world can navigate and utilize its features with ease. Yield App operates within strict regulatory frameworks, providing users with a sense of security and peace of mind.
It's crucial for potential investors to remember the volatility and risks associated with the crypto market, especially considering the failures of platforms like Celsius and BlockFi. Every Bit Helps have shifted its approach and no longer stake or lend their crypto assets, choosing instead the security of a hardware wallet to protect their investments.
Therefore, while Yield App's offerings are enticing, we implore all prospective users to conduct thorough research and consider their financial goals and risk tolerance before committing to any investments in the crypto yield space.
We hope you found this Yield App review useful. If you have any experience using Yield App, we invite you to share your thoughts and insights in the comments below. And remember, should you decide to pursue yield on your crypto assets, diligent research and careful consideration are paramount.
FAQs
How long does it take to withdraw money from Yield App?
Withdrawals from Yield App typically take anywhere from a few minutes to several hours, depending on the network congestion and the cryptocurrency being withdrawn.
Is Yield App available in the USA?
Yield App does not currently operate in the United States of America
What is the minimum investment into Yield App?
While Yield App doesn't set a strict minimum for investments, your initial contribution to any of their products should be:
– Stablecoins (DAI, TUSD, USDC, or USDT) 100
– BTC 0.005
– ETH 0.1
– BNB 0.5
– AVAX 10
Related Posts