Stablecoin issuer Tether is set to launch another stablecoin pegged to one of the most popular fiat currencies in the world.
Tether.io, the development team behind the USDT stablecoin, announced earlier today that it would launch a sterling-pegged stablecoin. This latest development comes a week after it launched its Eurocoin.
The stablecoin will be pegged to the Pound Sterling, one of the most popular fiat currencies in the world.
Tether CTO Paolo Ardoino said;
"We believe that the United Kingdom is the next frontier for blockchain innovation and the wider implementation of cryptocurrency for financial markets. We hope to help lead this innovation by providing cryptocurrency users worldwide with access to a GBP-denominated stablecoin issued by the largest stablecoin issuer."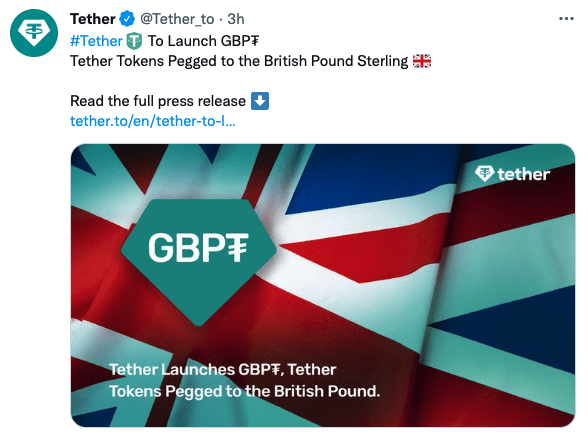 The sterling-pegged stablecoin will become the fifth stablecoin issued by Tether after the company launched the US dollar-pegged USDT, euro-pegged EURT, offshore Chinese Yuan-pegged CNHT and the recently launched Mexican Peso-pegged MXNT.
The stablecoin will be called GBPT and will be available on the Ethereum network, the company said. It added that the stablecoin would be launched next month. 
Tether is the leading stablecoin issuer within the cryptocurrency space. Its USDT is the number one stablecoin in the world in terms of market cap. 
This latest development comes after the British Parliament decided to regulate stablecoins. The parliament plans to put some stablecoins under the oversight of regulators in a bid to exploit the potential of crypto and blockchain technology to boost the payments sector in the United Kingdom. 
Tether continues to roll out products despite the ongoing bear market. The cryptocurrency market has lost more than 60% of its value since reaching an all-time high of $3 trillion in November 2021.
USDT, Tether's US dollar-pegged stablecoin, is currently the third-largest cryptocurrency by market cap, behind only Ethereum and Bitcoin.
Check out the latest live crypto prices for all your favourite cryptocurrencies in GBP
Looking for a crypto-friendly bank in the UK? Check out our guide on the best crypto-friendly banks for UK Investors.
In Other News