This Robinhood beginner's guide explains "How to sell crypto on Robinhood". This is one of the most common questions asked by cryptocurrency investors. Investing in crypto can be a complicated and daunting process, especially if you're new to the game.
Luckily, Robinhood, one of the leading online brokerages, makes it easy to buy and sell cryptos. All you have to do is follow a few simple steps outlined in this guide, and you can sell your crypto in no time.
So without further ado, let's jump in and learn how to sell crypto on Robinhood.
How to Sell Crypto on Robinhood?
If you want to sell crypto on Robinhood, the process is quite simple and can all be done with Android and iOS apps or a web browser.
First, you must create an account, deposit the money you want to trade with, and select your desired cryptocurrency. You can then place an order to sell your crypto assets at market rate or set a limit price if you want a specific price point. Once your order is executed, the funds will be available in your account within minutes.
You can trade multiple cryptos, including the most popular coins like Bitcoin, Ethereum, Litecoin, Dogecoin, and Ripple. You can also access other popular stocks and ETFs on the Robinhood platform. Allowing you to easily diversify your portfolio by trading different assets in an easy-to-use platform.
Let's learn more about how to sell crypto on Robinhood!
How to Sell Crypto on Robinhood with iOS Devices?
To sell cryptocurrency on Robinhood with iOS devices, follow our step-by-step guide below:
Log into the Robinhood App
Navigate to the detail page of the crypto & select "Trade."
Choose "Sell"
Go to "Order Types" in the top right corner
Choose your preferred order type
Confirm your crypto sell order
Swipe up to submit the sell order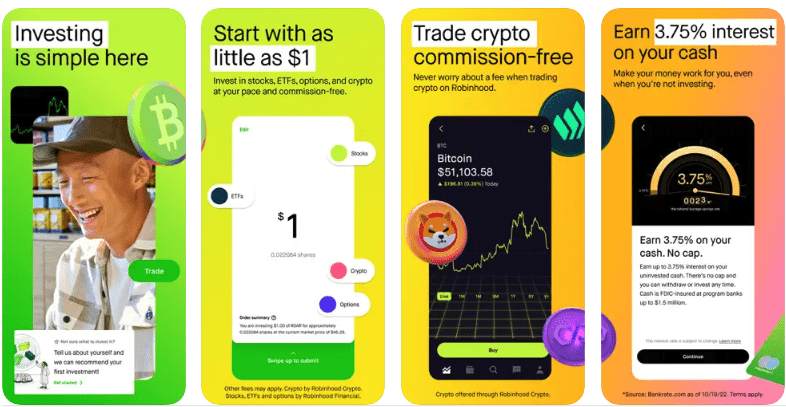 How to Sell Crypto on Robinhood on Android Devices?
The Android process is similar to the iOS one. So, here are the steps to take when selling your cryptocurrency on Android devices:
Log into the Robinhood App
Navigate to your cryptocurrencies.
Choose the crypto you want to sell.
Choose "Sell".
Enter the amount you want to sell or choose to "Select All BTC".
Confirm your crypto sell order
Swipe up to submit the sell order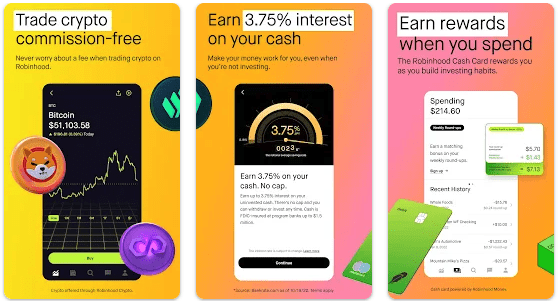 How to Sell Crypto on Robinhood on the Web?
If you use Robinhood on the web instead of the app, the process will be slightly different. Here is what you will have to do to sell crypto on the web:
Log into Robinhood via a web browser.
Navigate to the Detail page of the crypto you want to sell.
Click "Sell" from the order window on the right side hand side of your screen.
Enter the amount you want to sell or choose to Sell All
Click Review to check the order is correct.
Confirm the order.
What is Robinhood?
Founded back in 2013, Robinhood is one of the pioneers when it comes to commission-free trading. With an easy sign-up process and user-friendly interface, it's no wonder why so many traders choose Robinhood to trade crypto. In addition to all of that, you are getting a commission-free experience with no minimum deposit. Unlike many other exchanges that require a minimum balance or charge 4-5% fees, you can start trading cryptocurrencies on Robinhood without any of those restrictions.
When it comes to security, Robinhood is a reliable and secure platform for buying and selling crypto, they use multi-level encryption to protect your data.
Robinhood allows users to trade 24/7 and provides access to real-time market data and news updates. It also offers a customer support team that is available 24/7 in case you need help or have any questions about your account.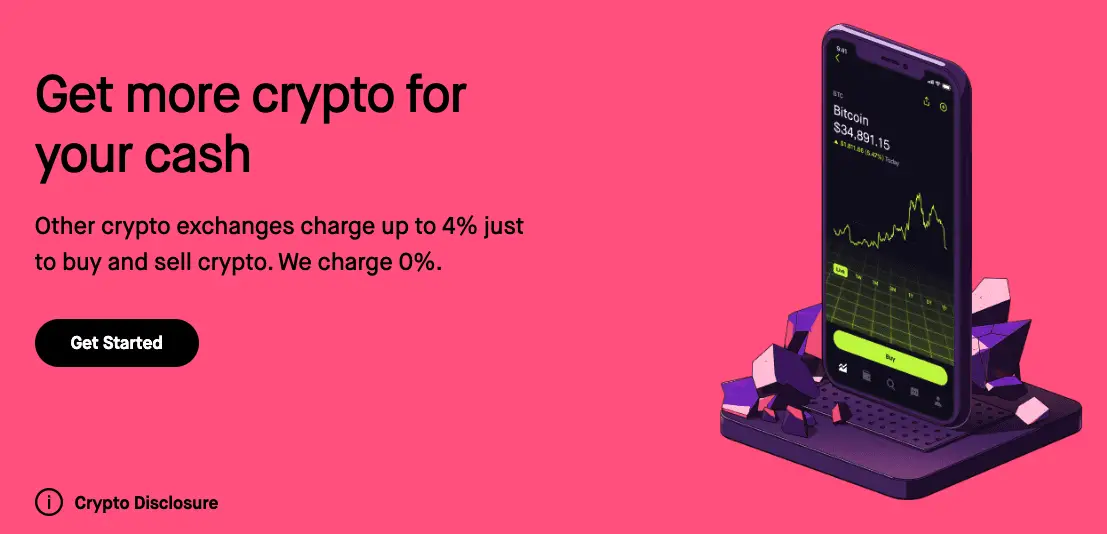 Talking about the downsides of using Robinhood for trading crypto, there is a lack of advanced features that professional traders require. For example, Robinhood doesn't allow users to send their cryptos to other crypto wallets, meaning you can't move the coins you own outside of Robinhood's platform. You can only store and use the crypto assets you own on Robinhood.
In addition, you can't also receive or send your cryptos to other people. You can't spend them for purchasing real-life items, either. These features are available on other trading platforms like Binance, Coinbase, and Kraken. However, Robinhood announced that they plan to add these features soon, and they will also be offering support for more cryptocurrencies.
Robinhood is currently working as a brokerage application, but they plan to establish it as a full-featured trading platform soon. Despite its disadvantages, Robinhood remains a great option for new and experienced users who want to buy and sell crypto without paying extra fees.
Can you Sell Crypto on Robinhood?
Yes, you can sell crypto on Robinhood. Robinhood is well known for its commission-free trading of cryptos and other stocks and ETFs. You can buy and sell crypto on Robinhood, making it ideal for active traders.
How Long Will it Take to Sell Crypto on Robinhood?
You can sell crypto on Robinhood almost instantly. However, once you submit your sale order, the transaction may take 3-4 days to process and complete. It depends on the external exchanges and liquidity providers Robinhood works with at any given moment. However, if you have a Robinhood instant account, you can take up to $1000 instantly, but the rest of the transaction will take 2-3 days.
How Much Does it Cost to Sell Crypto on Robinhood?
The best part about Robinhood is that there are no fees for buying and selling crypto. So, you can sell your crypto without any transaction costs. Unlike other platforms that charge 3-4% per transaction, you can save a lot of money with Robinhood.
How to Convert Crypto to Cash on Robinhood?
Converting crypto to cash on Robinhood is simple; you must first sell your crypto on Robinhood and then withdraw the money to your bank account or card. The withdrawal process usually takes 3-4 days to complete the transaction. Once the funds are in your bank account, you can convert them into cash using ATMs or banks. Additionally, you can use services like PayPal and Venmo to transfer your funds into cash.
Conclusion
So now you know how to sell crypto on Robinhood. Although it may have a few drawbacks, it is still an excellent choice for those who don't want to pay any transaction fees and are looking for a simple way to buy and sell cryptocurrencies. If you haven't already, create an account on Robinhood today and start trading crypto without any extra costs!
FAQs
Why can't I sell crypto on Robinhood?
There are a few reasons why you can't sell crypto on Robinhood. One of the main reasons is the regulatory environment in which Robinhood operates. Cryptocurrency trading is regulated differently than stock and ETF trading, so there can be some technical and legal hurdles for a company like Robinhood to overcome. You can contact their support team to find more specific information about why you can't sell crypto on Robinhood.
How do I withdraw crypto from Robinhood?
First, you must sign in to your Robinhood account to transfer crypto from Robinhood. After you go to the crypto's detail page, click "Send." From there, type in how much you want to send and where you want to send it (bank or card details). Finally, check that everything is correct and press "Submit."
How does Robinhood wallet work?
One downside of using Robinhood is that it doesn't have an official wallet. This means you can't send your crypto to anyone or use them to buy real-life items. The only way you can use your crypto is to buy and sell it on Robinhood.
Related Posts