Blockchain is one of the most trusted and well-known online cryptocurrency wallets available. With Blockchain.com you have access to your private keys meaning you have control over your assets and funds meaning your crypto is secure.
Whilst Blockchain.com is secure, software wallets are not as secure as a hardware wallets. This is why Blockchain.com has released its own crypto hardware wallet that works seamlessly (along with a Ledger Nano with your Blockchain online wallet.
How to Connect Ledger Nano to Blockchain Wallet?
What is Blockchain.com Lockbox?
Blockchain has released its own hardware wallet called Lockbox. Lockbox has been designed specifically by Ledger (creators of the Ledger Nano S). By storing your private key in a hardware wallet, you are securing your crypto offline, keeping it another step away from hackers.
Therefore by using their Lockbox in conjunction with the online wallet, you get the best of both worlds. The easiest, most widely used web wallet and the most secure offline storage solution creating a seamless experience to trade, transact, and protect your crypto.
What is a Hardware Wallet?
Hardware wallets are physical devices and are one of the safest ways to store your cryptocurrency by storing your private keys offline and away from any potential hackers.
Ledger & Blockchain.com Partnership
The good news is that if you already have an existing Ledger Nano S hardware wallet you can also use this in conjunction with your Blockchain online wallet without the need to purchase a new Blockchain Lockbox device.
What Cryptocurrencies Are Supported?
You can store, receive, send and exchange any cryptocurrencies supported by your Blockchain.com wallet.
How to Connect Ledger Nano S to Blockchain Wallet
The steps that I will take you through will be if you have an existing Lockbox or Ledger Nano S
Log into your Blockchain.com account and select Hardware from the left-hand pane.
It will then ask you to 'Select Your Device'.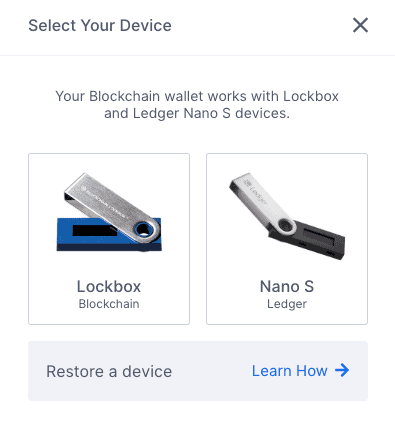 For existing devices, select Sign In with PIN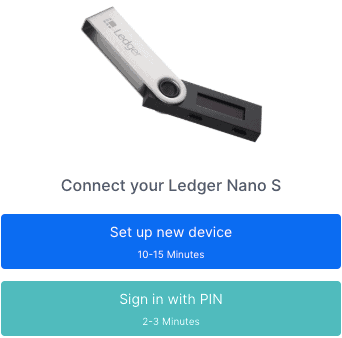 Connect your Ledger Nano S to your computer with the supplied USB cable.
Enter your pin for your device.
Ensure the device dashboard is open and you are not in an application.
Once connected, you will see a blue button prompt, stating that the connection was successful.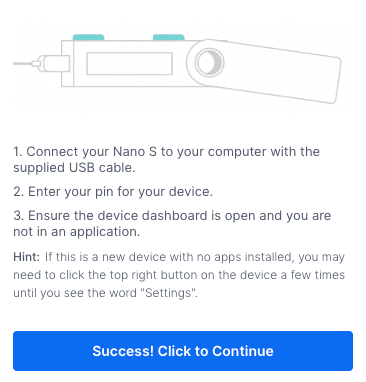 Open the Bitcoin App on your Ledger Nano S.
This will pair your device with your Blockchain wallet so that you can always view the balance of your Lockbox.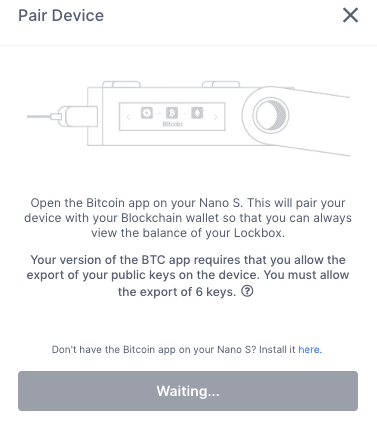 Tip: You will need to have the Bitcoin app loaded onto your device in order to pair your hardware wallet with your Blockchain web wallet. If you do not have the app installed, you can install it from the "Pair Device" screen during your sign-in process.
If your version of the BTC app requires you to export your public keys, you will be prompted on your device to export your keys 6 times. Accept all 6 by clicking onto the tick on your device.
You can then start a tour of your hardware wallet or you can choose to skip the tour.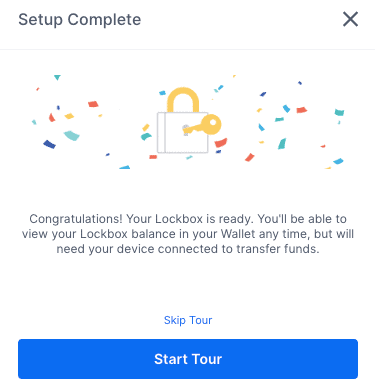 Managing Apps in Blockchain.com
To add, update or remove applications, click on the Manage Apps button to open the app manager which allows you to change and update the apps on your device.
Sending From Lockbox Hardware Wallets
To send your crypto, you will need to connect your hardware wallet to Blockchain.
Sending from your Ledger Nano S (or Lockbox) device uses the same process as sending from your Blockchain.com online Wallet.
Select Send from the Dashboard or your chosen wallet
Select Lockbox and your device from the "From" dropdown list
You can then send your cryptocurrency in the usual way.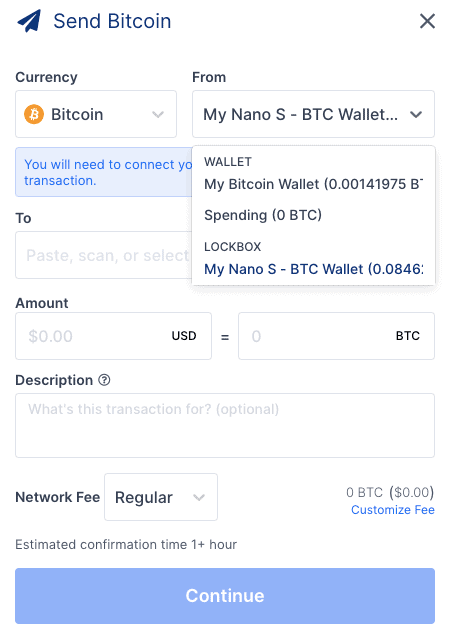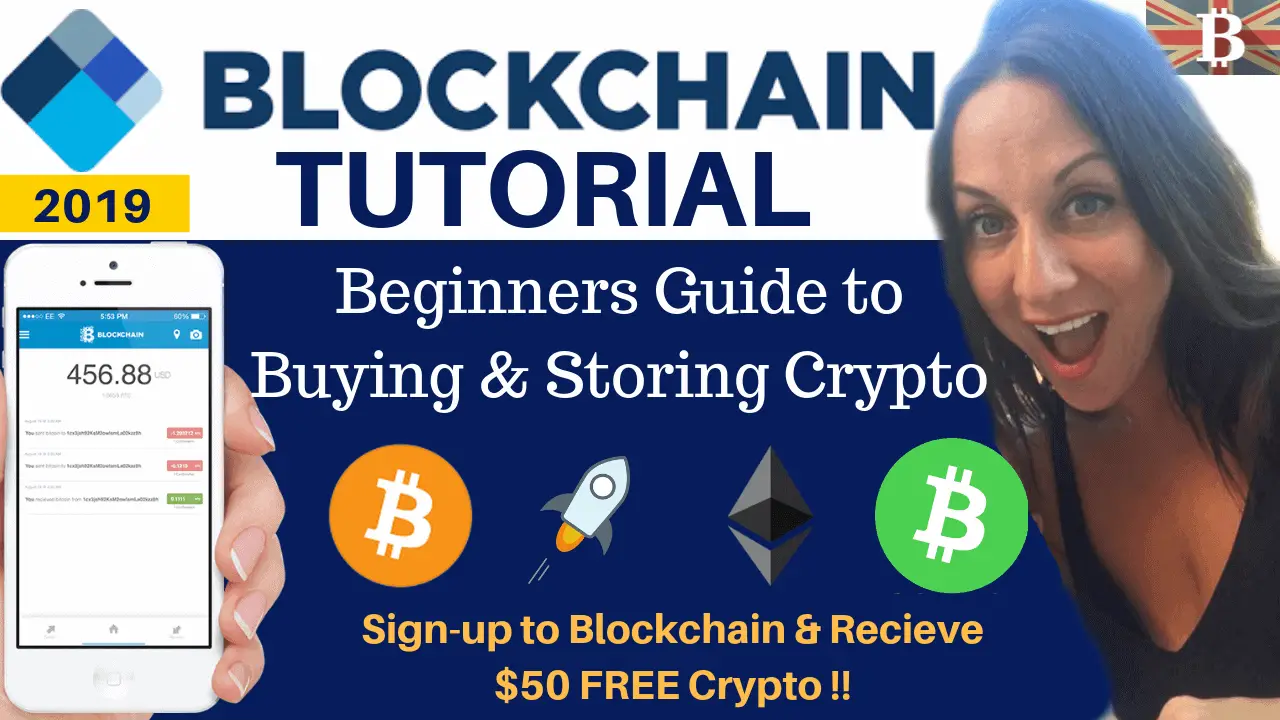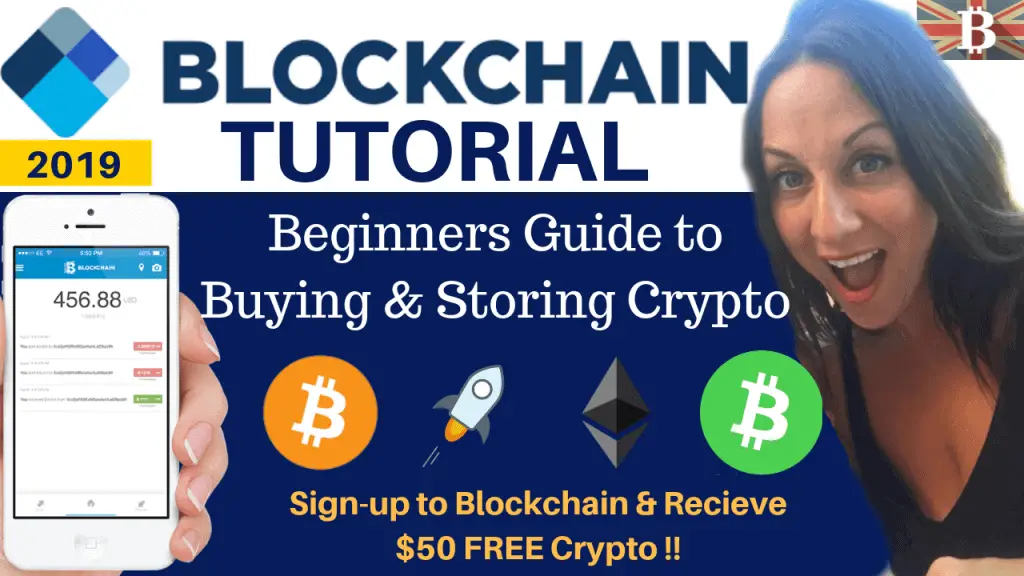 Requesting Funds Into Your Ledger Wallet
You do not need your hardware wallet connected to receive or request funds. Requesting/Receiving cryptocurrency uses the same process as receiving funds into your Blockchain.com online Wallet.
Select "Send" from the Dashboard or your chosen wallet
Select your hardware device from the "Receive To" dropdown
You can then request your cryptocurrency in the usual way.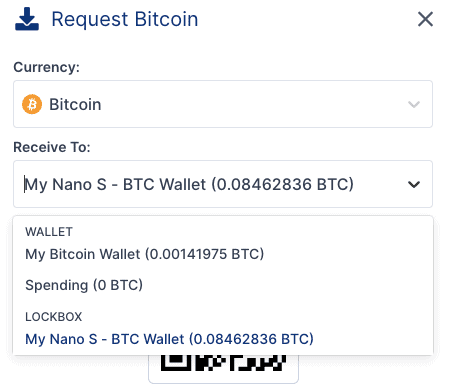 Related Posts