In the rapidly expanding digital frontier, 'web3 jobs', 'crypto jobs' and 'Blockchain jobs' are increasingly becoming the trending buzzwords for 2023. As the world steadily shifts towards decentralized technology, the demand for specialists in the cryptocurrency and web3 domains is skyrocketing.
If you're an ambitious professional or a tech enthusiast keen to pivot your career into the exciting world of crypto and web3, you're in the right place. Our comprehensive guide, "Best Sites for Crypto & Web3 Jobs," is here to steer you in the right direction.
Get ready to explore digital arenas brimming with opportunities and embark on your journey towards landing your dream career in Web3, Crypto or AI.
10 Best Web3 Job Boards
The digital transformation we've experienced in the last decade has changed how we interact, communicate, and work. The emerging world of cryptocurrencies and Web3 (the decentralized internet) has created new exciting opportunities that were unimaginable a few years ago. As these fields continue to evolve, they're creating unique job opportunities that call for a new kind of job board – ones that are specifically tailored to crypto and Web3 roles.
We've handpicked the ten best Web3 job boards where employers and employees alike can find their perfect match. Whether you're an established blockchain developer, an NFT enthusiast, or just taking your first steps into the world of decentralized finance (DeFi), these job boards will prove invaluable in your career progression.
1. Web3 Jobs
Web3 Jobs has established itself as the leading platform for individuals seeking job opportunities in the web3 ecosystem. With a remarkable collection of over 22,000 job postings from 2,500 web3 projects, this platform offers various positions in various industries. It has gained the trust and recognition of major industry players, including notable companies such as Polygon, Ripple, Stripe, UNICEF, and Techstars, who rely on the website to find top talent.
One of the key strengths of Web3 Jobs is its user-friendly interface, which ensures a seamless experience for job seekers. Despite its dark theme, the interface is simple and allows easy navigation, providing quick access to many web3 job listings. Whether you're aspiring to be a paid DAO member, a visionary UX designer, a skilled, smart contract developer, a strategic product manager, a creative game developer, or an ambitious intern, Web3 Jobs caters to all.
 Web3 Jobs goes the extra mile by curating specialized sections on its website to facilitate job hunting. Remote web3 jobs, high-paying web3 positions, and non-technical web3 roles are conveniently categorized, allowing candidates to find opportunities that align with their preferences and expertise. The platform also offers insights into the top cities where web3 jobs thrive, empowering job seekers to make informed decisions about their career paths.
Web3 Jobs Board Link: https://web3.career/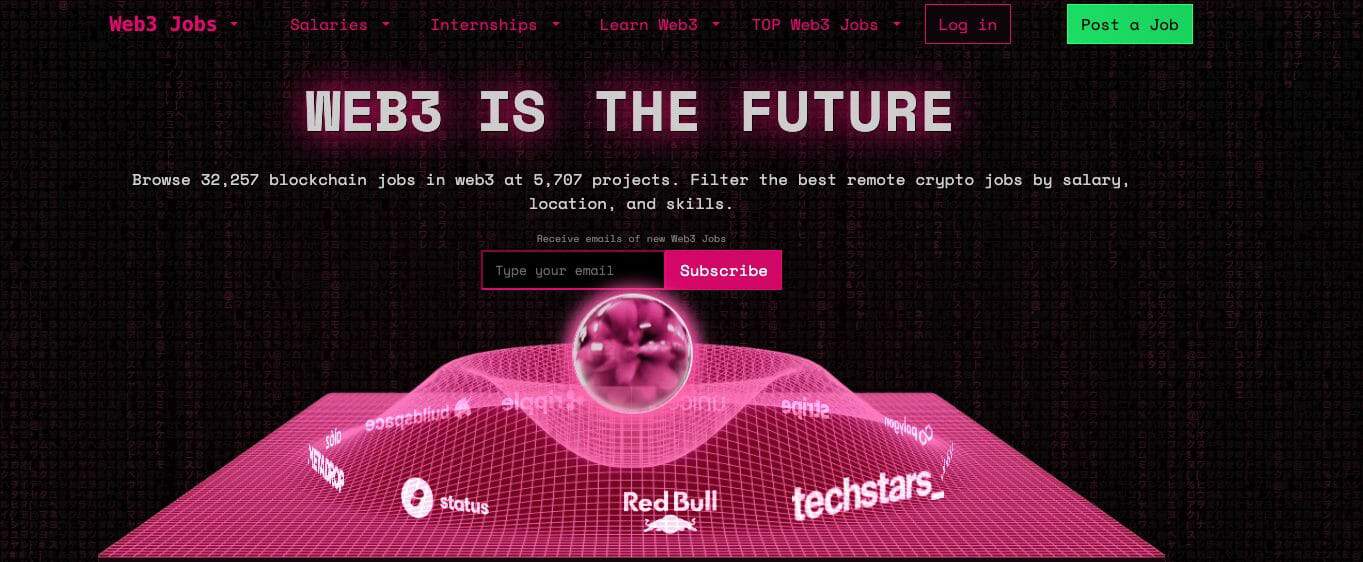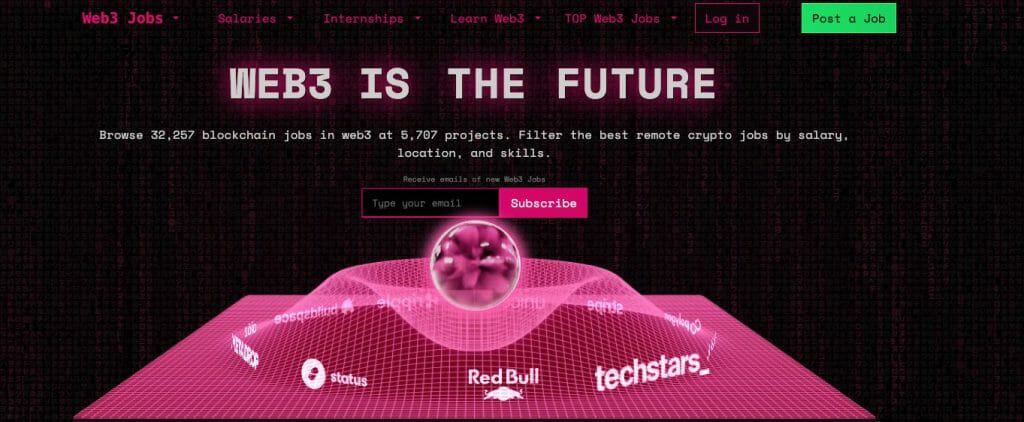 2. Cryptocurrency Jobs
Cryptocurrency Jobs stands as a leading portal in the crypto employment market, boasting a vast array of job vacancies in the field. To begin your journey in finding the perfect role, input the desired job keyword along with your geographical location, and the site will promptly display an assortment of relevant opportunities.
The platform maintains partnerships with some of the most recognized entities in the cryptocurrency realm, such as Aave and Gitcoin, enabling users to access the freshest job listings. Cryptocurrency Jobs offers a subscription service to a weekly newsletter to make your job search even more convenient, informing subscribers about the latest opportunities directly through email.
A distinctive feature of Cryptocurrency Jobs is the "Web3 Talent Collective" initiative. This program empowers users to create an individualized profile and populate it with their professional experiences relevant to the crypto and blockchain sectors. This curated profile attracts attention from recruiters and potential employers within the website's extensive network, potentially leading to direct outreach based on your profile and qualifications. Cryptocurrency Jobs aren't just a job portal but a comprehensive career development resource in the crypto industry.
Cryptocurrency Jobs Board Link: https://cryptocurrencyjobs.co/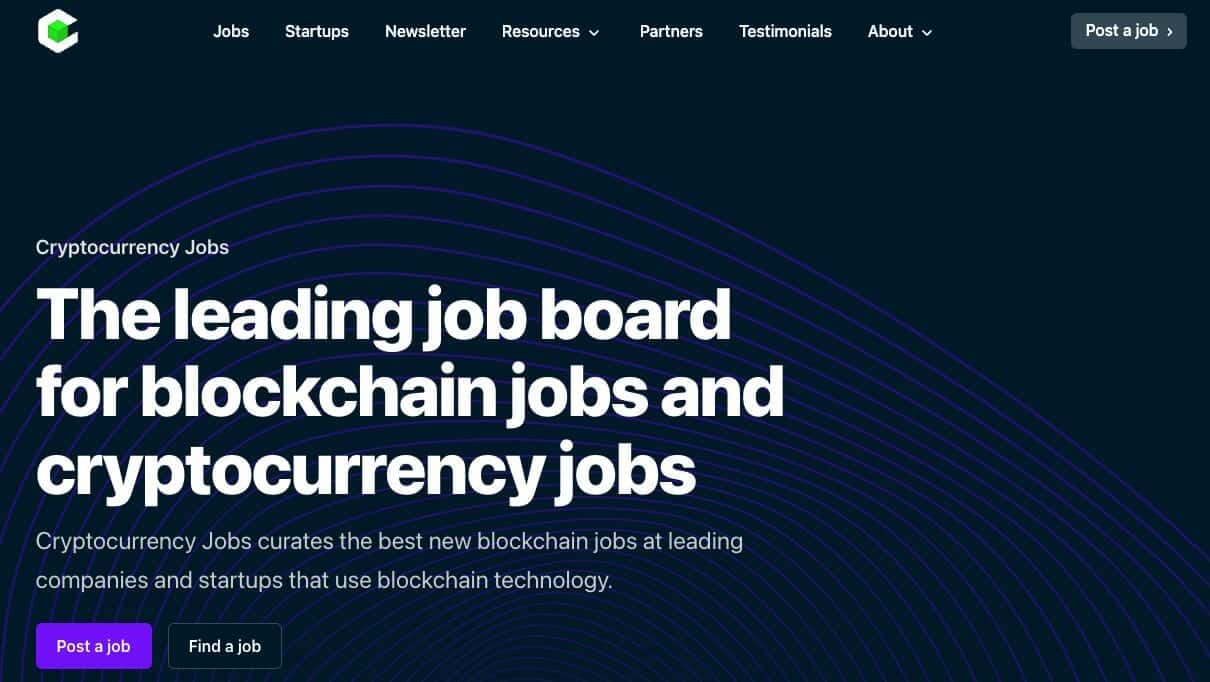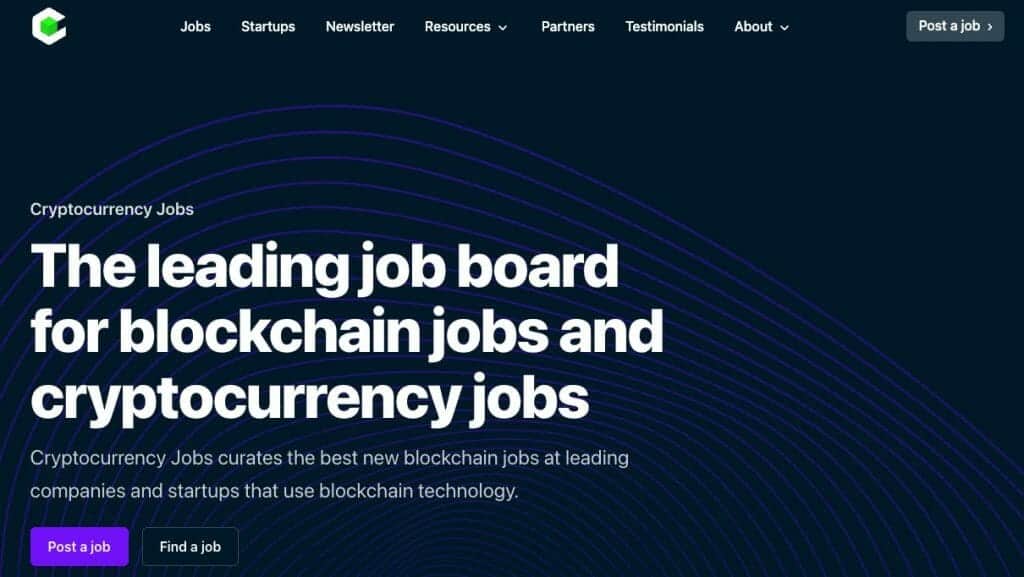 3. Pomp Crypto Jobs
Pomp Crypto Jobs stands out as a platform that offers a comprehensive collection of job opportunities across various sectors within the crypto industry. The platform caters to professionals with diverse backgrounds and expertise, from blockchain developers and smart contract engineers to cryptocurrency analysts and marketing specialists. With its extensive network and partnerships, Pompcrypto Jobs collaborates with prominent companies and startups in the crypto space, ensuring that job seekers have access to the latest and most sought-after positions.
What distinguishes Pompcrypto Jobs is its commitment to providing a seamless user experience. The platform features an intuitive and user-friendly interface, allowing job seekers to navigate effortlessly through the available listings. Its advanced search filters enable candidates to refine their job search based on location, job type, experience level, and more, ensuring they can find the perfect fit for their skills and preferences. Pompcrypto Jobs also keeps up with the evolving nature of the industry by showcasing opportunities in emerging sectors such as decentralized finance (DeFi) and non-fungible tokens (NFTs). The platform offers job seekers a chance to be at the forefront of the crypto revolution by staying up-to-date with the latest trends and developments.
Regardless of whether you are a seasoned professional or a newcomer to the crypto industry, Pompcrypto Jobs caters to all experience levels. From entry-level positions to executive roles, the platform features a wide range of opportunities to match the aspirations and goals of candidates at every stage of their careers.
PompCrypto Jobs Board Link: https://pompcryptojobs.com/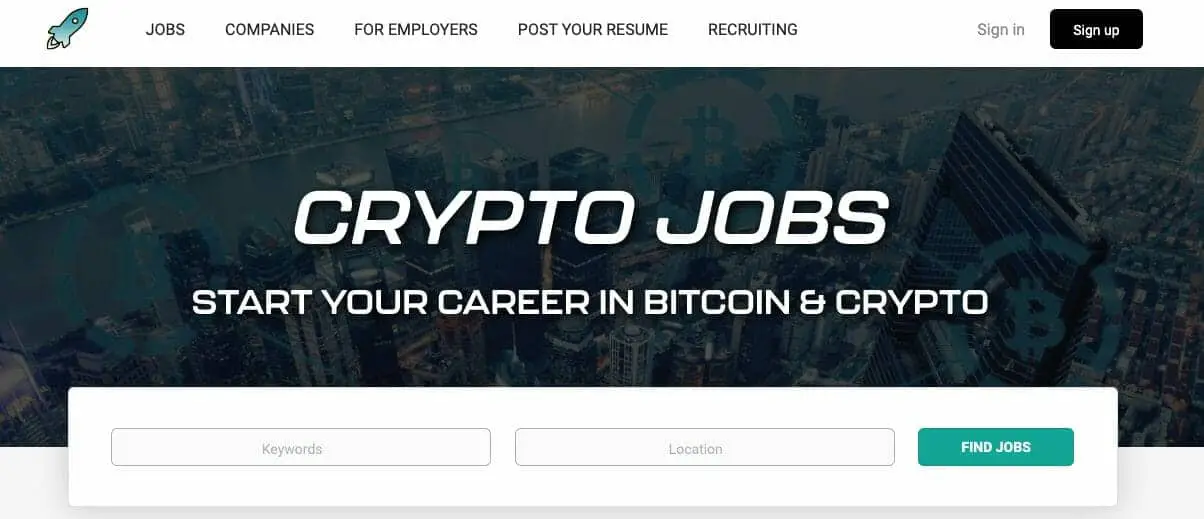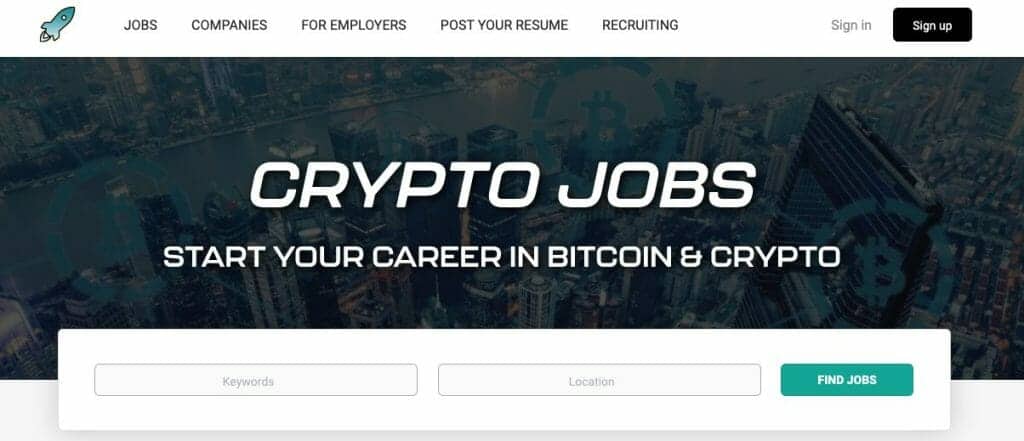 4. Remote3 Jobs
Remote3 Jobs is a global hub tailored to professionals seeking remote positions in the crypto and Web3 industry. With a wide network of companies and startups, the platform presents a carefully curated selection of remote job listings, catering to developers, engineers, marketers, and professionals with diverse skill sets. Remote3 Jobs showcases job openings that align with emerging trends and technologies. From blockchain developers and smart contract engineers to cryptocurrency analysts and DeFi specialists, the platform offers a broad range of roles that complement the dynamic nature of the crypto industry.
Remote3 Jobs actively fosters professional networking by connecting job seekers with industry-leading companies and startups. Through remote roles in the crypto and Web3 space, professionals have the opportunity to collaborate with diverse teams, contribute to ground-breaking projects, and expand their network within the industry. Recognizing the significance of work-life balance, Remote3 Jobs prioritizes the well-being of remote professionals. By providing remote positions, the platform enables individuals to work from anywhere, granting them the freedom to create a schedule that suits their lifestyle. This flexibility promotes a healthier work-life integration and enhances productivity for remote workers.
Remote3 Jobs is a global hub for professionals seeking remote positions in the crypto and Web3 industry. The platform offers a valuable resource for individuals looking to thrive in the remote work environment while contributing to the dynamic and evolving crypto landscape.
Remote3 Jobs Board Link: https://remote3.co/


5. CryptoJobsList
CryptoJobsList is a prominent job board exclusively dedicated to the crypto and blockchain industry, providing professionals with a wide range of opportunities. With over 6,800 job postings and representation from more than 2,000 companies, it is a comprehensive platform for job seekers in this field. The site goes beyond job listings by offering valuable salary information for over 3,300 positions, empowering users to make informed decisions about their career prospects.
Covering diverse roles and industry verticals within the Web3 category, CryptoJobsList caters to professionals with varying skill sets and interests. From Web3 and NFT to Solidity development, marketing, DeFi, compliance, and community management, the platform ensures individuals can find positions aligned with their expertise. CryptoJobsList has gained recognition from major crypto and blockchain companies, including The Ethereum Foundation, Huobi, Circle, Etherscan, CoinMarketCap, and OKX, which actively utilize the platform for talent acquisition. Setting itself apart from other crypto job boards, CryptoJobsList offers a weekly Web3 jobs newsletter, keeping job hunters informed about the latest postings and opportunities in the industry.
As one of the best crypto and Web3 job sites, CryptoJobsList provides a comprehensive platform for professionals seeking employment in the dynamic crypto and blockchain space. The platform is an invaluable resource for job seekers with its extensive job listings, salary information, specialized Web3 page, and trusted partnerships. Stay connected with the latest Web3 job opportunities by subscribing to their newsletter and unlock the potential for a rewarding career in the crypto world.
CryptoJobsList Jobs Board Link: https://cryptojobslist.com/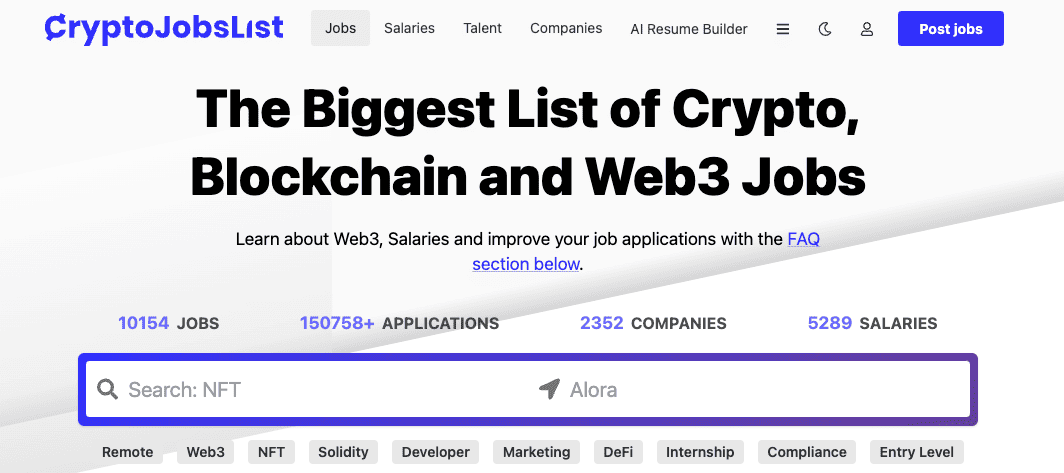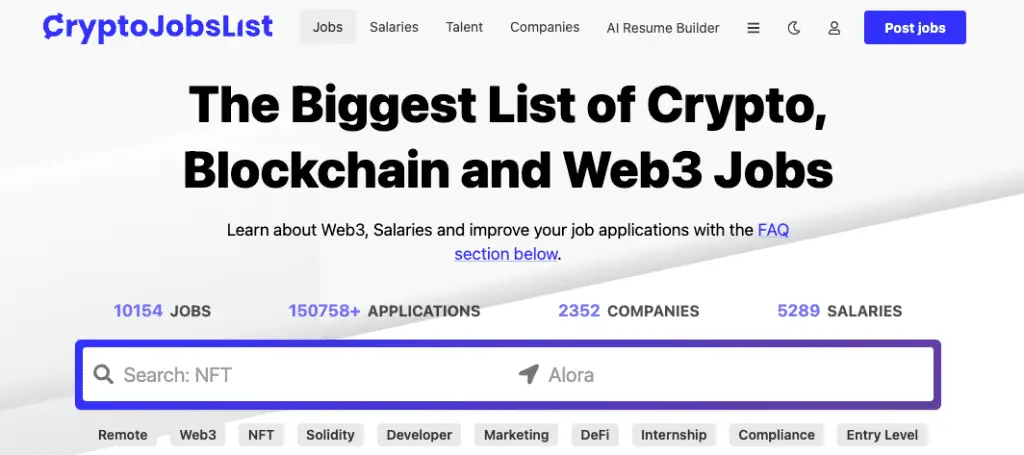 6. CB Recruitment
CB Recruitment is backed by Coin Bureau, a well-known crypto-focused YouTube channel. They specialize in connecting talented professionals with job opportunities in the transformative sectors of crypto and Web3. CB Recruitment drives innovation and growth by bridging job seekers and industry-leading companies involved in DeFi, Metaverse, VC & Mutual Funds, NFT, and GameFi. The platform caters to technical and non-technical roles within the crypto and Web3 sectors. Technical positions, such as Web3 Solidity Developers and Web3 Blockchain Developers, require specialized Solidity programming and blockchain development skills. These roles are crucial for building the infrastructure and applications that power the Web3 era.
CB Recruitment also offers job opportunities in non-technical fields like Web3 Marketing Officers, Web3 Community Managers, Web3 Public Relations Managers, and Web3 Technical Recruiters. These roles focus on marketing, community management, public relations, and talent acquisition within the Web3 industry, fostering growth and effective communication. CB Recruitment recognizes the immense potential of Web3 and aims to connect qualified candidates with these emerging and transformative career paths. Through partnerships with CB Recruitment, individuals gain access to valuable resources, industry insights, and connections that can propel their careers in this rapidly evolving field.
As a trusted partner for job seekers in the dynamic world of crypto and Web3, CB Recruitment empowers individuals to explore and secure enticing opportunities within these innovative industries. With a focus on both technical and non-technical roles, CB Recruitment plays a pivotal role in shaping the future of the crypto and Web3 sectors by bringing together top talent and pioneering companies.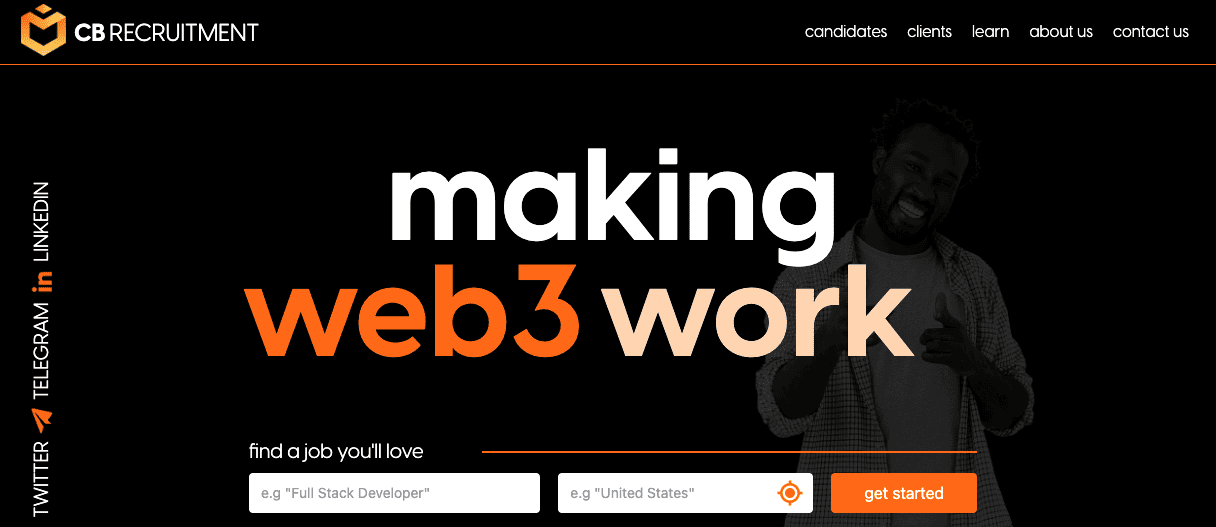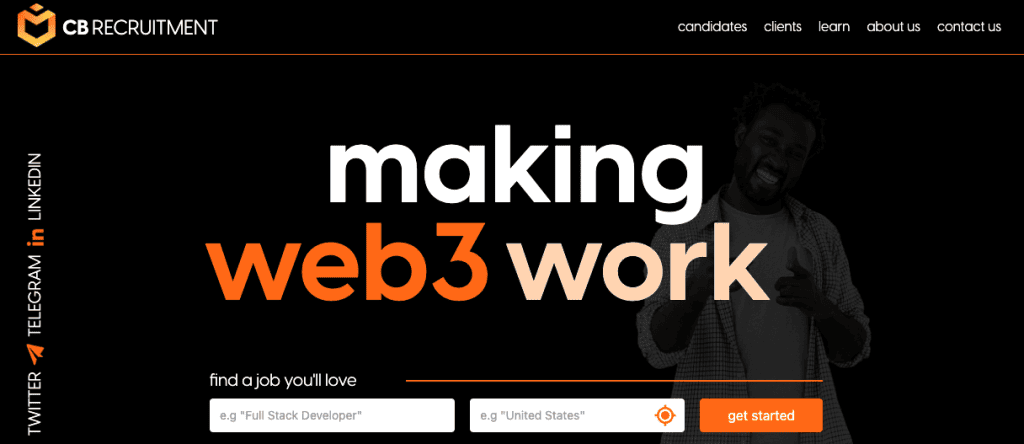 7. CryptoJobs
CryptoJobs is a leading talent platform based in Singapore focusing on crypto and web3 jobs. It aims to bridge the gap between job seekers and companies in the crypto industry, providing a comprehensive solution to long-standing job market challenges. With a vision to become the industry leader, CryptoJobs connects top talents with companies, streamlines application response time, and ensures a higher job placement rate.
The platform offers an extensive range of daily job listings for job seekers, who can create profiles showcasing their skills, interests, and job preferences. They can easily track their applications and stay informed about each role they apply for. Conversely, companies can use the platform's Company Profile Builder to create compelling profiles reflecting their culture and values. They can post jobs, manage applications, and efficiently hire top talent.
CryptoJobs prioritizes diversity, inclusion, teamwork, and transparency, aiming to create a rewarding experience for job seekers and companies. It is a central hub for professionals in the crypto and web3 space, connecting them with exciting career opportunities. Additionally, CryptoJobs is crucial in helping companies find the right talent to drive their projects forward. With a commitment to innovation and community-driven solutions, CryptoJobs remains at the forefront of the evolving landscape of web3 and crypto jobs.
CryptoJobs Jobs Board Link: https://crypto.jobs/


8. Built In
Built In is one of the largest and most prominent tech job boards in the crypto and web3 job market. It covers a diverse range of niche technology jobs, including AI, blockchain, cloud computing, cybersecurity, FinTech, computer hardware, EdTech, data science, and robotics. The platform also focuses on remote job opportunities, reflecting the industry's growing trend of remote work.
With partnerships spanning approximately 34,000 companies, Built In offers extensive job postings across various roles. These roles encompass engineering, finance, content, design and UX, marketing, legal, operations, product, HR, and sales. Built In currently hosts over 940 Web3 jobs from 27 different companies, featuring notable names such as Consensys, Okcoin, Immutable, Uniswap Labs, TRON DAO, Ripple, Moonpay, OpenSea, Avalanche, and Blockchain.com. Built In prioritizes values-based hiring. Job seekers can search for companies prioritising values such as work-life balance, community engagement, professional development, diversity inclusion and collaboration. Additionally, Built In offers a useful salary comparison tool to help job seekers make informed compensation decisions.
Built In is a leading tech job board catering to the crypto and web3 industry. It offers many niche technology jobs and emphasizes remote work opportunities. With its extensive partnerships and diverse job postings, including a substantial number of Web3 roles, Built In provides valuable resources for job seekers. The platform's focus on values-based hiring and salary comparison tools further enhance its appeal as a go-to destination for professionals in the crypto and web3 job market.
Built In Jobs Board List: https://builtin.com/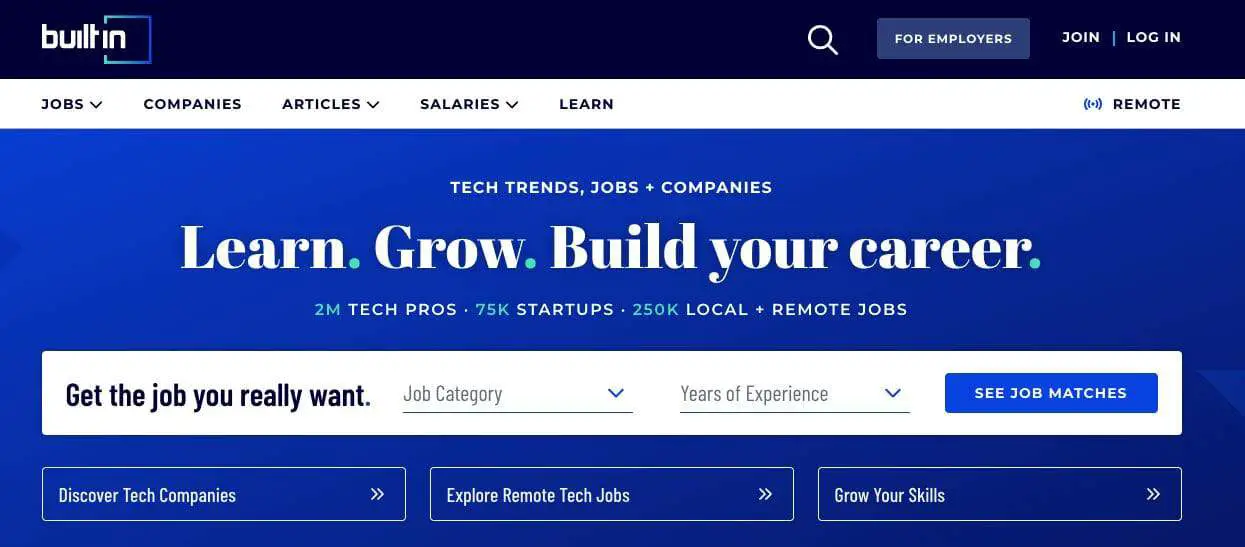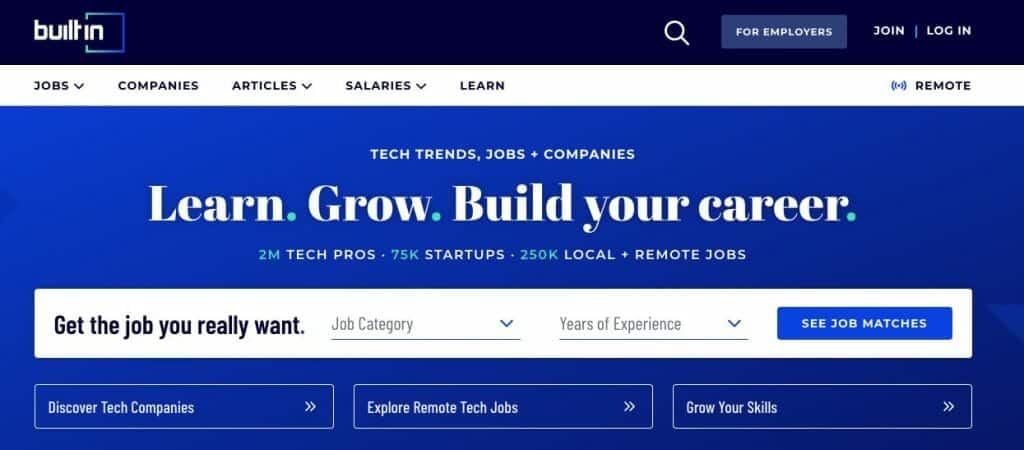 9. Wellfound
Wellfound Jobs, formerly known as AngelList Talent, is a leading platform for crypto and web3 job seekers. It partners with renowned companies like Opensea, Foundation, Uniswap, and Dapper Labs to connect them with top talent. Wellfound Jobs caters to the rising demand for roles in the Web3 era, focusing on individual ownership and the decentralized internet.
With over 1500 actively hiring Web3 companies, Wellfound Jobs offers diverse opportunities in engineering, community management, product strategy, and more. It is a gateway for professionals to contribute to the next generation of technological innovation driven by blockchain technology. Wellfound Jobs understands the nuances between Web3, cryptocurrency, and blockchain. Web3 represents the highest level of the decentralized movement, while cryptocurrency refers to digital currencies on a blockchain, and blockchain is a decentralized transaction ledger. Wellfound Jobs accommodates this diversity by featuring various roles in the Web3 and cryptocurrency sectors, catering to professionals with various skill sets.
As a valuable resource, Wellfound Jobs connects individuals with cutting-edge Web3 companies and provides insights into the evolving landscape of Web3, cryptocurrency, and blockchain. It contributes to the growth of this innovative industry and supports professionals pursuing careers in the crypto and web3 fields.
Wellfound Jobs Board Link: https://wellfound.com/jobs


10. LinkedIn
LinkedIn remains a top choice for job seekers in the blockchain, crypto, and Web3 industries. Tech recruiters prioritize LinkedIn as a primary source for finding potential candidates, using user profiles and connections to gain valuable insights before applying. For serious job seekers, investing in a LinkedIn Premium account can provide unlimited connection requests, detailed company information, and a generous amount of InMail messages, although caution is advised.
LinkedIn is widely utilized by major players in the crypto, blockchain, and Web3 sectors for their hiring needs, even if it's not their sole method. LinkedIn boasts nearly 20,000 blockchain-related and over 10,000 crypto-related job listings in the United States alone, solidifying its position as one of the largest platforms for Web3 hiring. Job seekers would be wise to explore the abundant opportunities available on LinkedIn.
As a powerful tool for job seekers in the crypto and Web3 fields, LinkedIn offers improved effectiveness, widespread industry adoption, and extensive job listings, making it a valuable resource for those seeking employment in this rapidly growing sector. Embrace the potential of LinkedIn and discover your next career opportunity in the exciting world of crypto and Web3.
LinkedIn Jobs Board Link: https://www.linkedin.com/jobs/crypto-jobs-worldwide?position=1&pageNum=0


What is Web3?
Web3 refers to the next generation of the internet, which is built on the principles of decentralization and user control. Unlike the current web, which big corporations and governments largely control, Web3 aims to put power back into the hands of individuals. Web3 leverages blockchain technology, the same technology behind cryptocurrencies like Bitcoin, to create a more open and transparent online ecosystem.
What are Web3 Jobs?
Web3 jobs offer exciting employment prospects within the Web3 ecosystem, also known as the decentralized or blockchain-powered web. Web3 technology aims to revolutionize the internet by decentralizing control and empowering users with greater autonomy over their data and online interactions. It leverages blockchain technology and smart contracts to enable decentralized applications (DApps), digital currencies, and various innovative services.
In the Web3 ecosystem, you can find various job opportunities, such as;
Blockchain Developers who design and develop blockchain applications, smart contracts, and decentralized protocols.

Smart Contract Developers specialize in writing secure and functional self-executing contracts.

Cryptocurrency Engineers work on digital currencies and transaction security.

Web3 UX/UI Designers create user-friendly interfaces.

Blockchain Architects design system structures, and product managers oversee blockchain-based product development.

Cryptocurrency Analysts conduct research and provide insights. These roles contribute to the growth of the Web3 ecosystem.
What Can You Earn in Web3 Jobs Salary?
Salaries for jobs in the Web3 sector can vary widely based on the role, location, years of experience, and the specific technologies involved. The salary range also depends on whether the position is technical or non-technical.
For Web3 developers, the average salary ranges from $120k to $173k per year, though senior developers can make anywhere from $150k to $250k annually. Additionally, salaries can be significantly higher depending on the programming language used. For instance, C developers can earn from $173k to $255k per year, and Machine Learning Engineers can earn $150k to $260k annually.
Non-technical roles in the Web3 sector, like Social Media Manager [Blockchain / Web3], also provide competitive salaries. On the other hand, more senior roles in the Web3 industry, such as Head of Public Relations (web3 blockchain industry) and Event Director (blockchain / web3 industry), can earn monthly salaries ranging from $90K to $216K annually.
How to get a Job in Web3?
Working in the Web3 sector can be a rewarding career path, as it offers the opportunity to be at the forefront of technology and societal change. Here are some steps to help you get started:
Understand Web3: Familiarize yourself with the concepts of Web3, blockchain technology, decentralized finance (DeFi), and cryptocurrencies. Many free resources are available online, such as articles, blogs, and forums like Reddit. Books, online courses, and webinars can also provide valuable insights.
Learn Relevant Skills: Depending on the specific role you are interested in, you might need to learn or improve certain skills. For example, if you're interested in a technical role, you might need to learn about blockchain development, coding in Solidity (the programming language for Ethereum smart contracts), and familiarity with decentralized application (dApp) development. If you're more interested in a non-technical role, you might need to understand project management, finance, legal aspects of blockchain, or marketing in a blockchain context.
Network: Attend industry events, meetups, and webinars to connect with people already working in the field. Many cities have local blockchain groups, and there are also many online communities and forums where you can learn from experts and find mentors.
Experiment: The best way to understand Web3 is to use it. Create a digital wallet, buy cryptocurrency, try different dApps, participate in a DAO (Decentralized Autonomous Organization), or play with NFTs (Non-Fungible Tokens). This will give you hands-on experience and a better understanding of the ecosystem.
Apply for Jobs: Look for entry-level positions or internships in blockchain companies, as the previous examples provide. You can find these on job boards dedicated to remote work, tech jobs, or specifically blockchain and Web3 jobs.
Stay Up to Date: The field of blockchain and Web3 is evolving rapidly. Make it a habit to stay informed about the latest trends and developments.
Remember, your willingness to learn and adapt in a rapidly changing environment is the most important part. Many companies value passion and demonstrate an interest in Web3, even for candidates without experience.
Conclusion
It's important to reflect on the emerging landscape of Web3, Crypto and AI. Still in their infancy, these groundbreaking technologies hold vast potential for future employment opportunities. Just as the advent of the internet opened doors to previously unimagined careers, so too will the evolution of Web3, Blockchain and AI.
In the coming years, we can anticipate a substantial increase in the volume of roles and a shift in the type of jobs available. With the fusion of cryptocurrency, Web3, and AI, we're standing on the precipice of a revolution in the job market that will birth professions we can't currently comprehend.
So, whether you're a seasoned professional or a newcomer seeking to ride the wave, the opportunities are just beginning to unfold. Stay tuned, keep learning, and prepare to seize the exciting prospects that the future will undeniably present. The possibilities are, quite simply, limitless.
FAQs
What jobs are in demand in Web3?
Web3 has a growing demand for blockchain developers, smart contract engineers, decentralized application (dApp) developers, crypto analysts, and community managers. Additionally, roles in decentralized finance (DeFi) and non-fungible tokens (NFTs) are rising.
Is Web3 a good career?
Web3 offers a promising career path as it represents the next evolution of the web. With the rapid growth of blockchain and decentralized technologies, professionals in this field have the opportunity to be at the forefront of digital transformation.
How much do Web3 careers pay?
Salaries in Web3 vary based on experience, role, and location. On average, blockchain developers and related roles can command higher salaries than traditional tech roles. It's not uncommon for experienced professionals to earn six-figure salaries.
Web3 jobs with no experience?
While many Web3 roles require technical expertise, entry-level positions are available, especially in community management, content creation, and marketing. Additionally, many companies offer internships or training programs for enthusiastic beginners.