In this Raydium review, we take a look at what Raydium is, their RAY token, compatible wallets, fees and how to earn rewards.
Raydium is an automated market maker built on the Solana blockchain. Allowing users to trade, swap, farm and stake at incredibly fast speeds and low transaction costs.
So, let's jump into this Raydium Review, to help you work out if Raydium is the right platform for you.
Raydium Review: How to use Raydium
What is Raydium?
Raydium is an automated market maker (or AMM) built on the Solana blockchain which draws directly from the order book of Serum, Solana's largest DEX.
Users can not only swap their tokens using their simple swap (or more advanced trading feature with limit orders), but they also provide liquidity, yield farm and earn rewards.
Although many of the features are similar to other decentralised platforms, you'll find that swapping tokens on Raydium is faster and cheaper (at a fraction of the cost of interacting with the Ethereum network).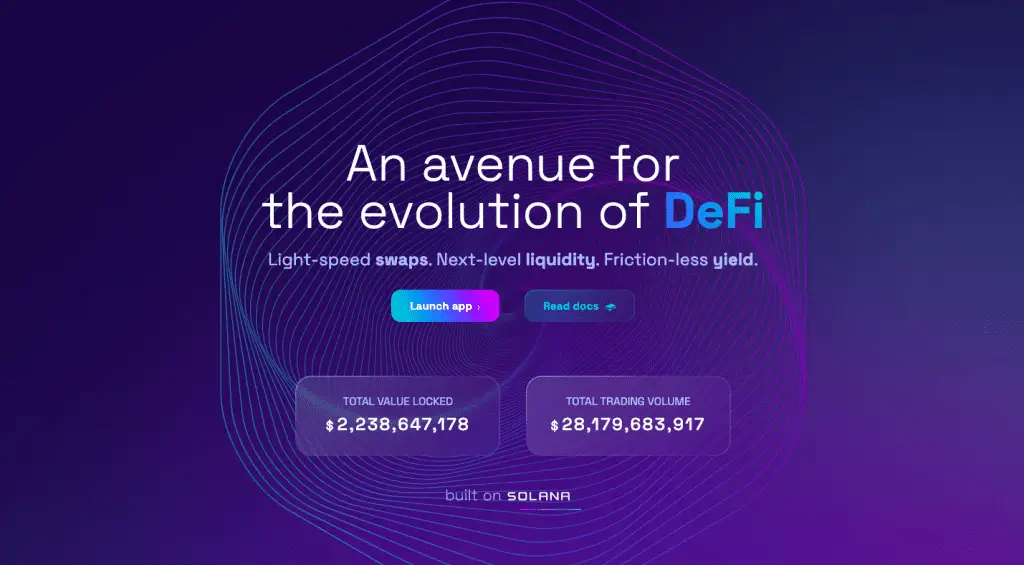 Raydium RAY Tokens
Raydium also has its own utility token, RAY, that users can stake to generate additional yield, or hold to participate and vote on community proposals and amendments.
RAY tokens can be traded on popular centralised exchanges such as FTX, Binance and Kraken. Or alternatively, can be traded for on Serum, Solana's largest DEX.
Raydium Compatible Wallets
Because Raydium is decentralised, no sign-up or registration is required, and users simply connect a supported wallet. Raydium supported wallets include the likes of the Phantom Wallet, Solflare Extension, Sollet wallet and hardware wallet Ledger.
Within your wallet, you'll also need some Solana SOL tokens to pay for the transaction fees, in the same way, that you need ETH for Decentralised apps on the Ethereum network.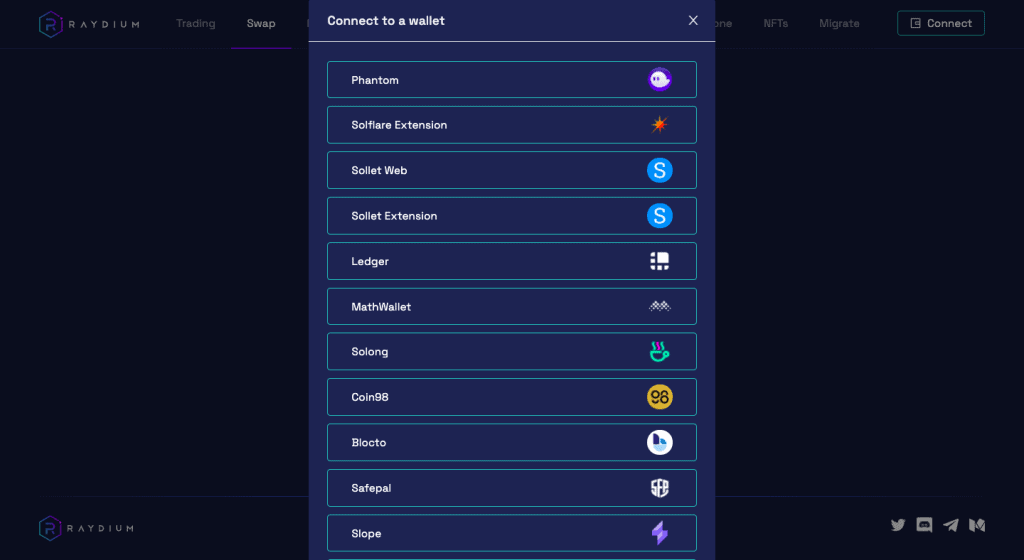 Raydium Fees
In terms of Raydium's fees, there is a 0.25% transaction fee when trading or making swaps on the Raydium platform. 
With 0.22% being deposited back into the liquidity pool and used as a reward for liquidity providers. The remaining 0.03% is sent to users that are staking the RAY token. 
When making a trade or a swap that uses the Serum order book, you only need to pay the transaction fee to Serum. Fees start at 0.22% and can be reduced based on the number of SRMs held. Plus, there will also be a small network fee required, which usually costs between 0.0001 — 0.001 SOL.
Trading or Swapping with Raydium
Raydium offers two ways for its users to be able to exchange. This is either via their "Trade" option or simple "Swap".
"Trade" offers users a way to exchange their tokens using an interface similar to a centralised exchange. Thanks to its integration with Serum, users can create Limit orders and explore multiple markets to trade with.
"Swap" is a simple way to swap between any SPL token. With the help of Raydium's Best Price Swaps, the system will determine whether swapping within a liquidity pool or through the Serum order book will give the best prices to its users.
There's more liquidity and less slippage for their users because the liquidity comes from both its own liquidity pools and the Serum order book.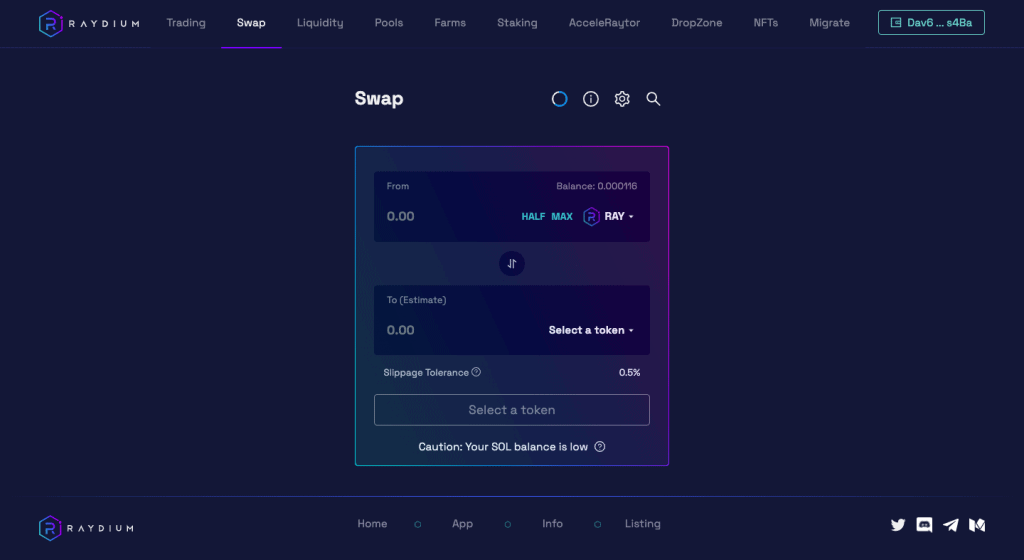 Providing Liquidity with Raydium
You can add liquidity to a pool if you want to earn rewards from your Solana tokens. Raydium's liquidity pools allow anyone to provide liquidity by adding their assets and earning transaction fees from swaps within the pool.
When adding liquidity to a pool, you'll need an equal share of 2 SLP tokens. If you don't already have these, you can use Raydium's swap/trade feature. When you have added to a pool, you'll receive Liquidity Provider (LP tokens), which essentially represent your share of the pool. These LP tokens allow the user to reclaim their tokens at any time.
Raydium Farms
If you've added liquidity to a pool, not only can you earn trading fees, but you can also earn additional rewards through Raydium Farms. With Raydium Farms, you can stake your liquidity provider (LP) tokens to earn rewards in various cryptocurrencies.
At the time of writing this Raydium Review, you can earn up to 280% APY on your deposited LP tokens. However, just be aware that as more people deposit into the liquidity pool, you would get less of the harvest, as essentially, your share of the total pool will be diluted.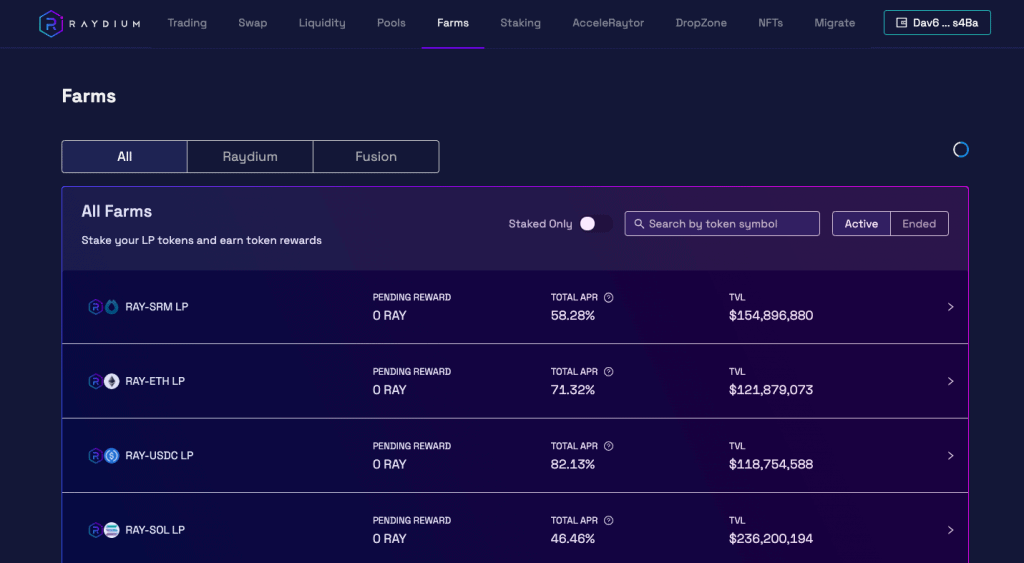 Impermanent Loss
When providing liquidity, there is some risk around Impermanent Loss. This is essentially the difference between holding tokens in an AMM and holding them in a wallet. When adding liquidity, you could end up with more than one token, depending on the way that people are trading.
If one of these tokens is worth significantly less, you could end up worse off than simply holding or staking the tokens you've added to a pool.
Staking RAY Tokens
Raydium supports single asset staking of their own RAY token. Providing an easy way to earn additional RAY with rates currently at 25% APY. Users simply deposit their RAY tokens and earn more rewards in RAY. The staked RAY can be withdrawn at any time as the tokens aren't locked.
Related Posts