In this PrimeXBT Review for 2022, we take a deep dive into one of the frontrunners of the leveraged crypto trading industry.
We lift the lid on what PrimeXBT.com offers while comparing them to alternative exchanges. With its vast global customer base, the business is clearly going places. But do they offer best-in-class performance, or are there better choices available?
Let's dive into this PrimeXBT Review to help you work out whether Prime XBT is the right crypto trading platform for you.
PrimeXBT Review: How to Use PrimeXBT?
What is PrimeXBT?
So let's start with the basics: what is PrimeXBT? Established in 2018, PrimeXBT has emerged as one of the leading providers of leveraged crypto trading. The company are headquartered in Seychelles and currently serves customers from over 150 countries. With its vast clientele and high liquidity volume, PrimeXBT is a great choice for traders looking to capitalise on the crypto market. 
With PrimeXBT, you are not only limited to trading cryptocurrencies, as you also have access to leveraged trading for a number of different assets. These include access to leveraged trading with stock indices, commodities and foreign currencies.
Its low-cost trading accounts provide simplified access to a range of market instruments, with its crypto services recently emerging as one of its most popular offerings. Clients can choose from a cryptocurrency exchange, margin trading opportunities, copy trading, as well as a savings account which offers competitive yields.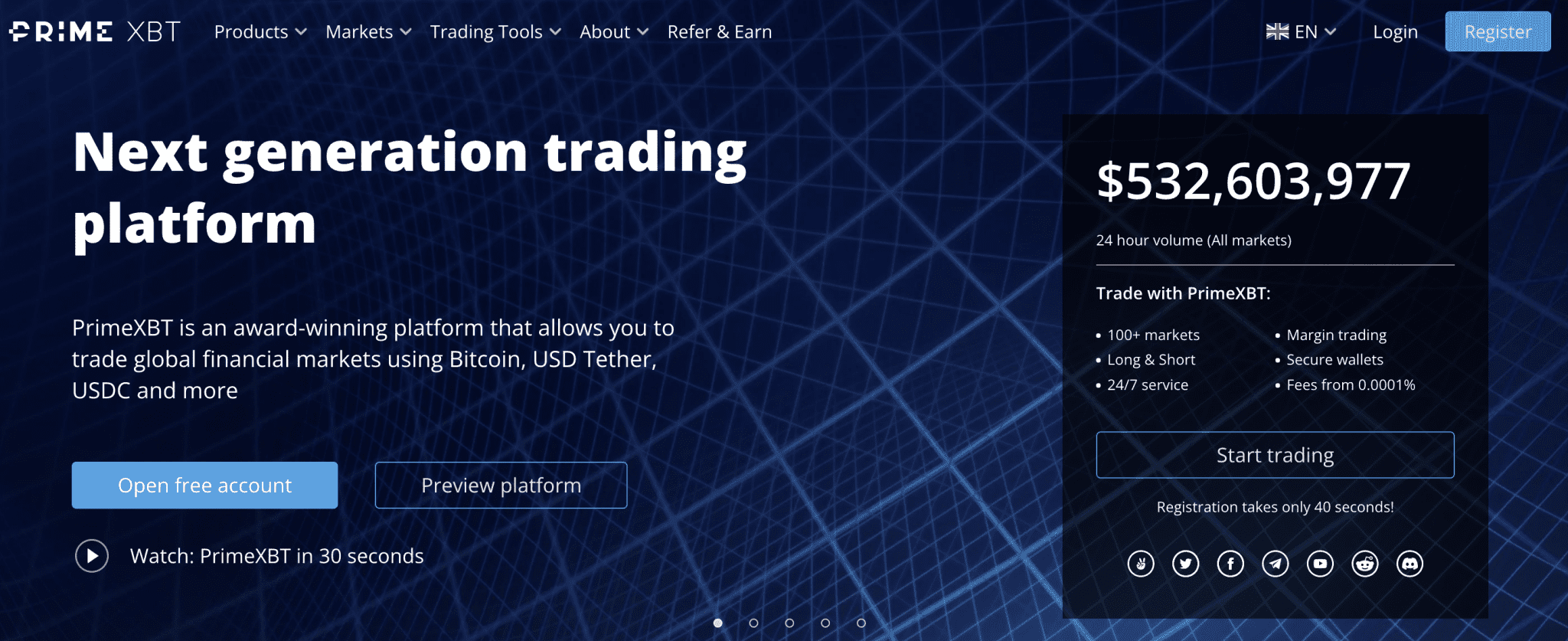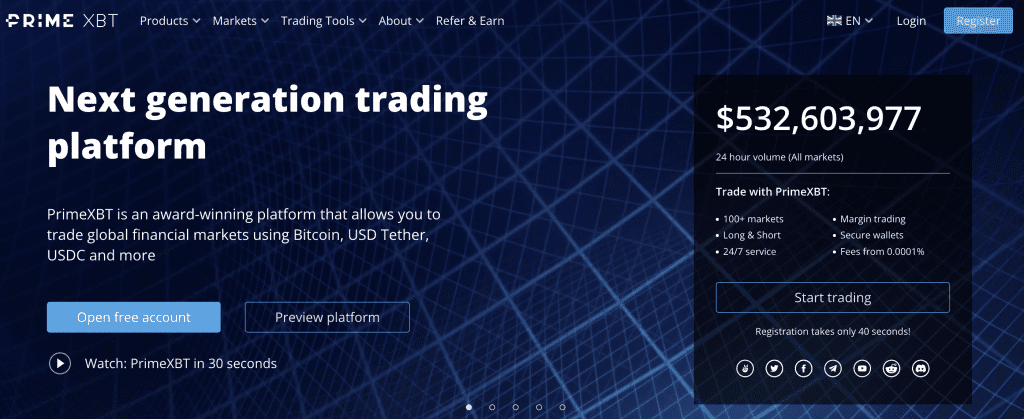 Pros & Cons
Like any other provider, PrimeXBT comes with its own pros & cons. Positives include the company's powerful trading infrastructure, lightning-fast trade execution and high liquidity. While its trading fees count as another bonus, the company are let down by the lack of access for US users, as well as the potential learning curve newcomers could face. 
PrimeXBT Features
As a relatively new company, the full list of PrimeXBT features might look a bit sparse compared to other providers. While not offering anything particularly unique, they cover the basics pretty effectively. The low cost of using Prime XBT adds to excellent value for clients. 


Copy Trading
For those still new to the world of trading, there's the opportunity to copy another trader's moves. By enabling this feature, you can capitalise on the success of other, more experienced market participants while they, in turn, have the chance to earn commission from the combined takings. When they win, you win. 
PrimeXBT Mobile App
PrimeXBT's mobile app is available for iOS and Android and allows users to enjoy all the company's key features and services. The app is sleek and responsive and has received glowing reviews online. If you like to take your trades on the move, then this app offers all the functionality you need to stay in the market. 
Take Profit / Stop Loss Orders
PrimeXBT provides a good range of risk-management tools for traders looking to protect their balance. Take-profit and stop-loss orders allow traders to establish the exit strategy for their trades, so they won't need to continually monitor each open position in case of severe price swings. 
Trading Contests
As an extra incentive for active traders, PrimeXBT host free trading contests, with an array of generous prizes up for grabs. Using virtual funds, users can compete to outperform other traders, and earn real rewards in the process. These rewards are distributed every week. 
Academy
For those still honing their craft, PrimeXBT offers a free learning centre where users can access a range of educational material. This includes live sessions hosted by market experts and in-depth platform guides and courses.
Savings Accounts
PrimeXBT offers a range of savings accounts earning fixed and flexible yields. Users can select from one of four account types by offering competitive rates on cryptos, including ETH, USDT, and USDC. With its more advanced tiers offering the highest yields, those looking to grow their money will find a lot to love with this feature.
PrimeXBT Yield
PrimeXBT Yield accounts allow users to stake their crypto assets to earn interest. With Yield, users can get started with as little as $100 and stake ETH, USDT(erc20) and USDC(erc20).
PrimeXBT Trading Options
In our view, the range of PrimeXBT trading options looks light compared to other competitors in the field. However, for many traders, the options available will cover most bases. Rather than compete to be a jack-of-all-trades provider, it seems the company are content to focus on its primary mode of business, which is leveraged crypto trading. 


Margin Trading
As its flagship product, PrimeXBT's margin trading platform offers powerful crypto trading functionality. Users can experience margin trading up to 1:1000, an amount which varies by trade size. Equipped with over 50 technical indicators and a full suite of charting and analysis tools, crypto traders have a lot of advantages at their disposal with this investment type. 
Buy Crypto with FIAT
With PrimeXBT, users buy crypto directly from the platform using their third-party provider Coinify. Providing options (for those who may not already have any crypto to deposit) to buy the likes of Bitcoin, Ethereum or USDT with traditional currencies such as GBP, Euros or USD.
Payment options include bank card, bank transfer, and further options via PrimeXBT's partner service. 
PrimeXBT Supported Cryptocurrencies
There are over 40 popular cryptocurrencies to trade with on PrimeXBT, including the likes of Bitcoin, Ethereum, USDT and USDC.
They also support multiple networks, including ERC20, BEP20 and Bitcoin. Meaning users can save money on their deposit and withdrawal fees by avoiding networks when congestion and fees are high.
PrimeXBT Fees
PrimeXBT maintains its competitive approach to fees, providing users with some of the lowest rates in the crypto trading industry. Currently, the company offer a flat fee of around 0.05% per trade. This is very low compared to other providers, with many offering upwards of 0.075%. Additionally, overnight finance fees are charged for keeping a position overnight.
The table below reveals the full charges that users can expect.
| Symbol | Trading Fee | Financing/Day Long | Financing/Day Short |
| --- | --- | --- | --- |
| BTC/USD | 0.05% | 0.194% Daily Funding Rate | 0.194% Daily Funding Rate |
| ETH/USD | 0.05% | 0.194% Daily Funding Rate | 0.194% Daily Funding  Rate |
| ETH/BTC | 0.05% | 0.194% Daily Funding Rate | 0.194% Daily Funding Rate |
PrimeXBT Margin vs Copy-Trading Fees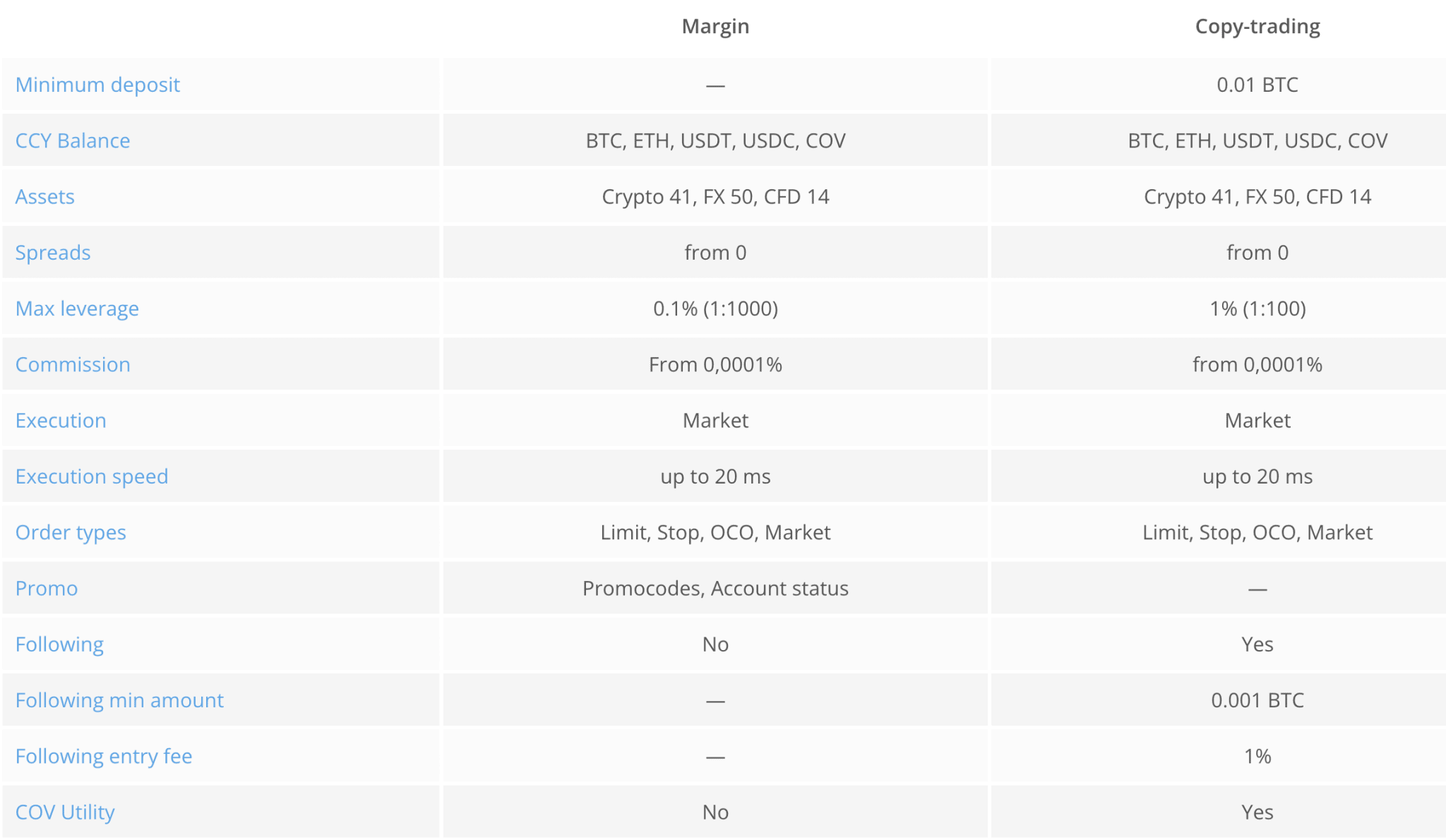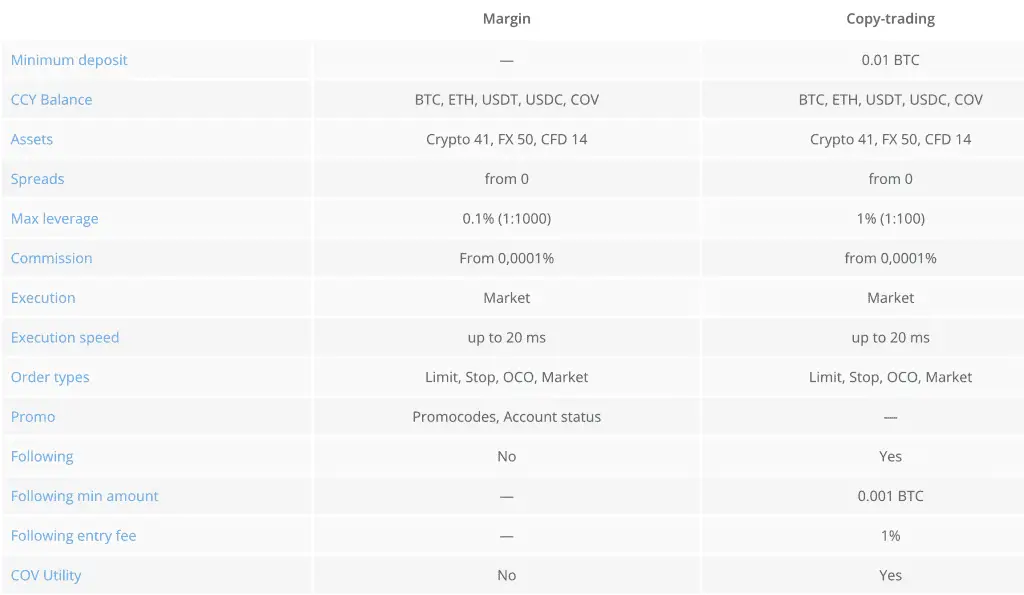 PrimeXBT Withdrawal Fees
Customers would be well advised to check out the PrimeXBT withdrawal fees before making a decision. While most companies levy such costs, Prime has opted to slash its fees to undercut its rivals. Although the average withdrawal fee for bitcoin is 0.000812 BTC, PrimeXBT offer a 40% saving, charging just 0.0005 BTC for outgoings.
Current trade fees on margin Trading accounts are:
0.05% for Cryptocurrencies
0.0001% for Forex, Indices, and Commodities
PrimeXBT Support
PrimeXBT offers a 24/7 support desk for anyone seeking assistance. The team is multilingual, with English and Russian languages catered for, and many more are expected as the company continues to grow. The quality of its customer service has received positive feedback from users on social media, with a broad consensus praising the support they received. 
While email wait times might prove slightly too long for some users, the company offer a live chat feature in which quicker responses can be obtained. 
How to Contact PrimeXBT
Now let's find out how to contact PrimeXBT. Whether experiencing account issues or just need something clarified, the company's customer service team can be contacted via the following methods: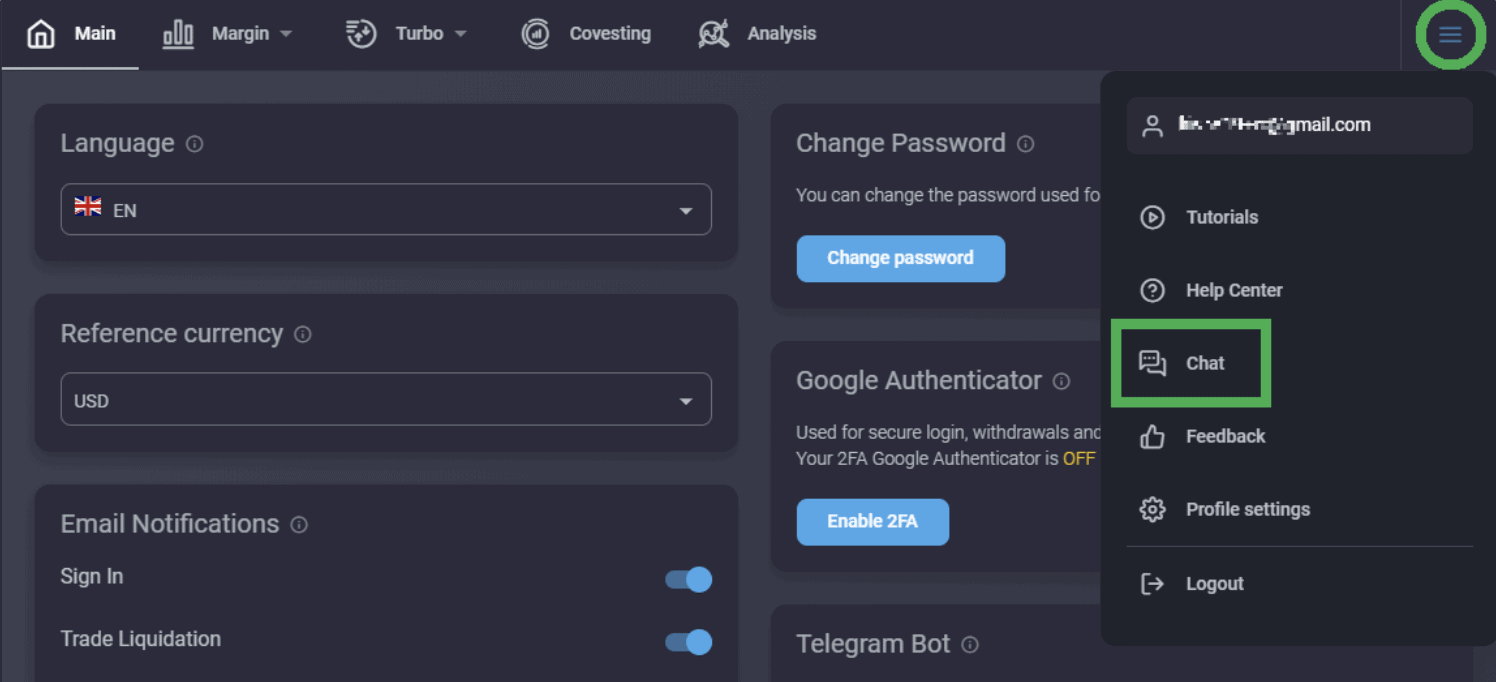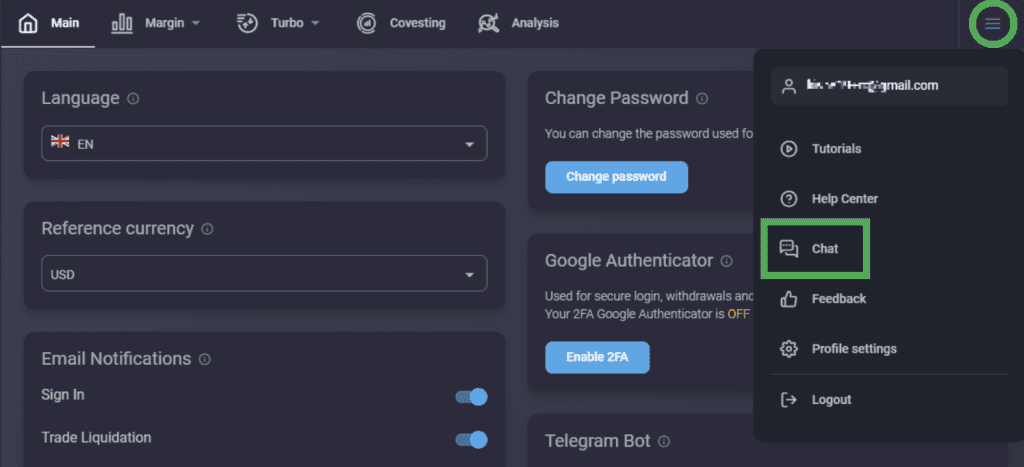 Is PrimeXBT Safe?
For those looking to deposit their hard-earned money with a crypto dealer, it makes sense to ask the question, 'is PrimeXBT safe?' To safeguard its client base, the company offer several security features which can help reassure prospective customers.


Two-factor Authentication
Users can enable two-factor authentication to ensure account security and prevent unauthorised access. This provides another layer of security during the login process. 
Multi-Signature Cold Wallet Storage
One of the most secure ways to store your crypto is offline. PrimeXBT offers a multi-signature cold wallet storage system to keep funds safe from malicious activity. 
Secure Hardware
PrimeXBT offers best-in-class security infrastructure, including hardware security modules with a FIPS PUB 140-2 Level 3 or higher rating.
Is PrimeXBT Regulated?
Despite maintaining strict security safeguards, PrimeXBT is not currently regulated. Users will therefore need to use their own discretion to decide whether it's safe choosing this provider for financial dealings. However, one advantage of this lack of regulation is the fact that users do not require KYC (proof of residence/nationality) to trade, which can speed things up for those looking for instant market access.
PrimeXBT Alternatives
Now let's talk about PrimeXBT alternatives. Despite its recent entry into the pantheon of leveraged crypto trading providers, the company are establishing a strong reputation for providing superior customer value. With lower fees than some of its larger competitors, those looking for a streamlined service will be tempted to choose PrimeXBT as their main crypto provider.
| Platform | Bybit | PrimeXBT | Zoomex |
| --- | --- | --- | --- |
| Trading Fees | 0.05% | 0.05% | 0.02% |
| Leverage | 100x | 125x | 100x |
| Supported Cryptos | 400+ | 40+ | 50+ |
| Review | Review | Review | Review |
PrimeXBT Sign-Up
As just mentioned, the lack of KYC requirements means PrimeXBT's onboarding process is satisfyingly simple. No documents need to be uploaded; just a few contact details are requested before you're let loose on crypto markets. 
Deposits are similarly intuitive, allowing users to fund their accounts using a wide range of payment options, including bank cards, bank transfers, and other alternatives.
PrimeXBT Referral
| | |
| --- | --- |
| PrimeXBT Referral Code | Sign-up to PrimeXBT |
| PrimeXBT Sign-up Bonus | $20 Bonus Plus a Reward Card Worth up to $1,000 |
| Referral Terms | Check out PrimeXBT T&Cs here |
| Bonus Last Validated | December 2022 |
Our Verdict: Should You Use PrimeXBT?
So now it's crunch time: should you use PrimeXBT? While foregoing some of the extra tools and features provided by its rivals, the company nevertheless offer a powerful service to help traders make money on crypto. Offering attractive margin trading opportunities, as well as yield-earning savings accounts, this young company have achieved a lot in such a short amount of time. 
While we're impressed by its overall offering, we think there's a lot more to come from this provider. With bags of potential, we're expecting PrimeXBT to push the envelope in the months and years. It will take a few more innovations for PrimeXBT to become one of the crypto frontrunners, but we're excited to see what lies ahead!
PrimeXBT FAQs
Is PrimeXBT Available in the US?
PrimeXBT is currently not available in the United States of America
Where is PrimeXBT Located?
PrimeXBT is located in Seychelles.
What Deposit Options does PrimeXBT Accept?
Users can fund their accounts using an array of deposit options, including card payment, bank transfer, and other alternative methods.
What is PrimeXBT Minimum Investment?
PrimeXBT has no minimum investment for crypto dealing. 
Does PrimeXBT have a Mobile App?
Prime XBT has a mobile trading app available for Android and iOS devices. This allows users to make trades, and monitor their positions on the move.
What Countries does PrimeXBT Support?
Despite being a globally recognised crypto trading provider, there are a few significant geographies where the company aren't allowed to operate. Due to regulatory reasons, clients from the following countries will not be able to access the company's products and services:
– United States of America
– Canada
– Cuba
– Japan
– Algeria
– Ecuador
– Iran
– Syria
– North Korea
– Sudan
– United States Minor Outlying Islands
– American Samoa
– Russian Federation
– Israel
Related Posts