In the ever-evolving world of cryptocurrencies, finding a platform that's both beginner-friendly and secure can be a daunting task. Luno is a cryptocurrency exchange that not only makes digital assets accessible to everyone but does so with a strong emphasis on security and ease of use. As you embark on your journey into digital currencies, our comprehensive Luno review will help guide you through the features, benefits, and experiences that await you when using the platform.
So, let's jump into our Luno review to help you discover if Luno is the right crypto platform for you.
Luno Review

What is Luno?
Luno is a UK-based cryptocurrency broker and exchange founded in 2013 as BitX by Timothy Strannex and Marcus Swanepoel and later rebranded to Luno in 2016. The platform aims to make it safe and simple for users to buy, store, and learn about cryptocurrencies, with over 5 million customers across 40+ countries and more than $14 billion processed via their platform.
The mission of Luno is to offer a simple portal to buy and sell crypto safely. Although Luno provides an extremely simple and user-friendly interface, it lacks options for more experienced traders.
The Luno wallet and payment app support cryptocurrencies, including Bitcoin, Ethereum, Bitcoin Cash, XRP, and Litecoin, allowing users to send, receive, and spend digital assets easily. Additionally, Luno enables users to convert their crypto into local currency and spend it. The platform offers several trading pairs, such as Bitcoin/South African Rand and Bitcoin/Malaysian Ringgit, but is limited in terms of the variety of cryptocurrencies available for trading.
Pros & Cons
Luno Features
Luno offers several features that cater to the needs of its users. Some of the key features include:
Luno Wallet
The Luno wallet is an online wallet accessible via mobile devices and the official Luno website. With a simplistic design and high-level security features to ensure the safety of user funds, the wallet allows instant and automatic exchange of digital assets at dynamic rates that depend on the volume of BTC traded.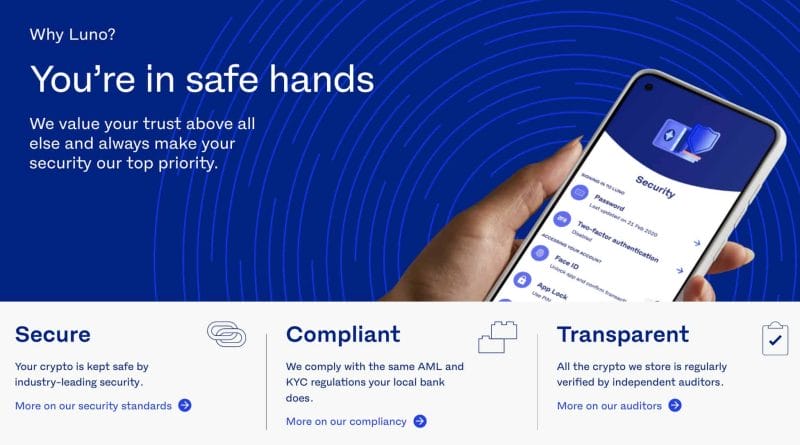 Luno Exchange
Luno Exchange is a cryptocurrency exchange platform that allows users to buy, sell, and trade various cryptocurrencies, such as Bitcoin (BTC) and Ethereum (ETH), against different fiat currencies. It provides a user-friendly interface, making it accessible for both beginners and experienced traders.
Luno Support Cryptocurrency
Luno primarily supports Bitcoin and Ethereum in the United States. However, for users in other regions, the platform offers access to additional cryptocurrencies. Although compared to other crypto exchanges, the number of supported cryptos is limited.
Luno currently supports;
Bitcoin (BTC)
Ethereum (ETH)
Ripple (XRP)
Solana (SOL)
Cardano (ADA)
Chainlink (LINK)
Uniswap (UNI)
Litecoin (LTC)
Bitcoin Cash (BCH)
USD Coin (USDC)
Luno Fees
Deposit Method
Luno supports 10 different fiat currencies, including AUD, INR, MYR, SGD, NGN, ZAR, EUR, GBP, ZMW, and UGX, which can be deposited into a Luno wallet through a bank transfer. However, Luno does not permit cryptocurrency purchases using PayPal or cash deposits.
Those already owning cryptocurrencies like Bitcoin, they can deposit into the Luno wallet by transferring BTC to the platform. This transaction will need 3 confirmations, which could take between 30 minutes and an hour, depending on network traffic during the Bitcoin transfer process.
Acquiring cryptocurrencies through Luno can be done via local bank transfers, credit cards, or debit cards. Bank transactions may take up to 48 hours to process, depending on the currency involved.
| LOCATION | CURRENCY | DEPOSIT METHOD | SPEED |
| --- | --- | --- | --- |
| Australia | AUD | Bank transfer, PayID | Up to 48 hours |
| Europe | EUR | SEPA transfer, Debit/Credit Card | Up to 48 hours |
| United Kingdom | GBP | Bank transfer | Up to 24 hours |
| Singapore | SGD | Xfers transfer | Up to 5 minutes |
| Malaysia | MYR | Interbank GIRO, FPX Instant Transfer | Up to 24 hours |
| Indonesia | IDR | Bank transfer, Instant Bank Transfer | Up to 24 hours |
| South Africa | ZAR | EFT, Instant EFT | Up to 48 hours |
| Nigeria | NGN | Bank transfer, Debit/Credit Card, Instant Bank Transfer | Up to 24 hours |
| Uganda | UGX | Bank transfer | Up to 48 hours |
| Zambia | ZMW | Bank transfer | Up to 48 hours |
Trading Fees
Luno employs a maker-taker fee structure with volume incentives based on your trading activity over the past 30 days. The trading fee for takers on Luno is 0.10%, which aligns with the global industry average.
However, Luno offers an even more attractive trading fee for makers, with a 0.00% fee, meaning makers do not incur any fees. It is important to note that Luno's exchange fees may vary depending on factors such as your geographical location, selected currency, and market liquidity levels.
| LOCATION | TRADING FEES (MAKER / TAKER) |
| --- | --- |
| Australia | 0% / 0.1% |
| Europe | 0% / 0.1% |
| United Kingdom | 0% / 0.1% |
| Singapore | 0% / 0.1% |
| Malaysia | 0.25% / 0.50% |
| Indonesia | 0% / 0.8% |
| South Africa | 0% / 0.1% |
| Nigeria | 0% / 0.1% |
Deposits & Withdrawals Fees
Luno charges fees for deposits and withdrawals, which may vary depending on the method used. Depositing Bitcoin through an email address or phone number incurs no costs, but using a hot wallet will incur a fee of 0.0002 BTC per transaction.
For more information on fees and transaction limits, you can visit Luno's official website.
| LOCATION | DEPOSIT FEES | WITHDRAWAL FEES |
| --- | --- | --- |
| Australia | None > AUD $50 | None > AUD $50 |
| Europe | None | EUR 0.30 |
| United Kingdom | None | None |
| Singapore | None | None |
| Malaysia | MYR 0.70 | MYR 0.10 |
| Indonesia | IDR 4,000.00 | IDR 6,500.00 |
| South Africa | Instant EFT: 1.40% | Instant EFT: 1.40% |
| Nigeria | NGN 300.00: bank transfer | NGN 200.00 |
| Uganda | None | UGX 2,000.00 |
| Zambia | None | ZMW 10.00 |
Customer Support
Luno offers customer support through its Help Centre, which provides resources and guides on various topics like getting started, identity verification, deposits and withdrawals, using the wallet, and security. If you need to contact Luno directly for specific customer service issues, you can try the available contact options, which include pricing information, support, general help, and press information.
Luno has also redesigned its Help Centre for Android and iOS customers, enabling faster and more precise support without leaving the Luno app.
Is Luno Safe?
Luno is committed to protecting its customers' cryptocurrency assets by using advanced security measures. One such measure is the use of multi-signature wallets, which means that no single person can access more than one key. These keys are stored in different vaults, providing an extra layer of security for your funds.
If you want even more security for your Luno account, you can enable features like Two-Factor Authentication (2FA), which requires a code from Google Authenticator (or similar) to access your Luno account. You can also disable outbound cryptocurrency transfers from your wallets and receive email notifications whenever your account is accessed.
Luno Proof of Reserves
Luno's Proof of Reserves is a process that demonstrates the exchange's commitment to maintaining and securing its customers' cryptocurrency holdings. The Proof of Reserves report offers users peace of mind by confirming that Luno has their cryptocurrency safely stored and readily available whenever they want to use it.
To ensure transparency and credibility, Luno works with Mazars, a leading international audit, tax, and advisory firm. Mazars conducts independent assessments and provides a report confirming that globally, all customer investments are 'collateralized'. This means that the cryptocurrencies displayed in users' Luno Wallets are indeed in existence and securely held by the company.
Luno vs Coinbase
To choose between Coinbase and Luno, it's essential to compare their fees, supported cryptocurrencies, security features, and the availability of services in your country.
Luno currently supports 44 countries, including Nigeria, South Africa, Indonesia, Malaysia, Zambia, and most of Europe. On the other hand, Coinbase is available in many countries, serving customers worldwide.
Both platforms offer similar services, such as buying, selling, and storing cryptocurrencies. However, Coinbase provides additional features like Coinbase Earn, Learning Rewards and USD Coin (Stable Coin). Coinbase fees are some of the highest in the industry. However, the number of supported cryptos is superior compared to Luno.
Conclusion
Luno is steadily carving out its own niche in the competitive world of cryptocurrency exchanges, focusing on emerging markets as its launchpad for success. With a name that embodies the spirited ambition of the crypto community, "To the moon!". Luno is set to make waves as it extends its reach and influence.
Though it may be lesser known in the Americas and Europe, Luno's continued growth and commitment to user-friendly services. The only limitation you may find with Luno is the number of supported cryptocurrencies available.
We hope you found our Luno review helpful; if you have use Luno let us know what you think in the comments below.
FAQs
Is Luno available in the United States?
Yes, Luno is available in the United States (35 states), allowing users to buy and sell cryptocurrencies using US Dollars (USD). However, in the US, Luno only supports Bitcoin and Ethereum for trading.
Can you make money from Luno?
As a cryptocurrency exchange, Luno allows users to buy, sell, and trade digital assets, potentially leading to profits if users make informed decisions and manage their investments wisely. However, it is essential to remember that investing in cryptocurrencies comes with risks, including volatility and potential capital loss.
Can Luno be trusted?
Luno is known as a trustworthy platform, and there have been no known hacks or data leaks. Luno offers various resources to help users keep their accounts safe, including guidance on recognizing phishing attempts and protecting wallets.
Related Posts