According to CoinMarketCap, there are more than 200 cryptocurrency exchange platforms exist in 2020. Therefore, choosing an exchange to operate with crypto can be an uphill task. Today, I would like to analyse and conduct a review of Luno. This is a platform to buy bitcoin and Ethereum in the United Kingdom and other European countries.
Luno Review
What is Luno?
Luno is a bitcoin exchange platform with some other features inside. It has been operating since 2013. However, it was not until 2016 that it began to have a little more presence.
It is an exchange quarter with headquarters in London. Recently, the platform has been gradually expanding to provide its services to almost all of Europe and other countries such as Indonesia, Malaysia, Nigeria, South Africa and Singapore. It also broadens its offer to offer Ethereum cryptocurrency.
The interface is extremely simple. Although it does not offer additional elements that stand out, it fulfils its purpose. The mission is to offer a simple portal to buy and sell bitcoins safely. The company operates under the supervision of the FCA of the United Kingdom. Bitcoin purchases are made directly to the native purses that Luno offers.
They have their main offices in London, Cape Town, and Singapore. Also, the team behind Luno is public, offering a lot of information about the company, which gives their users greater confidence.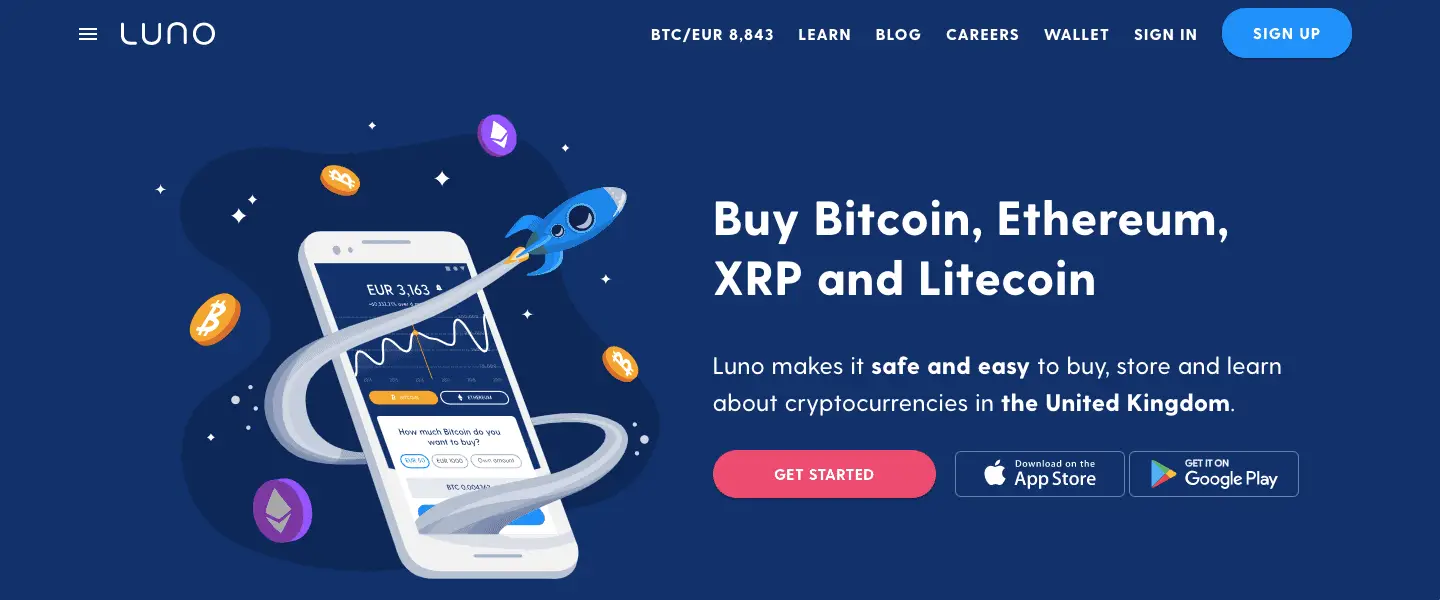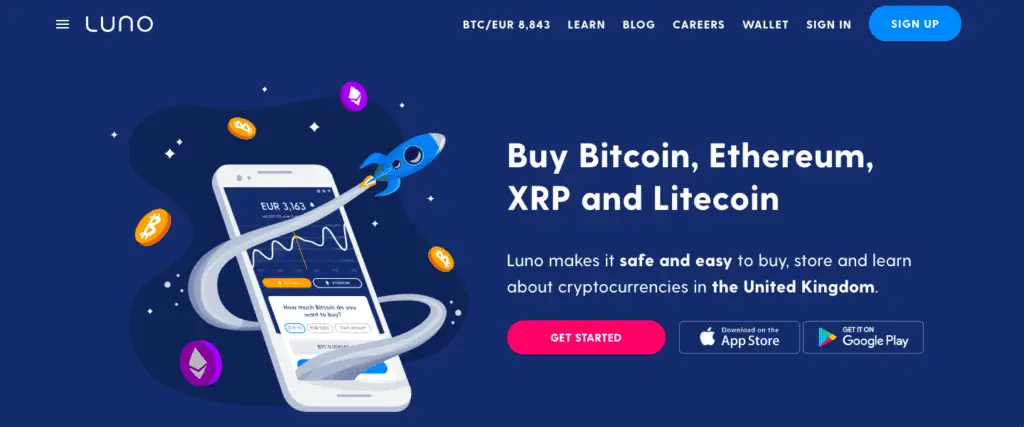 Regulation & Security
The platform follows the regulatory standards for digital currency exchange. However, it has not been granted a license as such. They participate in the "Sandbox" program of the Financial Conduct Authority (FCA) of the United Kingdom. Thus, it offers its financial products under the supervision of the entity.
In terms of security, the platform ensures that each user's personal data is encrypted and stored securely. Bitcoin wallet here uses a deep freeze mode. No one has access to more than one password, and this is also a point in favour. Similarly, encrypted backups of all portfolios on the platform are maintained.
That's not all. I continue to see interesting security features here. For the withdrawal of funds, a storage wallet is used. However, one of the keys is controlled by Luno, and another has the BitGo custodian service.
Thus, Luno Bitcoin has one of the safest schemes for securing your funds. For the rest, I see typical elements such as two-factor authentication and SSL certificates for a secure connection. The purses are encrypted using PGP technology.
Luno Bitcoin Trading Platform
Luno offers a typical trading platform for those who do not wish to use their direct service. Thus, you can open limited operations while analysing the bitcoin chart, the order book, and other items. If you do not want to use the trading platform, you can open market operations, which are nothing more than a direct purchase in the style of Coinbase.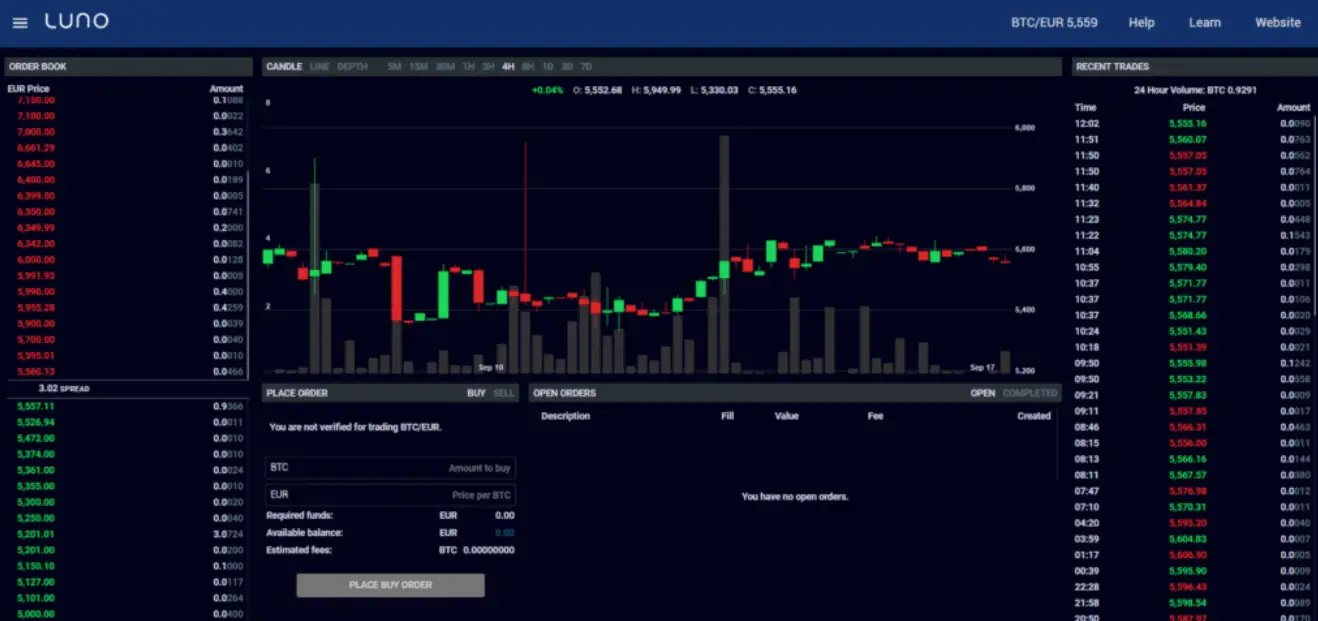 Luno Support Cryptocurrency
Luno is not a platform specialising in several cryptocurrencies. Instead, they focus on purchasing and selling the two leading cryptocurrencies: Bitcoin (BTC) and Ethereum (ETH).
Trading Rates
Luno offers free transactions for many of its operations. Although you will pay small fees for some actions, such as deposits, the commissions seem quite sensible and competitive.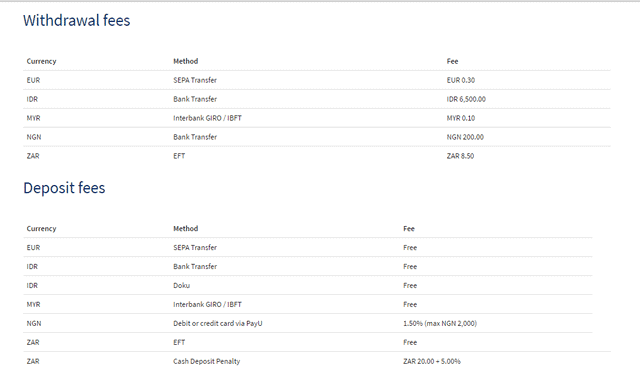 Deposits & Withdrawals Rates
For deposits and withdrawals, Luno offers quite favourable conditions.
They only apply a small commission for deposits in Nigerian nairas and South African rands. No commission applies to the rest of the currencies, including the euro.
As for withdrawals, commissions are low. For example, you will hardly pay 0.3 euros to withdraw the funds to your bank account.
Cryptocurrency delivery applies the network fee (miners commission). To receive funds in BTC, there is a commission of 0.0002 BTC, which seems to be quite adjusted to the security features of this platform.
Deposit of funds
Payment methods accepted in Luno Bitcoin
Luno Bitcoin is a bit limited in terms of payment methods accepted. Depending on your location, you will have access to the following payment methods:
Debit or credit cards.
Bank transfers.
Some electronic media such as iDEAL, SOFORT, Paystack
Minimum/maximum deposit
Luno has the great advantage of offering fairly small deposits. You can make a deposit starting from just USD 1. The maximums will depend on the verification level of your account. The higher, the more these limits are extended.
The minimum amount of operations
The minimum amount of operations is 0.0005 BTC. It is quite a malleable figure because, as I write this guide, it is approximately equivalent to 3 USD.
Customer Support
Customer service is not offered directly. Although, we see the telephone lines for the countries where Luno has its main offices. Instead, you can go to the help centre for an answer or open a ticket for the technical staff to attend to your request.
What unique elements does Luno offer?
Luno Bitcoin is a fairly common platform which offers typical services to exchange cryptocurrencies. In this case, the selection of digital currencies is quite limited: only Bitcoin and Ethereum are offered through Luno.
What unique characteristics does it have? Without a doubt, the issue of security has been the most considered when building this platform. It offers elements that secure the funds in their wallets that are above the common standards in the crypto sphere.
How does Luno compare to other platforms like eToro?
Although Luno is a fairly complete and versatile service, it cannot be compared with other consolidated platforms such as eToro. This broker has millions of users around the world. Furthermore, it specialises in investing in various financial instruments, which allow you to invest directly in cryptocurrencies and other financial instruments.
The verification of eToro is quite fast and is not mandatory to start operating. It also offers very versatile tools, such as copying from other operators and other social options. Indeed, Luno was not mainly created to be a trading platform but a bitcoin wallet and coin exchange.
Conclusion: Is Luno safe?
Luno is one of the most serious and reliable platforms on the exchange list. In fact, it has been supervised by the FCA of the United Kingdom since 2016. Because this is one of the most serious authorities in the field of investments, it gives us a little more confidence to operate with Luno.
It is a simple option for those who do not want to complicate their lives when it comes to obtaining cryptocurrencies easily and directly. Though it has a lot of room to grow, I consider it an interesting option with fairly competitive rates and a level of security above market standards.
Related Posts