We have put together a list of Bitcoin Billionaires and some of the Largest Bitcoin Whales, who we believe hold a significant amount of Bitcoin under their name or company. If these Bitcoin whales decided to sell their Bitcoin one day, the market would see a significant price blow and uncertainty.
Bitcoin is often regarded as a decentralized currency, not controlled by any single entity, institution, or person. However, it might be surprising to know that there are entities and individuals in the financial space that have a huge amount of influence on the biggest cryptocurrency in the world. 
Just before we jump in, these numbers are only estimates; we have no way of knowing the "exact" price that these Bitcoin Whales bought in at, how much they have bought since and at what price point.
Bitcoin Billionaires: Who are the Largest Bitcoin Whales?


Who are the Biggest Bitcoin Whales?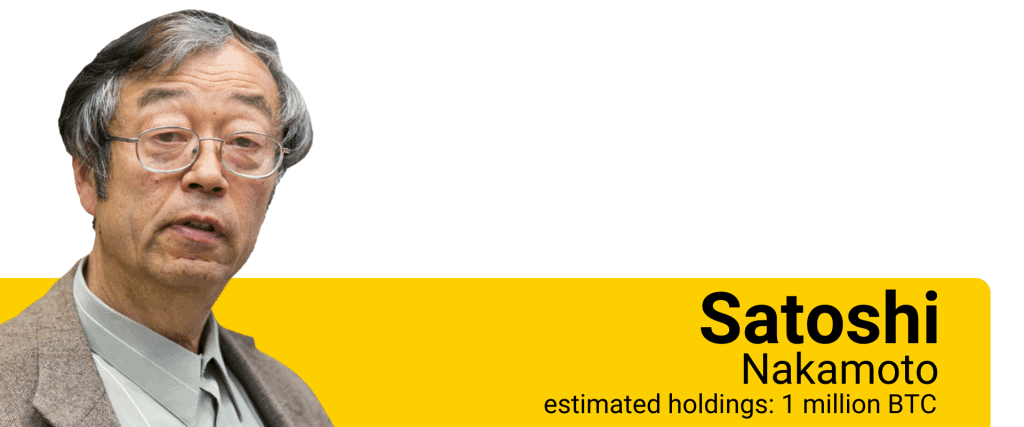 Satoshi Nakamoto
Satoshi Nakamoto was not only the founder of the first and largest cryptocurrency in the world but also one of its first miners.  When Bitcoin was introduced on the blockchain, each block yielded a reward of 50 BTC. Since Nakamoto was the only miner on the network at the time, they didn't really have to share their rewards with anyone. 
From January to July 2009, Satoshi Nakamoto is believed to have mined close to 1 million BTC, which he holds to this day. It is also reported that Nakamoto could have mined more blocks, but he wanted to give the other miners a fair chance to earn Bitcoin block rewards. 
How many Bitcoins doesSatoshi Nakamoto Own?
If Nakamoto were to cash out, he could walk away with $40 billion according to today's market valuation depending on when you're reading this article. Making him or her one of the wealthiest people in the world. 
Total Bitcoin Owned: 1 million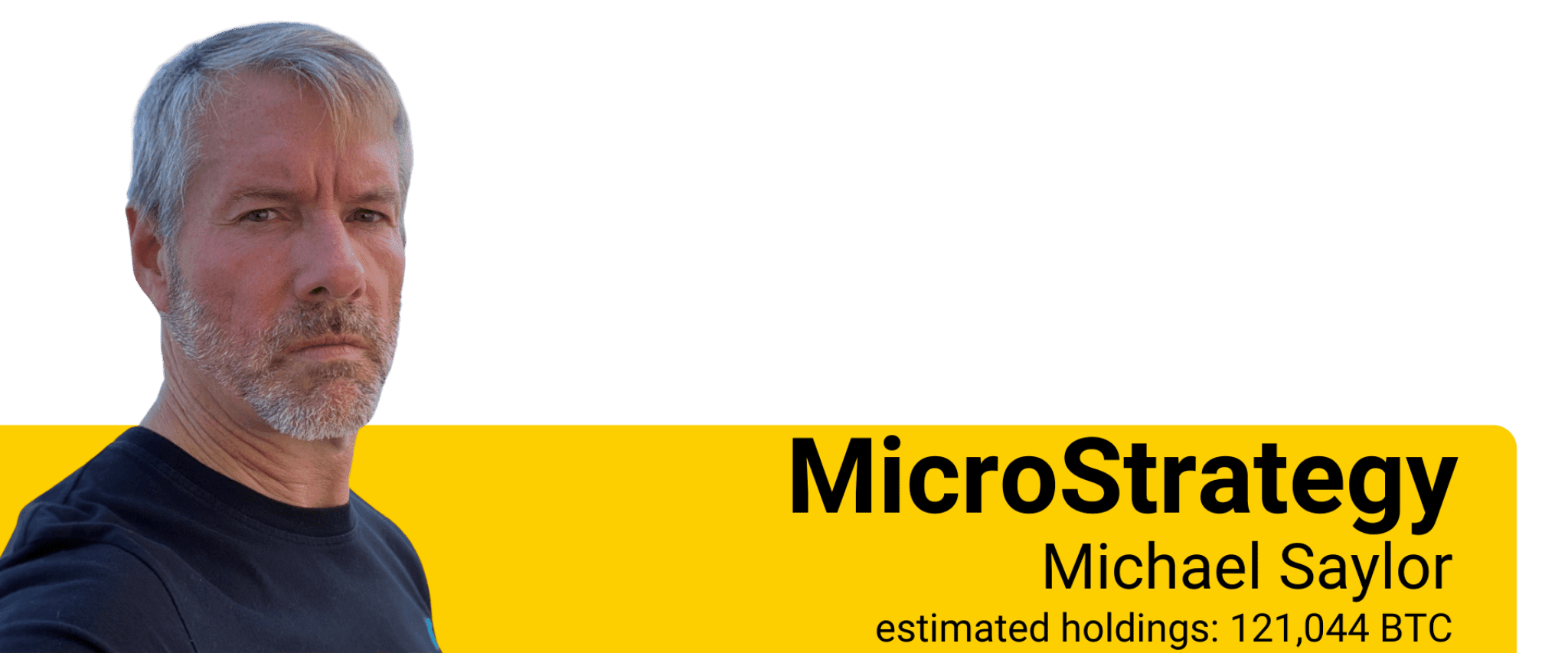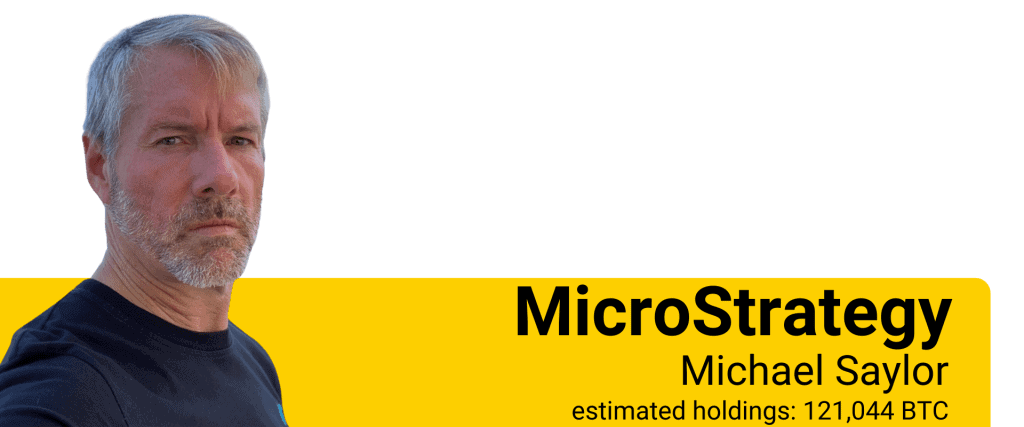 MicroStrategy – Michael Saylor
Michael Saylor is probably the most passionate, ardent, and committed supporter of Bitcoin. His first investment of $25 million in Bitcoin in July 2020 sparked an investment frenzy. 
Soon after his purchase, companies like Square, MassMutual and Tesla started investing their corporate reserves into Bitcoin as a store of value. If the market cap of Bitcoin stands at a few trillion today, it is due to corporate investments, which were initially spurred by Michael Saylor.
According to Saylor, Bitcoin is revolutionary because it is not controlled by anyone entity, because BTC supply is finite, unlike the US Dollar and because the currency runs with zero permissions from anyone. Michael Saylor also sees the current financial system as bleeding power. This means that due to inflation each year, your money assets in dollar terms bleed value each time the government decides to print more money. 
For Michael Saylor, Bitcoin is an emancipatory tool for mankind that is accessible to everyone in the palm of their hands, like mobile education.
How many Bitcoins doesMichael Saylor Own?
Today, MicroStrategy owns the biggest corporate stash of BTC, i.e. 121,044 Bitcoin. This figure is 2.5 times larger than its next competitor Tesla which owns 42,000 BTC. MicroStrategy is currently valued at $3.6 billion, but the BTC stash it owns will cash out at close to $4.5 billion today.
Total Bitcoin Owned: 121,044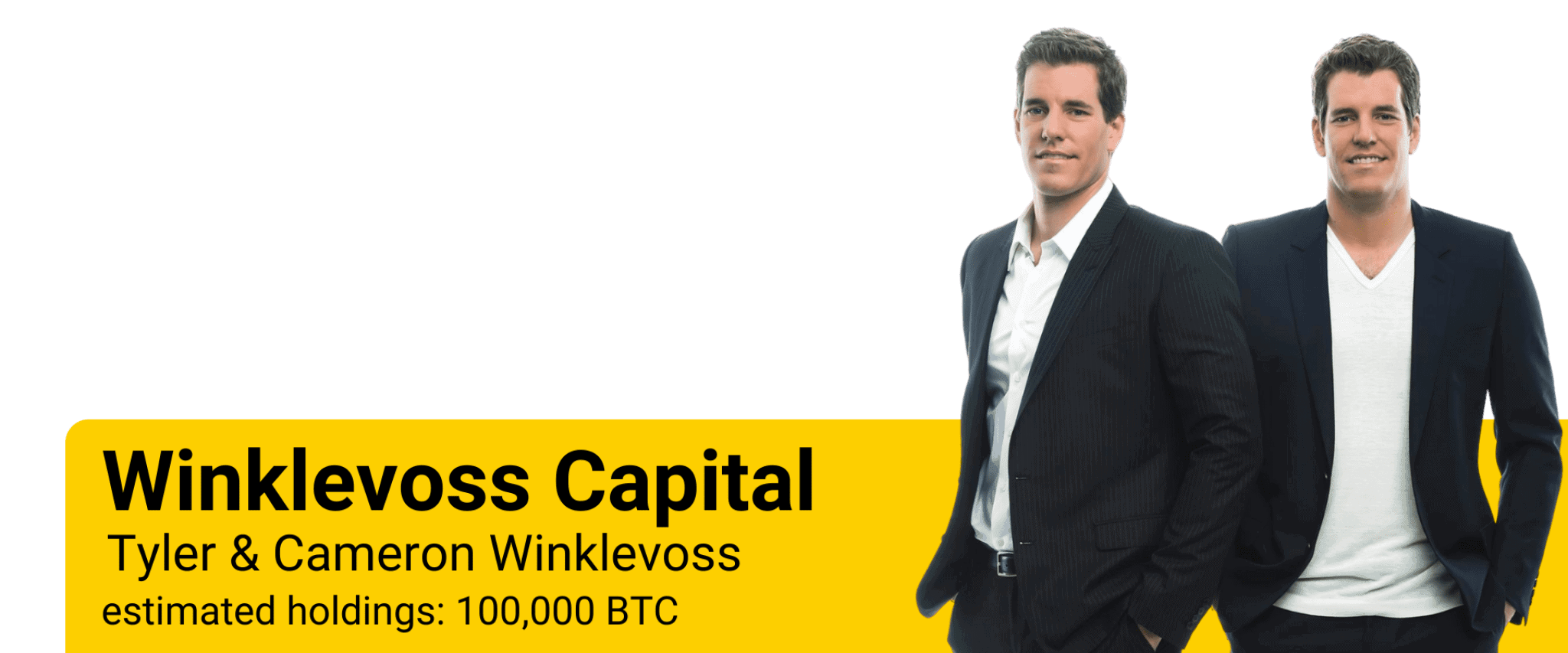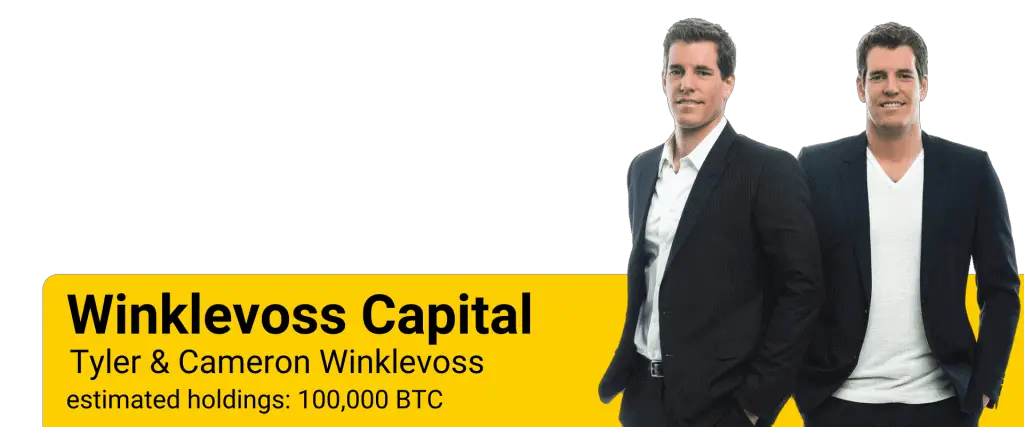 Winklevoss Capital –Tyler & Cameron Winklevoss
If you don't remember the Winklevoss (or Gemini) Twins, they are the infamous sibling-duo that ended up suing Mark Zuckerberg for stealing the idea of Facebook from them. The trio studied together at Harvard and worked on the idea of a social platform as part of a course project. Zuckerberg settled the Winklevoss lawsuit for $65 million.
In 2012, Tyler and Cameron Winklevoss started Winklevoss Capital, and one of their early investments was into the nascent digital currency, Bitcoin. They bought Bitcoin for $11 million, for $10 apiece, probably from the money they got from Zuckerberg. 
Since then, the twins have invested in around 25 blockchain-related startups, most notably being Gemini and the renowned NFT marketplace Nifty Gateway. They claim that they are building a new virtual world or the 'Metaverse' where participants of the network will benefit rather than powerful companies.
How many Bitcoins doTyler & Cameron Winklevoss Own?
The Gemini Twins are believed to be the first Bitcoin billionaires, and the duo is reportedly holding about 100,000 BTC, worth around $4 billion.
Total Bitcoin owned: 100,000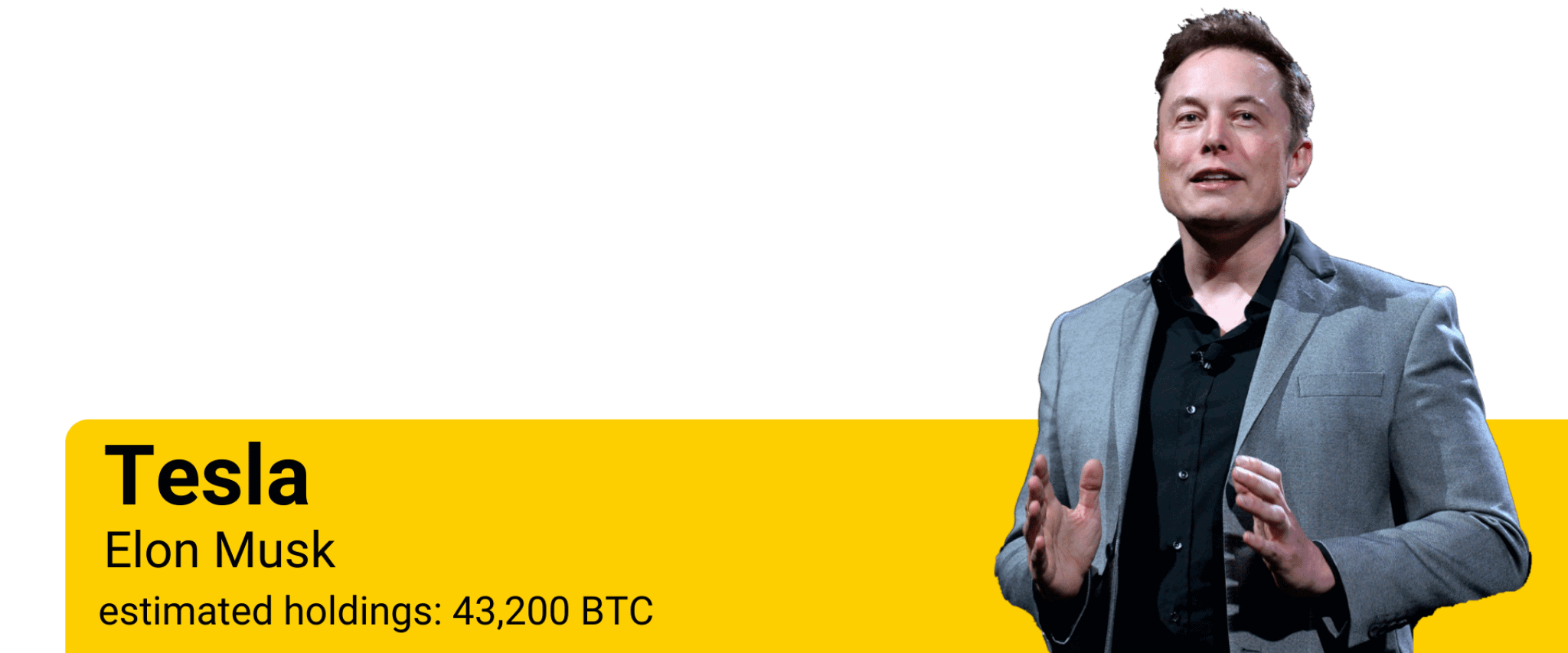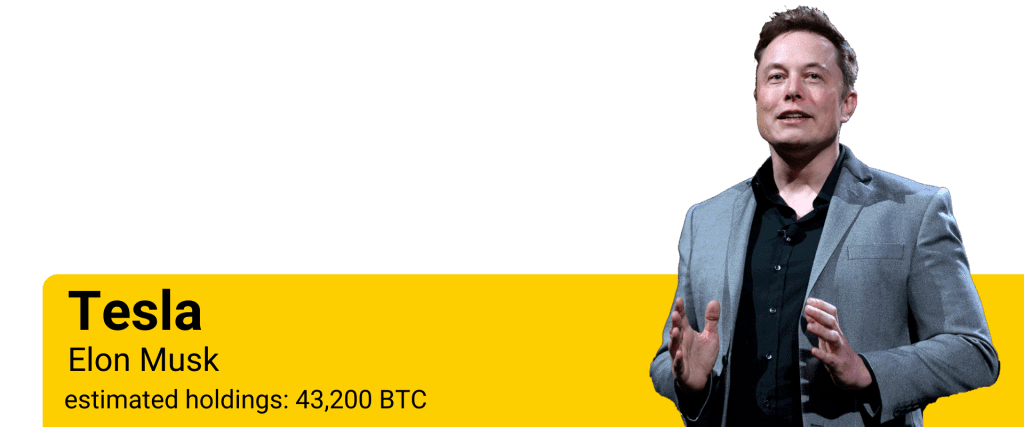 Tesla – Elon Musk
Tesla has the second-largest corporate Bitcoin stash in the world. According to Bitcoin Treasuries, the electric car manufacturer Tesla holds a total of 43,200 Bitcoin in its company reserves. 
Bought in early 2021 for $1.5 billion, Elon Musk acknowledged that he was late to the Bitcoin party but believes that Bitcoin is on the verge of getting widely accepted as a conventional finance instrument and still has room to grow. It should also be noted that the $1.5 billion investment amount is only 2-3% of the $52.1 billion assets owned by Tesla.
In March 2021, Tesla announced that it will start receiving Bitcoin for car payments but later discontinued BTC payments in May due to the controversial and disputed environmental effects of Bitcoin mining. This represents a conflict on Elon Musk's part that he is a vocal supporter of cryptocurrencies and a diehard environmentalist. 
How many Bitcoins doesElon Musk own?
By the end of 2021, Tesla had already registered a 33% profit on their investment as the total value of his Bitcoin holdings rose to $2 billion. 
Total Bitcoin Owned: 43,200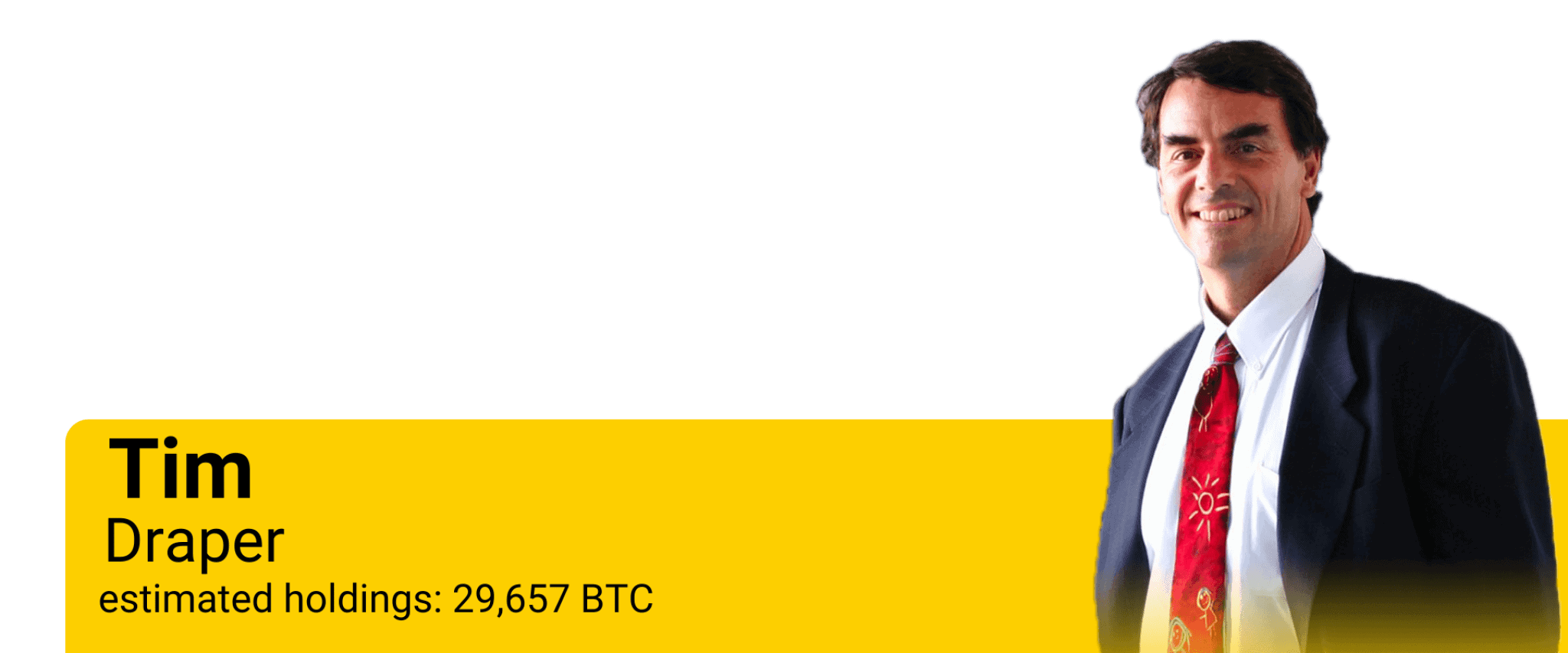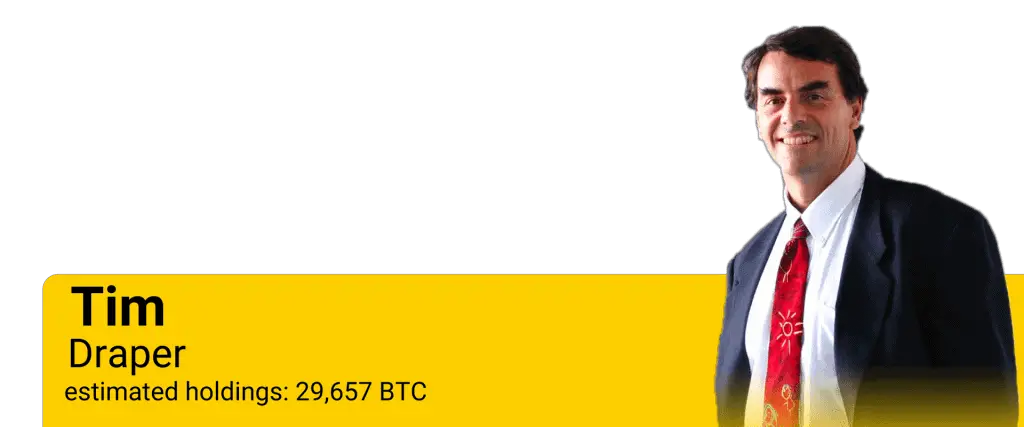 Tim Draper
Tim Draper, the famous venture capitalist and entrepreneur, has been a long-time supporter of digital currencies. In 2011, the chief executive of CoinLab, introduced Draper to Bitcoin. Foreseeing its long-term potential, Draper asked him to buy $250,000 worth of BTC on Mt. Gox. 
At the time of purchase, BTC was trading at $6. Draper decided to HODL BTC when Mt. Gox crashed in 2014, and Draper lost his BTC holdings, a stash that would have been around $1.5 billion today.
However, the Mt. Gox crash only reinforced his trust in Bitcoin as, despite a huge crash, the currency's price only fell by 20%. In 2014, he purchased another huge batch of BTC at a higher price. During an auction by the US Marshals office, Draper bought 30,000 BTC at $632 apiece, investing $18.75 million into the fledgling cryptocurrency. 
How many Bitcoins does Tim Draper Own?
Today his BTC reserve is worth more than $1 billion, and Draper has no plans to sell soon. He is extremely bullish on BTC and believes that BTC's price will skyrocket to $250,000 by the end of 2022.
Total Bitcoin Owned: 29,657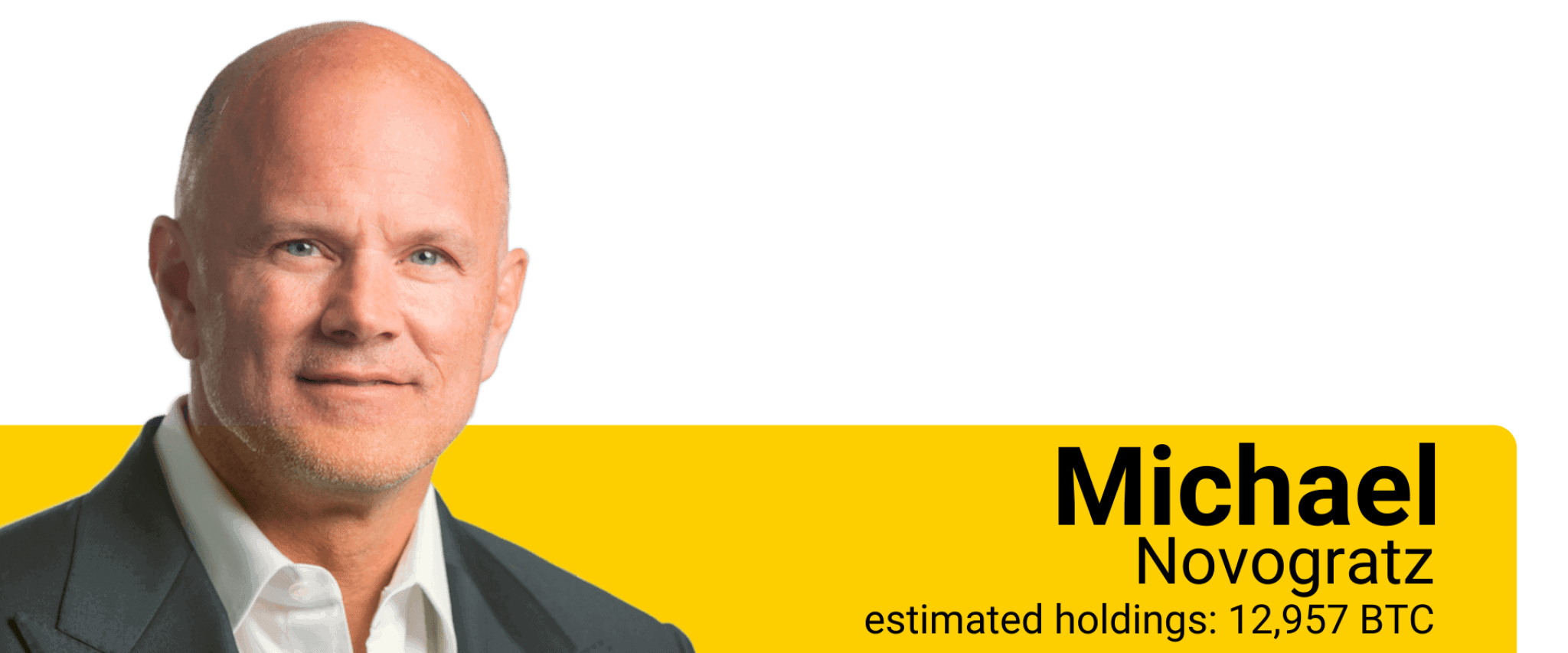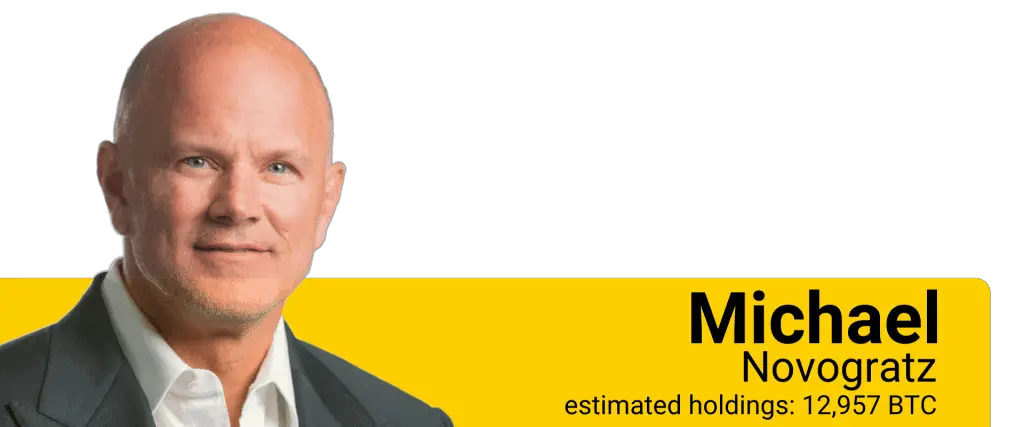 Michael Novogratz
When it was trading for $100 in 2013, Mike put $7 million of his own money into Bitcoin. Due to this move, Novogratz claims himself to be the Forrest Gump of bitcoin, being in the right place at the right time. 
Novogratz started as a hedge-fund manager at Goldman Sachs and went on to be very successful, but that success was short-lived. However, cryptocurrencies put him back on the map when Bitcoin went off the charts in 2017. And he was applauded for his long hold. 
How many Bitcoins doesMichael Novogratz Own?
Novogratz is currently the founder and CEO of Galaxy Digital Holdings, a digital asset merchant bank that he himself describes as the Goldman Sachs of crypto. In a report published by Galaxy Digital in Aug 2020, it was reported that the company owns 12,957 Bitcoin.
Total Bitcoin owned: 12,957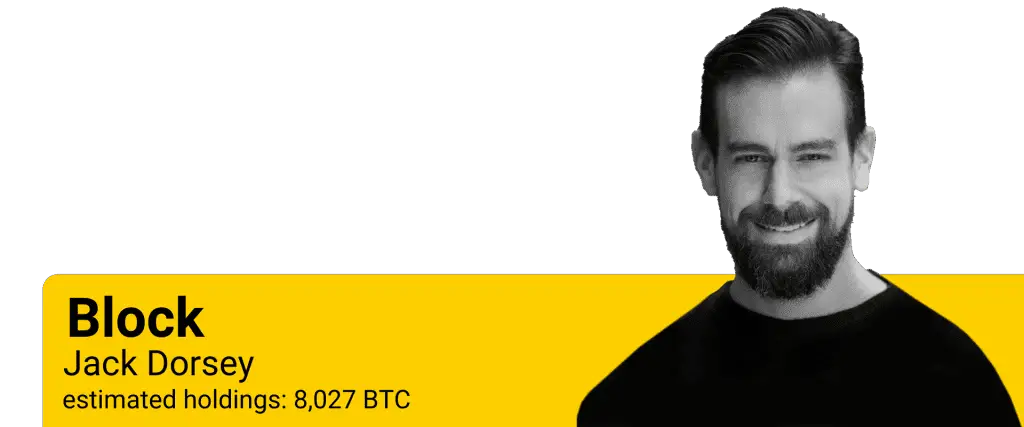 Block &Jack Dorsey
We are all aware of Jack Dorsey's love for cryptocurrencies. Dorsey quit Twitter to focus fully on his venture Square, which has now been renamed to block. Dorsey believes that Bitcoin has the power to bring world peace and that it will eventually replace the US Dollar. 
How many Bitcoins doesJack Dorsey Own?
The digital payments company Block owns a total of 8027 Bitcoins, which were purchased at a low price of $27,407 for one Bitcoin. Using their Cash App, you can directly buy Bitcoin from within the application, which is as easy as it gets to buy BTC in the US. The huge BTC stash they own is primarily reserved to exchange Bitcoin for cash on the Square Cash App.
Total Bitcoin owned: 8027


Conclusion
Some of the names on this list, like Gemini Twins and Tim Draper, were the first movers of Bitcoin, and they are now reaping the rewards on their investment. At the time of the article, Bitcoin is already trading around $43,000 and has previously hit highs of $64K
If you've not yet invested in Bitcoin and want to get started, check out our cryptocurrency exchange reviews.
Related Posts