Cryptocurrency exchange Coinbase has announced that its users in the United Kingdom can now link their bank account directly to Coinbase to fund their account.
Coinbase, one of the leading crypto exchanges in the world, announced in a blog post on November 17th that it has rolled out Easy Bank Transfers for its customers in the Uk.
According to the crypto exchange, the Easy Bank Transfer option is a seamless and secure way for UK users to add money to their Coinbase account. This latest development is part of Coinbase's mission to increase economic freedom in the world.
The crypto exchange said it remains committed to reducing friction and increasing accessibility to the crypto economy.
Coinbase said it partnered with TrueLayer, Europe's leading Open Banking platform, to enable this feature. Coinbase said it is one of the first major cryptocurrency platforms to offer users rapid, secure deposits into their Coinbase account via open banking.
The Easy Bank Transfer option allows users to link their bank account directly with their Coinbase account without needing to enter their bank details. Coinbase added that this would ensure a more convenient and user-friendly experience with all the security features they expect from Coinbase.
"Depositing money into Coinbase should always be a fast, seamless, and secure experience built with an infrastructure suited to the digital age. It should avoid common issues that can occur when making manual payments in the legacy banking system. Easy Bank Transfers solve these issues for Coinbase users: users no longer have to manually type out payee details, rely on copy/paste, be sent through long verification steps, or anxiously wait for confirmation that a payment was successful."

Coinbase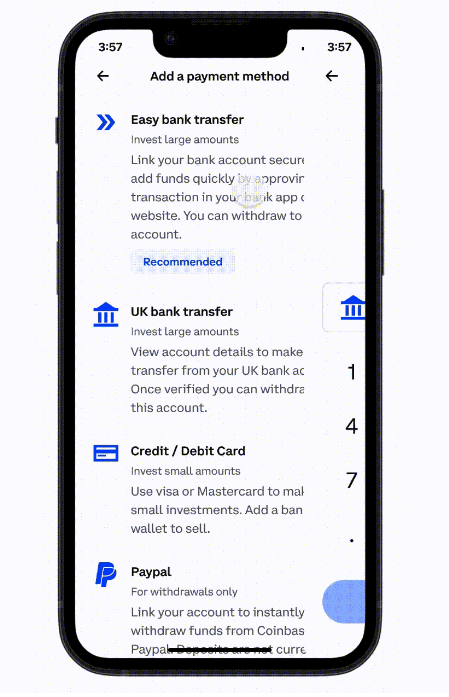 The cryptocurrency exchange said the new open banking feature presents UK users with various benefits, including; security, ease of use, control over their banking information, and safety of funds. 
Easy Bank Transfers will become available to all UK users within the coming weeks, Coinbase concluded. 
Coinbase is the second-largest cryptocurrency exchange by market cap, behind only Binance. Data obtained from Coinmarketcap reveals that Coinbase processes over $1 billion in daily trading volume. 
Related Posts