In this guide, we have put together our list of the top 5 best free VPN services for 2023. We also cover some important questions about free VPNs such as, are free VPNs safe? are free VPNs truly free? and which is the best free VPN on the market?
So, if you're looking for a free VPN for Netflix, Amazon Fire Stick, geo-blocking, booking for sites accepting crypto payments, or simply secure your internet connection, let's see what option you have available.
Best Free VPNs for 2023
You can get some really good and trusted free VPN services, but even the best of these will not be able to compete with their paid competitors. The free versions are usually less secure, limiting your data, bandwidth, speed, locations, etc.
We don't personally use a totally free VPN, we use a paid version. Most paid versions will provide free trials and money-back guarantees, so if you need a free VPN services for a short time it may be worth checking one of these out.
So, here is our list of the top 5 free VPN providers for 2023;
Windscribe VPN
Proton VPN
Hide.ME VPN
Speedify VPN
ExpressVPN
1. Windscribe VPN
Windscribe is a great free VPN that you can use for all your devices including your computer, browser, phone, and even your TV. Although your data is limited, free users can use it as long as they like. You'll also get access to 10 servers in the US, Canada, France, Germany, Hong Kong, the Netherlands, Norway, Romania, and Switzerland.
With a confirmed email address, you can get access to 10GB per month of data. However, if you want to be more anonymous you go ahead without an email address but you will be restricted to 2GB per month.
Windscribe do state they have a no-logs policy too so that your privacy is protected.  Plus, you also get access to their ad and tracker blocker even in the free version with the use of their chrome extension.
Can you unblock Netflix? Unfortunately, although you can open the US library from the UK it detects that you are using an unblocker/proxy and Windscribe has also confirmed that the free version of Windscribe does not unblock Netflix.

2. ProtonVPN
The Proton VPN free plan provides you with unlimited data and access to servers in 3 locations; Japan, the Netherlands and the US. It is also ad-free, but unlike some free VPNs, it is only available for 1 device connection. They also state that you'll only have access to medium speed with their free service (which is definitely true). To download Proton VPN free you'll need to set up an account, but no payment details are required. If you are looking to upgrade to unlimited simultaneous connections you will need to opt for a paid plan.
ProtonVPN is based in Switzerland, outside the jurisdiction of the 5/9/14-Eyes Alliance. Meaning its great for privacy. ProtonVPN also states that they also do not log user activity or share data with 3rd parties. 
Can you unblock Netflix? Unfortunately, unless you are using a paid "Plus" or "Visionary" plan you will be unable to unblock the Netflix global libraries.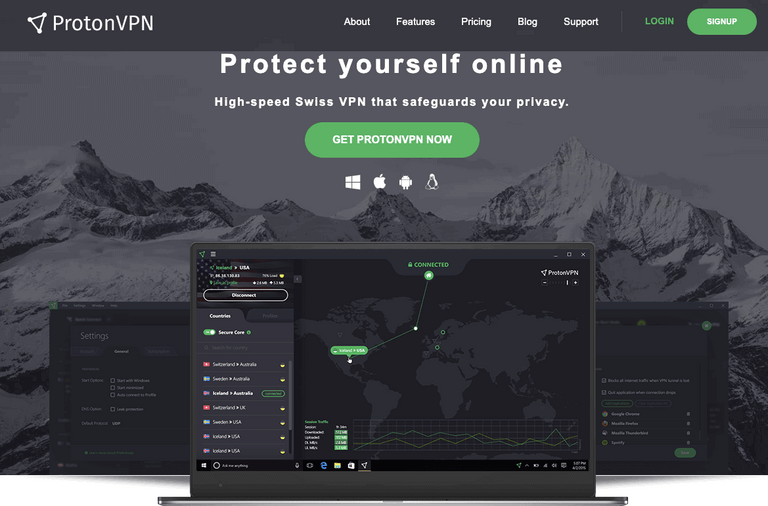 3. Hide.Me
Hide.me offers free VPN services and plans with no requirement for payment details upfront, giving you 2GB of data every month. You will have access to 5 of their servers, on 1 device at a time, plus you have access to their support team 24×7 too. The downside of their totally free vpn plan is the fact that you will only get access to a slow connection. You can download free versions of their desktop app for Android, iOS, Mac, or Windows. They also have extensions for chrome and firefox to work in conjunction with their VPN.
With Hide.me, they are very clear that they do not store logs of your online activity and there are no annoying ads either. Hide.me also provides a free proxy download, allowing users to unblock any blocked website. It was a little unclear whether Hide.Me was able to unblock Netflix, however after testing this with their free VPN, I can confirm that I was able to connect. Although with 2GB of data, you may not get to watch much!
Can you unblock Netflix? Unfortunately, you are unable to access Netflix libraries with Hide.me.
4. Speedify VPN
Speedify which is based in the US offers a free or starter plan, giving you 10GB of data usage every month. With Speedify you'll have access to servers worldwide with more than 1,000 servers in 28 countries which you can select yourself or allow Speedify to select this for you. It's available for operating systems such as iOS, Android, Windows, macOS and Linux. With their starter or limited plan, you'll have access to their channel bonding service plus their streaming and redundant mode.
To get started with Speedify you just need to download their free VPN and don't need to set up an account. Finding this option is a little tricky as you have to click through a few screens to find the option of the limited version.
Can you unblock Netflix? Although I was able to connect to Netflix US, I was unable to stream any shows as it had detected an unblocker/proxy.
5. ExpressVPN
ExpressVPN in its nature is a paid VPN, however, they have a really good money-back guarantee which means you can use their premium service completely unlimited for 30 days. In fact, it's one of the reasons I originally chose ExpressVPN as my VPN provider and it also unblocks streaming sites, such as Netflix US. 
ExpressVPN is also regarded as one of the best VPN for dark web with Tor-friendly speeds and a strict no-logs policy according to VPN mentor.
Then if you want to use it for longer than 30 days, you could always sign up with another email account, just make sure you set a reminder to cancel the subscription! So with ExpressVPN, you'll get fast, reliable service with 160 locations across 94 countries and unlimited speeds too.
Can you unblock Netflix – Yes you can!!
Are VPNs Really Free?
This will depend on your definition of "Free". For a company to set up and run a VPN service, not only costs a lot of money but it uses up a lot of resources too. So, do companies do this out of the kindness of their heart? I think you can answer this question. The simple answer is no.
Although you're not paying for the VPN service it's highly likely that the company will regain their expense elsewhere. This could include sharing your data with advertisers and annoying targeted ads. This won't be the case with all "free" VPNs, but certainly some.

Are Free VPNs Safe?
Although the best free VPNs mentioned are safe to download and use, please be wary of choosing any free VPN download. Some can contain malware or viruses, bad encryption, or endanger your privacy by logging your data to sell it onto 3rd party companies.
Other Notable Free VPNs
I looked into Hotspot Shield's free VPN, however, it did not quite make the best free VPN services list. The reason for this is that there was only 1 server in the US, and it appeared that it was only free for 7 days.
When researching trusted free vpn providers, I also liked the look of TunnelBear, which was recently purchased by McAfee.
Conclusion
Finding the best and fastest free VPN can be a challenging task, as there are numerous options available on the market. However, after careful consideration of various factors such as security, speed, reliability and unlimited simultaneous connections, we have compiled a list of the best free VPN providers currently available.
It is important to note that while these free VPNs are a great option for casual internet users, they may have limitations such as data caps or limited server locations. For more advanced features, you may need to consider a paid VPN service. Overall, by using a free VPN from our list, you can ensure a safer and more secure online experience without breaking the bank.
Related Posts
Here are some of our articles you may also find helpful;