We have all heard the stories, so why not explore the Dark Web for yourself? If all this seems like a total minefield, then find out how to get started, plus 14 of the best dark web websites to explore in 2023.
You've undoubtedly heard of the Dark Web and tales of the famous Silk Road and Dread Pirate Roberts (created by Ross Ulbricht). But is its bad reputation justified? Maybe you want to take a look at yourself and draw your own conclusions.
14 Best Dark Web Websites To Explore in 2023
The dark web has many great websites to explore. I've put together 10 of the best dark website I have personally used, but if there are any websites I have missed, please feel free to put them in the comments below.
Please Note: When accessing the dark web, do so at our own risk, and please be careful when sharing any personal information.
One of the most well-known places that people want to visit is the Hidden Wiki. However, the Hidden Wiki is a generic name used by several directories. Not all directories are the same, nor are they safe.
Due to some of these sites being temperamental, I recommend checking out Reddit, as it's a good place to get started and do further research.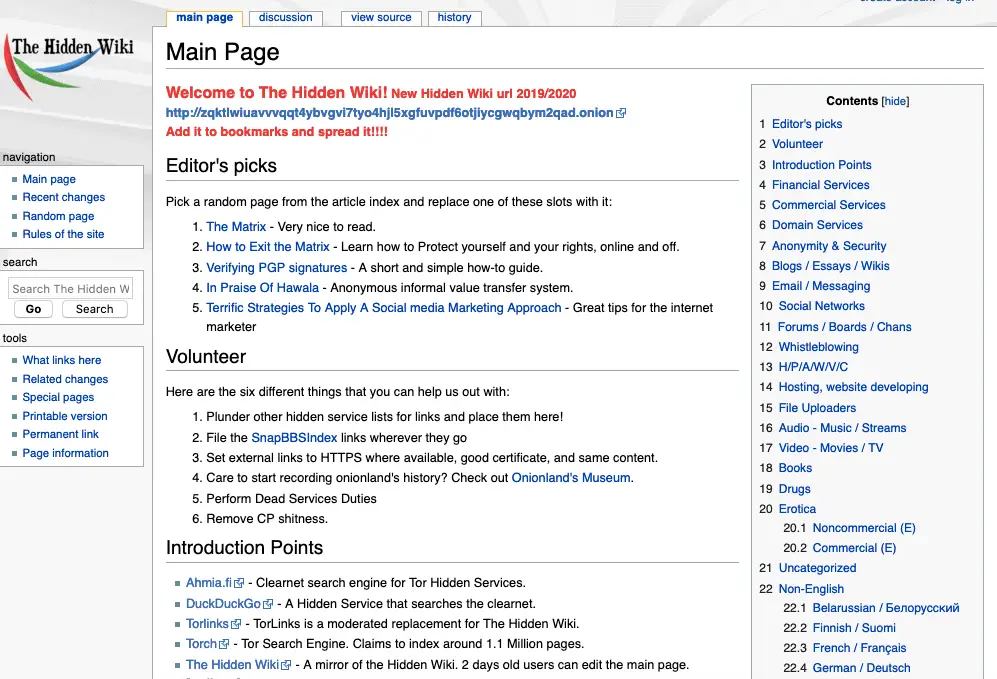 Hidden Answers is like the dark web version of Reddit. It is where users can ask questions and advice, post stories, and discuss a whole host of topics.  Hidden Answers is an anonymous way to post your questions on any subject. And other users browsing can then answer these also anonymously.
Although Reddit is still very popular, many people have started moving away. This is due to ongoing censorship accusations and the fact it's moving away from its free speech roots.
Hidden Answers – http://answerszuvs3gg2l64e6hmnryudl5zgrmwm3vh65hzszdghblddvfiqd.onion/
3. Facebook
You'll be surprised to know that you can access Facebook via the dark web by using the official Facebook .onion site. The Facebook site attracts over 1 million monthly Tor Users. Just be aware that you may find a lot of Facebook images will be hidden when Javascript is disabled (as recommended).
Although many will believe that visiting Facebook over Tor is a contradiction, connecting to Facebook through Tor can offer access to the site even if it's censored in your country. This can all be achieved by using a Tor Bridge.
Facebook – https://www.facebookcorewwwi.onion/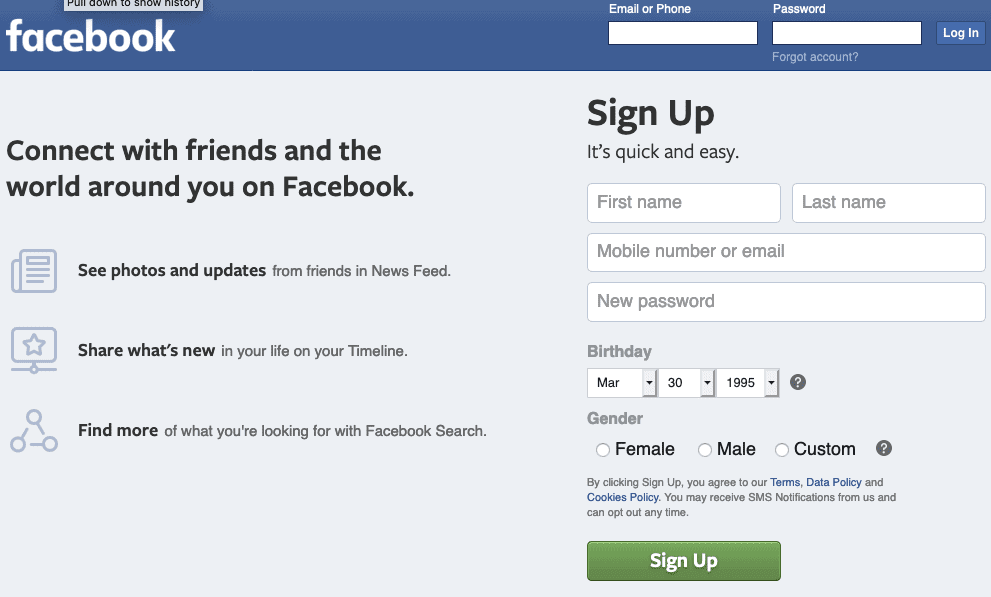 4. Galaxy3
Suppose you don't want to use the dark web version of Facebook or don't trust it. There are a whole host of dark-web-based social networks, such as Galaxy3.
Now, it's quite unlikely that you'll find friends and family members on there to chat with. But you may find experts in coding, people looking for adult meets, and other "interesting" characters too!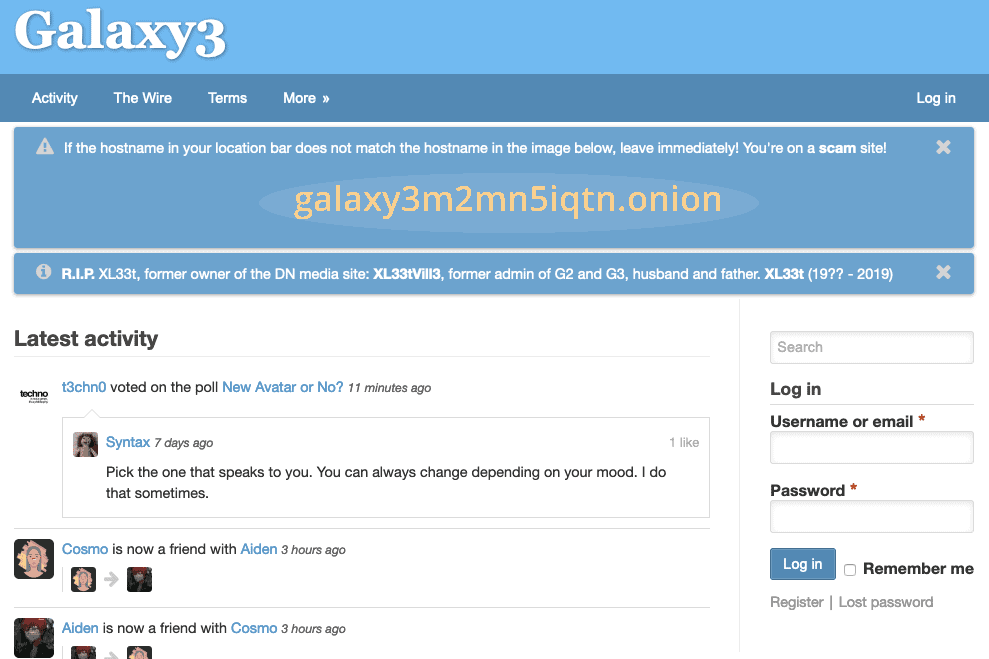 5. Dread
Dread is a great alternative if you fancy checking out another dark-web-based social network or forum with news and discussions.
Dread was made by a Reddit user known as 'HugBunter' and was inspired by the recent ban of the 'darknetmarkets' subreddit. The goal of Dread is to offer a censorship-free forum, like Reddit but with more services. They offer services such as market penetration testing and market development/hosting assistance.

6. DuckDuckGo
If you're searching for content and don't want to give up on your privacy, DuckDuckGo is a great alternative to Google, which collects a lot of your information. 
DuckDuckGo is a private internet search engine available on the open web and as a Google Chrome extension. One of its privacy features is the fact that it doesn't track your browsing history, location, or any other data. The results from your search are always neutral, too (unlike Google, which is sometimes known for being biased).
Since the release of Tor Browser 6.0.6, you'll also find that DuckDuckGo is the primary search engine. Plus, there's also a dark web version of the search engine, giving you an extra level of anonymity and protection. 
DuckDuckGo – https://3g2upl4pq6kufc4m.onion/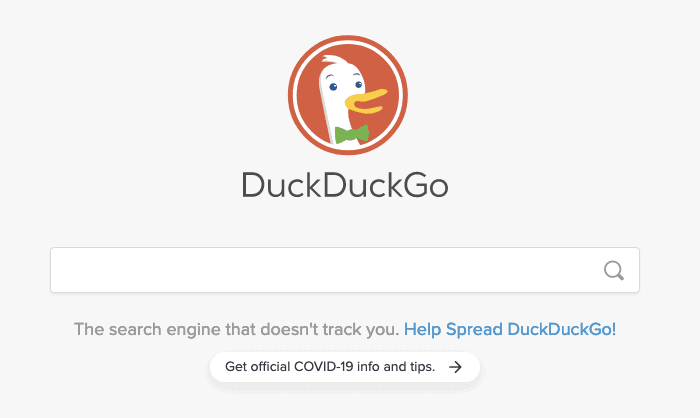 7. Darknet Markets
Darknet markets supply all manner of goods. Some are legal, others less so. But all use cryptocurrency to purchase, and all are delivered to your door.
Previously, the Silk Road was the most popular darknet market, created by Ross Ulbricht, AKA Dread Pirate Roberts. So to find a current list of the most popular markets (such as White House Market or Empire), you can go to either Darknetlive or Dark.Fail.
Darknetlive – http://darkzzx4avcsuofgfez5zq75cqc4mprjvfqywo45dfcaxrwqg6qrlfid.onion
Dark.Fail – https://dark.fail/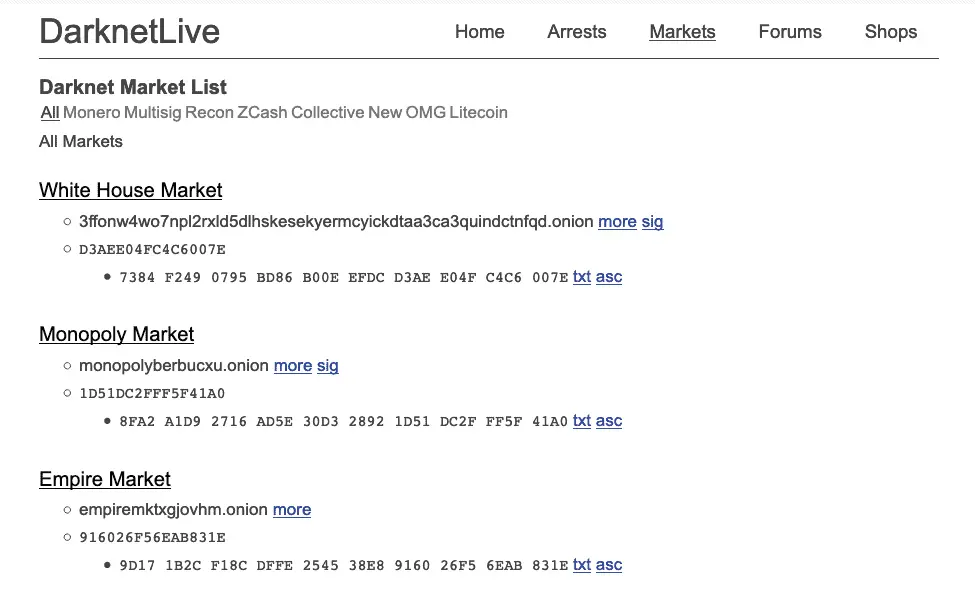 8. Bitcoin Core
The Bitcoin Core website is now reachable through the dark web to provide a greater level of resistance against censorship.
The Bitcoin core website posts the latest updates to the open-source Bitcoin software, which is programmed to decide which blockchains contain valid transactions. The users of Bitcoin Core only accept transactions for that blockchain. Making it the bitcoin blockchain that everyone else wants to use.
Bitcoin Core – http://6hasakffvppilxgehrswmffqurlcjjjhd76jgvaqmsg6ul25s7t3rzyd.onion/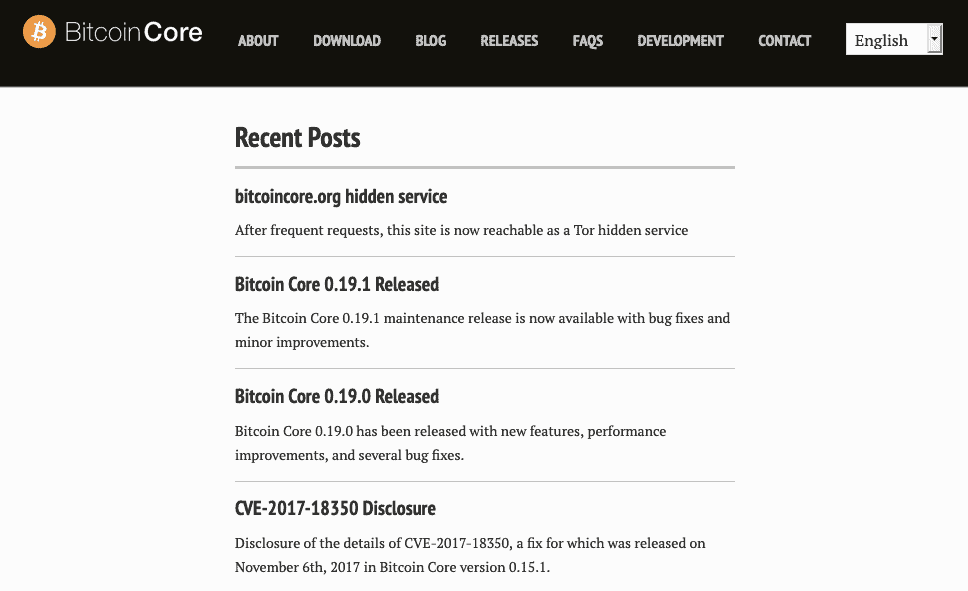 9. ProPublica
ProPublica is a journalism outlet that has its own dark web version of its site. In fact, they were one of the very first major news outlets to do so.  ProPublica's work is all legal, so the .onion website isn't much different from what you would find on the internet. However, the main difference is that accessing it via a Tor browser gives you a layer of anonymity and security. 
ProPublica has won 5 Pulitzer Prizes for its work. Most recently, Hannah Dreier (one of their journalists) won the 2019 Pulitzer Prize for Feature Writing for her coverage of gangs in Los Angeles.
Other examples of news sites with an equivalent .onion site are the likes of BBC News which launched its dark site in October 2019, making it visible to censored countries such as Vietnam, China, and Iran. The New York Times also has a .onion version of their site.
ProPublica – https://www.propub3r6espa33w.onion/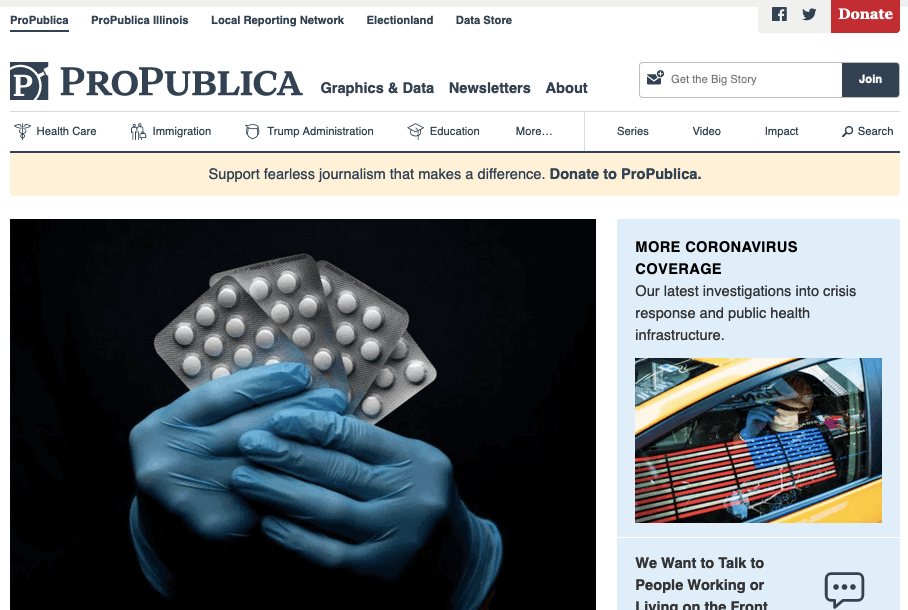 10. SecureDrop
SecureDrop is an open-source whistleblower submission system that news organizations can install to safely (and anonymously) receive documents and tips from sources. It's a project of the Freedom of the Press Foundation. 
The site uses the anonymity of the Tor network to facilitate communication between whistleblowers, journalists, and news organizations, such as The Guardian.
These sites are only accessible as hidden services in the Tor network, and it is advisable to be careful where you access them. It works with randomly generated codes and phrases that will be used for download. Plus, it's used as a means of communication through SecureDrop messaging.
SecureDrop – http://33y6fjyhs3phzfjj.onion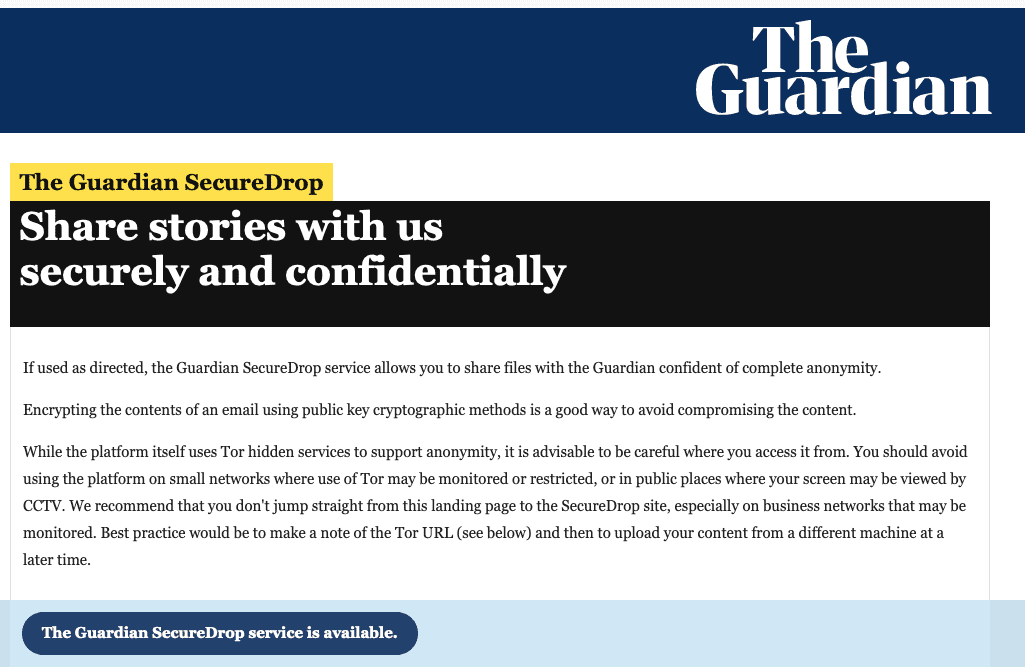 11. Mail2Tor
Mail2Tor is an alternative email provider. It lets anyone send and receive email anonymously via webmail or an email client. All messages are encrypted, and the company does not log your IP address. Mail2Tor is only accessible via the Tor network but can both receive dark web and clear web emails, meaning you can use it across the different services.
As you're probably aware, email is really bad in terms of privacy. This is because your email provider has access to your entire inbox. Not only that, but they also have information concerning your calendar invites, travel information and meetings. Plus, some (such as Google) will automatically enter this information straight from your inbox.
Mail2Tor – http://mail2tor2zyjdctd.onion/

12. OnionName
OnionName is a specialist service that allows you to purchase a .onion domain to host your own .onion website. Because of how the network works, you can't purchase an onion domain from a normal registrar like GoDaddy.
To get started, you must head over to OnionName and choose your desired domain name prefix. Then you can order the .onion domain, where pricing starts from 0.45mBTC for 8 letters.
OnionName – http://onionname3jpufot.onion/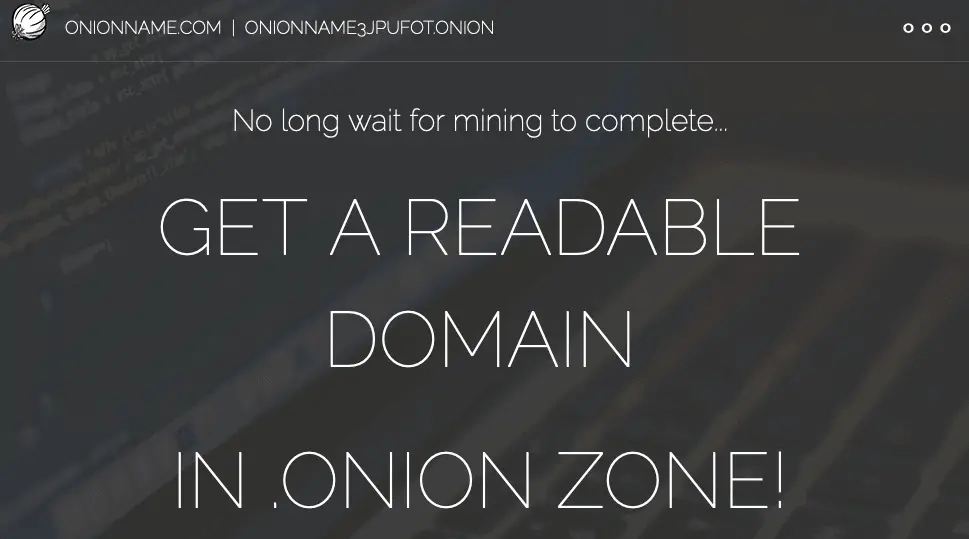 13. Numbers Station
This is a bit of a weird and wonderful one to add to the list. With Numbers Station, you are immediately directed to an audio player. This isn't so weird initially. But when you start playing it, you'll hear voices reproducing weird dialects, languages, and numbers as if they were code to be deciphered.
This isn't too far from the truth. As it actually plays secret and coded messages that the army has been sent by spies and the military.
No one knows when the messages were recorded or if they were sent in real-time, but it might be fun to try and figure it all out!
Numbers Station – http://tutdwuh7mlji5we3.onion

14. Get Gnomed
Get Gnomed claim to be the best gnoming service on the dark web. They promises to plague the interior and/or exterior of someone's home with the popular garden ornaments. However, these friendly looking gnomes sometimes come with a surprise. When order these cursed gnomes are sometimes filled with animal feces.
They also offer a 'Gnome Haunting' service which is when people remove a garden gnome, and it will then be replaced with two. 🤷‍♀️
How to Access the Dark Web
First, you must access the dark web via a web browser to get started. Unfortunately, your Chrome or Safari browser just won't cut it. You must download a dark web browser such as the Tor Browser. Then you will need to find some dark web websites to browse. Did I mention something about onions?

Tor Browser
Before you start accessing the dark web, you'll need to download and use a dark web browser; the most popular and safest option is the Tor Browser.
Tor Browser is a technology that bounces internet users' traffic through relays run by thousands of volunteers worldwide. This makes it extremely hard for anyone to identify the source of the information or the user's location.
If you want to learn more about downloading and how to use Tor Browser safely, check out my video tutorial here.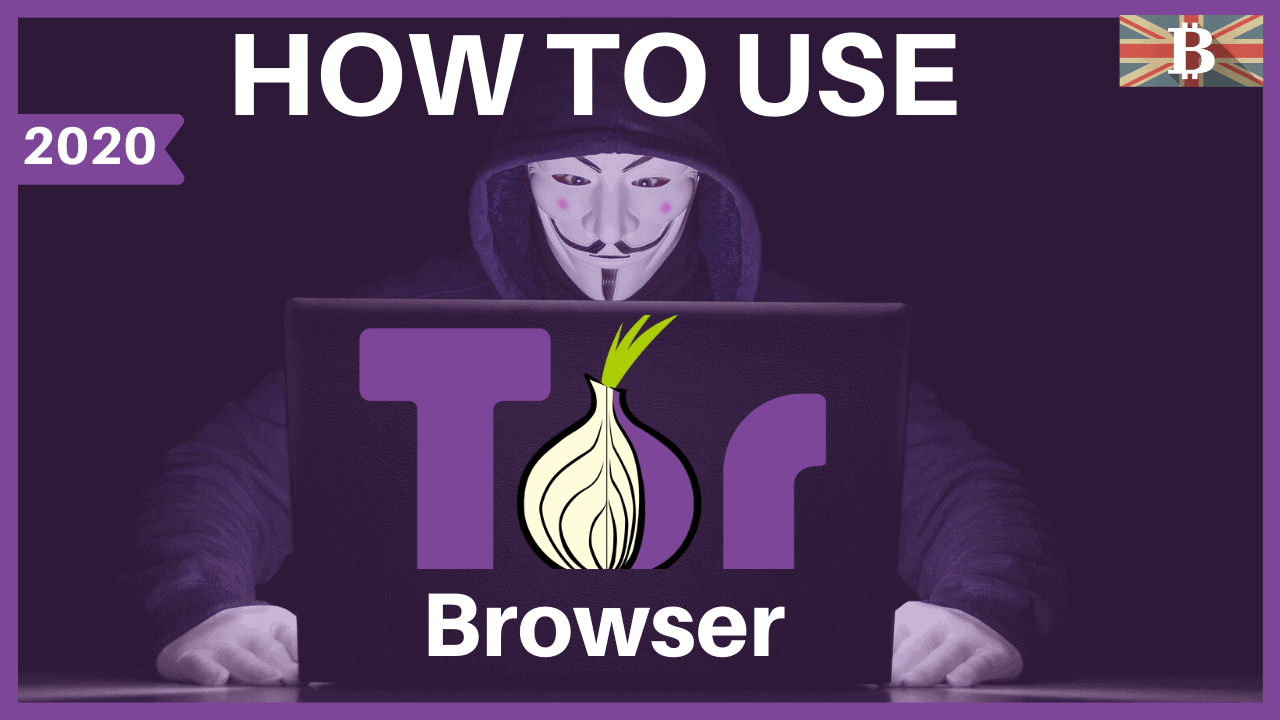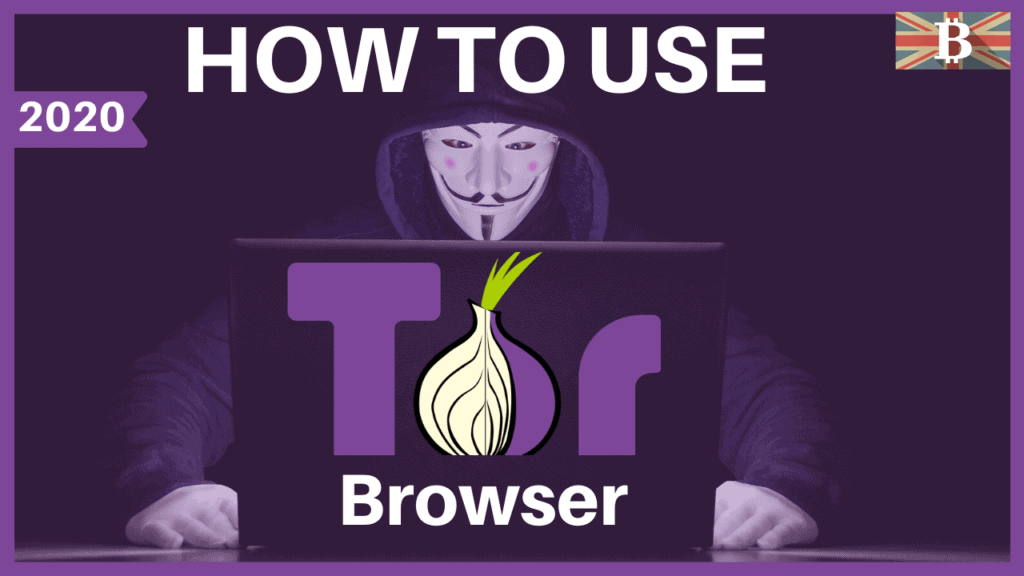 Difference Between Deep & Dark Web
The "Deep Web" is basically anything on the internet that can't be found using a search engine like Google. This could be things like your DMs, private images on social networks, or personal emails from within your Gmail account.
The "Dark Web" is a sub-section of the deep web and is largely responsible for the deep web's bad reputation. This is where you may find black markets, identities for sale or unpleasant/dark images. 
Although, if you know where to find them and sort through all the clutter, you'll also find some great dark web websites.
Please be careful when browsing the dark web. The dark web can be a very interesting place with some great websites to explore. But whilst it's interesting, it can also be pretty dangerous, and you must be careful while browsing it.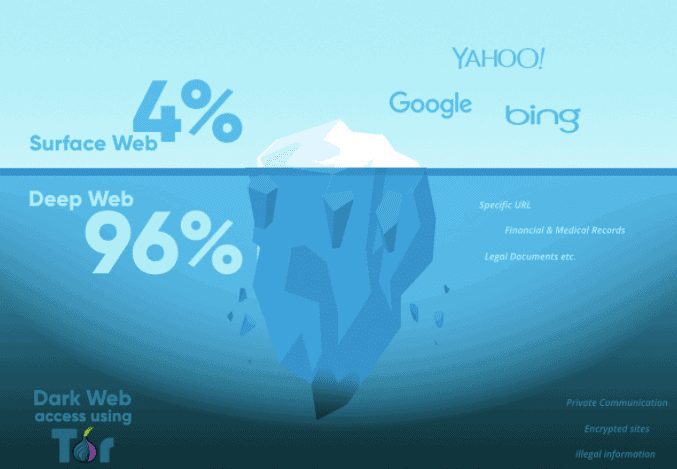 Related Posts