In this review, we take a look at how Unstoppable Domains are looking to onboard the world onto the decentralized web by building blockchain-based domain names. These domains allow users to replace cryptocurrency addresses with human-readable names, host decentralized websites and simplify crypto payments. The personalized blockchain payments which can act as payment gateways, as well as an uncensorable website builder and a browser supporting blockchain domain websites.
With Unstoppable Domains, users can transfer their cryptocurrencies to a domain anywhere in the world, cheaply and using readable names rather than complicated alphanumerical addresses.  The domains, which end with '.crypto' or '.zil', enables the domain owners to attach all of their cryptocurrency addresses from different wallets into one single domain. And users sending to the domain owner only need to know (and enter) the domain name into the address field when sending crypto. 
Unstoppable Domains Review
How to Buy a .crypto Domain
To purchase a .crypto or .zil domain users head across to UnstoppableDomains.com and simply search for the domain they want. The prices of the domains range from $20 for a .zil domain and $40 for a .crypto domain. These payments are all one-time payments and there are no renewals fees. Payments for these domains can be made via card, crypto, or the crypto.com app.

If the domain is available, you'll see the price of the domain and be able to add it to your cart.
If the domain is "Taken" the domain has already been registered. You can see if the domain has cryptocurrency addresses attached, whether a website has been set up, and whether the owner is listing it for sale.
If you see "Premium" domain, these domains will be available later so it's worth adding them to your Watchlist if you're interested. Premium domains are more desirable and more expensive.
Then there are also "Protected" domains and again you can add these to your Watchlist as some might become available at a later date. Or you can contact the Unstoppable Domains support team stating your interest and possibly proving your entitlement, or association to that domain.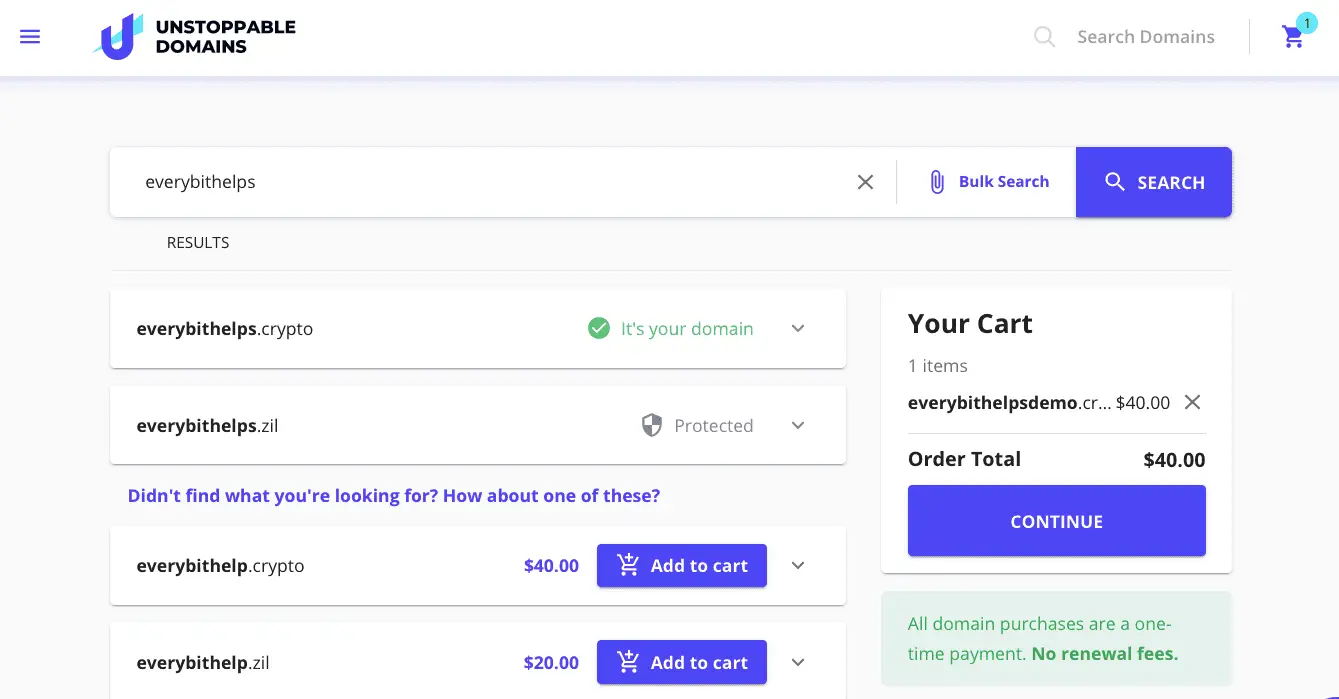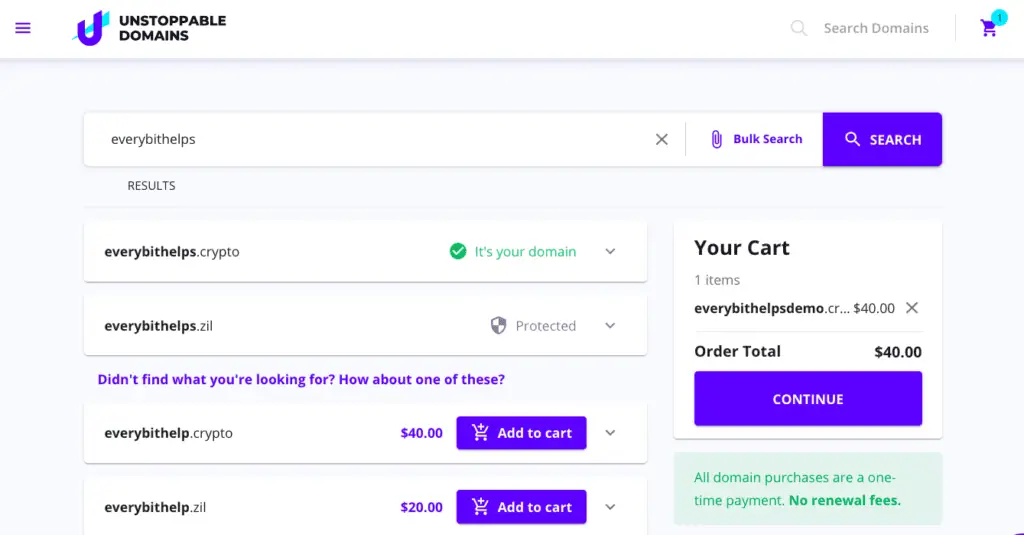 How to Claim Domains with Unstoppable Domains?
Domains are ERC721 assets on the Ethereum blockchain. They're self custody and you store them yourself with a private key, just like you would with a cryptocurrency. You'll need to claim your domain to push your domain onto the blockchain and once it is complete you have full custody over the domain. This process can take up to 72 hours, depending on network congestion.
Users can choose which wallet they'd like to store and manage their domain from, however, if you choose to store in a Ledger (via Metamask) please note that managing your domain will work slightly differently.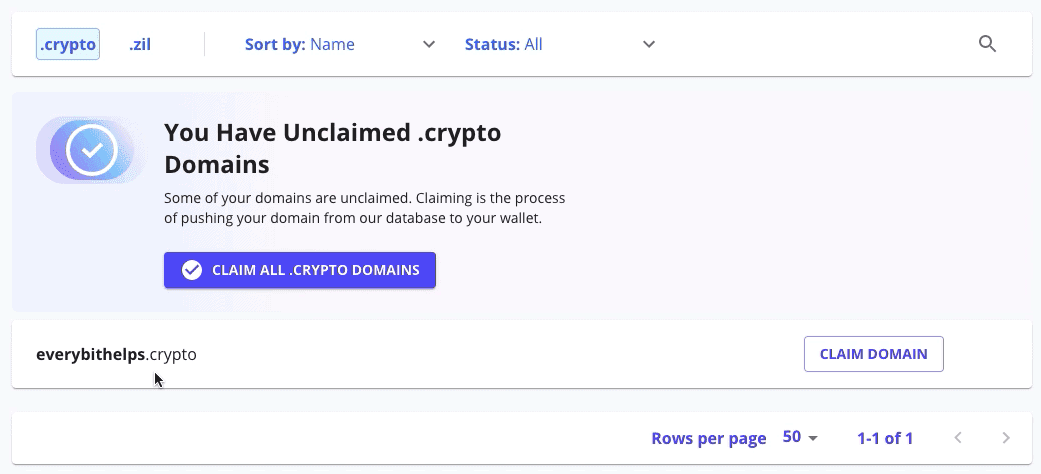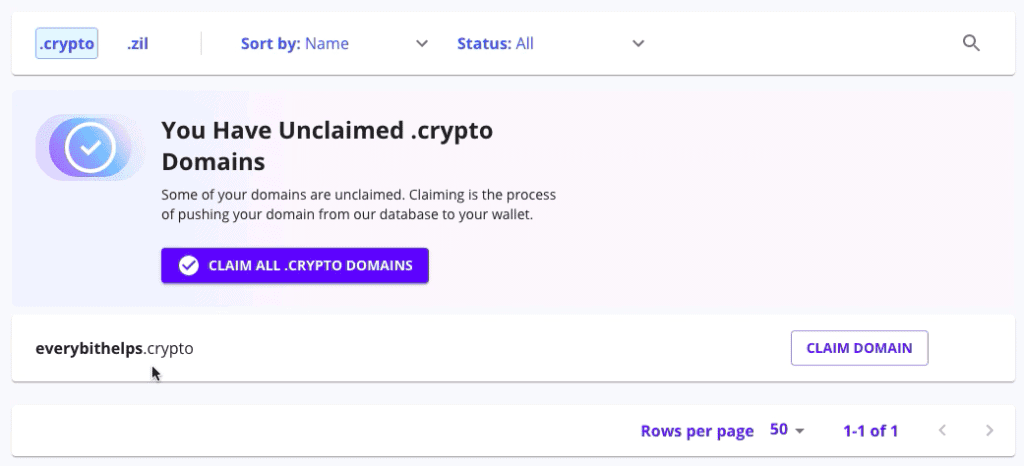 What Happens If I Claim Using a Ledger?
If you claim your domain via a Ledger (through Metamask), you'll need to use the system slightly differently when managing your domain. To manage domains on a Ledger wallet users have to use the section named "Guest Manage".
The big difference here is that unstoppable domains pay the fees for all the transactions unless a customer uses "Guest Manage". With "Guest Manage" users need to pay the fees to manage their domain. This only applies to a Ledger and not other hardware wallets such as Trezor, as Trezor has the firmware to allow Unstoppable Domains to pay the domain owner's gas.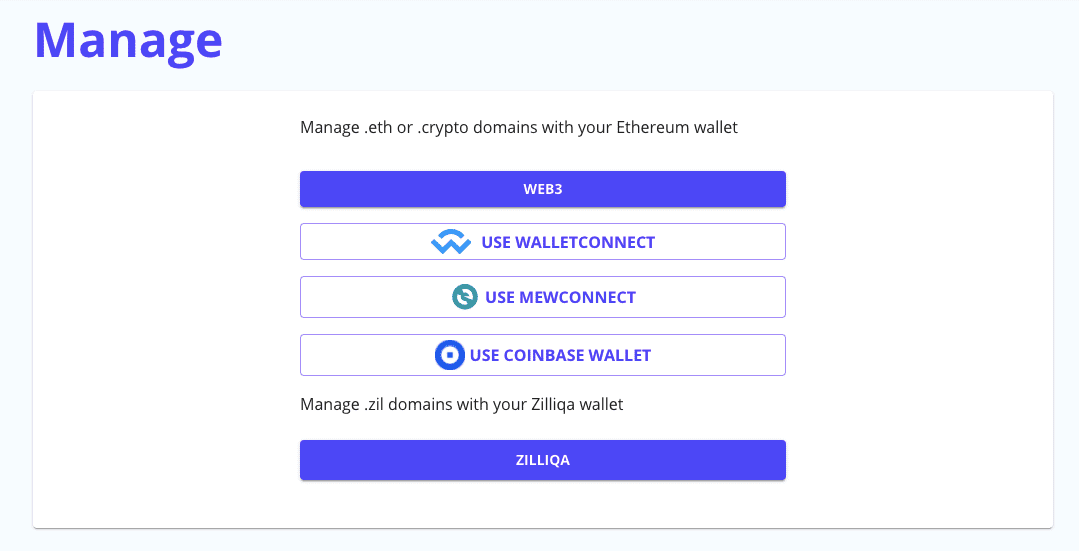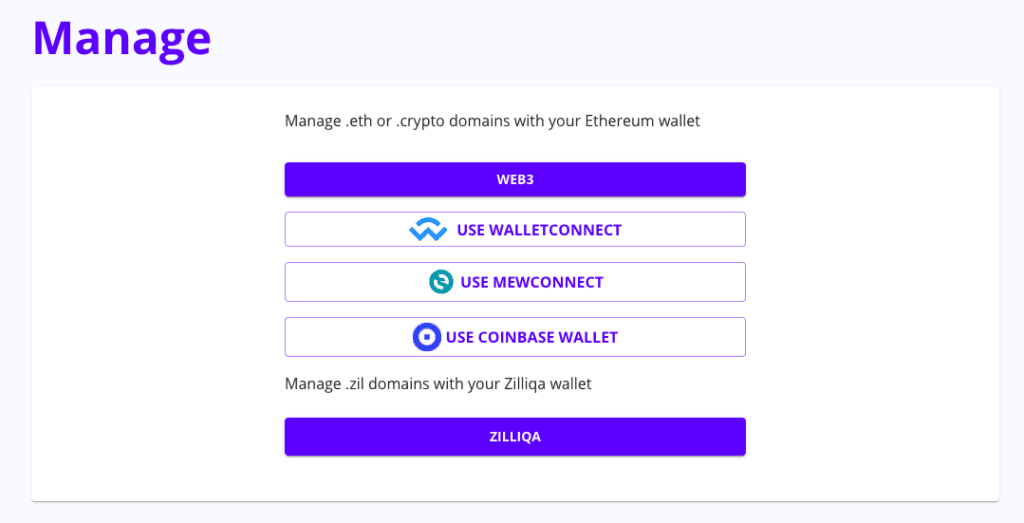 How to Set Up Crypto Payments For Your Domain
To setup your domain to accept cryptocurrency payments, you'll need to "Manage", under "My Domain". However, for users managing their domain via a Ledger, head across to "Guest Manage" as you'll need to pay for your transactions fees (as per the above post). If you try to save changes within "Manage" and not "Guest Manage" your crypto addresses will not store!
Under the header "Crypto", users can start to add their cryptocurrency addresses from any wallet they wish. Unstoppable Domains support over 50 different cryptocurrency addresses, including BTC, ETH, LTC and XRP. And users can add addresses to wherever they want to receive funds. If addresses are entered incorrectly and someone tries to send to it, the transaction will not be accepted.
If you are using a Ledger to manage your domain, enter as many addresses (at one time) as possible before saving changes, as you'll be paying the gas fees. These fees will all depend on the gas fees at the time.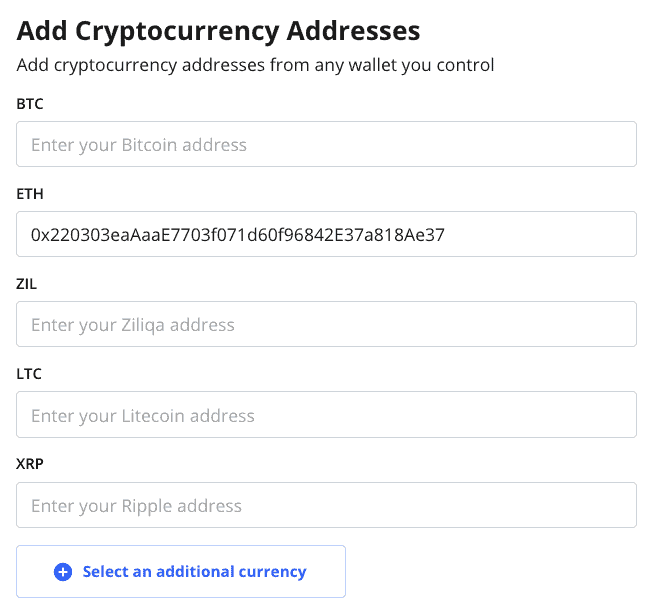 How Do I Send Cryptocurrency to a .crypto Domain?
You can send crypto to blockchain domains from the likes of; Coinbase, Trust Wallet, MyCrypto, and Atomic. Simply enter the full domain name into the address or domain field when sending your crypto. When the domain has been entered, the wallet looks up that domain on the blockchain finds the appropriate address, and sends the crypto to the address associated with that name.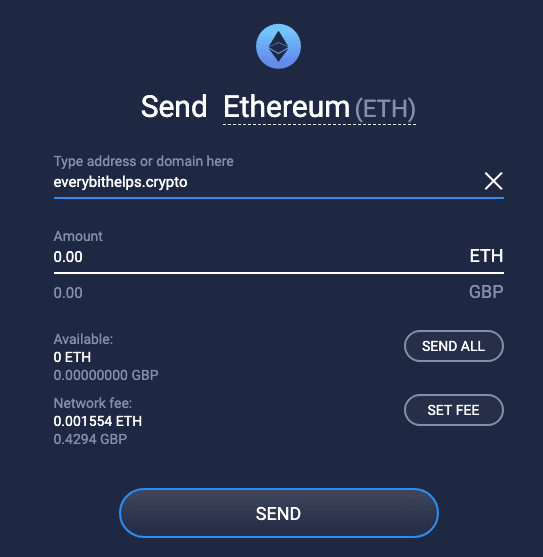 Unstoppable Domains Support Wallets & Applications
Unstoppable Domains supports a number of crypto wallets, such as Coinbase Wallet, Binance Trust Wallet, Atomic, and MEW. The team is working on growing the number of supported wallets and applications.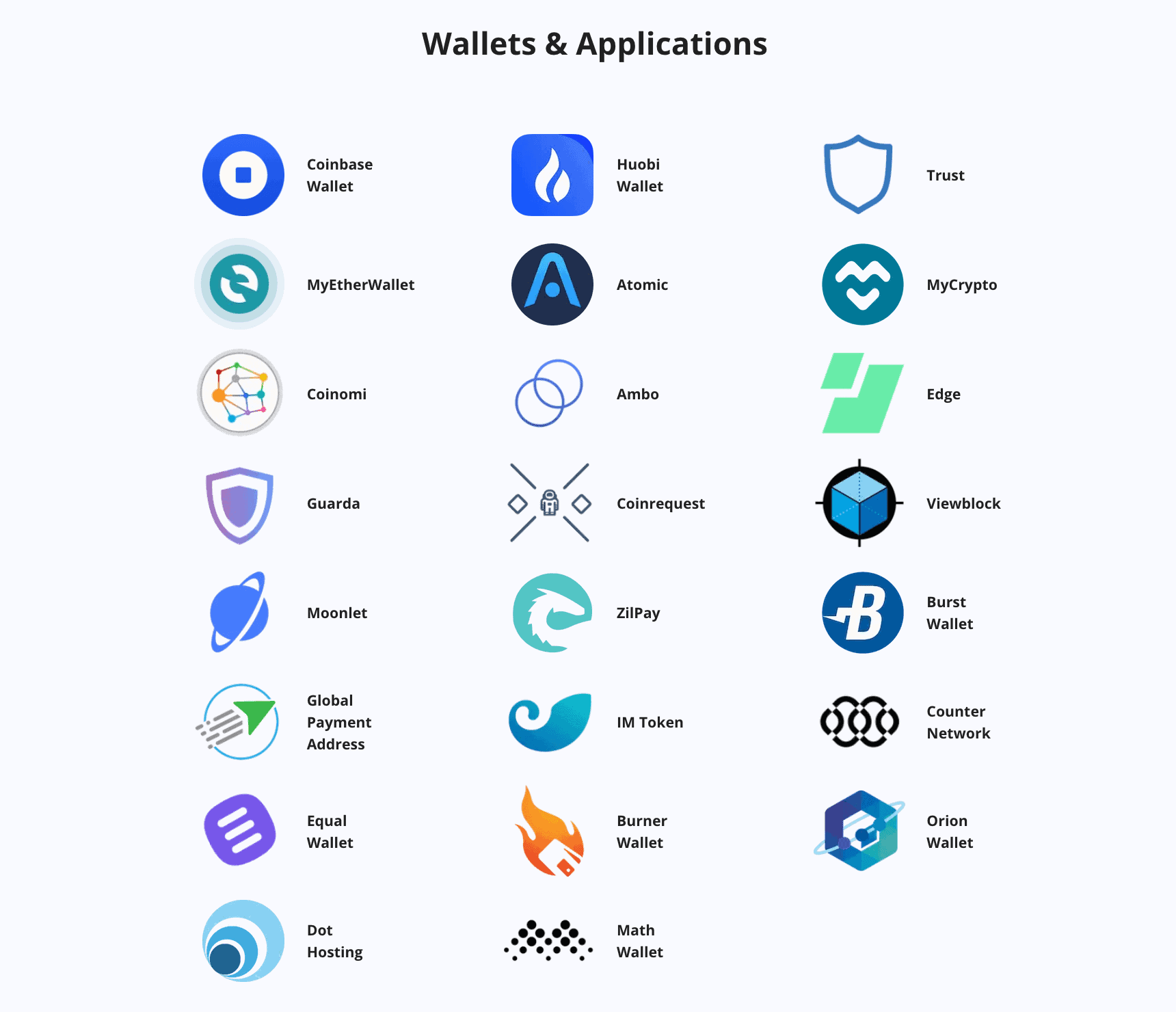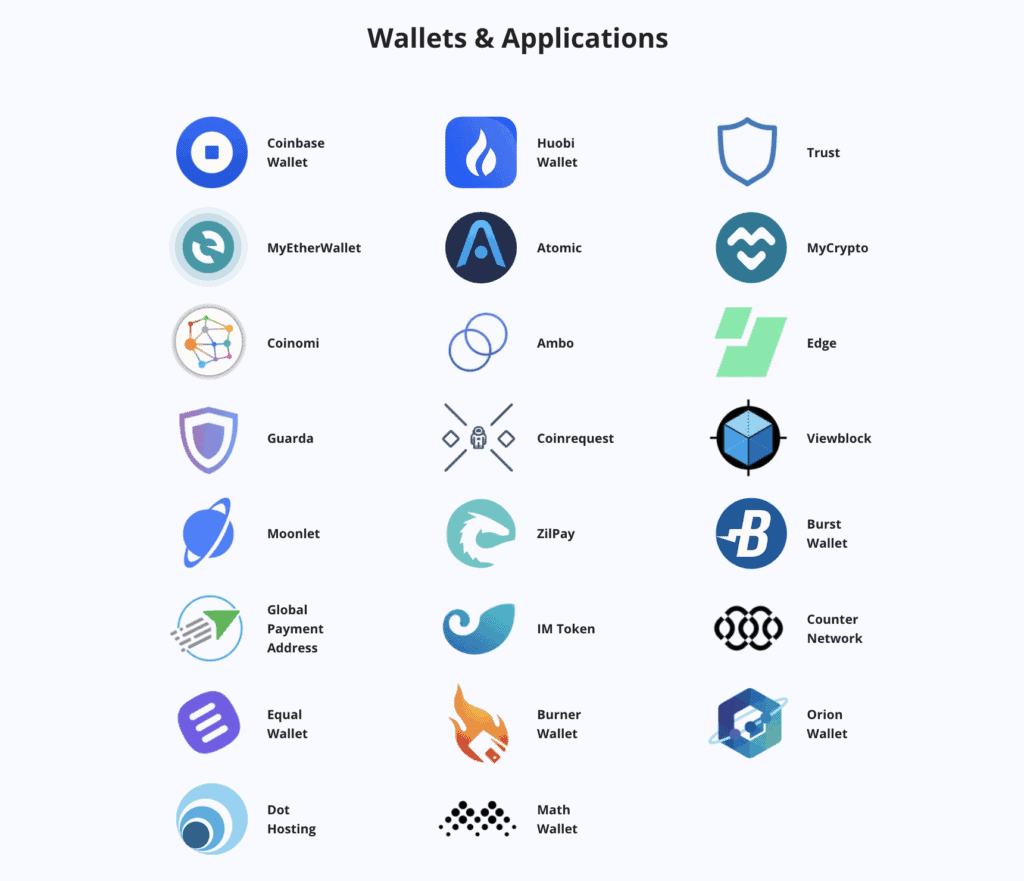 How to Create Uncensorable Websites
With Unstoppable Domains, domain owners can build uncensorable websites. The content is stored on a decentralised storage network so that companies and governments cannot control the content that you show on your website. Because blockchain domains are stored by the owners in a wallet (like a cryptocurrency), no 3rd party can seize or move them.
There are a couple of different ways to launch a website with your domain and this will depend on your technical ability or knowledge. The first way is that you can select a template from their marketplace, and you can customise these and publish to IPFS. Or you can build a website yourself and simply attach your IPFS hash to your domain or upload to their IPFS uploader.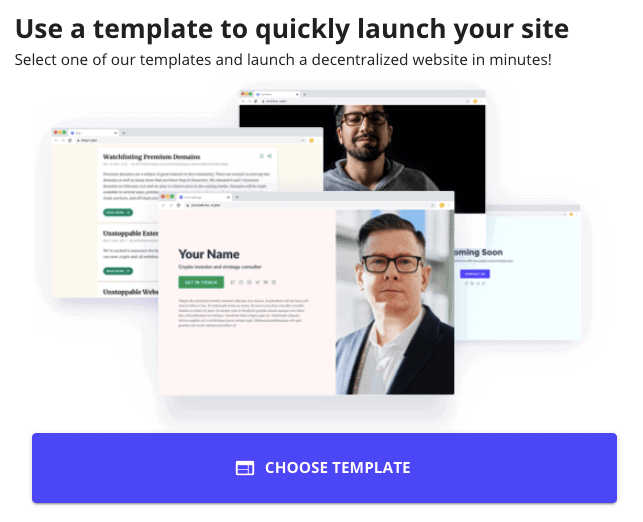 How To View .crypto or .zil Addresses?
So that you can view the Unstoppable .crypto and .zil domain websites. Unstoppable Domains has their own Unstoppable Blockchain Browser or Chrome Extension. Once installed, your .crypto and .zil domains will resolve in your browser like a .com domain.
.Crypto domain websites can also be viewed in Opera for Android.
Linking Twitter with a Blockchain Domain
Unstoppable Domains and ChainLink have just launched an exciting new feature which allows users of .crypto domains to verify their address via Twitter. The feature essentially works by connecting each .crypto address from Unstoppable Domains to a public username.
The Twitter handle will show up when you type the domain into a wallet, so you can feel confident you're about to send money to the right person. Plus, you can check the address ownership through MyEtherWallet which is the first platform that has integrated this new feature.